10 Simple Ways to Stay Slim during the Holidays
10 Simple Ways to have a Slim and Healthy Holiday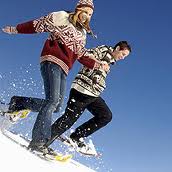 Yes, yes, you know it's that time of year. It's cold, the shopping malls are overcrowded and the holiday parties are starting. Keep your waistline (and your sanity!) from exploding this year with our top 10 ways to stay slim & healthy during the holidays:
1) Burn more calories during holiday shopping.
Instead of going from store to store, prolong your walking in between stops by shopping at one end of the mall and then the other. Alternate the wings of the shopping mall and log a few extra hundred calories (lugging your shopping bags the whole way burns extra calories too!) until you've gotten to everyone on your list.
2) Find parking spots that are furthest away from the store entrance.
You've heard this one before, but did you know you could save an extra 3-5 minutes by parking in the last row than having to circle the lot waiting for a space? Plus, you'll avoid holiday garage crowds and burn up a few extra calories walking further into the store and pushing your shopping cart back to your car when you are done.
3) Speed clean.
Guests coming over? Turn on some fast paced music and do some speed cleaning. Up tempo beats encourage faster movements, which means you'll get your cleaning done faster and burn off more calories doing it (while you are at it, do a little dancing too to boost your burn!).
4) Maximize your minutes.
Workouts usually get cut during the busy holiday season because most people think that if they can't hit the gym for at least an hour it's not worth it. Even a short 10-minute workout can be effective – so don't let time constraints become an excuse. Going for a 10-minute walk, doing a quick set of crunches, squats and push-ups a few times a day can really add up. Try our 6 simple Rockin' Body moves for a quick, no equipment needed session.
5) Shiver to slim down!
We wouldn't recommend it, but shivering can burn up to 400 calories an hour. Don't get frostbite, but if you do get stuck in the cold, shivering or doing some other movement can not only help your body stay warm but also burn off extra calories while you do it. Better yet, have fun and burn off some fat with some outdoor activities like sledding, building a snowman or go skiing with friends or family.
6) Cook holiday meals or for pot lock parties from scratch.
You can save so many fat grams and calories by cooking at home and making your recipes lighter (and still delicious!). There are so many great resources available for "healthied-up" holiday treats and meals. Make it a fun challenge this year to give your usual holiday fare a makeover in the kitchen, and see if anyone even notices the difference! (Plus, cooking can help relieve stress and burns calories). It's much easier (and faster) to avoid eating excess calories than to have to burn them off.
7) Before you go to eat something, ask yourself - would I eat like this on a normal day?
The problem is that we tell ourselves, it's the holidays, I can indulge! But the "holidays" last about three months for most of us! Just because it's an office party or a family dinner doesn't mean you get to eat like you'll never eat again. Remind yourself, it's still just a meal. Find other meaningful ways to celebrate – dance, sing or socialize. And if you do overdo it, don't let that throw you off for good - go back to your regular, healthy eating routine the next day.
8) Try giving up all TV & Internet surfing at home - just for the holiday season.
Think you have no time to exercise or eat right during this time of year? Think again! You may find you have more free time than you realize to fit in your workouts and healthy cooking if you can forgo time wasters like Facebook (your status updates can wait!).
9) Remember WHY it's important to stay active and healthy this time of year!
Think about it: the holidays fall during flu season, cold weather, you've got more pressure at work, more travel, house guests and shopping going on than normal - can you say STRESS? Stress weakens your immune system, and a prolonged period of stress (ie. holiday season) is the worst time to forgo healthy choices! Keep that in mind for extra motivation to get moving.
10) Don't 'save it for the New Year'.
Putting off your health and weight loss goals until 2011 is just making it harder on you and your body. Make time for yourself now, even during this hectic season, and follow the 80/20 rule: if you eat, sleep and move well 80 percent of the time, you can indulge yourself during the remaining 20 percent.