The 2012 Emmy Awards [1] were the hot ticket in LA this weekend, and I was on the scene for the small screen's biggest night, reporting from the red carpet and PopSugar's prime spot backstage in the winner's circle. There, I had the chance to get a behind-the-scenes look at the show and interview many of the evening's big winners just after they were presented with their statuettes.
Take a look at some of my favorite moments and memories from the night, from getting an up-close look at Nicole Kidman [2]'s gorgeous gown to chatting with Aaron Paul about Jesse's fate on the last few episodes of Breaking Bad, here. Click through to relive them with me!
Aaron Paul's Take on Breaking Bad's Finale
As a huge Breaking Bad fan and a fellow Boise native, I was excited to chat up Aaron Paul about the few remaining episodes of the AMC series. He stopped by our interview room shortly after snagging his award for outstanding supporting actor in a drama, where I asked him whether he thinks his character, Jesse Pinkman, will make it out alive. He told me he thinks Jesse "deserves to live." With a few months to go before the show goes back into production, whether he will or not is still anyone's guess.
An Up-Close Look at Nicole Kidman's Gown
One of my favorite red-carpet looks was Nicole Kidman [3]'s Antonio Berardi dress. Up close, the detail was exquisite, and the bold blue embellishments against the white fabric caught my eye the instant she arrived. Although Nicole and her husband, Keith Urban [4], had to hurry inside for the show, she was kind enough to take a moment to fill me in on who designed her gown before they were ushered inside, just moments before the broadcast began.
Emilia Clarke Tells Me More Dragons Are Ahead This Season
It's always a surprise to see Game of Thrones star Emilia Clarke without her character's signature white-blond locks. I chatted with the Chanel-clad star on the red carpet about being back to work on season three of the series, and while she wouldn't give too much away about the upcoming episodes, she did say we'll see even more of Khaleesi's dragons this year.
Kate Mara and Max Minghella Take Their Rekindled Romance Public
I spotted Kate Mara and Max Minghella holding hands as they arrived to the show. The pair, who began dating in 2010, broke up briefly earlier this year but were together on the red carpet. They apparently rekindled their romance while promoting their new film 10 Years and confirmed it with their hand-in-hand appearance on Sunday.
Julie Bowen Jokes About Her Tough Morning-After-Emmys Plans
I always love getting the chance to talk to Modern Family's Julie Bowen. The hilarious actress nabbed the night's outstanding lead actress in a comedy honor, but when we caught up backstage, it sounded like a night of wild celebration was not in the cards for the mom of three. Instead, she told us she was gearing up for the next day's carpool, math tutoring, and gymnastics lessons with her kids. Seeing her Monique Lhuillier dress up close was definitely icing on the cake — it was easily one of my favorite looks of the night!
Julianne Moore Celebrates a Landmark Win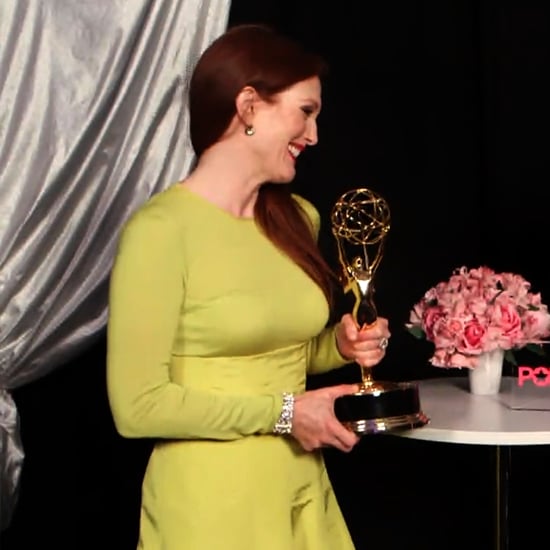 Julianne Moore is one of the most respected actresses of our generation, so I always feel honored at the chance to interview her. She and her Game Change team racked up five Emmys this year — a rarity for a miniseries! The actress, who was widely considered one of the night's best dressed in her chartreuse Raf Simons for Dior gown, talked with me about playing Sarah Palin and surprised me by saying she took little free license with the role, instead trying to make the character as close to the real-life woman as she could.
Playing Dress Up
Our awesome producer Carla Hawkes snapped this photo right after we met up on the red carpet. I've always been a fan of fashion, so I personally love getting dressed up for awards shows. This time, I was lucky enough to rock a Rachel Zoe [5] dress from FORWARD by elyse walker and a shark-tooth necklace from Heather Gardner, which earned Julie Bowen's stamp of approval backstage.