It's time for our sixth annual POPSUGAR 100! After calculating almost seven million of your votes and taking into account our POPSUGAR secret formula, we're so excited to share this year's list with you. Familiar favorites like Robert Pattinson [1], Angelina Jolie [2], and Beyoncé all landed high spots on the list, as expected, but there were some new faces who skyrocketed to the top. Check out where all your favorite celebrities placed!
— Additional reporting by Molly Goodson, Lauren Turner, Kim Timlick, Katie Henry, Lindsay Miller, and Meghan Rooney
100. Alexander Skarsgard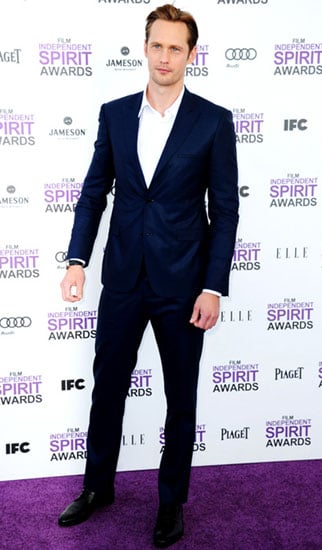 Alexander Skarsgard [3] wrapped the fourth season of True Blood and helped promote the hit HBO series before its fifth season debuted in May. He starred in the big-budget though underwhelming box office performer Battleship, which he traveled the globe premiering. His Straw Dogs remake also hit theaters in 2011. Alexander's Melancholia, however, was a critical darling, and he brought that film to the Toronto Film Festival with costar Kirsten Dunst [4] in September 2011.
Alexander is nothing if not discreet about his love life, though he was rumored to have had a short romance with his Battleship costar Rihanna [5] after breaking up from longtime girlfriend Kate Bosworth [6] in July 2011.
99. Michael Fassbender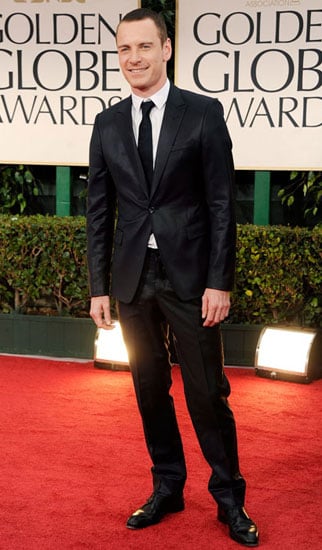 It was truly a big year for Michael. He received critical acclaim for his role as a sex addict in Shame, garnering a Golden Globe nomination, but not the coveted Oscar nomination. He did, however, win the top actor prize at the Venice Film Festival for the role. Michael was also on the big screen in Ridley Scott's Prometheus and Steven Soderbergh's Haywire and as Dr. Jung in David Cronenberg's A Dangerous Method. Michael's quickly becoming one of Hollywood's go-to guys, and 2013 will see his The Counselor, another Scott piece, hitting theaters. Michael's working on a third collaboration with his Shame director, Steve McQueen, called Twelve Years a Slave. He's much loved by the ladies as well. It seems heartthrob Michael has settled down a bit over the past 12 months, ending a long-term relationship with Zoe Kravitz and later starting things up with his Shame costar Nicole Beharie.
98. Salma Hayek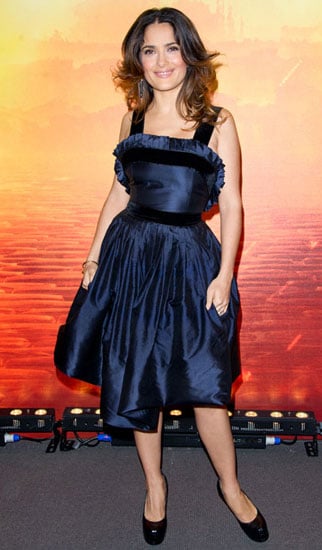 Salma Hayek [7] focused on the funny in the last year, filming two projects with Kevin James — Here Comes the Boom and Grown Ups 2. It was a prolific 12 months for Salma, as she also promoted other big-screen projects, including October's Puss in Boots, The Pirates! Band of Misfits, and As Luck Would Have It. Her role in As Luck Would Have It earned her a best actress nomination at Spain's 2012 Goya Awards. In July, Salma's Oliver Stone-directed Savages will hit the big screen.
Salma also focused on her husband, Francois-Henri Pinault, and their daughter, Valentina. Salma supported fashion mogul Francois by sitting in many a front row with him during Paris Fashion Week. They also made one of the most dashing couples at the annual Met Gala in NYC. Salma, who rang in her 45th year in September, splits her time between their home base in Paris, her native Mexico, and the US.
97. Rachel Zoe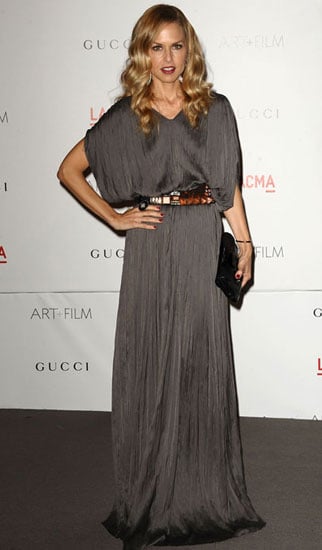 Rachel Zoe [8] had her son, Skyler Berman, who turned 1 in March, by her side for her fashion-heavy year. The superstylist had Skyler along for the ride during New York Fashion Week, where she presented her latest collection, and for her many promotional stops at high-end stores like Neiman Marcus to promote the brand. She may have put her days dressing celebrities on the back burner, but she put her styling background to good use recently. She put model Karolína Kurková in a gown of her design for the CFDA Awards in May.
96. Kanye West
Kanye West [9] had a major year musically, with his Jay-Z collaboration album, Watch the Throne, hitting the top of the charts, but he also made waves with his relationship with Kim Kardashian [10]. The pair first started getting romantic in the Spring, and since then, they've spent time in NYC and in Europe, where Kanye has been touring.
Kanye also continued to explore his passion for clothing, showing at Paris Fashion Week to overall negative critical reviews. Despite the poor reception, Kanye says he plans to keep designing. He also released a pair of one-off sneakers for Nike and presented a short film, Cruel Summer, out of competition during the Cannes Film Festival.
95. Gwen Stefani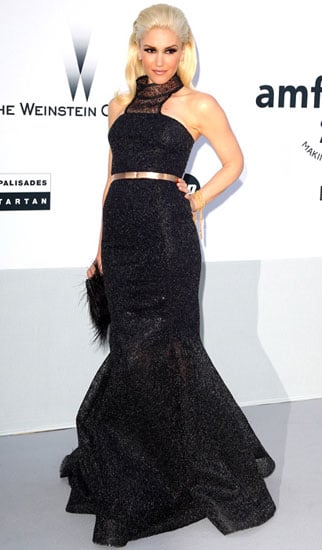 Gwen Stefani [11] spent much of the year prepping for No Doubt's highly anticipated reunion album, which is due out in September. The band recorded the new effort close to home in Southern California, giving Gwen the opportunity to hang out with Gavin Rossdale [12] and their kids, Kingston and Zuma, between trips to the recording studio. The family also briefly spent some time in London while Gavin toured Europe with his band Bush. Gwen and her boys even had a playdate with another famous family during their stay in England, inviting Angelina Jolie [13] over with Knox, Vivienne, Shiloh, and Zahara for a playdate.
On the fashion front, Gwen expanded into kidswear with her Harajuku Mini line for Target and enlisted Zuma and Kingston to model the gear at a fashion show celebrating the launch in November.
94. Claire Danes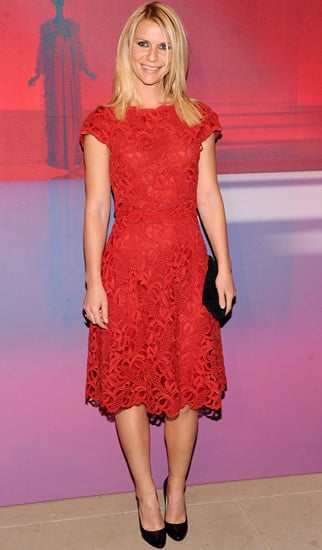 Claire Danes [14] made her return to TV with last year's critically acclaimed Homeland, and her husband, Hugh Dancy, was by her side for many of her press appearances. Claire also racked up plenty of awards over the past year for her new role, including a Golden Globe and Harvard's Hasty Pudding woman of the year honor. The actress, who celebrated her 33rd birthday in April, also graced the cover of Vanity Fair's Women in TV issue with Julianna Margulies, Sofia Vergara, and Downton Abbey star Michelle Dockery.
93. Jon Hamm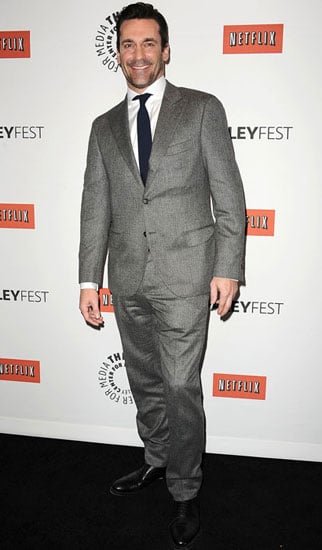 Jon Hamm [15] continued his successful run as Don Draper on Mad Men this year, but he also ventured out onto the big screen, starring in his longtime girlfriend Jennifer Westfeldt's movie Friends With Kids and acting as Kristen Wiig's jerky love interest in Bridesmaids. Jennifer and Jon debuted their movie at the Toronto Film Festival in the Fall, and Jon also explored his more humorous TV skills with some memorable appearances on SNL.
92. Daniel Craig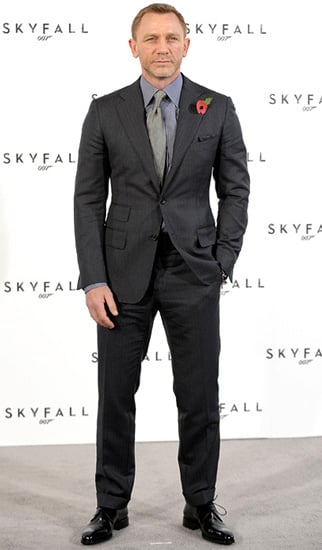 Daniel Craig [16] married Rachel Weisz [17] last Summer, and although the couple has kept a relatively low public profile, they made their red-carpet debut as a married pair at the Madrid premiere of The Girl With the Dragon Tattoo in January. Daniel's role in the film was critically lauded, and he has another big holiday film ahead in 2012. His third movie as James Bond, Skyfall, will hit theaters then. He was frequently seen shooting the movie in the UK this Spring alongside Javier Bardem [18], who plays the villain in this installment of the franchise.
91. Gisele Bündchen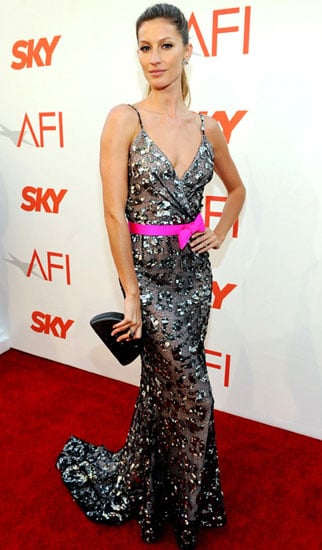 Gisele Bundchen spent a busy year balancing her jet-setting supermodel gigs with parenting duty back home in Boston with Tom Brady [19] and their son, Benjamin. In fact, she's been recently rumored to be expecting baby number two! The reports haven't slowed her down professionally, and she's continued to appear on magazine covers and in ads for her line sold at Brazil's C&A Stores.
Gisele also lent her support to Tom's career, and although he had a disappointing Super Bowl Sunday, she was by his side to comfort him after the Patriots' loss. She's continued advocating for causes close to her heart, especially relating to the environment and sustainability.
90. Rosie Huntington-Whiteley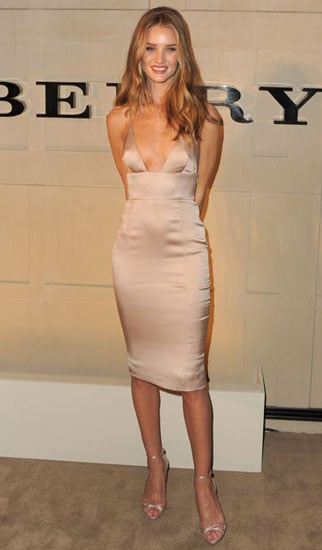 Rosie Huntington-Whiteley had a breakout year with her role in Transformers: Dark of the Moon and spent much of last Summer touring the world in support of the blockbuster. She lined up another big part in the upcoming Mad Max: Fury Road.
The model and actress, who is a face of British fashion line Burberry, also continued her romance with action star Jason Statham. The pair joined celebrities including Robert Pattinson [20], Kristen Stewart [21], Kate Bosworth [22], and more at Coachella and have also been taking lots of poolside vacations, with Rosie showing off her impressive bikini body by the water.
89. Kristen Bell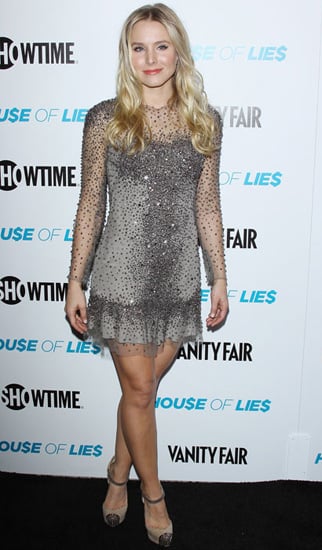 Kristen Bell [23] was back on TV with her Showtime series House of Lies and continued her voiceover work on Gossip Girl. She even hosted the CMT Music Awards. She had presence in movie theaters, as well, with Big Miracle. Her biggest hit may have been unintentional — Kristen shared a hilarious video on The Ellen DeGeneres Show, in which she cried hysterically after her fiancé, Dax Shepard, arranged for a sloth visit to their home as a birthday present!
Dax and Kristen are going strong and are frequently pictured out on bike rides or lunch dates near their LA home. They're also starring in a project together — Hit and Run — out in August 2012. Things are looking rosy for Kristen in 2013, too: she has multiple projects in various stages of production and just nabbed a voiceover role in Disney's Frozen.
88. Ian Somerhalder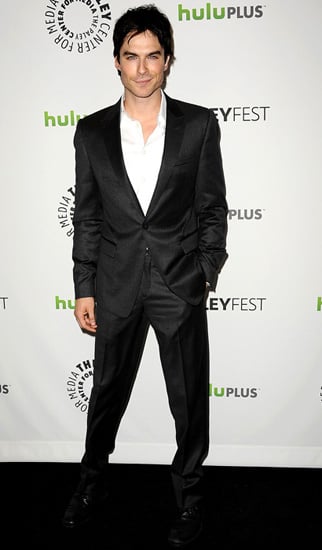 Ian Somerhalder [24] was back as Damon on the hit show The Vampire Diaries, which brought Ian together with his girlfriend, Nina Dobrev [25]. The duo kept their love strong, with a PDA-filled Coachella appearance and romantic trips overseas.
Ian has also continued advocating for various causes. He frequently tweets about his efforts to help save animals and the environment, and he formed the Ian Somerhalder Foundation to address those issues. Ian even spoke before Congress last July to discuss ways to help animals.
If he has his way, then a big movie role could be in his immediate future; Ian's a vocal candidate to take on the role of Christian Grey in the movie version of Fifty Shades of Grey.
87. Jay-Z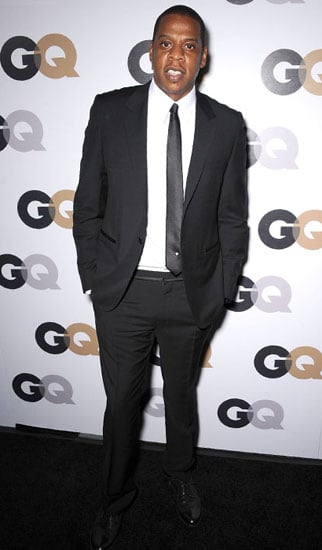 Life changed for Jay-Z when his wife, Beyoncé Knowles [26], welcomed their first child in January. Baby Blue Ivy Carter was rapidly integrated into Jay and Beyoncé's jet-setting life and has already racked up frequent flier miles to the Caribbean and Europe. Blue also inspired Jay to write the song "Glory." Aside from his growing family, Jay-Z was busy promoting his Watch the Throne album with collaborator and friend Kanye West [27]. The guys kicked off a world tour that's seen them travel through the US and abroad. In Jay's hometown of NYC, he spearheaded the initiative to build a new stadium for the Brooklyn Nets. He was also involved in a variety of business ventures, from the rejuvenation of his Rocawear brand to D'Ussé cognac.
86. Will Smith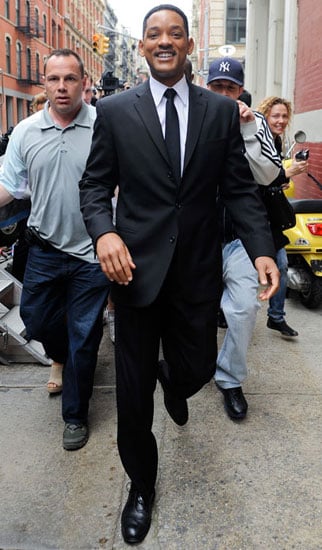 Will Smith [28] has been focused on the careers of his kids for the past few years, but in 2011 and 2012, he was back in the spotlight with Men in Black 3. Will showed off his shirtless [29] abs during a family vacation with his pint-size superstar kids, Jaden and Willow, over the holidays. Will and Jada Pinkett Smith [30] celebrated their 14th wedding [31] anniversary and marked the milestone right where they belong — on the red carpet together.
85. Ryan Seacrest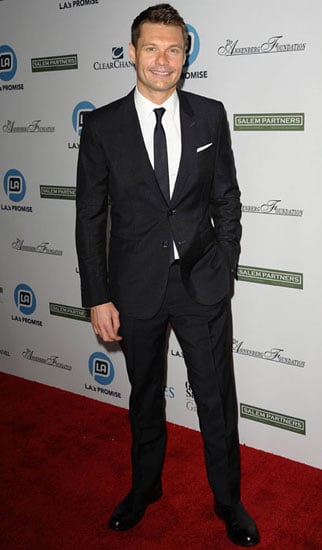 Ryan Seacrest [32] kept up his reputation as Hollywood's hardest-working man. In addition to finishing off his 11th season as the host of American Idol, Ryan continued to host his weekday radio show form LA. In addition, he kept up his duties as E!'s red carpet host. Ryan showed his true professionalism at the Oscars when Sacha Baron Cohen [33], as the Dictator, spilled "ashes" on Ryan in the middle of an interview. Ryan's headed to London soon to participate in NBC's coverage of the 2012 Summer Olympics.
Ryan was honored at LA's Promise 2011 Gala for his work with the nonprofit, and had girlfriend Julianne Hough by his side to accept the honor. Ryan and Julianne are still going strong, taking romantic trips to St. Barts and speaking publicly about their love for each other. He even referenced Fifty Shades of Grey as required romantic reading material.
84. Jonah Hill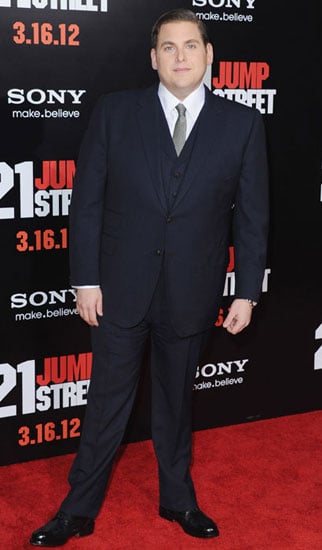 Jonah Hill [34] went from funny guy to Oscar nominee this year. Formerly just known for his comedic work, Jonah wowed everyone with his turn in Moneyball, which earned him nominations all award season long. Jonah established himself as a powerhouse once again with the release of the critically acclaimed comedy 21 Jump Street, which he also wrote. Unfortunately, Jonah's TV venture Allen Gregory was short-lived, though he's certainly not hurting for work; Jonah was a late addition to the cast of Quentin Tarantino [35]'s Christmas release Django Unchained.
Jonah had a big year in his personal life, as well. Jonah split with longtime girlfriend Jordan Klein in October and stepped out with his new love, Dustin Hoffman [36]'s daughter Ali, over award season.
83. Ellen DeGeneres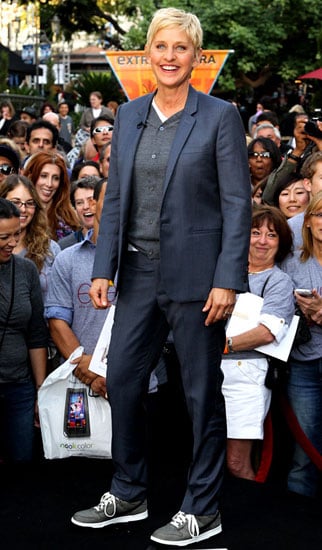 Ellen DeGeneres [37] charmed her way through another successful year of her talk show. Some of Ellen's biggest interviews of the year included sitting down with a very pregnant Jessica Simpson [38], doing a push-up contest with Michelle Obama, asking Emma Stone [39] about kissing Ryan Gosling [40], and getting Jennifer Aniston [41]'s boyfriend Justin Theroux to show off his break-dancing moves.
Outside of work, Ellen remains happy with wife Portia de Rossi [42], and the two shared a peek inside their gorgeous home with Architectural Digest. Ellen also continued her work for marriage equality rights, rallying behind President Obama's recent statements supporting gay marriage.
82. Lady Gaga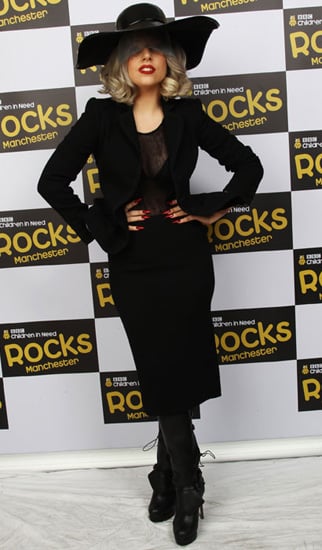 Lady Gaga [43] had another year of making waves. She supported her album Born This Way with an appearance at the MTV VMAs, where she made the rounds as her alter ego Jo Calderone. From there, Gaga went on to headline the first I Heart Radio music festival in Las Vegas and found love with The Vampire Diaries' Taylor Kinney.
NYC got a special treat from Gaga and Barneys when she transformed an entire floor at the NYC store into her very own holiday workshop. She earned multiple Grammy nods but walked away empty handed from the ceremony. Gaga came up a winner, though, in her advocacy work and got praise for speaking out against bullying.
81. Neil Patrick Harris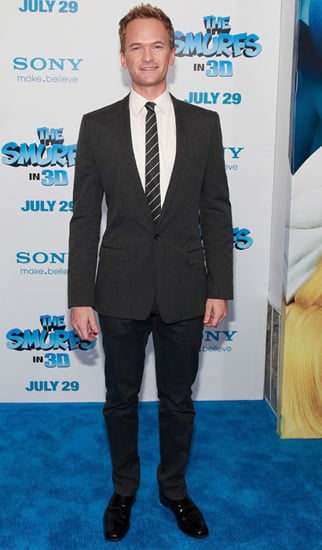 Neil Patrick Harris [44] kept the laughs coming on his hit show, How I Met Your Mother, which just wrapped up its seventh season. He and his costars have an eighth, and likely final, season on the way later this year. NPH also had The Smurfs hit theaters, and The Smurfs 2 has a planned release in 2013. He had the honor of hosting the Tony Awards for the third year as well. Family man Neil also spent a great deal of time with partner David Burtka and their twins, Gideon and Harper.
80. Olivia Wilde
It was a year of new love and new projects for Olivia Wilde [45]. The actress's divorce was finalized in the early Fall and she was briefly linked to Ryan Reynolds [46]. By Winter, however, it was clear she'd found something more serious when she was spotted stepping out with SNL funny guy Jason Sudeikis. On the film front, Olivia had Summer blockbuster Cowboys & Aliens to promote and also joined costars Justin Timberlake [47] and Amanda Seyfried [48] to premiere their film In Time in October.
In the Spring of 2012, Olivia played bride again on the set of the movie Rush alongside Chris Hemsworth, and she also started to open up a bit about what went wrong in her marriage in a few interviews.
79. Eva Mendes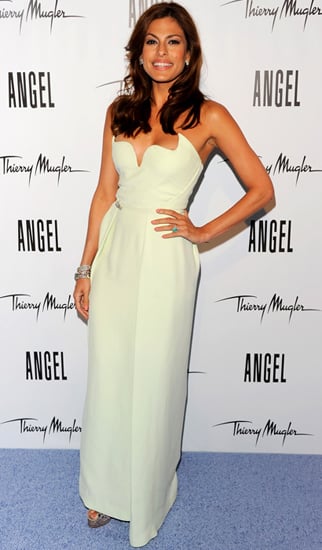 Eva Mendes [49] had a big year. She and Ryan Gosling [50] got together last Summer on the set of their joint project, The Place Beyond the Pines, and they seem to be taking things seriously. She made a visit to his home country of Canada and also journeyed to Thailand to visit him on set. The duo also shared a romantic few days in Paris, where she shot Holy Motors. They'll hit the promotional circuit later this year together to promote Pines. That wasn't their only collaboration — they made a silly video for Funny or Die around Christmastime called "Drunk History Christmas." Eva was also occupied in early 2012 backing her film project Girl in Progress, as well as with her duties as the face of Thierry Mugler's Angel scent and Pantene.
78. Ashton Kutcher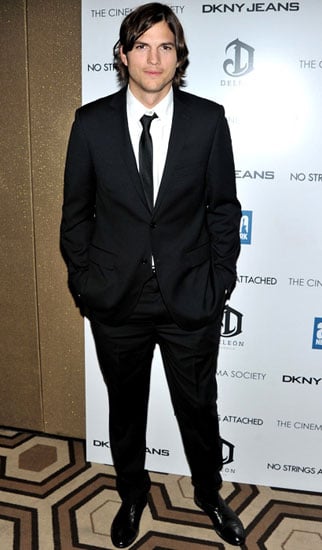 It was a year of change for Ashton Kutcher [51], who took on a new gig as Charlie Sheen [52]'s replacement on Two and a Half Men in September. He'll continue on the high-rated — and high-paying — show next season as well. Tech fan Ashton continued to champion a number of tech start-ups and tweeted about his finds to his over 11 million followers. Fittingly, Ashton was also selected to play Steve Jobs in a film about the Apple founder's life.
There was plenty of personal upheaval for Ashton, too, when his six-year marriage to Demi Moore [53] came to an end. She filed for divorce in November 2011. Since the demise of their relationship, Ashton has been romantically linked to many ladies, including his former That '70s Show castmate Mila Kunis [54].
77. Madonna
Between an Oscar nomination, a Golden Globe win, a Super Bowl performance, a world tour, and a No. 1 album, it's hard to imagine this year getting much better for Madonna [55]. Madonna showed off her film W.E. around the world and enjoyed some award season success for that film. Madonna made headlines with her awesome Super Bowl performance, and her album MDNA debuted at the top of the charts. Now, Madonna kicked off her most recent tour in Tel Aviv, and it will take her all over the globe over the next few months.
On the love front, Madonna is dating 24-year-old dancer Brahim Zaibat. Madonna is still working with her daughter Lourdes on their Material Girl clothing line, and she, of course, is still a doting mom to Rocco, David Banda, and Mercy.
76. Orlando Bloom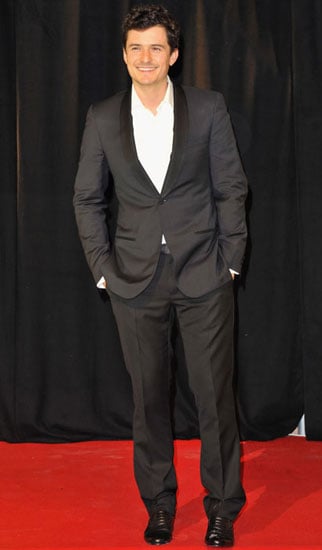 Orlando Bloom [56] spent much of the last 12 months jetting around the world with his wife, Miranda Kerr [57], and their 1-year-old son, Flynn Bloom. The gang keeps LA as their home base but spent a great deal of time with her family in Australia. Oz was a convenient location for Orlando, who was on set for his latest film, The Hobbit: An Unexpected Journey, in New Zealand. Orlando had one big movie, The Three Musketeers, arrive in theaters this past year. The Bloom gang managed to fit in travels to other exciting getaway places like Bora Bora and Paris, where Orlando kept an eye on Flynn as Miranda worked during Fashion Week.
75. Eva Longoria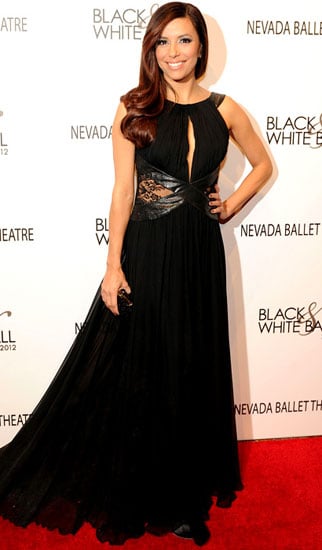 Eva Longoria [58] said farewell to the role of Gabi Solis in Desperate Housewives, a role she's played since 2004. The end of the series gave Eva a chance to focus on other passions, like her commitment to President Obama's reelection campaign. Eva also logged hours as the face of brands like Pepsi and L'Oréal Paris, the latter of which sent her to Cannes as a celebrity ambassador. The future looks bright for Eva — now that Housewives is done, she's producing shows Ready For Love and Devious Maids.
As for Eva's personal life, things are back on for her and boyfriend Eduardo Cruz after a brief split in the Spring. She was also honored to become a godmother last Summer to her good friend Victoria Beckham [59]'s baby girl, Harper.
74. Rachel Bilson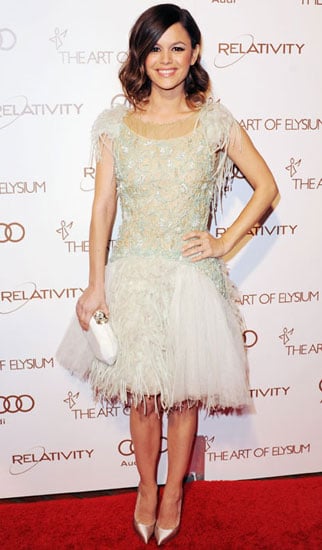 Rachel Bilson [60] returned to TV this year with her CW series, Hart of Dixie. Fans of Rachel — and her career-making role in The O.C. — were in for a treat when the series got picked up for another season. Able to celebrate the news with Rachel was her boyfriend, Hayden Christensen [61]. The couple, who had called off their engagement at one point, are back on and have been seen hanging out together at their West Coast home. Between her boyfriend and small-screen work, Rachel's busy as the face of Magnum ice cream and the Sunglass Hut. Always known for her unique sense of style, Rachel's put her good taste to good use as the creative force behind ShoeMint.
73. Jason Segel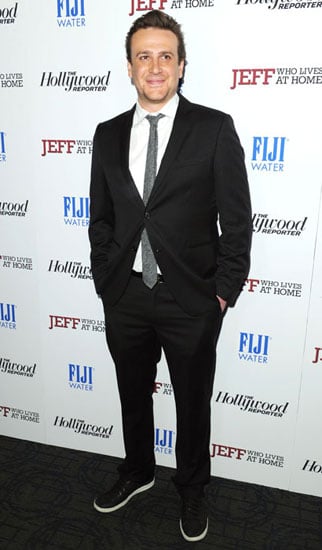 Jason Segel [62]'s box office power was on display, with films like The Muppets, The Five-Year Engagement, and Jeff Who Lives at Home released in the last year. He also wrapped another season as Marshall Eriksen on the much-loved CBS series How I Met Your Mother. Jason's got a full slate of pictures coming out in 2013 as well, as he spent time on the sets of both The End of the World and This Is 40.
Jason was lucky in love as well. His friend and former Freaks and Geeks costar Busy Philipps set up Jason and actress Michelle Williams [63], and he spent much of the Spring hanging out with Michelle and her daughter, Matilda. Their relationship kicked off in early 2012, and they even attended public events together during the Tribeca Film Festival in the Spring. Jason joined the Twitter-verse as well, launching his account in November 2011.
72. Chris Hemsworth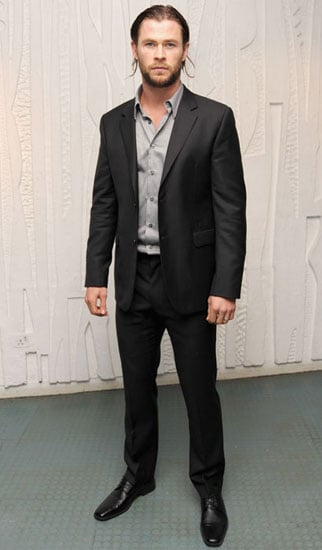 Chris Hemsworth had a banner year! He reprised his role as Thor in this year's The Avengers and kept the blockbusters coming with a part in Snow White and the Huntsman. He also spent time on the London set of his upcoming picture Rush.
In addition to his career highs, Chris and his wife, Elsa Pataky, welcomed their first child, daughter India. There was more excitement in store for the native Australian — his little brother Liam recently announced his plans to wed Miley Cyrus [64].
71. Zac Efron
Zac Efron [65] was back in theaters in a big way. He starred in New Year's Eve and voiced a role for The Lorax. For the latter, he made headlines for reasons other than his performance — Zac's accidental dropping of a condom at the Lorax premiere became a much-watched viral video. In another silly clip, Zac showed a morning radio host he can undo a bra with just one hand!
Zac also traveled the world doing press for his Nicholas Sparks adaptation, The Lucky One, alongside leading lady Taylor Schilling. Zac has also just kicked off promoting a more serious role in The Paperboy, a film from Precious director Lee Daniels, and brought that film to Cannes with his costars Matthew McConaughey [66] and Nicole Kidman [67].
Zac's personal life was colorful as ever. He had a short-lived romance with Lily Collins and continued spending time with good friends like Ashley Tisdale [68] and Rumer Willis. In December, he got a new tattoo that read "YOLO" on his hand. He started Summer with the thrill of seeing his beloved LA Kings clinch the Stanley Cup.
70. Kate Hudson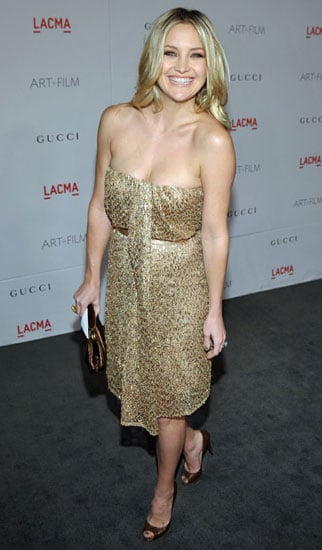 Kate Hudson [69] welcomed her second son, Bingham Bellamy, in July 2011, and shared a first image of him on Twitter that August. She and fiancé Matthew Bellamy, of the band Muse, expanded their property portfolio with new real estate purchases in London and LA big enough for their family of four, including Kate's son from her first marriage, Ryder Robinson. The Bellamy-Hudsons frequently jet between LA and London, which gives them ample opportunity to spend time with their wide circle of friends that include Stella McCartney, Cameron Diaz [70], Gwyneth Paltrow [71], and even Kate Moss [72]. Kate Hudson made sure she was in LA over Halloween [73] to throw one of her epic Halloween parties.
Kate promoted her under-the-radar movie Far From Heaven and also spent time on the set of her upcoming The Reluctant Fundamentalist. She continued doing other press work as the face of Ann Taylor and on behalf of her CH+KH jewelry line. Kate's lined up big projects for next year, including the action picture Everly and a small role on Glee. Kate enjoyed plenty of bikini time and has gone on exotic getaways with Matthew to places like Greece, Cabo, Aspen, Antibes, and Cancun. She enjoyed many celebrations this year as well — Kate rang in her 33rd year, attended the White House Correspondents' Dinner, and hit the Vanity Fair Oscars afterparty.
69. Nina Dobrev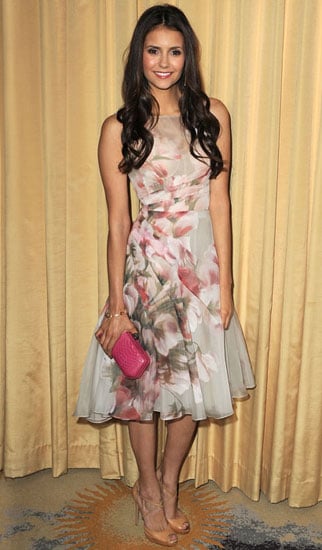 Nina Dobrev [74] wrapped up another season of her hit CW show, The Vampire Diaries. Work is also fun for Nina, since it offers her a chance to shoot alongside her real-life love, Ian Somerhalder [75]. When they aren't on set, Nina and Ian love to get away and travel. She has a big-screen role coming up in The Perks of Being a Wallflower.
She emerged over the last 12 months as a stylish star to watch — her Donna Karan gown at the 2012 Met Gala earned a place on many best-dressed lists. Nina took home another prize — she won favorite TV drama actress in early 2012 at the People's Choice Awards.
68. Carrie Underwood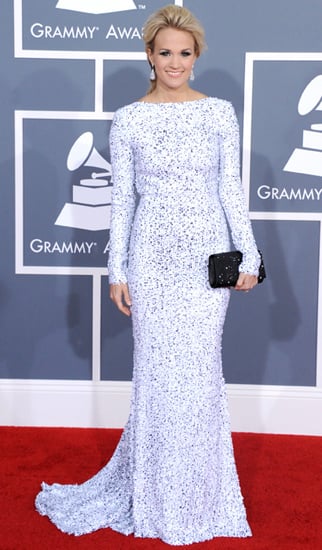 Carrie Underwood [76] experienced another year of huge success with her country singing career. Adding to the sweetness, she was able to share it all with her husband of one year, hockey player Mike Fisher. She released her fourth album, Blown Away, in May 2012, featuring the successful single "Good Girl." Blown Away also debuted at No. 1 on the Billboard Charts. She received many accolades for the work. At the 2011 American Country Awards, she was crowned artist of the year, and won video of the year at the 2012 CMT Awards. Carrie continued to advocate for causes she loves, including animal rights and, more recently, gay marriage.
67. Halle Berry
It was a particularly exciting 12 months for Halle Berry [77] — she's engaged! After saying for years that she'd never marry again, Halle met a man who changed her mind in Olivier Martinez. The couple got together on the South African set of Dark Tide in 2010, and he confirmed their plans to wed in March. Olivier presented her with a gorgeous engagement ring featuring a huge emerald. Halle, Olivier, and her daughter, Nahla, from her previous relationship with Gabriel Aubry [78], have been subject to rumors about a plan to move to Olivier's native France. For now, though, they're happy at home in LA and treat themselves to frequent beach days in Malibu. Halle spent time on the European set of Cloud Atlas this year, and will see it arrive in theaters this October.
66. Kim Kardashian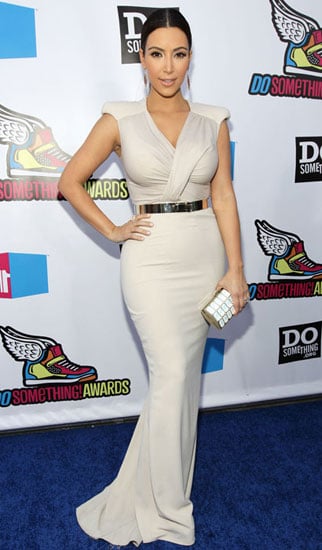 Kim Kardashian [79] was everywhere this year. She made the most headlines with her 72-day marriage to Kris Humphries. They split and are in the midst of messy divorce proceedings. Kim nonetheless had the support of her family, and put her relationship with sister Kourtney on display in the latest season of their show Kourtney and Kim Take New York.
Kim was a spokesperson for various products, including QuickTrim, Skechers Shape-ups, and the Kardashians' many fashion lines. She met her match in new boyfriend Kanye West [80]. The couple went public with their love in early 2012, and she then voyaged to Europe to accompany him during his Watch the Throne tour.
65. Daniel Radcliffe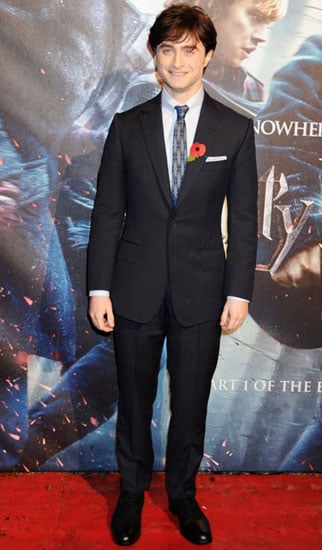 Daniel Radcliffe [81] marked the end of an era with the release of the final Harry Potter film, Harry Potter and the Deathly Hallows Part 2, in July 2011. He and his costars were big winners at the People's Choice and MTV Movie Awards thanks to the blockbuster.
Daniel went on to host SNL and star in Broadway's How to Succeed in Business Without Really Trying. His first post-Potter film, The Woman in Black, came out to good reviews. Daniel just wrapped a racier project, Kill Your Darlings, in which he portrays a young Allen Ginsberg.
64. Matt Damon
It was a relatively quiet year professionally for Matt Damon [82], but he took advantage of the downtime to link up with his family and friends for good times. He and wife Luciana Damon focused on their four daughters at home in NYC, but allowed themselves some adults-only time at Fall Fashion Week and at some fun Big Apple parties. Luciana and Matt also went on a Caribbean yacht vacation with their pals Chris Hemsworth and Elsa Pataky before jetting to London for more fun.
Matt did have some promotional work to do for his 2011 releases, We Bought a Zoo and Contagion. The latter film took Matt and Luciana to Italy for promotional appearances at the Venice Film Festival. Late last year, he filmed Elysium. Matt stayed active on two charities near and dear to his heart. He focused on his mission to provide clean water around the world, and spoke out on behalf of an antistandardized testing group called Save Our Schools.
63. Justin Bieber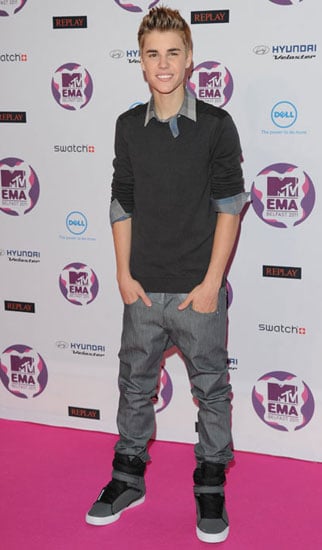 What didn't Justin Bieber do in the last year? The 18-year-old music mogul toured the word, teased singles from his new album, mentored up-and-coming superstar Carly Rae Jepsen, and somehow managed to find time to romance his girlfriend, Selena Gomez [83]. The duo are obviously in love, and showed their PDA all over, including at the beach, during the shoot for his "Boyfriend" video, courtside at a Lakers game, and even at Jamba Juice! Justin's got lots of love to share, and is too cute with his little siblings, Jazmyn and Jaxon. Justin also proved his adult status by getting a big tattoo of Jesus on his leg.
Last Fall, Justin released a holiday album Under the Mistletoe, which debuted at No. 1. Much of the Spring was dedicated to promoting June's Believe, which features collaborations with some of the world's most popular artists, from Drake and Nicki Minaj to Ludacris. Justin needed to find new space to store all the awards he won. He cleaned up at shows including the MuchMusic Video Awards, Billboard Awards, Teen Choice Awards, Kids' Choice Awards, and the MTV Europe Music Awards. There was one big problem Justin had to deal with — a fan accused him of fathering her child, but they seem to have settled the matter.
62. Jessica Biel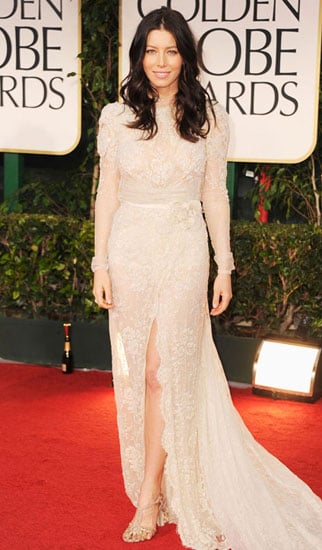 From the beaches to the red carpets, Jessica Biel [84] was looking gorgeous wherever she went over the past 12 months. She had an extra glow, of course, after becoming engaged to on-again love Justin Timberlake [85] over the holidays. The two are reportedly planning a Summer wedding [86] before Jessica hits the promotional road for the Total Recall reboot. Justin and Jessica had a handful of standout red carpet moments this year, including recently at the Met Gala, where she wore a unique Prada dress. Jessica also got to celebrate a personal milestone — her 30th birthday — in March.
61. Andrew Garfield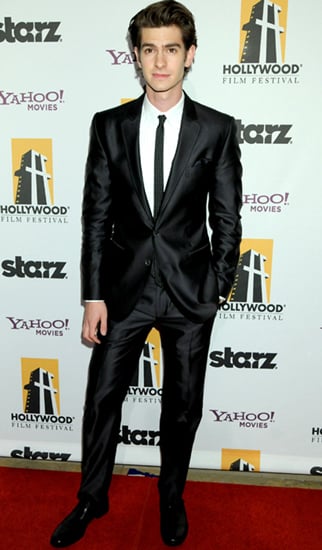 It was a whirlwind year for Andrew Garfield, who's been spending a lot of his time filming and promoting The Amazing Spider-Man ahead of its July release. Not only does Garfield portray his childhood hero in the film, but he found love with his costar Emma Stone [87]. The two have been spotted together showing adorable PDA around Manhattan. Andrew also had a stint performing on Broadway in Death of a Salesman, for which he earned a Tony nomination.
60. David Beckham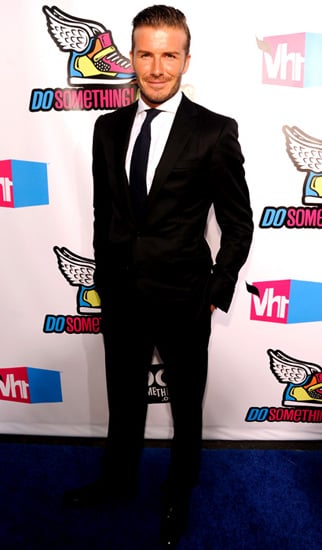 David Beckham [88] enjoyed professional and athletic success this year, but perhaps the biggest milestone was becoming dad to baby girl Harper. David and Victoria welcomed their first daughter on July 10, and the whole Beckham family spent the Summer together in Malibu to celebrate the new arrival. David was back on the field with his LA Galaxy teammates later in the year and he helped lead them to an MLS Cup championship in 2012. David also had the honors of carrying the Olympic torch to London ahead of this Summer's games. David was a big part of bringing the Olympics to his native England and he is gearing up for the July and August games. Lastly, Victoria wasn't the only Beckham dominating the fashion game this year, since David announced the launch of his underwear line for H&M.
59. Miley Cyrus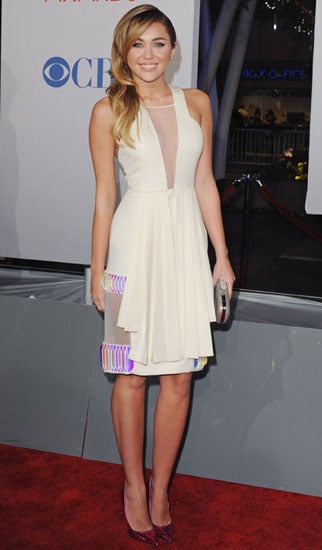 Miley Cyrus [89] made her share of headlines in 2012, but none was quite as exciting as when she announced her engagement to The Hunger Games star Liam Hemsworth. As Miley navigates her way into becoming a movie star, she continues to share cute sneak peeks into her and Liam's lives with their ever-growing family of dogs. Miley was on Liam's arm for his premiere of The Hunger Games and will be showing off her own latest project, LOL, later this year.
Miley also worked hard on her fitness this year. She publicly spoke about cutting out gluten and focusing on Pilates, which has certainly paid off when she hits the beach or pool in her bikinis. Miley also continues to evolve her mature red-carpet style, landing herself on best-dressed lists at a number of events.
58. Rachel McAdams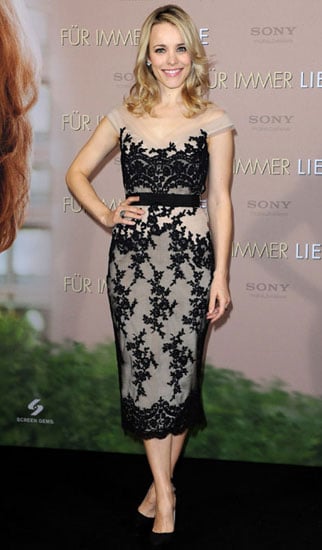 Rachel McAdams [90] added more hits to her résumé this year. She teamed up with her Sherlock Holmes: A Game of Shadows partners Jude Law [91] and Robert Downey Jr. to promote the picture. Rachel added to her list of enviable costars when she and Channing Tatum [92] released The Vow around Valentine's Day. The romance was a hit and earned Channing and Rachel an MTV Movie Award nomination for best kiss.
In her personal life, Rachel's going strong with boyfriend Michael Sheen. Rachel and Michael supported each other at various events during the year, and she even traveled to Europe to cheer him on during his West End stage debut.
57. Katy Perry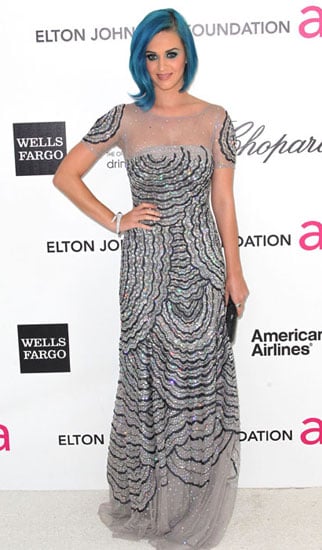 Katy Perry [93] spent much of the last year on tour to support her album Teenage Dream. The breakneck schedule didn't offer her much time off, and sadly, Katy's marriage to Russell Brand [94] was subject to rumors of trouble. In December 2011, the stories were confirmed when Russell filed for divorce. Katy bounced back by mid-2012, and has been linked to a new love, Florence + the Machine's Robert Ackroyd. She's now making the press rounds to chat up her behind-the-scenes movie, Part of Me.
Katy's also presiding over a product empire that includes a Barbie in her image and the video game, The Sims 3: Katy Perry's Sweet Treats. Additionally, she voiced a role in the July 2011 picture The Smurfs. Katy received many honors for her work. In 2012, she picked up the Billboard Award's Billboard Spotlight honor and video of the year at the MTV VMAs in 2011 for "Firework."
56. Rihanna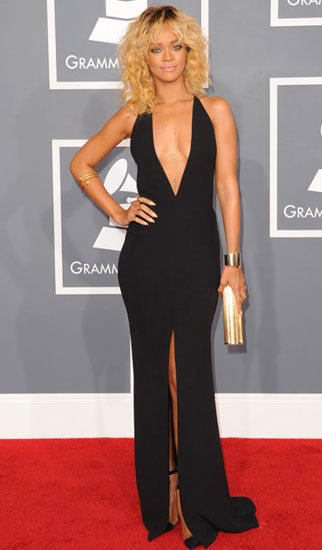 Rihanna [95] played the chameleon this year, endlessly changing up her hairstyle and sexy style. People love her, no matter what the look — Rihanna even clinched Esquire's 2011 sexiest woman alive honor.
Rihanna released her latest album, Talk That Talk, over the holidays in 2011. She later made headlines when she released two new collaborations with Chris Brown [96]. Better received was her "Princess of China" track, made with Coldplay. She even won a Grammy in 2012 for best rap/sung collaboration.
Rihanna took a break from music to promote her first big-screen project, Battleship. The blockbuster wasn't a big hit, but she's already lined up new gigs. Rihanna will be a lead voice in the animated film Happy Smekday!, and also filmed a part for The End of the World. She's further expanding her empire with multiple fragrances.
55. Blake Lively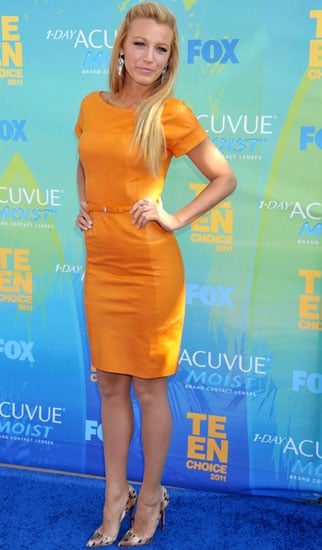 It was a year of hot romances for Blake Lively [97]. In the Summer of 2011, she hooked up with Leonardo DiCaprio [98] for a few whirlwind months, but when the weather cooled so did their relationship, and they announced their split in October. Blake bounced back quickly with her The Green Lantern costar Ryan Reynolds [99]. Since last Fall, the two have quietly become more and more serious and reportedly share a place outside New York. They have enjoyed multiple trips to visit their families together.
Blake is gearing up for the final season of Gossip Girl and is keeping herself busy with tons of movie projects. Blake will kick off the Summer of 2012 promoting the Oliver Stone film Savages. Blake still remains a darling of the fashion world and was named the new face of Gucci's Premiere fragrance.
54. Scarlett Johansson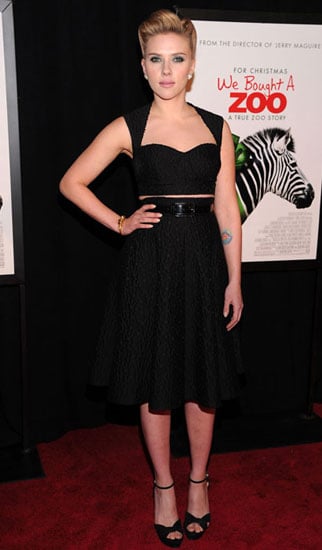 Scarlett Johansson [100] mixed love and movies this year. Her holiday picture We Bought a Zoo was her first picture to hit theaters in the last year, and she got into action hero mode to show off The Avengers. She later spent time on the sets of Don Jon's Addiction, Hitchcock, and Under the Skin. For her efforts, Scarlett won the best international actress honor at Germany's Golden Camera Awards.
She threw herself into the dating pool after her divorce from Ryan Reynolds [101]. Her romance with Nate Naylor was confirmed, and more recently, she's been linked to Bradley Cooper [102]. Scarlett also stayed committed to politics and threw her political weight behind Scott Stringer's Manhattan borough president campaign, as well as President Obama's reelection efforts.
53. Penélope Cruz
Penélope Cruz spent much of the past year focused on being a mom to her son, Leo, though she did also make her postbaby return to the big screen in Woody Allen [103]'s To Rome With Love. Penélope looked fantastic filming that movie on location over the Summer of 2011 and promoting it in the Spring of 2012. Penélope and Javier Bardem [104] enjoyed another happy year together and had some of his professional milestones to celebrate as well, especially when he was cast as the new Bond villain in Skyfall.
52. Kristen Wiig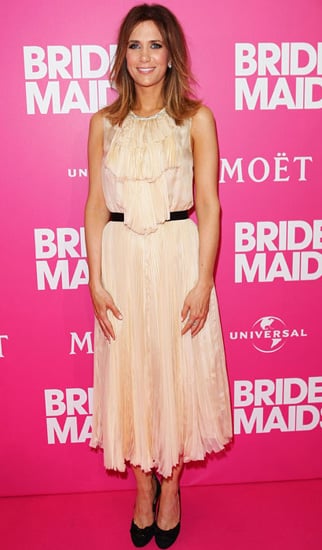 Kristen Wiig took the world by storm this year thanks in part to Bridesmaids. The film earned her tons of critical acclaim for her acting and an Oscar nomination for the screenplay. The 2011-2012 season of SNL turned out to be her last, and the cast bid her a tearful farewell during the emotional finale. Personally, Kristen is going strong with her boyfriend, Fabrizio Moretti from The Strokes. Kristen also joined her friend Jon Hamm [105] on the big screen in Friends With Kids and has a handful of other projects in the works.
51. Drew Barrymore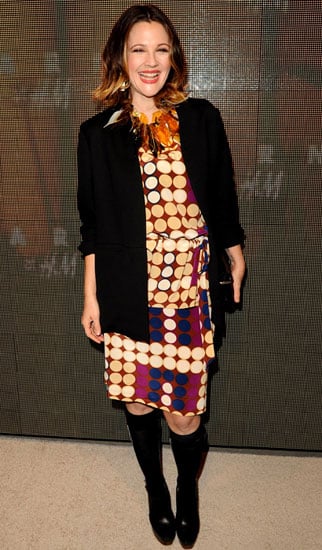 It was a year full of joyful occasions and life highlights for Drew Barrymore [106]. Drew debuted her latest project, Big Miracle, and participated in our I'm a Huge Fan series, but it was her personal life that really shone. At the end of 2011, Drew announced that she was engaged to Will Kopelman. The two didn't wait long to tie the knot and get to work expanding their family. Drew and Will got married in June and are expecting their first child together later this year.
50. Bradley Cooper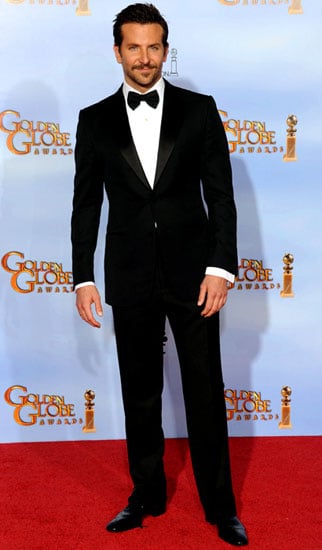 Bradley Cooper [107] was crowned People magazine's sexiest man alive in 2011, and he was smoking hot on red carpets, on the big screen, and in his romantic life. Bradley's baby blues were striking on the cover of People, and he gracefully laughed off the fans who contested that Ryan Gosling [108] was robbed. Bradley ended his relationship with Renée Zellweger [109] in 2011 and was briefly linked to Mélanie Laurent and Jennifer Lopez [110] before finding romance with The Words costar Zoe Saldana [111]. They split after three months together.
49. Channing Tatum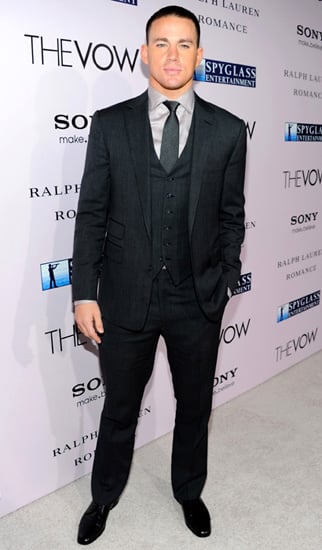 Channing Tatum [112] continued his rise to becoming one of the biggest stars in Hollywood this year. Channing had a series of films on the big screen, but it was his 2012 releases that really made a mark. Channing showed off his sensitive side in the romantic hit The Vow and proved that he's got the chops to be a comedic leading man in 21 Jump Street. Channing was everywhere this Spring promoting Magic Mike, the film based on his time as a stripper. Channing continued to be blissfully happy with his wife, Jenna Dewan, and the two will celebrate their third wedding [113] anniversary this Summer. In fact, they got to share some success when they picked up a Peabody Award for their documentary, Earth Made of Glass.
48. Matthew McConaughey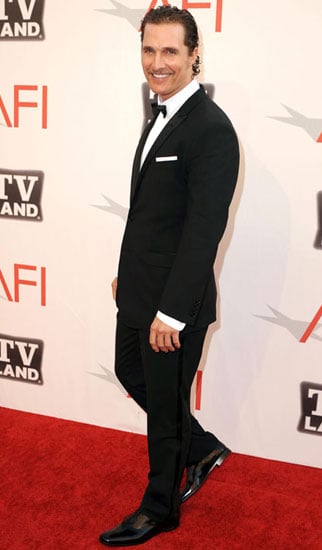 Matthew McConaughey [114] made a big life change when he and his family moved from LA to Austin. The relocation didn't slow down his movie career — in addition to Magic Mike, Matthew also shot Mud and The Paperboy. He traveled to France to premiere the two latter films at Cannes.
Matthew and his longtime love Camila Alves also decided to take a big step. After he popped the question over the holidays in 2011, they tied the knot in June. Matthew and Camila are the proud parents of two little ones, Levi and Vida, who will now grow up with Texan roots just like Dad.
47. Zooey Deschanel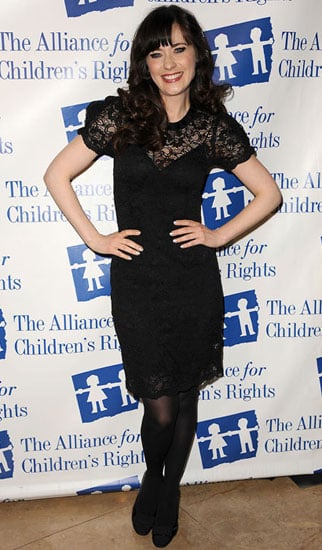 Zooey Deschanel [115] found success with her show, New Girl, which was one of the biggest hits of the 2011 Fall TV season. In addition, Zooey continues to run her website, Hello Giggles, and is a spokeswoman for Pantene. Zooey also works hard on her music and received recognition for her quirky iPhone advertisement.
One sad point of Zooey's year was her split from husband Ben Gibbard. They announced their split in November. However, Zooey enjoyed a fun milestone when she became an aunt to sister Emily's baby girl.
46. Rooney Mara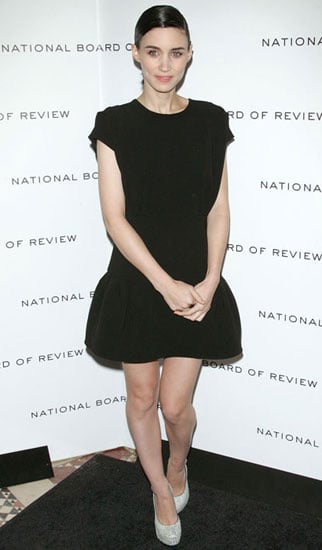 Rooney Mara nabbed a star-making role in The Girl With the Dragon Tattoo. Rooney made a dramatic physical impression as she took on the role of Lisbeth Salander and her hard work paid off when she earned an Oscar nomination. Rooney became a fashion darling and, in particular, established a close relationship with Givenchy. Rooney's going strong with boyfriend Charlie McDowell. Next up for her will be promoting her upcoming films, Lawless and The Bitter Pill.
45. Sofia Vergara
It was another triumphant year for Sofia Vergara, thanks to her hit TV show, Modern Family. She and her costars picked up honors at the Emmys and SAG Awards. On the big screen, Sofia had movies like The Smurfs and New Year's Eve arrive in theaters. Additionally, Sofia showed off her famous curves and sense of humor as the spokesperson for Diet Pepsi. As for her personal life, Sofia recently reunited with her ex Nick Loeb. They briefly split in the Spring of 2012, but are now very much back on.
44. Ben Affleck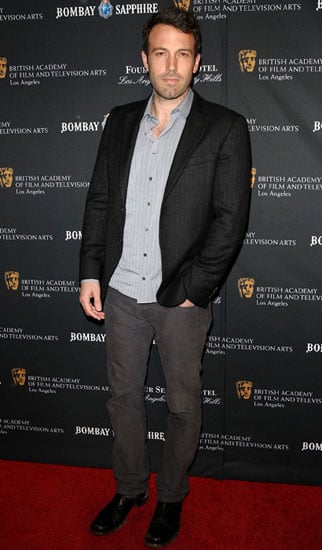 Ben Affleck [116] and his wife, Jennifer Garner [117], welcomed their third child, and first son, this year. Samuel was born in February, and Ben spent lots of time close to home with Jen, Seraphina, and Violet around his arrival.
Ben also made time for his philanthropic and film passions. He directed and starred in the upcoming Argo, which is based on the 1979 Iran hostage crisis and marks his first big-screen project since 2010's The Town. He also paid a trip to Africa with his Eastern Congo Initiative, writing about the experience on Facebook, and visited Washington DC to raise awareness about the child mortality rate in that country.
43. Justin Timberlake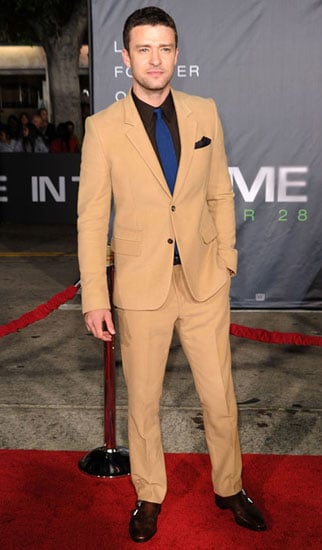 Justin Timberlake [118] continues to be a man of many talents. The highlight of his year, though, was the announcement of his engagement to Jessica Biel [119] The two are reportedly tying the knot this Summer. Fans of JT's music are still waiting for him to return to the recording studio, though he did work to cultivate emerging talent through his record label Tennman. Justin also continued to work on his acting, quickly releasing a trio of films in 2011. Bad Teacher and Friends With Benefits showed off Justin's comedic side while he took on sci-fi action as the leading man in In Time.
Justin expanded his empire in a couple of interesting new directions this year. JT purchased a stake in MySpace and combined his entrepreneurial spirit and love of decor by helping to launch HomeMint.
42. Leonardo DiCaprio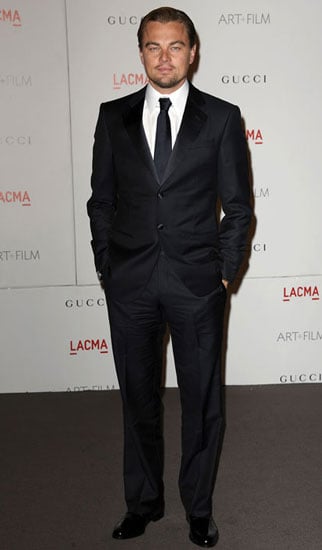 Leonardo DiCaprio [120] was hard at work this year, and is looking ahead to an exciting rest of 2012. Both The Great Gatsby and Django Unchained will hit theaters on Christmas Day. Leonardo also earned acclaim for his work in J. Edgar in the Fall of 2011. Filming, though, kept him away from the promotional trail when Titanic 3D came out.
Leonardo had a brief fling with Blake Lively [121] in the Summer of 2011, though the two split up after only a few months. Leonardo has since taken up with his latest love, Victoria's Secret model Erin Heatherton. All the while, Leonardo continued with his ongoing commitment to helping the environment.
41. Emily Blunt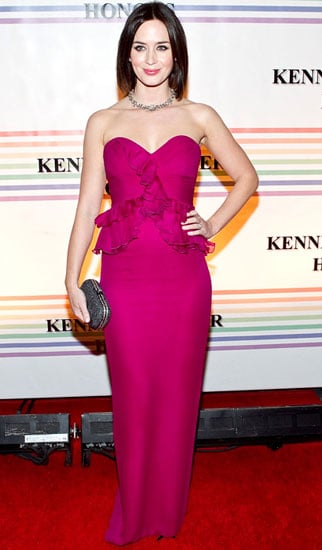 Emily Blunt [122] had a big year professionally, with three movies, Salmon Fishing in the Yemen, My Sister's Sister, and The Five-Year Engagement, arriving in theaters. She even had a small cameo in The Muppets. Emily and husband John Krasinski [123] continued having fun with their A-list pals like Matt Damon [124], George Clooney [125], and even Jimmy Kimmel. To top it all off, Emily was named the new face of YSL Opium in late 2011.
40. Jessica Alba
Jessica Alba [126] expanded her family this year with the August birth of her second daughter, Haven. In addition to juggling her career and parenting, Jessica also launched The Honest Company. She's one of the most active celebrities on social media and shares regular peeks into her happy family life through Twitter and Instagram.
Jessica took a brief break from acting to focus on family and her company, but she recently returned to working in front of the camera in Robert Rodriguez's sequel to Machete, Machete Kills.
39. Diane Kruger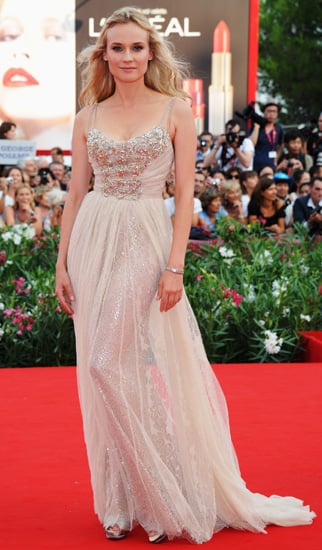 Diane Kruger [127] cemented her status as one of Hollywood's most stylish stars. Her glamour was best on display at the 2012 Cannes Film Festival, at which Diane had the honor of serving on the jury. She brought boyfriend Joshua Jackson [128] along to many of the events, capping off what was a fun-filled year for the duo. It seems Diane was at every one of the best bashes of the year — she was solo, in purple Prada, at the Met Gala and in a hot red Calvin Klein dress for the Vanity Fair Oscars afterparty. Diane attended Coachella with Josh, too. Diane was in the front row for a variety of high-fashion shows during Paris Fashion Week in January.
Her own projects kept her busy as well. She promoted Farewell, My Queen ahead of its European release and at the Berlin International Film Festival, and premiered Special Forces in Paris. Josh and Diane, who split their time between LA and Paris, also indulged their love of sports, checking out the French Open and the NHL Awards.
38. Liam Hemsworth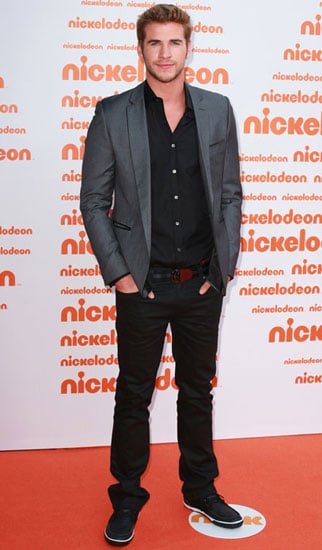 Liam Hemsworth landed one of the hottest roles of the year, portraying Gale in The Hunger Games. The film was a huge one for Liam and a major box office success —  The Hunger Games held the top spot at the box office for nearly a month. He has many more projects in the pipeline. Liam's currently filming Empire State, and will soon have The Expendables 2 in theaters.
Liam's personal life also hit a high note with his engagement to Miley Cyrus [129]. Rumors circulated during award season that the pair were tying the knot when Miley stepped out with a huge ring on her left hand. That gem turned out to be a white sapphire, but just a few months later, the couple actually did get engaged. Liam also became an uncle when his older brother Chris welcomed a daughter, India.
37. Oprah Winfrey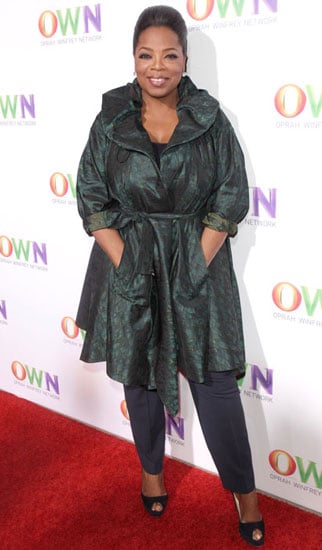 It was a year of transition for Oprah Winfrey [130]. After bidding farewell to her talk show of 25 years, Oprah embarked on her next adventure. Oprah focused her time on her television network, OWN, and specifically her show Oprah's Next Chapter. Oprah still found time to share her favorite things in O Magazine over the holiday season. In the Spring of 2012, Oprah shifted gears on her show to get back to the high profile celebrity interviews. Oprah had intimate sit-downs with stars like Kim Kardashian [131], the world champion Miami Heat, and more. Oprah continues to share details about her life with her active Twitter and Instagram accounts.
36. Cameron Diaz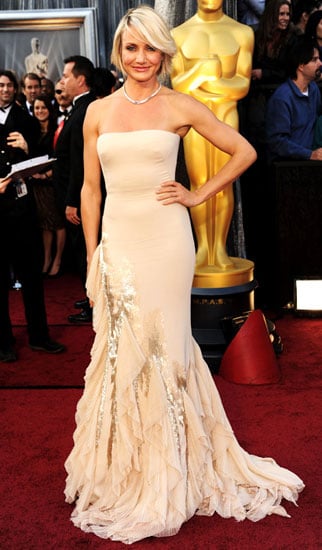 Cameron Diaz [132] kept the good times rolling this year. She split from boyfriend Alex Rodriguez, but bounced back with the help of her girlfriends like Gwyneth Paltrow [133] and Stella McCartney. Cameron was even a bridesmaid at her pal Drew Barrymore [134]'s wedding [135].
She shot Gambit in the late Summer, and later switched gears to promote What to Expect When You're Expecting before its May 2012 release. Cameron was in the headlines throughout the year thanks to her rumored romance with Diddy [136], and later, when she chopped off her trademark long blond locks.
35. Meryl Streep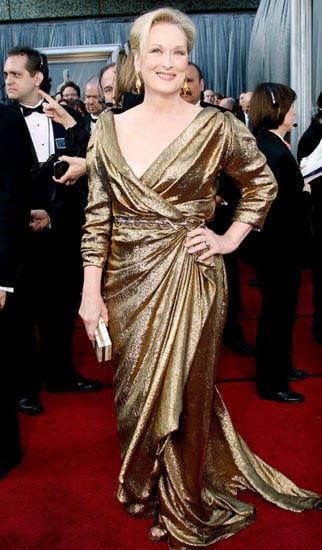 It was another huge year for Meryl Streep [137], who added another little gold man to her collection with February's Oscar win. Meryl's latest Academy Award, her first in 20 years, was for her starring role in The Iron Lady. Meryl also won a Golden Globe and a BAFTA for her portrayal of Margaret Thatcher in the film. Up next, Meryl will be joining Julia Roberts [138] in the movie Osage Country, which will be produced by George Clooney [139]. Meryl remains one of the most beloved actresses in Hollywood and has been married to husband Don Gummer since 1978.
34. Mila Kunis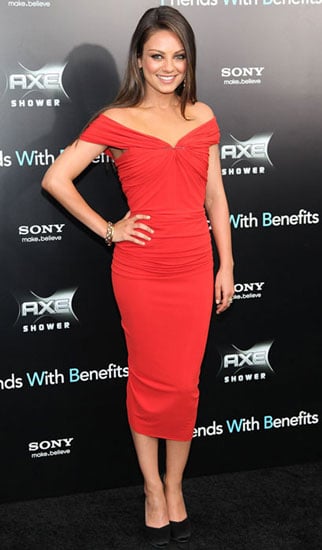 Mila Kunis [140]'s star continued to rise this year. Mila teamed up with Justin Timberlake [141] in Friends With Benefits and worked with Mark Wahlberg [142] on this Summer's Ted. She also shot the highly anticipated Oz: The Great and Powerful and is currently filming Blood Ties.
Away from big-screen projects, Mila became the face of Christian Dior's Miss Dior bag line. After splitting from longtime love Macaulay Culkin, Mila was briefly linked to her former That '70s Show costar Ashton Kutcher [143]. She's denied any romance, but certainly brought one serviceman as a date to this year's Marine Corps birthday ball.
33. Jennifer Garner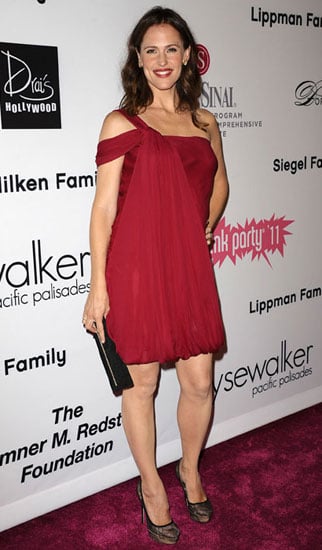 Jennifer Garner [144] focused on film and family. She and husband Ben Affleck [145] made their daughters, Violet and Seraphina, big sisters with the February arrival of baby Samuel Affleck. Ben was in awe of his wife and posted a sweet message on Facebook in which he called her a "world-class mom." Before and after Samuel's birth, Jennifer focused on the two films she has arriving in theaters this year — The Odd Life of Timothy Green is out in August and her indie Butter will have a limited US release in October. She was honored with the female star of the year trophy at CinemaCon in April.
Jennifer stuck close to home in LA to do her favorite things — like library and farmers market runs — with her little ones. However, she also took the time to advocate for causes close to her heart, like early reading skills for children and helping underprivileged kids.
32. Michelle Williams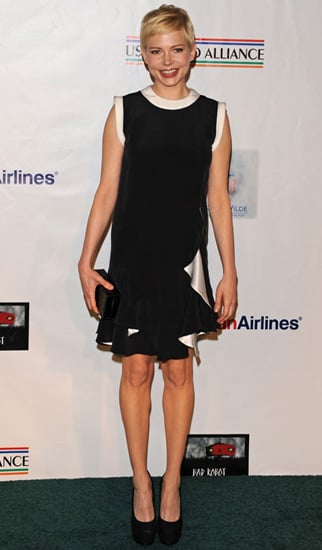 Michelle Williams [146] was celebrated for her role as Marilyn Monroe in My Week With Marilyn. The portrayal won Michelle a Golden Globe, which she dedicated to her daughter, Matilda Ledger. Michelle was also nominated for honors at the SAG Awards, the Oscars, and the BAFTAs. She promoted her June release, Take This Waltz, and during the Spring, shot Oz: The Great and Powerful.
When she wasn't on the red carpet, Michelle spent time at her Brooklyn and upstate New York homes with Matilda. In early 2012, Jason Segel [147] joined in on the fun. Michelle's best friend, Busy Philipps, introduced Michelle and Jason, and the two hit it off quickly. Jason and Michelle are one of Hollywood's hottest new couples, and have even taken to supporting each other at their various premieres.
31. Selena Gomez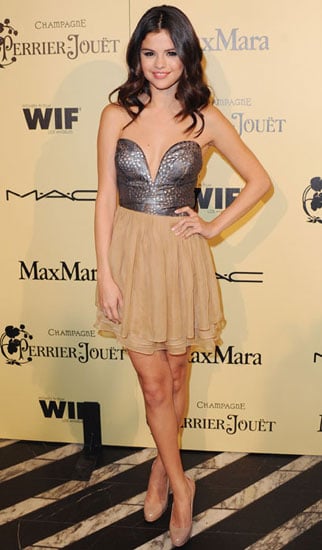 It's been a huge year for Selena Gomez [148]. The teen shot a new movie, toured with her band, and continued making headlines with boyfriend Justin Bieber. Selena also added to her family with a rescue pup named Baylor.
Selena relocated to Florida for a few weeks to shoot Spring Breakers. The project required that she shed her good-girl image and don a bikini for some scenes. Selena starred in a video for Carly Rae Jepsen's "Call Me Maybe" and a Fifty Shades of Grey parody. Selena expanded her brand further by launching her first fragrance. She was rewarded for all the hard work with a favorite female singer win at the 2012 Kids' Choice Awards.
30. Prince William
Prince William was busy during his first year of marriage. He balanced his work with the Royal Air Force with the demands of being a senior royal. Though William is usually stationed in Wales, he spent six weeks dispatched to the Falkland Islands with his unit. Prince William and his wife, Kate Middleton, represented the royal family abroad as well, traveling through Canada and North America during the Summer of 2011. This Spring, William's been an integral part of his grandmother Queen Elizabeth's Diamond Jubilee.
Of course, William's many obligations haven't meant no fun. He was able to get away with Kate's family on two great vacations, one in Mustique and the other in the French Alps. William also rang in his 30th year in the company of friends and family.
29. Kate Winslet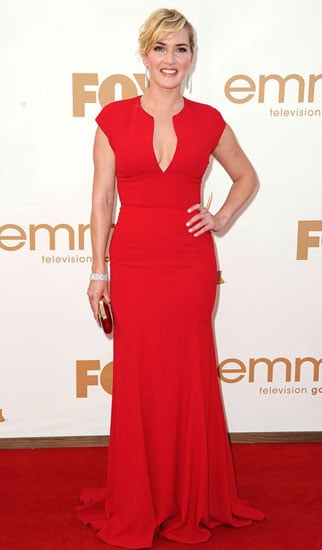 Kate Winslet [149] had a year of action and drama. She played the hero when she rescued vacationers from a fire at Richard Branson's Necker Island estate. She even emerged from the tragedy with a new love interest, Branson's nephew Ned Rocknroll.
Kate's Fall was filled with award show wins, film festivals, and movie promotions. She released two projects, Carnage and Contagion, and continued endorsing the international beauty brand Lancome. Kate swept award season with wins at the Golden Globes, SAGs, and Emmys for her dramatic role in HBO's Mildred Pierce. The film that sparked her career also made a return to theaters. Titanic was rereleased in 3D.
28. Julia Roberts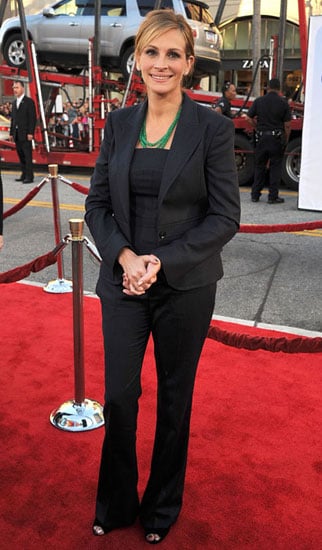 Julia Roberts [150] was back on the big screen, starting with last Summer's Larry Crowne. The project offered Julia a chance to work with her good friend Tom Hanks [151]. Lily Collins was paired with Julia for their Snow White adaptation, Mirror Mirror. Promotion for the latter film netted Julia her latest Vanity Fair cover.
In addition to acting, Julia tried on a producing hat. Jesus Henry Christ, which Julia produced with her sister Lisa Roberts Gillan, finally hit theaters. Julia spends most of her downtime with her husband, Danny Moder, and their three kids, Hazel, Phin, and Henry.
27. Miranda Kerr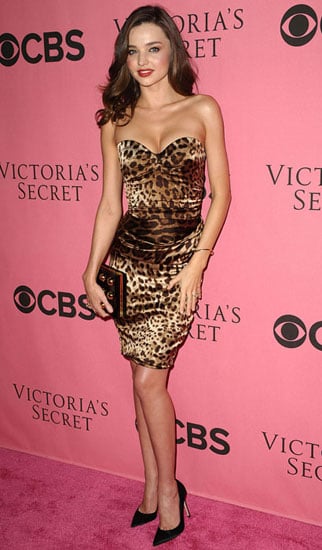 Miranda Kerr [152] was back on top as one of the world's most in-demand supermodels, after taking time off in 2011 to welcome her son, Flynn Bloom. She traveled the world, from Sydney to Paris, in order to hit the catwalk for brands like Chanel, Dior, and Lanvin. The biggest runway she strutted, however, may have been the one for the Victoria's Secret show in November 2011. She had the honor of modeling the brand's Fantasy Bra, and her husband, Orlando Bloom [153], was in the front row cheering her on.
Miranda, Orlando, their 1-year-old son, Flynn, and dog Frankie were based in LA but visited often with their Kerr relatives Down Under. It was an arrangement that worked well for Miranda, since she was able to work with Aussie retailer David Jones and tend to promotional commitments for her Kora Organics skin care label. She's also currently a face of Lipton Iced Tea and Reebok. She was celebrated for her work by winning the most stylish woman award at Sydney's Women of Style Awards. Miranda continued to be an outspoken advocate for environmental causes and even conducted a free yoga class for fans as an incentive to participate in Earth Hour.
26. Sandra Bullock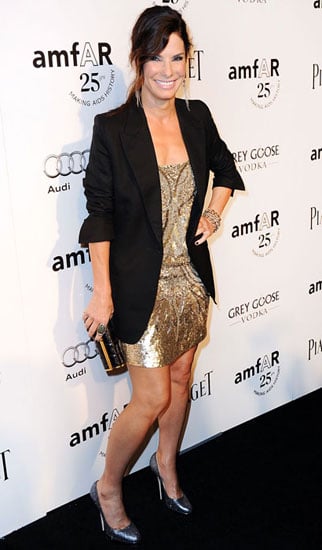 Sandra Bullock [154] had another year filled with family, film, and fun. She shot Gravity with pal George Clooney [155] and promoted her holiday release Extremely Loud and Incredibly Close. The latter film was Sandra's first since winning an Oscar in 2010 for The Blind Side, and it earned an Oscar nomination in the best picture category. When she wasn't working, Sandra hung out in LA with her son, Louis Bullock, and friends like Heidi Klum [156].
25. Tom Cruise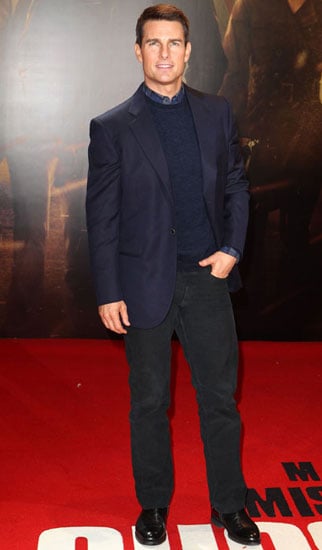 Tom Cruise [157] was back and better than ever this year! Fans of Tom got to see him tackle two very different roles — he was back as Ethan Hunt in Mission: Impossible — Ghost Protocol and then showed off his singing chops in the musical Rock of Ages. He also lined up two more big action parts, filming Jack Reacher, the first in a possible franchise based on the Jack Reacher novels, and Oblivion. Supporting Tom throughout it all has been his wife, Katie Holmes [158], and their three kids, Connor, Isabella, and Suri. Tom turned 49 and seems to be entering a new phase in life. He was selected to present the best picture Oscar at the 2012 Academy Awards, and was also honored for his work with the Friars Club's Icon Award, a distinction that's only been handed out to three other entertainers in history.
24. Jennifer Lopez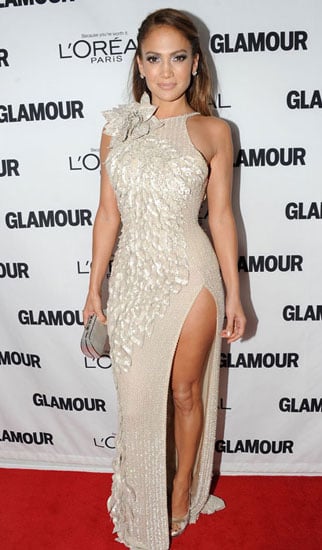 Jennifer Lopez [159] shocked fans last Summer with news of her split from Marc Anthony [160]. It didn't take long for the singer to get back into the dating pool, and she was quickly linked to dancer Casper Smart. Casper quickly grew close to her kids, Max and Emme. Jennifer and Marc seem to be on good terms, too, and have linked up to do press for their reality show, ¡Q'Viva!: The Chosen.
She dazzled audiences twice a week in primetime during her second season on American Idol. She also dabbled in film with the movie What to Expect When You're Expecting. Up next for J Lo is a role in Ice Age: Continental Drift. She's spending the Summer touring to support her album Dance Again, and has been seen as a spokesmodel for brands ranging from her own fragrance line to Harman Kardon and Fiat.
23. Victoria Beckham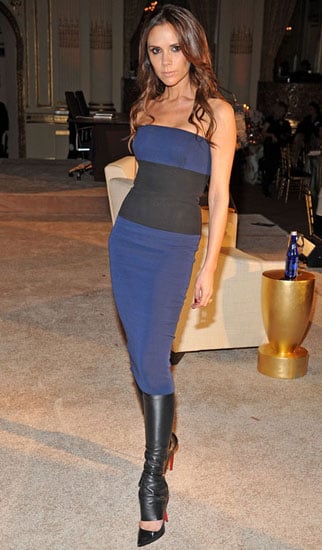 Victoria Beckham [161] expanded her family with the July 2011 arrival of her first daughter, Harper Seven Beckham. She, husband David, and their sons, Romeo, Cruz, and Brooklyn, doted on the little one all year long. Harper was even allowed to go along on work trips with Victoria, as she promoted Range Rover and the Victoria Beckham Collection in places like the UK and Asia.
Victoria's experienced a great deal of success with her Victoria Beckham Collection and her lower-priced line, Victoria Victoria Beckham. She's a fixture at New York Fashion Week and was honored with the designer of the year prize at the British Fashion Awards. Victoria also launched a Twitter account and often shared behind-the-scenes fun featuring her family and their dog, Coco. She's often in the stands supporting David at LA Galaxy games and has a close circle of LA-based friends like Kate Beckinsale [162] and Eva Longoria [163].
22. Gwyneth Paltrow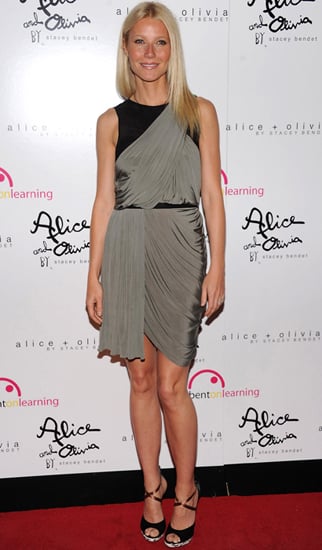 Gwyneth Paltrow [164] masterminded another 12 months of Goop, her healthy living tips newsletter. When she wasn't doling out advice about travel or fashion, she was having fun herself. Gwyneth jet-setted between her home in London, where kids Apple and Moses go to school, and various spots around the world, where her famous friends like Beyoncé Knowles [165], Stella McCartney, and Cameron Diaz [166] gathered. Gwyneth had a great time with husband Chris Martin [167] and the notoriously press-shy couple were seen together multiple times.
Gwyneth worked on two films slated for release in 2013, including Iron Man 3 and Thanks For Sharing. She was also in demand as a spokesmodel, inking deals with Hugo Boss, European clothing chain Lindex, and grocery chain Spar.
21. Britney Spears
Britney Spears [168] had two big things to celebrate this year — she became engaged to longtime love Jason Trawick and she negotiated her way into a job on the US version of The X Factor! She's in the middle of traveling the US to find contestants for the program's second season.
As of July 2011, she was on a global tour promoting her most recent album, Femme Fatale. It was a lot of traveling, but she was still able to have fun with her sons, Sean Preston and Jayden James, between shows, thanks to beach and pool days in Long Island and Rio. Over the Summer, Britney showed how hot her and Jason's chemistry is by casting him as her love interest in her video for "Criminal." Britney was honored with a tribute at the 2011 MTV VMAs. At the show, she received the Michael Jackson [169] Video Vanguard honor.
She also rang in her 30th year last December, and shortly after, ended her tour in Puerto Rico. In mid-December, Britney and Jason confirmed their plans to wed. It didn't take Britney long to show off the custom-designed Neil Lane sparkler.
20. Natalie Portman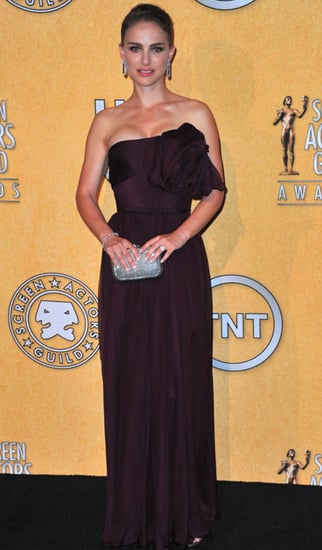 Natalie Portman [170] may have taken a break from making movies over the past year, but that didn't mean she was out of the spotlight. She welcomed her first child, son Aleph, in June of 2011, and spent many days with her family of three, including her fiancé Benjamin Millepied. Natalie and Benjamin's nuptials news went public in February after the duo showed off shiny new wedding [171] bands on the red carpet at the Oscars. Natalie got back to work in May when she started work on Knights of Cups with Christian Bale [172].
19. Jennifer Aniston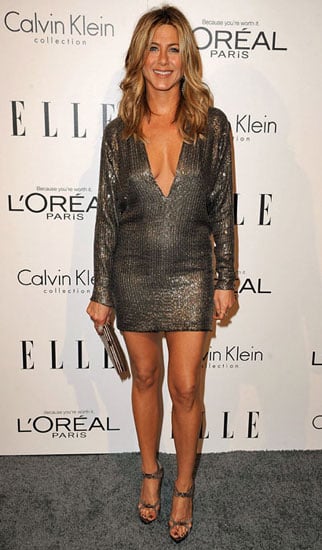 Jennifer Aniston [173] spent last Summer promoting her raunchy comedy Horrible Bosses, and later switched gears to show off Wanderlust. The latter movie was about work and fun, since she got to make the press rounds alongside her costar and real-life love, Justin Theroux. Also, Jen stepped out of the world of acting and got behind the camera to direct Five.
Jen logged hours with her good friends like Chelsea Handler, and even presented the comedian with a Glamour woman of the year award. A new pet came into Jen's life when she adopted a pup named Sophie. All of Jen's hard work was rewarded when she got a star on the Hollywood Walk of Fame. Jennifer spent $21 million for an LA mansion, which is not far from her new star and will serve as a place for her and Justin to put down roots.
18. Jennifer Lawrence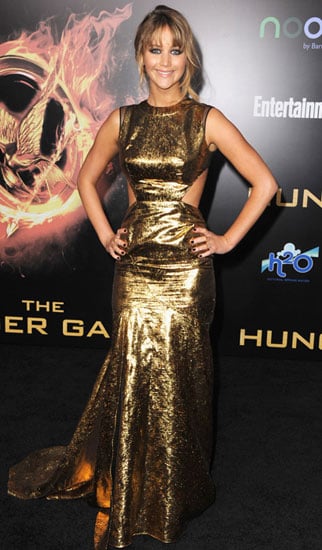 It was a wild 12 months for Jennifer Lawrence [174] with the March release of The Hunger Games catapulting her into the spotlight. The movie shattered records at the box office after Jennifer's worldwide press tour, which helped her show off her stylish side with multiple red carpet appearances. On the personal front, Jennifer's relationship with her X-Men: First Class costar Nicholas Hoult stayed steady as the couple traveled to London and Monaco when they weren't hanging out in LA.
17. Jessica Simpson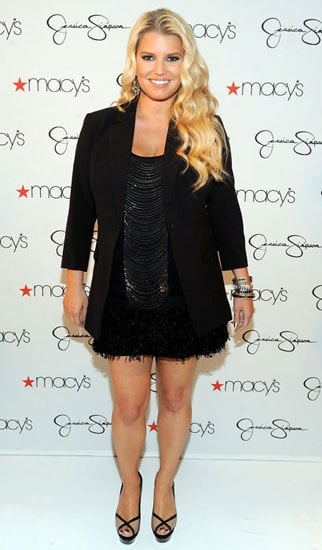 Jessica Simpson [175] has had a whirlwind year — the star became a mother to a baby girl, Maxwell, with fiancé Eric Johnson in March. Jessica memorably confirmed her pregnancy by dressing as a mummy for Halloween [176] and posting on Twitter that she planned to be a "mummy!" She proudly showed her bump in a nude cover for Elle and spoke candidly about her body's changes during her pregnancy. She and Eric always planned to wed following Maxwell's arrival.
Following the birth, Jess confirmed that she has a deal to lose her baby weight through Weight Watchers. Jessica also made the rounds to promote her reality TV series Fashion Star. Ever the entrepreneur, she's still managing her Jessica Simpson Collection and plans to branch out with a new maternity line in the coming months.
16. George Clooney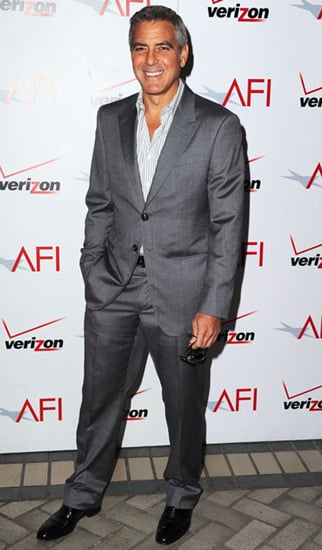 George Clooney [177] wrapped up Summer 2011 by showing off The Ides of March at the Venice and Toronto Film Festivals. It was at an event in Canada that George and his rumored girlfriend Stacy Keibler went public with their romance. Once the political project hit theaters in October, George moved on to promoting The Descendants ahead of its Thanksgiving release. Both films got George plenty of award season recognition including Golden Globe and Academy Award nominations. George unwound throughout the year with getaways to Cabo alongside Stacy, and the duo celebrated one year together at Lake Como in June. George stayed political as well. He advocated to bring attention to the Sudan, even getting arrested as a publicity stunt. George also hosted a star-studded fundraiser at his LA home for President Obama.
15. Anne Hathaway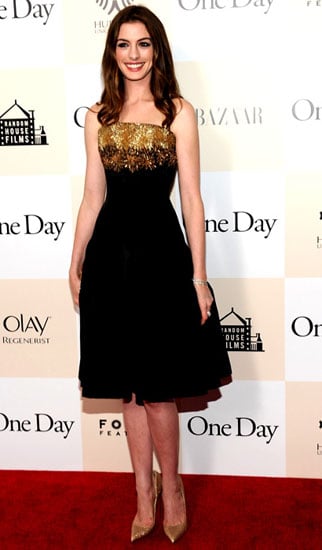 Anne Hathaway [178] went from one serious role to another. She spent much of the Summer and Fall wearing a sexy Catwoman costume on the set of The Dark Knight Rises, though she broke from the action movie to promote and premiere One Day in August. In the Spring, Anne switched gears to film the musical Les Miserables after buzzing her hair for the part. In the middle of her packed acting schedule in November, Anne got engaged to boyfriend Adam Shulman, and the duo celebrated the news with an NYC bash in February. The excitement continues for Anne in July, when The Dark Knight Rises hits theaters.
14. Emma Watson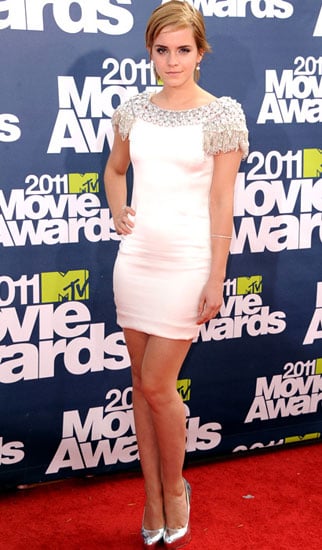 Emma Watson [179]'s turn in the last of the Harry Potter franchise, Harry Potter and the Deathly Hallows Part 2, has earned her a spot on the PopSugar 100. In addition to playing Hermione Granger in the record-breaking film, Emma also racked up a BAFTA nomination for her role in My Week With Marilyn. The actress and Lancome spokesmodel took a break from her studies at Oxford University to promote the movie and has currently been hard at work on the set of her next venture. Emma stars alongside Kirsten Dunst [180], Gavin Rossdale [181], and Leslie Mann in Sofia Coppola's latest film, The Bling Ring. She'll also carry her star power into next year with the release of her long-awaited flick The Perks of Being a Wallflower.
13. Taylor Swift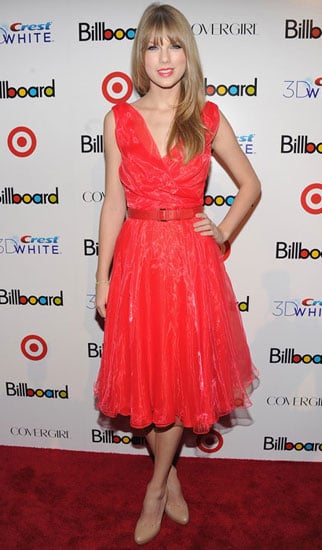 Taylor Swift [182] had another banner year in her professional career. She ventured outside the world of music for some new gigs, including the launch of her first fragrance, Wonderstruck. Award season was sweet to Taylor, who added additional Grammy, AMA, CMA, and TCA wins to her long list of accolades. Her status as a fashion icon was also recognized in February when she landed the cover of Vogue. In the Spring, Taylor teamed up with Zac Efron [183] in The Lorax for her first starring role and also lent her voice to The Hunger Games soundtrack. Her personal life was out of the spotlight, but former flame John Mayer [184] spoke out about how hurt he was when Taylor wrote a song about him.
12. Charlize Theron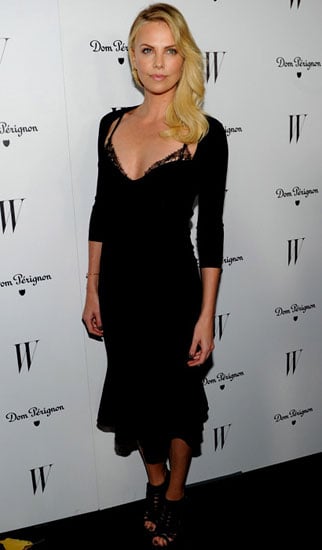 Charlize Theron [185]'s past 12 months of hard work solidified her a spot on the PopSugar 100. Her indie hit Young Adult made waves at the end of 2011, and Charlize earned a best actress nomination at the Golden Globes. Charlize quickly moved on to bigger blockbusters. She promoted Snow White and the Huntsman with costar Kristen Stewart [186] throughout the year, leading up to the movie's huge June release. The big-screen action didn't stop there for Charlize, since Prometheus hit theaters in June too.
There was even more excitement for the star when she adopted a child, Jackson, and brought him along on her many travels with help from her own mom. Charlize is heading into another successful year with work on Mad Max: Fury Road, which she prepped for by shaving her head.
11. Ryan Reynolds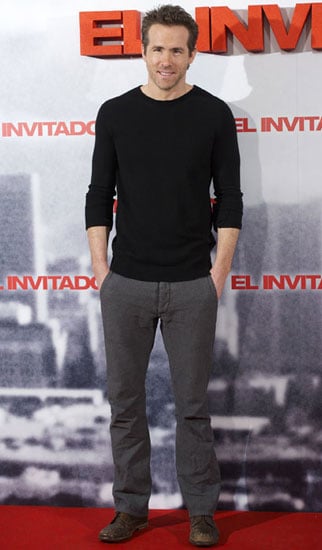 It was another hot year for handsome Ryan Reynolds [187]. He made a splash in theaters with The Green Lantern, a picture he starred in opposite current girlfriend Blake Lively [188]. Ryan released The Change-Up with Jason Bateman [189] and shot R.I.P.D. in Boston, where Blake was often spotted leaving his residence. The couple got serious over the holidays and vacationed with his family in Vancouver. They've since been spotted in New Orleans, New York, and Connecticut. Ryan teamed up with Denzel Washington [190] earlier this year to promote their CIA thriller, Safe House, and continued working with the brand Hugo Boss.
10. Emma Stone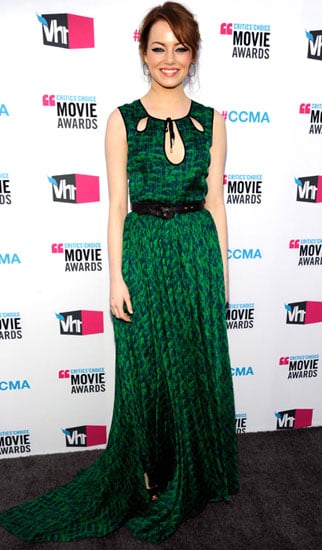 Emma Stone [191] was everywhere over the past year with multiple big-screen hits and countless red carpet appearances. She starred in Crazy, Stupid, Love, the award-winning The Help, and Friends With Benefits, and rounded out the year with her blockbuster The Amazing Spider-Man. Her Spider-Man press tour with real-life boyfriend Andrew Garfield took her around the globe. She wowed on red carpets and graced multiple magazine covers as the year went on, and even inked a big deal to represent Revlon.
9. Johnny Depp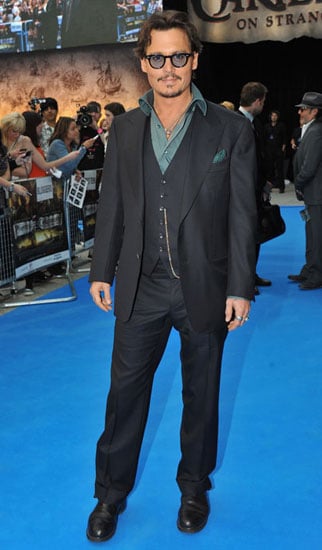 Johnny Depp [192]'s most recently been in the news for his sad breakup with Vanessa Paradis, which was announced after months of speculation. The year wasn't all bad news for the star, though, since he had The Rum Diary hit theaters, made a surprise cameo in the successful 21 Jump Street, and premiered Dark Shadows. Johnny also got musical with a guitar moment at the Revolver Golden God Awards in April and a special stage show at the MTV Movie Awards in June. Johnny has since returned to acting with production on The Lone Ranger currently under way.
8. Reese Witherspoon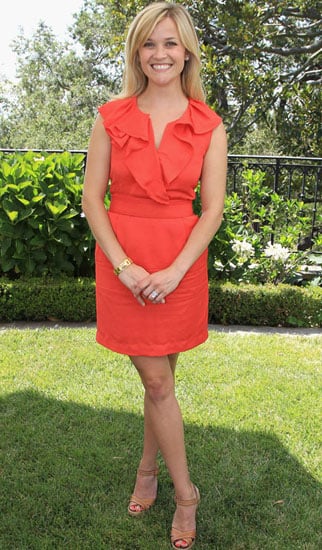 Reese Witherspoon [193] was a newlywed as she headed into the Summer of 2011. At the beginning of 2012, she broke from blissful travels with her new husband, Jim Toth, to promote This Means War with her equally handsome costars, Chris Pine and Tom Hardy. In the Spring, Reese's personal life was back in the spotlight with rumors that she was expecting her first child with Jim. Around the same time, the couple celebrated their first wedding [194] anniversary, but didn't comment on the baby news. Reese did debut a bump on the beach in Costa Rica during an April family vacation and showed off her belly again in May on the red carpet at the Cannes Film Festival, where she promoted Mud with Matthew McConaughey [195]. Reese finally talked about her pregnancy publicly at the Renaissance Awards in June.
7. Ryan Gosling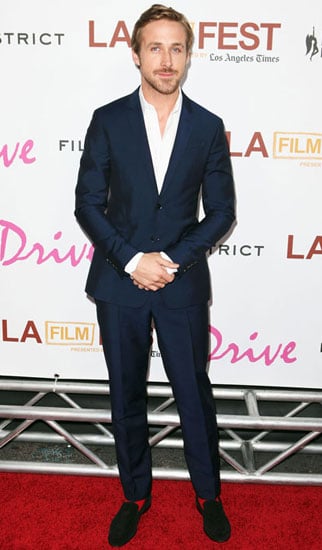 It's been one hit after another for Ryan Gosling [196]. He put out three movies in less than six months and shot three more. Ryan showed off his comedic side, and his six-pack abs, in last Summer's Crazy, Stupid, Love. In the Fall, he shifted back into dramatic roles with the release of Drive and The Ides of March. Meanwhile, during his hectic promotional schedule he also filmed Lawless, Gangster Squad, and The Place Beyond the Pines.
While filming Pines, Ryan also made a personal connection with costar Eva Mendes [197]. Not long after wrapping on the film the pair were spotted on a romantic Disneyland date, and in December, strolling through Paris hand-in-hand. Eva and Ryan didn't comment on their relationship status but they did collaborate on a Funny or Die skit, "Drunk History of Christmas."
Award season came and went, though Ryan was a no-show at most of the ceremonies. Instead of suiting up on the red carpet to celebrate his Hollywood success, he jetted to Thailand to shoot Only God Forgives with his Drive director, Nicolas Winding Refn.
6. Angelina Jolie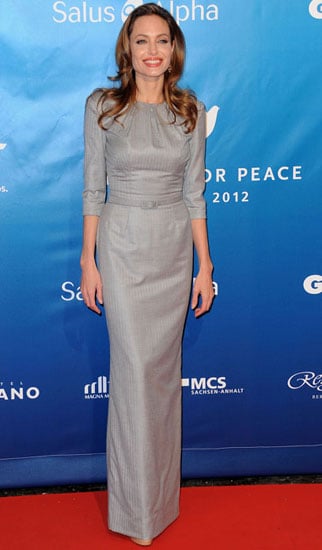 Angelina Jolie [198] was all over the map in the past year with family travels, work obligations, and philanthropic appearances. She released her directorial debut, In the Land of Blood and Honey, and gained recognition throughout award season for her work. She wowed at the Oscars in a sexy leg-baring gown after gracing the carpet at the Golden Globes, SAG Awards, and others with Brad Pitt [199]. Angelina took a break from her own projects to support her longtime partner during his filming on World War Z and press for Moneyball. She was back in the spotlight in June, when Angelina returned to work in the UK with the start of production on her latest big-screen effort, Maleficent. The biggest news for Angelina this year, though, was of her engagement to Brad in April.
5. Robert Pattinson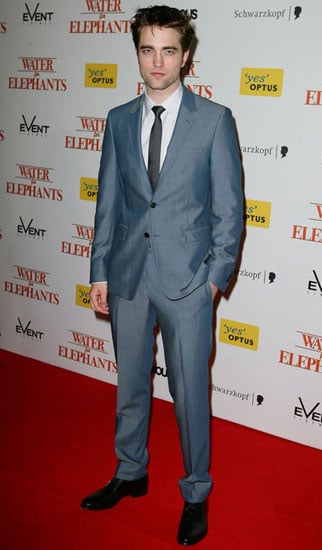 Robert Pattinson [200] was busy on the Toronto set of Cosmopolis for much of last Summer, though he did break to do Twilight press at Comic-Con and the Teen Choice Awards. In the Fall, Rob traveled between Canada, LA, and London, where he visited girlfriend Kristen Stewart [201] on the set of Snow White and the Huntsman. Rob hit the road with Ashley Greene [202] to promote Breaking Dawn Part 1 and was honored with a Hollywood handprint ceremony before the film's big premiere and November release.
Rob rang in 2012 in LA, where he made his first public appearance of the year at the People's Choice Awards. Next, he was on to red carpet stops for Bel Ami before landing back on the West Coast to celebrate the Oscars with Kristen Stewart. In March, the couple spent a romantic weekend in Paris before Rob showed off his shirtless [203] body while surfing in Malibu at the beginning of April. In May, Rob celebrated his 26th birthday and stepped out on the red carpet at Cannes for Cosmopolis.
4. Brad Pitt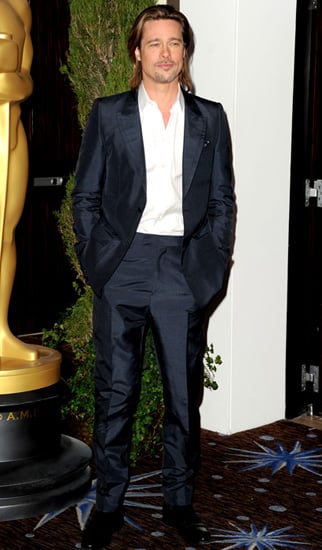 Brad Pitt [204]'s steady Hollywood presence continued this year with his hit, Moneyball. The picture garnered many award season nominations, landing him statues at the Palm Springs International Film Festival and the Critics' Choice Awards. Brad switched genres to a more action-packed movie with production on World War Z. He was also busy with family, traveling around the globe as he and Angelina Jolie [205] showed their six children exotic locations like the Galapagos Islands. He took a break from dad duty to attend the Cannes Film Festival for Killing Them Softly and locked down a contract with Chanel in May. In April, he and Angelina announced their engagement.
3. Kristen Stewart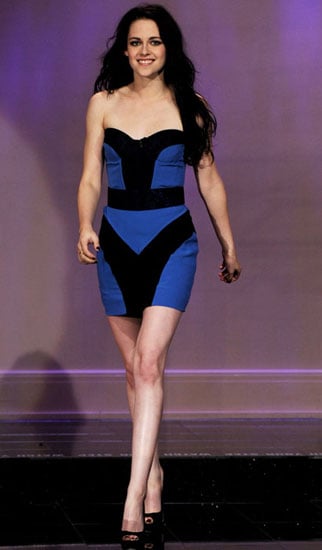 Kristen Stewart [206] hasn't slowed down. Her Summer in 2011 was all about training for her fairy-tale role in Snow White and the Huntsman and talking up Breaking Dawn Part 1 with Robert Pattinson [207] and Taylor Lautner [208] at Comic-Con. Kristen's many projects put her in the spotlight over the next few months with covers on W magazine, GQ, and Glamour. In the Fall, Kristen juggled promotions for the Twilight installment, which came to a head at her Hollywood handprint ceremony. Breaking Dawn Part 1 finally hit the big screen with huge success, helping Kristen wrap up an awesome year.
The fun didn't stop for the star, though, as she traveled to Paris in the New Year to shoot a Vanity Fair spread with Karl Lagerfeld. Kristen kept up the overseas excitement with a visit to Fashion Week, where she checked out the Balenciaga show and the new Louis Vuitton exhibit. In March, Kristen was on the go with Charlize Theron [209] for SWATH before meeting up with Rob at Coachella in April. Her major red carpet moment came when she hit the Met Gala in Balenciaga, a brand she's representing. Her gorgeous appearances continued at Cannes with her On the Road cast. In June, SWATH rocked the box office, rounding out an awesome year for Kristen.
2. Beyoncé Knowles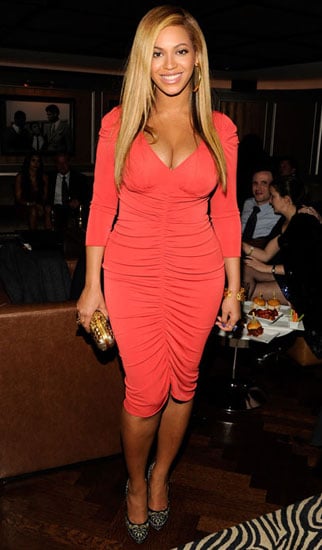 The past 12 months have been a whirlwind for Beyoncé Knowles [210], who marked some major milestones in her life. The singer turned 30, toured the globe, and surprised fans by announcing her pregnancy on the red carpet at the MTV Music Awards. Beyoncé and husband Jay-Z welcomed their first child, daughter Blue Ivy Carter, to the world on Jan. 26 and not long after, shared the first photos of their baby girl.
In addition to becoming a mom, Beyoncé also added blogger to her long list of achievements. She launched her own Tumblr and shared bikini, vacation, and wedding [211] photos from her personal archives. In May, she made a highly anticipated return to the stage and showed off her postbaby body in a collection of sexy costumes.
1. Kate Middleton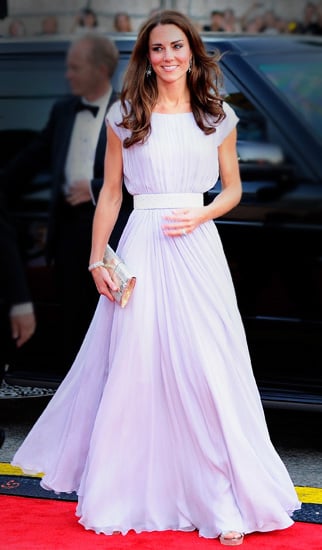 Kate Middleton kicked off her first official year as a royal with a Summer tour to North America. She showed off her casual and glamorous sides at events in Alberta, Calgary, Santa Barbara, and Los Angeles, among others. Upon Kate's return to London, the royal wedding [212] exhibit at Buckingham Palace was unveiled. Kate and Prince William's wedding fun continued with William's cousin Zara's nuptials to Mike Tindall.
After a busy first six months of marriage, Kate spent time close to home in Wales while William was stationed with the Royal Air Force. They celebrated their first holiday season as a married couple before Kate turned her focus to philanthropy, accepting honorary positions with a handful of charities.
Kate's 30th birthday in January was followed by a glamorous trip to the island of Mustique with the Middletons in February. Then, William commenced his six-week deployment to the Falkland Islands. While William was overseas, Kate stepped out solo for philanthropic engagements and made her first public speech. She and William also added to their family with the addition of their Cocker Spaniel, Lupo. The royal couple next tended to their official duties as they marked the queen's Diamond Jubilee with multiple events throughout the UK.