Will 2013 be a year of miracles?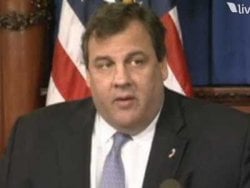 First, Chris Christie loudly acknowledges how cruel the GOP is to people in need, now a GOP Senator says his own stroke has opened his eyes on Medicare:
WASHINGTON, D.C. — The left side of his face is sometimes stiff. His speech occasionally halting, as though his thoughts are racing ahead of his words.
But it's clear Sen. Mark Kirk's mind remains sharp.
One year after he suffered a major stroke, the North Shore Republican told the Chicago Sun-Times he hopes he will touch others when he climbs the steps of the Capitol on Thursday, particularly fellow stroke victims, and give them hope.
"The problem is not whether this stroke is completely debilitating. What I want to say is, be an example to my fellow stroke patients. 'Dad, don't give up, Senator Kirk afterall, is climbing the steps of the Capitol after rehab,'" he said. "A stroke is not the end of the world, you will come back."
Kirk is coming back on Thursday. And he's ready to work.
He spoke with the Sun-Times in a sit-down interview in the U.S. Capitol one day before he plans his dramatic climb up the Capitol steps. He said would support an assault weapons ban and has a new perspective on the Illinois Medicaid program.
"I will look much more carefully at the Illinois Medicaid program to see how my fellow citizens are being cared for who have no income and if they suffer from a stroke," Kirk said.
He said in general a person on Medicaid would be allowed 11 rehab visits in Illinois. "Had I been limited to that I would have had no chance to recover like I did. So unlike before suffering the stroke, I'm much more focused on Medicaid and what my fellow citizens face."
Since last year, Kirk has endured an aggressive rehabilitation, including considerable time on the treadmill, which he calls "the dreadmill." He suffers from paralysis on the left side of his body, which means he had to relearn how to walk.
Sitting in a recording studio in the Capitol, it was clear Kirk remained mentally sharp a year after enduring intensive surgery to relieve his brain swelling.
He's learning Mandarin and Polish and spoke different words with pretty precise pronunciation.
Meanwhile, Kirk also said he would not get involved in endorsing a candidate if there's a contested Republican gubernatorial primary in Illinois.
As for an assault weapons ban: "I support it," Kirk said.
Kirk said he would have voted "no" in the deal that ultimately ended the Fiscal Cliff late Tuesday.
"For me, I will say the thing is that I miss most, is to apply what I've learned to be more compassionate and to break the partisan rancor that is so evident lately," Kirk said of the political wrangling of late.
If he could talk directly to Illinois constituents, Kirk said he would say: "Thank you for the honor of representing you. You now have a senator who is totally focused on those who go through stroke and how we can recover their lives and make sure they have a chance to come all the way back."
What will he be thinking as he climbs up the steps?
"Don't trip."
http://www.suntimes.com/news/metro/17348299-418/mark-kirk-says-he-would-...