AM Dolce Vita, Master Bedroom, Windsor Smith Pelagos Drapes in Mist, William-Sonomas Upholstered Bed, French Bow-front Dresser,
Before and After: Master Bedroom Transformation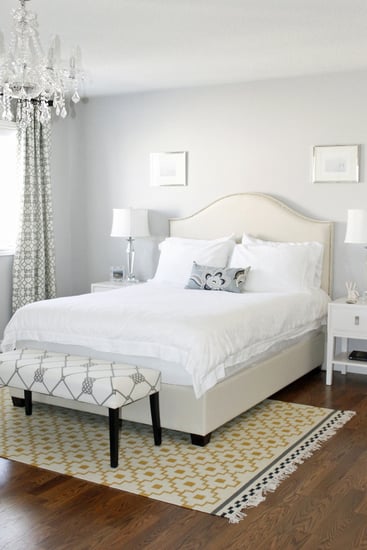 The upside of buying a builder home is that you get to pick and choose what goes on to the blank canvas. Or so we thought. In reality, there is little a new home buyer could/would change structure wise as builders often have codes they abide by. That makes builder homes at a new subdivision often look like cookie-cutters.

Our master bedroom was a typical "white box" bedroom -- functional but generic: two large windows, high ceiling, wood floor, walk-in his/hers closets, and vast amount of real estate. Similar to what I did in other rooms of our house, my goal was to add characters to our master bedroom by mixing different design elements.

The master bedroom transformation started with this mood board:
This is what it looked like from two years ago. I need the room to be completely dark during bed time, and hence put up the not-so-chic espresso dupioni drapes with blackout liners.
The new bedroom in the basement gave me a perfect excuse to replace the bed set that we took with us from our last house.
And this is the Afterof our master bedroom. I like it's so much more airy but above all, so much "me".


You can read more about the transformation process and source list by clicking the "Master Bedroom" tag from the home page or here.