Almond Butter Sweet Potato Fries + Your Thoughts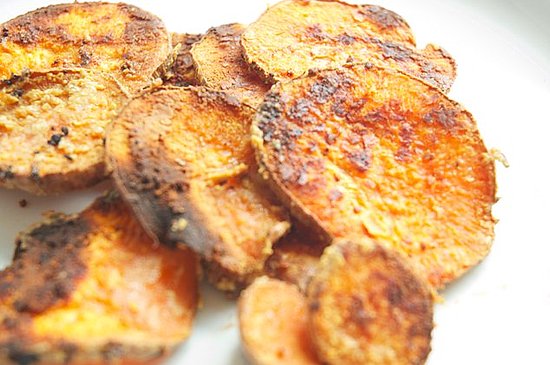 Calling all creative minds and curious eaters. I need your opinion.
I happen to love almond butter. I also happen to love sweet potato fries. It only seemed logical then that there should be such a thing as Almond Butter Sweet Potato Fries. And so I tried a few times. And here is what I came up with. These Almond Butter Sweet Potato Fries are a hybrid – crunchy in some bites, and creamy and more sweet potato-y in other bites. I actually really enjoy them. But I'd like to know what you think.
These Almond Butter Sweet Potato Fries come together in under 5 minutes prep time, and bake away for ~45 minutes while you focus on the rest of your life. Just make sure and put your life on hold for a few moments around the ~40 minute mark to check in on this goodness, I was greeted with a ring on my fire detector in one of my recipe trials (oops).
Makes 2 Servings
Ingredients
1 medium sweet potato (~ 2 cups)

1 tablespoon almond butter

2 tablespoons extra virgin olive oil

salt and pepper, for taste
Directions
Pre-heat oven to 450F degrees.
Wash potato and dry. Then slice sweet potato into long skinny strips, or thin rounds. Set aside.
In a bowl combine the almond butter and olive oil. Add potato sticks or potato rounds (depending on how you sliced them) into the almond butter dressing, making sure to coat each piece well using your hands.
Line a baking sheet with parchment paper, and place the sweet potato sticks or rounds on the baking sheet. Sprinkle with salt and pepper. Place into the oven and bake for 45 minutes – 1 hour. Remove the sweet potato fries when the almond butter is just beginning to bubble on top. (The fries won't immediately look crispy and done, but the are ready to be removed at this time mark.) Set the baking sheet on the counter for 10 minutes to let the fries crisp further. Enjoy!