Andrew Garfield is no stranger to the spotlight — we're talking about Spider-Man here — but you may be surprised to learn just how many cute quirks and hidden talents the actor possesses. For example, did you know that in addition to being British, he also speaks some German? Or that he knows all the words to the "Bed Intruder" song? Let me tell you, it's all very, very endearing. So in honor of Andrew's 30th birthday, here are the nine reasons why he should be your celebrity crush (that is, if he isn't already).
1. He's a geeky fan boy — in the most adorable way.
Sure, Andrew Garfield plays Spider-Man in the movies, but he's also one of the biggest fans of the comic book out there. To prove how much he loves Spidey, Andrew dressed up in a store-bought costume and surprised fans at Comic-Con in 2011 by giving a heartfelt speech about what the superhero means to him. I dare you to watch this clip and not melt.


2. He is one sweet boyfriend to Emma Stone.
Just how sweet you ask? Take a look at Andrew and Emma's cutest moments together.


3. The boy knows his memes.
During an interview for Never Let Me Go in 2010, Peter Travers asked Andrew and his costar Carey Mulligan to sing a song. The only song Andrew could think of was the "Bed Intruder" remix, which he then proceeded to recite in full. The result is priceless.
4. He has the most mesmerizing hair since Robert Pattinson.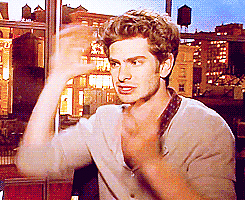 5. He knows how to laugh at himself.
At the 2011 Golden Globes, Andrew had a bit of a snafu when presenting his movie
The Social Network
, which was nominated for best dramatic film. Unfortunately, the word "inspiringly" threw Andrew for a loop, but he recovered nicely and even cracked a joke for good measure.
To see the rest of the reasons (including Andrew's killer dance moves), just read more.


6. He's got moves you've never seen.
In 2012, Andrew stopped by Ellen to show off some dance moves (and his abs).
7. Did I mention this was for charity? He's a total do-gooder.
8. He can speak German (at least a little).
While promoting
The Amazing Spider-Man
, Andrew and Emma teamed up to shoot an ad overseas, complete with singing
and
speaking German.


9. He loves kids.
Andrew had a ton of adorable moments on the set of The Amazing Spider-Man 2, but one of the best is this video that made the rounds, of Andrew shooting hoops with some kids — in fully Spidey costume.