Happy birthday, Anna Paquin and Jennifer Lopez! While the 30-year-old True Blood actress and 43-year-old singer, actress, and former American Idol judge seem like they couldn't be more different, they share more than a few healthful living philosophies. Here's how mom-of-twins Jennifer and mom-to-be Anna eat and exercise to stay healthy and fit.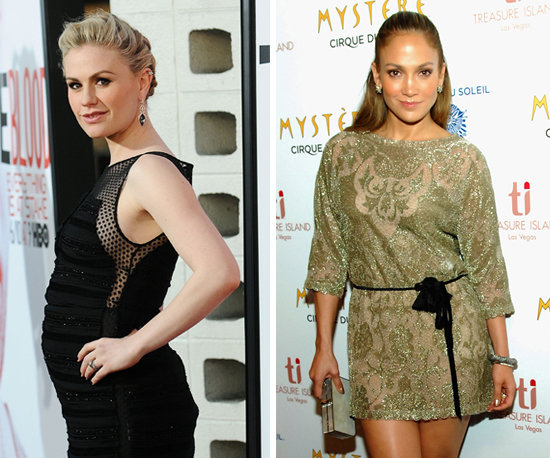 Mix it up: Anna admits she is Pilates-obsessed, but she doesn't shy away from experimenting with exercise. She's tried everything from barre workouts to boxing, as well as aerial silks classes, and also runs and swims. "I feel good when I feel like I'm really strong," Anna told Health last year.
Jennifer also knows that varying your workout routine is the best way to stay motivated and keep seeing results. Jennifer has enlisted the help of celebrity trainers Tracy Anderson, whose workouts change every 10 days to keep your body guessing, and Gunnar Peterson, who uses a combination of lunges, squats, and explosive plyometric moves to keep Jennifer's famous backside toned. Jennifer is also about the challenge; in 1998, she competed in a sprint triathlon just a few months after giving birth to her twins. She also is a fan of TRX, which offers countless ways to strengthen and stretch using straps and your own body weight.
Hard work pays off: Both Anna and Jennifer aren't shy about showing skin, whether on camera or on stage, but they want you to know that looking good takes discipline and hard work. "I don't want to be one of those actresses who says, 'I eat cheeseburgers all the time.' I don't! I eat a lot of fruit and vegetables," Anna said in 2010. And Jennifer admits that prepping for a sexy music video shoot was her motivation to amp up her workouts. "You can hide a lot with good clothes, but when you're doing a video, you really can't, because the clothes get smaller," she's said.
Keep reading for more on how Anna Paquin and Jennifer Lopez stay fit.