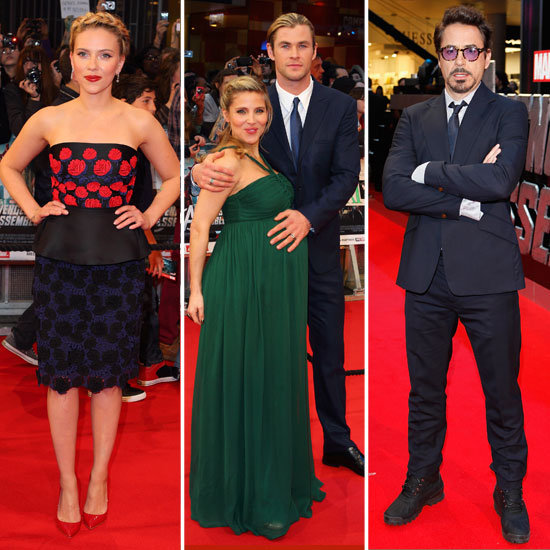 Apr 19 2012 - 1:37pm
Scarlett Johansson, Robert Downey Jr., and the rest of the all-star Avengers cast stepped out in London tonight for the UK premiere. The actors are making their way around the globe prior to the May 4 US release of the action adventure. We were on hand for the LA debut last week, and since then, Scarlett, RDJ, and the rest of the celebs have been on the road talking up their larger-than-life flick. It was a special evening for dad-to-be Chris Hemsworth, who was joined by his Hoss Intropia-clad wife, Elsa Pataky. The couple are expecting their first child this Summer, though they've decided to keep the baby's gender a secret. Robert might be able to give Chris some parenting tips — RDJ and his wife, Susan, welcomed son Exton in February.
Scarlett opted to break away from the sexy LBDs she's been wearing and instead chose a floral embroidered Prada frock. Scarlett was the only female cast member to make the trek to Moscow for the Avengers screening, but tonight she was joined by her partner in fighting crime, Cobie Smulders. Cobie dazzled in a form-fitted, floor-length Alexandra Vidal red gown.