Bella versus Elena - Who is the real heroine...?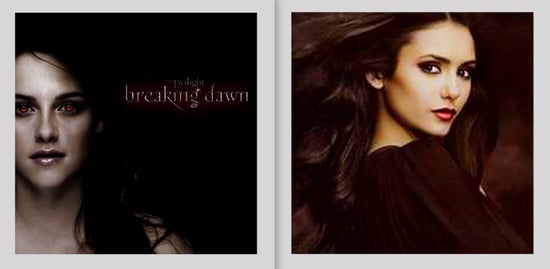 Well, Twilight films series almost reaches the end, but yet I am still remain indecisive on Bella's part. Not saying that I am Bella's hater, it is just that I don't think her character was written meant to be a heroine. All I can see is just some emo-chick who is trying out to be superior with her undying wish to be anything but human. I'd even miffed over some people who relate her with Elena (played by Nina Dobrev) The Vampire Diaries series. Honestly, like it or not, I am still gonna spill out my thought that Bella IS NOTHING like Elena. Elena is the real HEROINE in that vampire series who is unconditionally DOES CARE AND PROTECTS her family, friends and lover even down to her enemy.
Unlike Bella who would do anything to give in her soul to become a powerful vampire while Elena, quite in contrary; her soul is the last thing she would ever give in.
So which side is your fence..? Mine goes to Elena.