Ben Affleck [1] caught up with Rachel McAdams [2] on the red carpet at the LA premiere of their newest film, To the Wonder. Rachel wore a black lace dress as she greeted Ben and their costar Olga Kurylenko, who took a break from her promotional duties for Oblivion to attend the event. Plenty of other stars turned out for the movie's debut, including Homeland's Morena Baccarin, Zachary Levi, and How I Met Your Mother's Josh Radnor [3]. During the premiere, Ben discussed how he and Jennifer Garner [4] balance their busy schedules with their family life. Jennifer recently revealed that she is happy to work less for Ben, but now that she's got new projects on the horizon Ben is picking up more home duties [5]. He said, "I'm preparing myself to take on some more of the burden [at home]. She's got a couple of movies coming up, so it's going to be a little Mr. Mom action, and I'm going to get back in the ring and we're going to see if I still have it."
Rachel has been spending her time in LA working on her press duties for the film, which hits theaters on Friday, April 12. She stopped by Disneyland with her friends and family earlier this month and appeared on Jimmy Kimmel Live! on Monday, where she revealed that she got hallucinations after buying pot [6] in her native Toronto.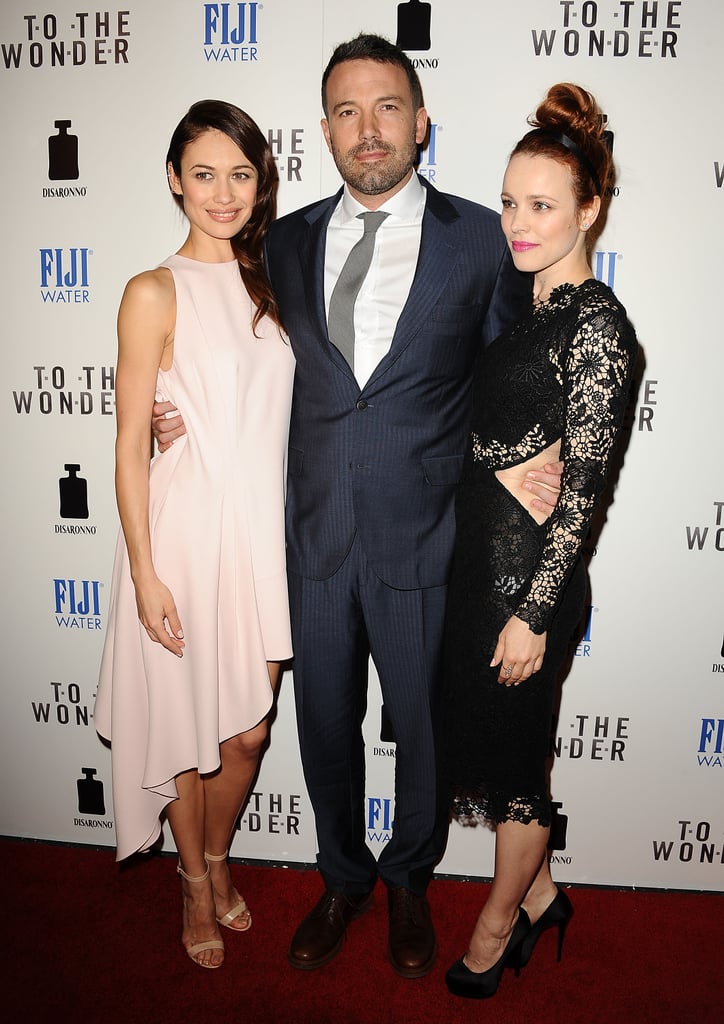 Rachel McAdams [7], Ben Affleck [8], and Olga Kurylenko posed together at the event, sponsored by DISARONNO and FIJI Water.
Rachel McAdams [9] wore a lace dress.
Ben Affleck [10] chatted with Rachel McAdams [11].
Ben Affleck [12] wore a blue suit.
Morena Baccarin met up with Zachary Levi.
Josh Radnor [13] kept it casual on the red carpet.
Katie Aselton wore a printed frock.
Mark Duplass wore a tie and blue button-down.
Olga Kurylenko posed on the carpet.
Justin Chatwin wore a black jacket.