Celebrities were really making the most of their end-of-the-year celebrations this month, and we were lucky enough to follow them along as they went! As expected, Miley twerked her way through, while Beyoncé took a different approach with her surprise album and sold-out tour. Other celebrities, meanwhile, were heating things up at red carpet events: Leonardo DiCaprio [1] made his rounds to promote The Wolf of Wall Street, while generations collided when Sarah Jessica Parker [2] and The Carrie Diaries's AnnaSophia Robb finally met face to face at the Cosmo 100 lunch in NYC. See all that and more in our favorite celebrity moments from December!
Olivia Wilde put her growing baby bump on display [3] when she attended the Her premiere in LA while wearing a tight David Koma dress.
Britney Spears celebrated her official arrival [4] at Planet Hollywood Resort & Casino in Las Vegas with a massive group of fans and a bouquet of flowers.
Jennifer Lawrence stunned [5] during the American Hustle cast photocall in NYC, posing for pictures in a bright blue dress alongside her castmates.
Julia Roberts and Meryl Streep [6] hit the red carpet together for the LA premiere of their film August: Osage County.
President Barack Obama grabbed headlines [7] when a photo emerged of him taking a selfie with the Danish and English prime ministers, overshadowing his inspiring speech during the memorial for Nelson Mandela in Johannesburg, South Africa.
Amy Poehler and Rashida Jones buddied up [8] at the 2013 Gotham Awards in NYC.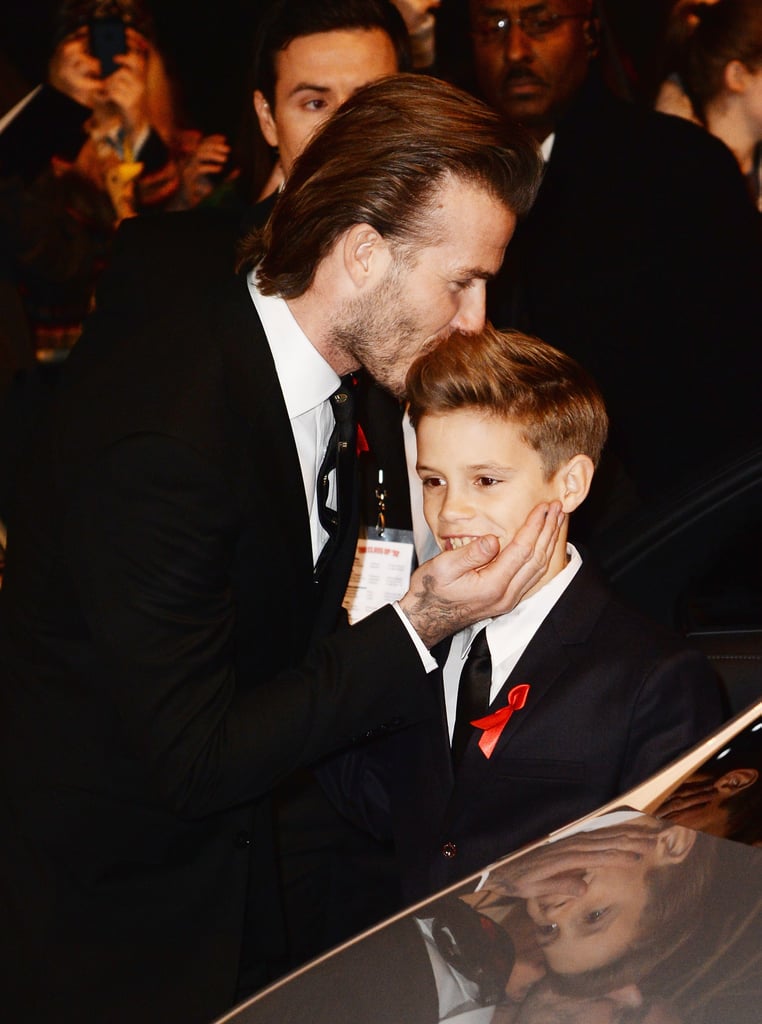 David Beckham gave his son Romeo a sweet kiss [9] at the world premiere of The Class of '92 in London.
Mariah Carey [10] and her adorable twins took a snowy stroll during their picturesque holiday weekend [11] in Aspen, CO.
Molly Sims flaunted her figure [12] in a bikini in Miami Beach, FL.
Sarah Jessica Parker linked up [13] with The Carrie Diaries star AnnaSophia Robb at Cosmopolitan magazine's Cosmo 100 lunch in NYC.
Kim Kardashian hit the red carpet [14] bright and early at The Hollywood Reporter's Women in Entertainment breakfast in Beverly Hills, CA.
Kristen Stewart channeled her inner Texan fashionista [15] when she attended Chanel's Métiers d'Art 2013/2014 fashion show in Dallas, TX.
Zac Efron got into the basketball spirit [16] when he attended a Lakers game in LA.
Hugh Jackman bared his fit physique [17] on Bondi Beach during a trip to his native Australia.
Beyoncé wowed a crowd [18] of about 18,000 people, including plenty of famous fans, in LA at the Staples Center during a stop on the Mrs. Carter Show World Tour.
In the midst of holiday preparations, Reese Witherspoon found the time for a lunch date [19] with her children — Ava, Deacon, and Tennessee — in LA.
Orlando Bloom gave his son, Flynn, a piggyback ride [20] during a walk in NYC.
Jennifer Garner had a park day [21] with her son, Samuel Affleck, in LA.
Kate Middleton and Prince William attended the premiere [22] of a new film about Nelson Mandela's life, Mandela: Long Walk to Freedom, in London.
Leonardo DiCaprio looked handsome [23] at the NYC premiere of The Wolf of Wall Street.
Miley Cyrus [24] may have made Mrs. Claus jealous when she got up close and personal with Santa [25] at KIIS FM's Jingle Ball in LA.
Miranda Kerr [26] stepped out in NYC on Saturday with her adorable son, Flynn Bloom, who melted our hearts while trying to catch snowflakes on his tongue [27].
Brad Pitt and Angelina Jolie went yachting [28] with their children for a day on the open water in Australia.
President Barack Obama and First Lady Michelle Obama had a laugh with their family while hanging out with children dressed up as elves during a taping of TNT's Christmas in Washington special [29].