While October may be a big month because of all the Halloween [1] festivities, celebrities were doing plenty of other things when they weren't getting into the spirited holiday. We got to see quite a few adorable celebrity baby snaps, from David Beckham [2]'s candid kiss with Harper to Prince George's royal christening. Other celebrities were linking up with friends down under; Harry Styles had a rousing game of beach volleyball in Australia, and Robert Pattinson [3] honored all the Australians in film down in LA. Take a look at all our favorite pics from October, because we're rounding everything from couples' outings to that really photogenic football player!
Salma Hayek headed to set [4] in LA.
Liam Payne showed off his surfing skills [5] in Australia.
Cam McDaniel became on overnight star [6] after taking a very photogenic picture during his football game.
David Beckham put on his game face [7] with Harper Beckham at the LA Kings hockey game.
Joe Manganiello showed off his arms [8] in Puerto Vallarta.
Kate Middleton and Prince William brought Prince George to his christening [9] in London.
Robert Pattinson presented an award [10] at LA's Australians in Film Awards.
Harry Styles stripped down [11] for a volleyball game in Australia.
Gwen Stefani cradled her baby bump [12] alongside Gavin Rossdale [13] during the Wallis Annenberg Center For the Performing Arts Inaugural Gala in LA.
Kate Winslet showed off her baby bump [14] during the London Film Festival.
Flynn Bloom rode on Orlando's shoulders [15] while out in NYC.
David Beckham and Harper Beckham had an adorable moment [16] during an LA shopping trip.
Emily Blunt showed off her growing baby bump [17] while getting groceries in LA.
Kate Hudson sported a sexy silver dress [18] for an LA photo shoot.
Lena Dunham milked a cow [19] in the middle of an NYC street while filming an interview segment.
Chloë Moretz followed up her Carrie red carpet premiere with a stop at In-N-Out Burger [20] in LA.
Michael Fassbender stopped to autograph [21] a fan's bike in NYC.
Miranda Kerr went to lunch [22] with her adorable son, Flynn, in NYC following a successful return to the runway during Paris Fashion Week.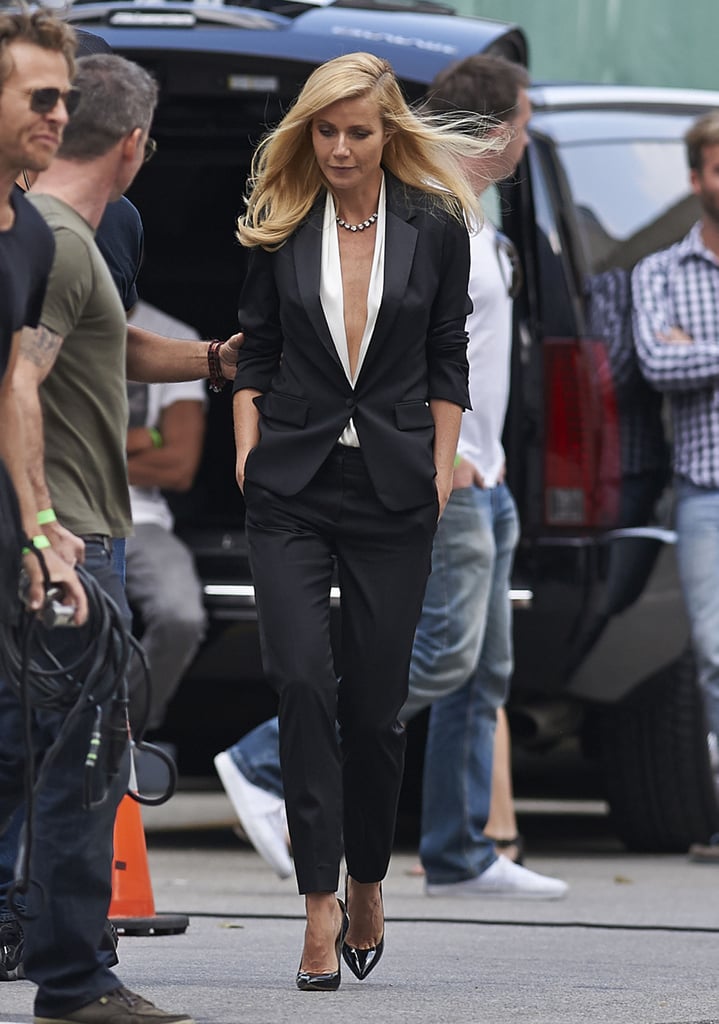 Gwyneth Paltrow filmed her new Hugo Boss ad [23] in LA.
Natalie Portman, Chris Hemsworth, and Tom Hiddleston all shared the spotlight [24] at the German premiere of Thor: The Dark World.
Emily VanCamp filmed a wedding scene [25] with Gabriel Mann on the set of Revenge in LA.
Amanda Seyfried and Justin Long made their first appearance together [26] since their relationship went public.
Kristen Stewart went to a pumpkin patch [27] in LA.