It's Aprils Fools' Day, which means pranks are in full swing. Whether you have tricks up your sleeves or not, you can get some great ideas from celebrity pranksters [1]. From George Clooney [2]'s elaborate (and sometimes crazy) jokes on friends to Jimmy Kimmel and Matt Damon's ongoing battle [3] to Ashton Kutcher [4]'s Punk'd past, there are plenty of famous jokesters. Though some of them, like Ellen DeGeneres [5], let others do their dirty work for them [6], others are more hands on — and in character — like Sacha Baron Cohen [7]. Relive some of the best below, and be sure to watch out for any real-life pranks at your office [8] today!
Source: Getty [9]
Ashton Kutcher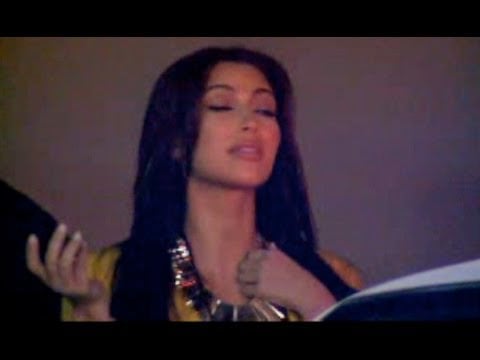 Ashton Kutcher [10] has been a notorious prankster ever since his start on MTV's Punk'd back in 2003. Above, relive one of his best pranks on Kim Kardashian [11], who was suddenly under fire when someone's truck blew up next to her.
George Clooney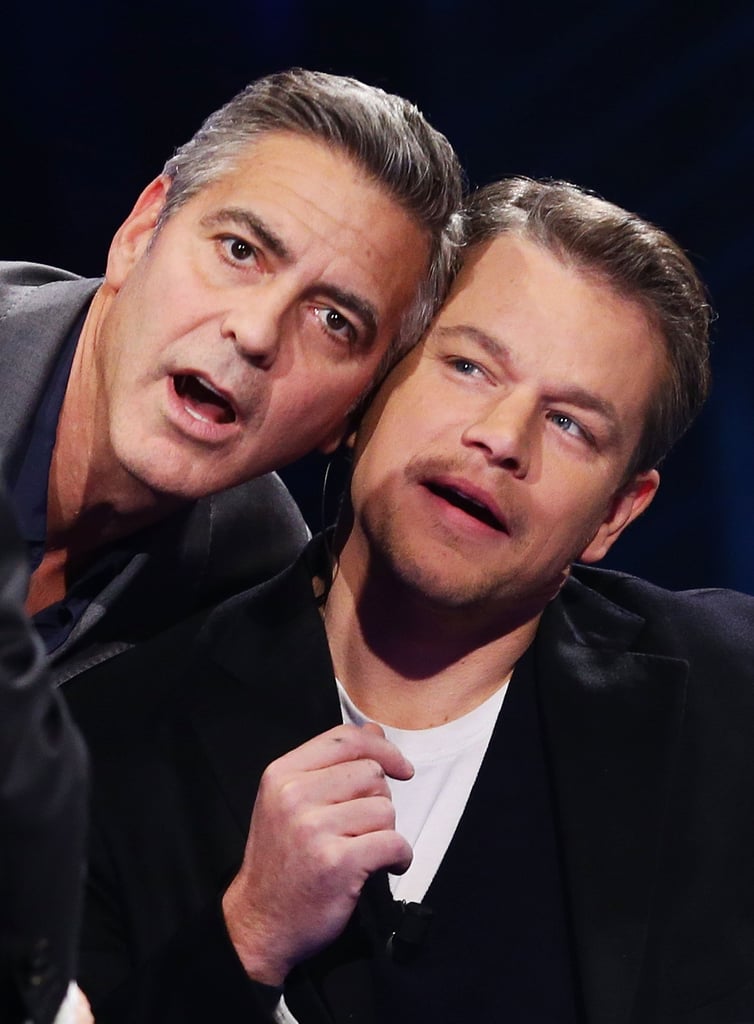 George Clooney [12] is the master of pranks, which he's shown through the years in many different ways [13]. His antics include tricking two of his ER colleagues into doing something embarrassing, throwing a huge fake wedding for Brad Pitt [14] and Angelina Jolie [15], and making a friend think that his cat was constipated.
Brad Pitt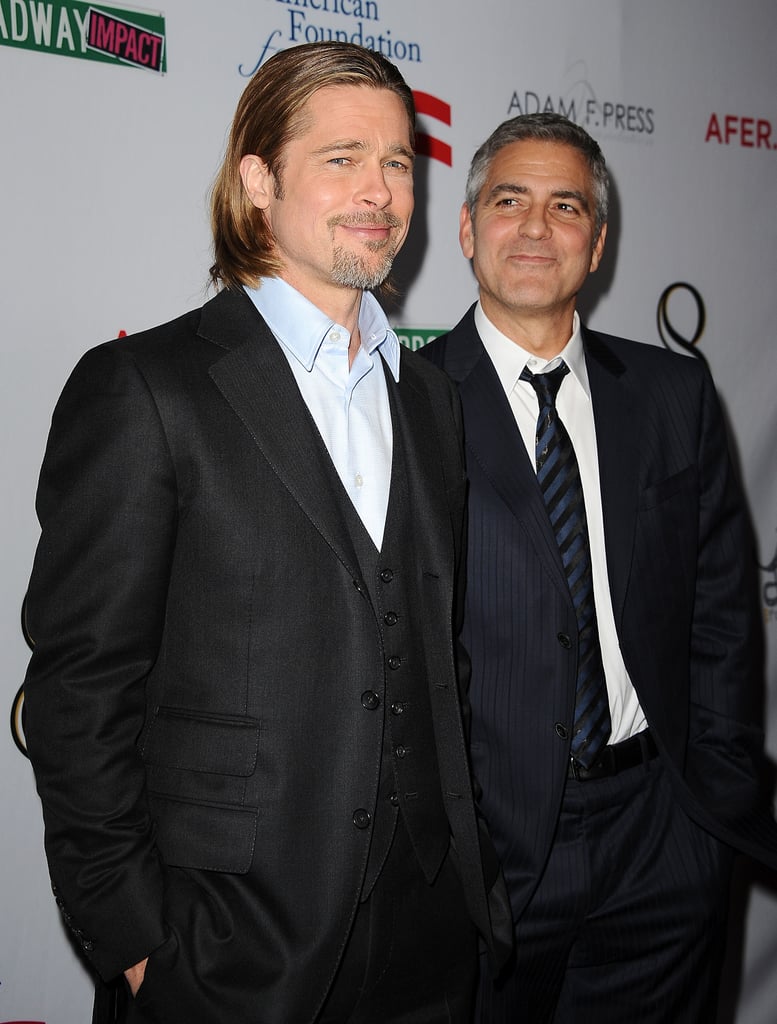 Brad Pitt [16] was able to pull one over on George Clooney [17] back when they were filming Oceans Eleven. Brad sent a note to the crew asking them not to interrupt George or look him in the eye. And if they did need to address George, they were to let him stay in character and concentrate, only referring to him as Daniel or Mr. Ocean. This went on for weeks and unnerved George, much to Brad's delight.
Jimmy Kimmel
It's hard to count the number of times that Jimmy Kimmel has pranked celebrities [18], but his best ones are on Matt Damon [19]. Last February, Jimmy shunned Matt, had his whole Monuments Men cast make fun of him, and then tied him to a chair and set off a fire alarm. Jimmy was also behind big YouTube viral video hoaxes, like the twerker who set herself on fire [20] and the Sochi "wolf" during the 2014 Winter Olympics [21].
Matt Damon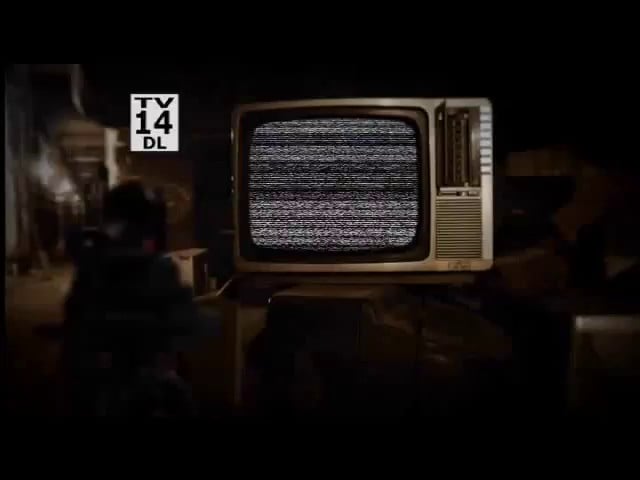 Though Matt Damon [22] could have become a huge prankster after Jimmy Kimmel pulled so many over on him, he's really only retaliated once. Matt "kidnapped" Jimmy and took over his show in 2013, bringing a bunch of A-list guests (including Ben Affleck [23]) on to help make fun of him. However, when George Clooney [24] tried to get him to assist with pranking Amy Poehler [25] and Tina Fey [26] after last year's Golden Globes, he jokingly called George a "child" for his antics [27].
Channing Tatum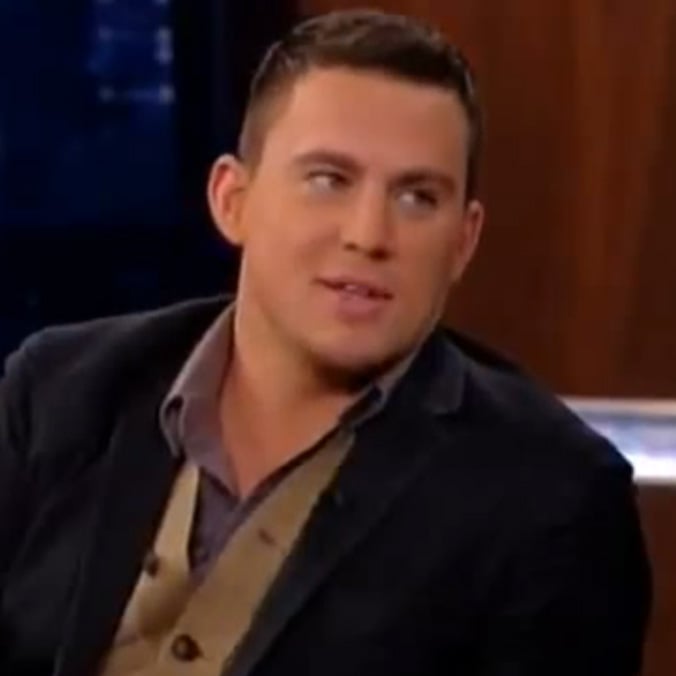 Channing Tatum [28] is a hilarious jokester, and he got his 21 Jump Street costar Jonah Hill [29] good while they were on a plane. Jonah was sleeping, and Channing covered him in napkins and then mooned him. Watch him tell the story above.
Justin Bieber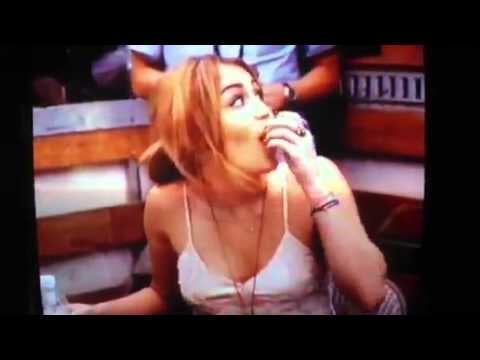 Justin Bieber followed in Ashton Kutcher [30]'s footsteps in the 2012 revival of Punk'd. He pranked Miley Cyrus [31] when she thought she was running the show and brought Taylor Swift to tears [32] after she thought their fireworks set fire to a couple's wedding [33] boat.
Jimmy Fallon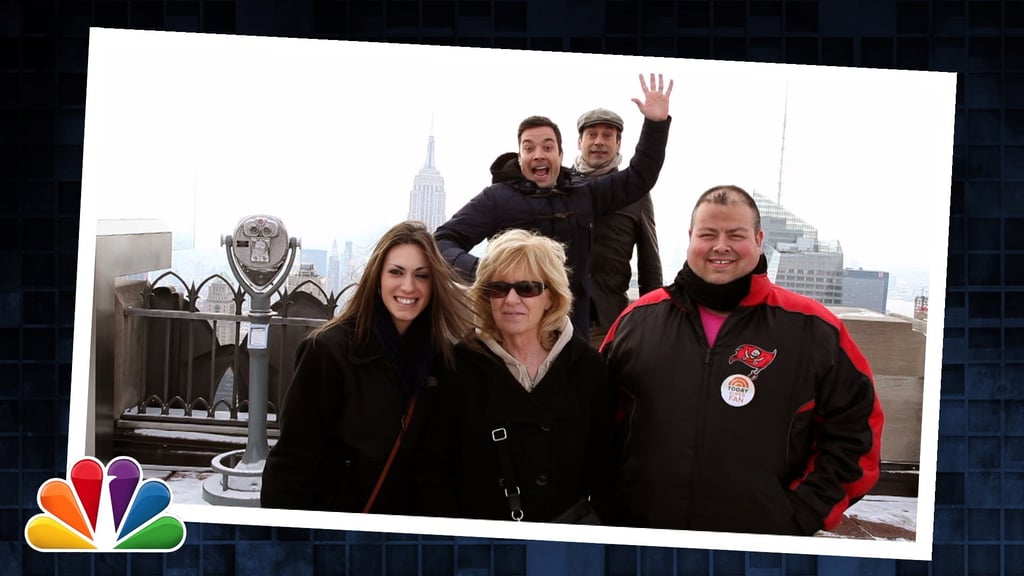 Jimmy Fallon [34] loves a great joke, and one of his best recent pranks was photobombing unsuspecting tourists in NYC with Jon Hamm [35]. And honestly, you could count almost anything he does to scare people or make them laugh on his show as somewhat of a prank.
Ellen DeGeneres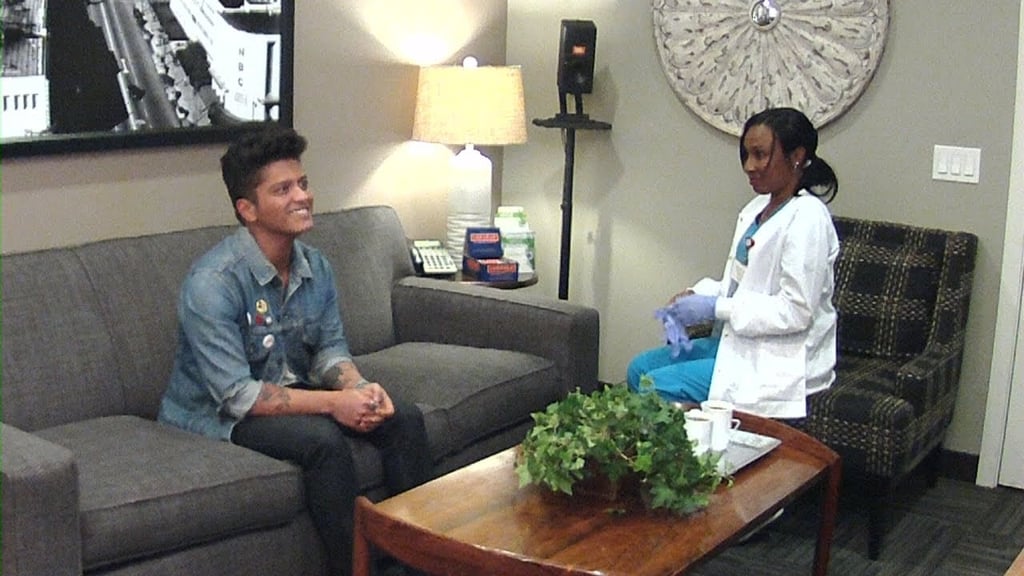 Ellen DeGeneres [36] frequently pranks people, including Taylor Swift [37] and random strangers, on her show. One of her best was a collaboration with Bruno Mars [38], in which she set up an appointment for Bruno with an unsuspecting nurse. Ellen talked to Bruno through an earpiece, coaching him to cry about not being able to swallow and having him ponder the shape of tortilla chips aloud.
Eric Stonestreet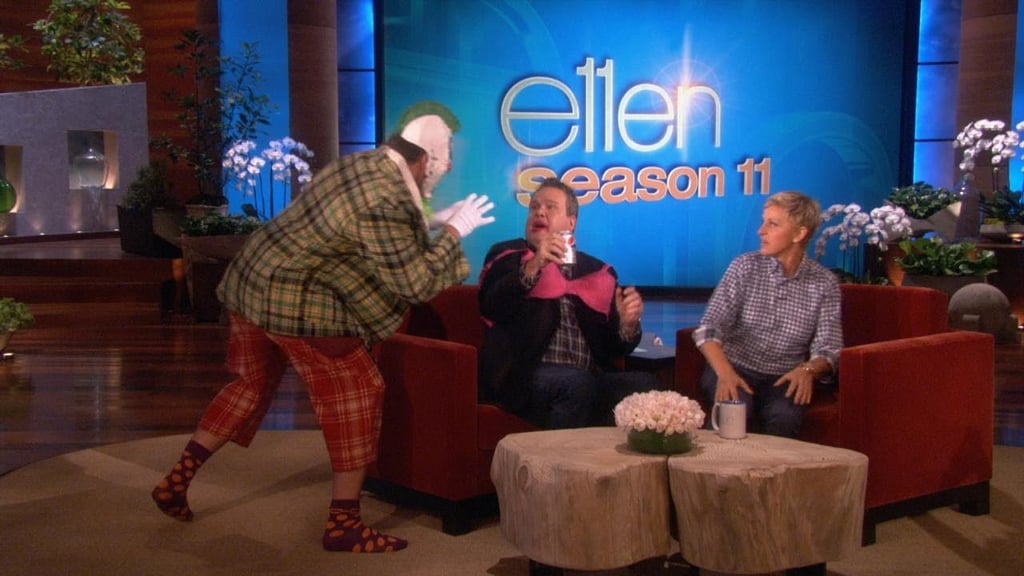 Eric Stonestreet pranks people all the time on Vine — like when he cut a little girl's balloon [39] and watched it float away at Disney World — but sometimes, the tables turn on him. Though he may be able to get Bryan Cranston to jump, you have to see him freak out when Ellen DeGeneres [40] got him good with a clown.
Jesse Tyler Ferguson
Eric Stonestreet isn't the only jokester on the Modern Family set. Jesse Tyler Ferguson Instagrammed a bunch of prank photos with Sofia Vergara while she was sleeping, and Eric Stonestreet, Julie Bowen, and Ty Burrell all participated, too [41].
Source: Instagram user jessetyler [42]
Sacha Baron Cohen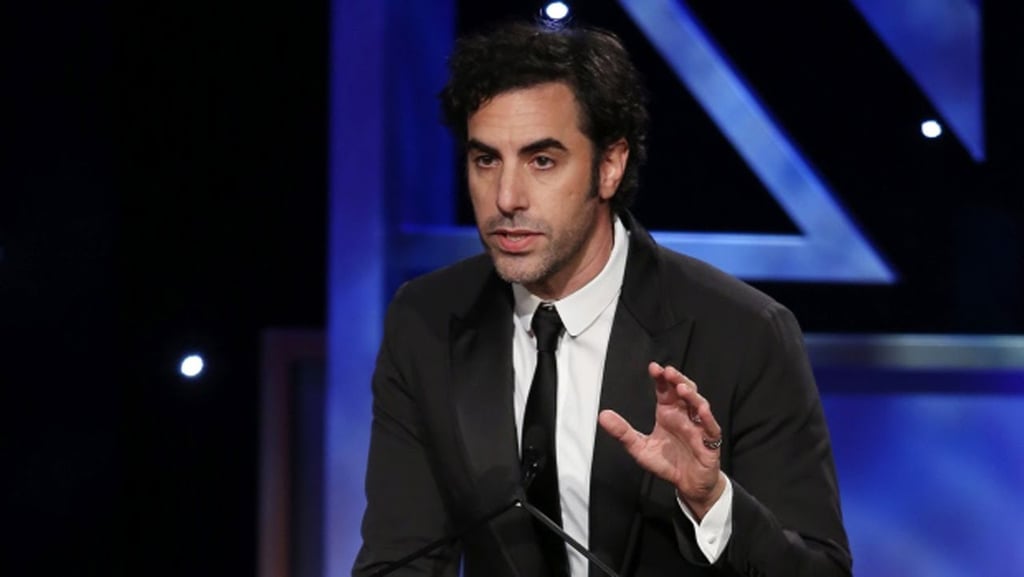 Sacha Baron Cohen [43] has made a career out of pranking, starting with his breakout hit Borat all the way to when he took his Dictator character to the red carpet at the 2012 Oscars. He threw "ashes" on Ryan Seacrest at the 2012 Oscars [44] and "pushed" an old woman off stage at the 2014 BAFTAs, making for some outrageous stunts.
Dax Shepard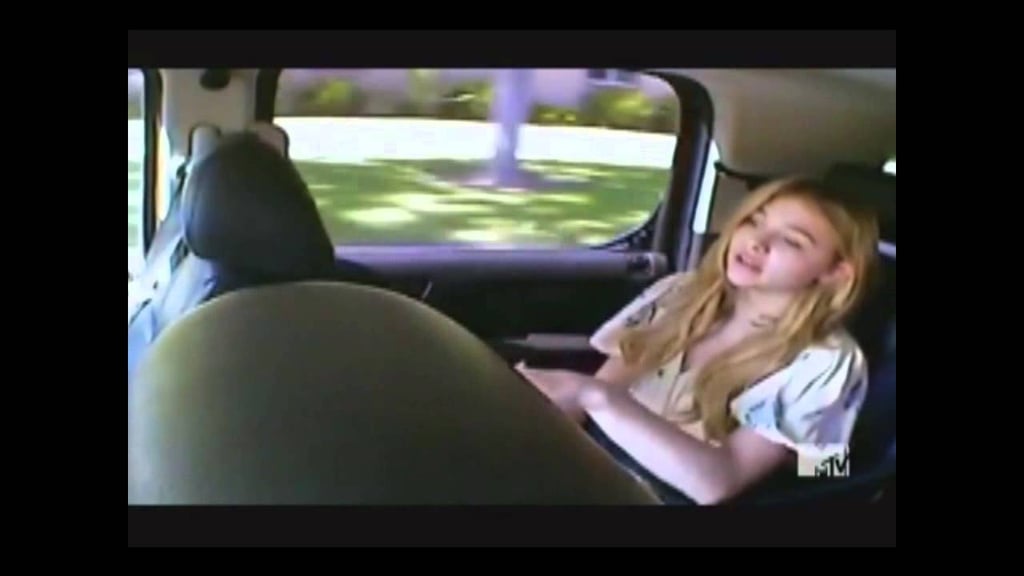 Dax Shepard got his start on Punk'd too, notoriously making Justin Timberlake [45] cry as all of his stuff was hauled away by the "government." [46] When Dax came back for the show's revival in 2012, he was just as hilarious, pranking Chloë Moretz.