In 2013, we were introduced to a new side of Miley Cyrus [1] — the tattooed, twerking, naked-wrecking-ball-riding Miley Cyrus — and along with her headline-making onstage antics came lots of candid, controversial quotes [2] in magazines and TV interviews. This year, we're getting even more of a glimpse into the life of Miley, from her thoughts on political correctness and marijuana to the recent heartbreak she's felt since losing her dog Floyd [3]. Whether you love or hate her [4], Miley has a way of saying things that will make you think (or at least think "WTF?"). Here are some funny, poignant, and head-scratching things that she's had to say so far this year, most recently in her sit-down with Tavi Gevinson for the May issue of Elle magazine [5].
Source: ELLE / Michael Thompson [6]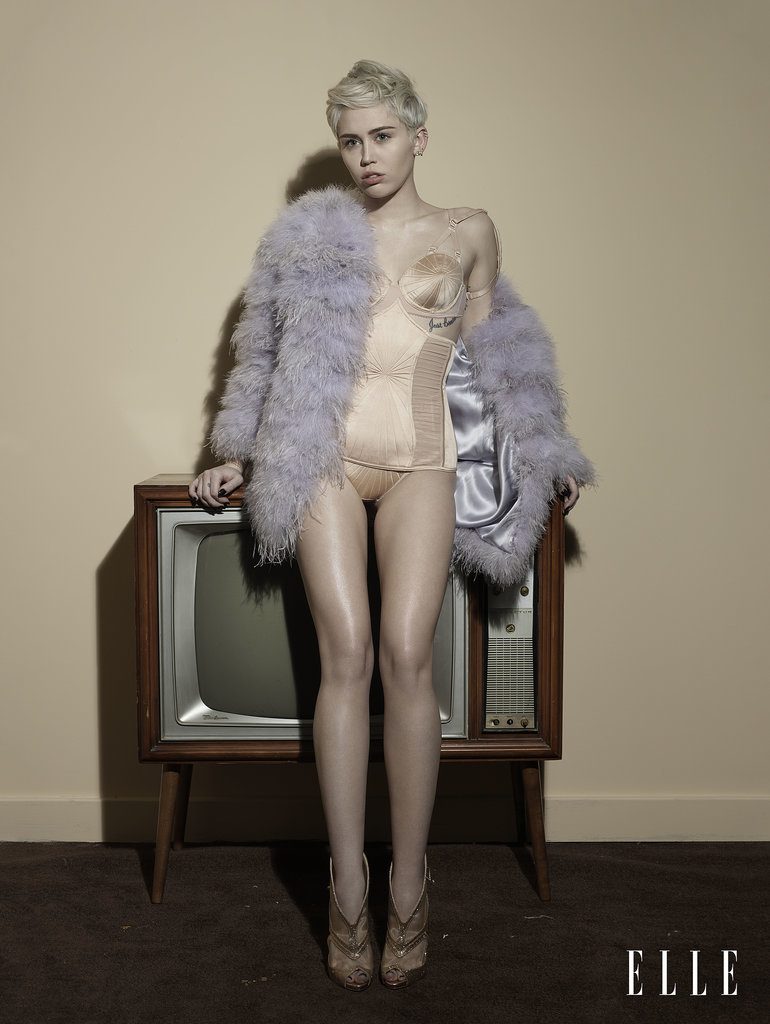 Source: ELLE / Michael Thompson [7]
On feminism [8]: "I'm just about equality, period. It's not like, 'I'm a woman, women should be in charge!' I just want there to be equality for everybody."
On double standards [9]: "I still don't think we're there 100 percent. I mean, guy rappers grab their crotch all f*cking day and have hos around them, but no one talks about it. But if I grab my crotch and I have hot model bitches around me, I'm degrading women? I'm a woman — I should be able to have girls around me! But I'm part of the evolution of that. I hope."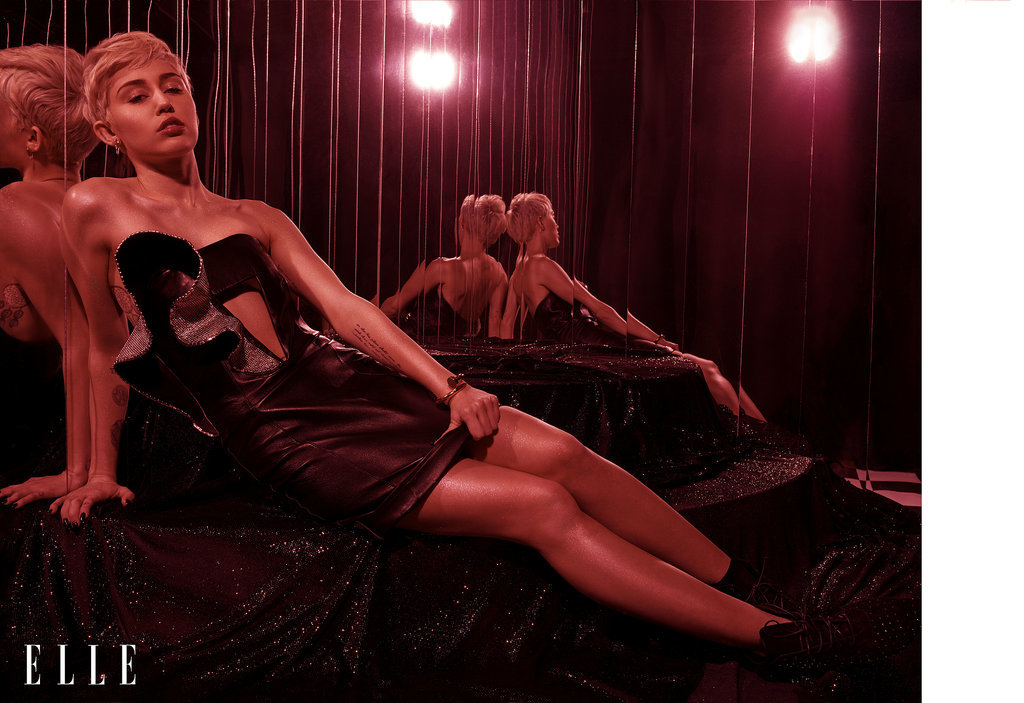 Source: ELLE / Michael Thompson [10]
On Disney and her split from fiancé Liam Hemsworth [11]: "When I went through a really intense breakup — you know, I was engaged — and when I was with him or when I was on Disney, the thing that gave me the most anxiety was not knowing what to do with myself when Disney wasn't there to carry me anymore or if I didn't have him. And now I'm free of both of those things, and I'm fine. Like, I lay in bed at night by myself, and I'm totally OK, and that's so much stronger than the person three years ago who would have thought they would have died if they didn't have a boyfriend."
On her connection with fans: "I have guys and girls that come out, and they're like, 'The only reason I'm able to admit that I'm gay is because you've made me feel like that's OK.' That is so intense, because that is a part of this generation, and I feel like I am a big part of that change [12]. Or they know that I've struggled with depression, and that helped them get over theirs. That gives me a big purpose — a reason to wake up in the morning that's bigger than to put on my f*cking feathers and my little outfits."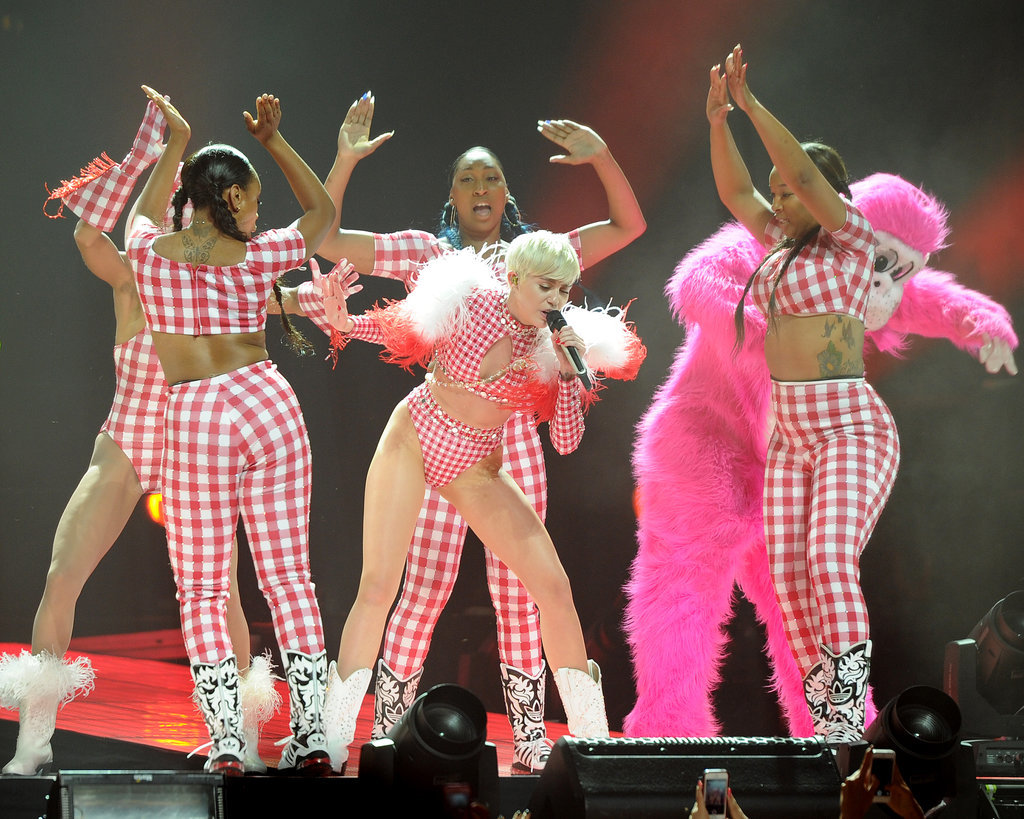 Source: Getty / Larry Marano [13]
On her Bangerz tour being good for kids [14]: "Even though parents probably won't think this, I think my show is educational for kids. They're going to be exposed to art most people don't know about. People are taught to look at things so black-and-white, especially in small towns. I'm excited to take this tour to places where [art] like this wouldn't be accepted, where kids wouldn't learn about this different kind of art."
On calculating her self-image: "I just don't get what half the girls are wearing. Everyone to me seems like Vanna White. I'm trying to tell girls, like, 'F*ck that. You don't have to wear makeup. You don't have to have long blond hair and big titties. That's not what it's about [15]. It's like, personal style.' I like that I'm associated with sexuality and the kind of punk-rock sh*t where we just don't care."
On her idols [16]: "Like Madonna [17] or Blondie or Joan Jett — Jett's the one that I still get a little shaky around. She did what I did in such a crazier way. I mean, girls then weren't supposed to wear leather pants and, like, f*cking rock out. And she did."
In defense of using black dancers and little people [18] in her onstage performances: "I don't give a sh*t. I'm not Disney, where they have, like, an Asian girl, a black girl, and a white girl, to be politically correct, and, like, everyone has bright-colored t-shirts. You know, it's like, I'm not making any kind of statement. Anyone that hates on you is always below you, because they're just jealous of what you have."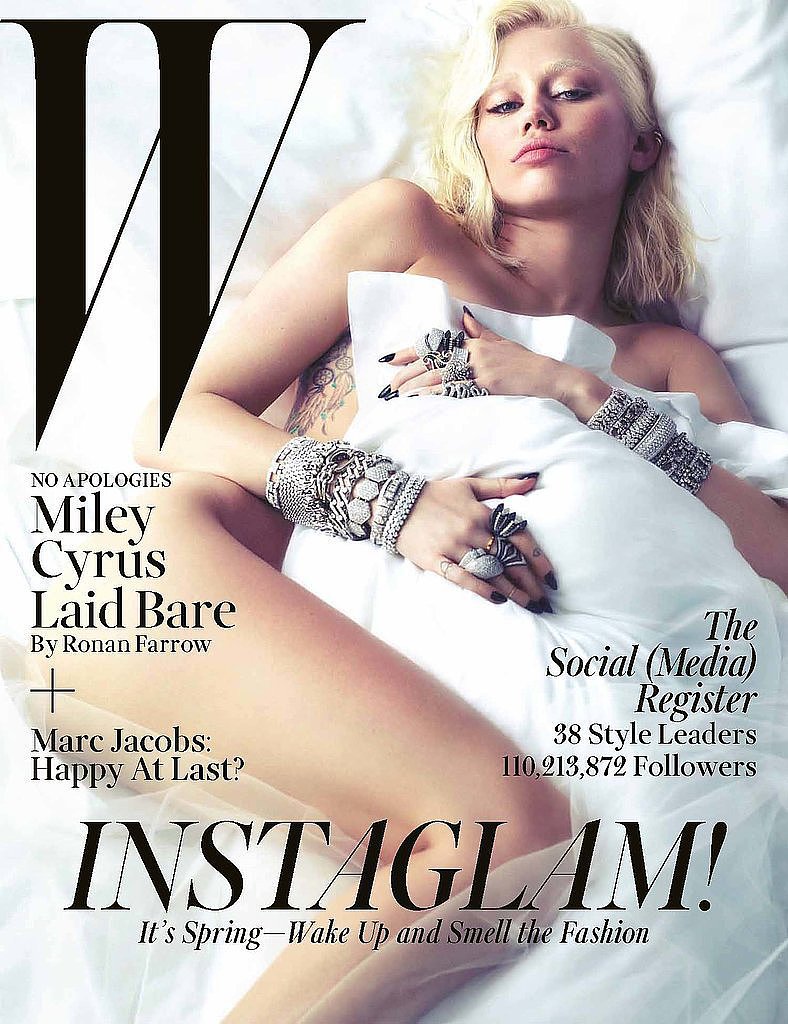 On why she's always naked [19]: "We never were inside, and we never wore shoes," she recalls. "I think it's why I like wearing no clothes so much and I'm always naked."
On the success of her album [20] Bangerz: "You know, I've made my money. If no one buys my album, cool. It's fine. I've got a house, and I've got dogs that I love. I don't need anything else."
On close friends: "I have a lot of people that I could call and hang out with, but I have very few friends [21], if that makes any sense. Like, I just don't tell a lot of people anything. Everyone's always like, 'You're so sketch.'"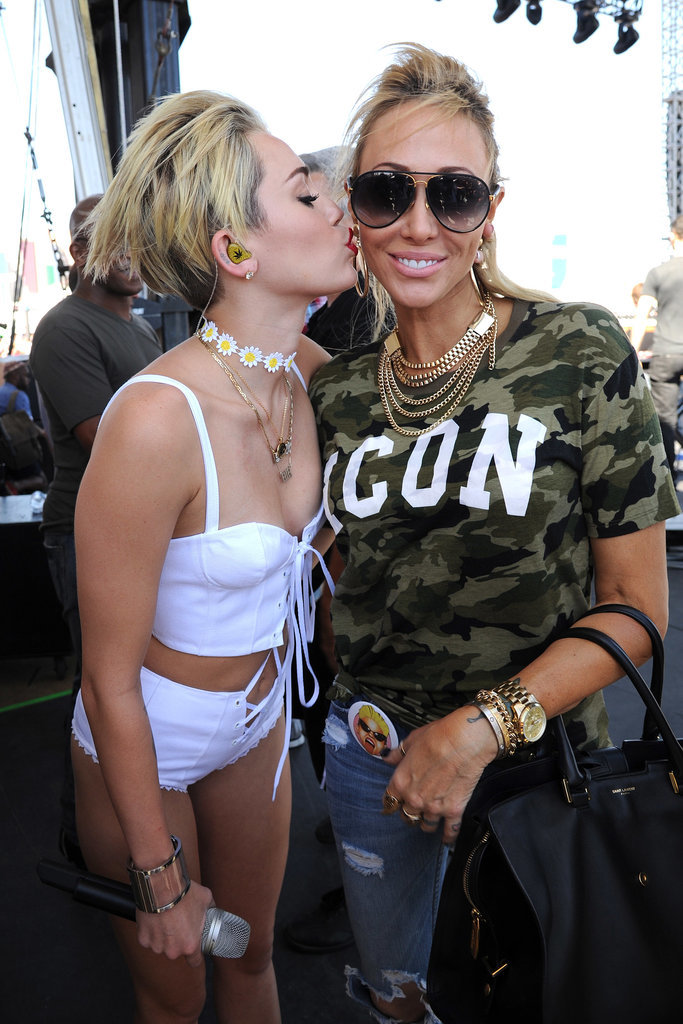 Source: Getty / Kevin Mazur [22]
On her parents' flaws [23]: "My dad, like, he's the most trusting human in the world. He trusts everybody, basically, until they f*ck him over. And my mom, too, holds no grudges. She's really like it's the — you know, shame on — What is it? 'Shame on me'? . . . or whatever."
On what she's learned [24] from her godmother, Dolly Parton: "What I love about Dolly is she says hi to the person that's doing the catering on set before she goes and says hi to the cast."
On kids: "I don't love kids. I don't love them because, I mean, I think I was around too many kids at one point. They're so f*cking mean [25]. Sometimes I hear kids with their parents, and I want to go over and, like, smack them myself . . . Like, if they meet me, they'll be like, 'Mom, don't you know how to use an iPhone? Like, can you take the picture?' I'm like, 'Dude, if I ever talked to my mom like that when I was a kid, I would have had no phone, no computer, no TV, no anything.' And so, yeah, kids are just mean."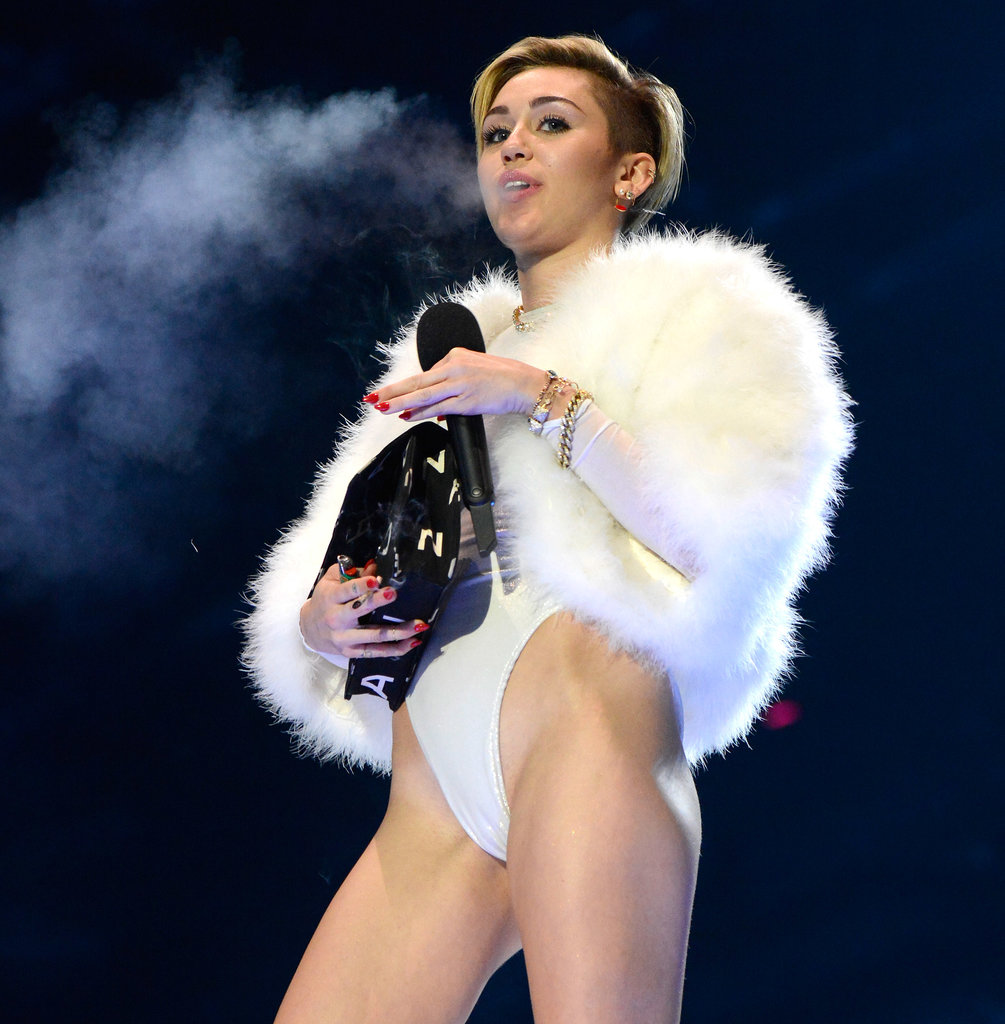 Source: Getty / Kevin Mazur [26]
On marijuana [27]: "I love weed. I just love getting stoned. I just want it to be back to where it's, like, organic, good weed."
On water [28]: "I think water's, like, a really important thing."