Comic-Con kicked off in San Diego this week, and we're already amped for all the exclusive trailers, crazy costumes, and of course, cute cast moments from some of our favorite stars. As we brace ourselves even more fun, we're looking back at the best photos from years past, from The Hunger Games greatness and the sweetest Twilight highlights to memorable Vampire Diaries moments and hot dudes from Divergent. If you're still feeling nostalgic, get caught up on all the celebrity appearances from the 2014 event [1], and see the hot guys that have shown up [2] to this year's convention so far!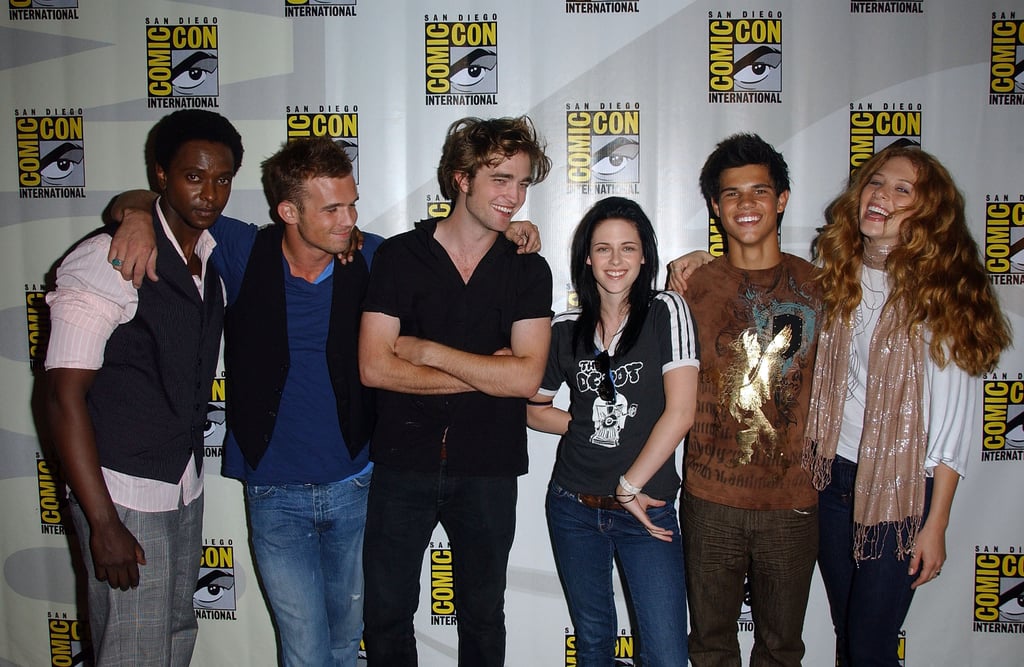 The Twilight cast shared a laugh at a panel for the film at the 2008 convention.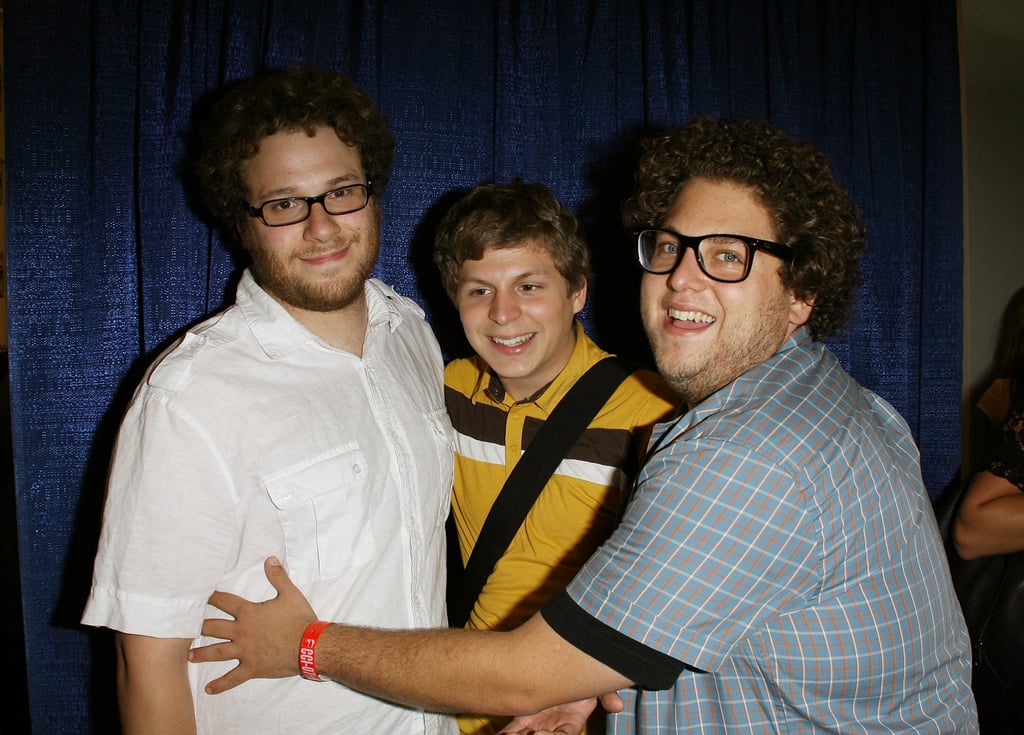 Seth Rogen [3], Michael Cera [4], and Jonah Hill [5] buddied up at the convention in 2007.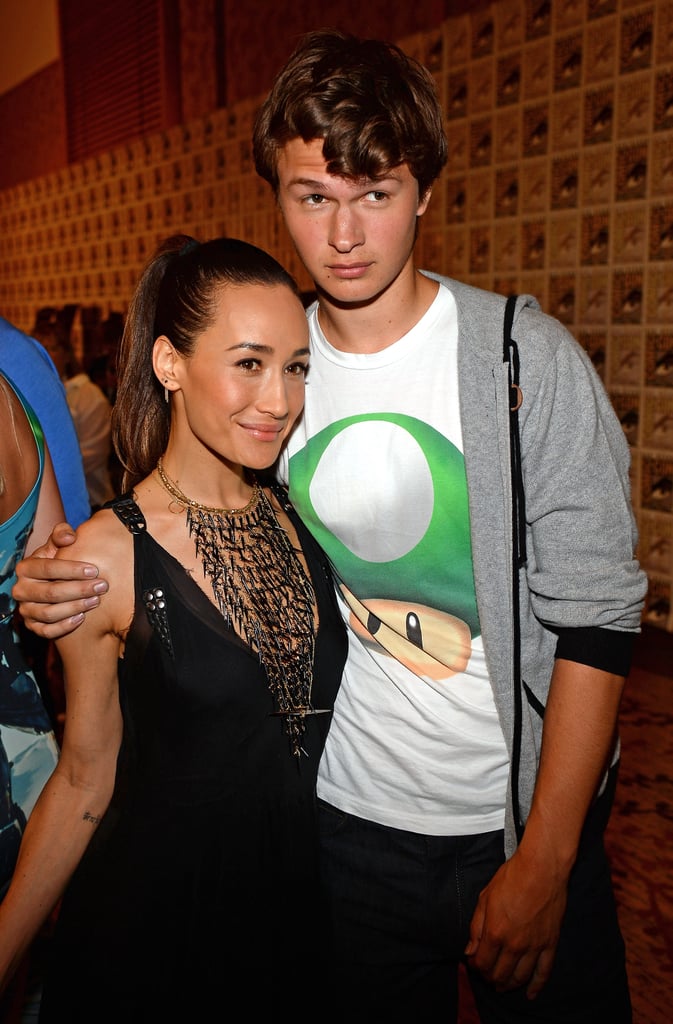 Ansel Elgort hugged Maggie Q at the Divergent press conference in 2013.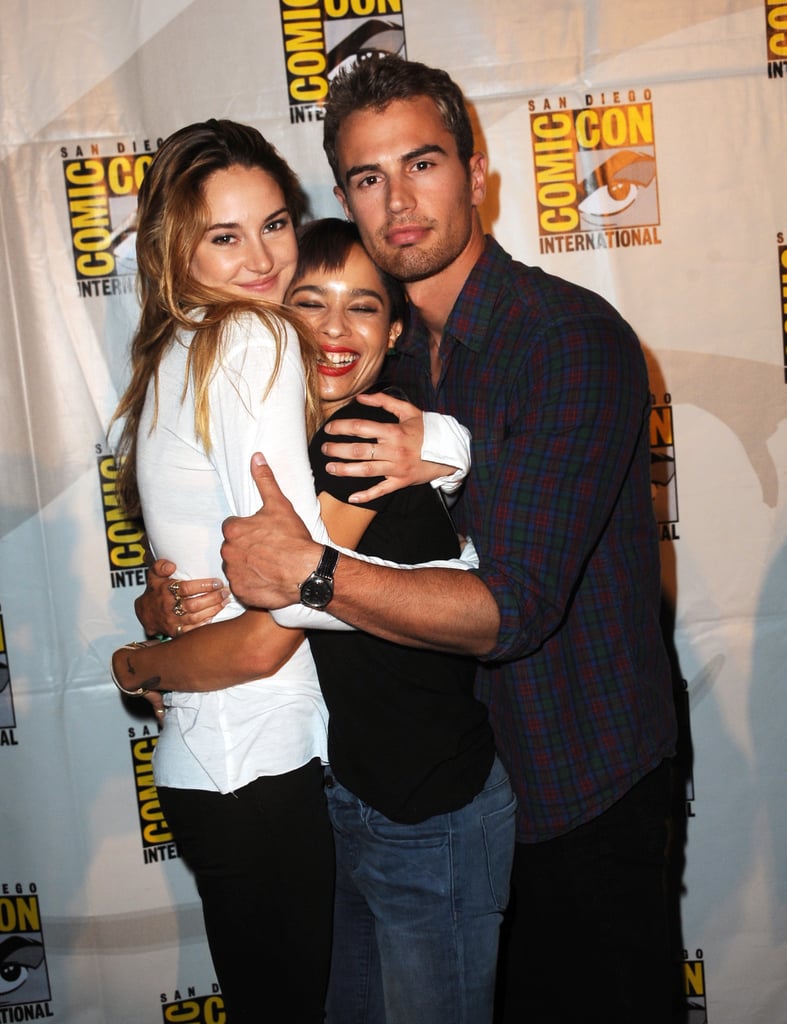 Shailene Woodley and Theo James sandwiched their Divergent costar Zoë Kravitz at the movie's panel in 2013.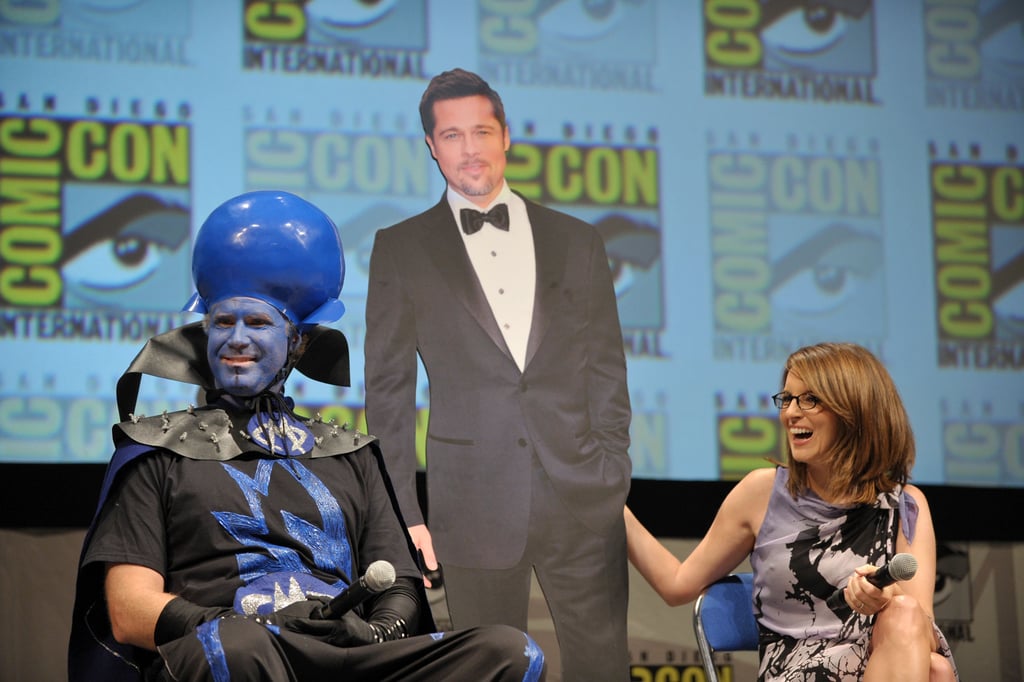 To promote their movie Megamind in 2010, Will Ferrell [6] and Tina Fey [7] brought a cardboard cutout of their costar, Brad Pitt [8], onstage with them.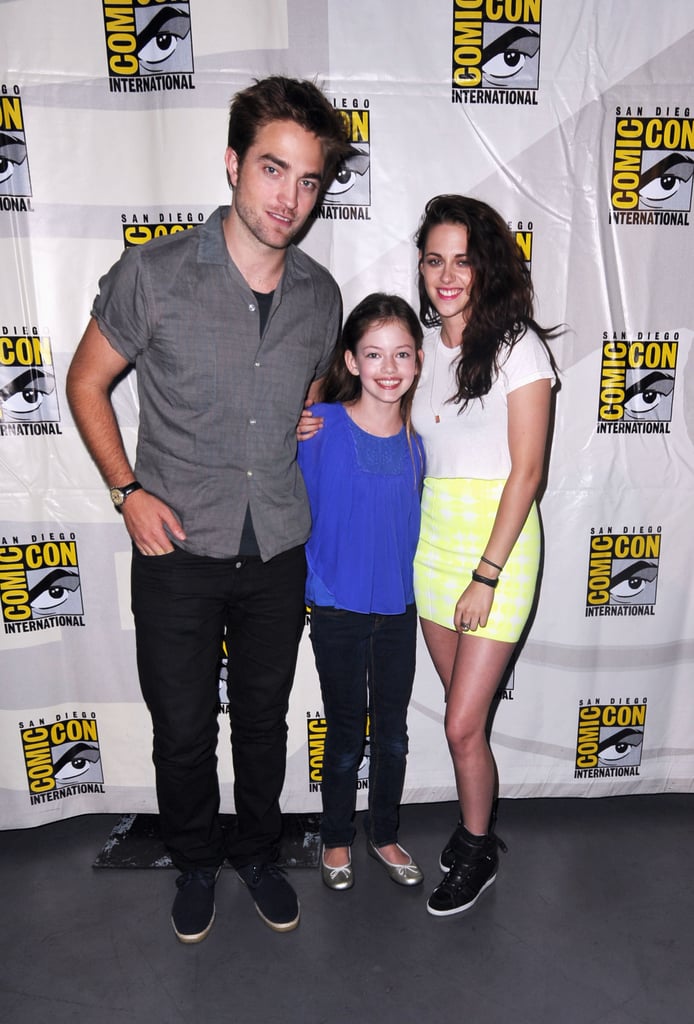 In 2012, Robert Pattinson [9] and Kristen Stewart [10] attended a panel for Breaking Dawn: Part 2 with their onscreen daughter, Mackenzie Foy.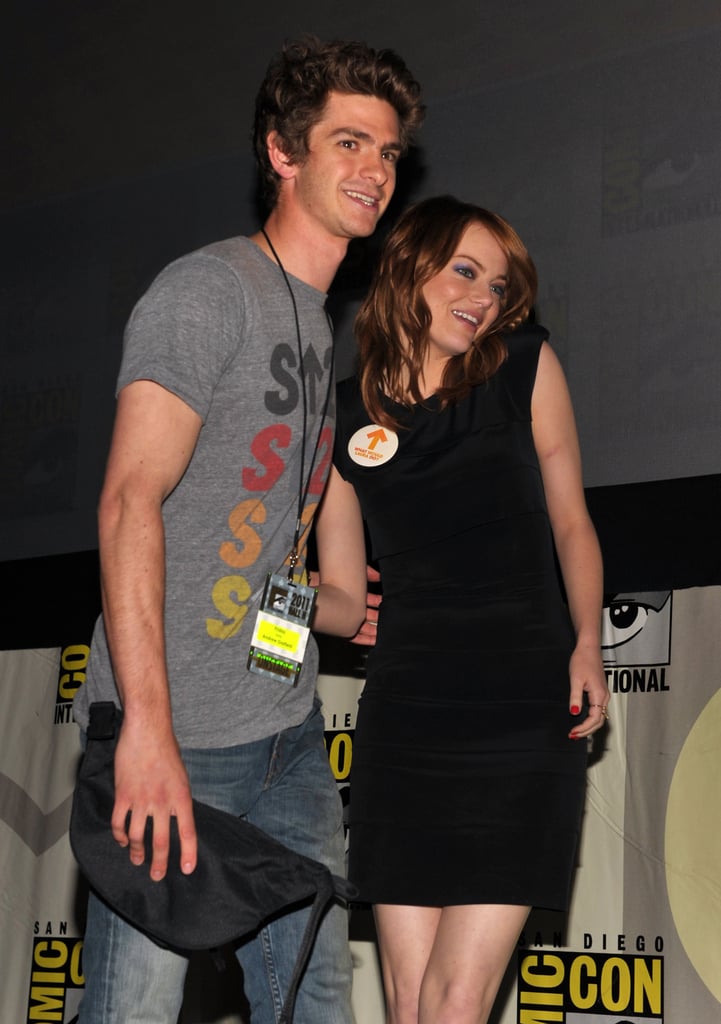 Andrew Garfield and Emma Stone [11] were all smiles at The Amazing Spider-Man panel in 2011.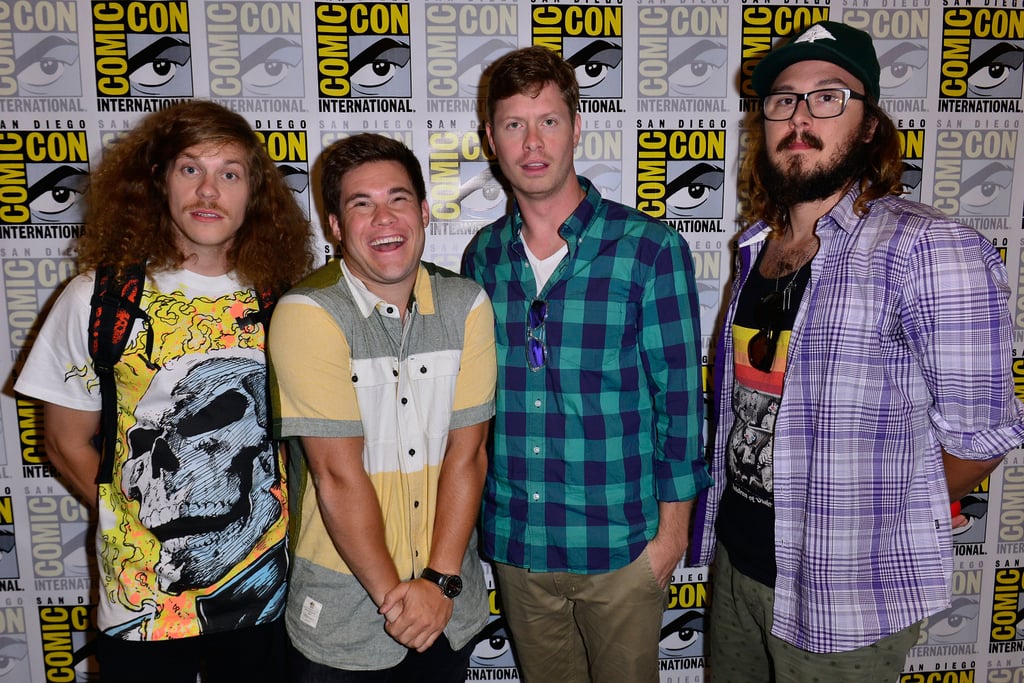 The cast of Comedy Central's Workaholics showed up for a press line in 2013.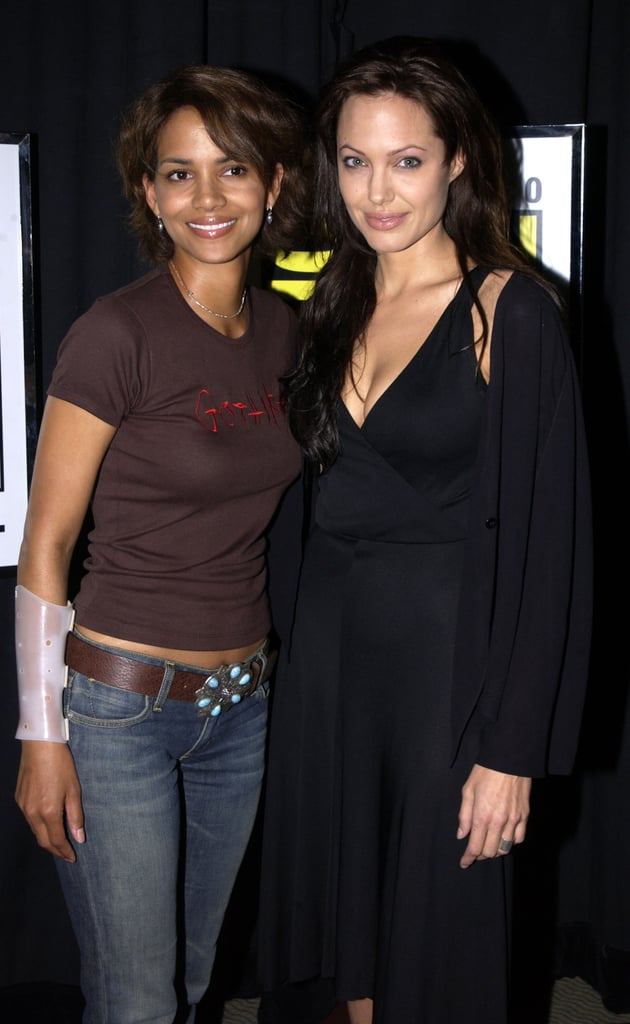 Halle Berry [12] and Angelina Jolie [13] linked up during Comic-Con back in 2003.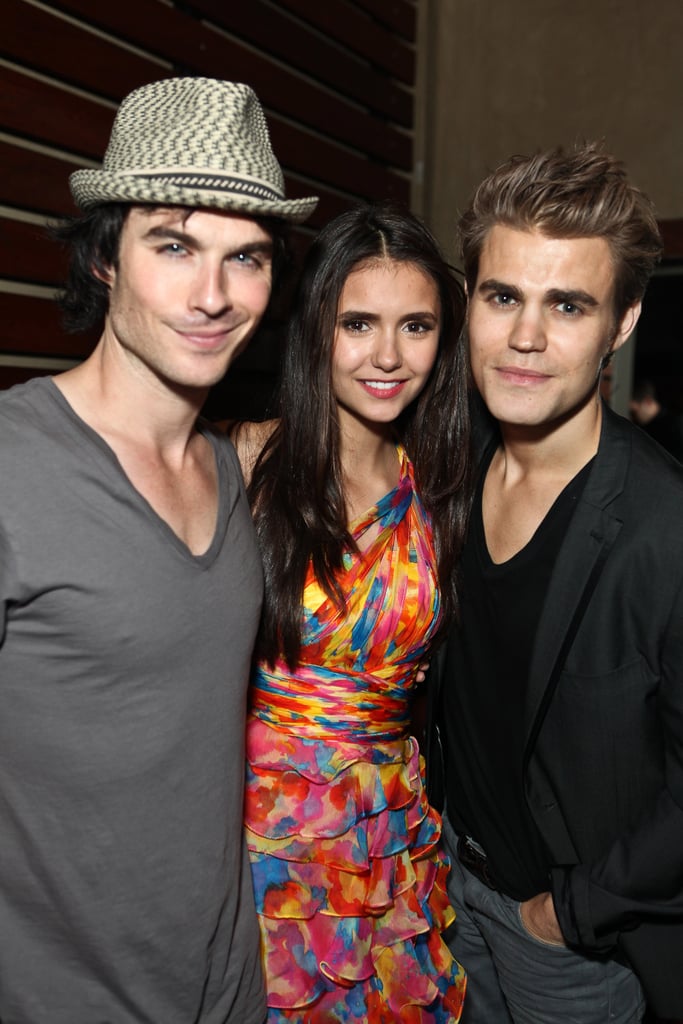 Vampire Diaries stars Ian Somerhalder [14], Nina Dobrev [15], and Paul Wesley [16] partied together during the 2011 event.
The cast of Community showed off their best prom pose on the red carpet in 2012.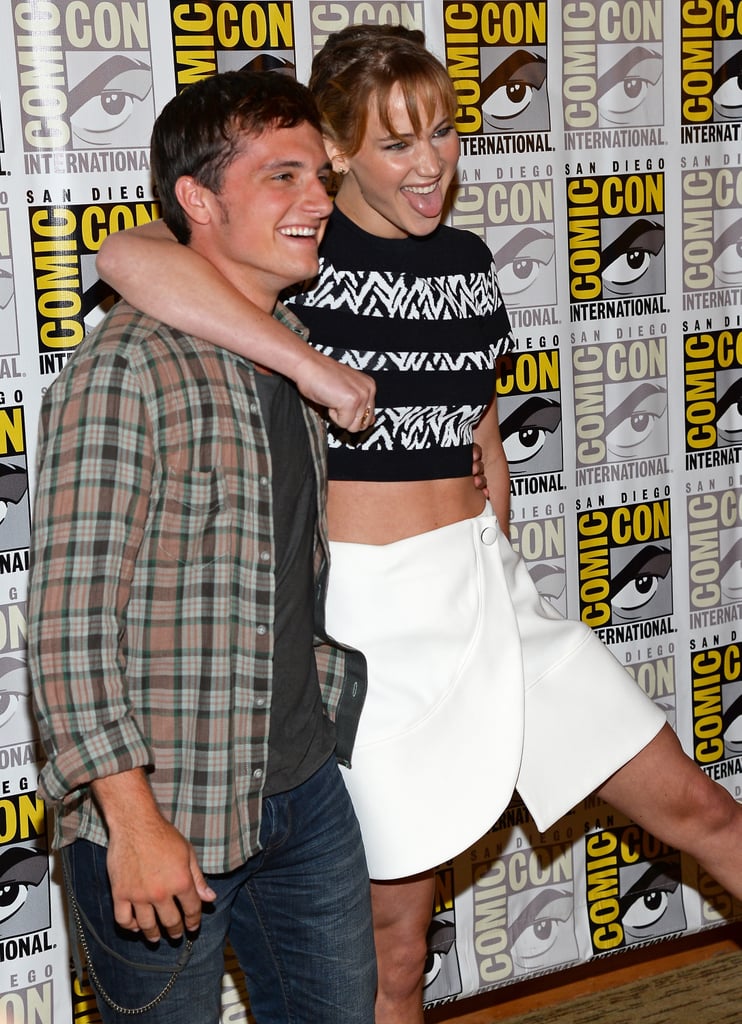 Jennifer Lawrence [17] playfully had her arm around costar Josh Hutcherson at the Catching Fire press conference in 2013.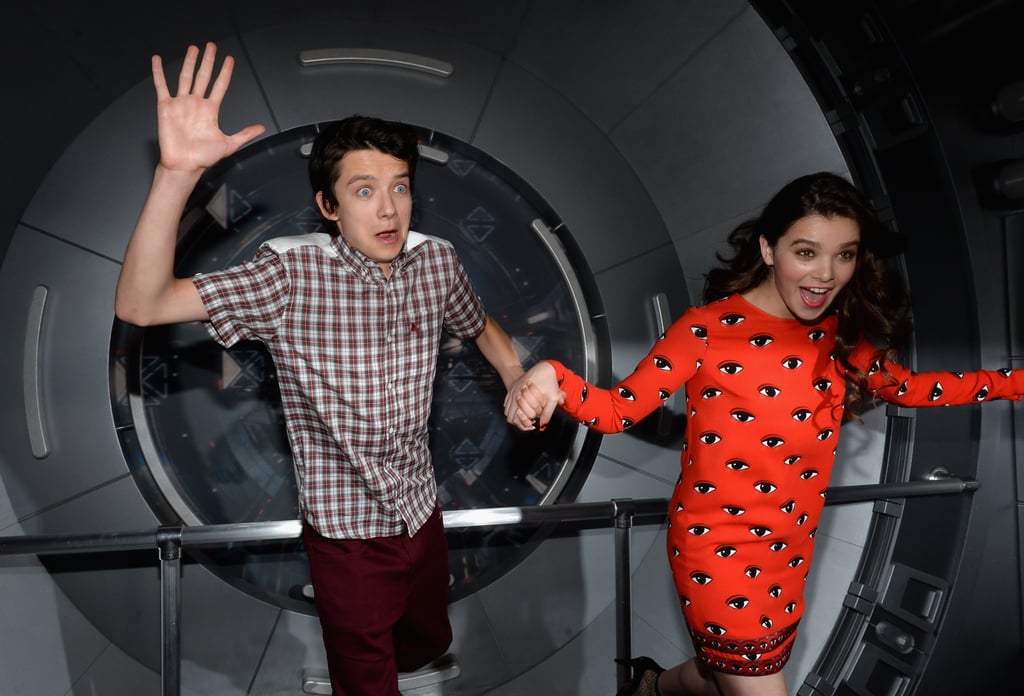 Ender's Game stars Asa Butterfield and Hailee Steinfeld were blown away during a press event for the movie in 2013.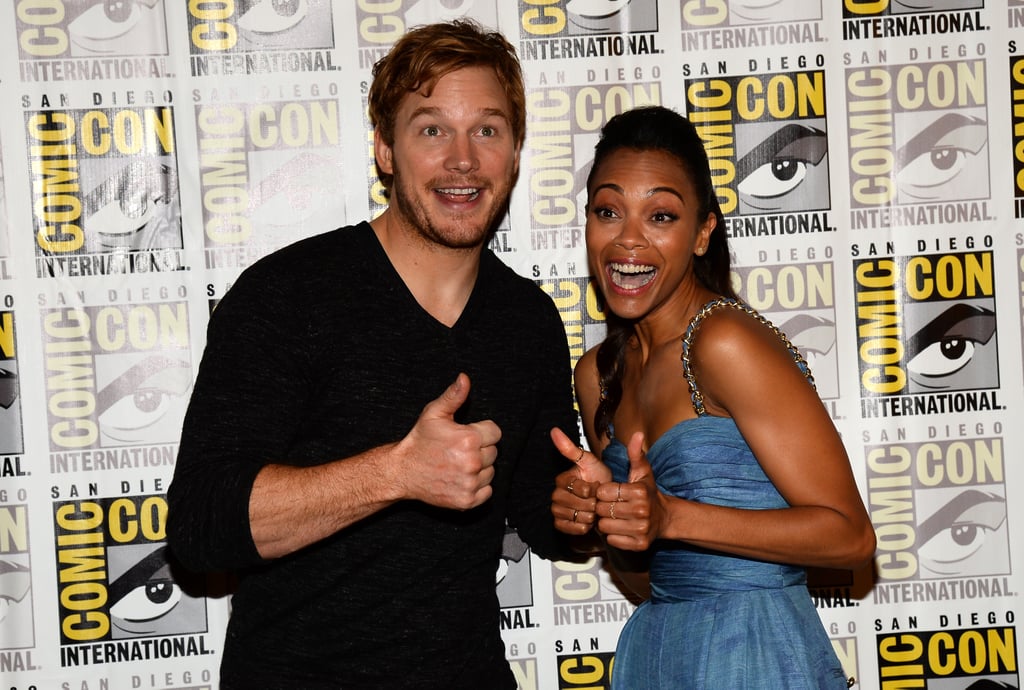 Chris Pratt and Zoe Saldana [18] gave their thumbs-up on the red carpet for the Guardians of the Galaxy event in 2013.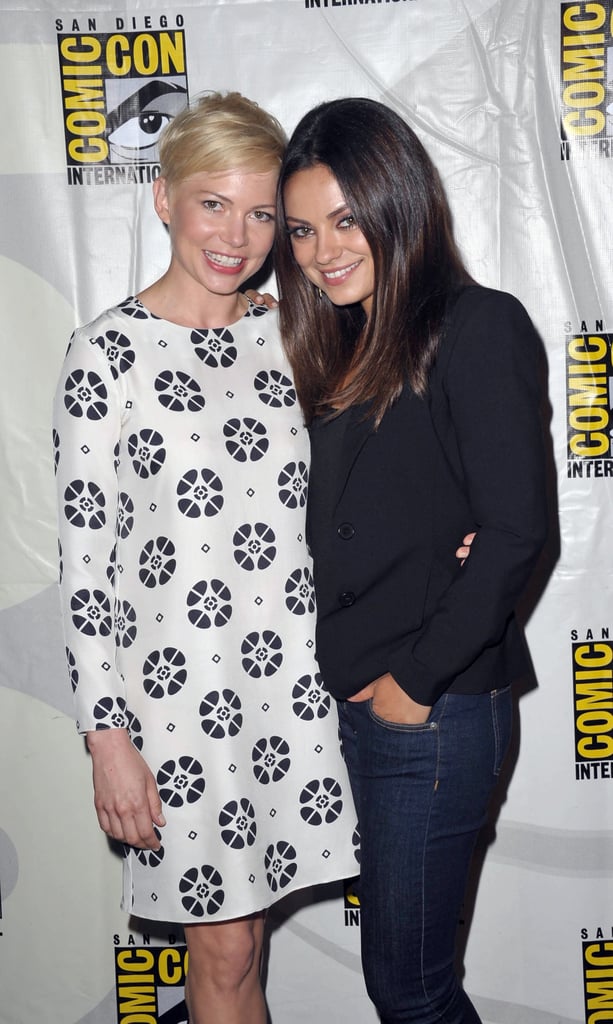 Michelle Williams [19] and Mila Kunis [20] sweetly posed together while promoting Oz The Great and Powerful during the 2012 convention.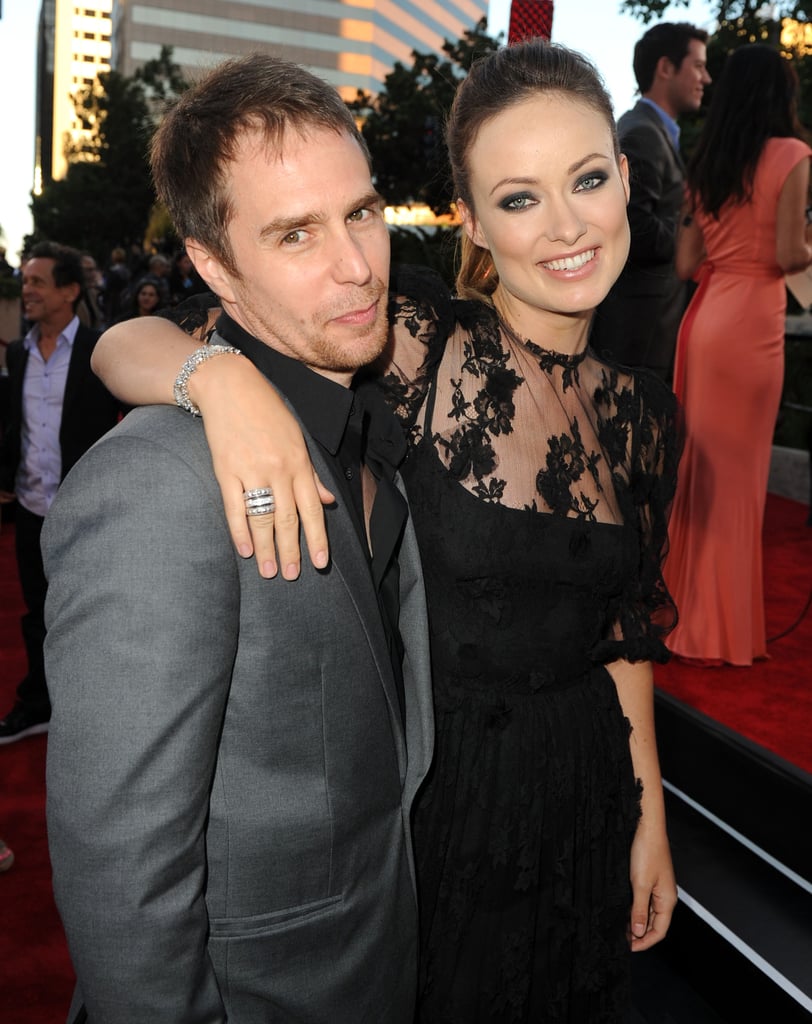 Olivia Wilde [21] kept her arm around Sam Rockwell at the premiere of Cowboys & Aliens in 2011.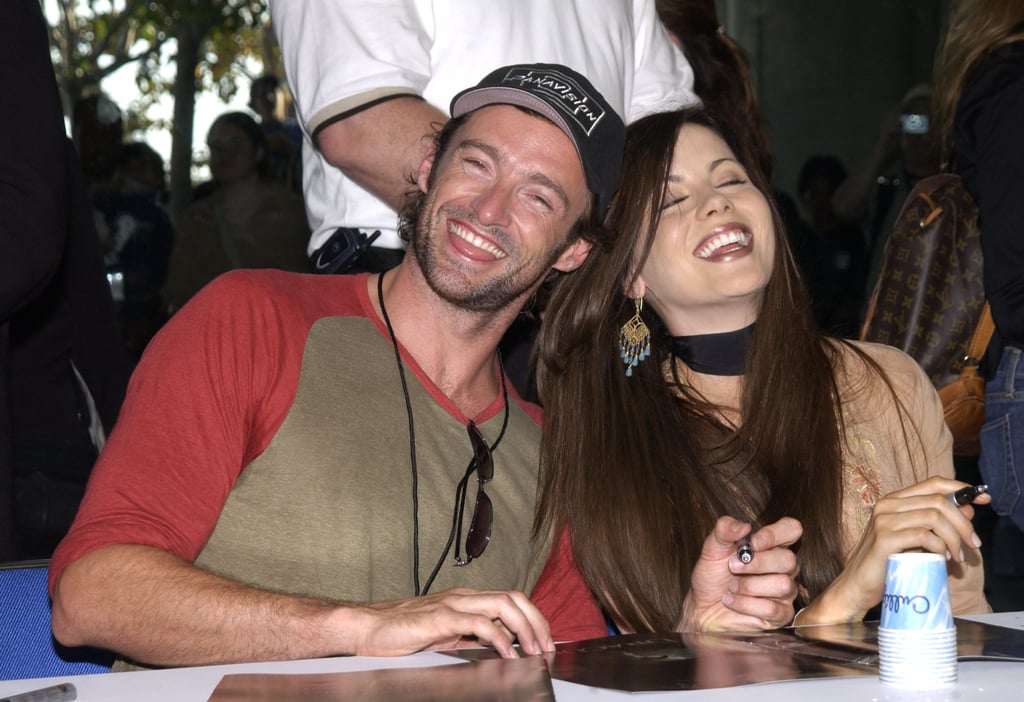 Hugh Jackman [22] and Kate Beckinsale [23] signed autographs together during the convention in 2003.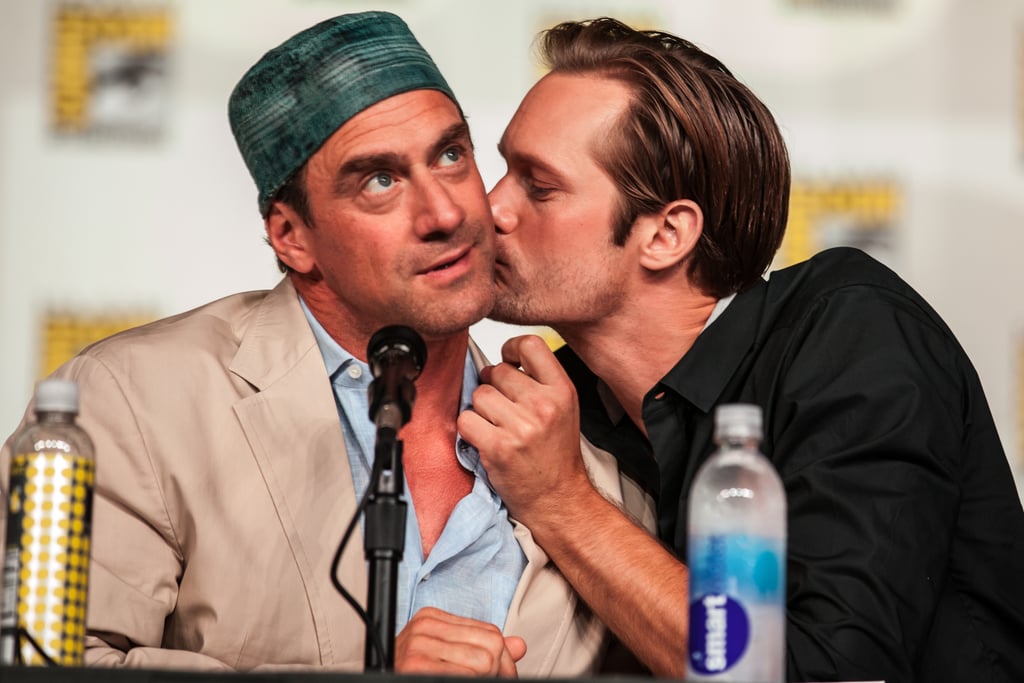 Alexander Skarsgard [24] planted a kiss on Chris Meloni's cheek at the True Blood panel in 2012.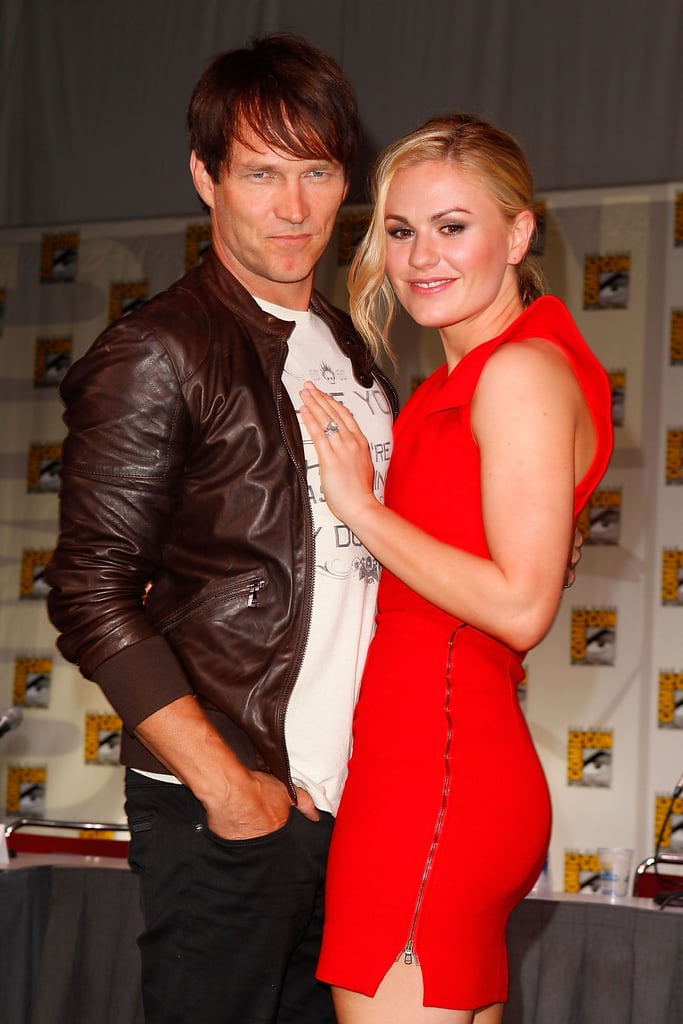 Cute couple Stephen Moyer [25] and Anna Paquin [26] posed together before the True Blood event in 2011.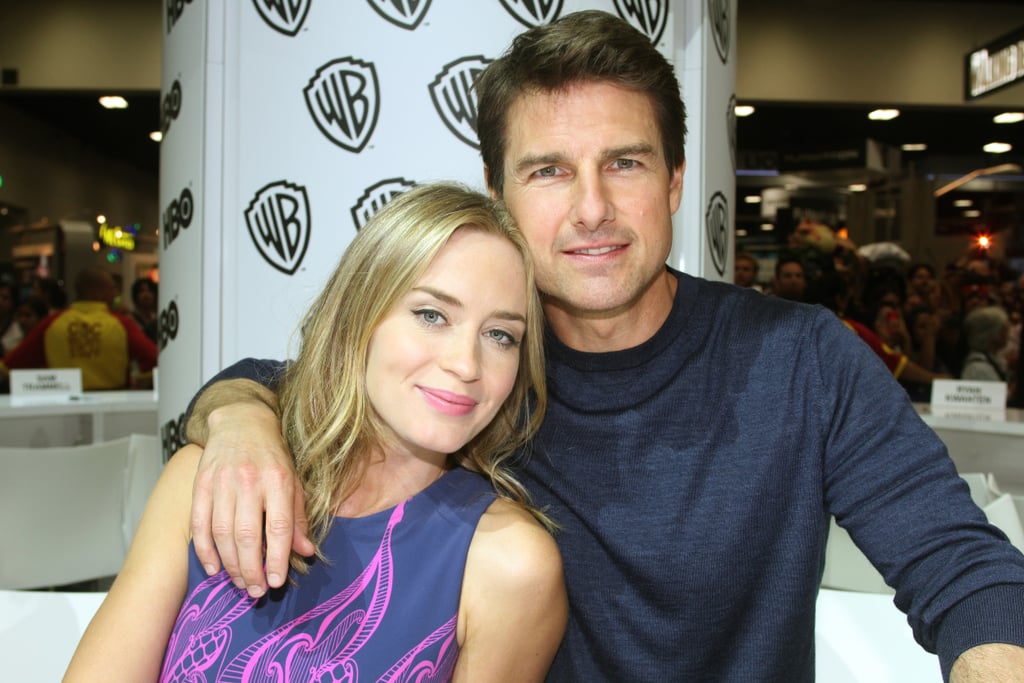 Emily Blunt [27] and Tom Cruise [28] shared a sweet moment while in the Warner Bros. booth to promote Edge of Tomorrow in 2013.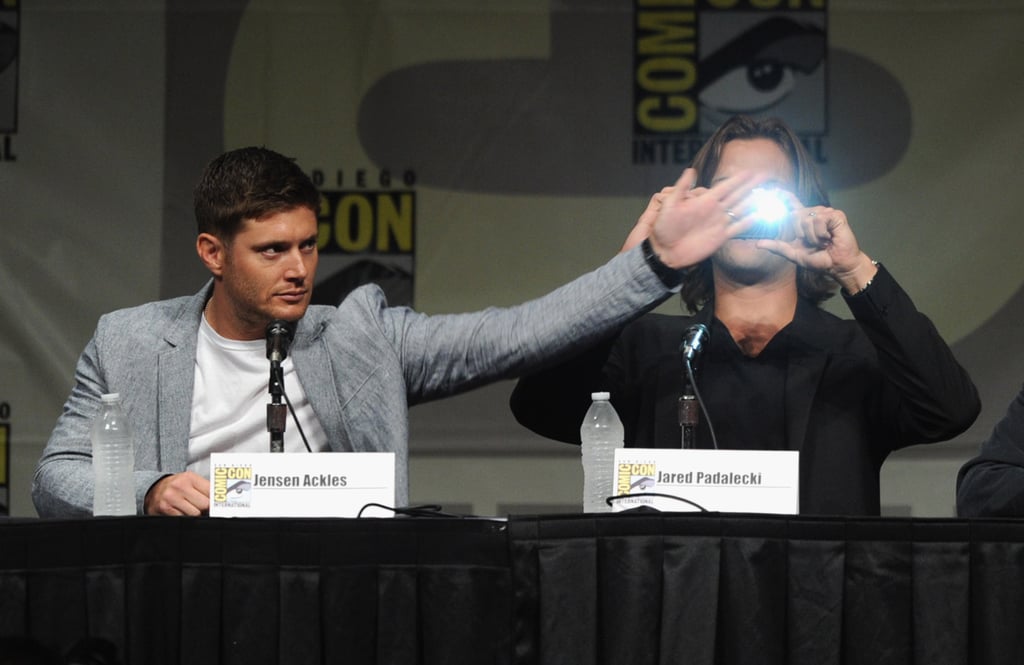 Jensen Ackles didn't let Jared Padalecki get a photo of the crowd as they attended the Supernatural panel in 2012.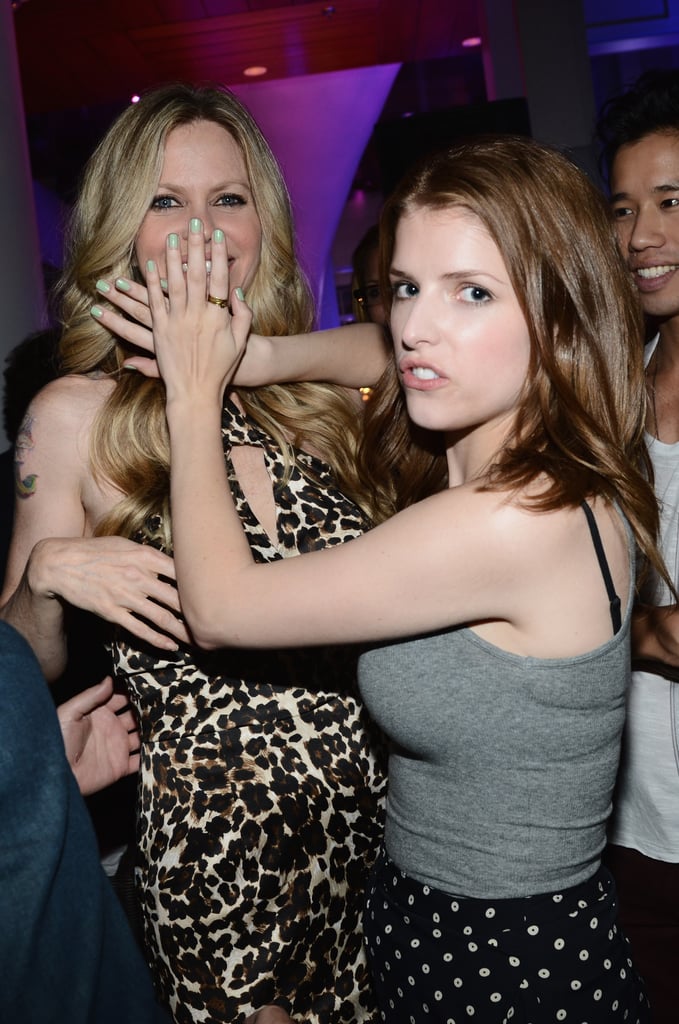 Anna Kendrick [29] didn't let anyone get a photo of Kristin Bauer at the Entertainment Weekly party in 2012.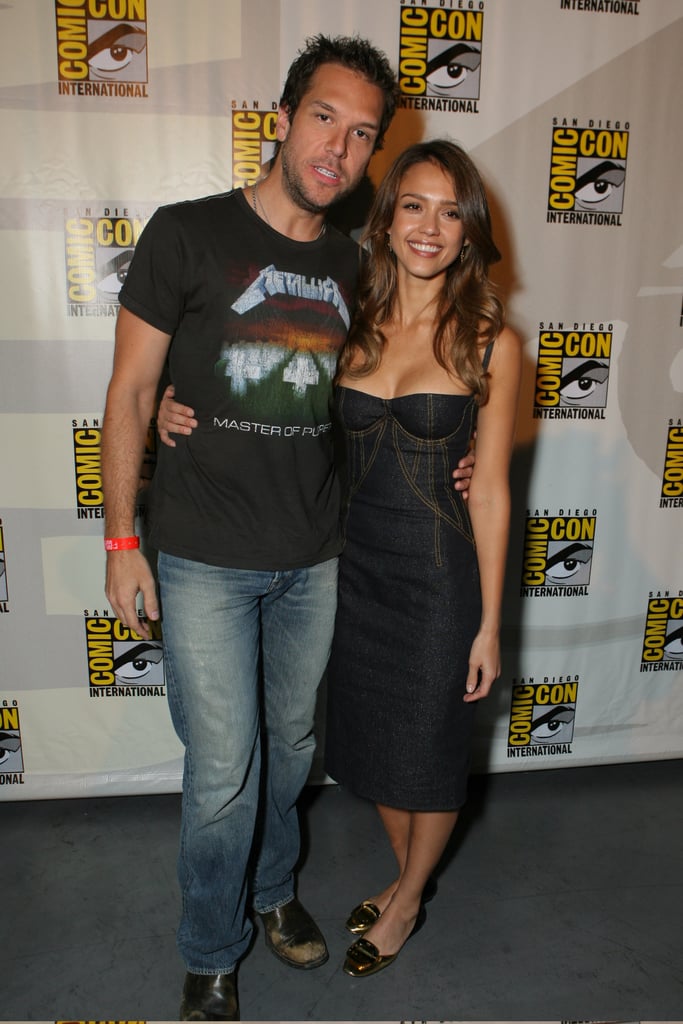 Dane Cook [30] and Jessica Alba [31] hugged on the red carpet in 2007.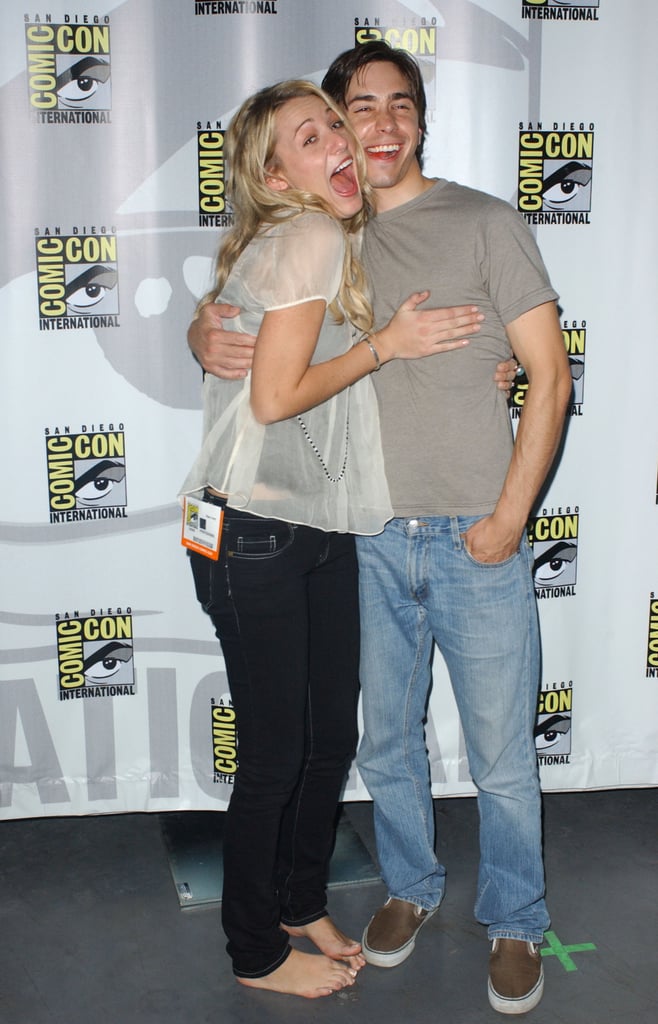 Blake Lively [32] hammed it up with Justin Long [33] in 2006.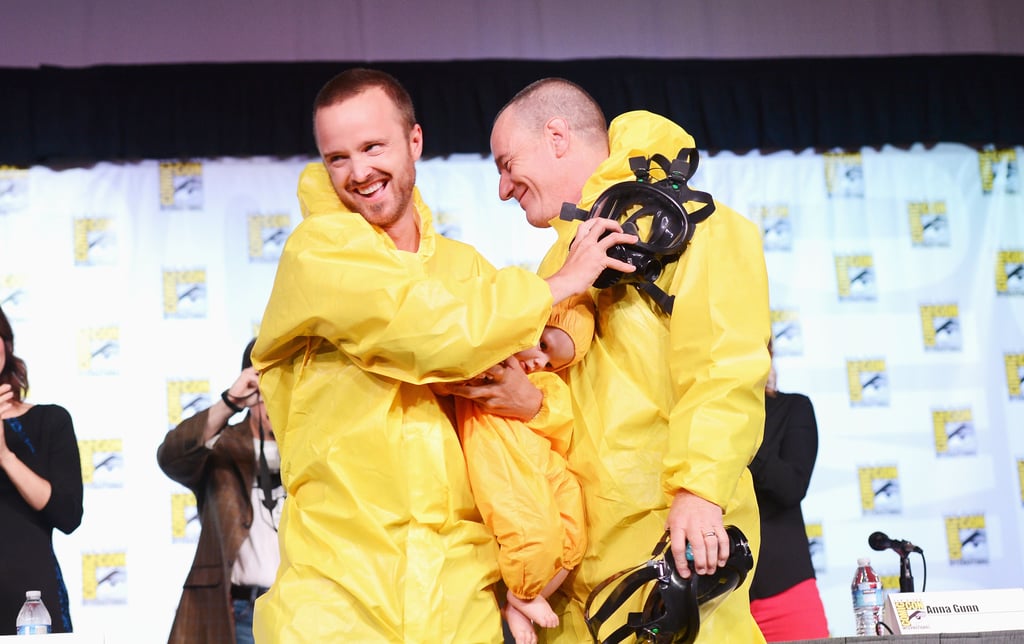 Aaron Paul and Bryan Cranston channeled their Breaking Bad characters at the show's press conference in 2012.
Peter Facinelli [34] leaned in for a kiss from Robert Pattinson [35] during a Twilight event in 2009.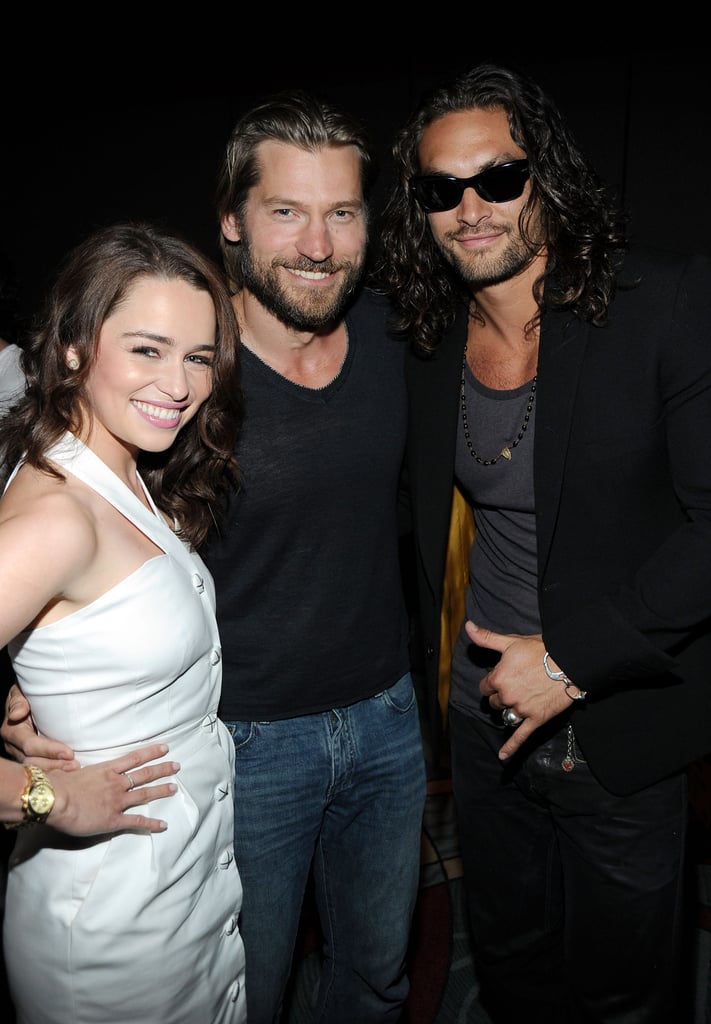 Game of Thrones stars Emilia Clarke, Nikolaj Coster-Waldau, and Jason Momoa posed together at the HBO panel in 2011.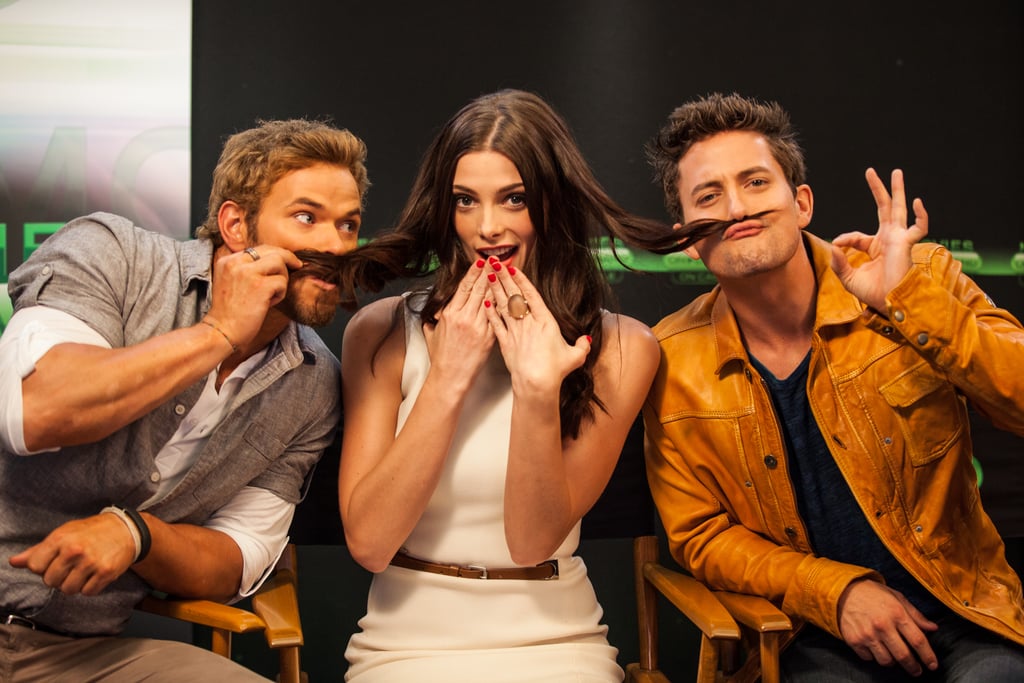 Things got sweet and silly for Twilight's Kellan Lutz [36], Ashley Greene [37], and Jackson Rathbone during an interview in 2012.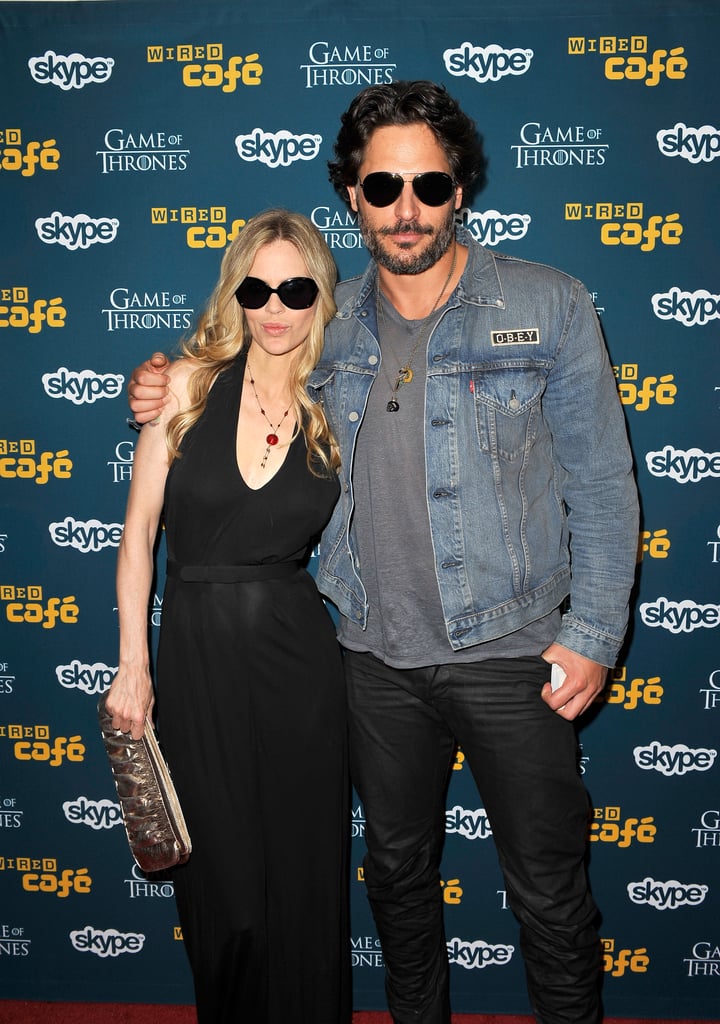 True Blood's Kristin Bauer and Joe Manganiello kept their shades on for an event in 2012.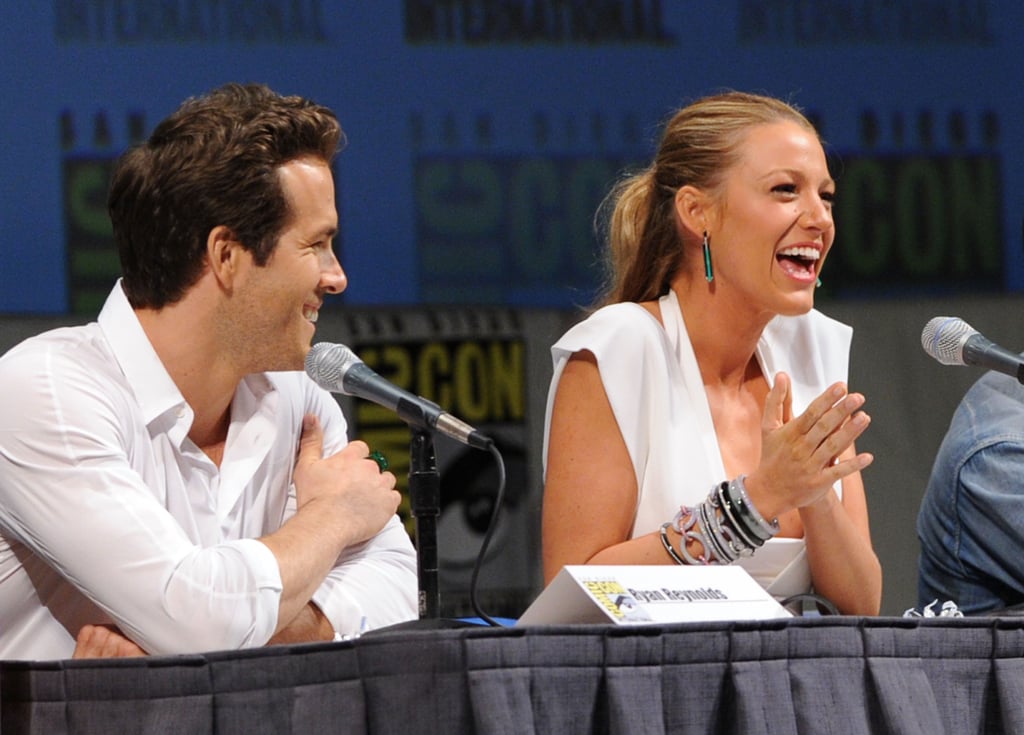 They weren't married yet, but Ryan Reynolds [38] and Blake Lively [39] showed tons of chemistry while promoting Green Lantern together in 2010.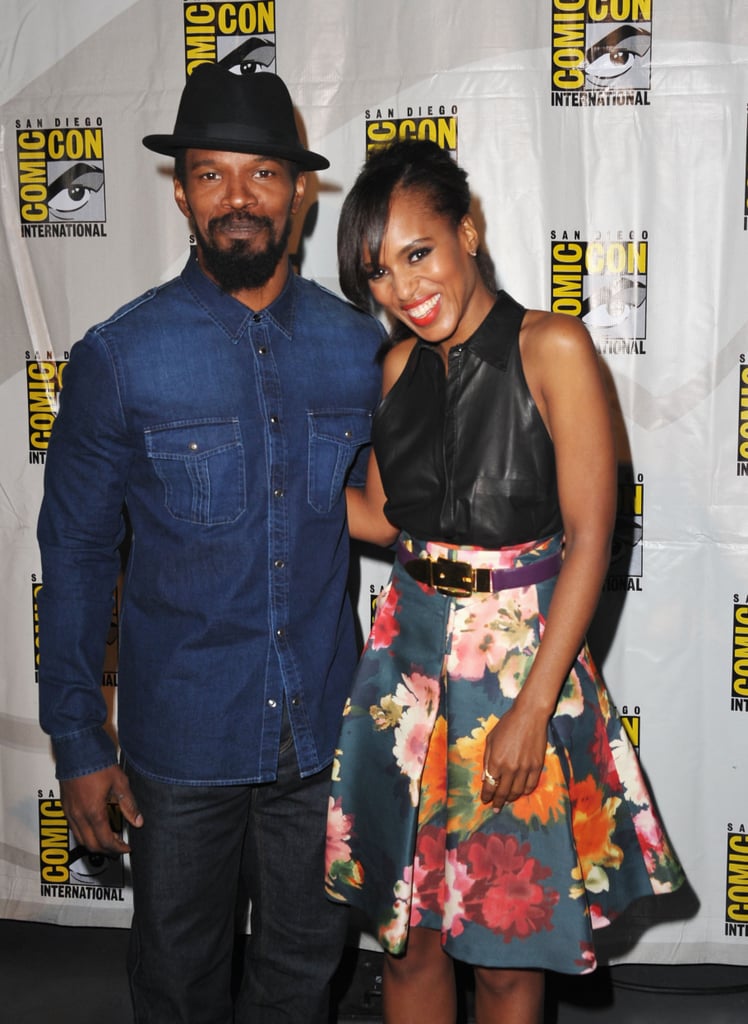 At the 2012 convention, Jamie Foxx [40] and Kerry Washington linked up to promote their film Django Unchained.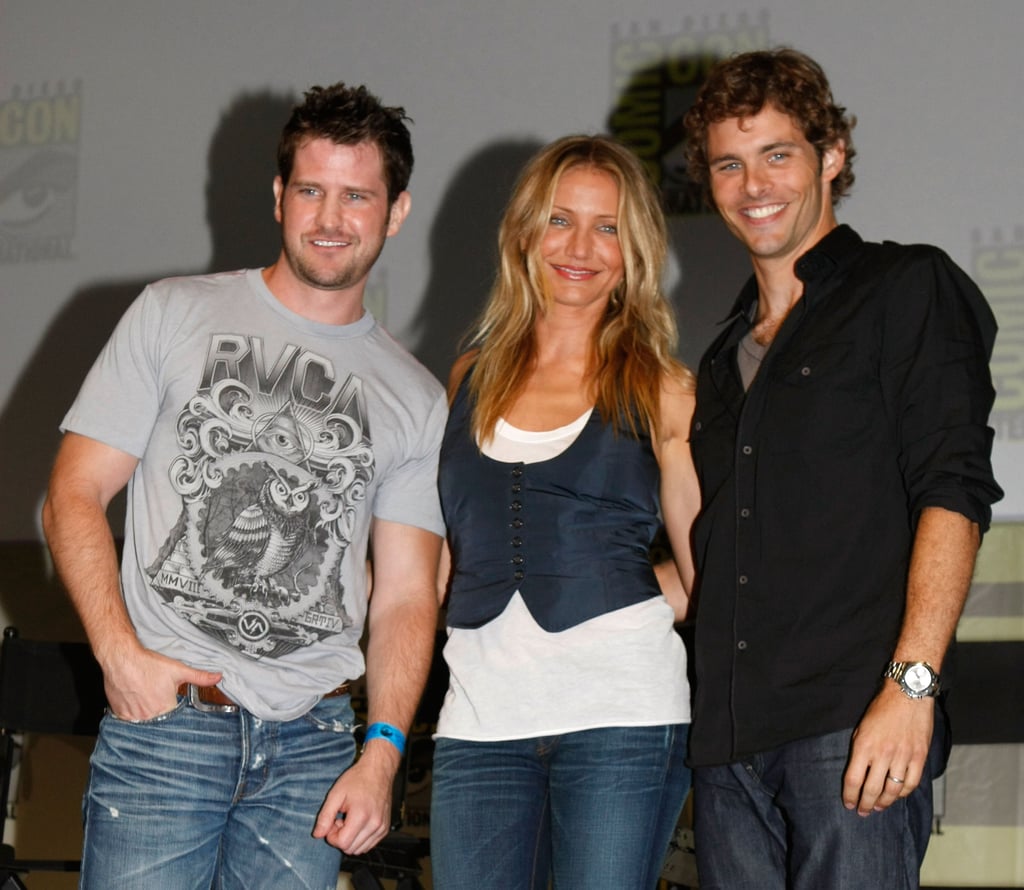 Cameron Diaz [41] stood onstage with costar James Marsden and director Richard Kelly at a panel for The Box back in 2009.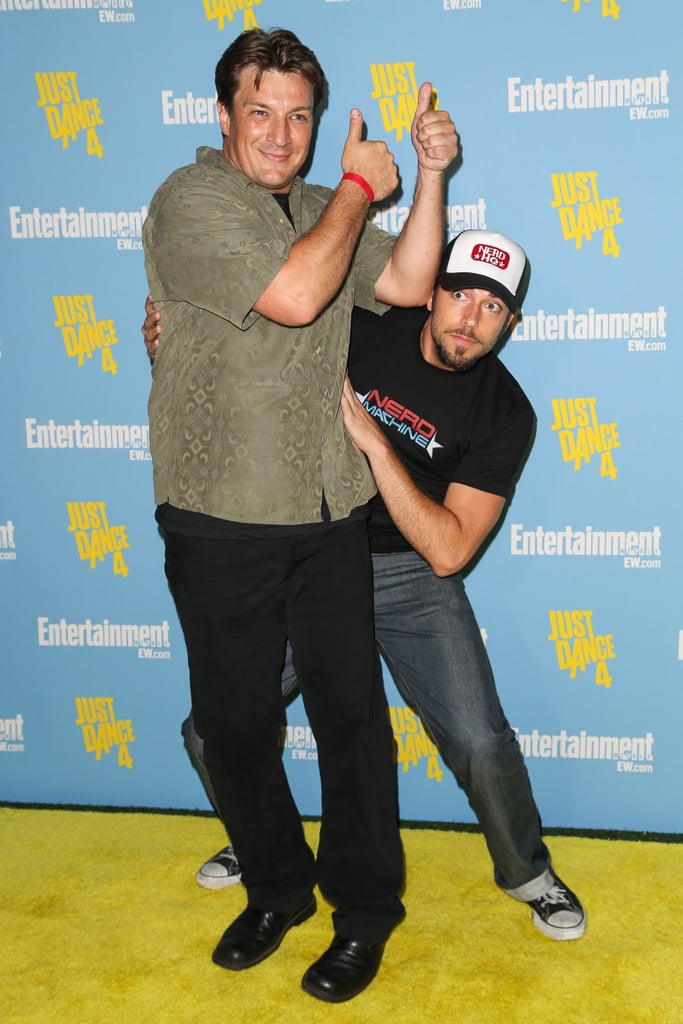 Nathan Fillion and Zachary Levi goofed around at the Entertainment Weekly bash in 2012.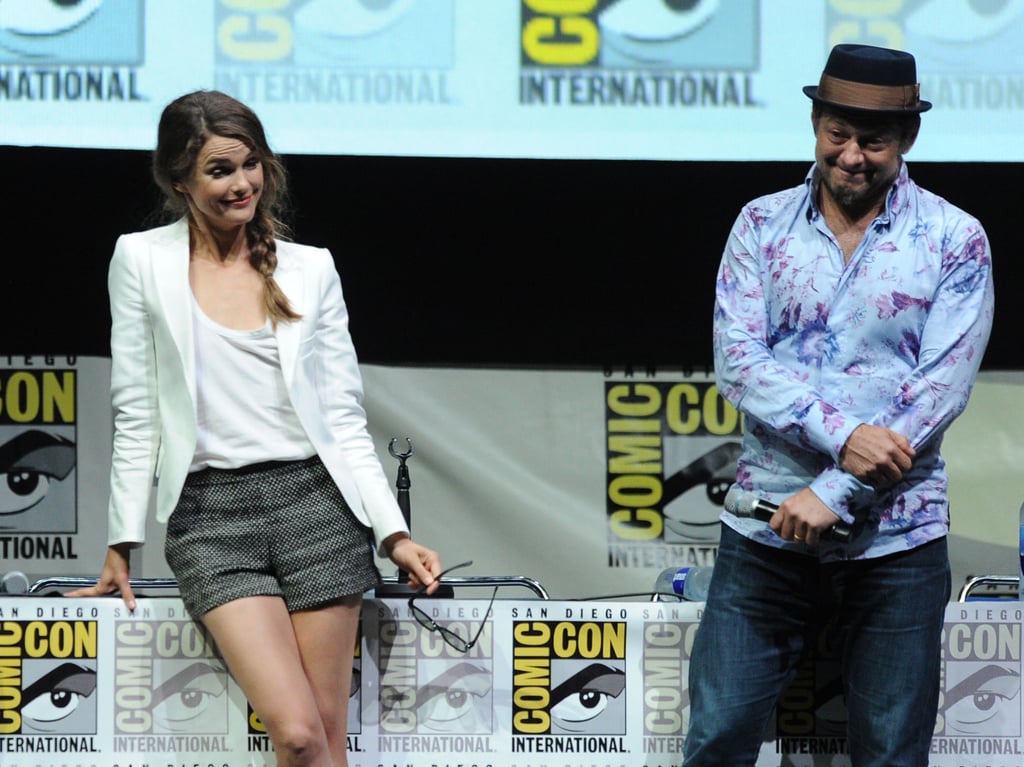 Keri Russell [42] and Andy Serkis seemed to have an adorably awkward moment onstage in 2013.
Scarlett Johansson [43] had the pleasure of posing with her Captain America: The Winter Soldier costar Chris Evans as well as Thor: The Dark World's Tom Hiddleston — dressed as his character, Loki — at the Marvel panel in 2013.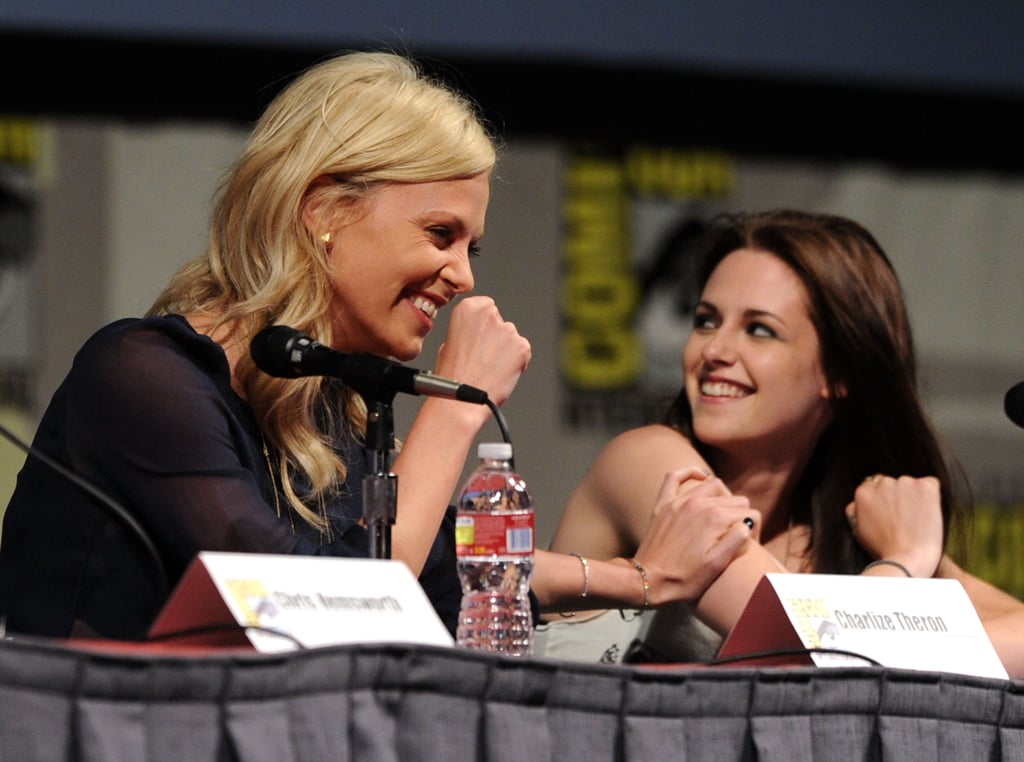 Charlize Theron [44] and Kristen Stewart [45] shared a laugh during the Snow White and the Huntsman panel discussion in 2011.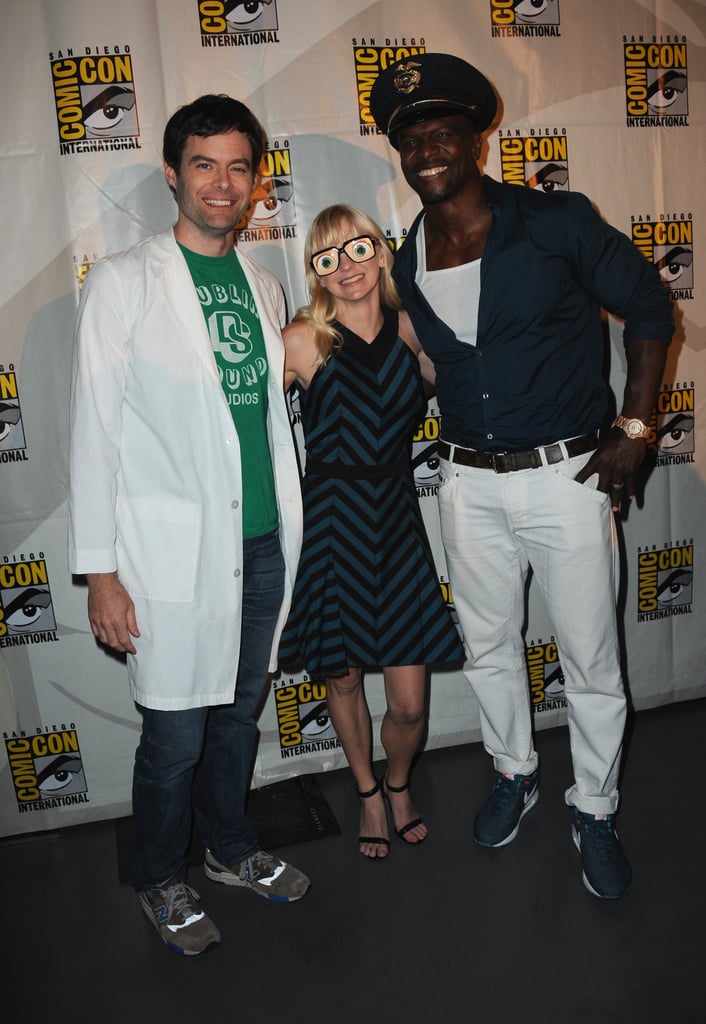 Bill Hader, Anna Faris [46], and Terry Crews donned silly accessories for the panel of their animated film, Cloudy with a Chance of Meatballs 2, in 2012.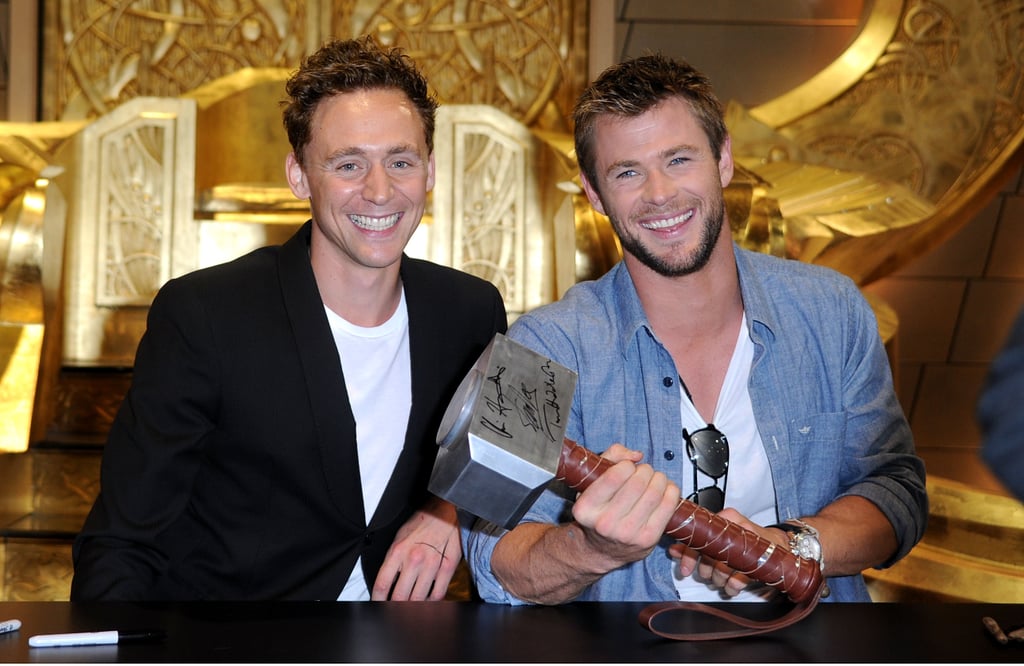 Thor stars Tom Hiddleston and Chris Hemsworth signed autographs during Comic-Con in 2010.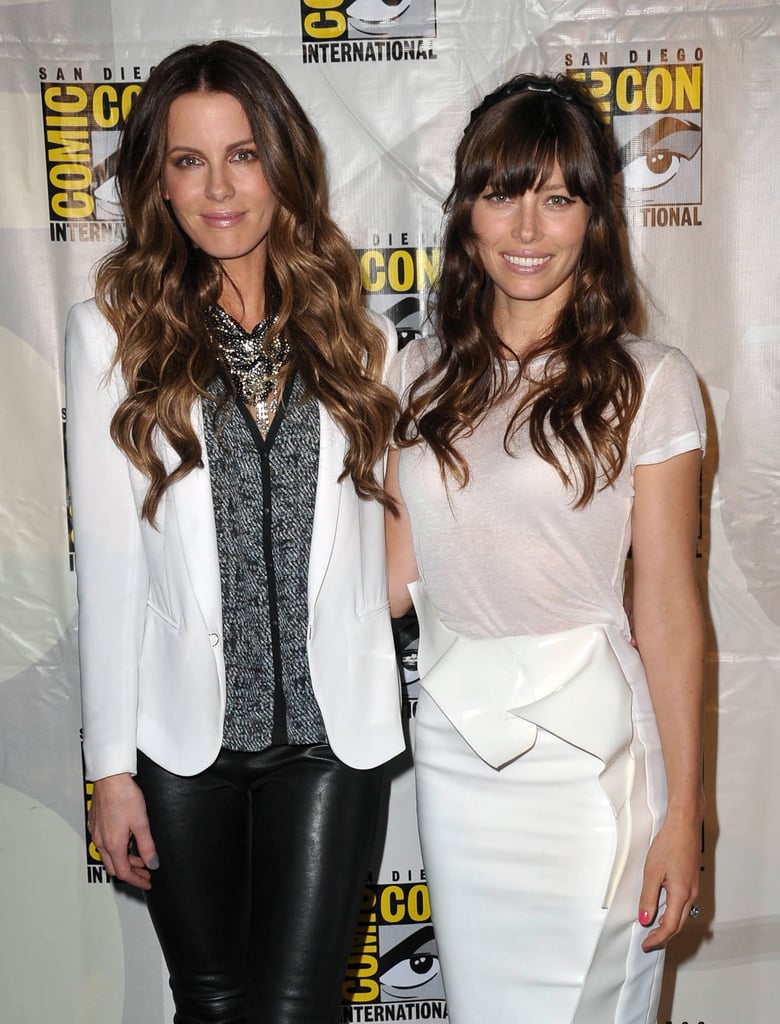 Kate Beckinsale [47] and Jessica Biel [48] were all smiles at the Total Recall event in 2012.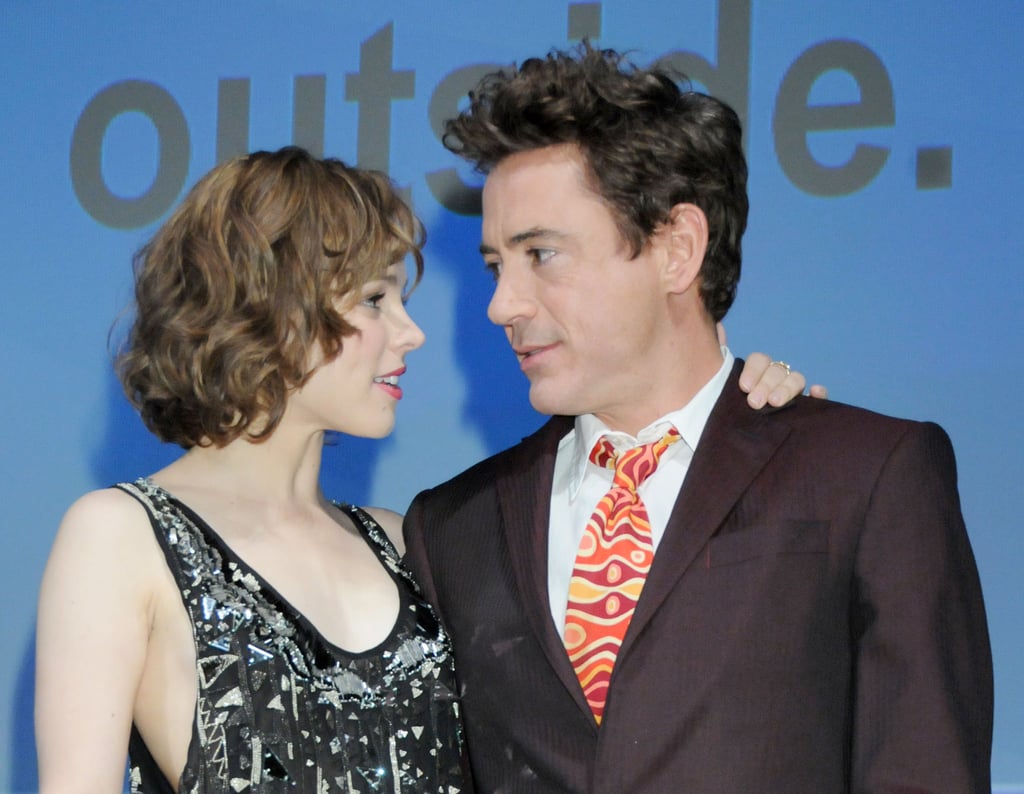 Rachel McAdams [49] and Robert Downey Jr stayed close while promoting Sherlock Holmes in 2009.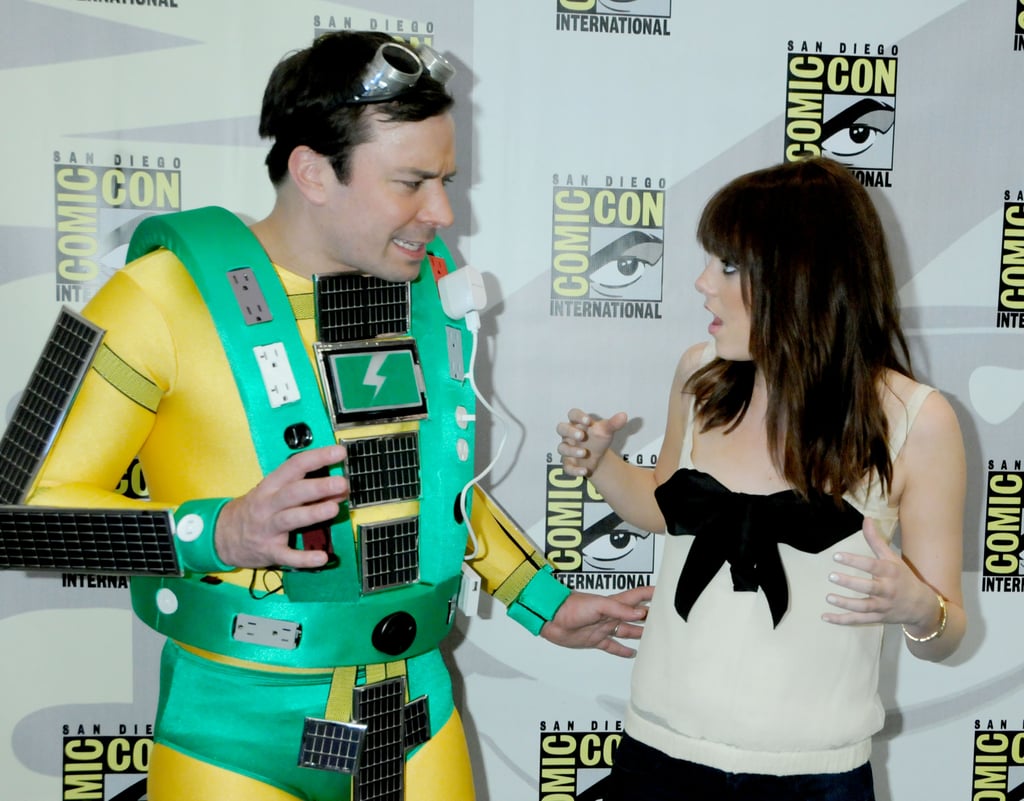 Jimmy Fallon [50] and Emma Stone [51] had a cute red carpet moment during the 2009 convention.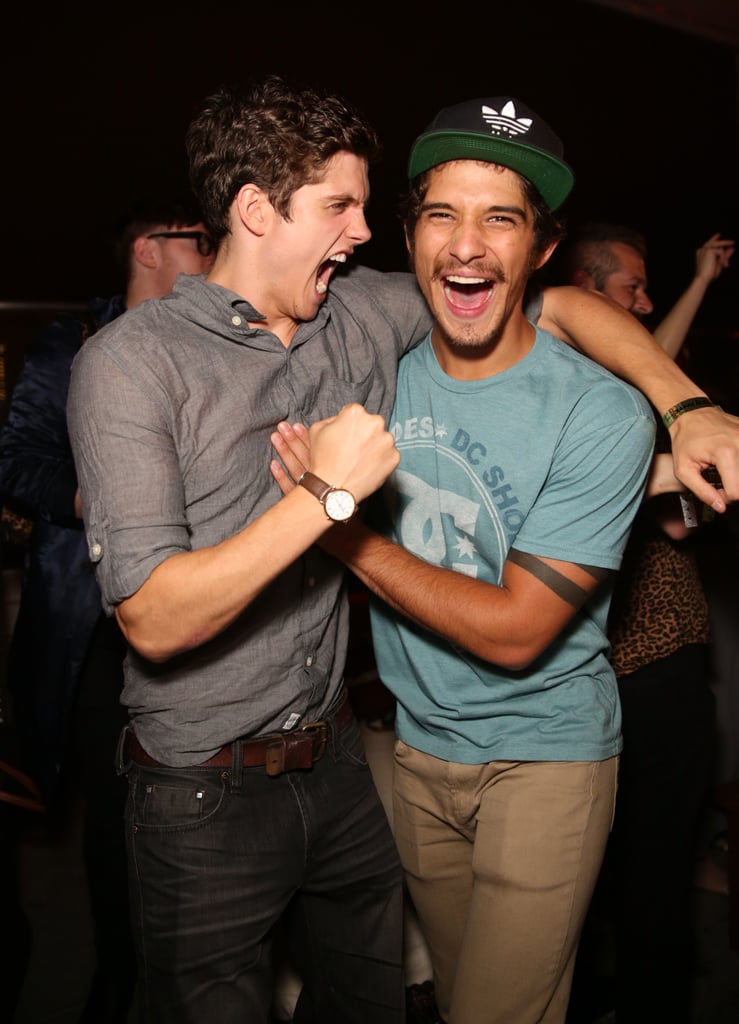 Teen Wolf stars Daniel Sharman and Tyler Posey had a boys' night out in 2013.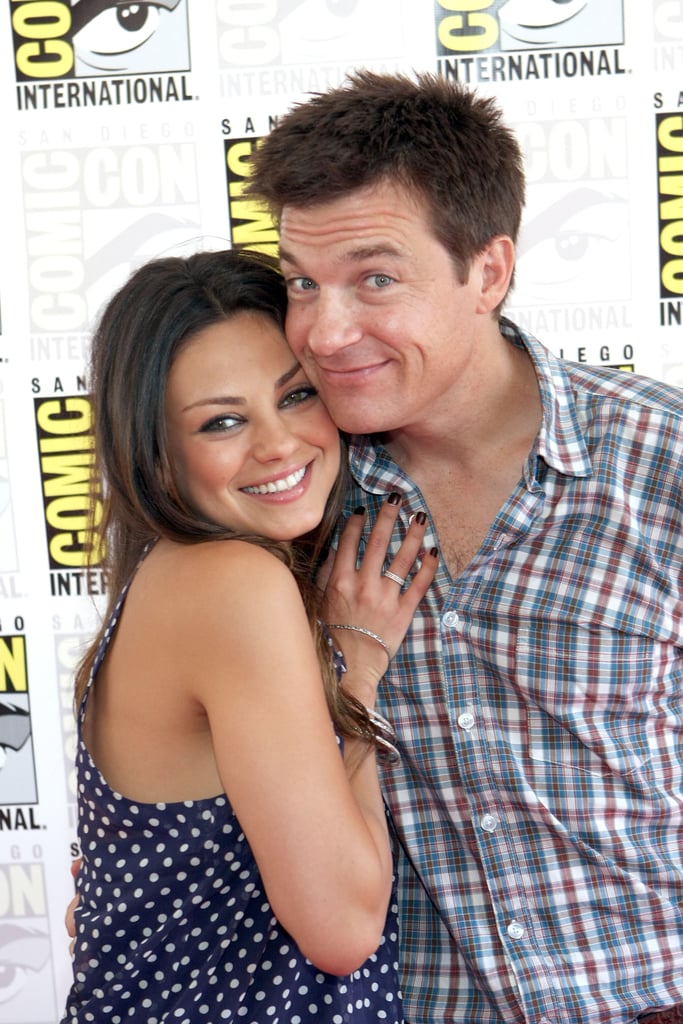 Mila Kunis [52] cozied up to Jason Bateman [53] in 2009.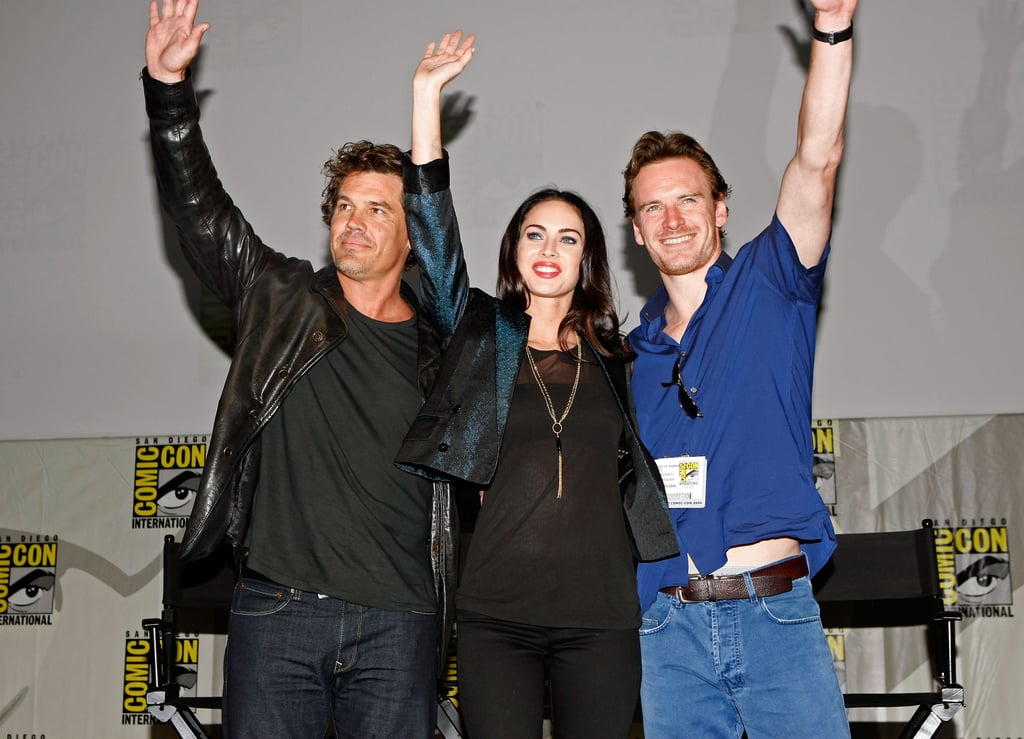 Josh Brolin [54], Megan Fox [55], and Michael Fassbender waved to fans as they took the stage at a panel for Jonah Hex in 2009.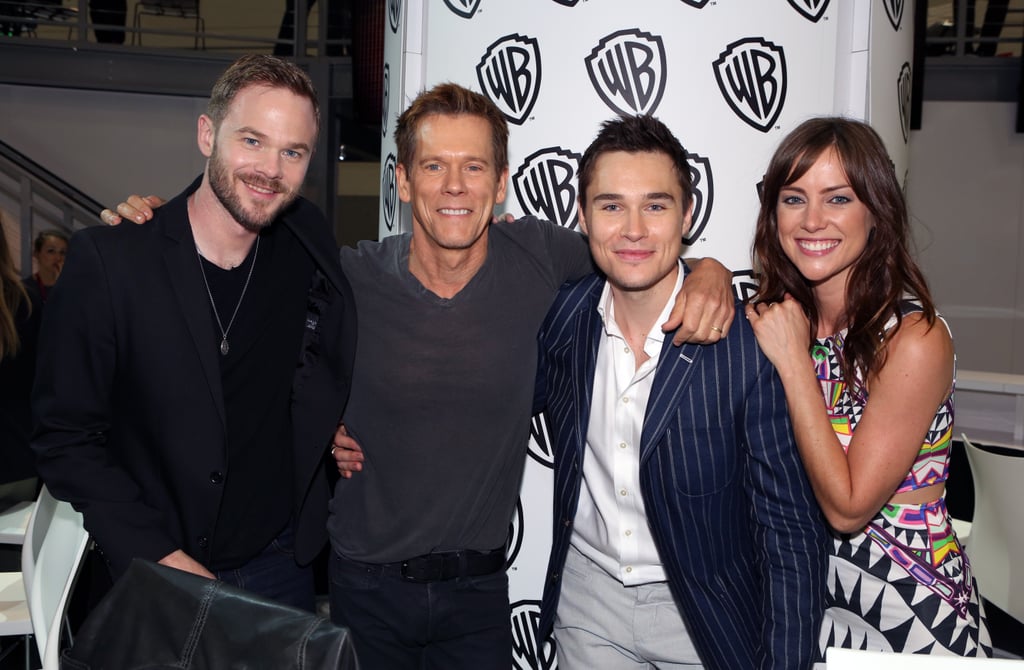 Shawn Ashmore, Kevin Bacon [56], Sam Underwood and Jessica Stroup of The Following buddied up at a fan event in 2014.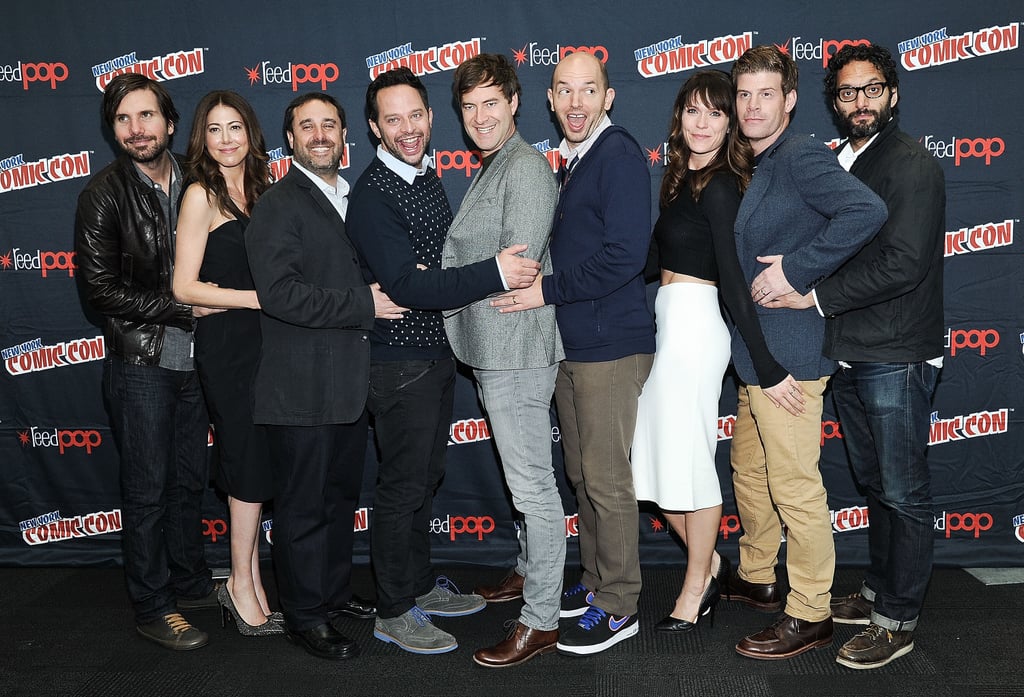 The cast of The League put on their best prom pose on the red carpet in 2014.