It's almost time for all those holiday parties, so this week on POPSUGAR TV, we're thinking of every way possible for you to primp and pamper yourself! We're helping you get glammed out with a nice, full hair bun (no sock needed) and plenty of dazzling nail art ideas for any lover of metallics. We also invented a DIY [1] that will add a little sparkle to your heels, just in time for all the glittery New Year celebrations. Trying to get in the party spirit during a quiet night in? Never fear, because we whipped up a recipe for spiked eggnog that will really get things going. Check out all that and more in our video roundup!
Guess the Taylor Swift Ex Rumored to Have Inspired the Song!
It's Taylor Swift [2]'s birthday this week! While she may be only 24, the songstress has already had a few high-profile relationships that have all ended the same way — in song! Can you guess the guys rumored to have inspired these hits?
The Biggest Celebrity Relationships and Breakups of 2013
From the engagement of Kim Kardashian [3] and Kanye West [4] to the split of Kristen Stewart [5] and Robert Pattinson [6], this year has been a roller coaster in the world of celebrity love. Can you believe Olivia Wilde [7] and Jason Sudeikis got engaged and are now expecting a baby? There were so many great relationship stories in 2013, and we've got some of our favorites right here.
Holiday Hack! Fix Scuffed Heels With Glitter Polish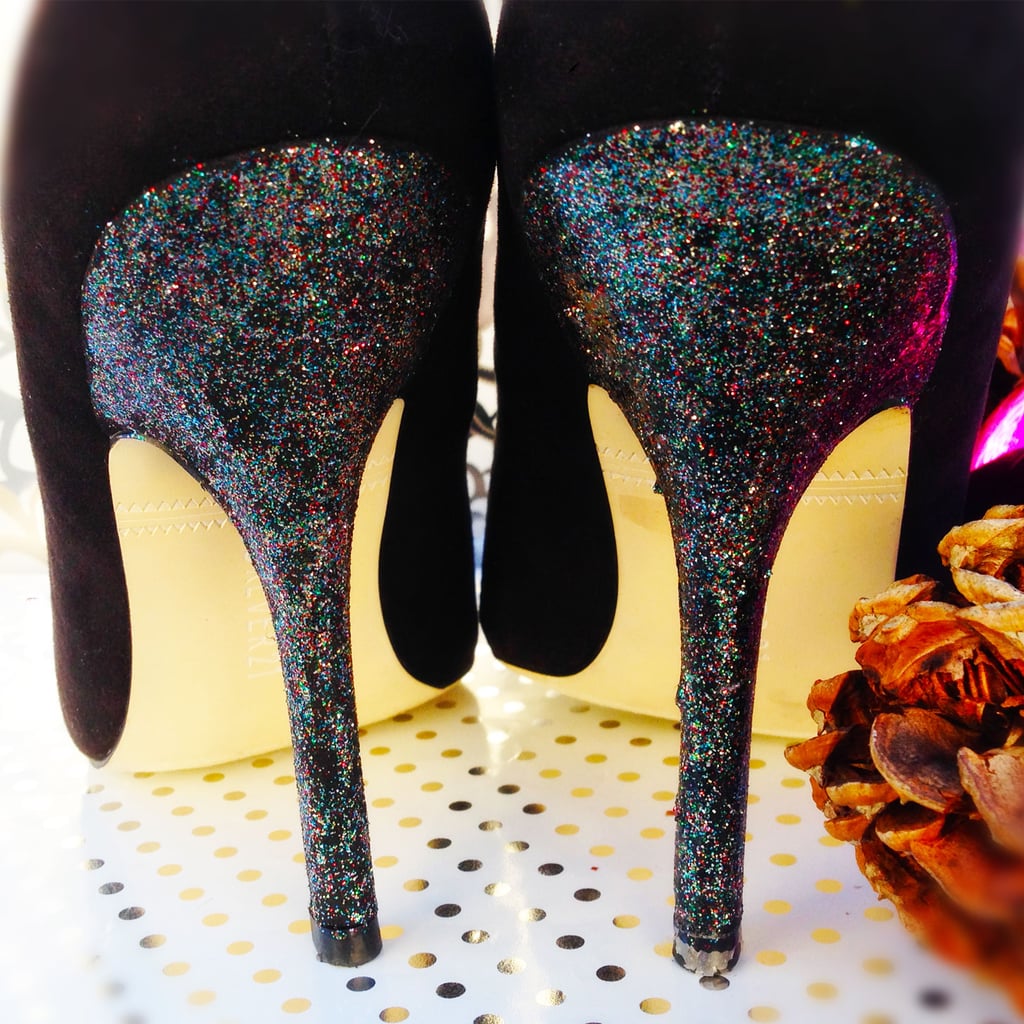 Do you have shoes with scuffed heels in your closet? Yeah, we had a bunch too, which inspired us to find a quick fix for the holidays! Grab some glitter nail polish of your choice, and paint those scuffs away. It's the perfect solution for holiday parties and New Year's Eve attire!
On Allison: Rails top, Paul and Joe Sister blazer
Holiday Nail Art Inspiration For the Metallic Crowd
Sometimes, you want to feel festive, but the whole green/red/blue issue can be too literal. No offense to snowflakes, snowmen, and the like, but this manicure gets you into the spirit of the holidays and translates perfectly into the New Year without a flaw. And if you like mattes and metallics, well, by golly, you're in luck! Plus, learn how to pull off the ever-impressive eclipse nail art technique.
'Tis the Season For a Healthy Twist on Eggnog!
The holidays aren't quite the same without a glass of eggnog. Insider secret: this boozy beverage doesn't need to be made with fat-filled cream to be big on flavor. We make a few healthy swaps that drop the calories and up the protein without sacrificing taste.
These Adorable Holiday Cookies Come With a Tasty Surprise
Not only are these present-shaped cookies adorable and oh so fun to decorate, but they also house a delectable surprise: a candy center. Watch the video to see how they're constructed and for decorating and flavor inspiration. Then preheat the oven, because it's time to bake!
The Top Five Royal Moments of 2013
Oh, what a year it's been for Britain's royal family! From Prince George's birth to Prince Harry's blossoming love life, it's been a fun and family-focused 12 months. We're counting down the top five moments from what's been a very big 2013.
On Allie: Banana Republic [8] dress
See the Best Red Carpet Dresses of 2013!
It was an outstanding year for dresses on the red carpet! Celebrities like Rihanna [9], Claire Danes [10], and Jennifer Lawrence [11] really took their style up a notch in 2013. We've rounded up our 10 favorite dress moments from this year. Take a look, and vote on your favorite dress of the year in our 2013 best dressed bracket [12].
On Allison: H&M top, Mango vest
Fake a Thick Bun (No Sock Needed!)
For us shoulder-length gals, getting our hair to look thick and full in a bun is like looking for that favorite discontinued lipstick: almost impossible. And while the sock bun method has really helped us fake a fuller topknot, what if you don't want to add anything extra to your hair? Behold this full, thick bun that requires no sock, doughnut, or extensions. It's all your real hair, swept up in a pretty, messy-is-better bun. ​So what's the trick? Grab a comb, and get going.
On Kirbie: Loft
Skip the Cough Syrup For This Healthier Hot Toddy!
If you're looking for something new to toast with at a holiday party or just need a sore-throat soother, we have just the recipe! Made with antioxidant-rich ingredients, our healthy twist on the hot toddy skips all the fat and calories found in traditional holiday classics like hot buttered rum and eggnog. It's also a cinch to make!
Never Pay For a Peppermint Mocha Again
The peppermint mocha's a Winter favorite that's guaranteed to bring minty, chocolaty joy to any occasion. But instead of dropping $4 every time you're in the mood for one, why not learn to make it yourself? It's easy enough to do — no fancy machine or equipment required. Watch the video to learn how.
See Jennifer Lawrence's Sexy '70s Costumes in American Hustle
Jennifer Lawrence [13] and Bradley Cooper [14] are sharing the screen again alongside Amy Adams [15] and Christian Bale [16] in American Hustle. Michael Wilkinson, the film's costume designer, gave us a sneak peek of all the gorgeous '70s costumes worn by the film's leading ladies. Take a look!
On Allison: Massimo Dutti top, J.Crew jacket, J Brand jeans
Turn Your Soap From Ordinary to Luxurious in One Step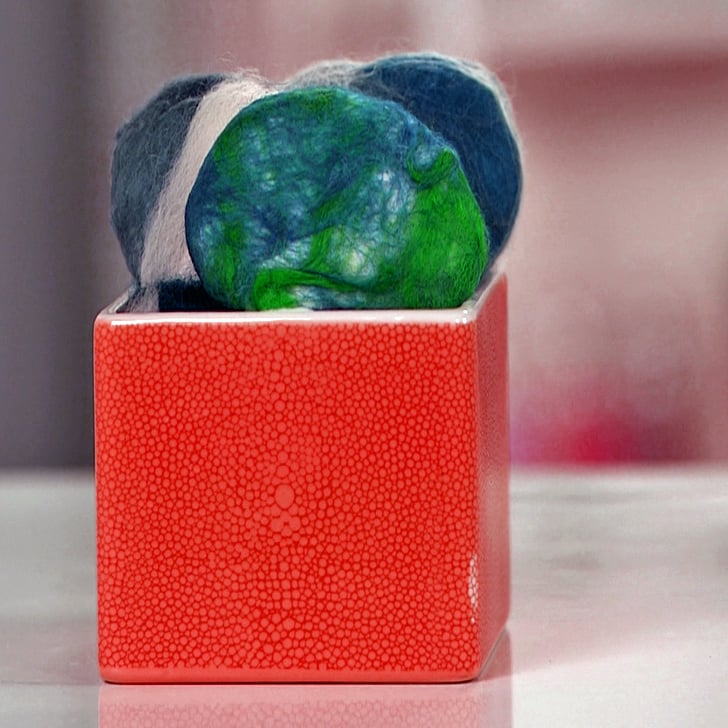 Felted soap is such an easy DIY [17] that there's no reason why you wouldn't want to make it! It's a loofah and bar of soap, all in one convenient package, so you — or anyone you make it for — can have a luxurious spa experience at home.
On Kirbie: Tory Burch blouse