The Ingredients in This Tiki Cocktail Will Surprise You
Move aside, Mai Tai. The tropical drink's got some competition with the Kon-Tiki Swizzle, a contemporary tiki creation that boasts some surprising ingredients, from Campari to coconut water. For this edition of Happiest Hour, Morgan Schick, bar manager of San Francisco's Trick Dog and partner at Jupiter Olympus, shows us how to swizzle our way to Summer refreshment. Watch the video to get inspired.
From Morgan Schick, bar manager, Trick Dog, San Francisco, CA, and partner, Jupiter Olympus, Oakland, CA
Kon-Tiki Swizzle
Notes
To "swizzle," stick a barspoon or swizzle stick, spoon-side down, into the drink and spin it up and down between the palms until your glass is frosty.
Ingredients
1 1/2 ounces Appleton V/X
3/4 ounce Campari
1/2 ounce Velvet Falernum
1/2 ounce fresh-squeezed lime juice
2 ounces coconut water
Crushed ice
Mint sprigs, for garnish
Grapefruit peel, for garnish
Directions
Combine first five ingredients in a highball or zombie glass. Fill with crushed ice. Swizzle.
Garnish with mint, grapefruit peel.
Information
Category

Cocktails, Drinks

Yield

Makes 1 drink
2 / 19
Make a Ramen Burger at Home!


Meet the latest, greatest food craze since the cronut: the ramen burger. Engineered by Keizo Shimamoto and sold at Brooklyn's Smorgasburg, this burger nestled between two eggy ramen buns has inspired legions of fans to queue up in line for a taste. Inspired by this over-the-top delight, we've developed a home-kitchen-friendly version — try it out and see what all the hype is about!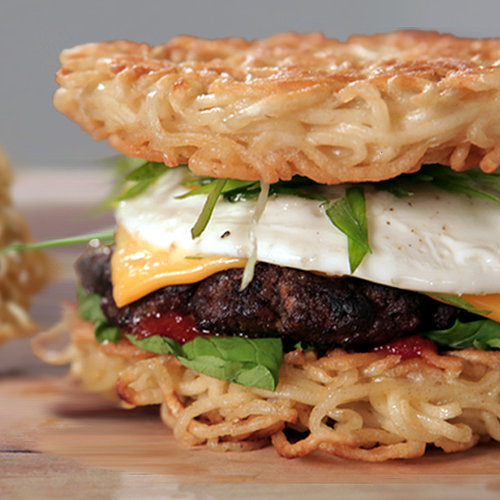 From POPSUGAR Food
Ramen Burger
Notes
To shape the ramen into a bun, use ramekins that are similar in size to the burger patty. If you don't have ramekins, substitute pint-size deli containers.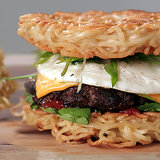 Ingredients
1 package ramen noodles
2 eggs, divided
2 tablespoons neutral oil, such as canola or grapeseed
1 tablespoon ketchup
1/2 tablespoon sriracha
1 beef burger patty
Soy sauce
Sesame oil
1 slice American cheese
1 scallion, thinly sliced on the bias
1/2 cup arugula
Directions
Cook the ramen according to the directions on the package (including the seasoning), then drain off the liquid. Let cool to room temperature. In a small mixing bowl, whisk 1 egg until no streaks of yolk remain. Add the ramen, tossing thoroughly to coat with the egg. Divide the egg-dressed ramen into two portions, and place each half into a ramekin.
Cover the ramen with plastic wrap, and weigh it down with a can of soup to compress it into a bun shape. Refrigerate for at least 15 minutes.
Add the oil to a skillet, and set over medium-high heat. Once the oil begins to shimmer, unmold the ramen buns into the pan, and cook until the bottom is a dark golden brown. Flip both of the patties, and cook until a dark golden brown on both sides.
Whisk together the sriracha and ketchup in a small bowl.
Season the hamburger patty with salt, pepper, a splash of soy sauce, and sesame oil. Wipe out the skillet, and cook the burger over medium-high heat until medium rare, or to your preferred degree of doneness. Finish with a splash of soy sauce and sesame oil. Top with a slice of cheese.
Wipe out the skillet, and lower the heat to medium. Add 1 tablespoon of oil to the pan, and fry 1 egg sunny side up.
Assemble the burger in this order: ramen bun, arugula, ketchup, burger patty (cheese side up), fried egg, scallions, and the second ramen bun. Wrap in wax paper for easier eating, and serve hot.
Information
Category

Beef, Main Dishes

Yield

1 burger
6 / 19
Create a Stunning California Roll Sushi Cake!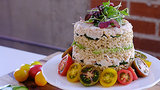 We're combining two of our favorite things: sushi and cake! OK, it might sound a little odd, but not to worry; this treat is only sweet in its presentation. Your friends and family will be oh-so impressed when you show off this picture-perfect savory cake! Watch the video to learn how it's done — and to see how easy it is — then, print out the recipe.
From POPSUGAR Food
California Roll Sushi Cake
Ingredients
2 cups cooked brown rice
2 tablespoons mayonnaise
1 1/2 tablespoons soy sauce
1/2 tablespoon rice vinegar
1/2 cup cooked crab meat
1 avocado, thinly sliced
1 Persian cucumber, thinly sliced
10 cherry tomatoes, halved
1 tablespoon microgreens
Directions
In a medium bowl, mix the brown rice, mayonnaise, soy sauce, and rice vinegar together until all ingredients are evenly distributed.
In a deli container or straight-sided bowl, layer ingredients starting with the crab. Add rice, cucumbers, avocados, and remaining crab in alternating layers. Use the flat bottom of a similar-size container to flatten and compress each layer before starting on the next, so that it will keep its shape once unmolded.
Once your mold is filled to the top, carefully invert it onto a plate.
Garnish with cherry tomatoes around the bottom edge and microgreens on top.
Information
Category

Shellfish, Main Dishes
11 / 19