We're gearing up for the end of 2013 and looking back on the year that was! Get caught up on the most shocking celebrity headlines, biggest fashion stories, and high-profile births of 2013, and get prepped for your New Year's Eve extravaganza with our festive dress shopping picks and tips on wearing dark lipstick like a pro. We've also got healthy holiday-treat recipes and an inspiring message about body confidence from the one and only Tyra Banks [1]. Check out all that and more in our video roundup!
Brace Yourself For These Five Shocking Celeb Headlines of 2013
The year 2013 was another 12 months full of shocking celebrity moments. Today, we're counting down the top five moments, starting with Miley Cyrus [2]'s now-infamous twerking with Robin Thicke at the MTV VMAs. Watch now to see the full list!
On Allie: Joie [3], Twelfth Street by Cynthia Vincent [4] top and pants
Every Fashion Headline of 2013 in 90 Seconds!
What a year! Marc Jacobs left Louis Vuitton, Alexander Wang stepped in at Balenciaga, and Dolce & Gabbana faced major lawsuits. There were designer collaborations aplenty, and ecommerce skyrocketed at H&M and Zara! We've got all the top fashion stories of 2013 in under 90 seconds — take a look.
On Allison: Massimo Dutti top, Tibi skirt
Two Totally Cool Ways to Rock Glitter on New Year's Eve
New Year's Eve is the perfect time to experiment with glittery makeup, but most of us are fearful of looking like a disco ball and, worse, making a huge mess. We visited Gloss Makeup and Beauty Studio [5] in Beverly Hills, CA — a city that knows a thing or two about glitz and glam — to get tips from owner Natalie Saraf, who taught us two ways to wear glitter. Both options add a subtle pop of shine and color without the worry of getting it all over the rest of your face. Learn the tricks to keeping it in place, then get ready to sparkle this New Year's Eve.
On Kirbie: Nanette Lepore top
A Healthy Holiday DIY: Homemade Granola in a Mason Jar!
If you're a self-proclaimed DIY [6] enthusiast, gift the health-food lovers in with your life a batch of homemade granola. This easy recipe [7] is lower in sugar than most options on the market and is completely free of cholesterol. Watch this video to see how to bake it up yourself, plus the best ways to share it with friends this December. With that said, be sure to save a little for yourself. It's that good.
Mini Candy Cane Milano Cookies For Santa!


Adorable and deliciously minty Milano Minis Candy Cane [8] inspired us to develop a recipe for homemade mini Milano cookies [9]. But we had to take it one step further and decorate the tiny treats with colored candy melts, crushed candy canes, and festive sprinkles. Watch the video to see how easy it is to make candy cane Milano cookies.
Why Beyoncé and Jay Z Owned 2013
Is it possible for Beyoncé and Jay Z to have a bad year? We don't think so. This year was, without a doubt, one of their best years ever. From making millions with endorsement deals to spending lots of time with their adorable daughter, Blue Ivy, to breaking album sales records, they couldn't ask for more. We've got all the reasons these last 12 months have rocked for one of our favorite celebrity couples.
Shop These Four NYE Dresses Right Now!
In need of a great dress for New Year's Eve? We've narrowed it down to four fabulous party dresses that are sure to please every fashion plate. Shop our picks below!
On Allison: Rebecca Minkoff dress
The Rules to Wearing Dark Lipstick Like a Pro
Dark lipstick has taken over the red carpet and the runways, with daring celebrities like Rihanna [10] to even more conservative types like Taylor Swift [11] pulling off the trend like it's nothing. So can you do it, too? The short answer is yes, but there are some rules and guidelines to follow, like what to do with the rest of your makeup and the right way to apply it.
On Kirbie: Camilla and Marc
Keep Calm in Flight: Airplane Stretches
Don't let a long flight get you down! You can ward off the body aches and creaky joints that often accompany flying. Here are four simple moves to keep your body feeling its best while you jet around for the holidays. Three of these stretches can be done in your seat, and one move is designed for the aisle. Press play and learn how to take care yourself while traveling.
A Heart-Melting Chocolate and Sriracha Candy Cane Treat
Sriracha candy canes [12] are all the rage this season, but thankfully, the treats taste like spicy sugar rather than the garlicky red sauce we dash onto our stir-fries. This makes them the perfect border for candy cane chocolate hearts, filled with spiced white chocolate and a dash of orange zest. Take a look at the video to learn the fun technique. Prepare for your mouth to burn in a good way!
A Baby Prince and Princess? All of 2013's Biggest Celebrity Births
There was a celebrity baby boom in 2013! We're looking back at some of the most headline-making arrivals of the year and looking ahead at who's joining the Hollywood party in 2014.
On Allie: A.L.C. [13] dress
Personalize Anything With DIY Monogramming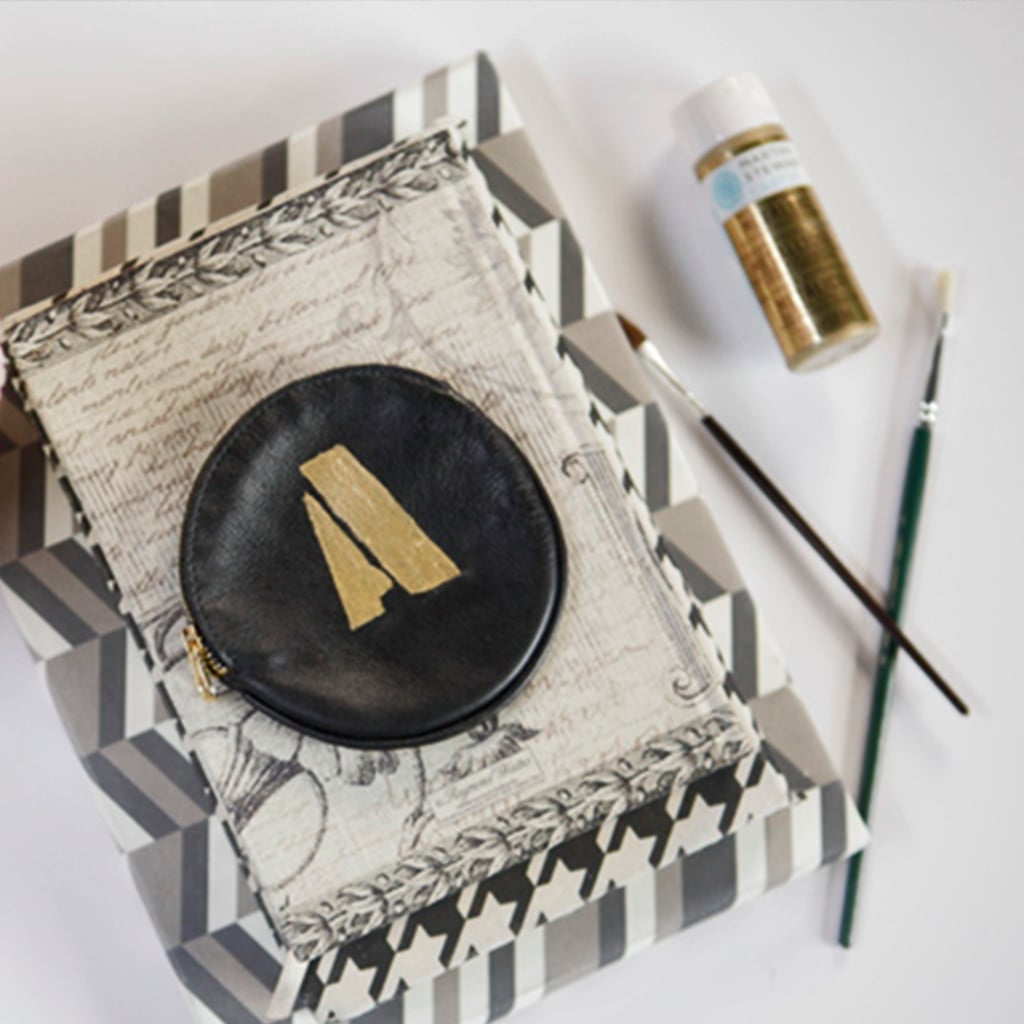 Why is it that everything looks cuter with your initials on them? Learn how to monogram leather goods in this easy DIY [14] tutorial ––  great for gifts!
On Allison: Dolce Vita dress
The Prettiest Holiday Sparkles
Amp up the sparkle this holiday season with bold baubles and bright accessories! From statement-making necklaces to Lucite clutches to the perfect pearl earrings, we've curated the best of the best accessories on the market — just in time for the holidays. Brighten up your day (and style!) — it's only a click away.
Tyra Banks Wants Us Ladies to Love Our Bodies This Holiday Season
Tyra Banks [15] is not afraid to say what she's thinking! This holiday season, Tyra has teamed up with Special K to encourage women across the country to love their bodies and think positively. During her visit to POPSUGAR Live!, Tyra also dished on what's to come on the 21st season of America's Next Top Model and, since she's one of the foremost female media moguls, shared some of her wisdom about financial planning.
On Allie: Massimo Dutti [16] top, J Brand [17] jacket