This week in POPSUGARTV, POPSUGAR Beauty showed us how Marc Jacobs reinvented the pinup look for his Fall 2013 fashion show, while POPSUGAR Food gave us the how-to on a gorgeous lemon raspberry fizz cocktail. POPSUGAR Fitness taught us five yoga poses that will give your chest a stretch, and POPSUGAR Fashion brought us behind the scenes of New York Fashion Week.
Click through to see all these videos, and visit POPSUGARTV [1] for even more!
Karlie Kloss Talks Short Hair and Texture Spray: Watch It Now!
We caught up with Karlie Kloss at Carolina Herrera during New York Fashion Week, and she told us her piece of "essential" beauty advice, her "boring" beauty regimen, what products she adores, and if she'll end up keeping her adorable short 'do. Get all that backstage in this Beauty Beat.
Marc Jacobs Reinvents the Pinup Look For Fall 2013
Marc Jacobs's vision of a woman: vintage glamour. The bright prints of the collection could have come straight from 1975, but the hair and makeup were inspired by different eras, creating a mash-up of decades. Guido Palau for Redken was inspired by the '40s, creating a texturized, pin-curled look for giant, glamorous locks (hello, Cara Delevingne — can we buy you a drink?), and several models wore colorful nets on the hairstyle to add an extra retro touch. As it turns out, for the makeup, Dick Page for Shiseido didn't have a decade in mind when mapping out the face. He did, however, bring focus to the lips by applying a bright red with a brush and accentuated the eyes by lining with a shadow on the outer third.
The Ultimate Date-Night Hair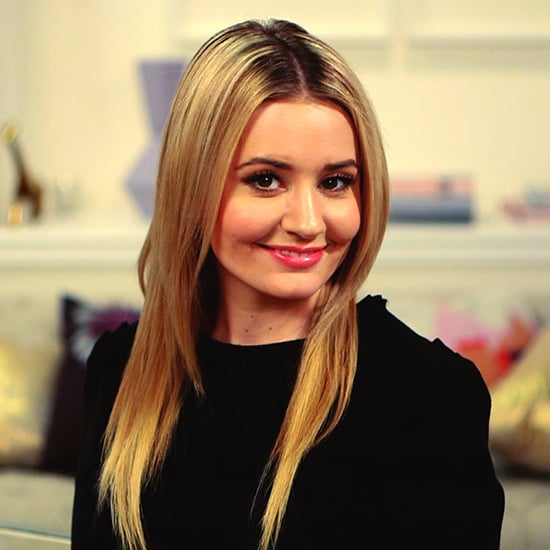 Everyone wants to put in a little extra effort for Valentine's Day, and whether you're celebrating on the day or over the weekend, we have a hairstyle that's a departure from bombshell waves or an updo. Plus, it's 100 times easier to style. See the look from start to finish in our video tutorial.
Get the Easiest Chignon Ever From Prabal Gurung
Prabal Gurung's runway story for Fall 2013 centered around a strong, empowered military woman — and the complete beauty look reflected that aesthetic. The makeup included a ruddy cheek (as if the models had been running laps) and was created with a duo of cream blushes by MAC lead artist Charlotte Tilbury. And gone are the days of sleek, slick, perfect-looking hair; Osis head stylist Paul Hanlon described it as texturized and messy. Stylists used a bottle of mattifying hair powder on each model to create a rough texture before pulling hair back into a knot at the back. See Prabal's vision for his army of women in today's Beauty Beat. On Maria: shirt by Zara.
Brad Goreski Talks TV, '90s Style, and "Bringing the Glamour" at the Oscars
We chatted with Brad Goreski at the American Express Skybox during New York Fashion Week and, well, things got pretty real. Brad told us all about the first moment he fell in love with fashion (he was at a grocery store), as well as his biggest fashion regret (which may or may not have something to do with mock turtlenecks from the '90s). He also gave us a sneak peek at what we can expect from the next season of his hit reality show It's a Brad, Brad World — get ready for lots of international photo shoots, A-list appearances from Jessica Alba [2] and Rashida Jones, and "a little bit of drama" this year. He shared his predictions for the Oscars red carpet, explained his favorite fashion decade, and gave tips on what both men and women can do to to dress their absolute best. Check out our superfun interview with Brad Goreski now.
Our NYFW Day 7 Highlights: Michael Kors, Rachel Zoe, and More
But before we say adieu to New York Fashion Week, we've got another round of highlights to share, courtesy of our POPSUGAR Fashion team. In today's day-seven recap? The best moments from Narciso Rodriguez, our favorite showstopping number at Michael Kors, and a who's-who recount from the Rachel Zoe [3] front row. Get all this, plus more, when you keep watching!
Create a Romantic Dessert Table This Valentine's Day!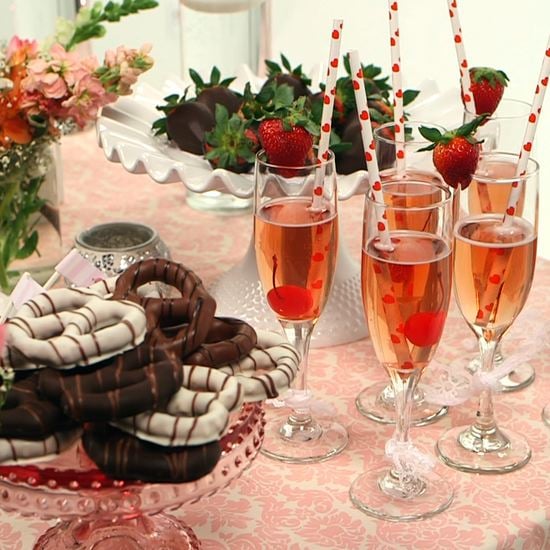 This Valentine's Day, create a sweet tablescape inspired by the romance of the holiday. Join host Brandi Milloy as she preps for a dessert party complete with rose petals, florals, romance novels, and love letters. See what's being served — chocolate-dipped strawberries, sugar-coated candies, white-chocolate-enrobed pretzels, and cherry-garnished flutes of Champagne, for a start! — and learn how to re-create it all when you watch our video.
Special thanks to Edward Marc Chocolatier, Paper & Pigtails by Kori Clark, and Sweet and Saucy Shop. On Brandi: dress by Givenchy from Forward by Elyse Walker, necklace by Capwell & Co, bracelets by Kenneth Jay Lane. Featured music: "Showstopper" by Brandon & Leah.
Lemon Raspberry Fizz: Get Buzzy With This Gorgeous Champagne Cocktail!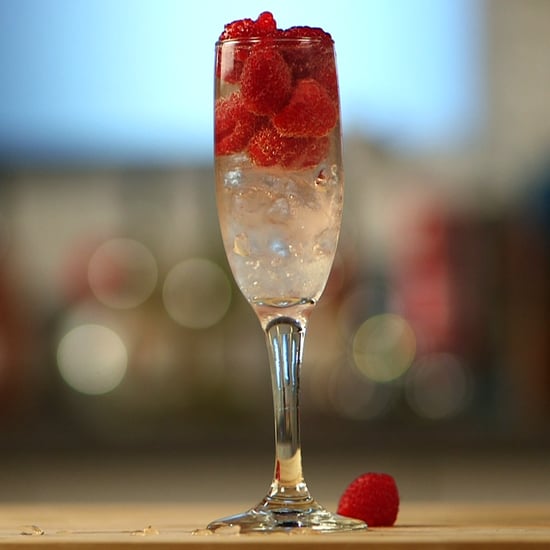 Regardless of what you have planned for Valentine's Day, you're sure to spread the love if you whip up this gorgeous lemon raspberry fizz cocktail. We promise the marriage of limoncello [4], berries, and sparkling wine is not only beautiful, but also delicious — and the festive drink can be easily multiplied if you're hosting for a crowd. Watch the video to learn how to make the cocktail [5].
Open Your Heart With These 5 Yoga Poses
Catch the spirit of Valentine's Day with some heart-opening yoga poses. These moves from Core Fusion [6] stretch the chest and front of the body to create a feeling of openness. We've added pulsing to some of the poses to increase the burn. Grab your mat, press "play," and get ready to open your heart.
Vegan Valentine: Mini Cherry Chocolate "Cheesecake"
Chocolate and cherries are the perfect finish to any Valentine's Day dinner. We asked Melissa Costello, founder of Karma Chow [7], to share her favorite dessert featuring this classic combination. Her vegan "cheesecakes" will satisfy all your cravings for a creamy chocolate treat. Watch the video to learn how easy they are to make — no baking required.