This week in POPSUGARTV, POPSUGAR Beauty and Fashion geared up for the start of NYFW. POPSUGAR Fashion attended the launch of Prabal Gurung's new line for Target and brought us the highlights from BCBG's runway show. POPSUGAR Beauty also got a behind-the-scenes look at BCBG and showed us one model's transformation in the hair and makeup chair before hitting the runway. POPSUGAR Food demonstrated the right way to open a bottle of champagne, while POPSUGAR Fitness taught us how to make a vegan version of a classic comfort food: macaroni and cheese.
Click through to see all these videos and visit POPSUGARTV [1] for even more!
Five Tips to Opening a Bottle of Bubbly the Right Way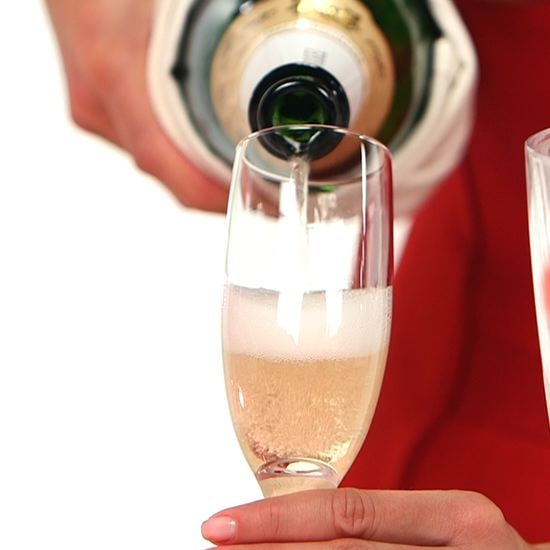 There's no better sound at a party than the "pop" of a sparkling wine bottle. But that doesn't mean opening a bottle of bubbly isn't intimidating: if you're opening a shaken Champagne bottle, the speed of its cork can be anywhere between 28 and 50 miles per hour! Thankfully, we've got plenty of tips for keeping your bubbly cold and your party safe. If you're one of the many who fear the task, then watch our video — and never be afraid to open sparkling wine again. On Brandi: Givenchy from FORWARD by elyse walker.
Valentine's Day Beauty Tips From Victoria's Secret Angels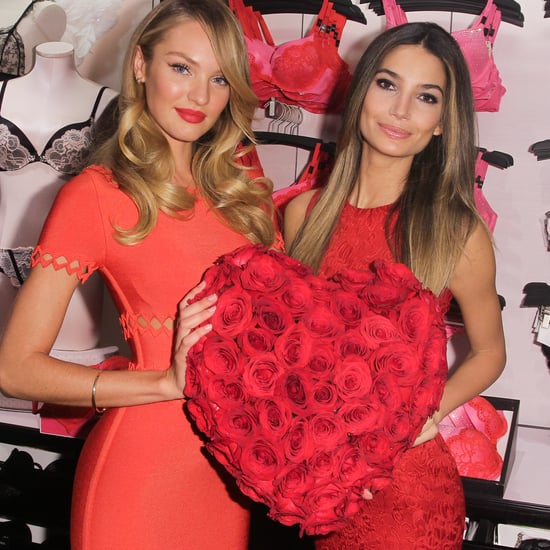 If we're going to listen to anyone's advice on how to look and feel sexy on Valentine's Day, it's going to be from Victoria's Secret Angels. We caught up with models Candice Swanepoel and Lily Aldridge in New York City, where the ladies are preparing early for Cupid's big day. They let us in on their Valentine's Day plans and the beauty looks they think work best on date night. On Kirbie: Mcginn dress.
Hot Off the Runway: Hear Our Highlights From NYFW Day One
It's time to reflect on the amazing pieces we saw hit the New York Fashion Week runways. Our POPSUGAR Fashion team is catching up on all the highlights, from BCBG's cozy layers to Costello Tagliapietra's quintessential New York cool. Click now to find out what they're loving most so far!
Watch a Model's Beauty Transformation at BCBG Max Azria Fall 2013
New York Fashion Week is here! Leading up to the big day, many designers are busy testing their Fall 2013 runway beauty looks. BCBG Max Azria let us take a peek at their beauty test, where cool girl Kate Moss [2] served as inspiration. For the runway, models were adorned in beanies with lightly glazed terra-cotta lips and a soft smoky eye, creating a natural, subtle look. Bumble and Bumble's Laurent Philippon describes the hair as being made to look as if "she had been traveling." One key to getting a smoky eye at home without too much effort? "Use a pencil," says makeup artist Val Garland.
Comfort Food Redo: Vegan Mac and Cheese
You can be dairy-free and cozy up with a bowl of mac and cheese — try this vegan version from LA's M Café [3]. Loaded with extra veggies, like arugula, along with fresh herbs, this dish serves up big flavor while keeping it vegan. Watch this video for the recipe and then whip up a batch today.
Ten-Minute CrossFit Workout From Jessica Alba's Trainer!
Get ready to take your workout to the next level with Jessica Alba [4]'s CrossFit trainer, Yumi Lee [5]. This workout is excuse-proof: you don't need any equipment, and it's only 10 minutes long, but it will definitely get your heart pumping. No need to be intimidated by CrossFit either: Yumi provides level-appropriate variations for every move. Press play and get ready to work!
We Hope You Like Beanies, Because BCBG Max Azria's Fall '13 Is Full of Them
BCBG Max Azria's Fall 2013 collection [6] was a '90s-inspired, multilayered glimpse at what we'll be wearing later this year. With bone-chilling temperatures plaguing the East Coast, there's a chance we may be copying the cool dresses-over-pants-over-long-sleeved-shirts look as soon as tomorrow. And the beanies! We couldn't get over the slouchy, grunge-chic knit beanies that graced each model's head — a nod to gypset glamour meets downtown elegance. Click on to watch the full BCBG Max Azria runway show now and let us know what you think of the collection!
Get Pink's Toned Abs With This Workout!
This year, we've been absolutely wowed by Pink's abs. To learn her fitness secrets, we went to trainer Juliet Kaska [7], who showed us four moves that work the midsection from all angles to create a rock-hard midriff. All the exercises are done standing, making the moves functional and full-body. Press play to learn how you can get Pink's abs.
Make a Refreshing Ginger, Mint, and Pomegranate Cocktail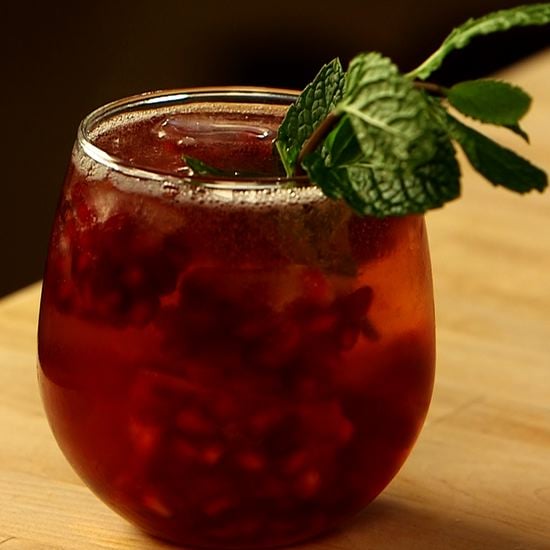 For a cocktail festive enough for any time of year, turn to this spritzy pomegranate refreshment. It starts with a ginger-spearmint syrup, then gets a dose of vodka and a handful of elegant pomegranate-seed ice cubes. Watch the video, make the recipe [8], and sip to feel instantly invigorated.
The Lob: Will This Sexy, Modern Haircut Work For You?
When it comes to long bobs, or the "lob," Nicole Richie [9] has mastered the look. And Karlie Kloss created a frenzy around the chic style after chopping her strands back in November. Wella Professionals celebrity stylist (and the man in charge of Nicole's hair) Andy Lecompte stopped by our studio to discuss this latest hair trend, who it works best for, and how it's a modern twist on a timeless look. Get the details now. On Kirbie: Fossil top, Zara blazer.
Date Night With Prabal Gurung: Get All the Details on His Target Collection!
The red-carpet launch of the Prabal Gurung For Target collection was a total feast for the eyes: besides getting to check out all the beautiful pieces, we were treated to a stylish carnival complete with rides, games, and tons of fun decor. The "date night"-inspired event was the perfect kickoff to New York Fashion Week and Valentine's Day, and we got the chance to chat with the designer himself. Prabal told us all about his inspiration for the collection, his "immense love for women and girls," and his tips for styling up the perfect date-night look. He also let us in on which pieces you must snap up when the collection hits Target stores today. Check it all out in this Fashion Flash!