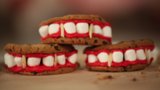 Fall in Nicholas Sparks-Level Love With Bacon-Wrapped Brie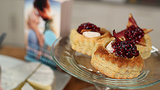 Baked brie is getting a salty-sweet upgrade: that's right, these puff-pastry cups full of gooey melted brie are topped with not only crisp strips of bacon, but also a dollop of tangy raspberry compote. Inspired by Nicholas Sparks's Safe Haven, these are a surefire hit for a romantic dinner for two or for a festive dinner party. Watch the video to see how they're made and then print out the recipe.

From Nicole Iizuka, POPSUGAR Food
Bacon-Wrapped Brie Cups With Raspberry Compote
Notes
Feel free to substitute thawed frozen raspberries for fresh.
Ingredients
1 large egg
1 box puff pastry cups, thawed
3 slices of bacon
1 cup raspberries, mashed
1/2 cup sugar
1 tablespoon lemon juice
1 (8-ounce) wheel of brie
Directions
Preheat the oven to 375ºF.
Beat the egg in a small bowl until no streaks of yolk remain. Brush the tops of each puff pastry cup with egg wash. Bake puff pastry cups for 10 to 12 minutes or until puffed and golden.
Bake the bacon on a sheet tray for 10 to 15 minutes, until it's cooked but not crispy.
To make the compote, set a pot over medium heat. Cook the raspberries, sugar, and lemon juice until slightly thickened, stirring occasionally.
Cut the brie wheel into six wedges and slice the bacon into diamonds. Remove the puff pastry cups from the oven and insert a wedge of brie into each cup. Top each piece of brie with two pieces of bacon and bake for an additional five minutes or until the brie is melted and the bacon is crispy. Serve warm with a spoonful of compote on top.
Information
Category

Puff Pastry, Appetizers

Yield

Six servings
11 / 12