As the year comes to a close, relive some of its most memorable moments with striking, iconic photos from around the world. Kicking off with President Barack Obama's inauguration, 2013 also brought us a new pope, a new prince, and history-making events in art, politics, sports, and more. Looking back on the pictures that will define this past year, we're highlighting shots of everyone's favorite royals, Prince William and Kate Middleton, plus more candids of those who dominated the 2013 headlines, like Malala Yousafzai, gay rights activists, and a handful of headline-grabbing Hollywood A-listers. Celebrate the past year with all the best pictures from across the globe.
Wipeout
President Obama got caught in a wave at Pyramid Rock Beach during his Hawaiian vacation.
Veiled Beauty
In the Bulgarian village of Ribnovo, a woman wore flowers and sequins for her wedding [1] ceremony.
Locks of Love
In Paris, a woman kicked off the new year by attaching a padlock to the Pont des Arts — a footbridge where people can add locks decorated with love messages.
Painted Lady
British artist Paul Emsley's portrait of Catherine, Duchess of Cambridge was unveiled on Jan. 11 at London's National Portrait Gallery.
Pass the Torch
Miss Universe Olivia Culpo passed the Miss USA crown to Nana Meriwether in New York City.
Mama's Boy
Ryan Gosling [2] brought his number-one date — his mom — to the LA premiere of Gangster Squad in early January.
Generational Gap
At the Critics' Choice Awards, best actress winner Quvenzhané Wallis [3] pulled out her iPhone for her acceptance speech.
Sister, Sister
Serena and Venus Williams chatted together before the 2013 Australian Open in Melbourne.
Skylight
Hindu priests performed during an aarti ceremony on the banks of the Ganges River during the Maha Kumbh Mela in Allahabad, India.
Confession Booth
Oprah interviewed Lance Armstrong [4], who confessed to using steroids.
Schooled Sisters
Princesses Eugenie and Beatrice of York visited the British School in Berlin.
First Kiss
Beyoncé and Michelle Obama shared a moment at the inauguration as the president looked on.
Royal-Family Portrait
A woman looked at portraits of Britain's King Henry VIII and Catherine of Aragon, displayed together for the first time in nearly 500 years at the National Portrait Gallery in London.
Staying Together
Michelle and Barack Obama shared a dance at the Inaugural Ball to Jennifer Hudson [5]'s rendition of Al Green's "Let's Stay Together."
No Question
In the wake of her inauguration lip-syncing controversy, Beyoncé belted out the national anthem live during the Pepsi Super Bowl XLVII halftime press conference.
Out on Top
Secretary of State Hillary Clinton was all smiles after delivering her final address on Feb. 1.
Rainbow Bright
A woman walked through an art installation by Carlos Cruz-Diez, part of the Light Show exhibition in London.
French Kiss
On Jan. 27, two women kissed on the streets of Paris during a demonstration for the legalization of gay marriage.
On the Banks
A Hindu woman prayed on the shore of the confluence of the Yamuna and the Ganges rivers at the Sangam during the Maha Kumbh festival in Allahabad, India.
Along For the Ride
A mom and child attended the first day of the Andean Carnival in Oruro, Bolivia.
All Made Up
A model prepared backstage during New York Fashion Week.
Up in the Air
Acrobats performed during the Sochi 2014 — One Year to Go ceremony at Bolshoy Ice Dome in Sochi, Russia.
Heart to Heart
Celebrities including Minka Kelly, Kendall Jenner, Kylie Jenner, Toni Braxton, Kelly Osbourne, and Gabrielle Douglas posed after walking the runway for The Heart Truth in NYC.
Winter Wonderland
US marines deployed from Hawaii joined South Korean marine soldiers during a joint exercise in Pyeongchang-gun, South Korea.
Oath of Office
US Secretary of State John Kerry was sworn in by Vice President Joseph Biden alongside Kerry's wife, Teresa Heinz.
Seat Fillers
Heads on sticks were laid out for camera blocking at the Royal Opera House ahead of the BAFTAs.
The Red Lantern
Red lanterns were hung in Beijing, China, ahead of the Lunar New Year.
Stare Down
A holy woman from the Juna Akhara sat inside her tent during the Maha Kumbh festival in Allahabad, India.
Snow Happy
A woman reacted to the snow after opening her front door in Boston.
Busting Out
Ellen DeGeneres [6] couldn't help but stare at Katy Perry [7]'s cleavage.
Party Time
Italian Olympic volleyball player Francesca Piccinini performed during the Volo dell'Aquila. She flew down from San Marco Tower to the Square at Piazza San Marco during Carnivale celebrations.
Arrivederci, Roma
Souvenirs showing Pope Benedict XVI and Pope John Paul II were displayed in a shop near the Vatican after it was announced that Pope Benedict XVI was resigning.
Ice Queen
A woman wore a carnival costume during a snowstorm in Venice, Italy.
Love in Bloom
Supermarket Asada created a portrait of Prince William and Kate Middleton made entirely of the supermarket's Valentine's Day flowers.
Be Mine
Madame Tussauds launched the new George Clooney [8] waxwork ahead of Valentine's Day on London's Carnaby Street.
Birds of a Feather
An African Penguin held a Valentine's Day card at the California Academy of Sciences in San Francisco.
Prince Chuckles
Camilla, Duchess of Cornwall, laughed as Prince Charles, Prince of Wales, tasted some olive oil during a visit to Borough Market in London.
Heart Attack
A model walked the runway at the Agatha Ruiz de la Prada show during Mercedes-Benz Fashion Week in Madrid, Spain.
Law and Order
Oscar Pistorius appeared for his bail hearing in Pretoria, South Africa. The double-amputee Olympian was charged with murdering his girlfriend, Reeva Steenkamp, on Valentine's Day.
Daddy's Girl
Mitch Winehouse wore a waistcoat with the image of his late daughter, singer Amy Winehouse [9], to the Brit Awards in London.
Cold Heart
A woman walked past a snow-covered heart-shaped bouquet in chilly Hefei, China.
Pretty Face
A visitor looked at a Roy Lichtenstein bust during a preview of Roy Lichtenstein, a Retrospective at the Tate Modern in London.
Kick Start
A dancer performed a high kick during the 29th All Scotland Irish Dance Championship, one of the world's largest Irish-dancing competitions.
Snow Bunnies
Men and women wearing only underwear rode sleds in the annual naked snow-sledding competition in Altenberg, Germany.
Golden Boy
A woman put a finger mustache on the Oscar statuette as it arrived at the award show in Hollywood.
Costar Cuties
Jennifer Lawrence [10] pointed at her Silver Linings Playbook costar Bradley Cooper [11] at the Oscars.
Time to Say Goodbye
Pope Benedict XVI waved to the faithful as he arrived in St. Peter's Square in the Popemobile for his last weekly public audience.
Jump, Jump
First Lady Michelle Obama danced with kids during the debut of her new school exercise program, Let's Move Active Schools, in Chicago.
Doll Face
Wei Hai Ming of the Taiwan Guoguang Opera Company performed scenes from the Flowing Sleeves and Rouge as part of the Taiwan International Festival of Arts.
Snow Day
A llama sought shelter next to an abandoned school bus in Centreville, VA, after a Winter storm hit the area.
Bright Lights, Big City
The San Francisco-Oakland Bay Bridge was lit up for the Bay Lights exhibition, now the world's largest LED light sculpture.
Jury Duty
Martha Stewart [12] testified in Manhattan Supreme Court after Macy's sued JCPenney and Martha Stewart Living Omnimedia when plans to launch Martha Stewart boutiques in JCPenney stores were announced in 2011.
Sunny Day
Spring flowers bloomed inside the Norman Foster-designed Great Glasshouse at the National Botanic Garden of Wales, which contains the largest single-pane glasshouse in the world.
First Mate
Kate Middleton, aka the Duchess of Cambridge, sat next to a dummy of the ship's mate at the skipper's table during her tour of the National Fishing Heritage Centre in Grimsby, England.
Pint-Sized Protesters
Young Indian women posed during a protest against a proposed 6,000-megawatt nuclear power plant at the Jasapara-Mithi Virdi village in the Bhavnagar district.
Cast Your Vote
A Maasai woman had her finger marked with a permanent marker after voting during the Kenyan elections. Kenyans waited in long lines to vote in the first election since the postpoll violence five years ago that led to more than 1,100 people being killed.
Petal Pusher
A young woman in Central Moscow walked past a banner made of flowers that read "Russia Forever!" to mark the first anniversary of Russian President Vladimir Putin's election to a third term.
Writing on the Wall
A woman wrote on a part of the East Side Gallery, a remaining section of the Berlin Wall that was removed for a housing construction project.
Smoke Out
Black smoke billowed from the chimney on the roof of the Sistine Chapel, indicating that the College of Cardinals had failed to elect a new pope.
Pull My Ear
Prince William had his ear pulled by a friend as Kate looked on at the Cheltenham Festival at Cheltenham Racecourse.
Lucky Lady
Kate Middleton accepted a shamrock as she and her husband, Prince William, attended a St. Patrick's Day parade by the 1st Battalion Irish Guards at the Aldershot Barracks in Aldershot, England.
Camera Ready
President Barack Obama and First Lady Michelle Obama greeted an audience of iPhones at the Women's History Month Reception at the White House.
Holi Dance
Transgender Hindu devotees danced in pink powder during Lathmaar Holi celebrations in the village of Barsana near Mathura, India.
Egghead
An apple tree was decorated with 10,000 Easter eggs in Saalfeld, Germany, by a family who began the tradition in 1965. It's now an attraction that draws thousands of visitors and tourists to the garden of the family.
Madame Butterfly
A woman stood near butterflies in the Sensational Butterflies exhibition at the Natural History Museum in London.
Round 'n' Round
Brightly colored spiral staircases adorn shophouses along Bugis Street in Singapore. Southeast Asia is known for these unique buildings, built in the 19th and early 20th centuries with commercial uses on the ground level and homes on the higher levels.
The Wave
Japanese women performed odori, a traditional dance during the Mitsuyama Taisai Festival of Itate Hyozu Shrine.
Yankee Doodles
Yankee fans enjoyed baseball's opening day in New York.
Pillow Fight!
A mass public pillow fight took place in London as part of the Urban Playground Movement, which facilitates free, public, noncommercial events.
Duck Face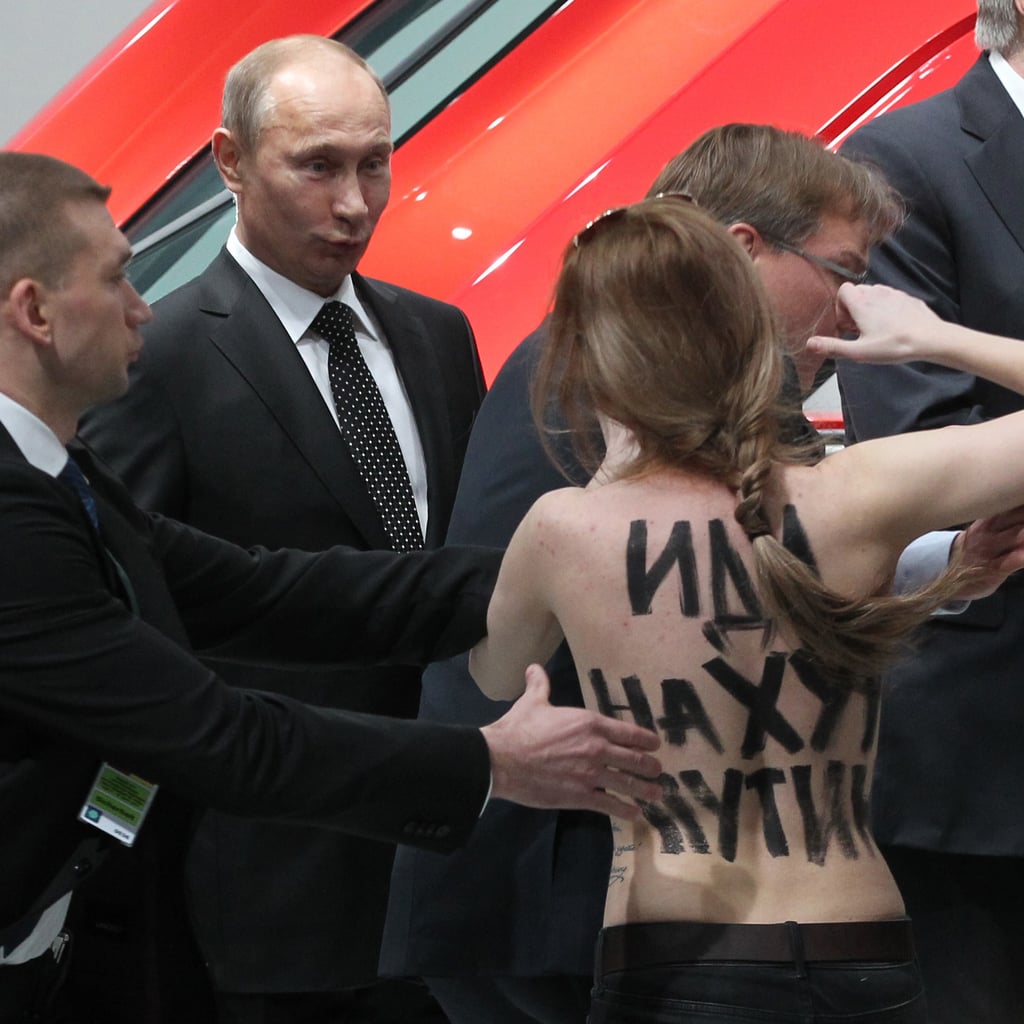 Security blocked an attack on Russian President Vladimir Putin by a topless Femen activist during his visit to the industrial exhibition Hannover Messe in Hannover, Germany.
Heart and Soul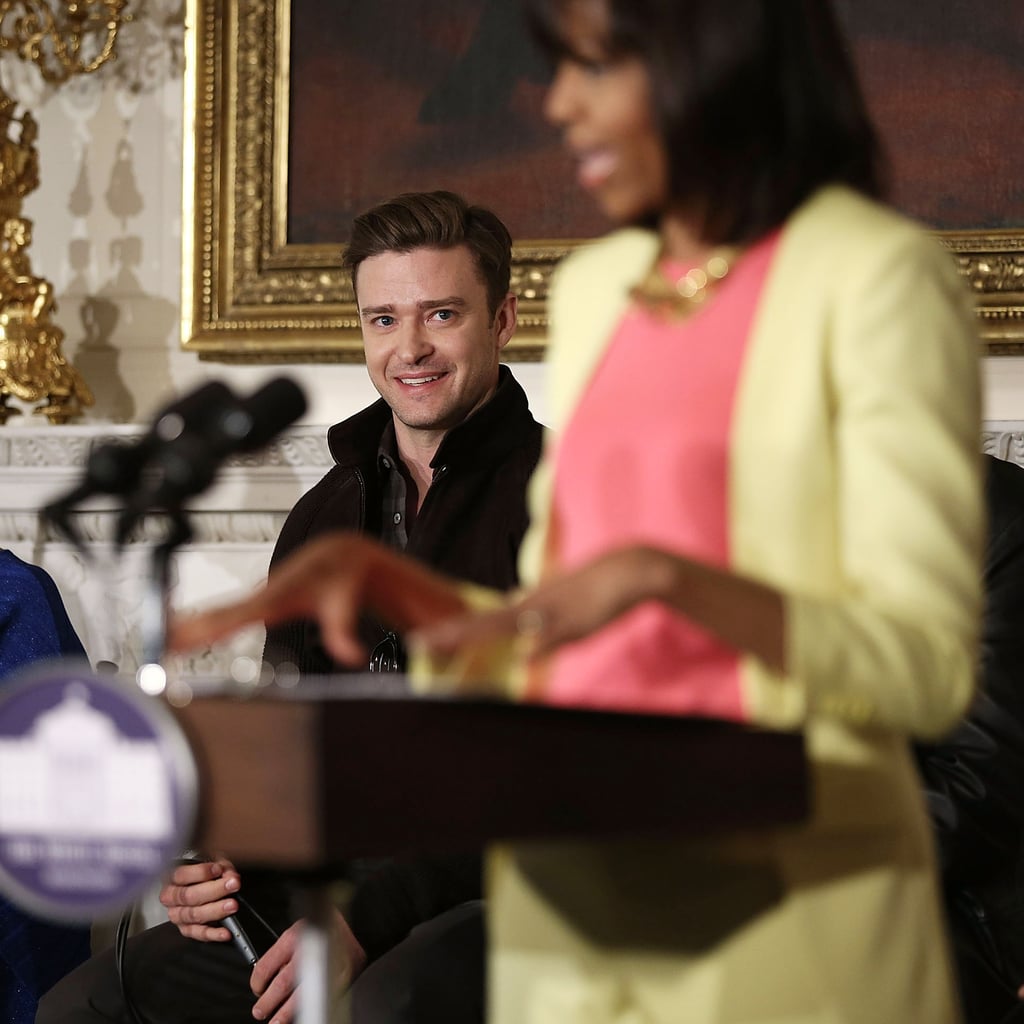 Justin Timberlake [13] smiled as Michelle Obama spoke during an interactive student workshop at the White House. The first lady hosted middle and high school students from across the country to take part in the workshop called Soulsville, USA: The History of Memphis Soul.
Biggest Fan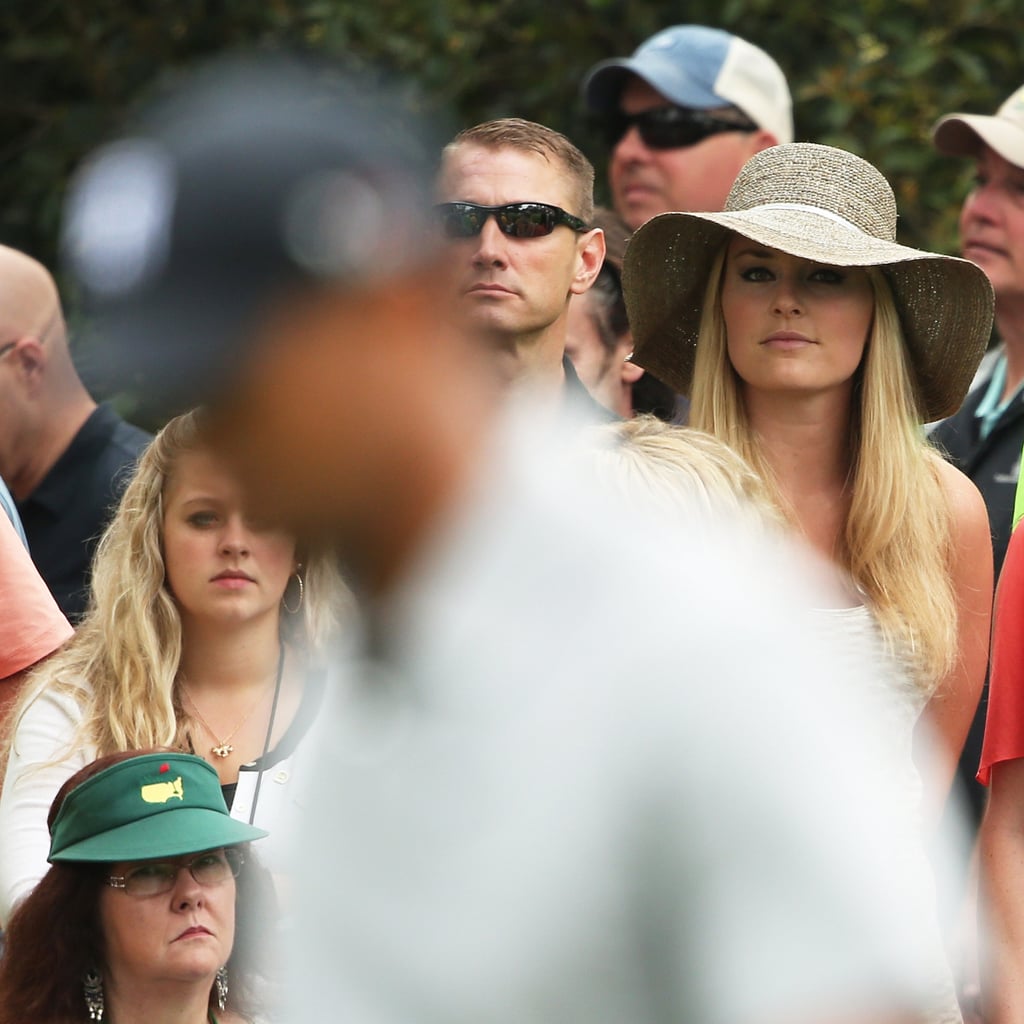 Skier Lindsey Vonn watched as boyfriend Tiger Woods [14] played the first hole during the first round of the 2013 Masters Tournament in Augusta, Georgia.
Star Power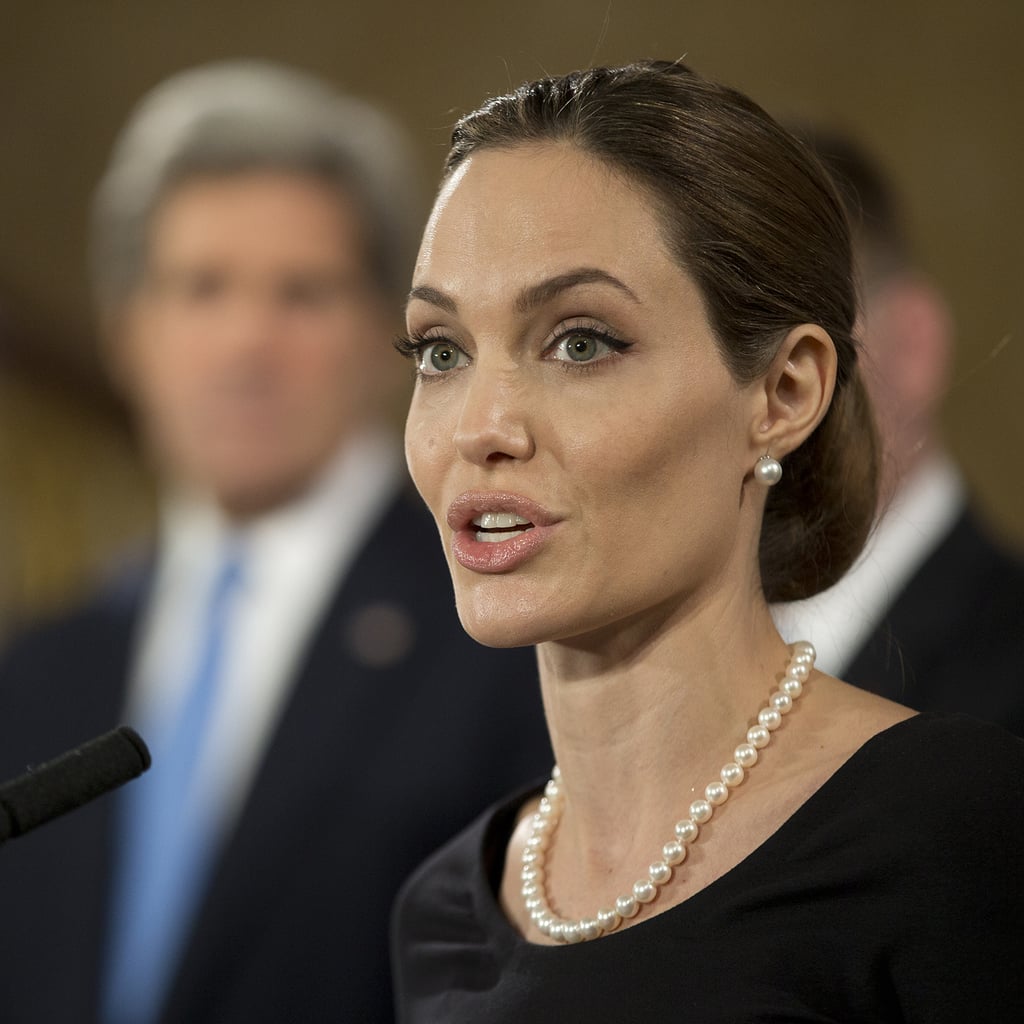 UN envoy Angelina Jolie [15] spoke during a news conference regarding sexual violence against women in conflict at the Foreign Ministers G8 meeting in London.
Trust Fall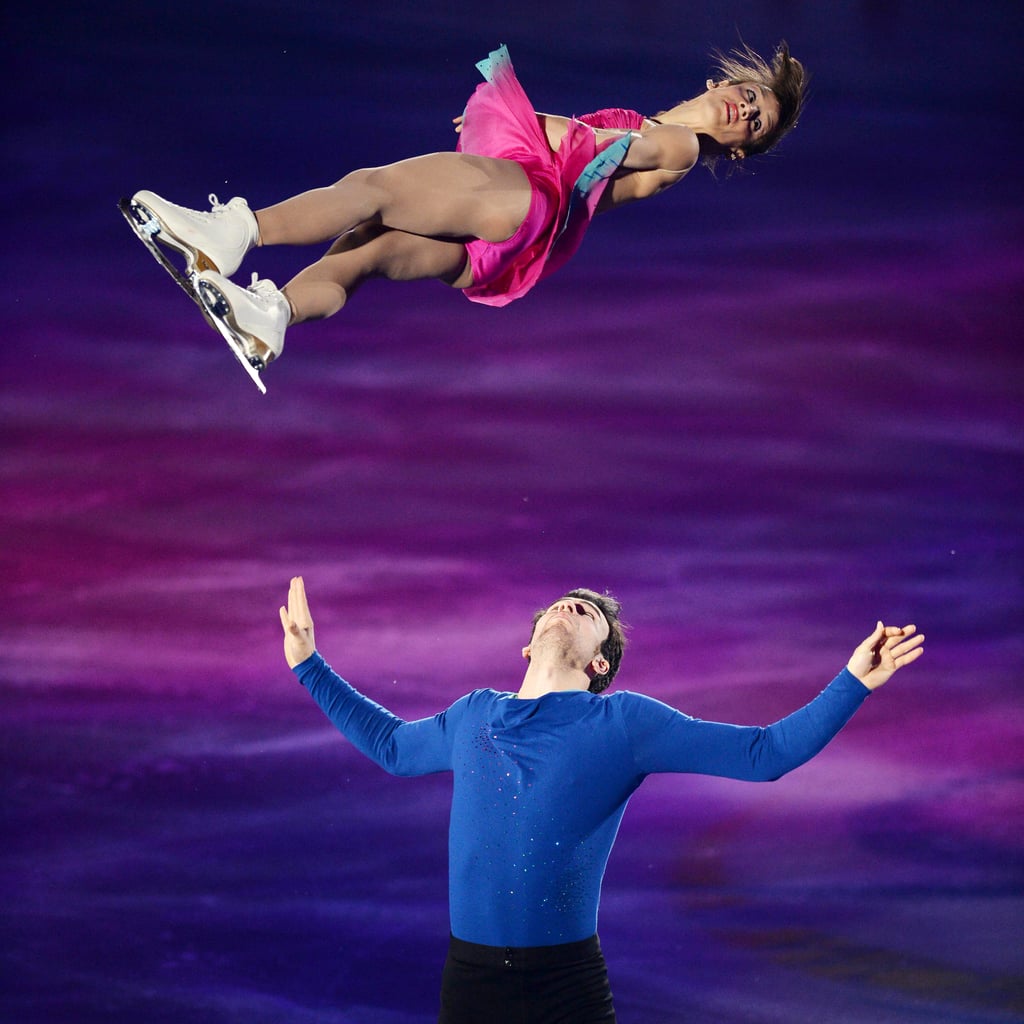 Meagan Duhamel and Eric Radford of Canada performed during day four of the ISU World Team Trophy in Tokyo, Japan.
Slow Motion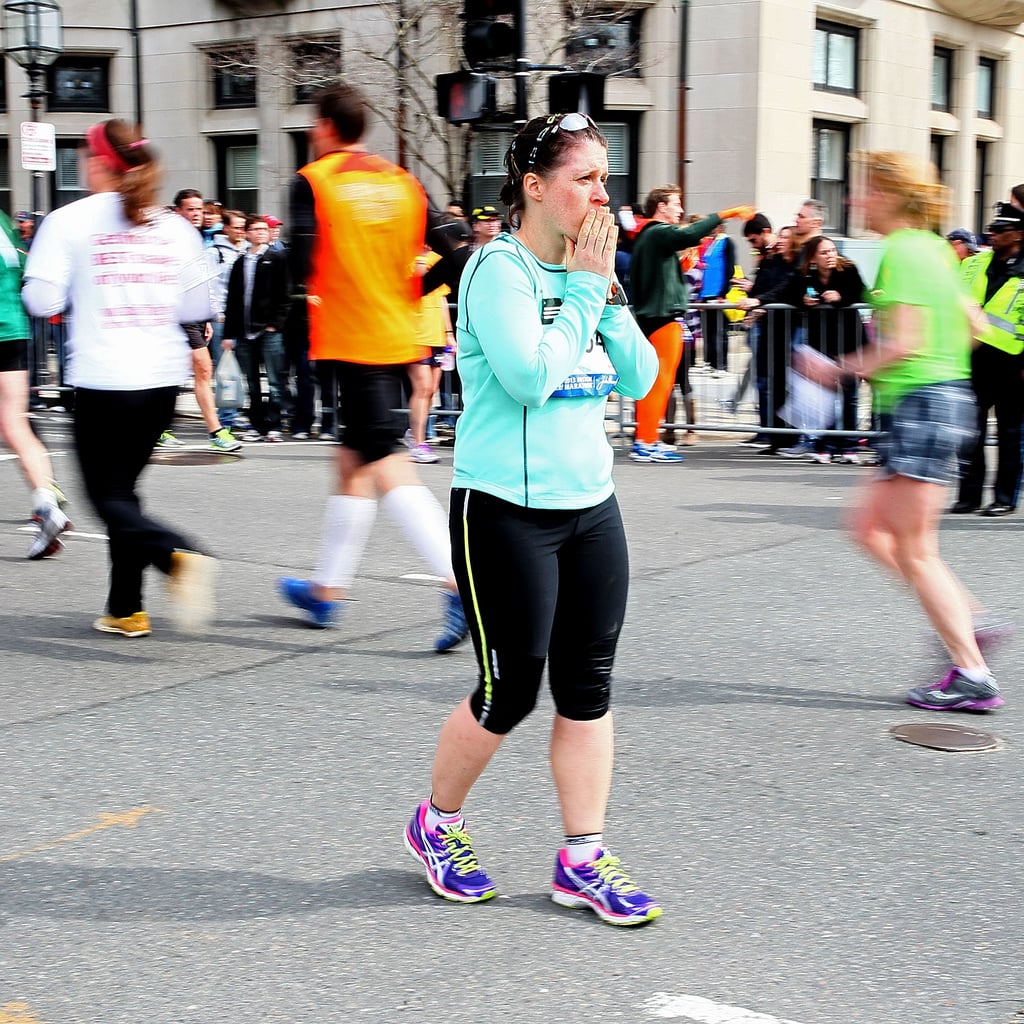 A woman looked on as runners passed by near Kenmore Square after two bombs exploded during the Boston Marathon [16].
Baby Face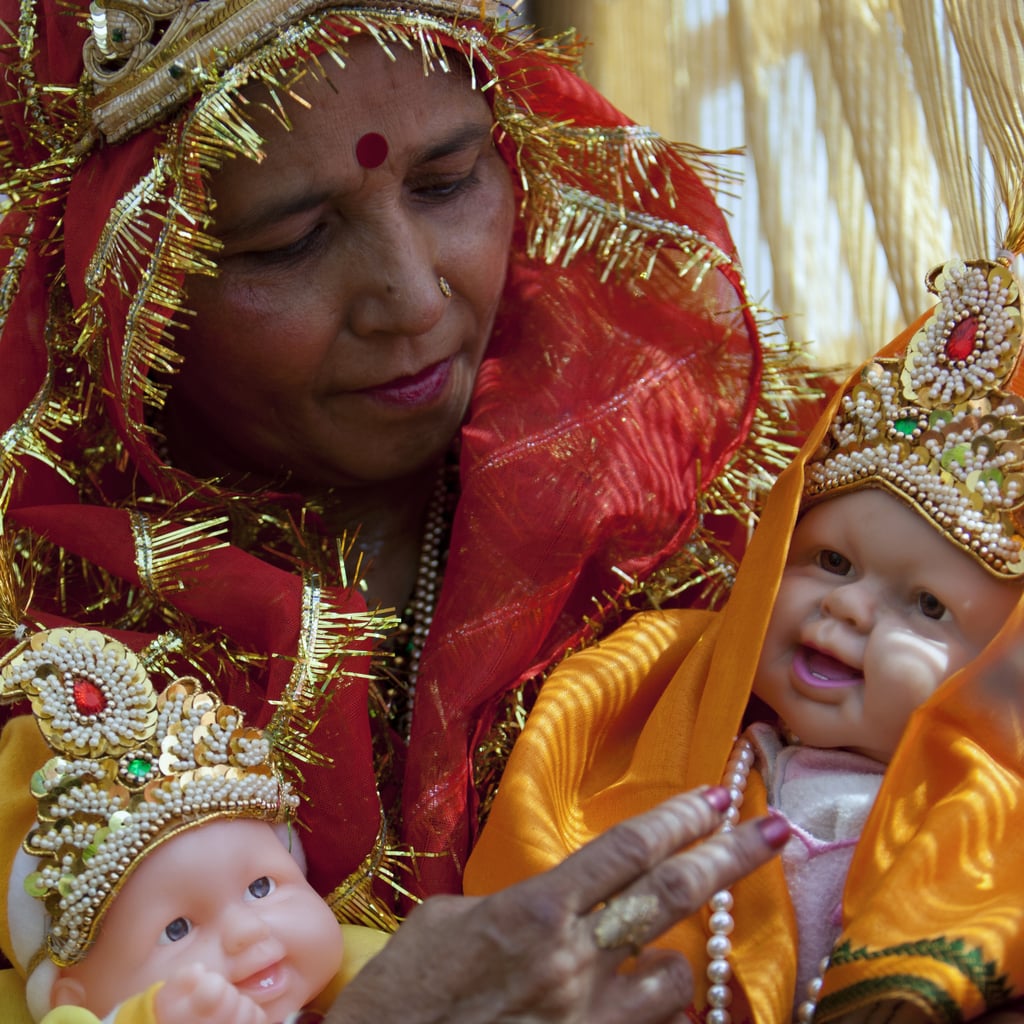 In New Dehli, an Indian woman held baby dolls — one of which represents Lord Rama — before taking part in a procession for Ram Navami, which marks the birthday of Hindu god Lord Rama.
Raise Up
A girl watched Modest Mouse perform at the second weekend of Coachella Valley Music and Arts Festival in Indio, CA.
Field of Dreams
A woman walked through a tulip field in full bloom at the Tanto Tulip Festival in Toyooka, Hyogo, Japan.
Laid Backstreet
The Backstreet Boys celebrated their 20-year career with a star on the Hollywood Walk of Fame.
Guest of Honor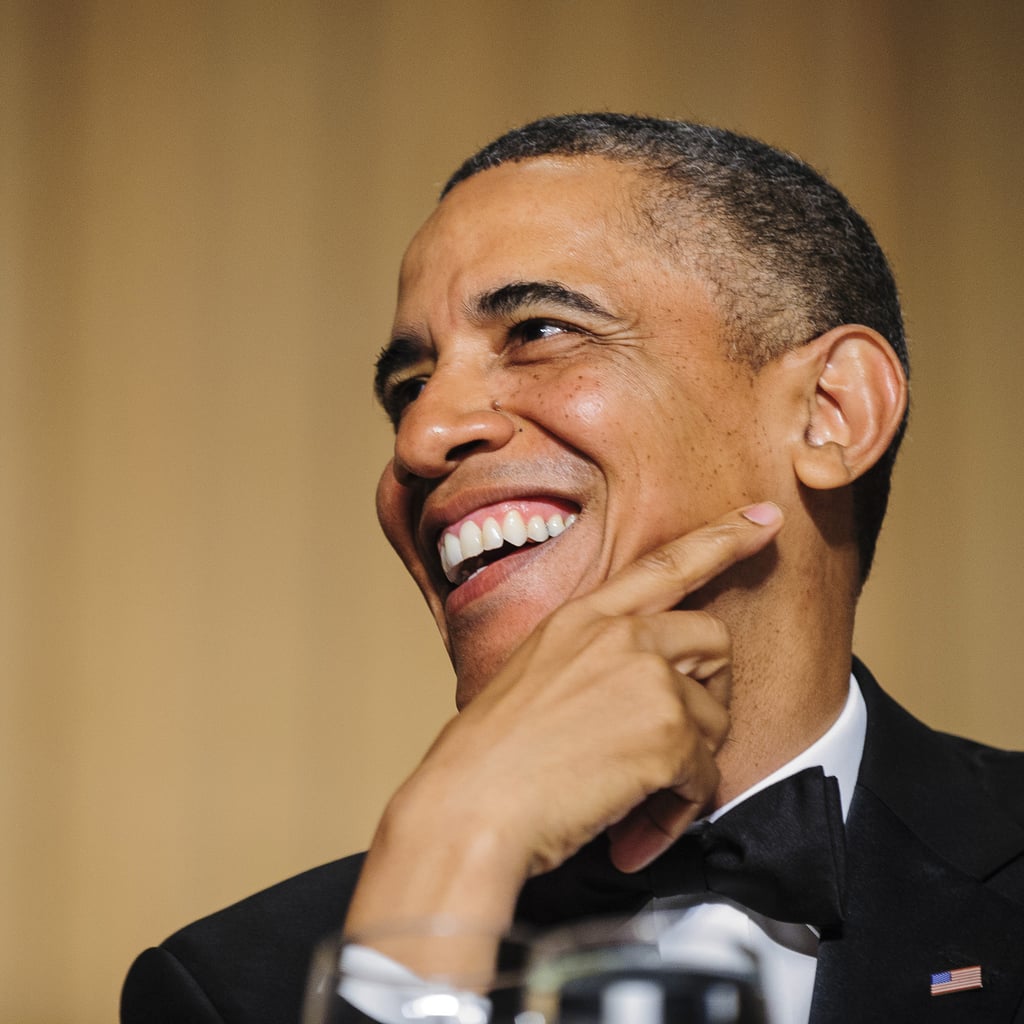 President Obama enjoyed himself at the White House Correspondents' Dinner.
Derby Style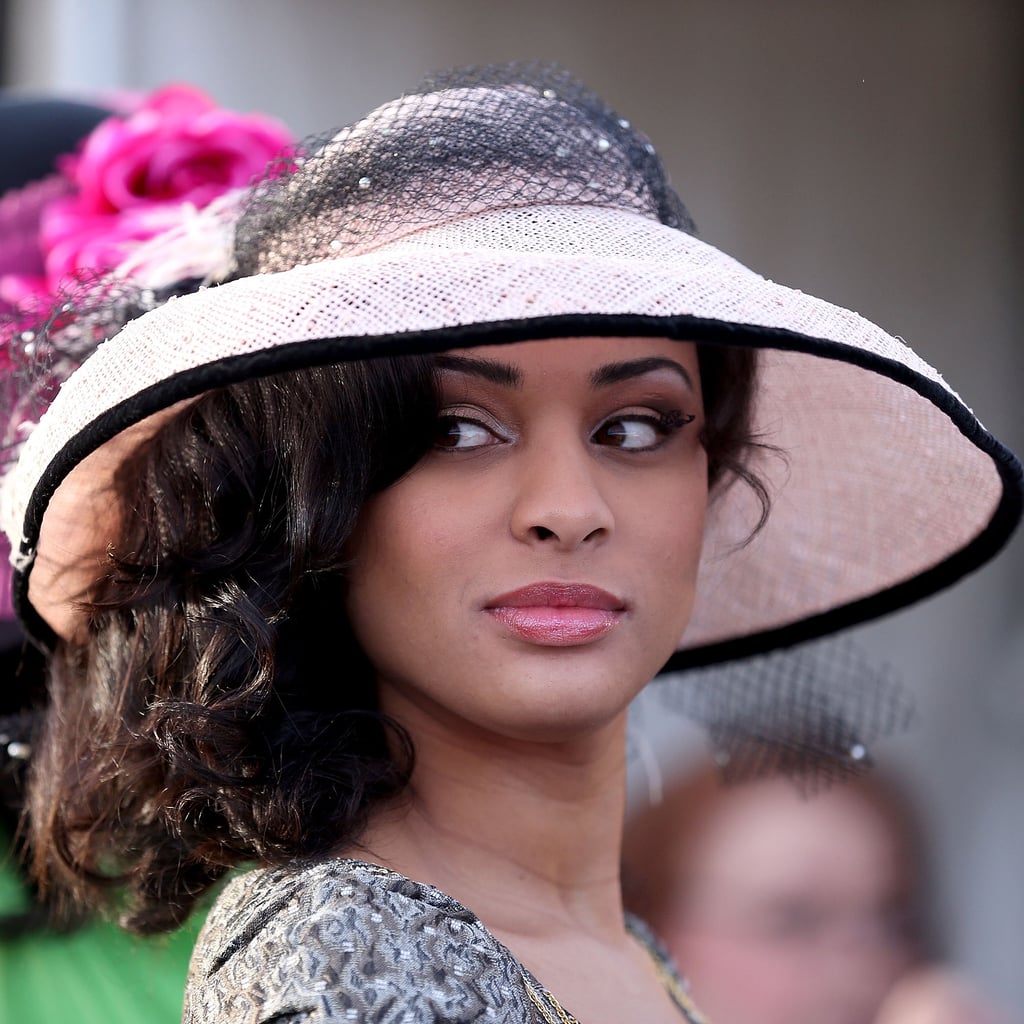 A woman wore a derby hat during the morning training for the 2013 Kentucky Derby at Churchill Downs in Louisville.
Deep Dive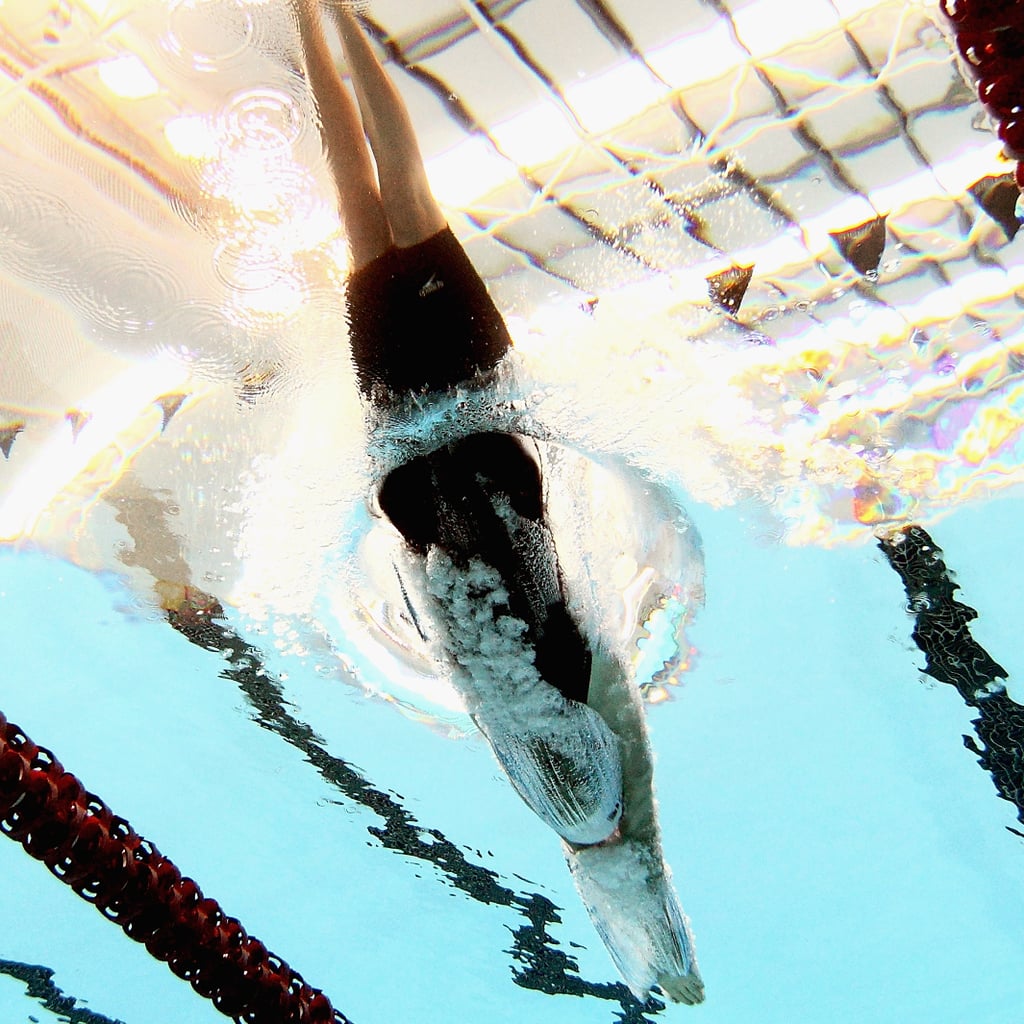 Rebecca Welke of Australia dove into the water to start the Women's 50-meter breaststroke during day seven of the Australian Swimming Championships.
Heart-to-Heart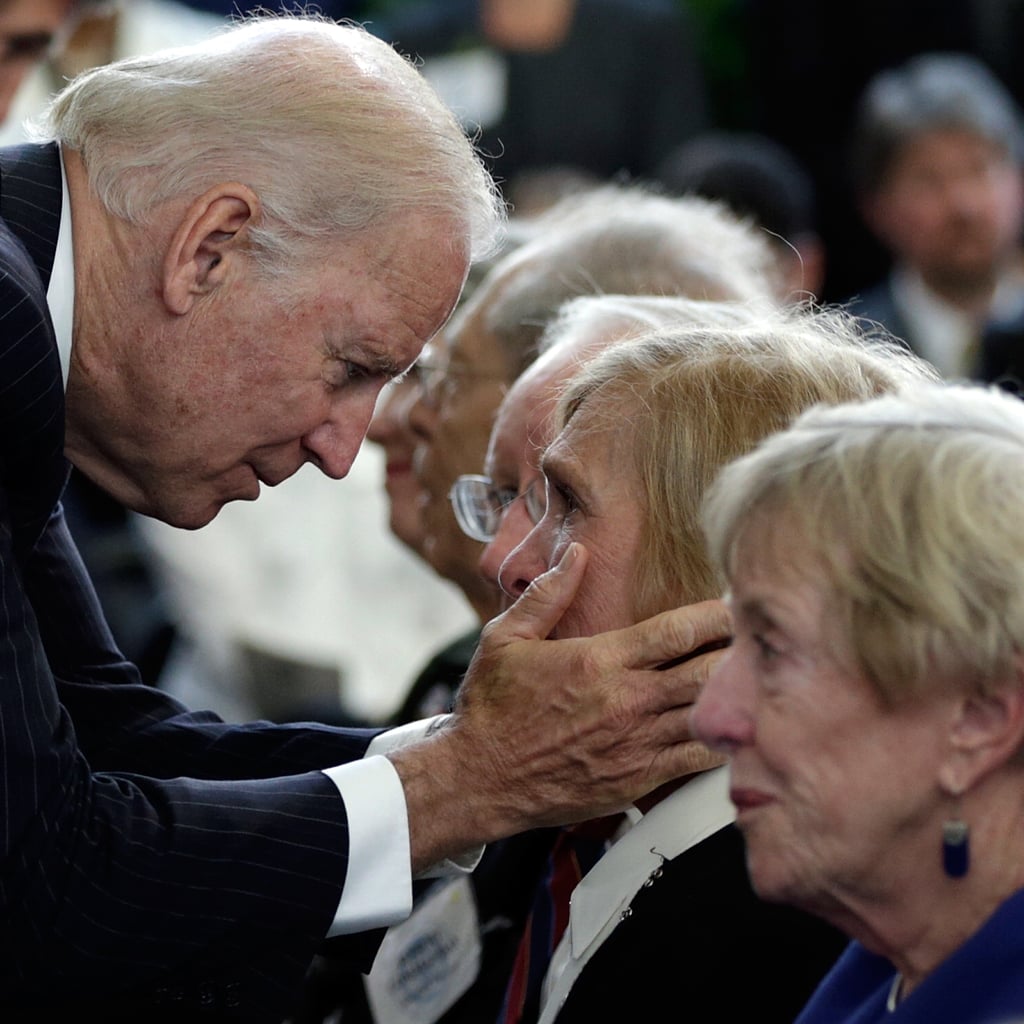 During a ceremony at the US State Department, Vice President Joe Biden comforted family members of American Foreign Service Association members who died while serving overseas.
Bikini Mob
Bikini-clad women took part in the sixth Mass Bikini celebration at the Chimelong Water Park in the Guangdong Province of China.
Who's That Queen?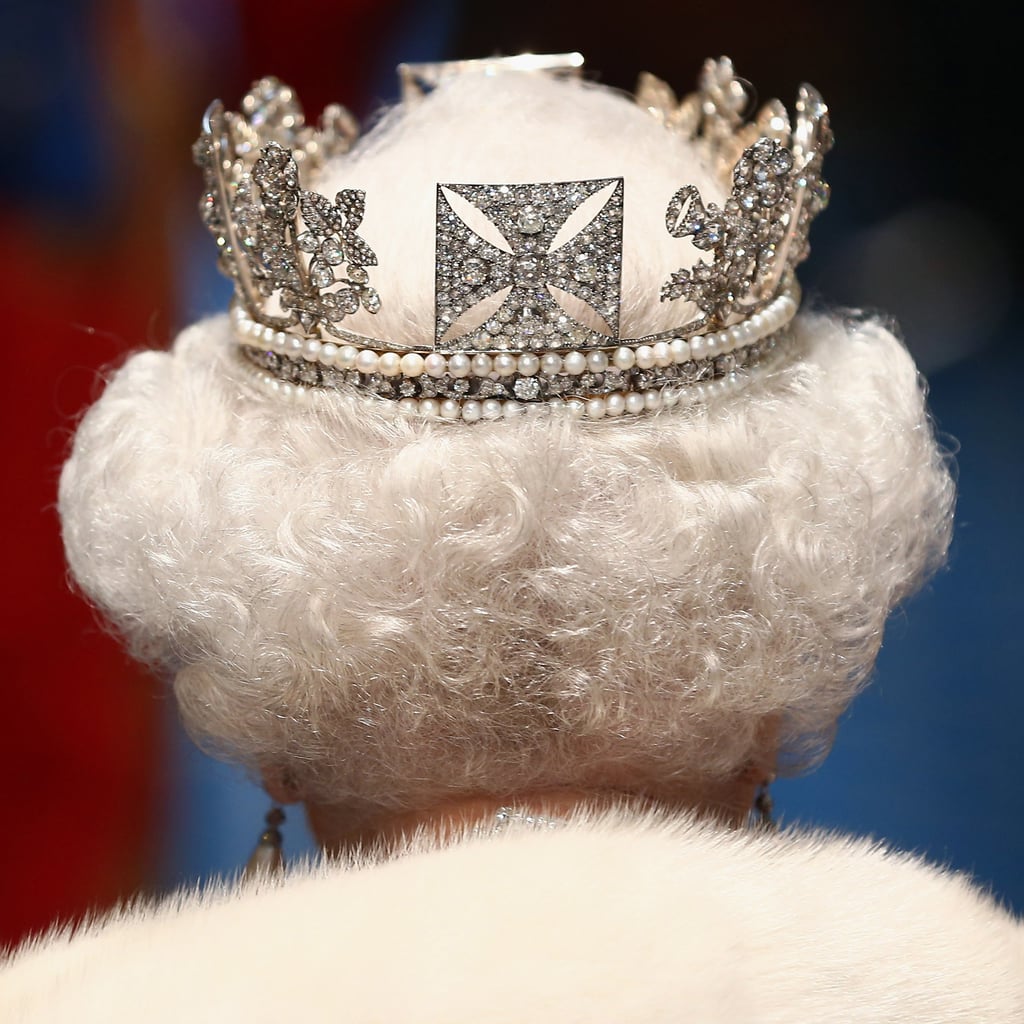 Donning white fur and a glittering crown, Queen Elizabeth II arrived at the state opening of Parliament at the Houses of Parliament in London.
Hearts of Gold
Prince Harry stood with First Lady Michelle Obama during an event honoring military families at the White House. Harry was on tour in the US taking part in charitable events, specifically those that support injured service personnel.
Sculpted
A museum visitor passed artwork at the Martin-Gropius-Bau in Berlin.
Painted Lady
Sitting atop a horse, a traditionally dressed Japanese woman took part in the procession of the Aoi Festival at the Imperial Palace in Kyoto, Japan.
Support System
A mother and daughter kept their arms around each other as they stood by the ruins of their home, which was leveled by the tornado that passed through Moore, OK.
Dance Party
Michelle Obama danced with Washington DC students at the Savoy School, one of eight schools selected for the president's Turnaround Arts Initiative.
Shirtless Salutes
Graduating freshmen at the Annapolis Naval Academy celebrated after climbing the Herndon Monument — a 21-foot, greased structure — as part of an annual tradition to place a Dixie-cup hat alongside an upperclassmen's hat.
On the Water
A young man collected water from the Yamuna River in New Delhi, India — a holy river to the Hindus that's now filled with waste-foam pollution.
Speaking Out
Activists for Scouts For Equality rallied in Washington DC to support gay rights in the Boy Scouts of America — and the next day, a ban was lifted [17] to welcome openly gay boys into the Boy Scouts community.
Flag Ceremony
At Arlington National Ceremony, a man from the Fife and Drum Corps participated in a "flags-in" ceremony, placing American flags in front of some of more than 220,000 graves for Memorial Day.
Sea of Support
Thousands of ultra-Orthodox Jews participated in the wedding [18] ceremony of Rabbi Shalom Rokach and Hana Batya Pener in Jerusalem, Israel.
City Sunset
Crowds gathered to snap pictures of the sunset in New York City on May 29. Called "Manhattanhenge," the specific sunset placement occurs each Summer when the setting sun aligns with the grid of the city streets.
In Remembrance
A family visited the memorial at Towers Elementary School in Moore, OK, where seven children's lives were lost when their building was hit by a tornado.
C'est L'Amour
In Montpellier, Vincent Autin and Bruno Boileau glowed during their wedding [19] ceremony — the first official gay marriage in France.
Walk the Line
A professional slackliner walked along a cable during the Frankfurt Skyscraper Festival in Germany.
Rainbow Race
Runners celebrated after finishing The Color Run in Gold Coast, Australia.
Honoring History
Veterans of D-Day gathered across Normandy to commemorate the 69th anniversary of the D-Day landings.
Stunning Sights
Summer tourists took in the view of Niagara Falls from the Prospect Point Park observation tower in New York.
Crowded Streets
In Hong Kong, thousands of people stood in the rain to participate in a candlelight vigil honoring the 24th anniversary of the Tiananmen Square protests.
Victory Dance
Serena Williams fell to her knees as she celebrated her victory over Maria Sharapova to win the Women's Singles final match at the French Open in Paris.
Poster Child
Cecilia Floros, a young Newtown resident, held up a sign that said "Love Wins" in remembrance six months after the Sandy Hook Elementary School shooting in Newtown, CT.
On Display
Two women checked out the colorful work of artist Rob Pruitt in Basel, Switzerland.
Summer Sun
People soaked up the sun in Prague during a record-breaking heat wave.
Hats Off
Designer Larisa Katz sported a whimsical hat for the Royal Ascot in Ascot, England.
Suited Up
Dad-to-be Prince William sported traditional garb for the Order of the Garter service at St. George's Chapel in Windsor, England.
Sweet Support
A group of kids showed their support for Nelson Mandela while the former South African president spent time in a hospital.
Fancy Dance
Women participated in a dance during the Bali Arts Festival in Indonesia.
Camp Out
Tents popped up at England's Worthy Farm with the start of the Glastonbury Festivals.
Literary Love
A couple in costume participated in the Pride and Prejudice Ball at England's Chatsworth House to celebrate the 200th anniversary of the book's publication.
Happy Activist
Hours after the Supreme Court struck down the Defense of Marriage Act and dismissed Prop. 8, crowds gathered in San Francisco's Castro district.
On the Line
Tightrope walker Nik Wallenda walked across a high wire over the Grand Canyon in Arizona, with the whole experience streaming live [20].
Big Win
Chicago Blackhawks captain Jonathan Toews kissed the Stanley Cup after his team beat the Boston Bruins for the championship.
Setting Sun
A pink moon sat over Rome, Italy — an occurrence that happens yearly when the moon is closest to Earth.
Speaking Out
People gathered, cheered, and chanted at the capitol building in Austin to celebrate the defeat of an antiabortion bill that was temporarily defeated after Senator Wendy Davis's 10-hour filibuster [21].
Keeping Cool
Young girls played in a fountain in NYC's Lower East Side neighborhood during the Big Apple's Summer heat wave.
Sky High
In Northampton, England, the display team RAF Red Arrows performed, filling the sky with stripes of color.
First Lady Fun
While First Lady Michelle Obama and former First Lady Laura Bush were both in Tanzania, the pair attended the African First Ladies Summit in Dar es Salaam.
Fourth of July Feast
Joey Chestnut set a new record at Nathan's Famous Fourth of July Hot Dog Eating Contest at NYC's Coney Island, eating 69 hot dogs in 10 minutes.
Honoring Heroes
A memorial was displayed outside station seven in Prescott, AZ, to honor the 19 firefighters who lost their lives in a wildfire.
Flag Waving
Just in time for the Fourth of July, immigrants held up American flags during a naturalization ceremony at NYC's Federal Plaza.
In Step
In Pamplona, Spain, people participated in the San Fermin Running of the Bulls festival.
Over the Shoulder
A child was carried down the street at the base for Mohamed Morsi supporters in Cairo, Egypt.
Royal Sidekicks
The Duchess of Cambridge's siblings, Pippa and James Middleton, sat in the royal box during the Coronation Festival Evening Gala at Buckingham Palace.
Honored Guest
Taliban survivor Malala Yousafzai spoke at the UN [22] in NYC on her birthday, which was declared Malala Day.
Heads Bowed
In Cairo, Egypt, the supporters of the country's ousted president Mohamed Morsi prayed together on the third day of Ramadan.
The "Great Kate Wait"
With royal-baby fever [23] on the rise, girls sporting Kate Middleton masks and fake baby bumps stood outside the hospital in London.
Golden Glow
A crowd gathered as part of a vigil for Trayvon Martin in NYC.
French Fireworks
Fireworks lit up the Parisian sky for France's Bastille Day celebrations [24].
Up in the Air
In Barcelona, British diver Tom Daley participated in a training session before the World Championships.
Stocked Shelves
J.K. Rowling's crime novel, Cuckoo's Calling, was reprinted after it was revealed that she was the author [25].
Keeping Cool
As temperatures rose in London, a girl splashed around in the fountain called "Appearing Rooms" by Danish artist Jeppe Hein.
Royal Wave
Newborn Prince George waved to the world from his mother's arms.
Day at the Beach
Beachgoers in the Netherlands enjoyed the Summer weather.
Good Wife
Huma Abedin listened as her husband, Anthony Weiner, addressed new allegations that he engaged in lewd online conversations with a woman after he resigned from Congress for similar previous incidents.
New Rulers
Following his inauguration, King Philippe and Queen Mathilde of Belgium greeted the audience at the Royal Palace.
Just Married
Libby Enloe and Amanda Adams of North Carolina embraced after being married outside the US Supreme Court building on Capitol Hill.
People's Pope
Pope Francis waved to onlookers from the Popemobile after leaving the Metropolitan Cathedral in Rio de Janeiro, Brazil.
Never Forget
In Aurora, CO, people gathered to mourn the victims of the movie theater shooting one year after the incident.
Superhero Stunts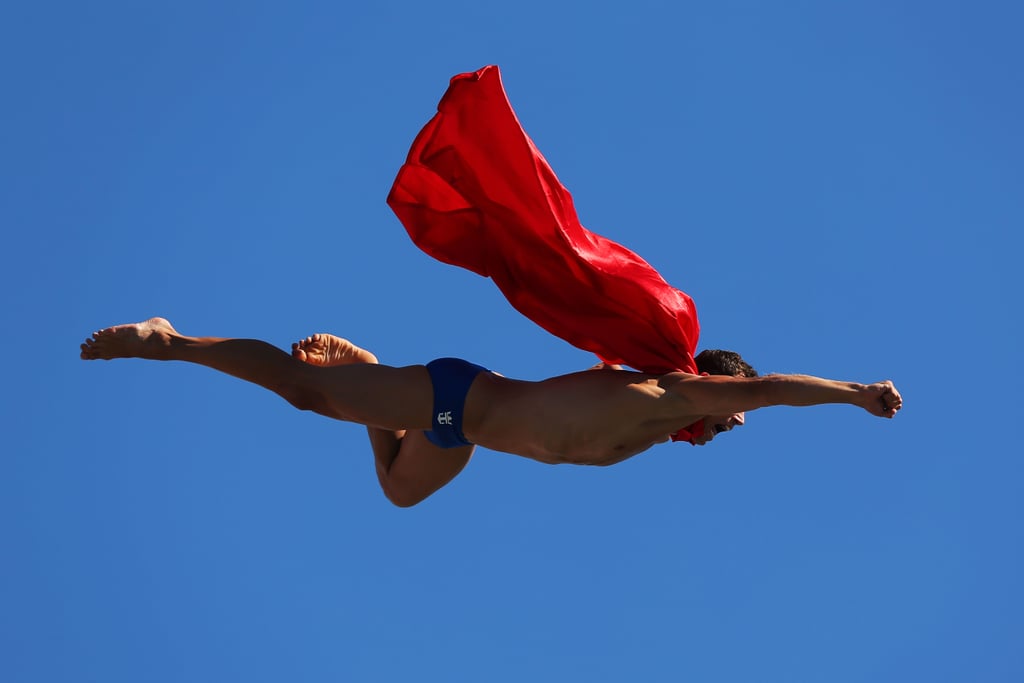 Michal Navratil of the Czech Republic sported a cape during the men's high diving competition at the FINA World Championships in Barcelona, Spain.
Mountain Music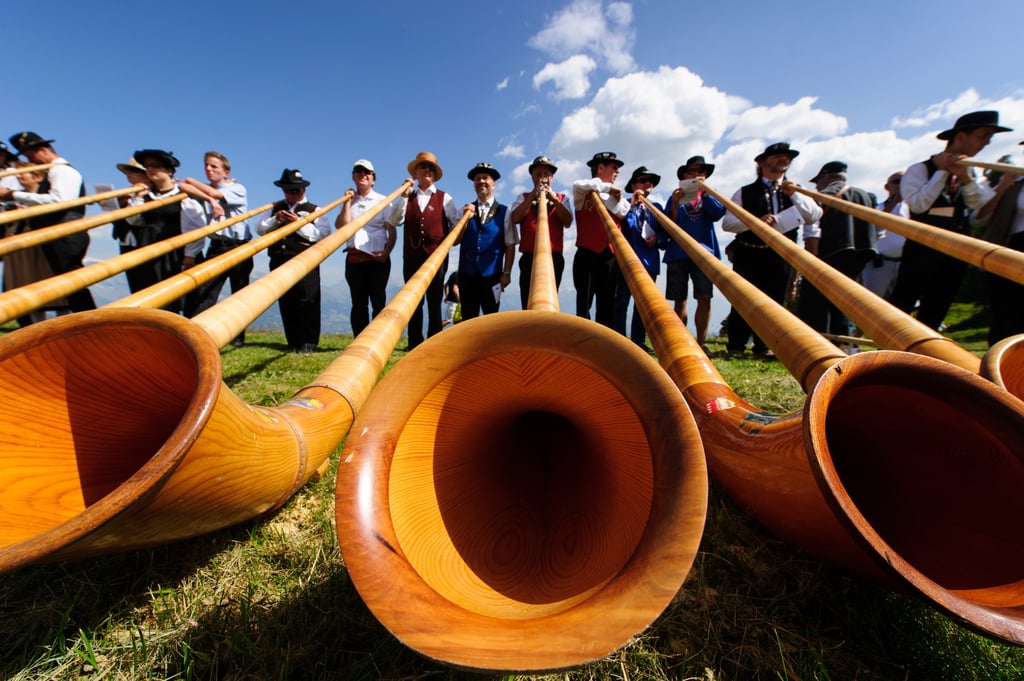 Alphorn players performed in Nendaz, Switzerland, during the Alphorn Festival.
Off to the Races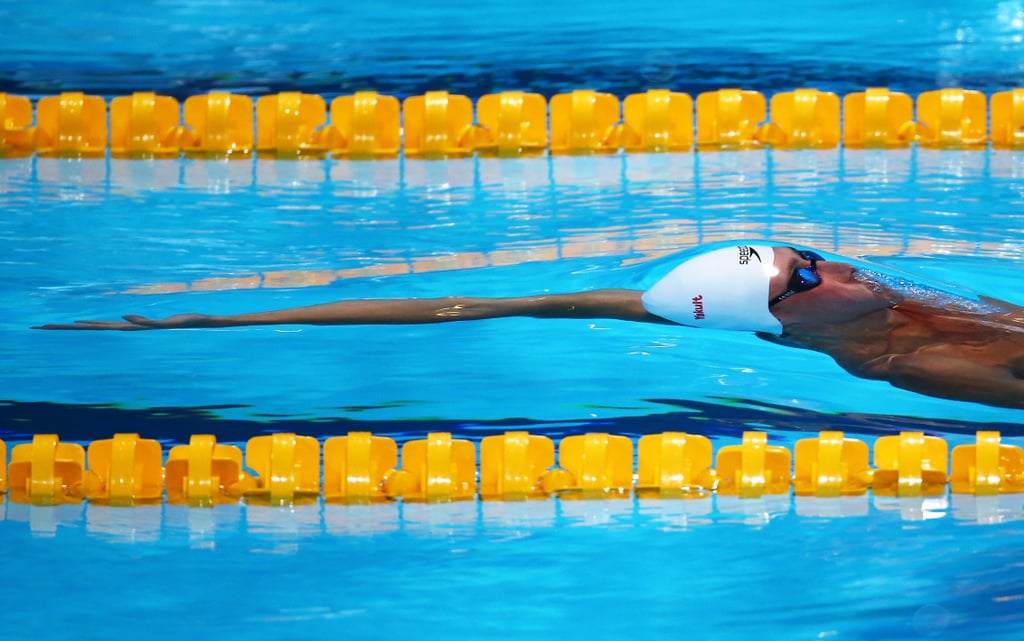 Ryan Lochte competed in the backstroke preliminaries during the FINA World Championships in Barcelona, Spain.
In Mourning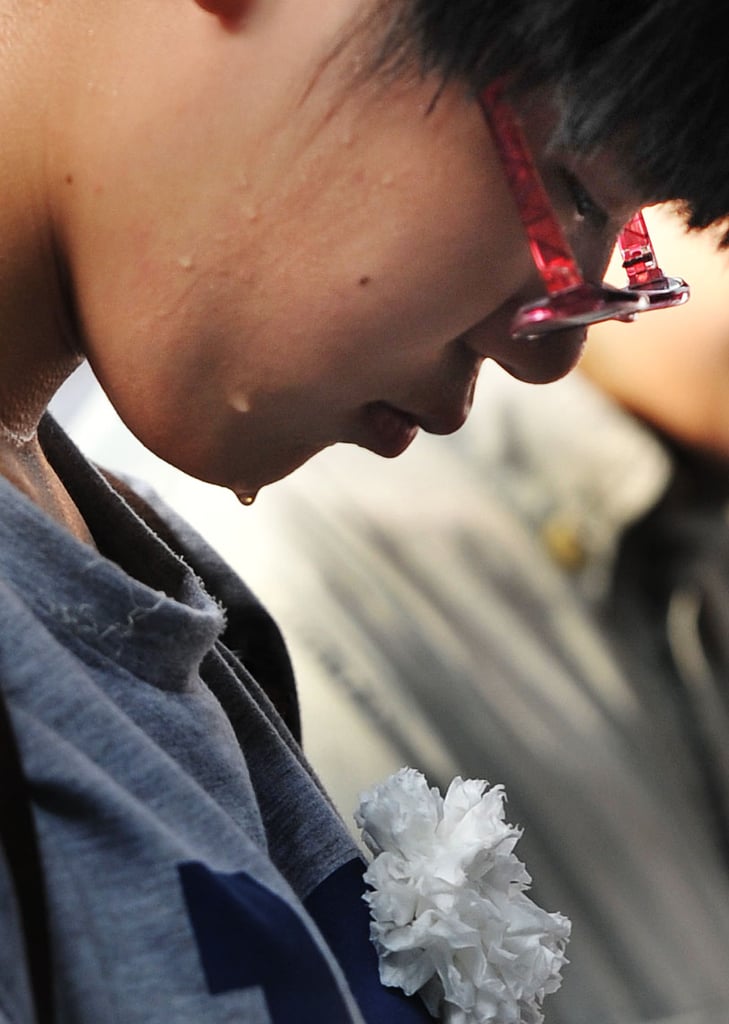 A friend of the Asiana Airlines plane crash victims teared up during a memorial service held in Jiangshan, China.
Night Light
Kids played in a fountain outside Jerusalem, Israel, at night.
Family Ties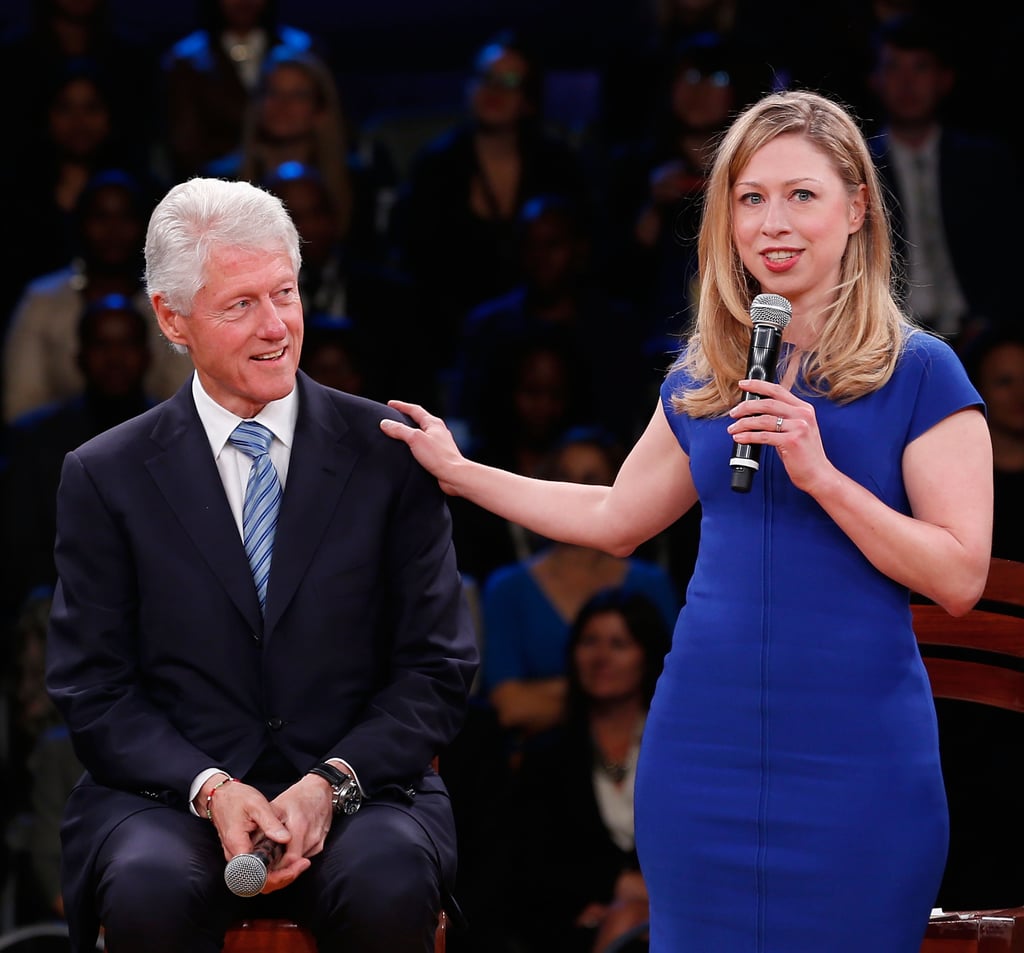 Chelsea Clinton spoke alongside her dad, former President Bill Clinton, during an event called "Embrace Tomorrow: A Conversation Without Borders" in Pretoria, South Africa" that addressed health issues.
Tee Time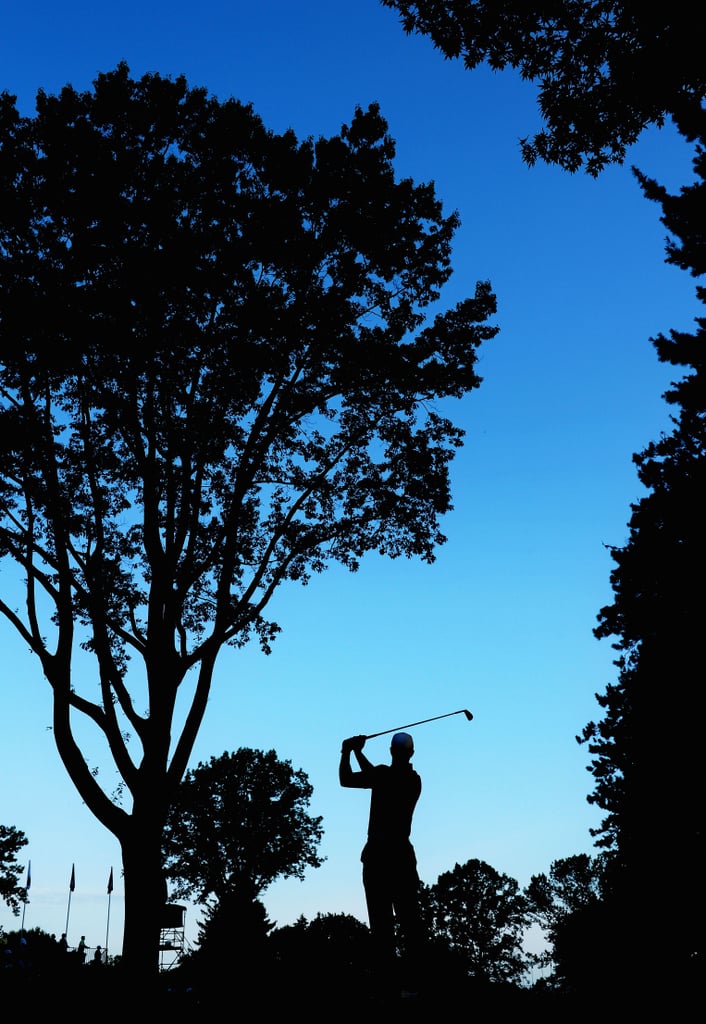 Tiger Woods [26] teed up for a practice round before the PGA Championship in Rochester, NY.
Colorful Crowd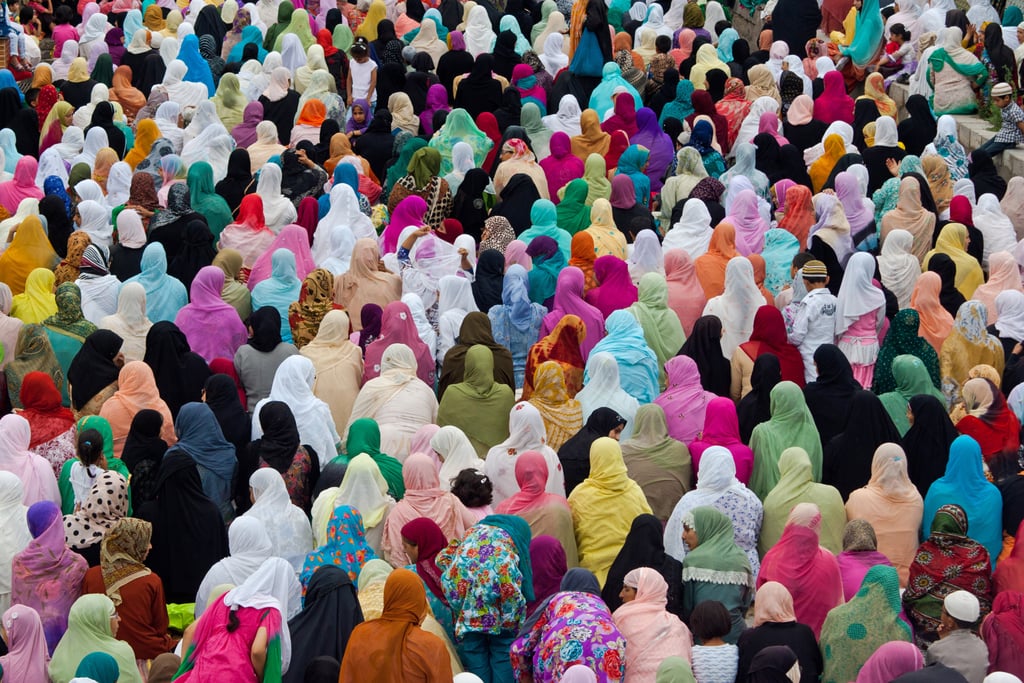 Muslim women prayed outside the Grand Mosque in Kashmir, India, toward the end of Ramadan.
Royal Tourists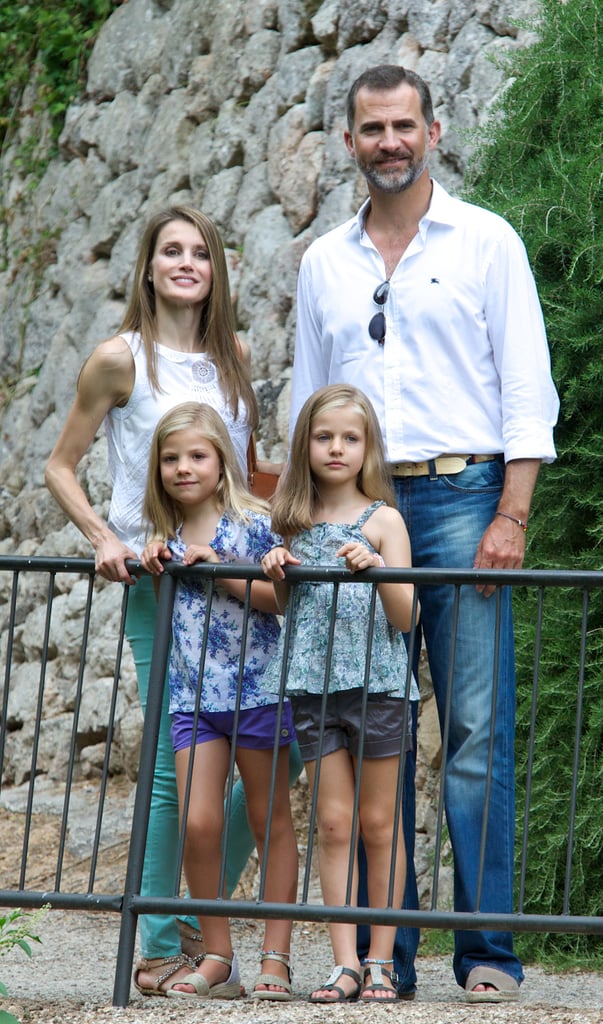 Prince Felipe, Princess Letizia, and their daughters, Princess Leonor and Princess Sofia, of Spain visited a historical mansion in Palma de Mallorca, Spain.
Man of the Hour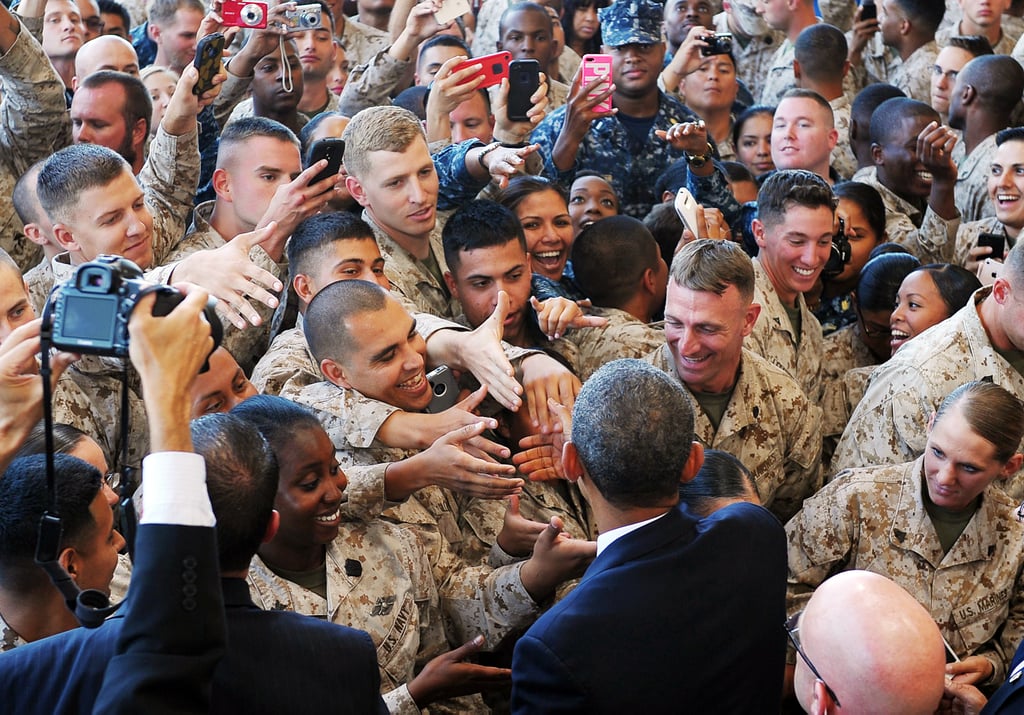 Marines greeted President Barack Obama with handshakes, smiles, and camera phones when he spoke at California's Camp Pendleton.
Climbing High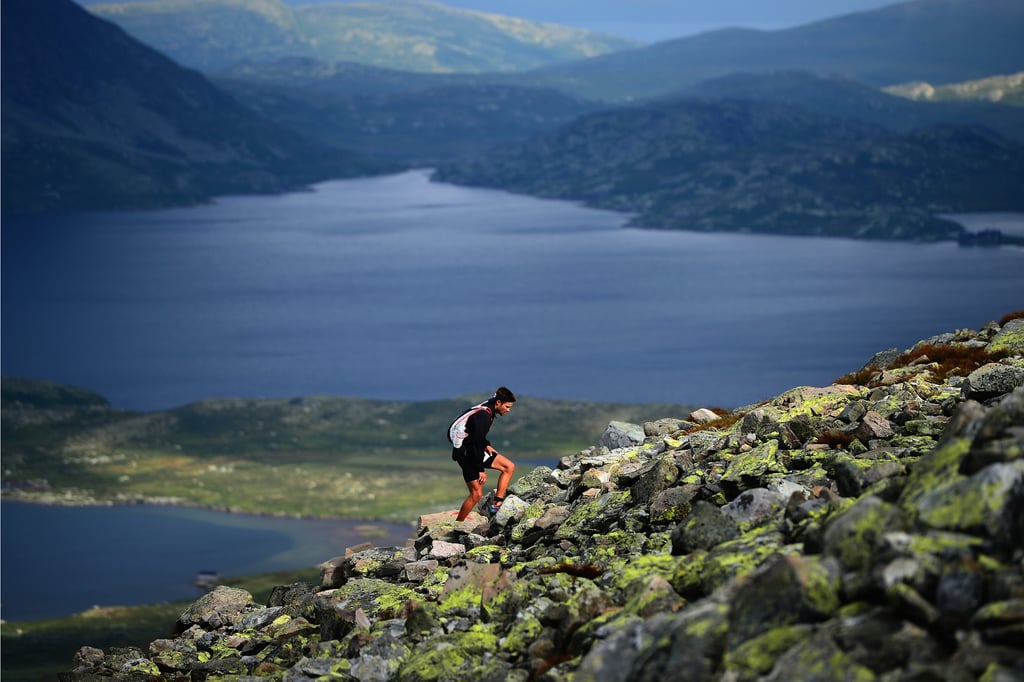 As part of the Norsemen Xtreme Triathlon in Eidfjord, Norway, an athlete made his way up a steep edge toward the finish line.
Light Show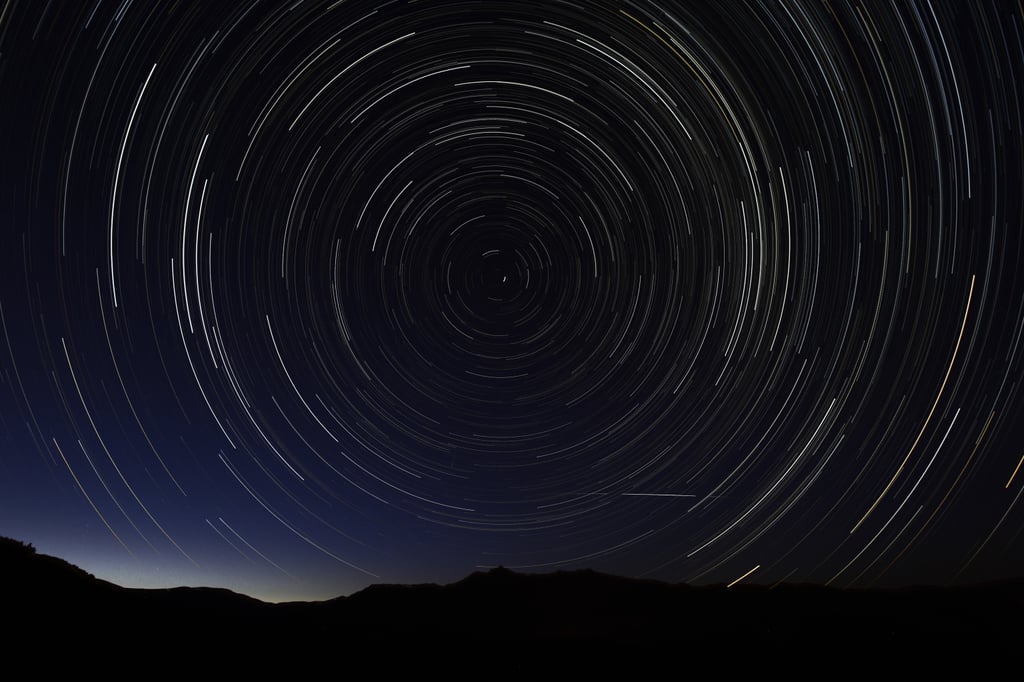 The Perseid meteor shower lit up the sky in Spain.
Off-Duty Obamas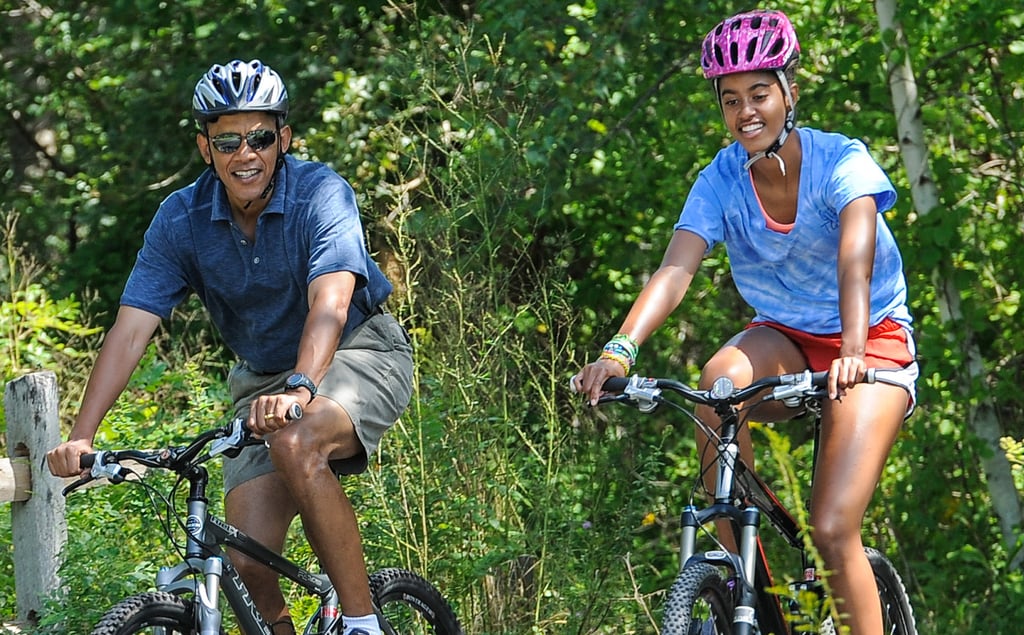 President Obama biked at Martha's Vineyard with his daughter Malia.
Painted Faces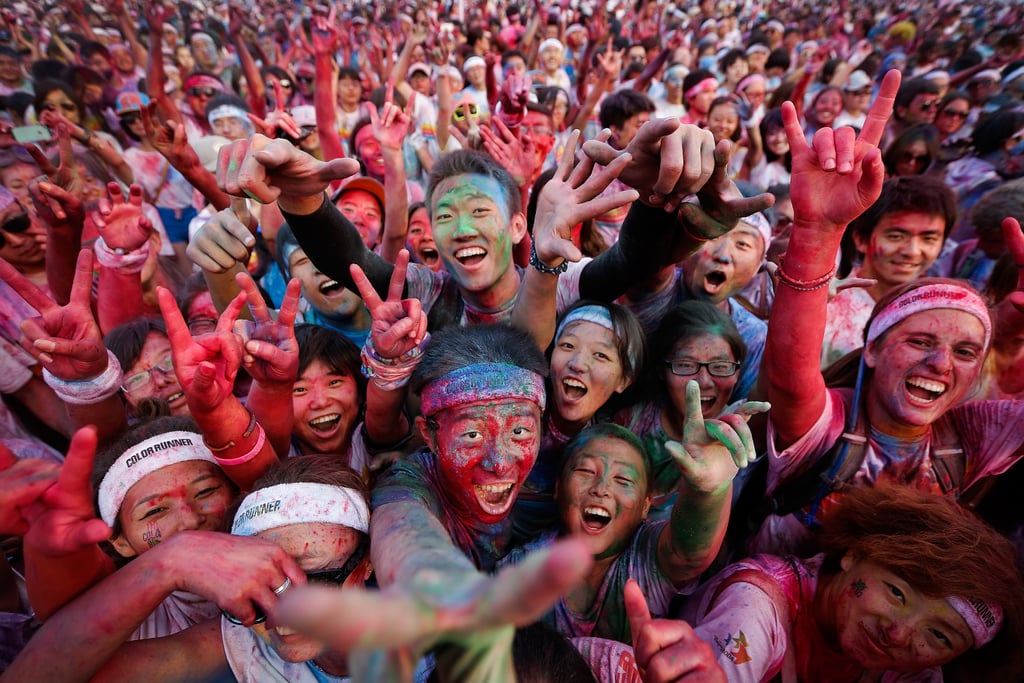 Competitors in Beijing, China, enjoyed the country's first Color Run.
Midair
German athlete Andreas Wellinger competed in the FIS Ski Jumping Grand Prix Men's Final in Courchevel, France.
Sunset on the Slopes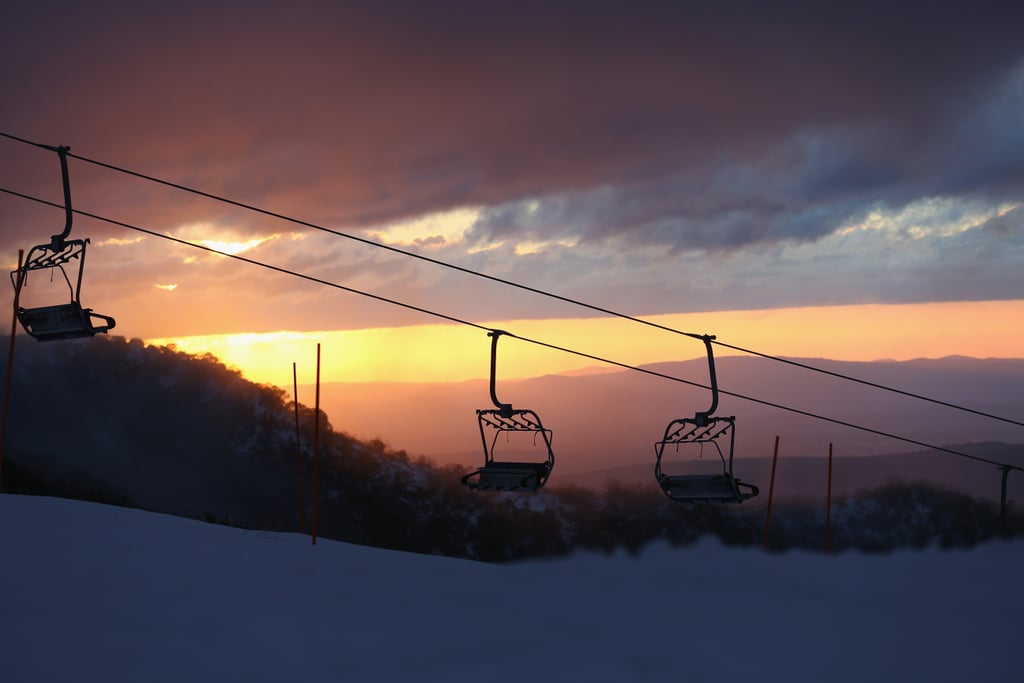 The sun set behind the summit in Mount Buller, Australia, at the start of ski season.
Fighting For a Cause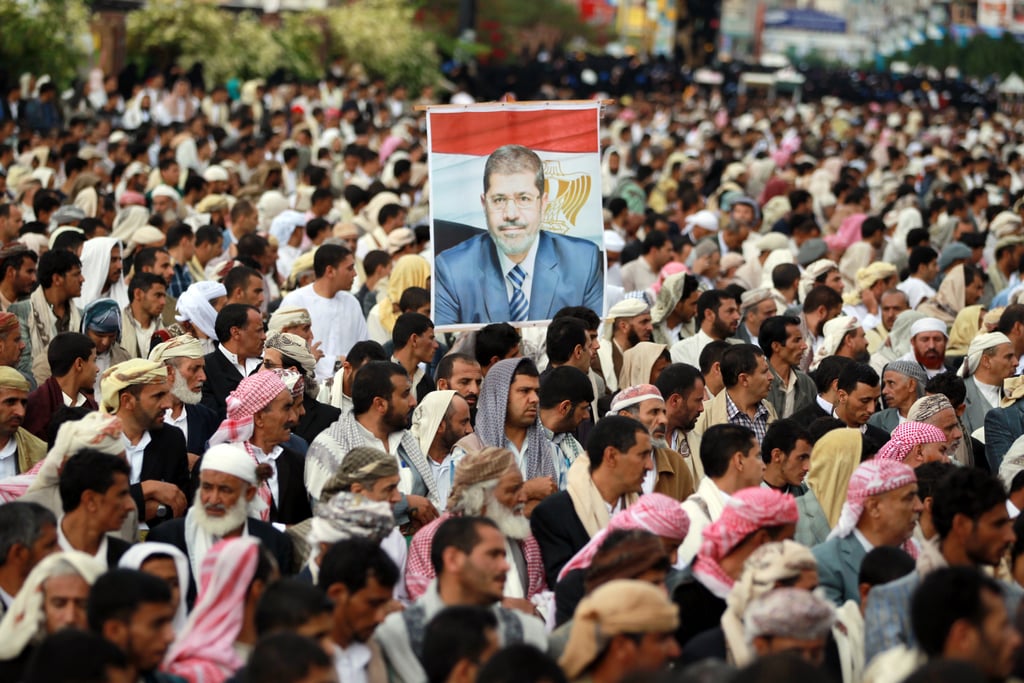 Protesters in support of ousted Egyptian president Mohammed Morsi gathered in Yemen following a violent clash in Cairo.
Flying High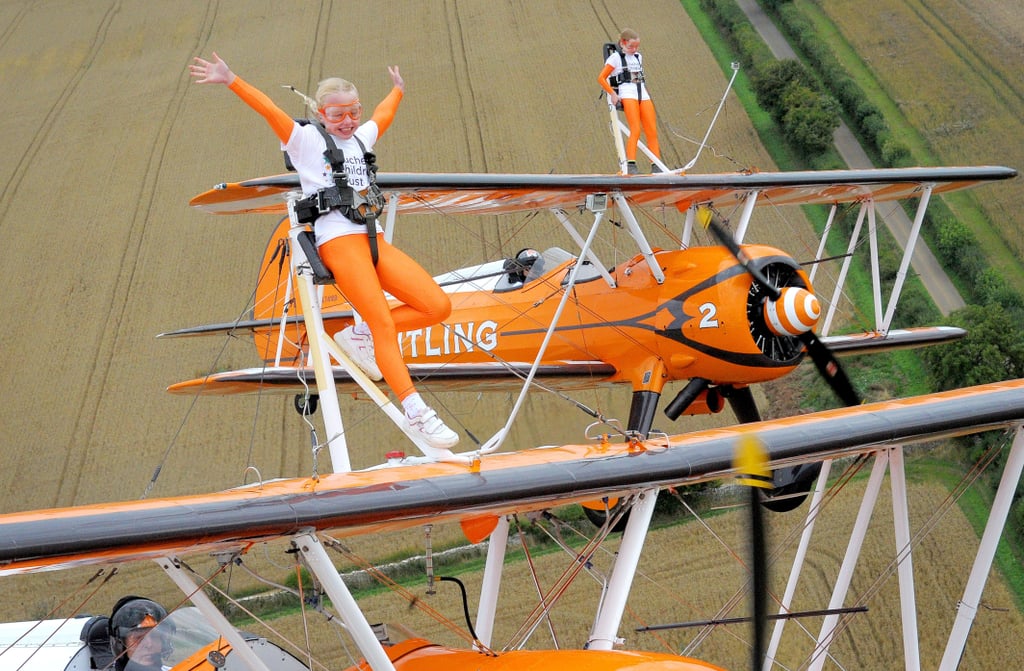 A pair of 9-year-old British cousins, Rose and Flame Brewer, became the world's youngest formation wing walkers when they flew on top of two planes in Cirencester, England.
The Big Debut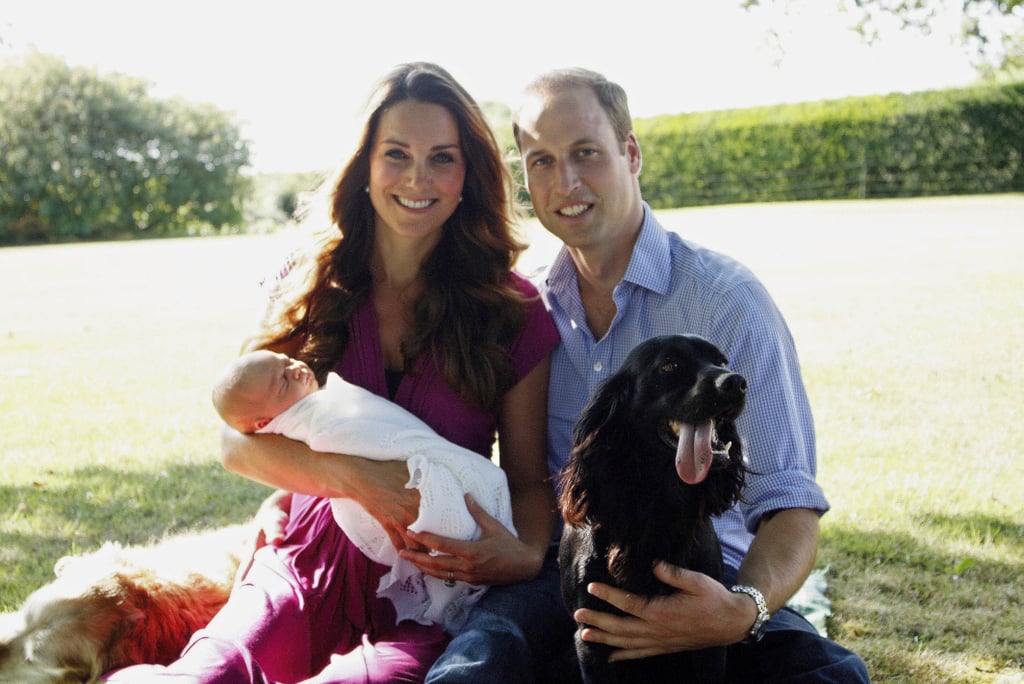 The Duke and Duchess of Cambridge shared a picture of their newborn, Prince George, with an official portrait taken at the Middletons' family home in Bucklebury, England.
Flower Girl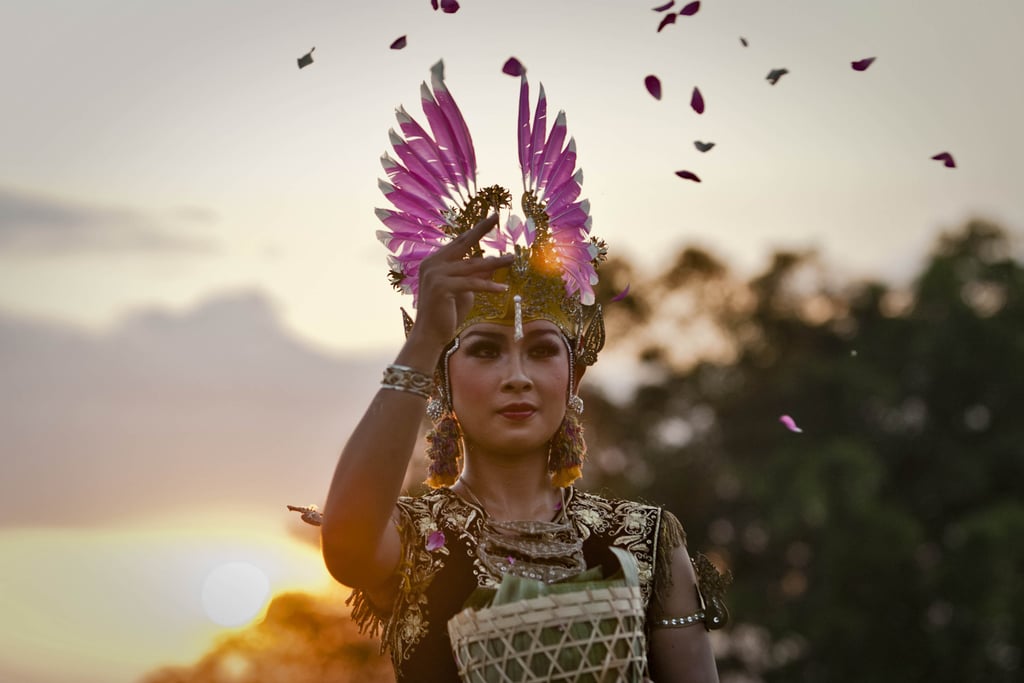 A Japanese dancer threw petals during the opening ceremony of a performance at the Ratu Boko temple in Yogyakarta, Indonesia.
Colors For a Cause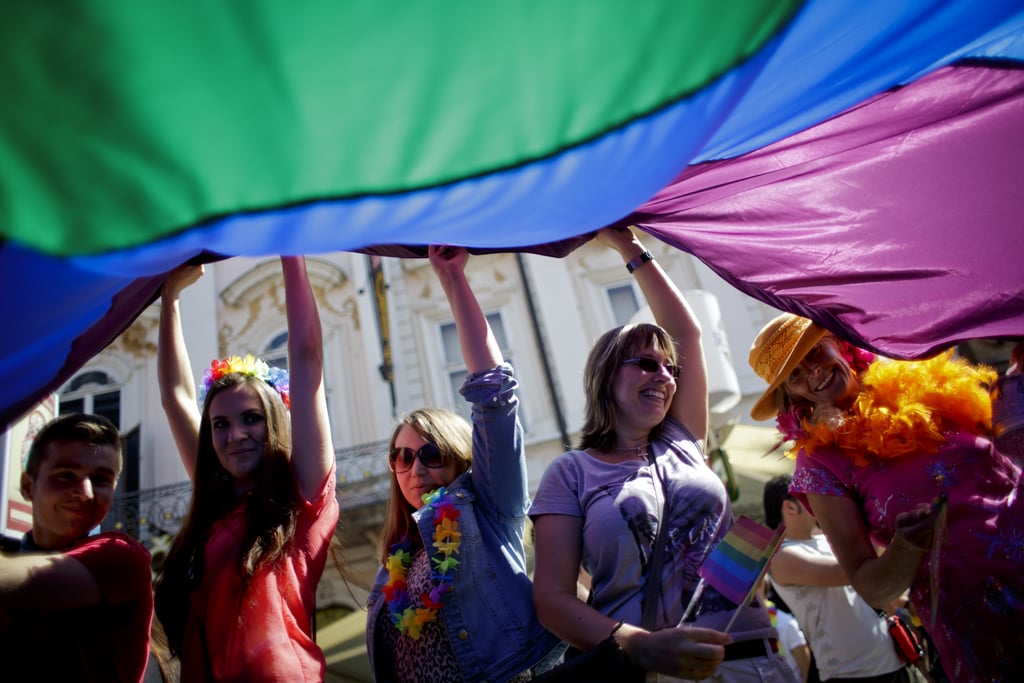 People filled the streets in Prague, raising a giant rainbow flag for the third Prague Pride March in the Czech Republic.
Victory Lap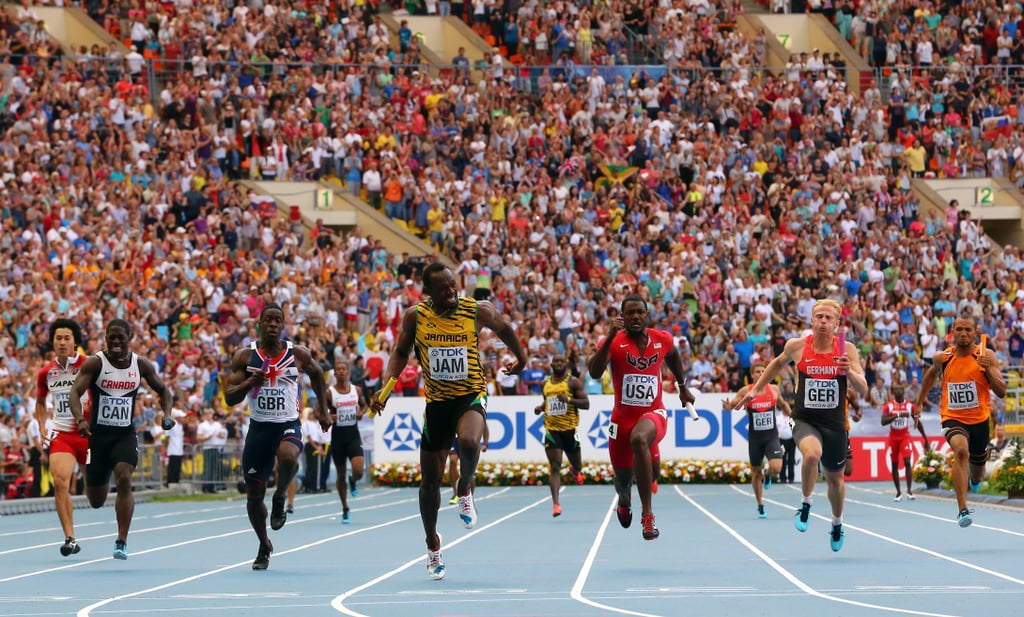 In Moscow, Russia, Usain Bolt of Jamaica beat his competitors to the finish line to win the gold medal in the Men's 4x100 final at the IAAF World Athletics Championships.
Baseball Hero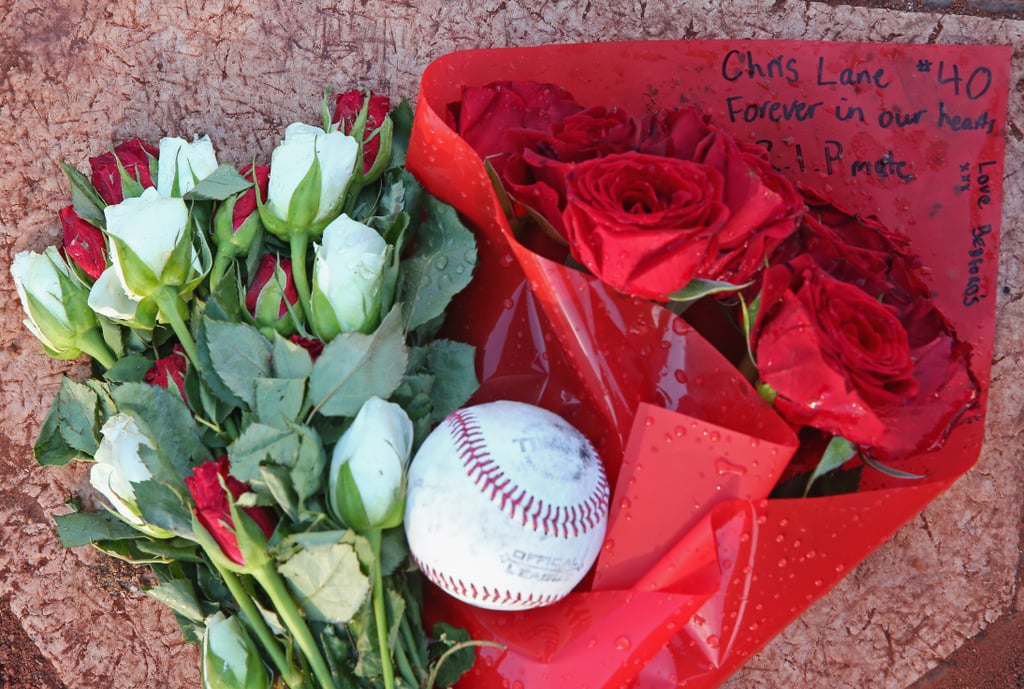 In Melbourne, Australia, flowers were placed on home plate at Essendon Baseball Club as a tribute to Chris Lane, a baseball player who was shot in Oklahoma.
Rainy Days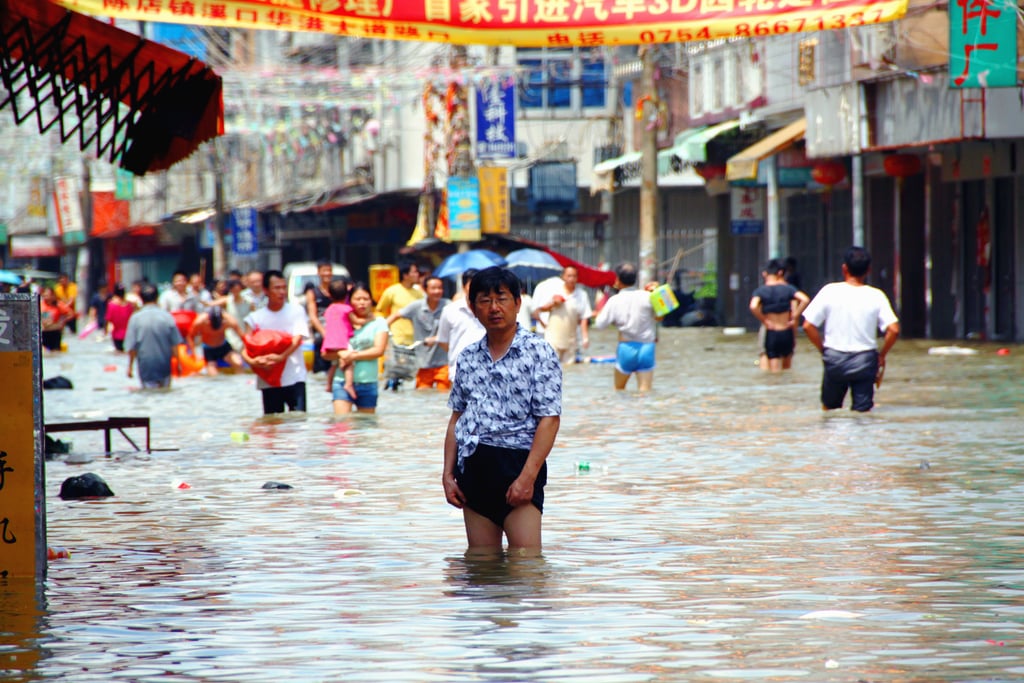 People in Shantou, China, waded their way through flooded streets after heavy rains hit the city.
Colors and Costumes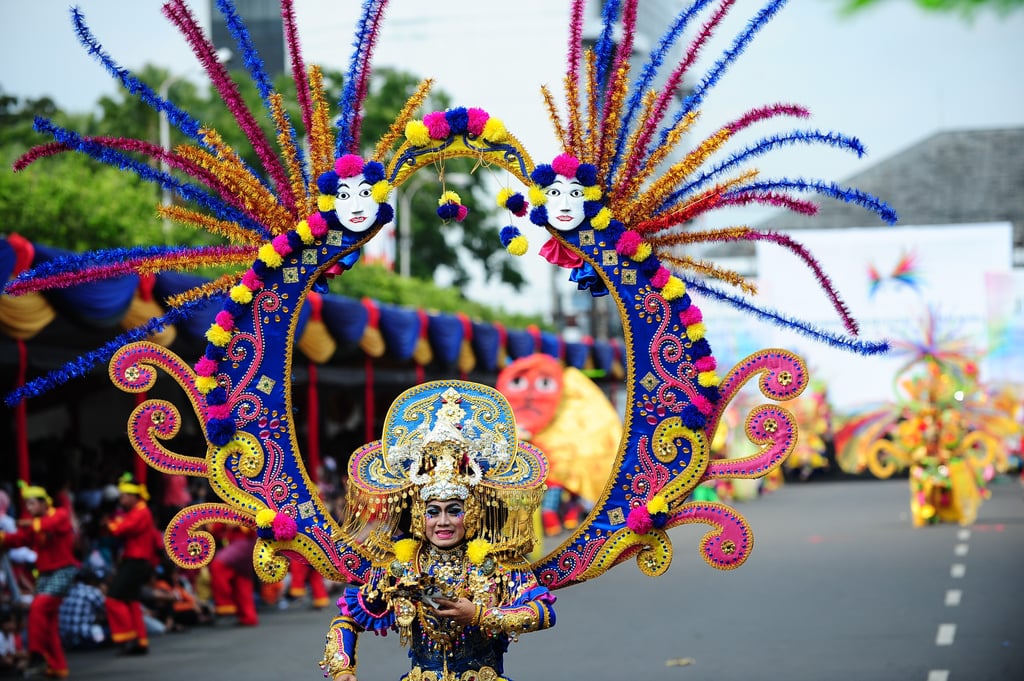 The Jember Fashion Carnival took place in Jember Regency, Indonesia, with 10 parades featuring more than 700 performers.
Fighting Flames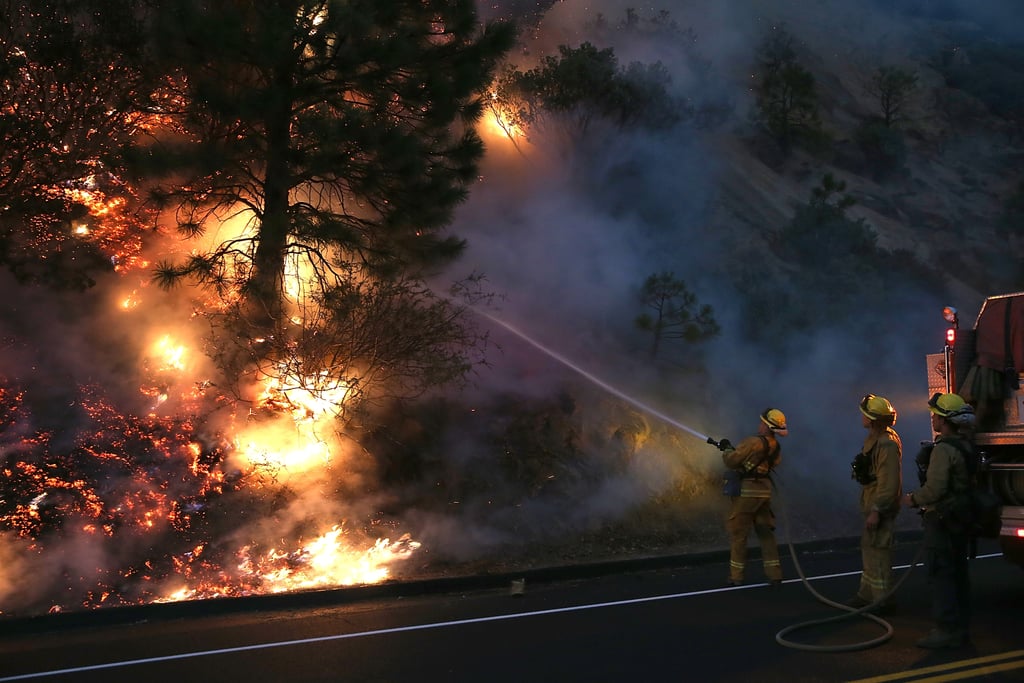 Firefighters battled the blaze of California's Rim Fire near Yosemite National Park.
Too Cool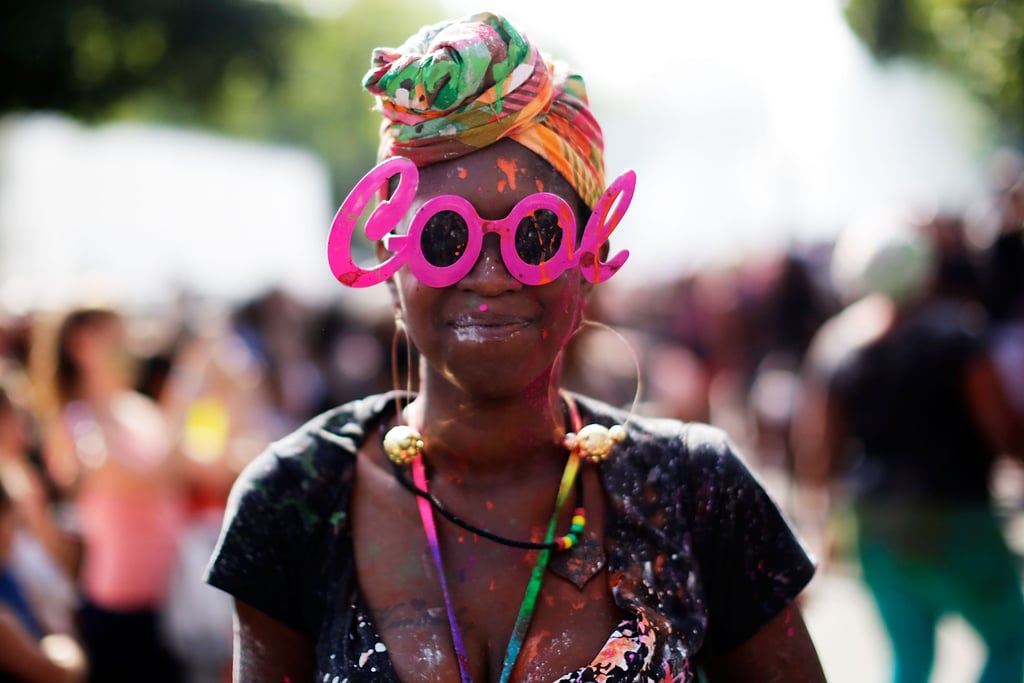 Crowds flocked to London's Notting Hill neighborhood for the Notting Hill Carnival, the largest street festival in Europe.
Flying Tomatoes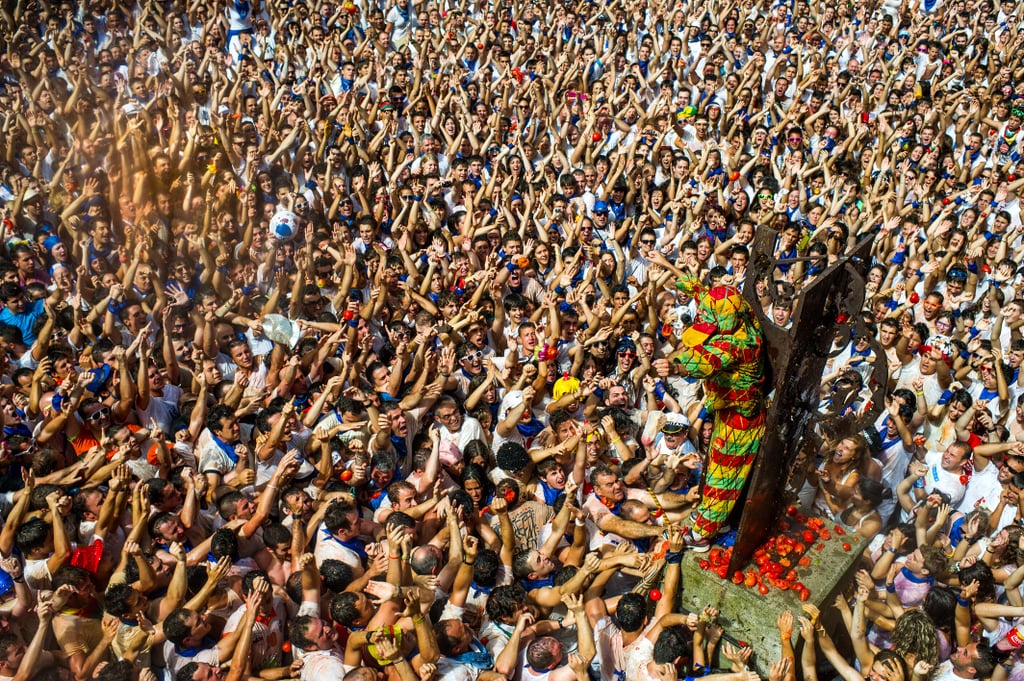 After running through the streets in Tarazona, Spain, the Cipotegato, a hooded character, acknowledged the crowd as part of the annual tradition where people throw tomatoes at the year's elected Cipotegato. The event stems from a centuries-old tradition where one prisoner would have the chance to escape for his freedom.
Honoring History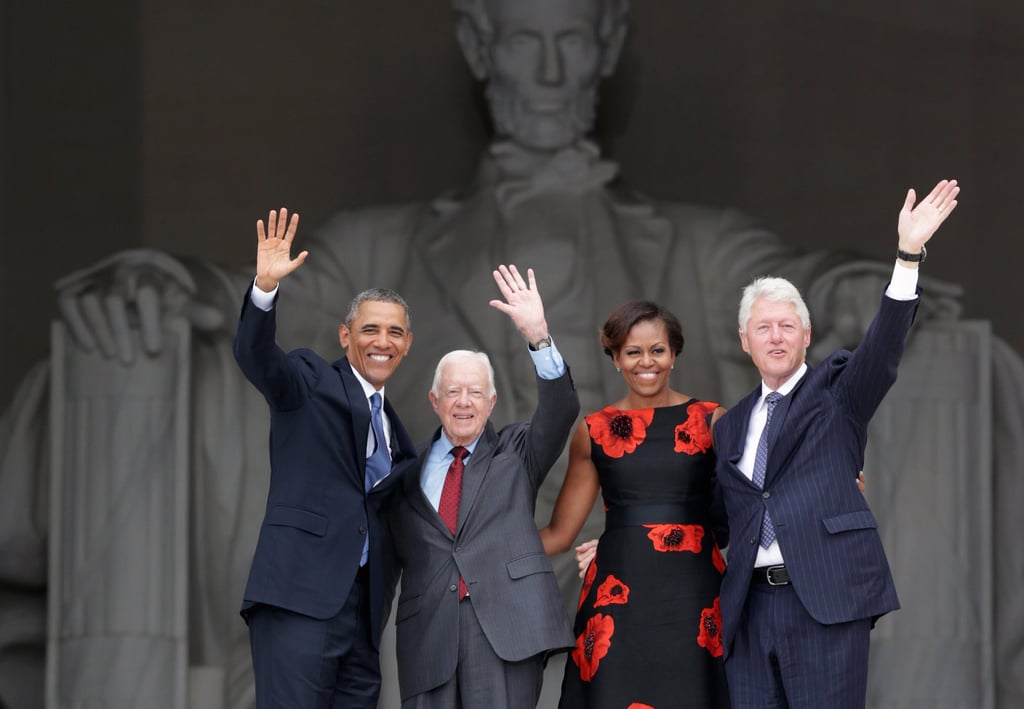 After giving a speech to commemorate the 50th anniversary of the March on Washington, President Obama stood on the Lincoln Memorial steps with his wife, Michelle, and former presidents Jimmy Carter and Bill Clinton.
City Scenes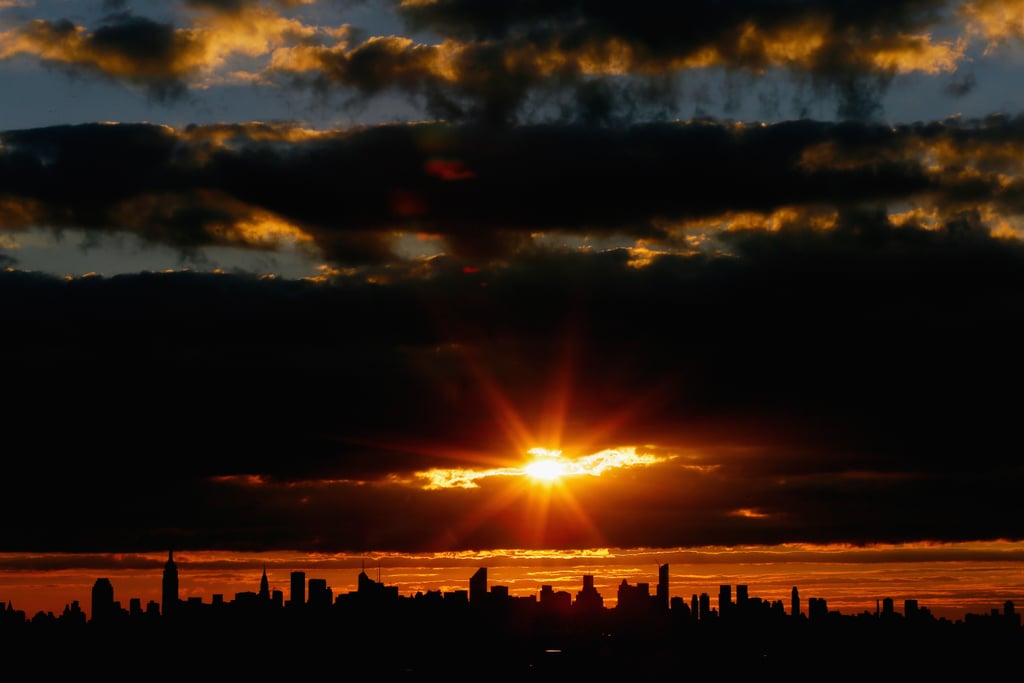 During the US Open, a stunning sunset glowed over the NYC skyline, offering an incredible view from Arthur Ashe Stadium.
Love All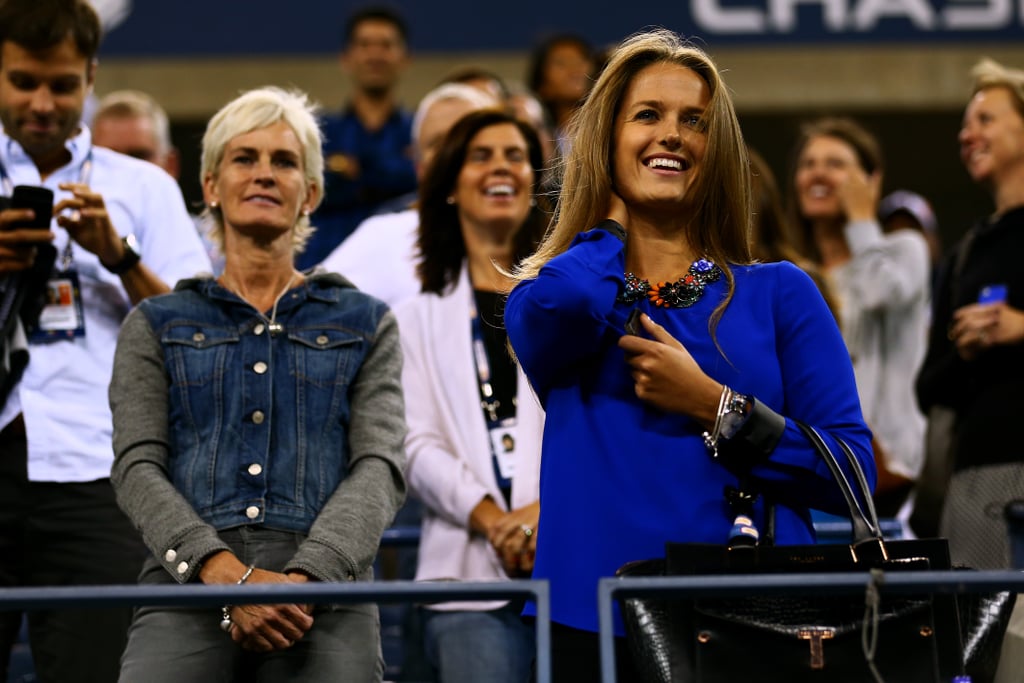 Andy Murray's girlfriend, Kim Sears, and his mom, Judy Murray, cheered him on from the stands during his fourth-round match at the US Open in NYC.
Mission Accomplished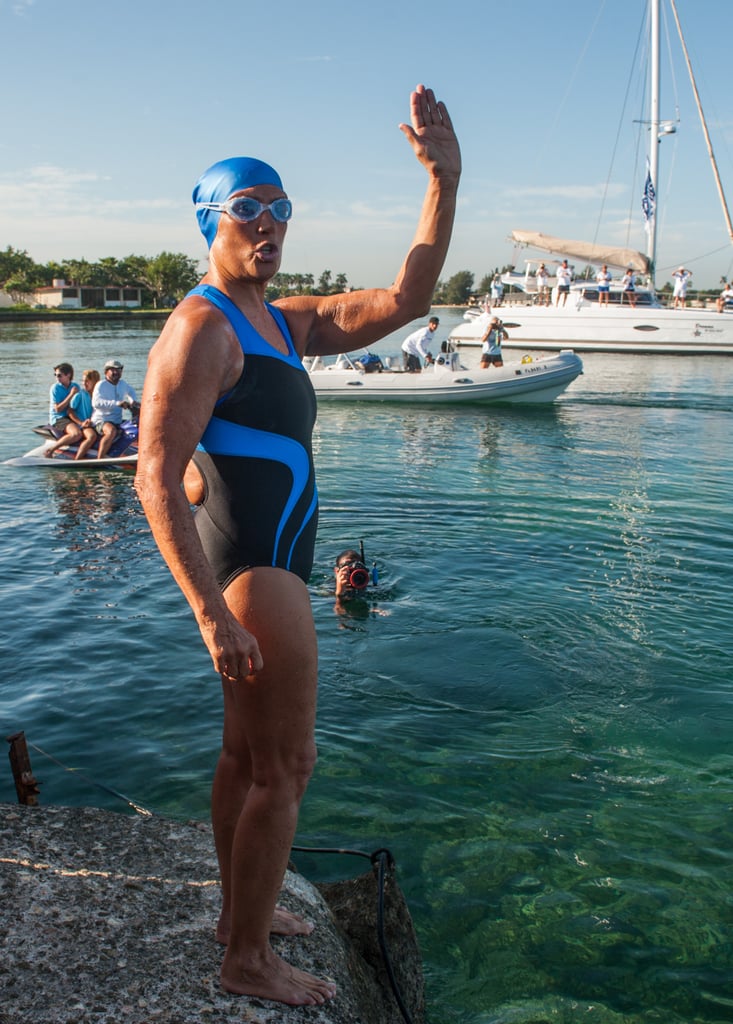 US swimmer Diana Nyad completed a three-day, nonstop swim [27] from Cuba to Florida, making history as the first person to ever do so without the help of a shark cage for protection.
Poker Face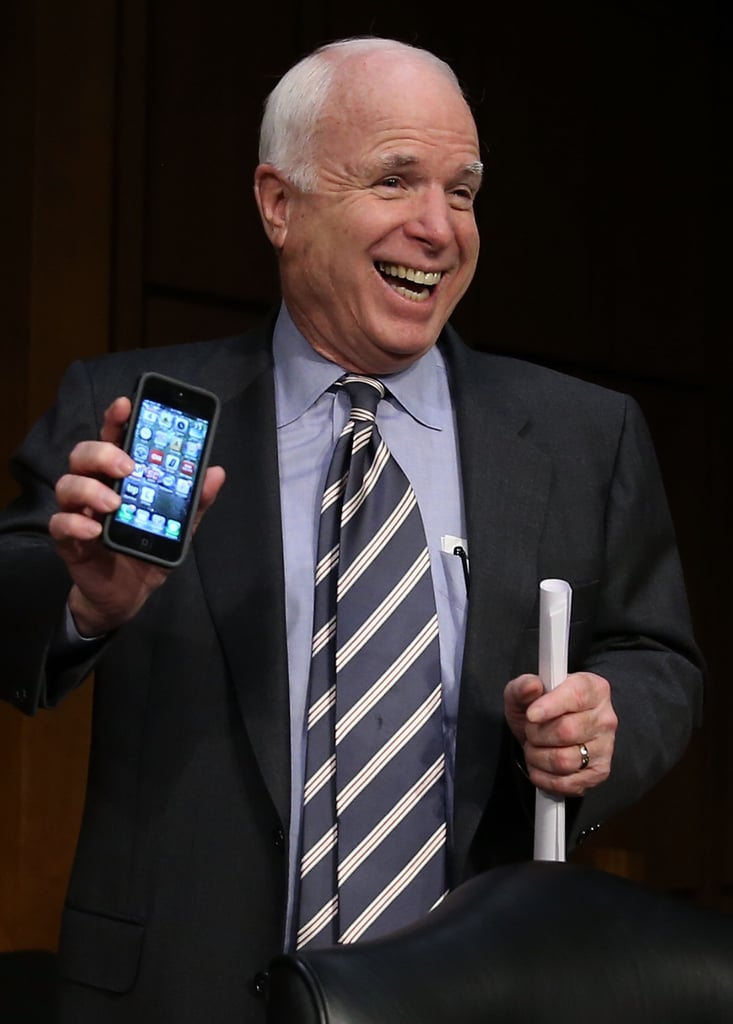 After he was caught playing poker during a recent hearing, Senator John McCain held up his cell phone with a laugh to show that he was fully focused before the Senate Foreign Relations Committee's vote on a Syria resolution.
Royal Glow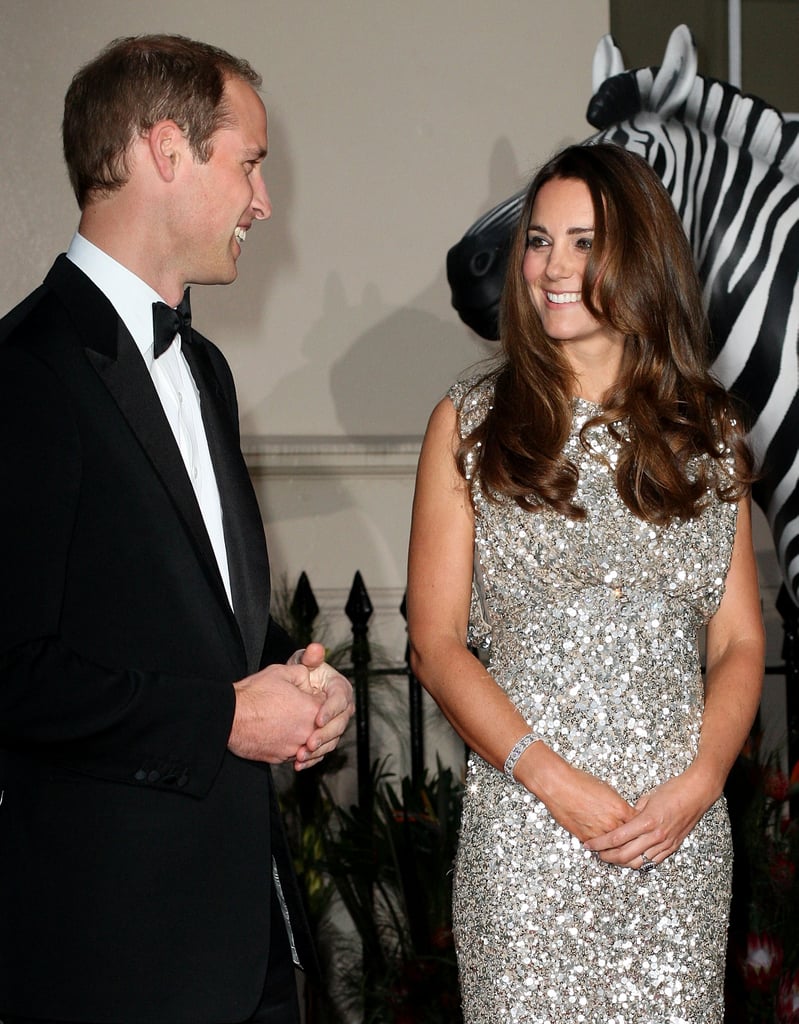 The Duke and Duchess of Cambridge stepped out for the Tusk Conservation Awards at the Royal Society in London, England.
Sky Lights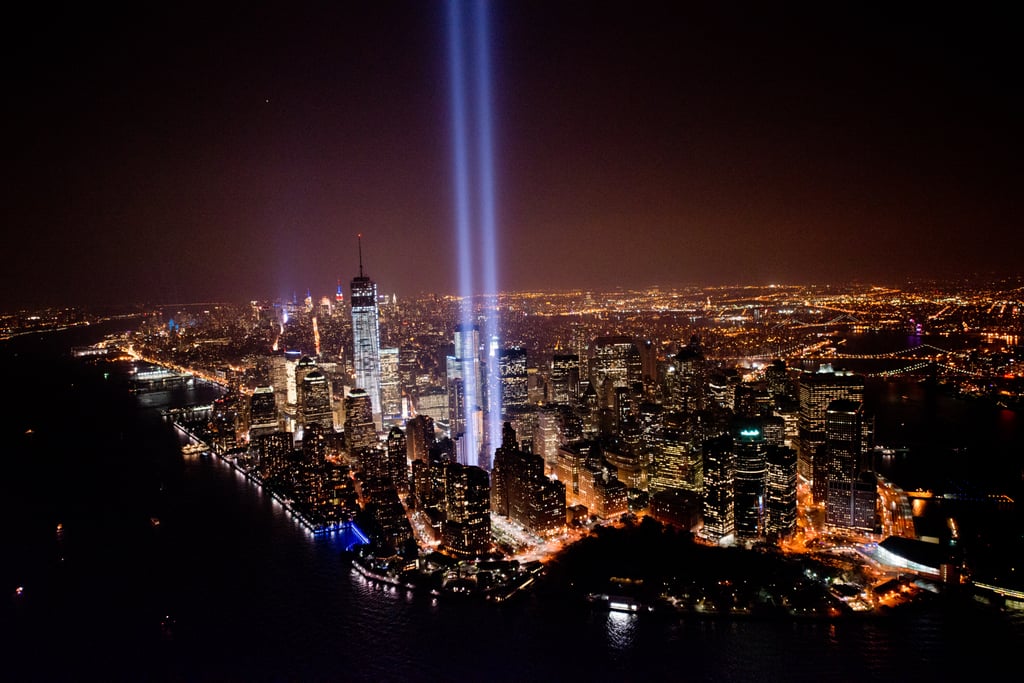 Following a day full of 9/11 memorials across the US [28], "Tribute in Light" marked the 12th anniversary of the attacks in NYC.
Crowd Pleaser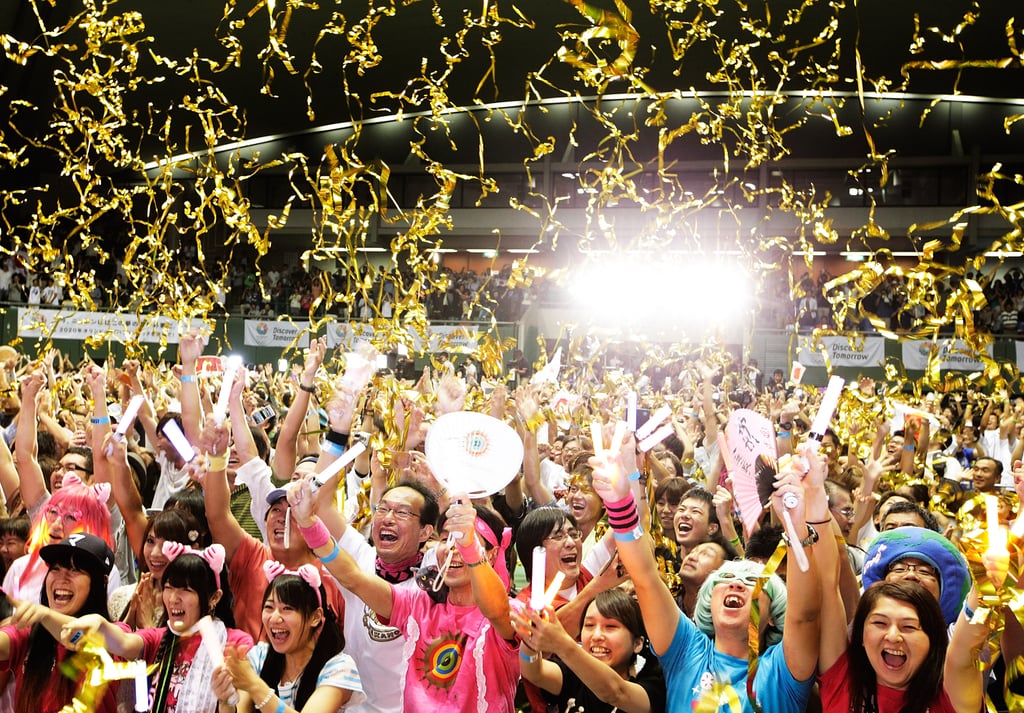 Tokyo residents went wild at Komazawa Olympic Park when their city was announced as the host of the 2020 Olympics.
Rainy Day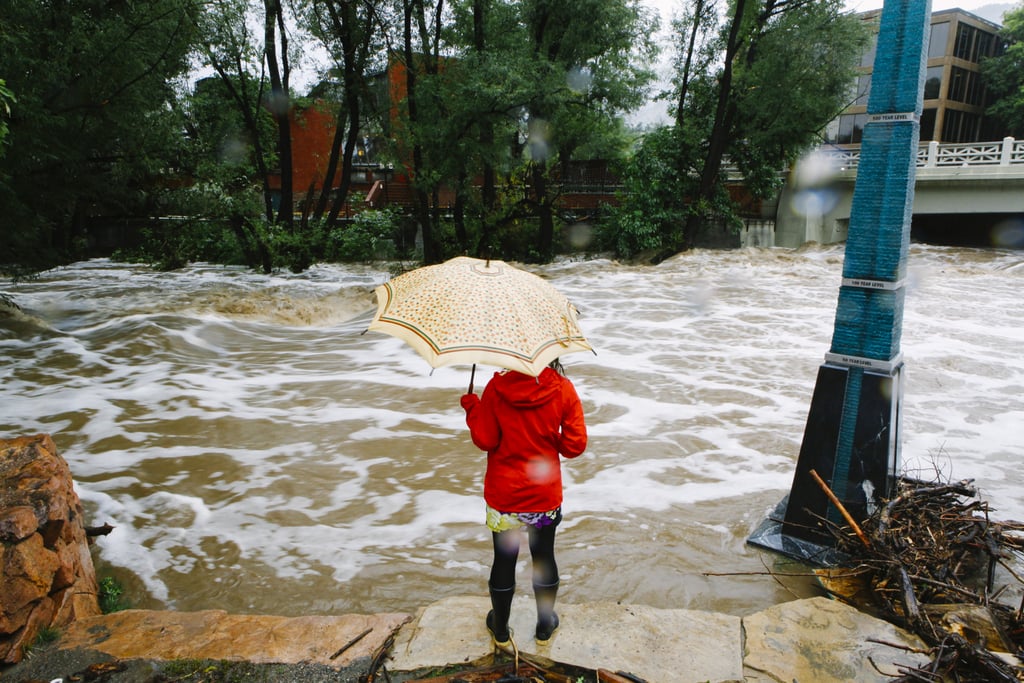 Flash floods devastated parts of Colorado, and a woman watched as Boulder Creek rushed past following the heavy rainfall.
In the Press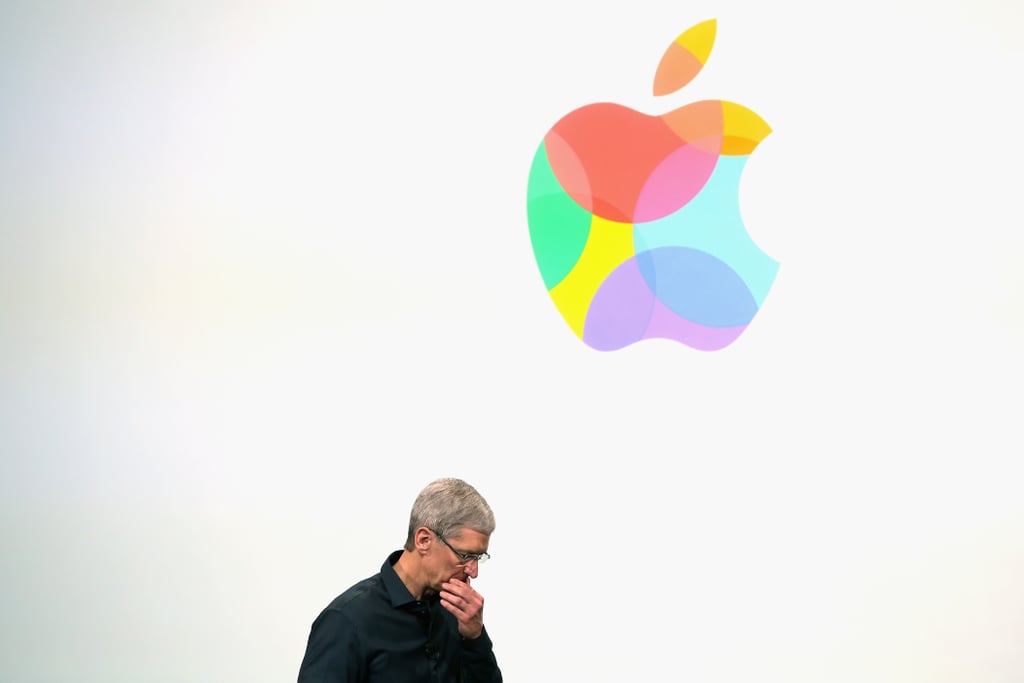 Apple CEO Tim Cook took the stage during Apple's product announcement in Cupertino, CA.
Animal Art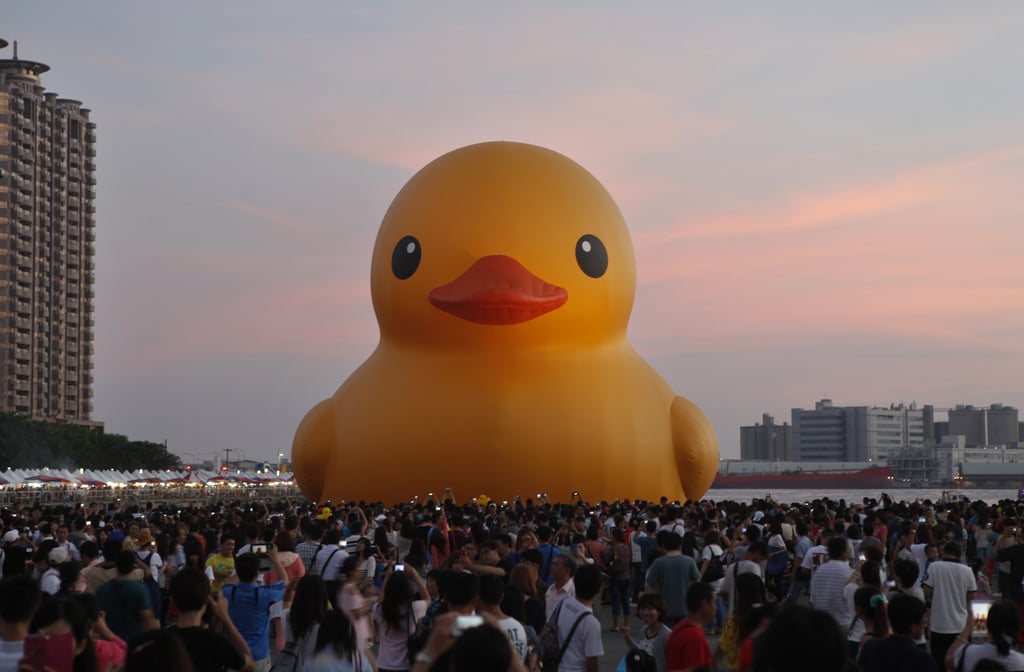 People in Taiwan gathered to see a giant rubber duck, an art installation by Florentijn Hofman that's traveled the world.
Training Day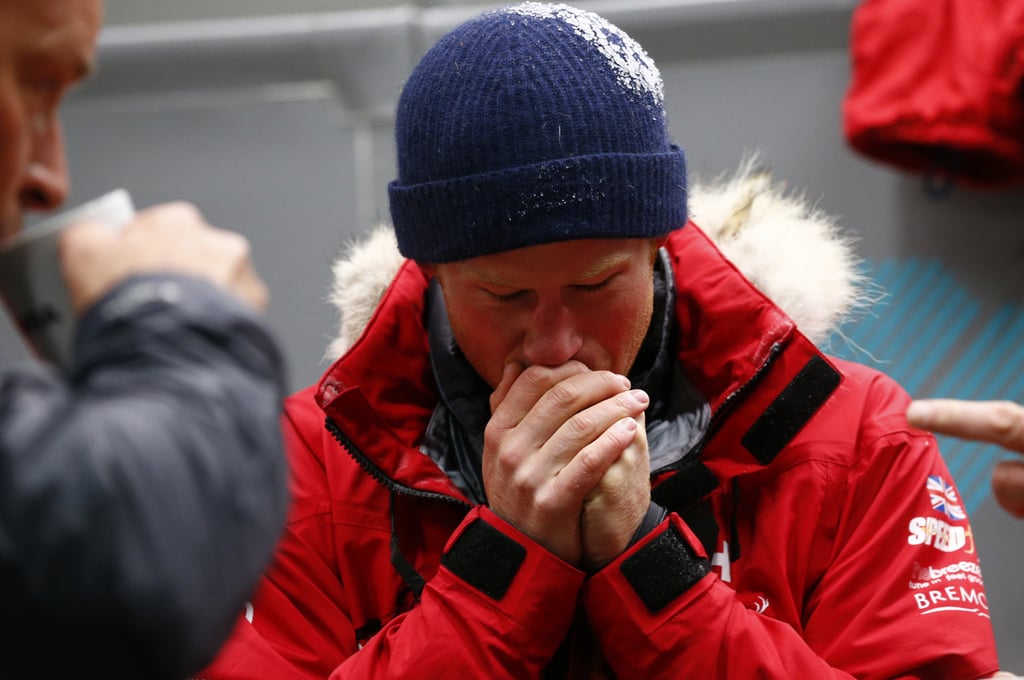 Prince Harry warmed his hands while spending time in a cold chamber as part of his training for the South Pole Allied Challenge.
Royal Lovebirds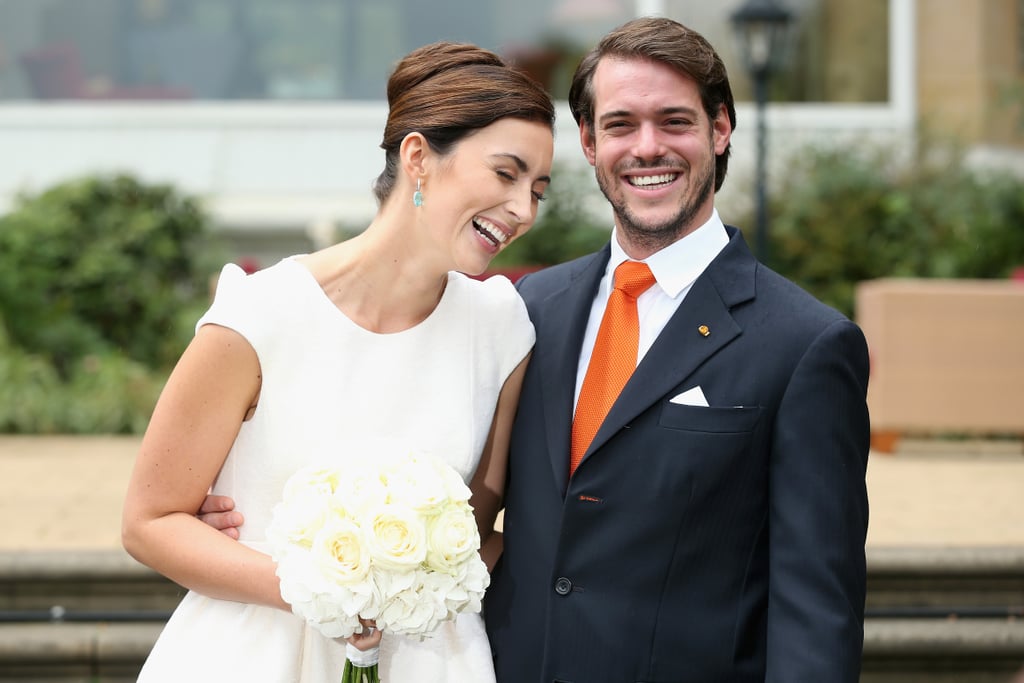 In Germany, Prince Félix of Luxembourg married his girlfriend, Claire Lademacher, in a civil ceremony ahead of a more lavish weekend reception.
Activists' Anniversary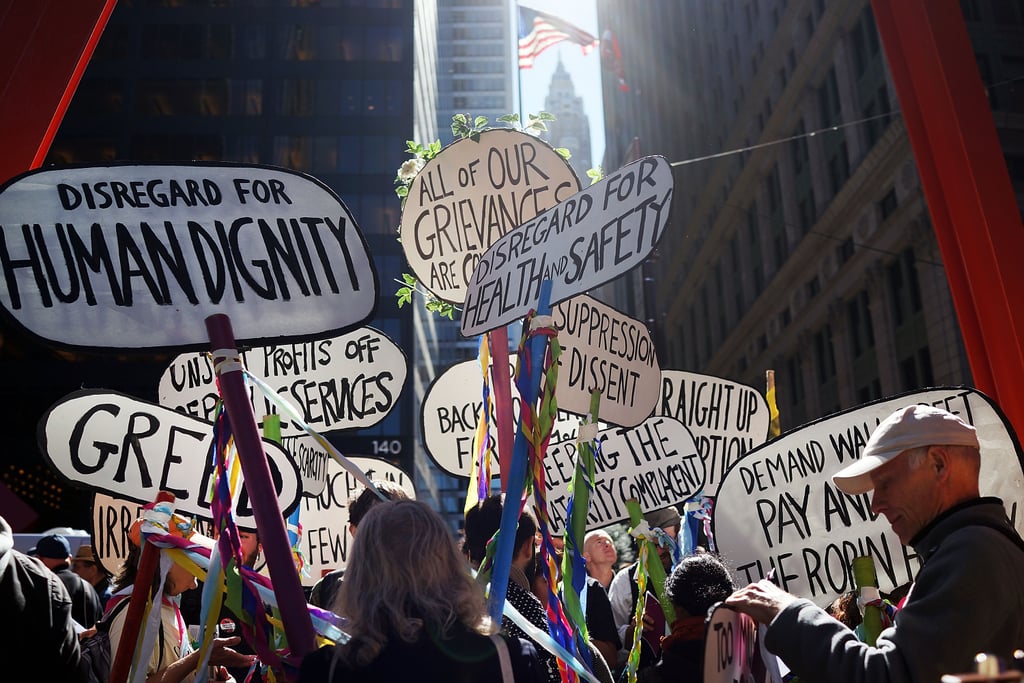 On the two-year anniversary of their movement, Occupy Wall Street activists took to the streets of NYC.
Sports History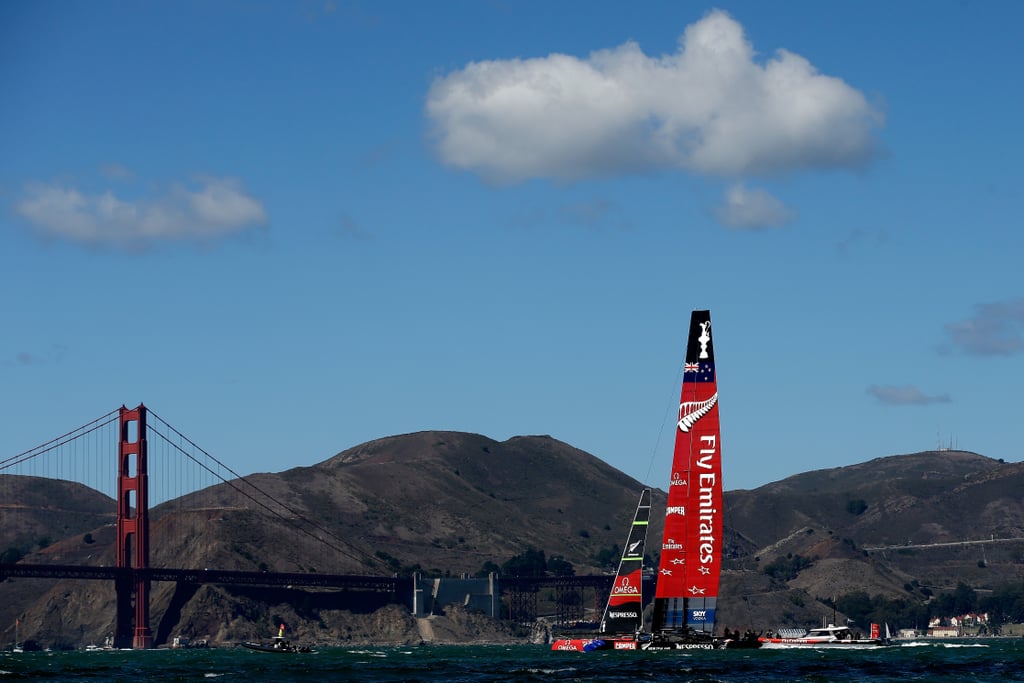 Oracle Team USA won the final race of the America's Cup in San Francisco and beat Emirates Team New Zealand to defend its title.
In the Aftermath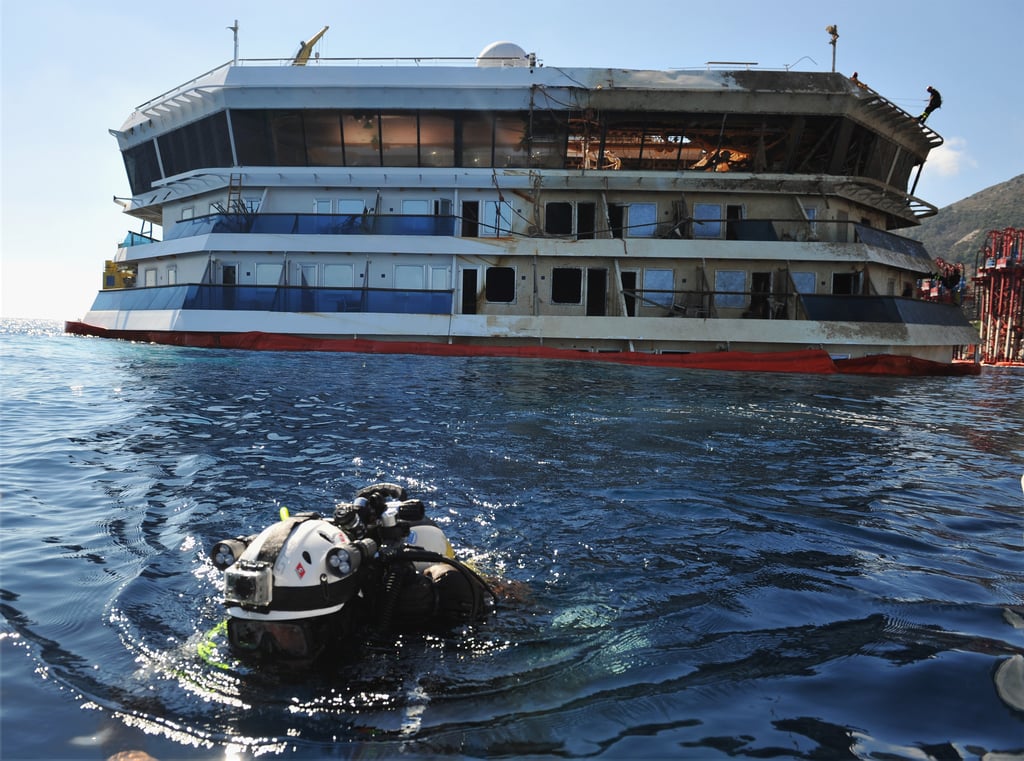 Diving crews took to the waters beside the righted Costa Concordia cruise ship [29] off the coast of Italy to search for bodies still missing after last year's capsizing.
Giving Comfort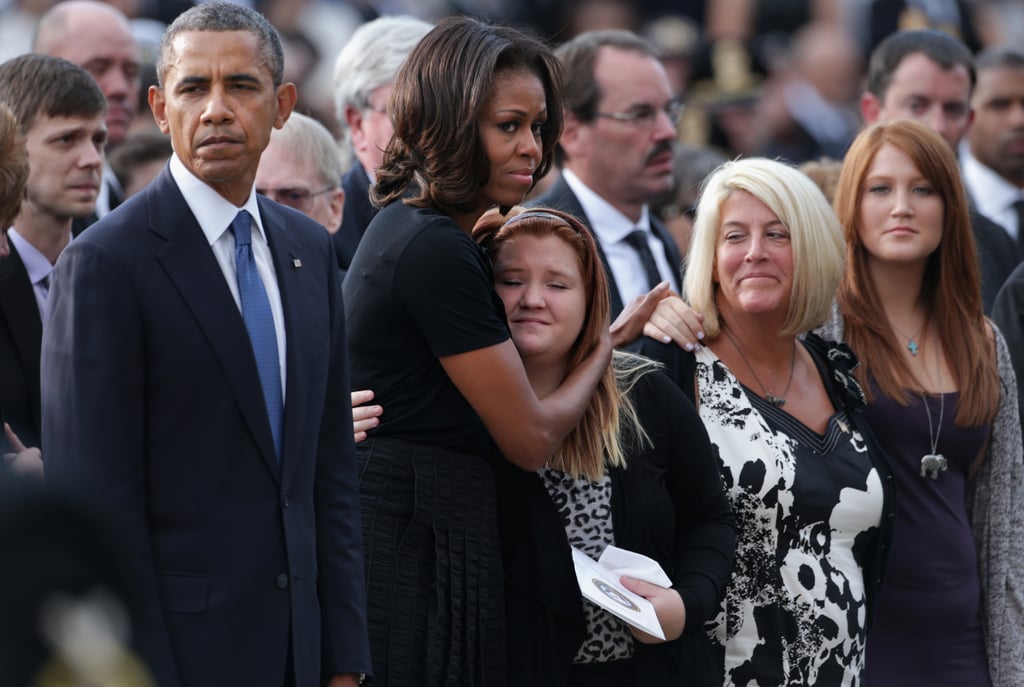 Following the tragic Washington Navy Yard shooting [30], President Barack Obama and First Lady Michelle Obama attended a memorial service for victims, comforting the families.
World Winner
US-born Miss Philippines Megan Young won the Miss World 2013 title, standing beside Miss France, who was the first runner-up, and Miss Ghana, who was the second runner-up.
Lit With Love
People in Nairobi, Kenya, mourned the victims of the shopping mall attack.
Beam Routine
Japan's Natsumi Sasada competed in the women's balance beam qualification during the Artistic Gymnastics World Championships in Antwerpen, Belgium.
Holy Prayer
Muslims gathered for evening prayers in the Grand Mosque in Mecca, Saudi Arabia, as part of the annual pilgrimage.
Play Ball
Prince William trained with players while hosting a soccer match at Buckingham Palace in London, England, to mark the 150th anniversary of the Football Association.
Heart Art
A woman posed with street art allegedly done by Banksy in the Red Hook neighborhood of NYC's Brooklyn.
Christening Coin
The Royal Mint produced a coin to commemorate Prince George's christening on Oct. 23.
Sweet Cheeks
Prince William held up his adorable son, little Prince George, on the day of his christening at Chapel Royal in St. James's Palace.
Moving Duo
At the White House, First Lady Michelle Obama had fun alongside Elmo at an event promoting her Let's Move! initiative.
Thoughtful Tribute
In NYC, fans paid tribute to rock musician Lou Reed, who passed away at age 71.
In Remembrance
A Brooklyn resident lit a candle, saying a prayer on the one-year anniversary of Hurricane Sandy.
Boston Beard
A Boston Red Sox fan sported a beard following the team's World Series win at Fenway Park.
Spy Specs
Activists gathered to protest the National Security Agency's surveillance tactics in Washington DC.
Foam Party
Students at University of St. Andrews in Scotland participated in the school's "raisin weekend" tradition, where first-year students give older students foam — formerly raisins — to thank them for their guidance.
Public Display
The Twitter logo was on display outside the New York Stock Exchange in NYC after the company went public.
In Remembrance
A man looked at the poppy-embellished crosses planted in the Field of Remembrance outside Westminster Abbey in London, England. The area paid tribute to men and women who lost their lives fighting for the country.
Boy Toys
One Direction dolls were on display at the Dream Toys 2013 press day in London.
Cooldown
Chicago saw its first snow of the season in early November, with snow collecting on "The Bean" in the city's Millennium Park.
Special Sighting
A 2-year-old boy looked on as soldiers marched through the streets of Ayr, Scotland, for a homecoming freedom parade after returning from Afghanistan.
Standing Tall
Four World Trade Center became the first office tower to open up at the original site, and One World Trade Center could be seen from the building's 68th floor.
Complete Destruction
Individuals began sifting through the ruins of Leyte, Philippines, in the wake of the devastating typhoon that ripped through the country.
From Below
A giant float could be seen passing through the streets of NYC during the annual Macy's Thanksgiving Day parade.
Holiday Cheer
Lights filled the Champs Élysées in Paris, France ahead of the holiday season.
In the Haze
A woman did her morning exercises at Daming Lake Park in Jinan, China, following a smog warning.
Neon Lights
Runners listened to a DJ play at the end of the 5k Illumi Run in Singapore.
All in a Row
People lined the streets of Pretoria, South Africa, as the body of former South African President Nelson Mandela was transported through the city.
All in a Row
Women competed in the Meridian Otago Rowing Championships on Lake Ruataniwha in Central Otago, New Zealand.
Trimming the Tree
Children helped to decorate a Christmas tree near the Vietnam Veteran's Memorial in Washington DC.
Royal Holiday
The Duke and Duchess of Cambridge walked hand in hand on Christmas Day in King's Lynn, England.