Between the glamorous red carpet [1], the GIF-able show [2], the action backstage [3], and the rockin' afterparties [4], there were plenty of memorable moments from the 2014 Emmy Awards. We've narrowed them all down to the 44 absolute best, so start scrolling to relive the exciting small-screen night!
Sofia Vergara and Jesse Tyler Ferguson smiled big with Jesse's husband, Justin Mikita.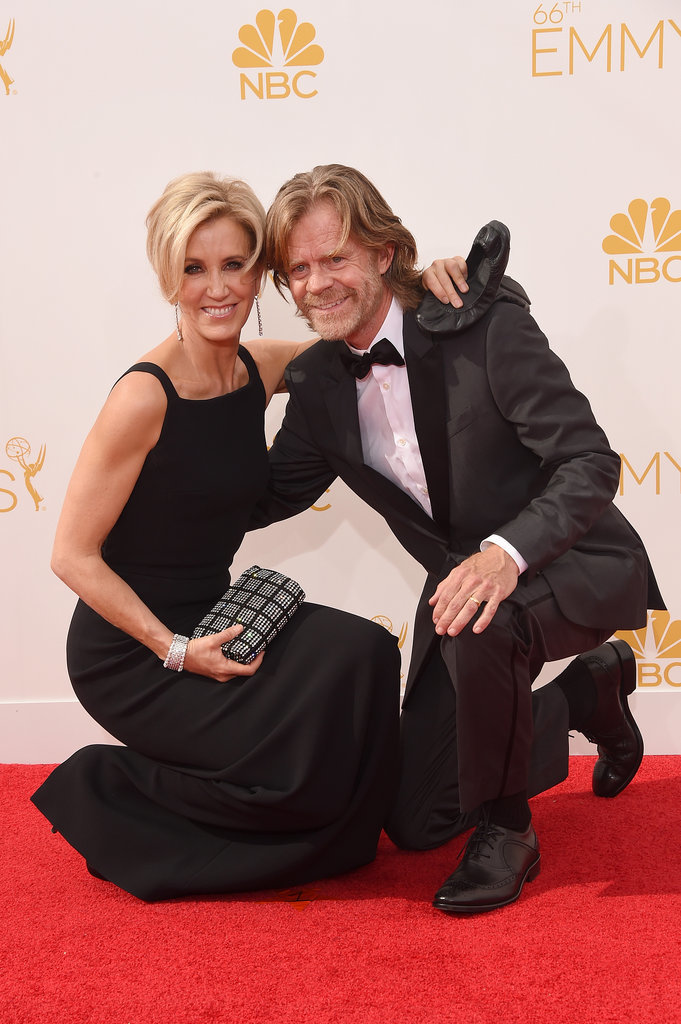 After 17 years of marriage, Felicity Huffman [5] and William H. Macy were too cute on the carpet.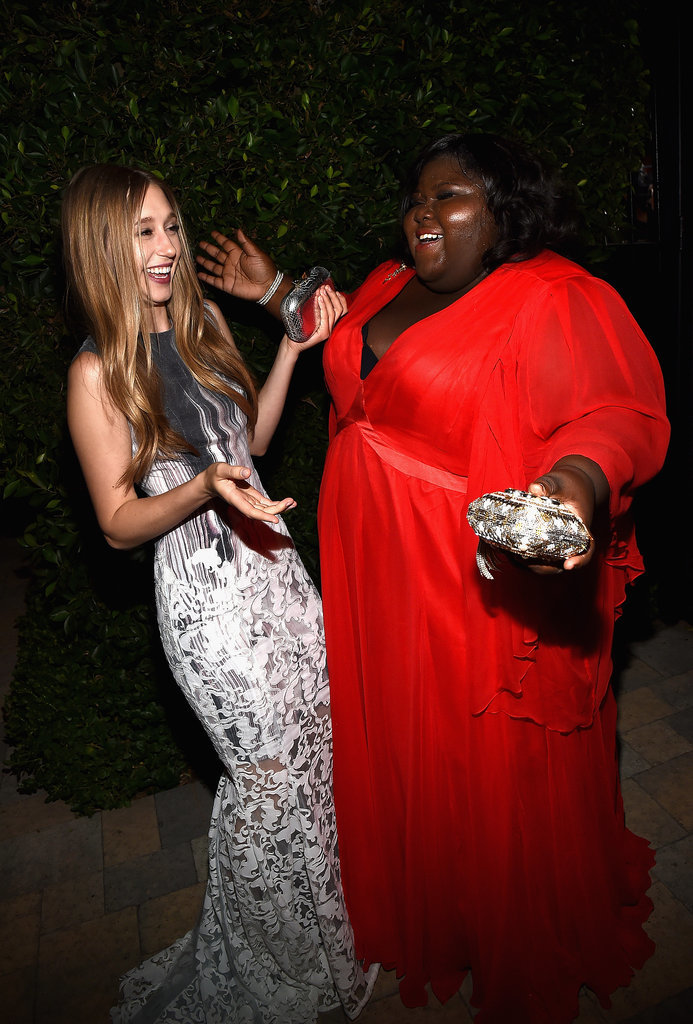 Gabourey Sidibe [6] chatted with Taissa Farmiga at the Fox/FX party.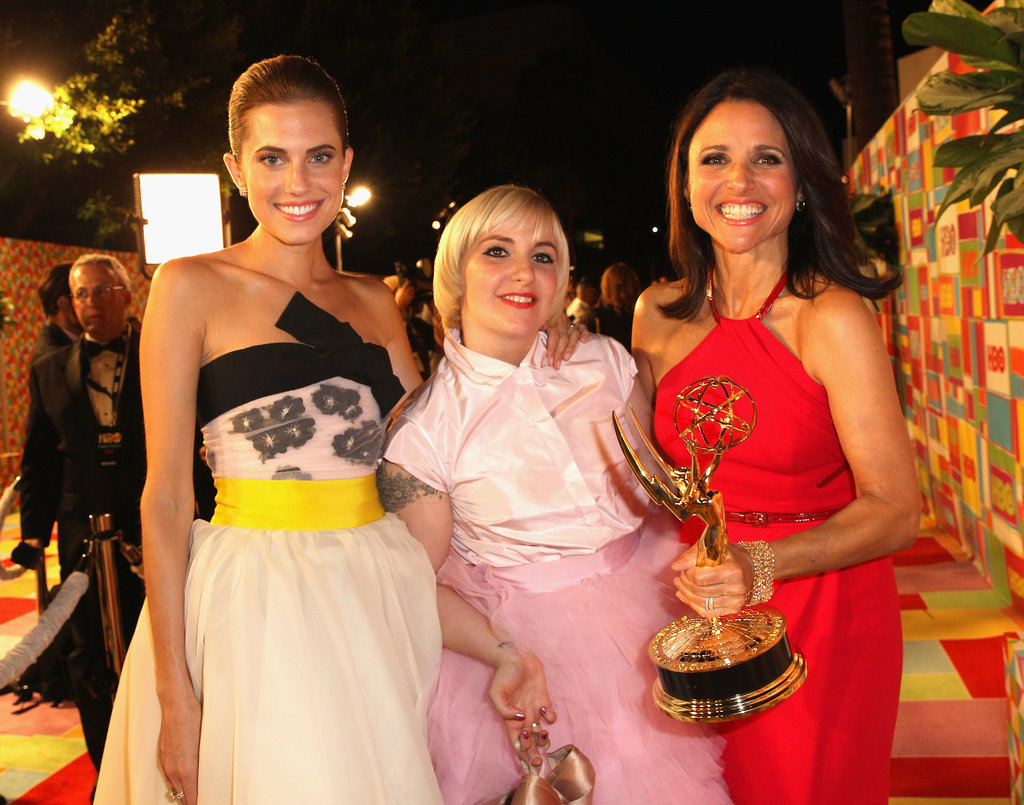 Allison Williams and Lena Dunham posed with winner Julia Louis-Dreyfus [7] at the HBO party.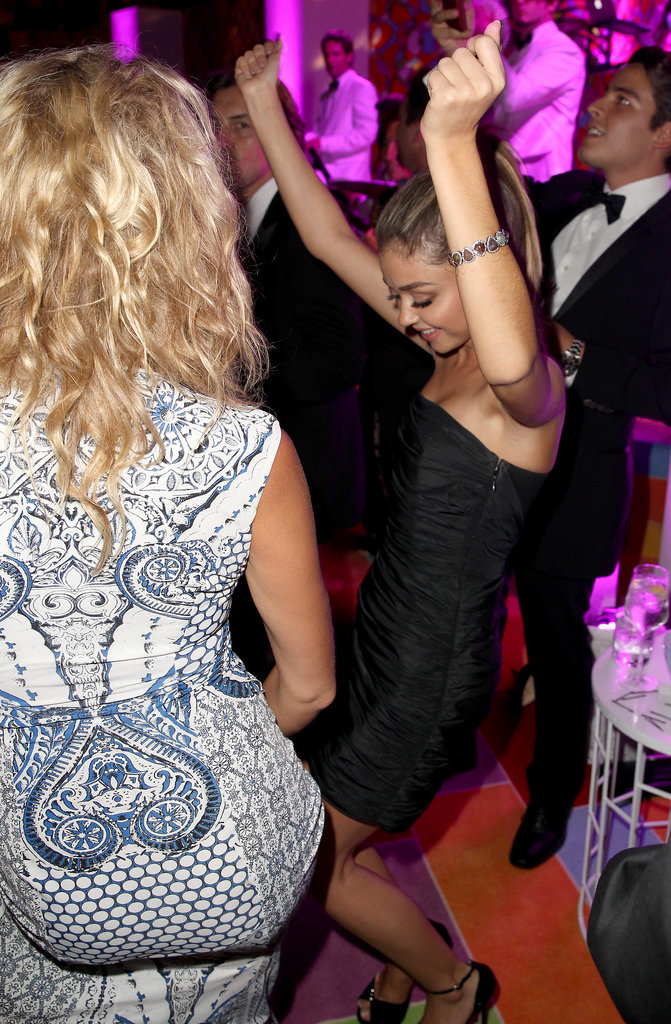 Sarah Hyland showed off her dance moves.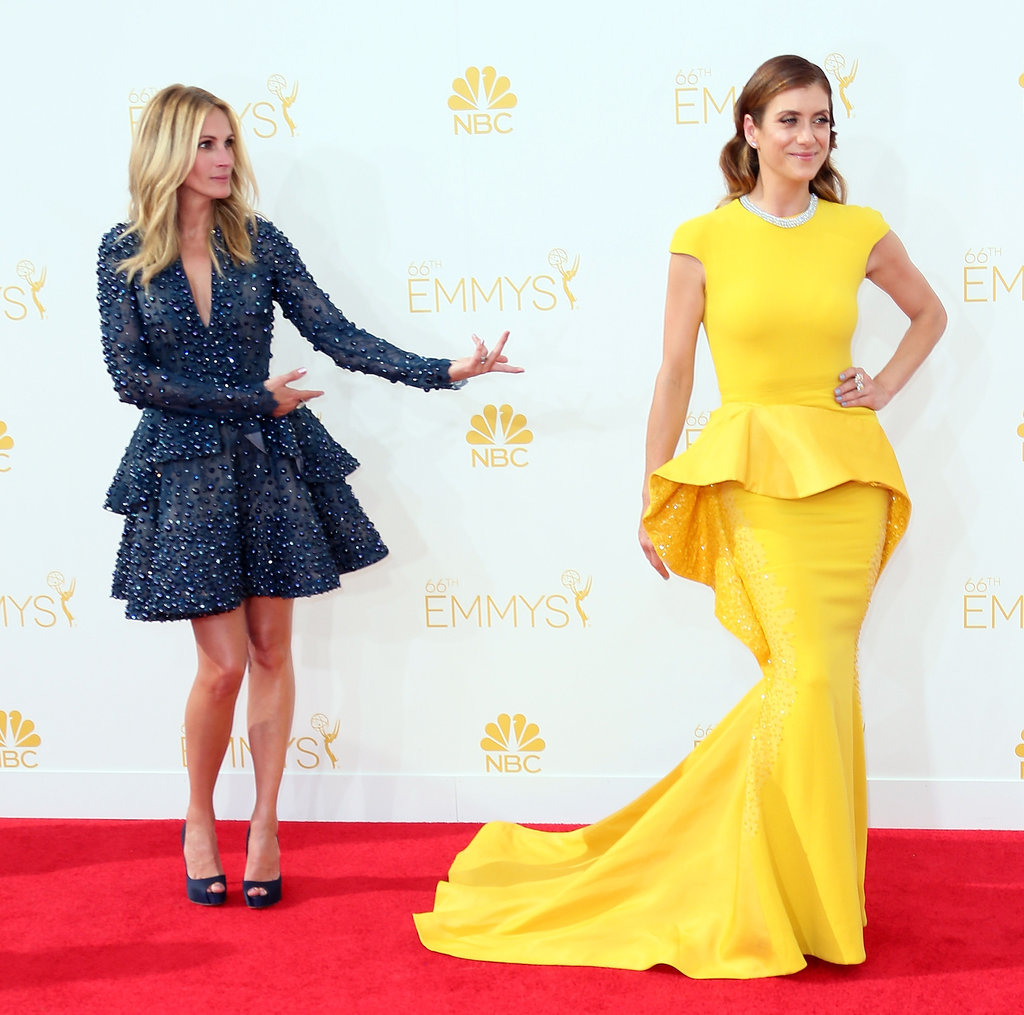 Julia Roberts [8] let Kate Walsh [9] shine.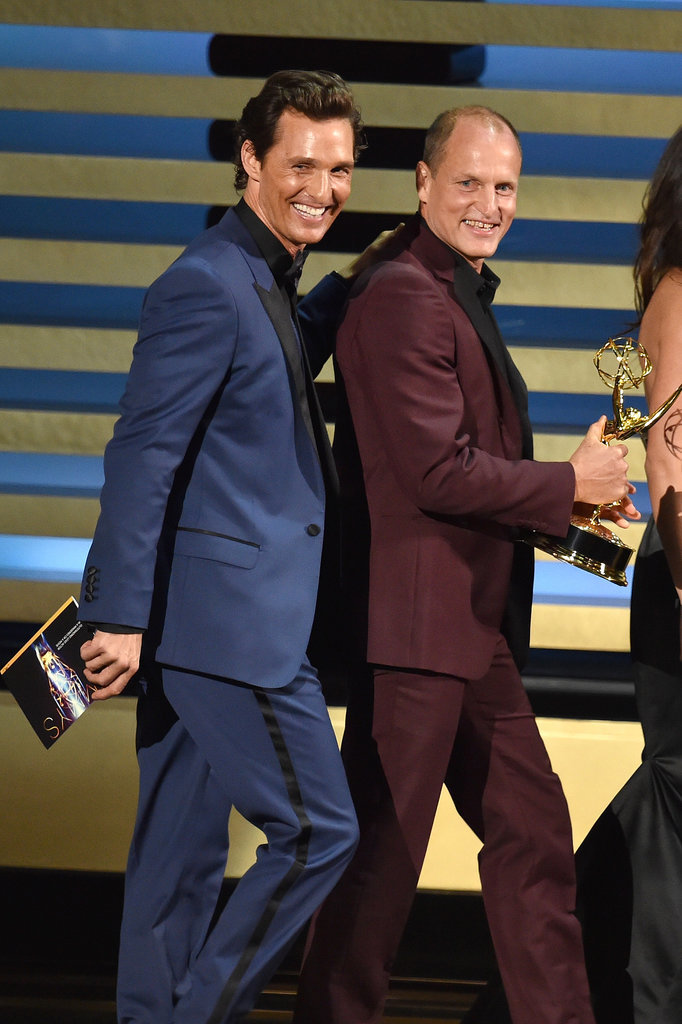 Matthew McConaughey [10] and Woody Harrelson took the stage together.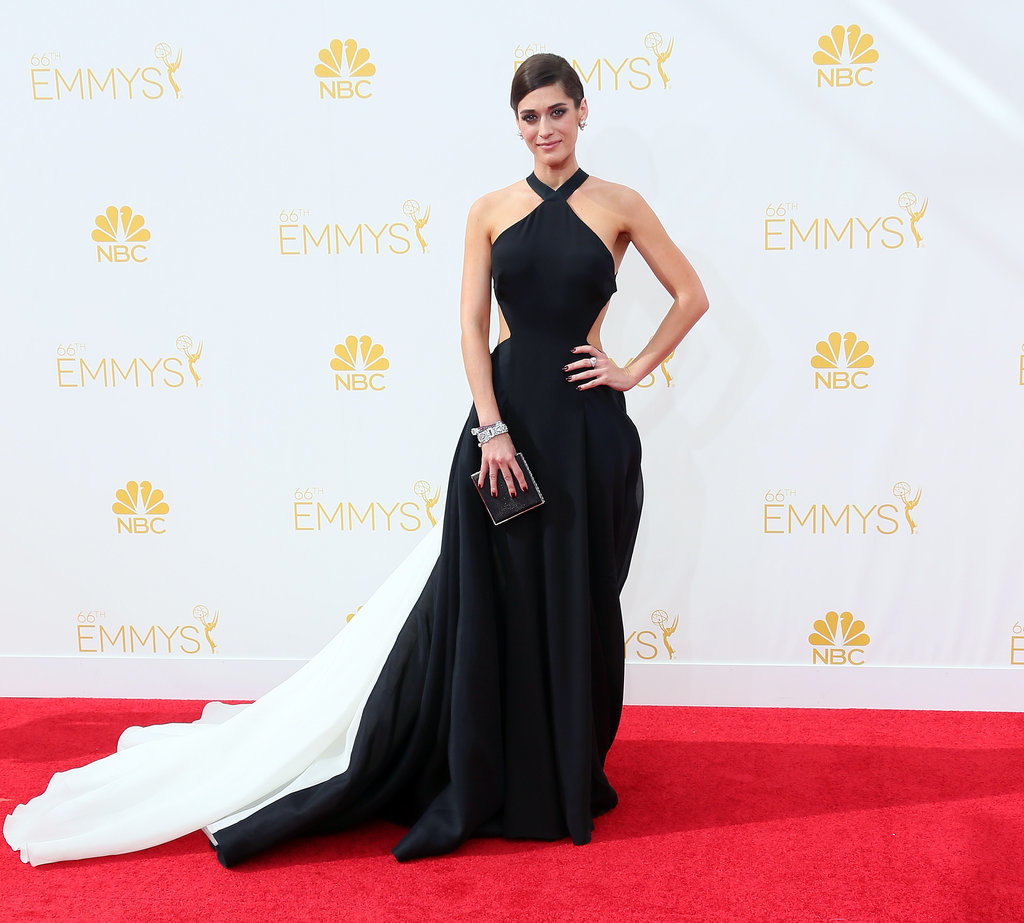 Lizzy Caplan's gorgeous Donna Karan [11] Atelier [12] gown was one of the best of the night.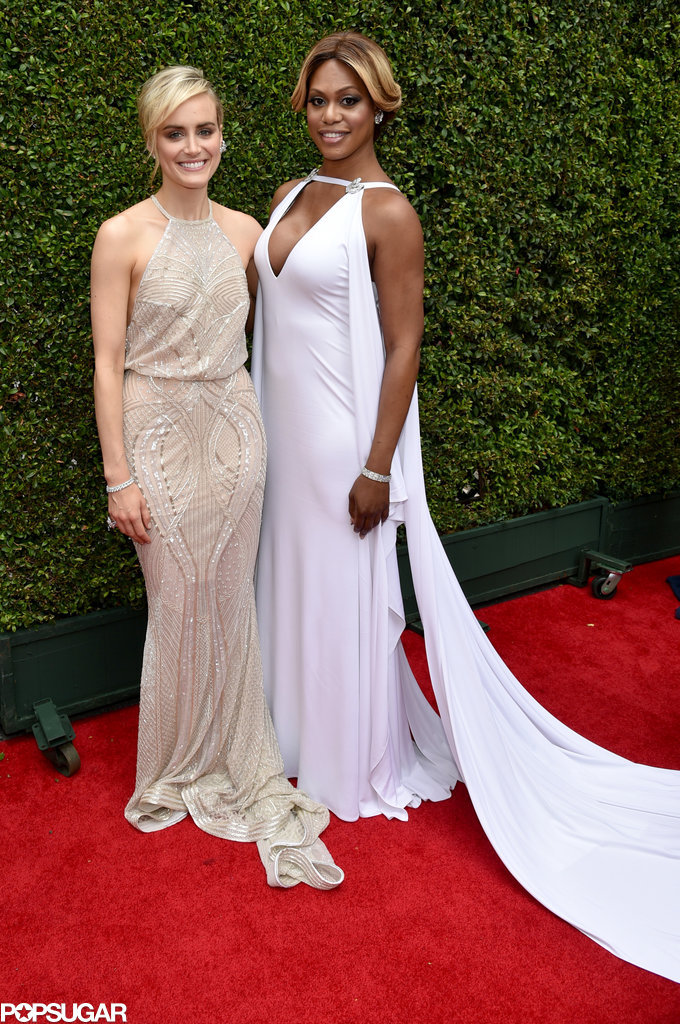 Orange Is the New Black's Taylor Schilling and Laverne Cox posed together on the red carpet.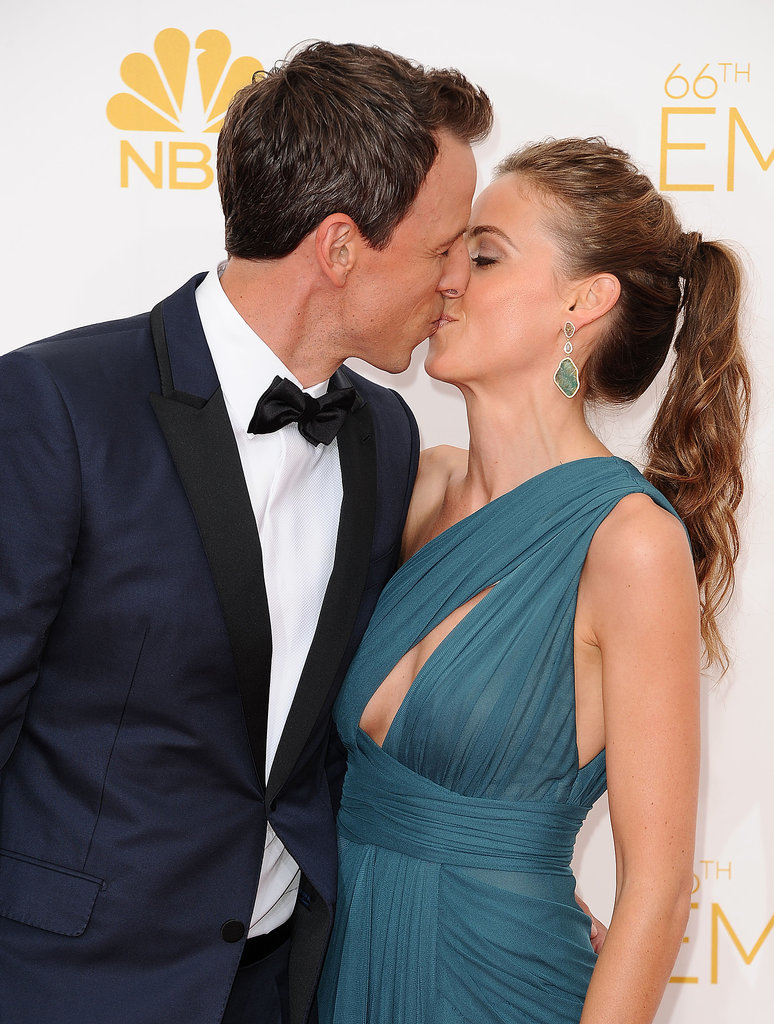 Seth Meyers planted a kiss on his wife, Alexi.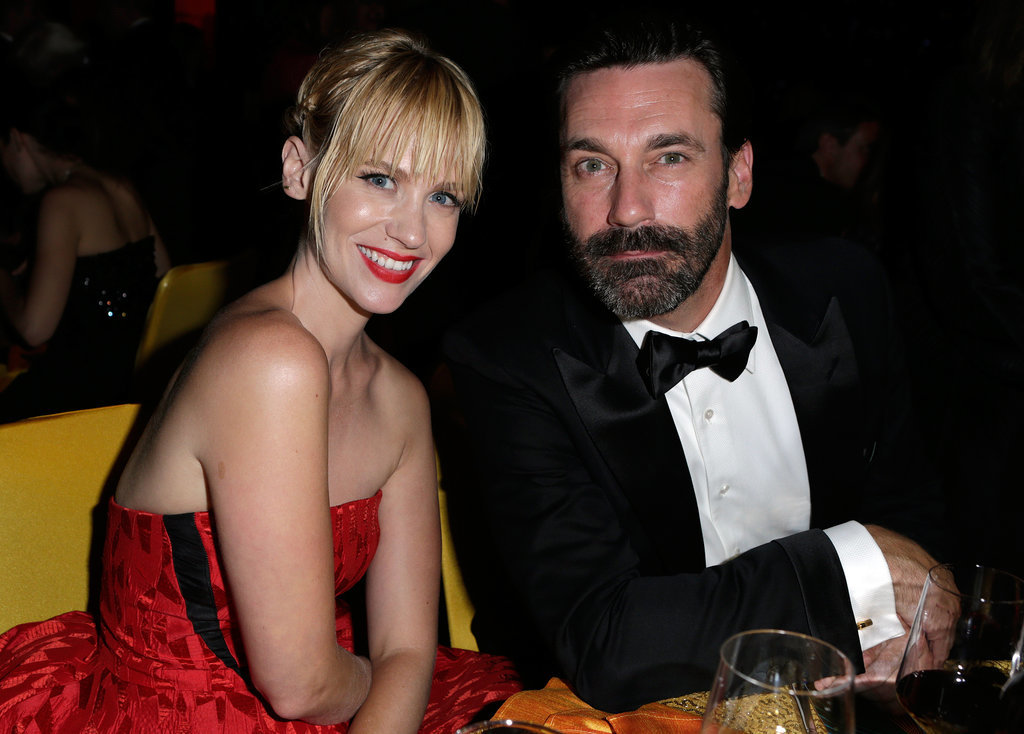 January Jones [13] and Jon Hamm [14] met up inside the Governors Ball.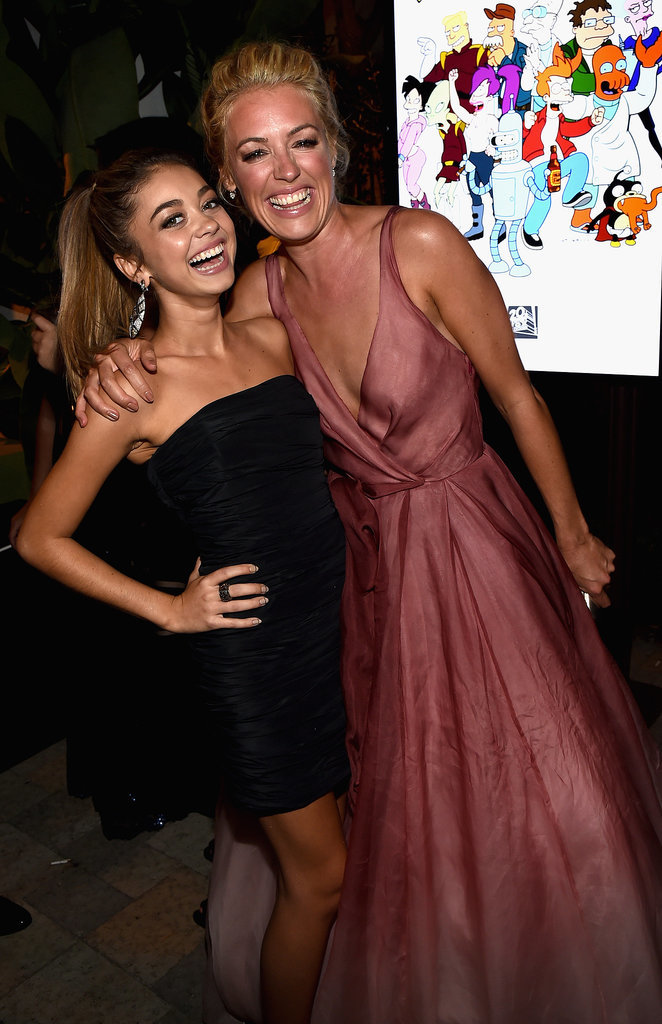 At the Fox/FX party, Sarah Hyland met up with Cat Deeley.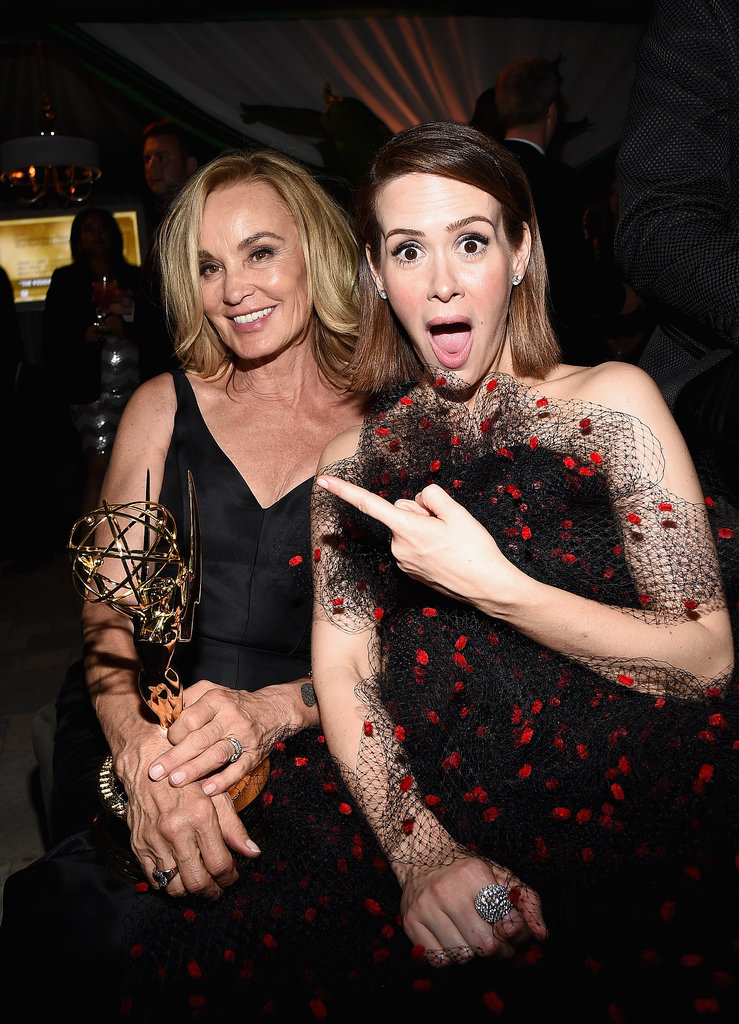 Jessica Lange and Sarah Paulson had a blast at the Fox party.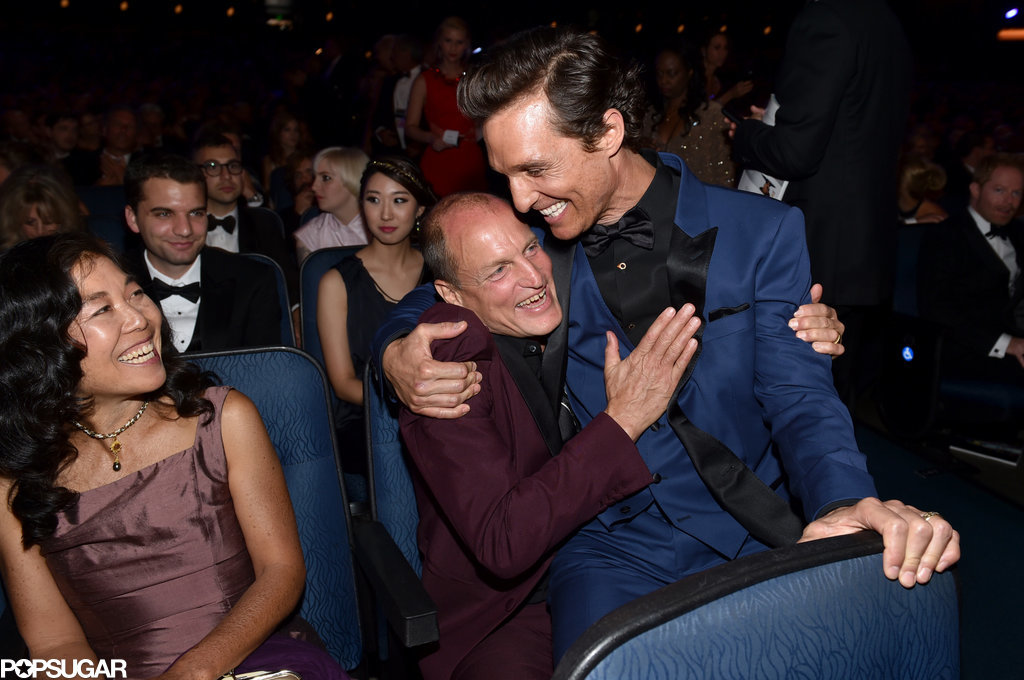 Woody Harrelson and Matthew McConaughey [15] had a bro moment in the audience.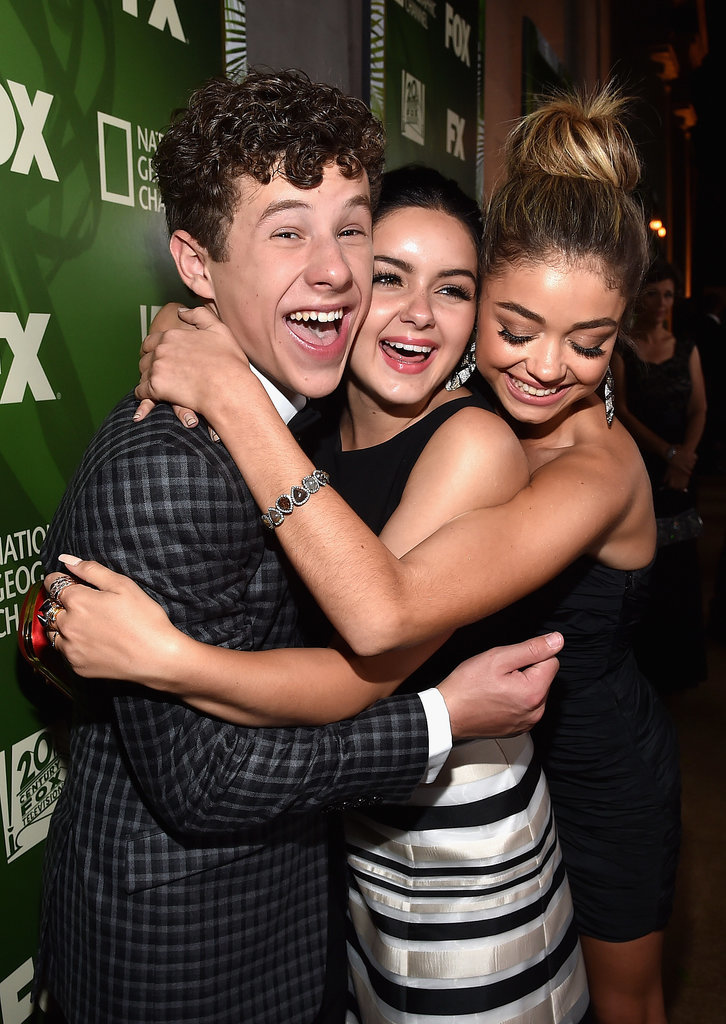 Modern Family's Nolan Gould, Ariel Winter, and Sarah Hyland cuddled up at the Fox afterparty.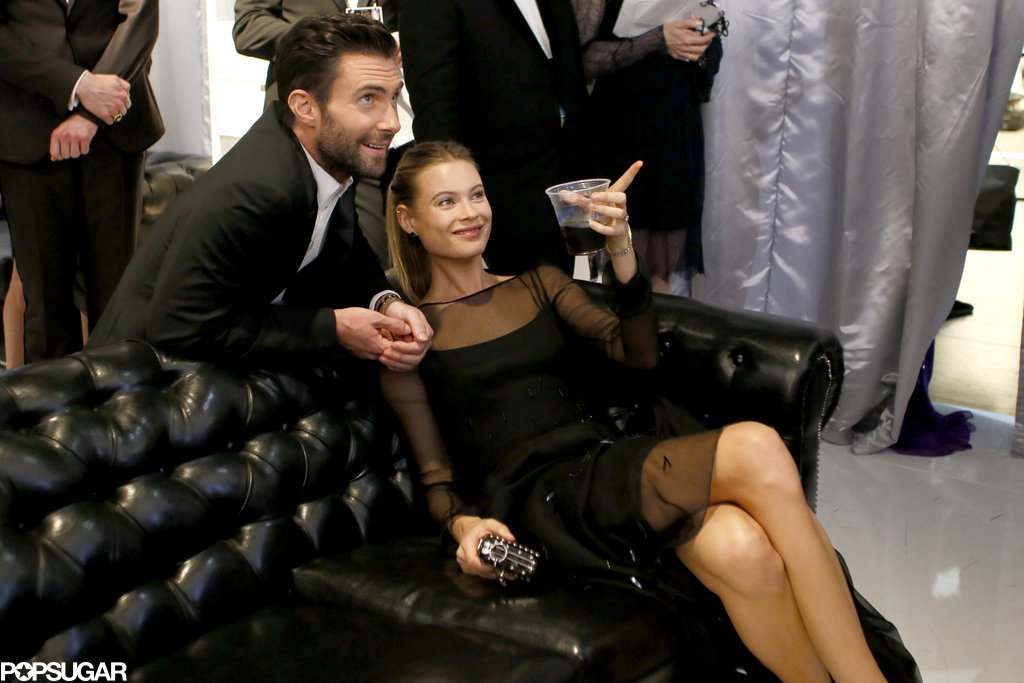 Adam Levine and Behati Prinsloo shared a relaxing moment.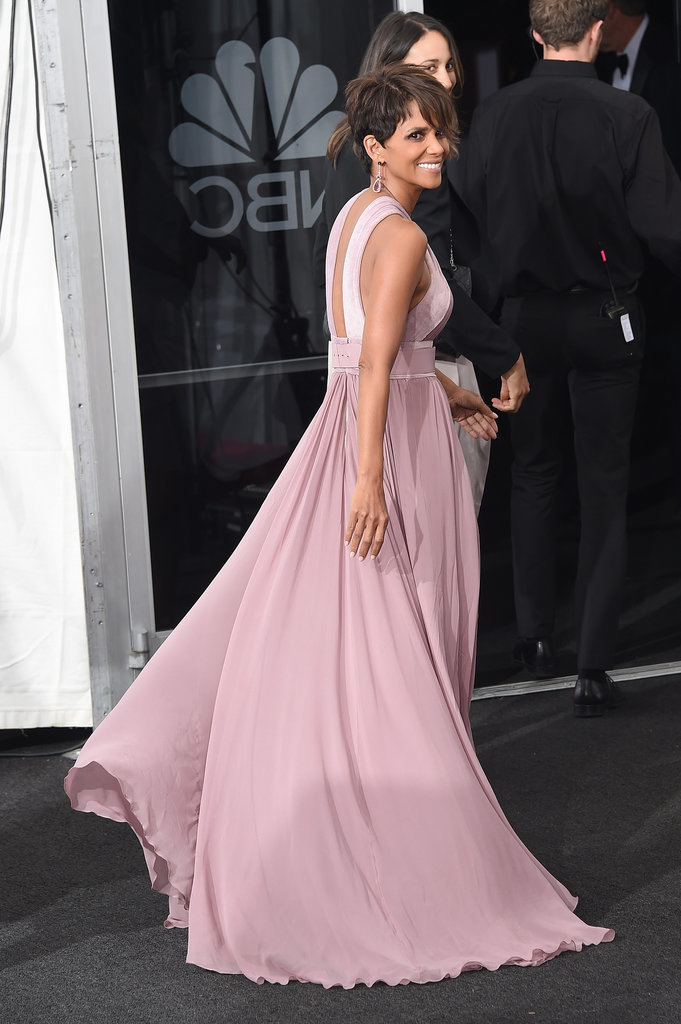 Presenter Halle Berry [16] smiled in her flowing gown.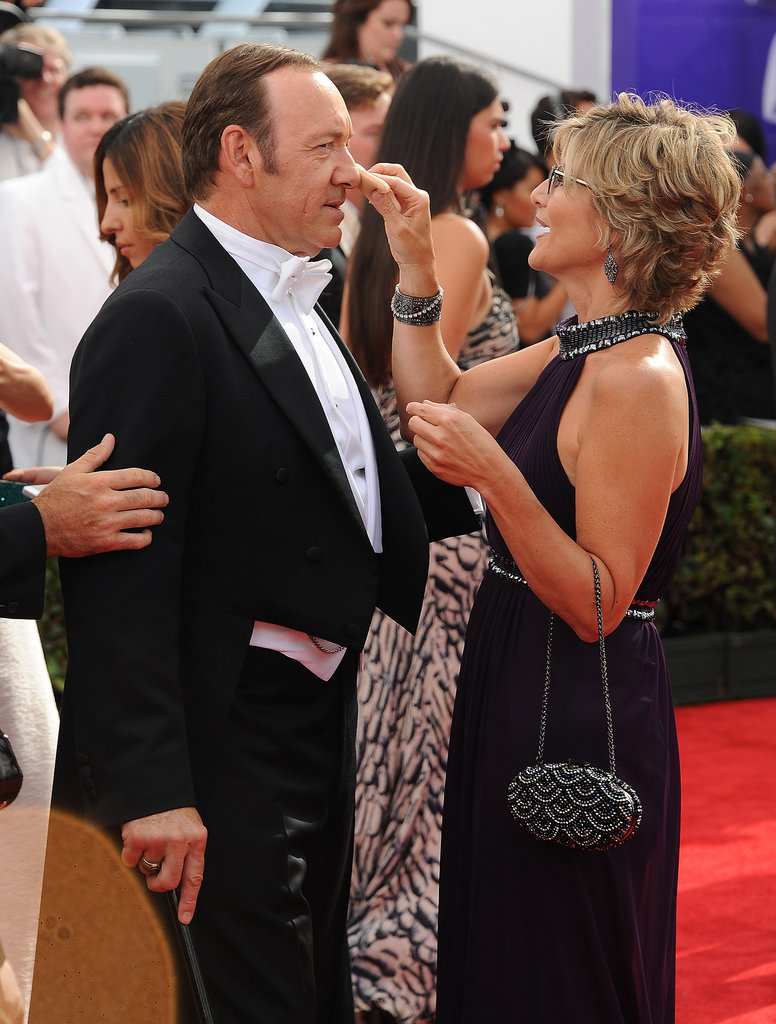 Kevin Spacey [17] got a touch-up on the carpet.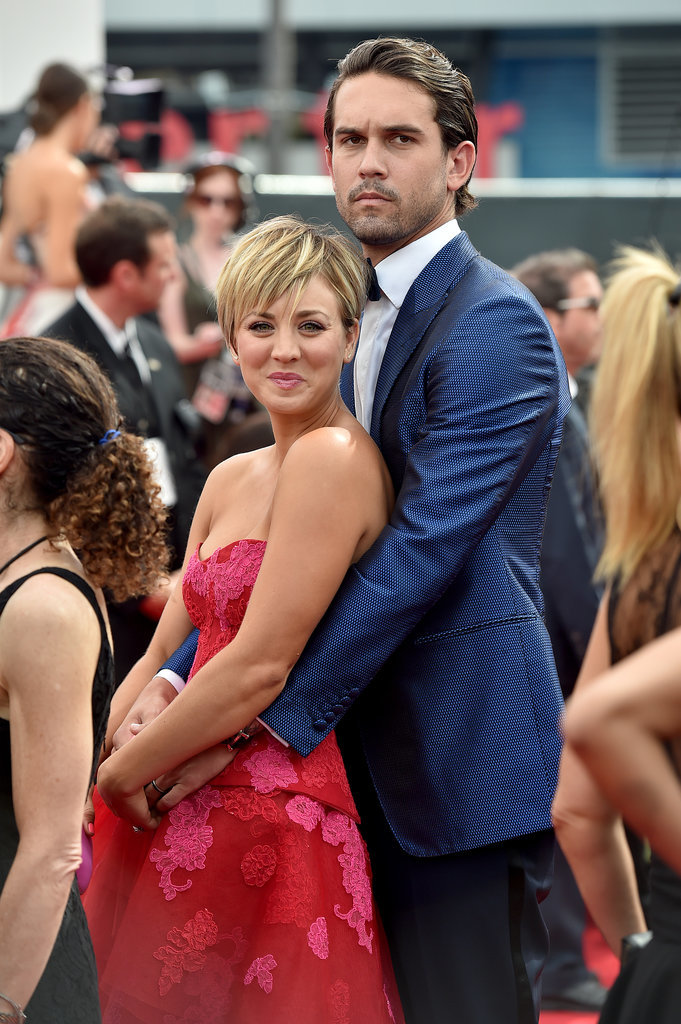 Kaley Cuoco got a hug from her husband, Ryan Sweeting, on their way into the show.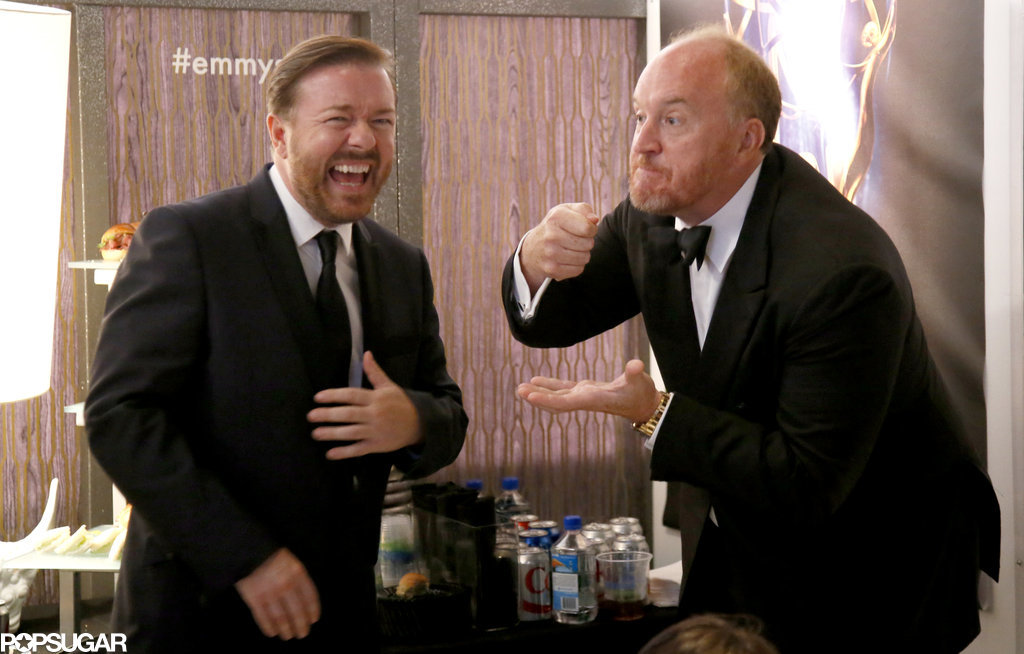 Ricky Gervais and Louis C.K. joked around. Obviously.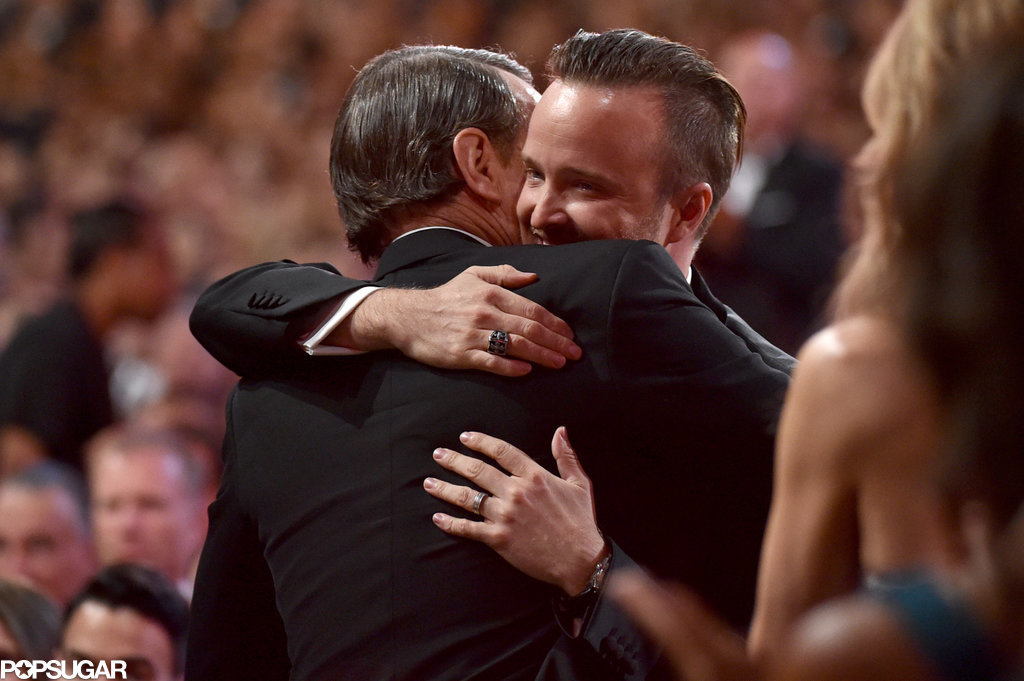 Bryan Cranston and Aaron Paul shared a sweet embrace.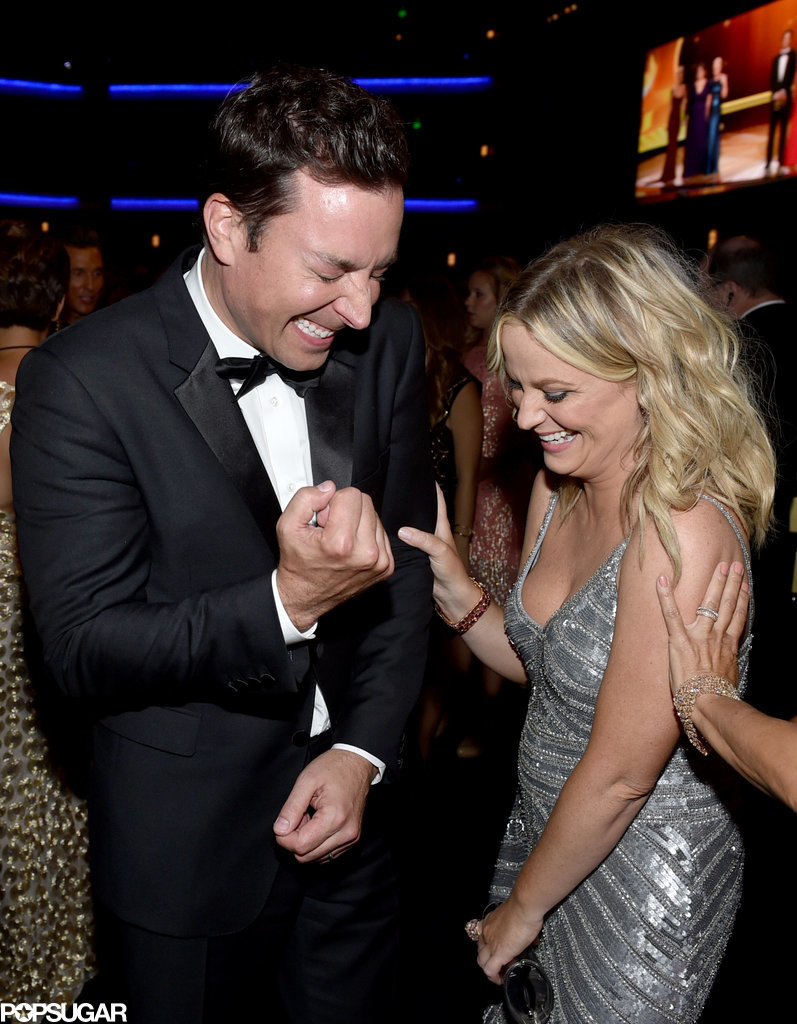 Jimmy Fallon [18] and Amy Poehler [19] kept their antics going backstage.
Aaron Paul, Anna Gunn, and Bryan Cranston couldn't contain their excitement after Breaking Bad's many wins.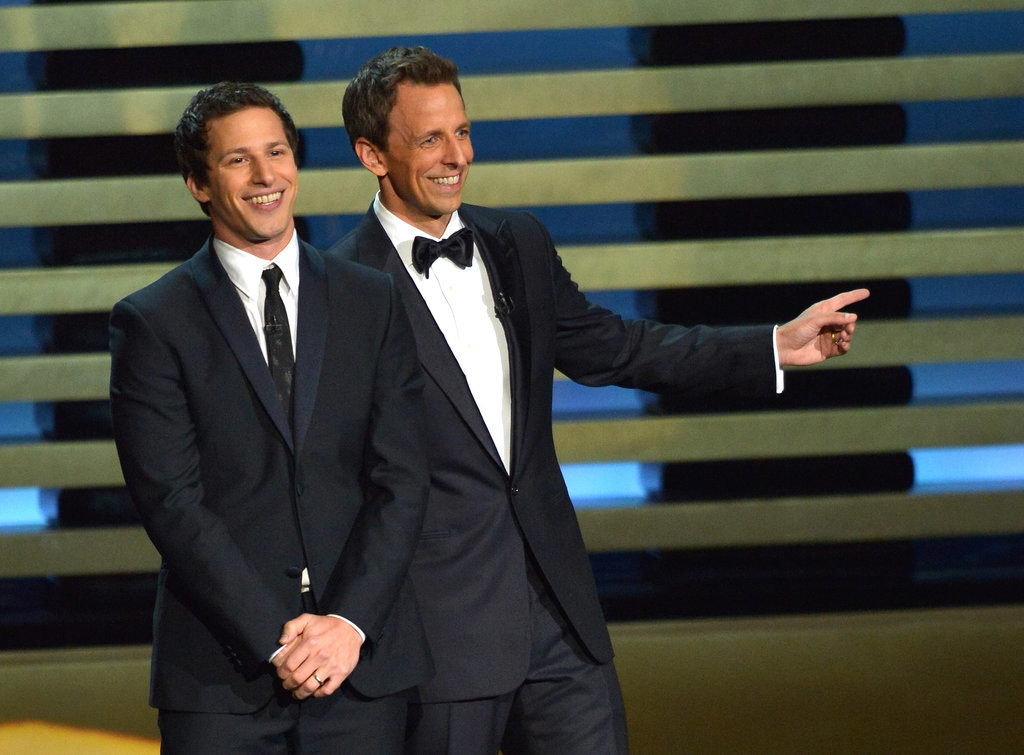 Andy Samberg [20] and Seth Meyers joked around on stage.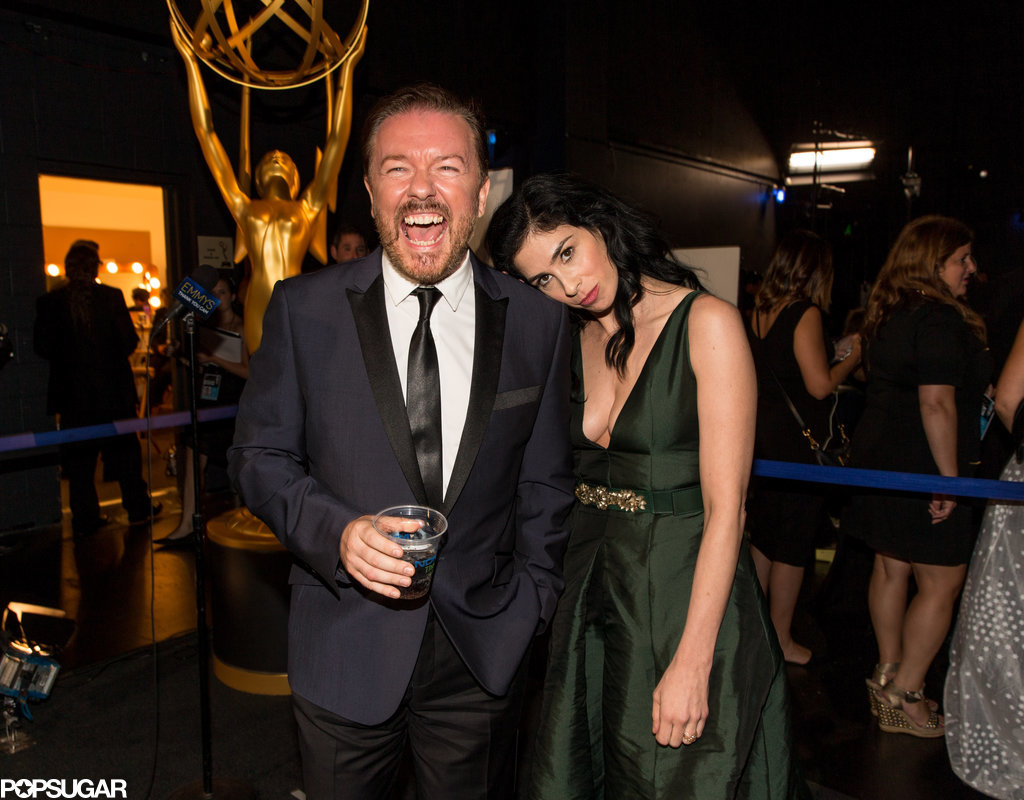 Ricky Gervais and Sarah Silverman shared a moment backstage.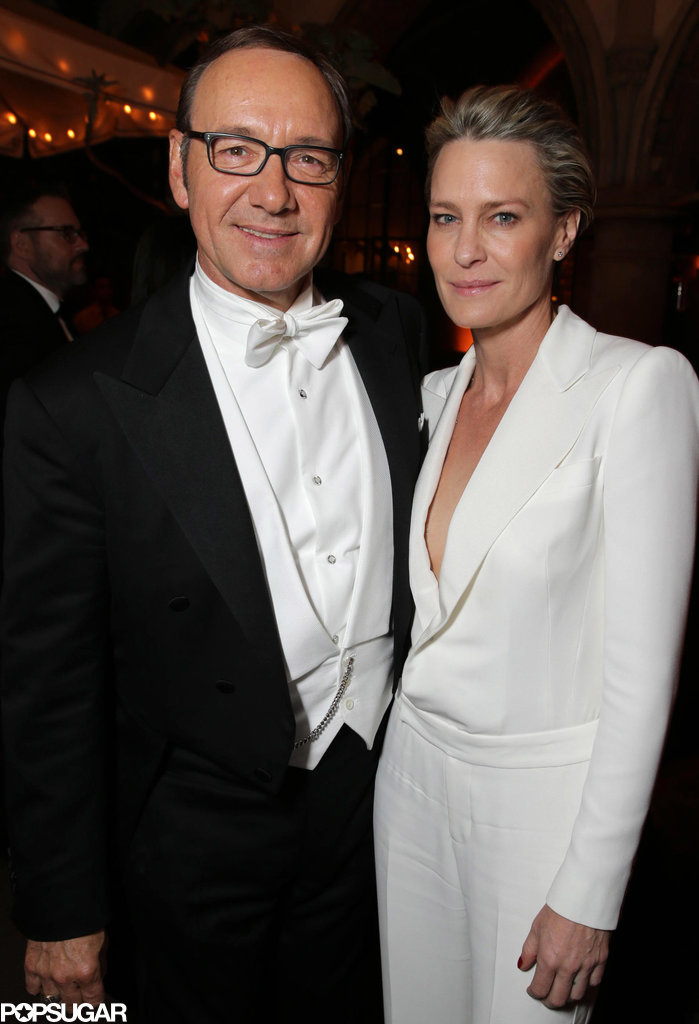 House of Cards' Kevin Spacey [21] and Robin Wright met up.
Liev Schreiber [22], Jessica Lange, and Kerry Washington got together backstage.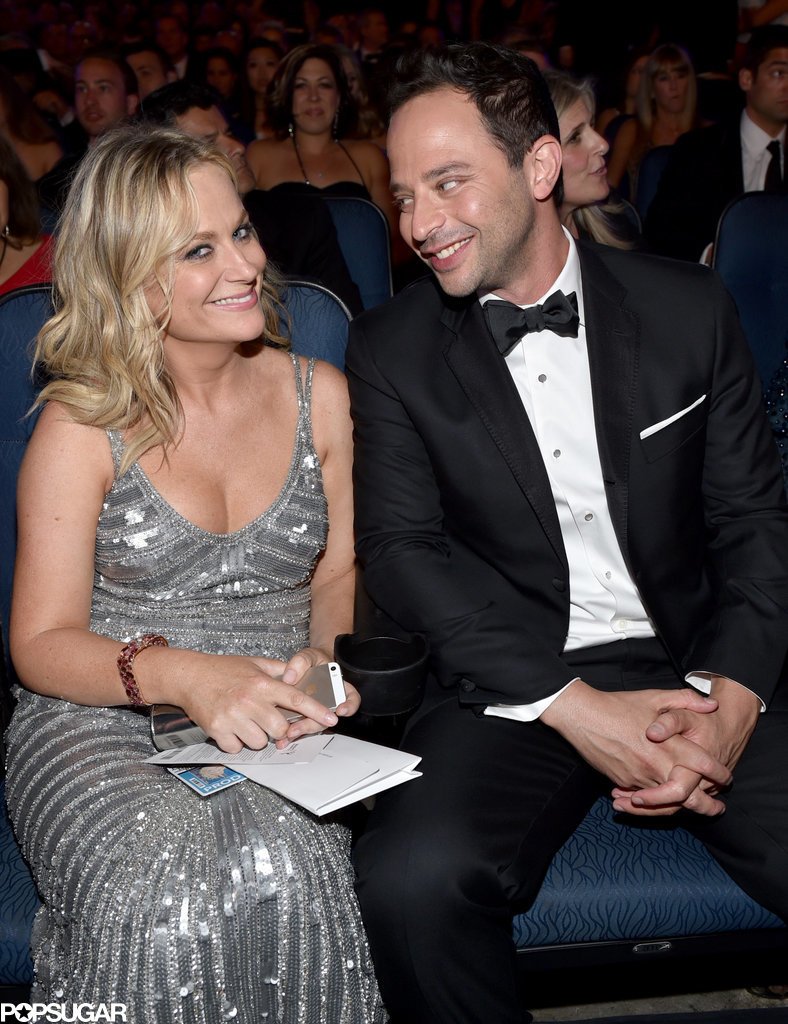 Funny couple Amy Poehler [23] and Nick Kroll sat together in the audience.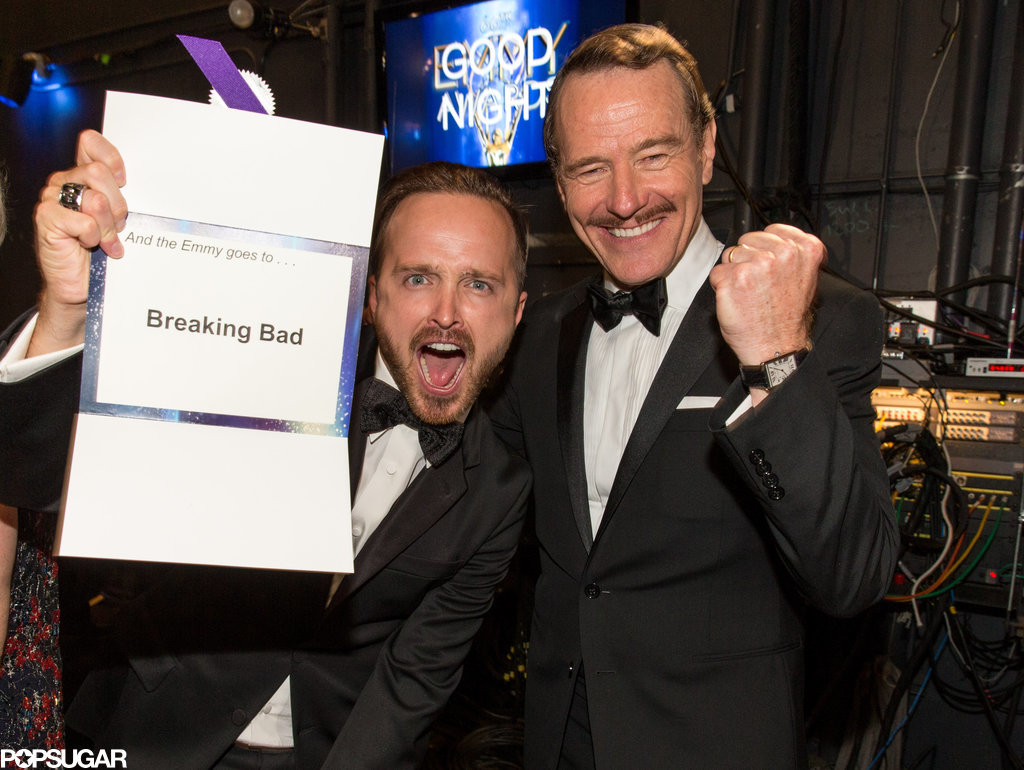 Aaron Paul and Bryan Cranston got animated about their win.
Bryan Cranston and Julia Louis-Dreyfus [24]'s makeout session couldn't be missed.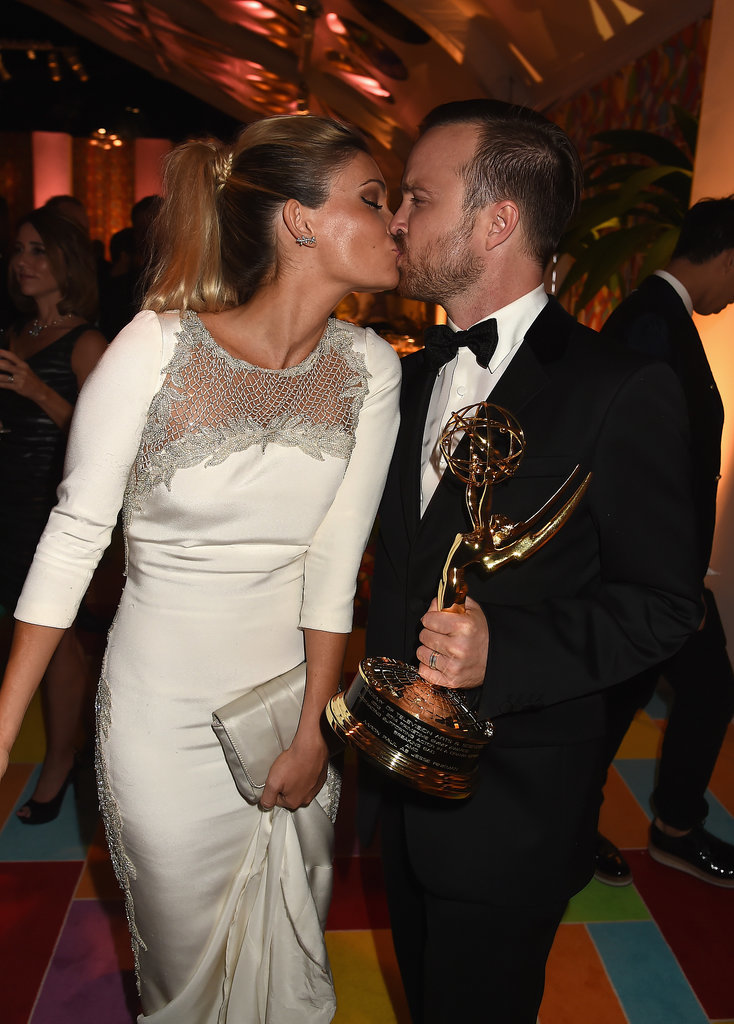 Aaron Paul kissed his wife, Lauren, after his big win.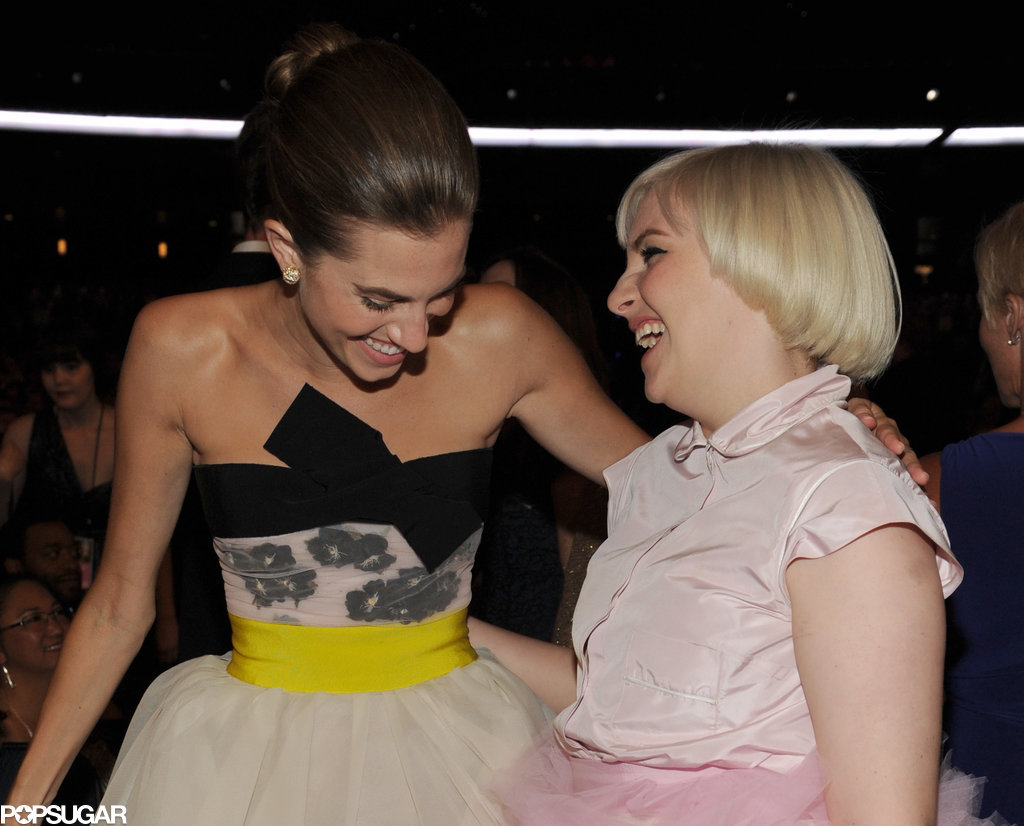 Girls' Allison Williams and Lena Dunham couldn't stop laughing.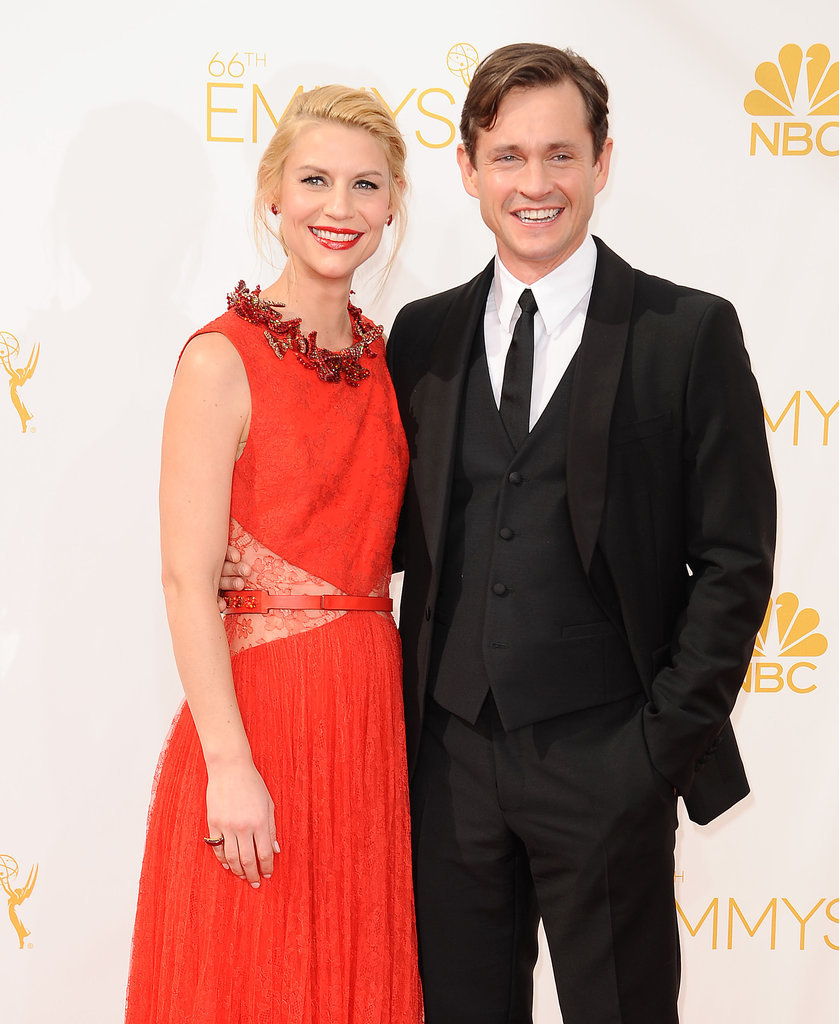 Claire Danes [25] and Hugh Dancy had their red carpet pose perfected.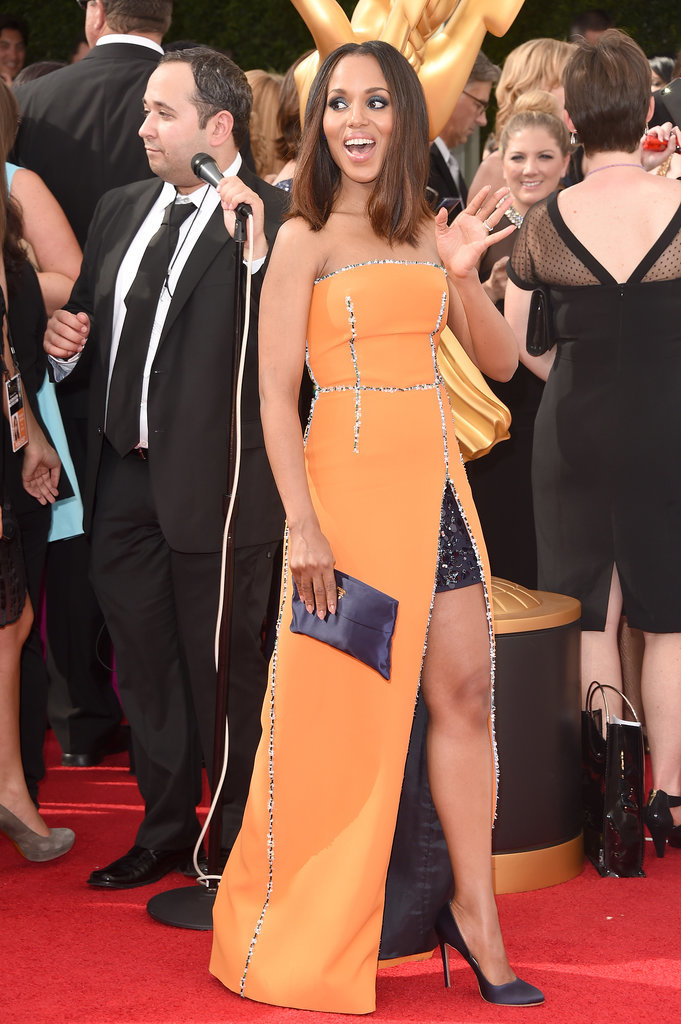 Kerry Washington looked flawless in her Prada [26] ensemble.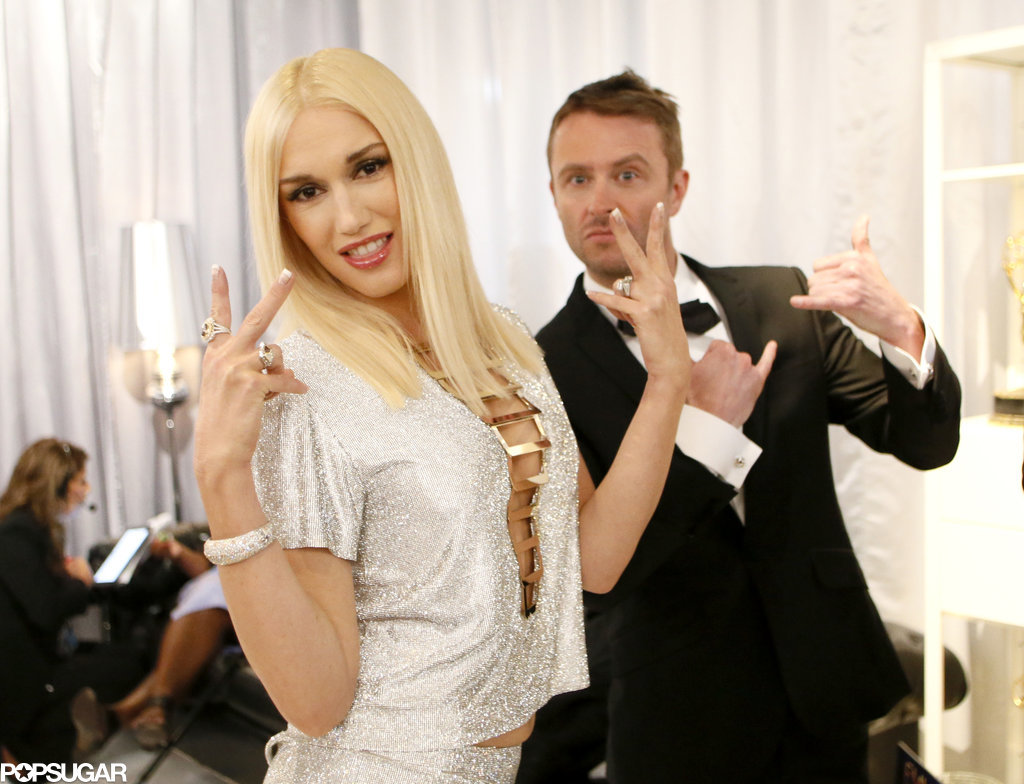 Gwen Stefani [27] let loose with Chris Hardwick backstage.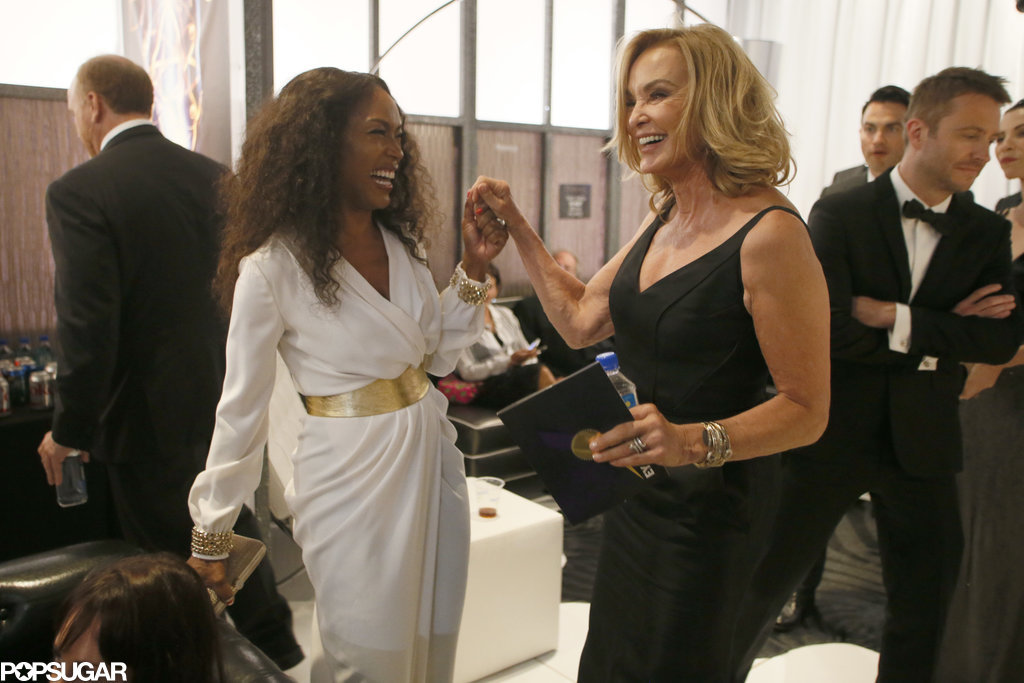 Angela Bassett and Jessica Lange exchanged smiles.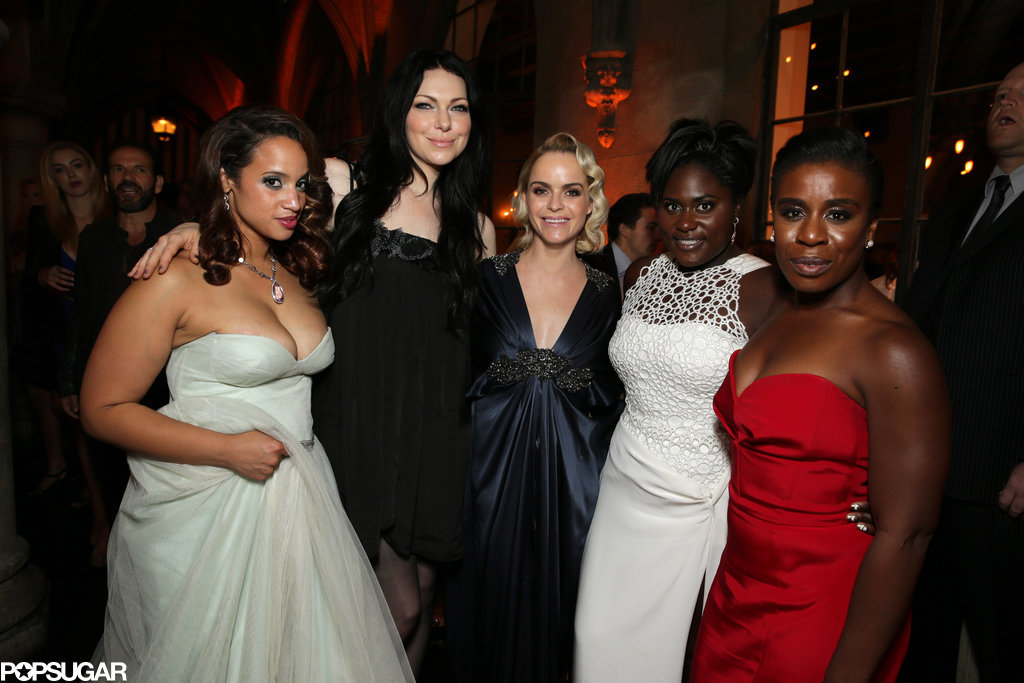 Dascha Polanco, Laura Prepon, Taryn Manning, Danielle Brooks, and Uzo Aduba got together for a group snap.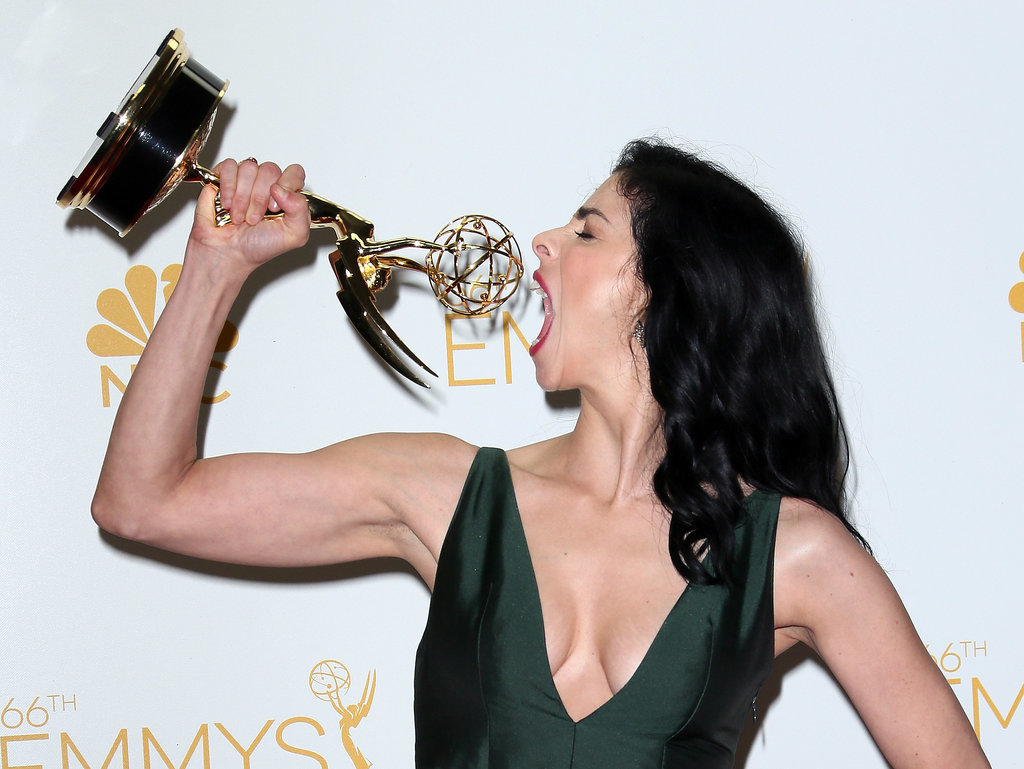 Sarah Silverman showed off her big Emmy appetite.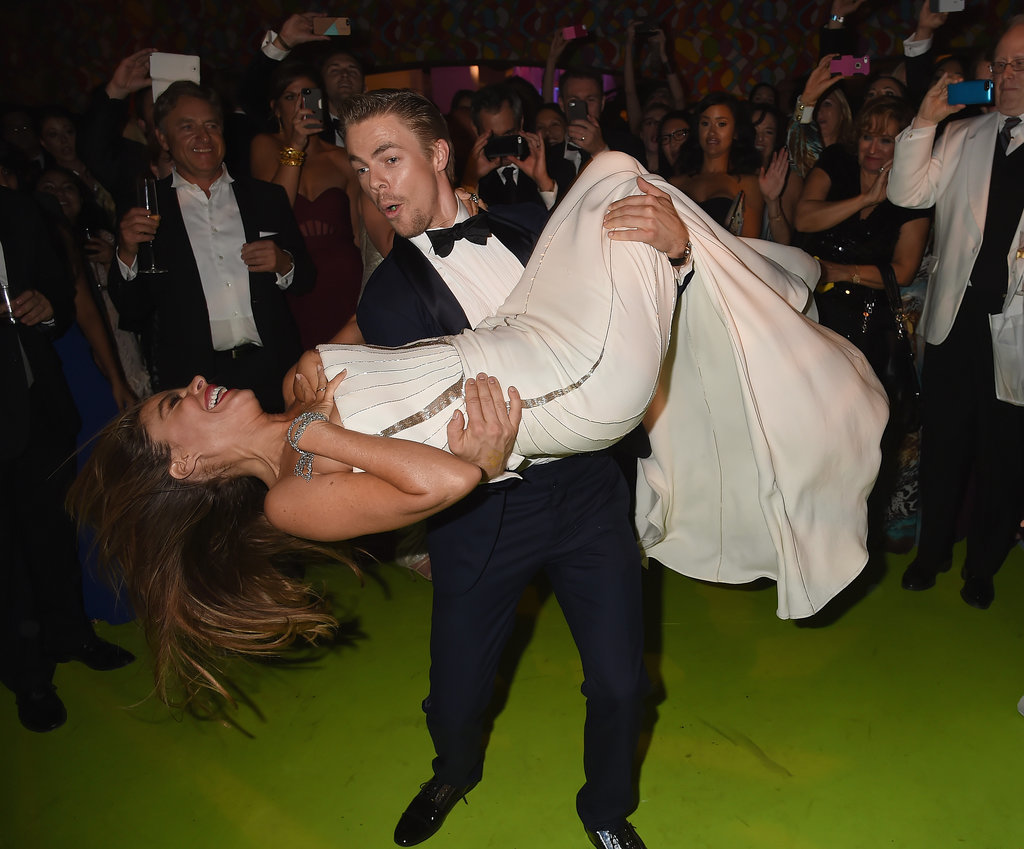 Derek Hough dipped Sofia Vergara at the HBO bash.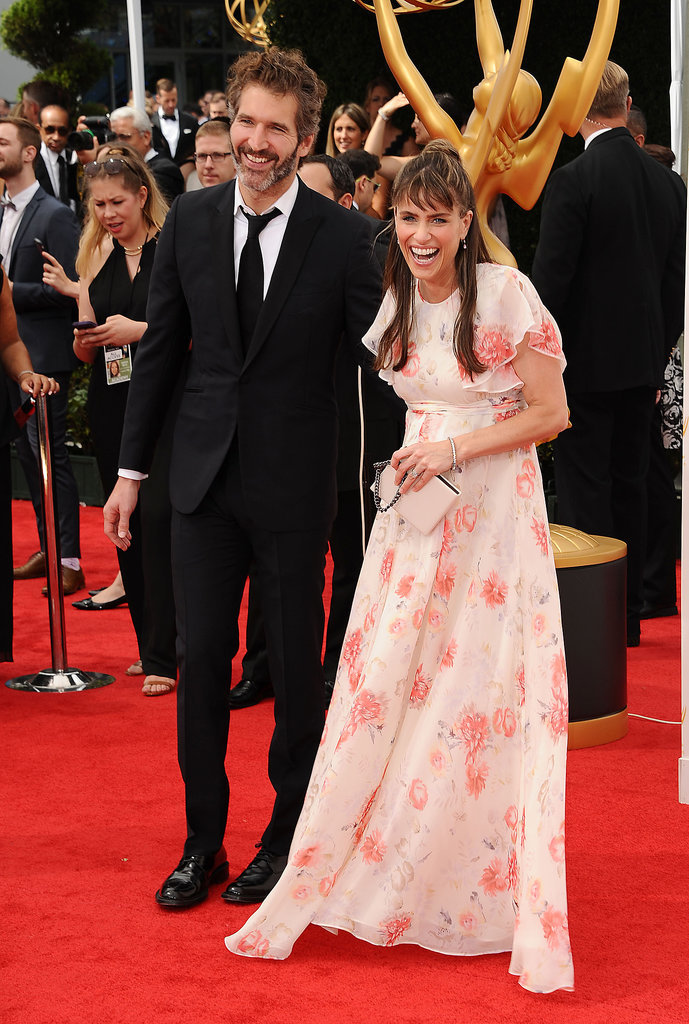 Amanda Peet [28] and her husband, David Benioff, celebrated their baby news on the red carpet.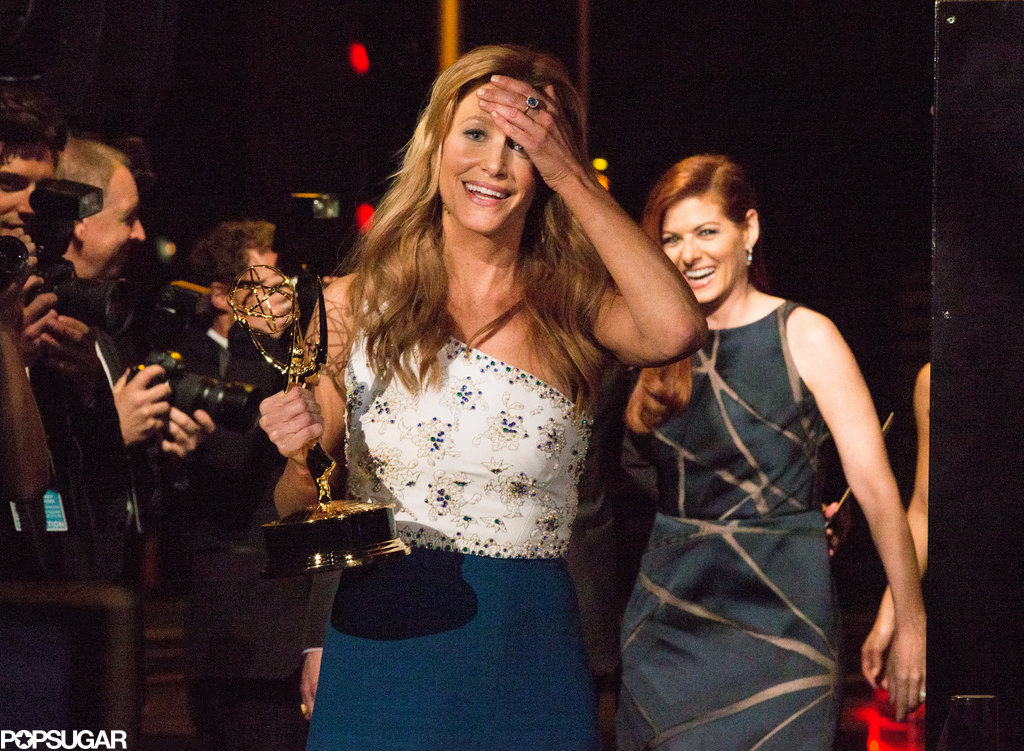 Anna Gunn was overwhelmed backstage.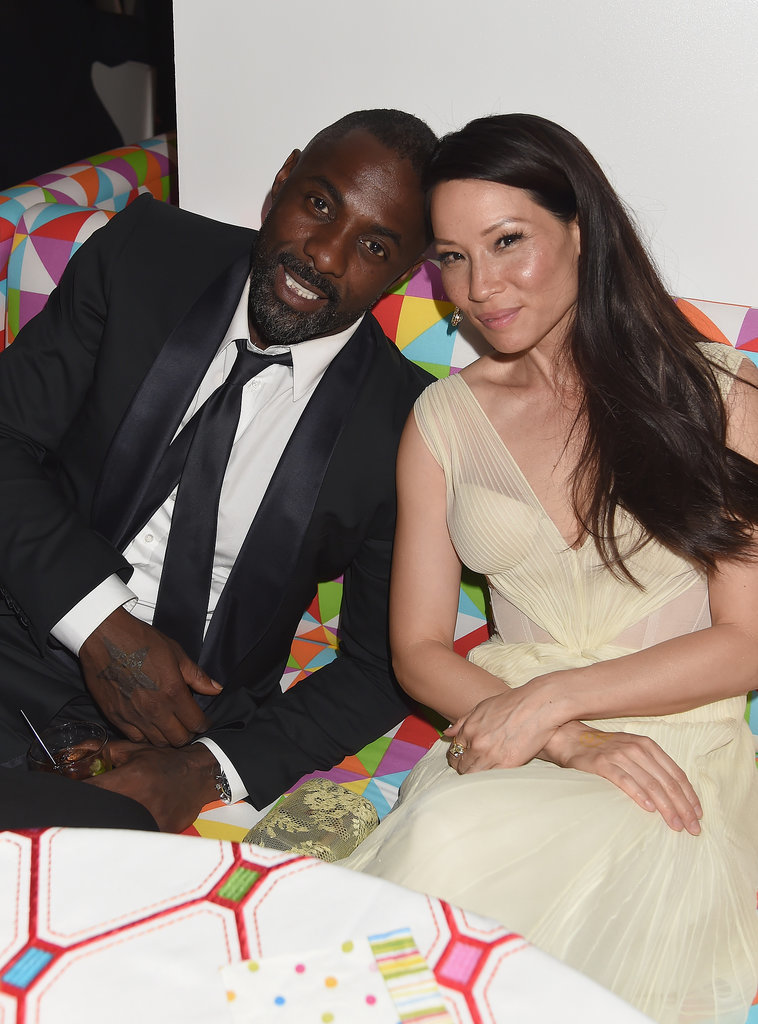 Idris Elba and Lucy Liu [29] relaxed at the HBO party.
Julia Louis-Dreyfus [30] played photographer for Jon Hamm [31] and Jennifer Westfeldt.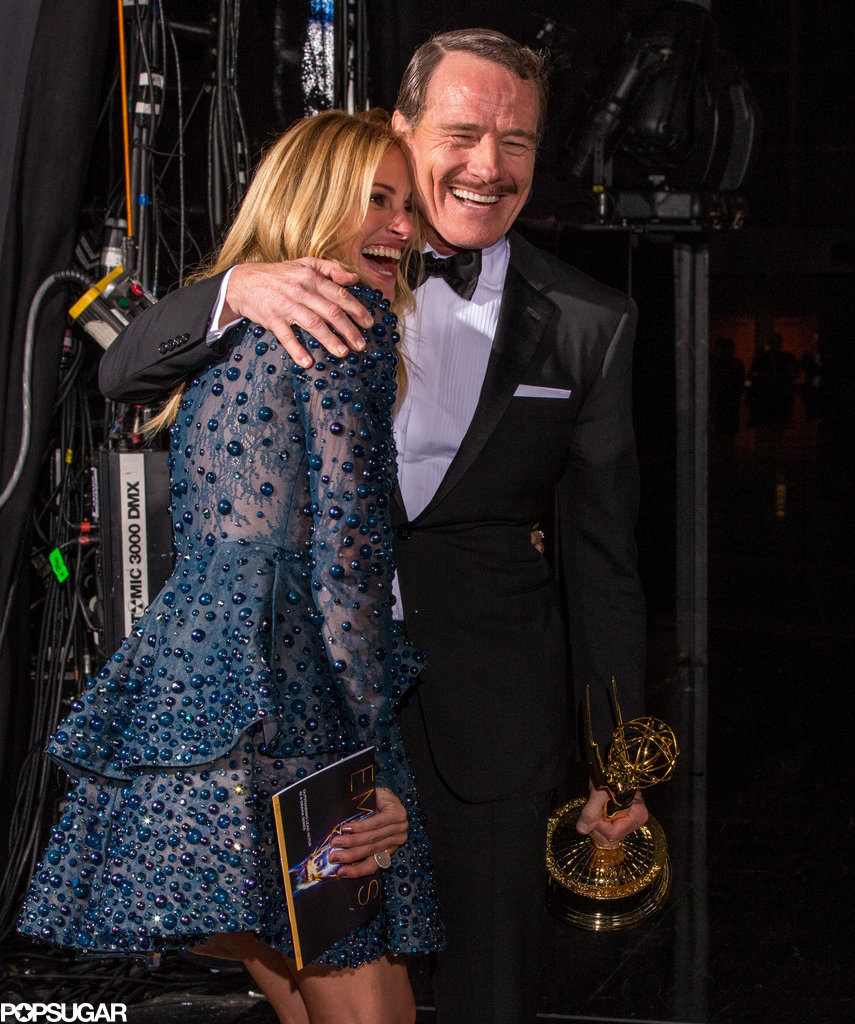 Julia Roberts [32] congratulated Bryan Cranston backstage.