This week in PopSugarTV, Fit helped spice up our Super Bowl party with tasty crowd-pleasers that are healthy to boot, while Yum celebrated Brandy Alexander Day with a creamy cocktail fit for a Mad Men scene. Bella sat down with New Girl beauty Zooey Deschanel [1] to find out her makeup must haves, and Fab added plaid to our everyday wardrobe.
Click through to watch all the videos above and don't forget to visit PopSugarTV [2] for even more!
We Talk Beauty and Pretty Little Liars Spoilers With Shay Mitchell
Shay Mitchell knows how to keep a secret, but the Pretty Little Liars star was all for dishing her beauty must haves at Juicy Couture's latest fragrance launch. While she loves a good drugstore buy, she readily admits she enjoys a splurge or two. Plus, she divulged some interesting Pretty Little Liars spoilers for the next episode and talked about the top model she envied as a child. On Kirbie: Vena Cava dress.
Three Chic Ways to Wear a Sweater Dress — Here's How!
We're taking on a cold-weather staple that can be tricky to style: the sweater dress. The first step is finding the right sweater dress: the most important thing is fit — you don't want it to be too tight and clingy! We chose a dark green version from Club Monaco as the canvas for all of our outfits. Watch on to see how you can style your sweater dress for work, the weekend, and even a night out. On Allison McNamara: Ella Moss top, BCBG Max Azria skirt. Hair and makeup by Kasia Bohos.
How to Shape and Tone Your Butt Like Beyoncé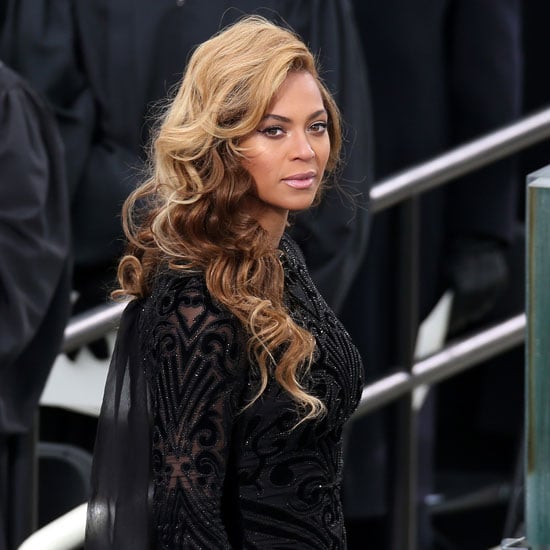 If you're working to tone your backside, like Super Bowl halftime star Beyoncé, we have three easy moves you can do at home. But these are not your typical lunges and squats: these moves are fun variations to tone your glutes from a variety of angles.
Get a Clear, Smooth Glow With These Retinol Skin Savers
When it comes to miracle ingredients, retinol is high on our list. Not only does it help with things like dark spots and acne, but it also keeps skin firm and taut. Retinol, however, can be extremely drying. Luckily, we found three products that give you the exfoliation you need for a beautiful glow but also have hydrating properties. Read: red, flaky skin will be a thing of the past. On Kirbie: Helmut Lang dress.
How to Incorporate Plaid Into Your Everyday Style
Plaid is a classic cold-weather print, and thanks to Michael Kors, Ralph Lauren, and Chloé, this pattern is covering everything from pants to outerwear this season. But if you're wondering what that means for your own day, we've got some answers in this edition of Currently Trending. Fashion reporter Allison McNamara is taking on the classic pattern and showing you some surprising ways to incorporate plaid into your daily look. Watch on for inspiration and make sure to pick up some plaid stat!
Healthy Game-Day Snack: Veggie Spring Rolls
Spice up your Super Bowl party with a tasty finger food that just happens to be loaded with fresh veggies. These healthy spring rolls from M Café [3] are filled with seitan, carrots, romaine, and more! Plus, they're easier to make than you think. Watch this video to learn the secret of rolling this tempting treat.
Zooey Deschanel Tells Us Her Big Beauty Secrets and New Girl Surprises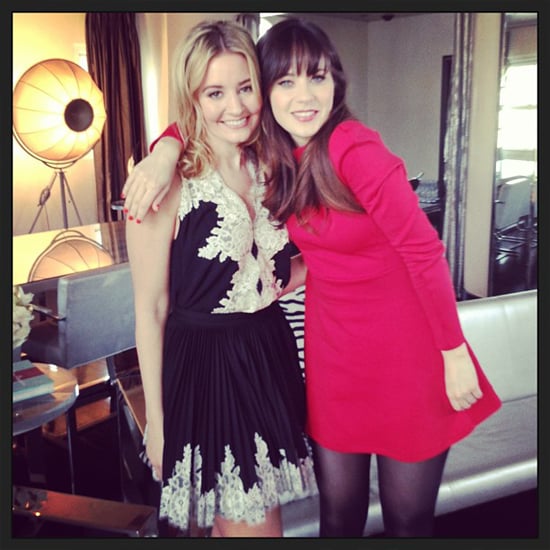 One celebrity who knows her beauty stuff is Zooey Deschanel [4]. The "adorkable" star is not only a brand ambassador for Pantene, but in part due to her work in theater as a child, she is also quite skilled in makeup. We sat down with Zooey and discussed her must-have beauty tool, her New Girl wardrobe malfunctions, and which beauty product she would choose to never wear again. You'll be surprised. We were! On Kirbie: Robert Rodriguez top and skirt.
Brandy Alexander: Try This Sweet Nightcap Straight Out of Mad Men
Celebrate Brandy Alexander Day by serving up this after-dinner drink that's a throwback to the days of Mad Men. With brandy, crème de cacao, and Winter spices, this milky drink offers buzz without too much bite. If you're looking for a sweet treat to end the day, host Brandi Milloy offers a dessert version of the drink, too. Watch the video to see both versions, then print out the recipe [5].
A Style Tutorial on the Checkered Trend, Straight From Kristen Stewart and More!
It all checks out — Louis Vuitton's mod checkered pattern is everywhere for Spring and Summer. Kristen Stewart [6], Jessica Alba [7], and Miranda Kerr [8] are just a few of the stars who have slipped into the designer's checker-print pieces for the red carpet. Whether it's a full checked dress or a printed shoe or bag, each is making a compelling case to get in on the trend. Just watch our Fashion Flash for all the details. On Allison McNamara: Armani Exchange dress, Stella and Bow necklace.
Bacon-Wrapped Jalapeño Poppers: A No-Fuss Snack for Game Day!
Bacon-wrapped anything is delicious, so it goes without saying that these jalapeño poppers — which are stuffed with herbs and cheese, then wrapped with an entire slice of bacon each — are over the top. Despite seeming indulgent, they're incredibly easy to make and perfect for a game-day party. Learn the keys to prepping them, like how to keep the heat in check or how to avoid messy oven explosions, when you watch the video.