When you're into a hobby you tend to learn about it the longer you're interested. If any of you ladies read my on sugar blog, you already know I hate most of those fake ass YouTube reviews. I've bought countless items only because they hyped up the products. So I wanted to give you girls the real low down on how well some of these top coats perform their jobs. First up the overly hyped Seche Vite fast drying top coat.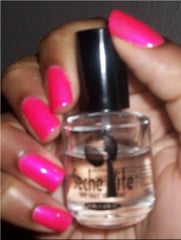 * * This isn't the best drying polish because most fast drying polishes are just that fast drying. One person gave a review claiming it was "super shiny". Whatever! It looks like any normal top coat, nothing too different, but the damn price. $5.99 for this? When I can just get a Two dollar fast drying polish from N.Y.C. No thanks!

* * * Sally Hansen Advanced Hard as Nail top coat with Nylon + Retinol is a great SHINY top coat. It adds a nice shine to the nail. It isn't a fast drying polish and it doesn't claim to keep the polish on longer. I definitely see myself re buying this sally hansen polish, which is something I don't normally do.

* Finger Paints nail polish don't get much light such as O.P.I and China Glaze etc. And now I know why. This isn't a worthy brand. The colors aren't really eye catching and the formal isn't strong enough for my liking. So if the polishes aren't that wonderful, imagine the top coat. I will NOT be buying a back up of this brand... :(

* I hate to do this to my favorite nail polish brand, but I have to. This is also another sucky fast drying top coat. I do remember a manicurist saying that fast drying polishes, chips your polish much faster. It can be true even with the sealing technique. It hurts to give my brand one *, but they need a new formula.

* * Let all the negativity come in. OPI isn't the best brand in the market. Their colors are just as fab as China Glaze and even Misa, but the prices of these suckers gets me. The top coat has a normal shine. Nothing fantastic, but that's all most women want anyways. So I guess that works for OPI, but again not for me.

* * */ * * * * So I'm down to my last two which are the best ones I own. Orly's Tough Cookie is actually a nail treatment. On the bottle it says it could be both a top and bottom, but this polish is so... shiny that its best as a top than bottom. I've used it as a base coat and the next morning it was breaking down on me. So top coat yes, base? NO! As for the Kiss Glass Shine top coat AND Sealer... This is the SHIT! I love this top coat. Ladies my nails are holding up mighty fine and this is the fourth day! WOW! Now I do the dishes (w/o gloves), clean the house and I just washed my hair...check it out--->

Pink Voltage (china Glaze)
So if you're looking for the best top coat, i'd suggest to you, Kiss's Glass shine topcoat and Sealer...