Jay-Z and Beyoncé Knowles are expecting a baby [1]! In honor of the happy news, we're taking a look back at their sweetest moments. They got together in 2002 shortly after she appeared on his single "'03 Bonnie & Clyde," and it didn't take long for them to go public between parties, vacations, and red carpets. Their marriage on April 4, 2008 cemented their status as one of music's most influential couples, and now they're expanding their family with a little one. From sweet bikini and shirtless [2] moments on yachts to the stage and beyond, see Jay-Z and Beyoncé's cutest photos!
On a Boat
Beyoncé and Jay hung out in a yacht near St. Tropez in June 2006.
Stagecraft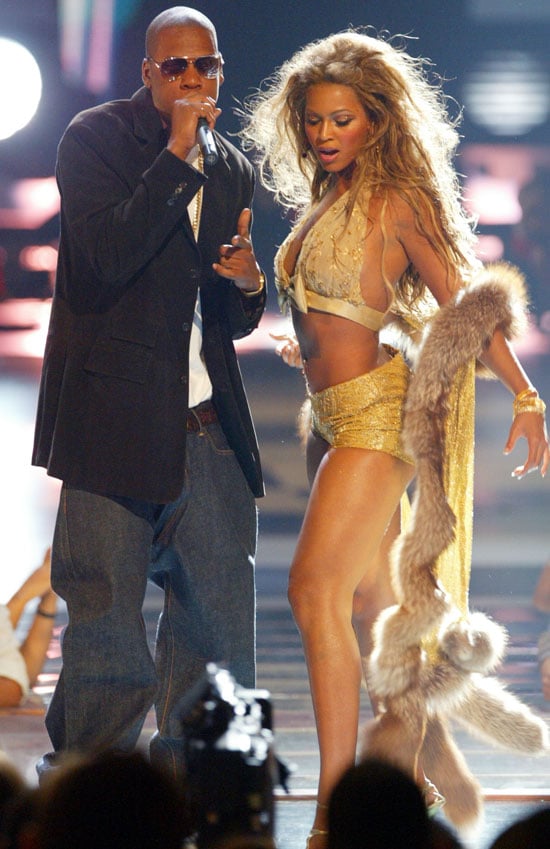 Their chemistry was apparent in August 2003 at the MTV VMAs in NYC.
Feet in the Sand
They walked the beach of St. Tropez in June 2005.
Going Green
The couple performed at Z100's Jingle Ball in NYC during December 2003.
Afterparty People
Beyoncé and Jay-Z left Diddy [3]'s VMA after party in August 2003.
Fashionable Duo
Jay-Z and Beyoncé hung out backstage in September 2003 following the Rosa Cha show during New York Fashion Week.
Twice as Nice
She joined Jay-Z onstage in November 2003 during his tour for The Black Album at NYC's Madison Square Garden.
Motoring On
Beyoncé hosted a Friends and Family concert for Ford Motors' centennial celebration in June 2003 in Dearborn, MI, and Jay-Z joined her on stage!
Dressed to Impress
Jay-Z and Beyoncé dressed up in 2004 to hit the MTV VMAs in Miami.
Golden Couple
Jay threw an arm around her waist during the Vanity Fair post-Oscars bash in LA on Feb. 27, 2005.
Super Fans
They had a day date to a Yankees game in April 2004.
Rocking Out
Beyoncé and Jay-Z had fun in their seats at the MTV VMAs in NYC in August of 2006.
Front Row
Jay and Beyoncé were together in August 2005 for the World Music Awards in LA.
City of Love
Jay and Beyoncé took in the sights of Paris during April 2011.
Family First
Beyoncé brought her nephew, Julez, to the Grammys with Jay-Z in January 2010.
Secret Agents
They had front row seats — and champagne! — for the Agent Provocateur "Box of Tricks" afterparty during Paris Fashion Week in October 2005.
Starting the Show
In February 2006, Jay-Z and Beyoncé were hand in hand for the 48th annual Grammys.
Sun Lovers
Beyoncé Knowles [4] was in a yellow bikini to hang with Jay-Z at their rented Villa near Monaco in May 2007.
Festival Chic
They teamed up in April 2010 for Coachella in Indio, CA.
Anniversary Party
In June 2006, Beyoncé was by Jay-Z's side to celebrate the 10th anniversary of his Reasonable Doubt record at NYC's Rainbow Room.
Hot to Trot
Jay-Z and Beyoncé performed "Deja Vu" together in June 2006 at the BET Awards in LA.
Love and Basketball
They shared court-side smiles in April 2007 at a Knicks game in NYC.
Little Lady
Beyoncé showed her love for kids at a Boys and Girls Club event in Mesa, AZ, during February 2009.
Chilling on a Big Yacht
Jay-Z was shirtless [5] with bikini-clad Beyoncé while on a yacht off Monaco in August 2004.
Love's in the Air
Jay and Beyoncé hugged during the 2009 MTV Europe Music Awards in Berlin in November 2009.
Love Match
Jay and Beyoncé cuddled up at the French Open in Paris in June 2010.
High End
Jay and B shopped along LA's Rodeo Drive in February 2005.
That's Amore
Jay put his arm around his wife in Portoferraio, Italy, during their vacation in August 2010.
Red Carpet Ready
They turned out for the Met Ball in honor of Alexander McQueen in early May 2011.
View From Above
Beyoncé and Jay-Z laughed while hanging out at NYC's The Box nightclub in November 2010.