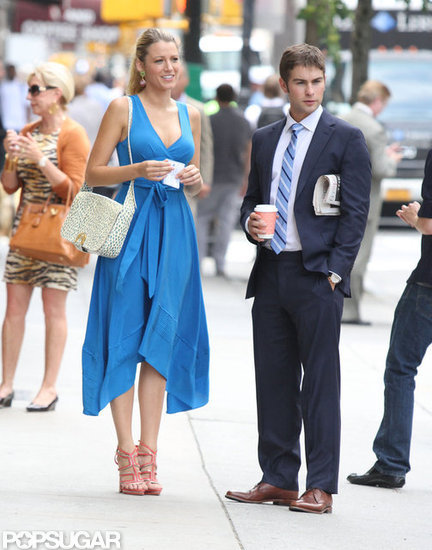 Jul 17 2012 - 12:32pm
Blake Lively was decked out in a blue Marc by Marc Jacobs dress today to shoot Gossip Girl in NYC. Between scenes, Blake caught up with her costar Chace Crawford and even a newcomer to the series. Barry Watson, of 7th Heaven fame, was seen with Blake and Chace. Despite the mid-90-degree heat, Blake covered up her dress with a robe when the cameras weren't rolling.
Work on the sixth season of Gossip Girl kicked off recently, and we caught a glimpse of Blake, Chace, and their fellow Upper East Siders in character last week. Despite being needed on set, the GG gang has been able to fit in some fun. Both Leighton Meester and Penn Badgley, along with his girlfriend, Zoe Kravitz, checked out the NYC premiere of The Dark Knight Rises yesterday. Blake's also had time to let loose, and spent the Fourth of July holiday celebrating with her family and shirtless boyfriend Ryan Reynolds.