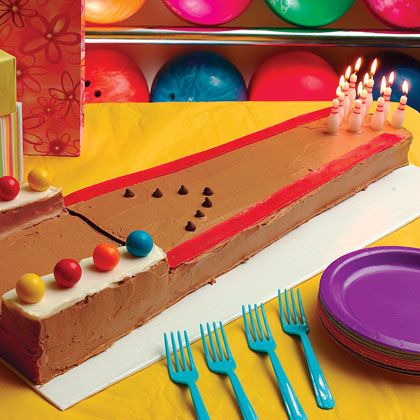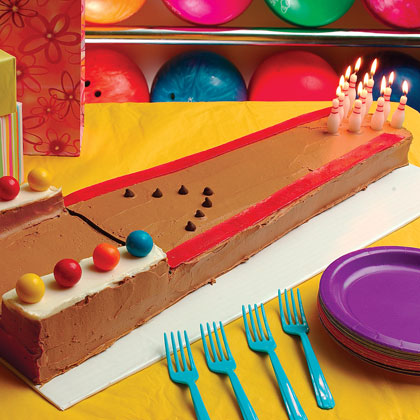 FamilyFun
Bowling Lane Cake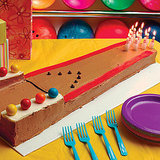 Ingredients
2 baked 13-by-9-inch cakes, any flavor
1 3/4 cups plus 1/4 cup of white frosting
Yellow food coloring
1 cup of brown chocolate frosting
2 strips of Fruit by the Foot fruit leather, each about 20 inches long
Gumballs in different colors
1 strip of black shoestring licorice, about 9 inches long 7 chocolate chips
10 bowling pin candles (available at party stores)
Directions
On a large platter or cake cardboard measuring at least 26 inches long, line up the cakes end to end to form a long rectangle. Trim the cakes as shown.

Trim 2 big cake scraps to 4 inches long and 1 1/2 inches wide and stack them on the sides of the wide end of the cake to make the bowling ball rack. Use a little frosting to adhere them if necessary. If the small pieces are crumbly and therefore difficult to frost, apply a light coating of frosting and chill the pieces until it sets. Stick the pieces in place and frost again.

To create a varnished wood look for the lane's flooring, mix the 1 3/4 cups of white frosting with 12 drops of yellow food coloring and 1 cup of chocolate frosting. The overall color should resemble peanut butter. Frost the entire cake, except for the tops of the racks; frost those with the 1/4 cup of white.

Trim 2 strips of fruit leather to fit along the edges for the gutters. Place the gumballs in the rack, add shoestring licorice for the foul line, and arrange the chocolate chip lane arrows about a third of the way up the lane. Set up the bowling pin candles at the narrow end of the cake. Light as many as the birthday child's age. Serves about 20.
Information
Category

Desserts, Cake