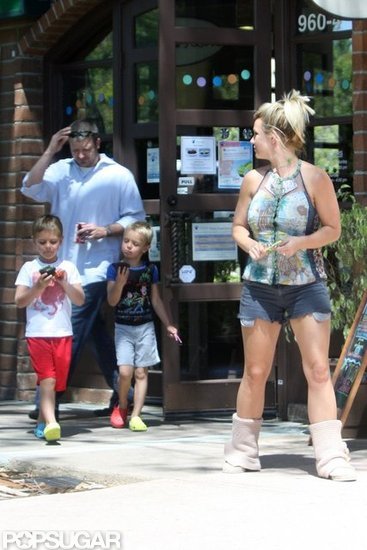 Jun 13 2012 - 2:53pm
Britney Spears stopped at a cafe in Santa Barbara with her sons, Jayden James and Sean Preston, yesterday. The boys snacked on chocolate cupcakes while Britney led the way back to their car wearing cutoff shorts and a tight tank. Britney has been on the road recently in her new role for The X Factor. Last week she visited Kansas City, where she apparently showed off her tough side when she voted against one of the contestants during auditions. Britney and her fellow judges, Demi Lovato and L.A. Reid, will continue the talent search in San Francisco this weekend before heading to Rhode Island at the end of the month.
Britney's had a busy year so far, putting her in the running for the PopSugar 100. Robert Pattinson and Angelina Jolie are currently in the lead, so make sure to vote if you want Britney to make the top 10!