Brotherly Love All Around On Wild Hogs
Last night John Travolta, Martin Lawrence, Tim Allen and William H. Macy came out to premiere their latest movie, Wild Hogs. The four men are from all different corners of the acting world but that's what producers are banking on by putting them all together in this film about a motorcycle road trip across the country in search of adventure. As for Tara Reid, no she's not in the movie, she's just working overtime to makes sure we all see her makeover in progress. She's getting better but still missing the mark a little.
This funny male-bonding flick definitely has got the girls interested. Kelly Preston has redeemed herself (almost) from her horrible cat-woman get-up at the Oscars.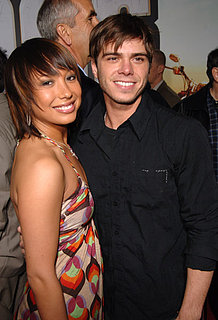 For lots more pics including a pregnant Jenna Elfman and lots more just read more
Images include William H Macy, Felicity Huffman, Hector Elizondo, Jenna Elfman, Bodhi Elfman, Jill Hennessy, John C. McGinley, John Travolta, Kelly Preston, Kevin Sorbo, Marisa Tomei, Mariel Hemingway, Martin Lawrence, Cheryl Burke, Matthew Lawrence, Raven Symone, Ray Liotta, Tara Reid, Tim Allen