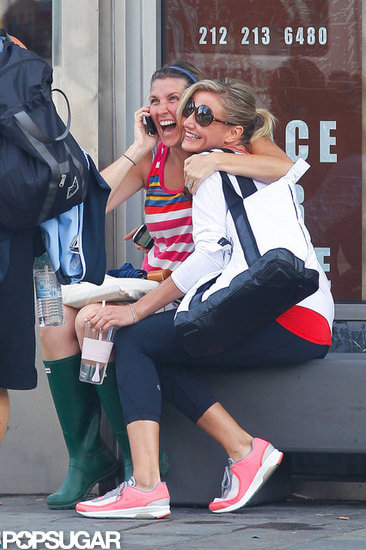 Aug 27 2012 - 2:22pm
Cameron Diaz cozied up to a female friend outside a gym in NYC today after fitting in a workout with her trainer Teddy Bass. Teddy recently showed FitSugar how to get Cameron's toned arms, and it looks like his star client is keeping up her well-known fitness regimen in the Big Apple. In fact, Cameron is penning her own book on health and wellness, which is expected to hit shelves next year.
Cameron celebrates her 40th birthday on Thursday and got a head start on the celebrating with close friends while in LA earlier this month. She threw a baby shower for Drew Barrymore a few weeks ago, and she was also seen catching up with Portia de Rossi at a salon and dining out with one of her reps while on the West Coast.