Can Pilates really give you longer, leaner muscles?
Fit Fact or Fiction: Can You Make Your Muscles 'Longer' or 'Leaner?'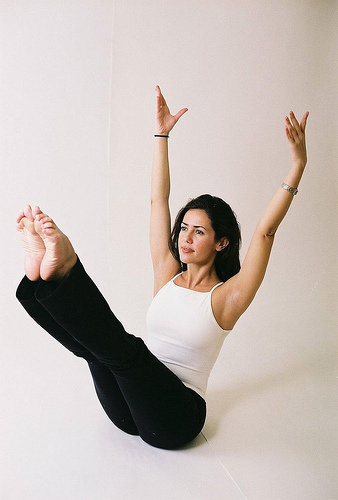 You've probably heard it numerous times before - a workout that promises to give you longer, leaner muscles (we've often heard this said about PIlates or Ballet based training methods)... so can this really be true? Can a muscle truly become longer and/or leaner?
I asked "The Exercise Doctor" Michele Olson, PhD, creator of the "Perfect Legs, Glutes & Abs" DVD and professor at Auburn University Montgomery (who has studied various forms of exercise extensively and published research on Pilates) to answer this for us.
Muscles are already comprised of 'fat-free' (AKA "lean") tissue, so any amount of muscle is, by definition, lean - you can't have 'leaner' muscles, says Olson. "If you were to add more muscles from resistance training, you could increase the amount of lean muscle you have, and therefore, have more lean muscle." But most of these methods (such as Pilates or ballet/barre style exercises) use relatively light to moderate resistance, which is not enough to create a significant increase in the amount of lean muscle mass you have.
What about making your muscles leaner? Most of the PIlates/ballet instructors do look pretty lean...
As for making your muscles longer, that's impossible, says Olson. "Muscles have a set length once we reach maturity," says Olson. "You cannot make a muscle permanently longer." You can, however,  build flexibility and core strength, which means you may be more likely to stand taller andappear longer, but its not because you have actually increased the length of your muscles.
And as for those instructors (though there are certainly exceptions), many of them are genetically built like that to begin with, which may be why they were inclined to choose ballet and/or Pilates to begin with.
So does that mean you should give up on this style of training? Absolutely not! There are plenty of benefits to Pilates and barre methods including a stronger core, greater flexibility, better posture -- to name a few (just don't expect to come out with a longer or leaner version of the muscles in your body).
Jessica Smith is a certified fitness lifestyle expert, certified (and non-genetically gifted) Pilates instructor and creator of the10 Pounds DOWN DVD Series.