Caramel French Toast Cups
Caramel French Toast Cups
Courtesy of Evelyn Cooper, Publish My Bliss recipe contest winner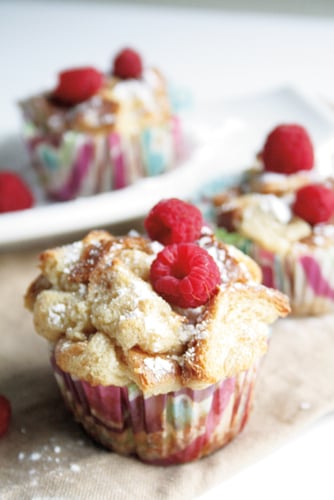 8 cups cubed bread

1/4 cup granulated sugar

1/4 tsp. ground cinnamon

Pinch of ground nutmeg

3 large eggs

1/4 cup butter, melted

2 cups all-natural Coffee-mate Natural Bliss Caramel

Fresh berries

Powdered sugar
Place bread cubes in a large bowl. Combine granulated sugar, cinnamon and nutmeg in a small bowl.
 Mix eggs, butter and Coffee-mate in a medium bowl; add sugar mixture.
 Pour mixture over bread. Let sit for about 1 hour.
 Preheat oven to 350° F. Line muffin tins with paper liners; fill cups with bread mixtures. Bake for about 25 minutes.
 Remove from tins; add a berry to the top of each cup and sprinkle with powdered sugar.