Even though Marilyn Monroe's life was cut short at the age of 36, her legacy and iconic style lives on. From movies and music to magazines and advertisements, Hollywood still manages to be inspired and influenced by Marilyn's glamorous life and epic beauty. In honor of Marilyn, we're taking a look at 12 celebrities who have been inspired by the actress in their work and personal style, including Madonna [1], Mariah Carey [2], Michelle Williams [3], and even Rihanna [4]. Scroll through to see them all now.
Madonna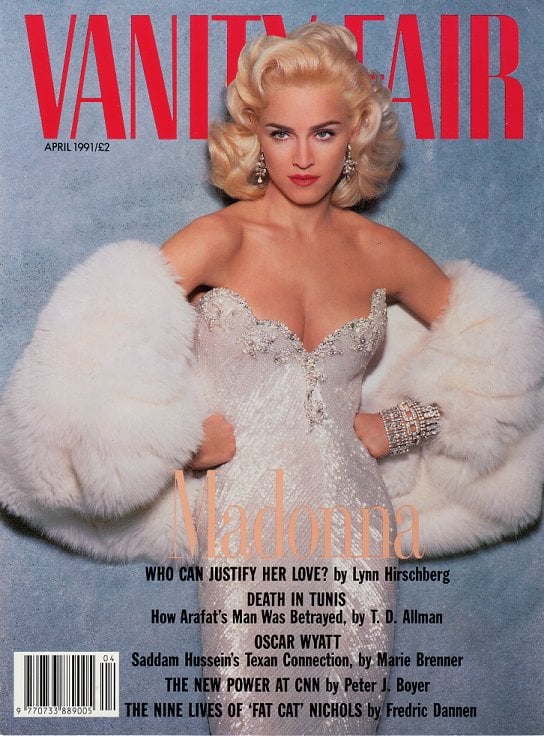 One of the stars who has been influenced the most by Marilyn Monroe is Madonna [5] — she struck a Marilyn-esque pose for the April 1991 cover of Vanity Fair and famously drew inspiration from an iconic scene in Gentlemen Prefer Blondes for her "Material Girl" video.
Madonna [6] explained her love for the actress in an interview with Rolling Stone in 1987 [7], saying, "I do feel something for Marilyn Monroe. A sympathy. Because in those days, you were really a slave to the whole Hollywood machinery, and unless you had the strength to pull yourself out of it, you were just trapped. I think she really didn't know what she was getting herself into and simply made herself vulnerable, and I feel a bond with that."
Source: Vanity Fair [8]
Scarlett Johansson
Scarlett Johansson has garnered many comparisons [9] to Marilyn Monroe, namely for her curvy figure, blond hair, and full lips. Scarlett has addressed the similarities in multiple interviews [10], saying, "I love Marilyn Monroe. She's a very underrated actor," and, "I've always been curvy. But throw on an evening frock, and everyone is like: 'bombshell!'"
Michelle Williams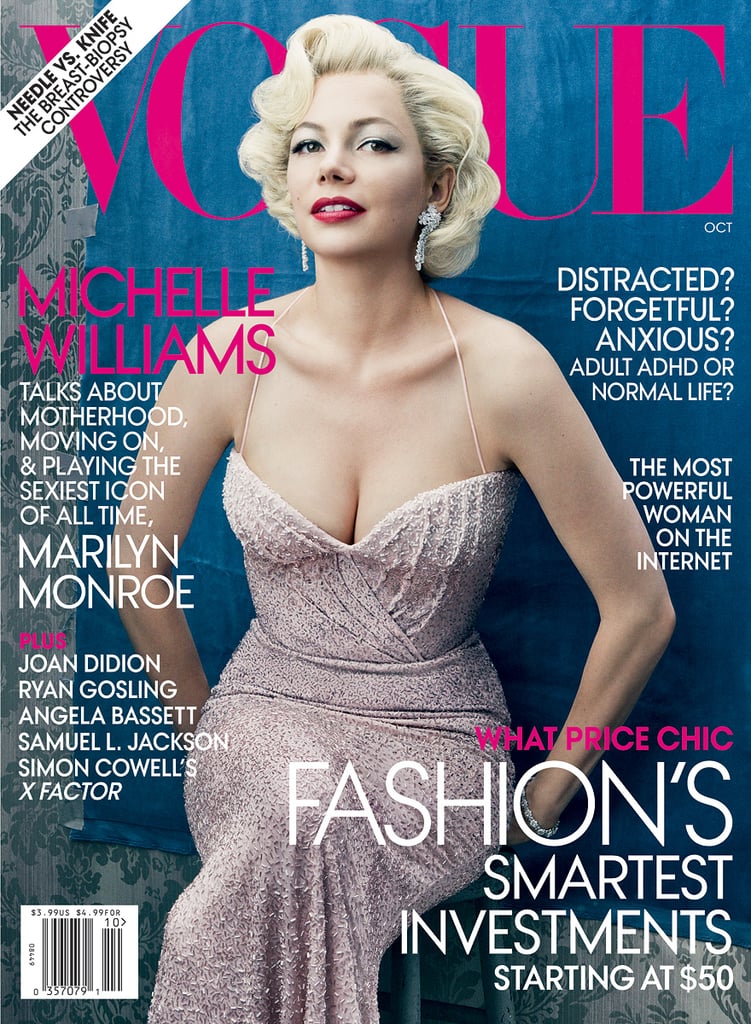 Michelle Williams [11] graced the October 2011 cover of Vogue and spoke to the magazine [12] about her love for the actress and the decision to portray her in the film My Week With Marilyn. She talked about growing up with photos of Marilyn on her bedroom wall, saying, "I've always thought of her as that woman-child, not an icon, which is probably why I let myself approach the role." Michelle added, "Everybody has their own idea of who Marilyn was and what she means to them, but I think that if you go a little bit deeper, you're going to be surprised by what you find there."
Source: Vogue [13]
Mariah Carey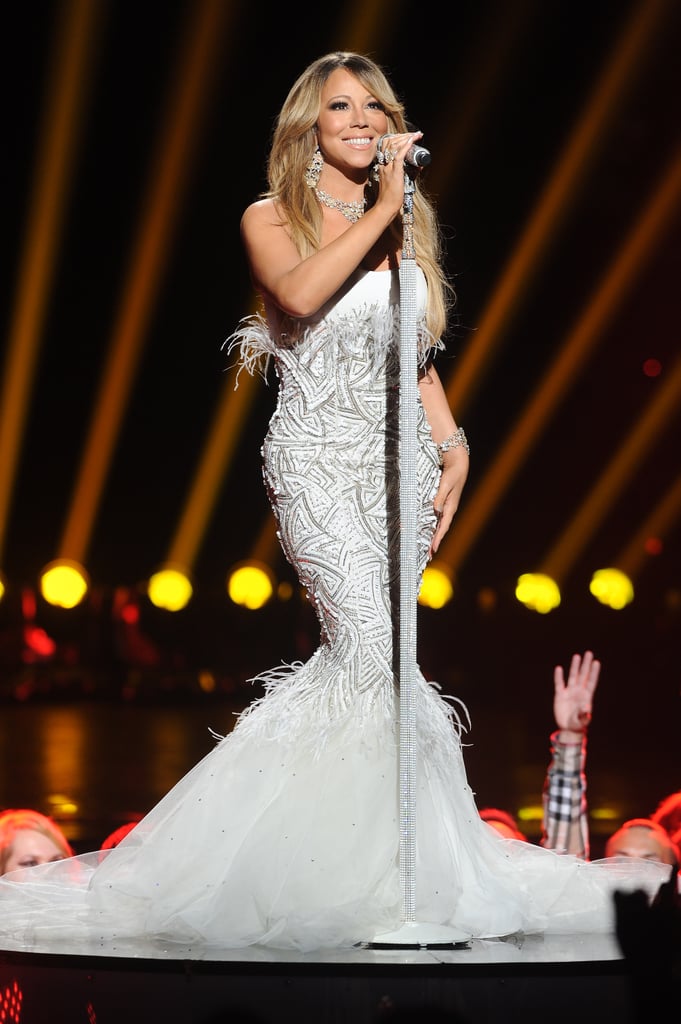 Mariah Carey [14] channeled Marilyn for her "I Still Believe" and "Don't Forget About Us" music videos and paid over $600,000 for Marilyn's white baby grand piano in 1999, saying, "It was a piece of her childhood." She also named her daughter Monroe after the iconic actress.
Anna Nicole Smith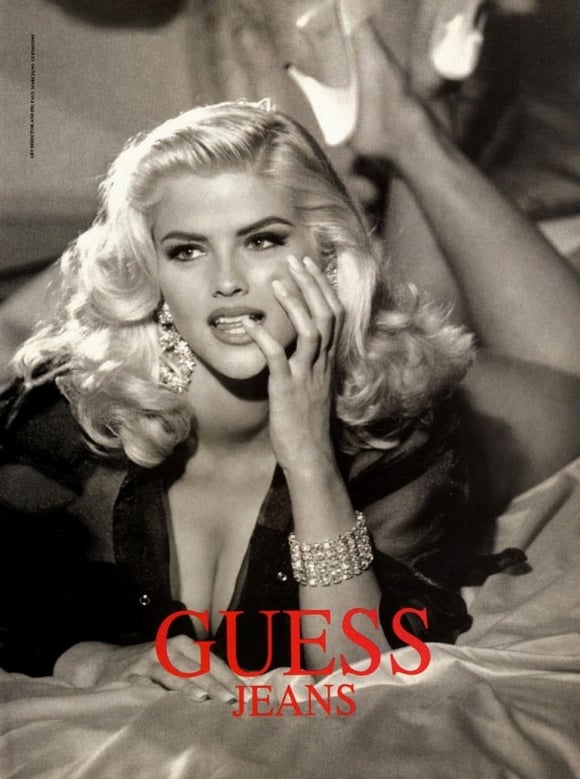 The late Anna Nicole Smith gained fame by modeling for Guess Jeans and Playboy and bared a striking resemblance to Marilyn Monroe. Anna Nicole was so inspired by the actress that she once told the press, "I want to be the new Marilyn Monroe." She also explained, "I just feel a connection with Marilyn Monroe. I just love her. I just completely feel what she went through." Sadly, both women died of drug overdoses — Marilyn at 36 and Anna Nicole at 39.
Lindsay Lohan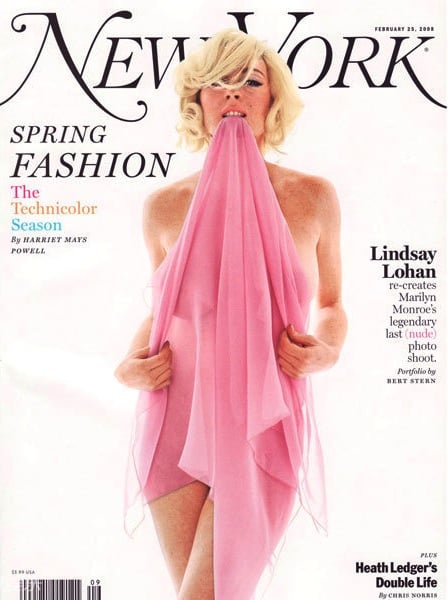 Lindsay Lohan [15] has long cited Marilyn as one of her influences, and the actress even re-created one of Marilyn's most famous photo shoots, "The Last Sitting," for New York magazine in 2008.
Lindsay also channeled Marilyn while posing for Playboy [16], saying, "Sex and sexuality are a part of nature, and I go along with nature. I think Marilyn Monroe said that, and I agree with her. Knowing your body and being in touch with your body is important because it gives you confidence, and in life, women need confidence."
Source: NY Mag [17]
Nicki Minaj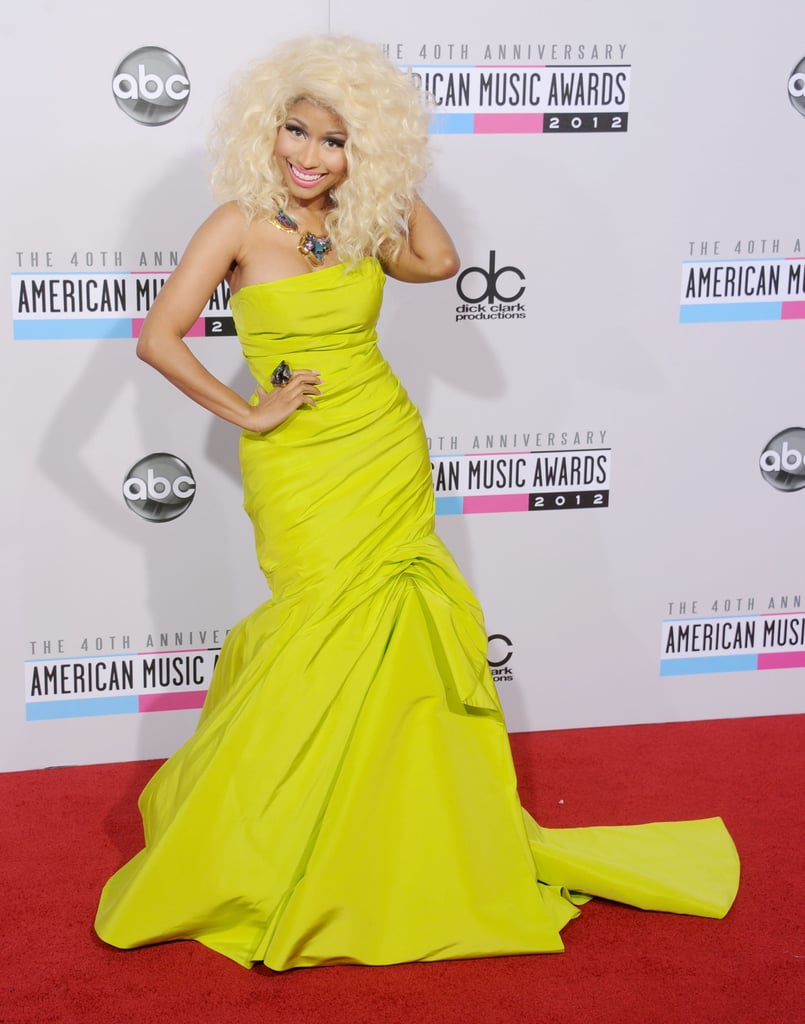 Nicki Minaj has said in various interviews that she's "obsessed with Marilyn Monroe." The rapper wrote a song titled "Marilyn Monroe" for her album Pink Friday: Roman Reloaded that makes many references to the actress and includes a few of her famous quotes. Nicki also asks, "Is this how Marilyn Monroe felt?" during the chorus.
Gwen Stefani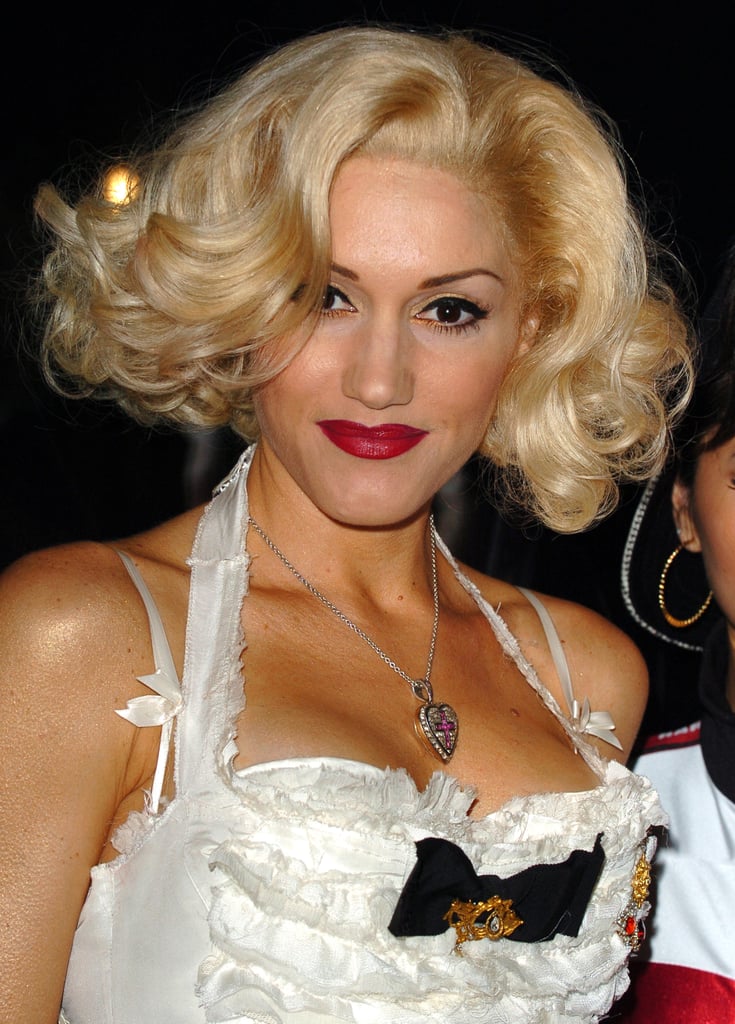 Gwen Stefani [18] has talked about molding her trademark look [19] after Marilyn's, telling InStyle magazine [20] that her hair color "is L'Oréal, but I won't reveal the number. And I do my roots as often as Marilyn Monroe did hers. I'm serious. I found out."
Christina Aguilera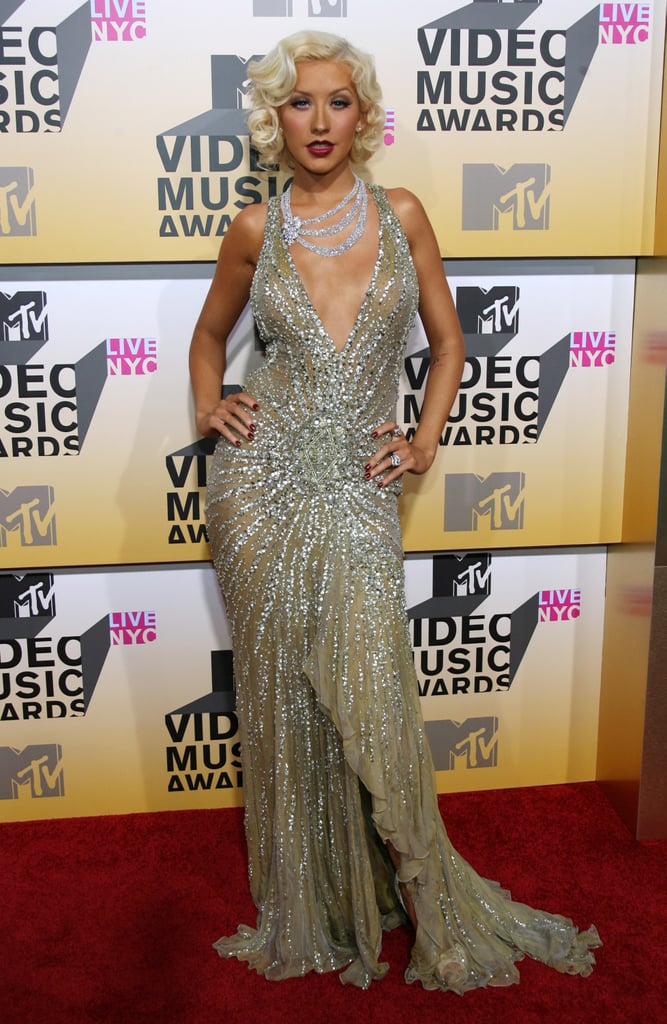 Christina Aguilera [21] has emulated Marilyn's look on red carpets and album covers and performed "Diamonds Are a Girl's Best Friend" in the 2010 movie Burlesque. She spoke about her beauty muses in an interview that year, saying, "Marilyn Monroe is my favorite. I think she evoked sensuality in her look, walk, and talk — and she just oozed natural confidence."
Lady Gaga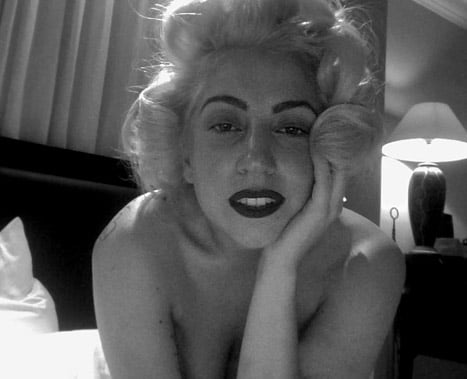 Lady Gaga [22] dressed up as Marilyn to celebrate the actress's birthday in 2011 and shared this photo via Twitter, saying, "Happy birthday, Marilyn. They'll never take our blonde hair and lipstick."
Source: Twitter user ladygaga [23]
Drew Barrymore
In a 2010 interview with Blackbook, Drew Barrymore was asked [24] which five people, dead or alive, she would invite to a dinner party. She answered: "My grandfather, Blake Edwards, Marilyn Monroe, Rachel Maddow, and 'Jeff Spicoli.'"
Another fun fact: John F. Kennedy Jr., who was the publisher of George magazine, put Drew on its September 1996 cover dressed as Marilyn Monroe the way she appeared singing "Happy Birthday" to his father in 1962.
Rihanna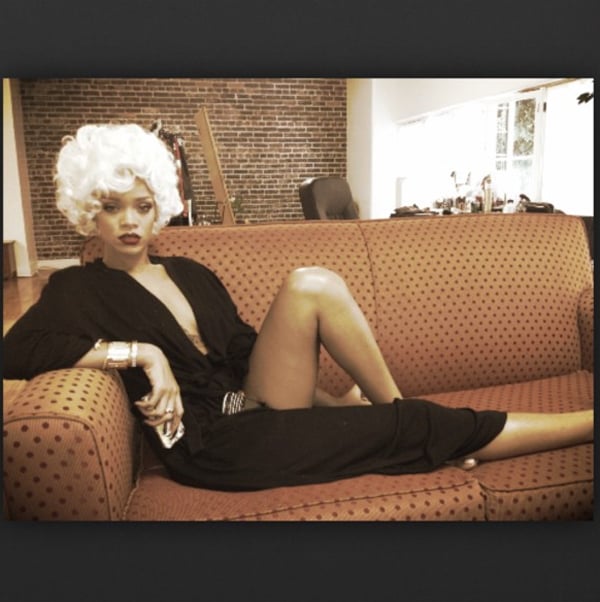 Rihanna [25] opted to dress up as Marilyn while filming the music video for her single "Pour It Up" recently. The singer has also been vocal about Marilyn Monroe's influence in the song "Love Without Tragedy," in which she sings, "Red lipstick, rose petals, heartbreak, I was his Marilyn Monroe." In 2012, Rihanna spent $160,000 on a bedazzled photo of Marilyn by British designer Claire Milner.
Source: Instagram user mforde11 [26]