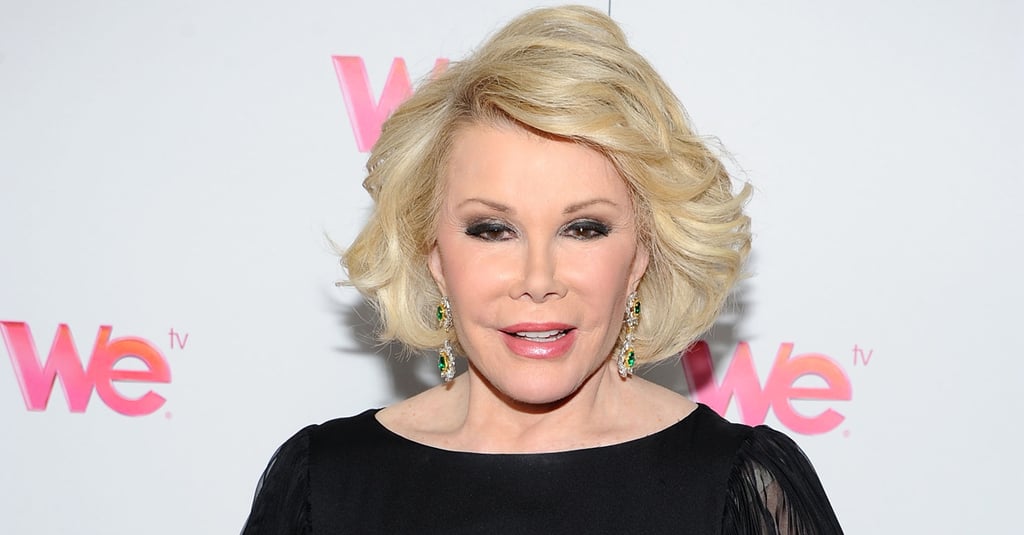 When Joan Rivers passed away at the age of 81 [1] on Thursday, Twitter and Facebook were immediately flooded with kind words and remembrances from not only fans but also Joan's friends and fellow comedians. Joan was nothing short of an entertainment pioneer, carving a space of her own in the male-dominated field of comedy of the '60s and '70s and later launching The Late Show. She also completely re-created the red carpet experience at award shows thanks to her hilarious coverage alongside her daughter, Melissa Rivers. See how stars are remembering the iconic comedian below.
Post [2] by Giuliana Rancic [3].
Post [4] by Kelly Osbourne [5].
A legend, a friend, a mentor, an icon, and wildly funny. One of a kind. RIP #JoanRivers [6] @joan_rivers [7] pic.twitter.com/jnAC5G4AQo [8]

— Kathy Griffin (@kathygriffin) September 4, 2014 [9]
My friend Joan Rivers has passed away once again to quote Billy Crystal... There are no words. Bon Voyage Joan

— Whoopi Goldberg (@WhoopiGoldberg) September 4, 2014 [10]
My heart is torn in half. She wasn't done. #Joan [11] http://t.co/XH87wAT4Mb [12]

— Sarah Silverman (@SarahKSilverman) September 4, 2014 [13]
.@Joan_Rivers [14] was a dear & wonderful friend who I've known for 45yrs. Great guest, pal, comedian & mother. We will never see her likes again

— Larry King (@kingsthings) September 4, 2014 [15]
NOOOOOOOO.......... RIP Joan. You will be forever missed.

— Kelly Ripa (@KellyRipa) September 4, 2014 [16]
we lost a great one in @Joan_Rivers [17] - she was funny all the way to the end

— Jimmy Kimmel (@jimmykimmel) September 4, 2014 [18]
Joan you were a fucking trailblazing assassin & I will love you forever & ever. Thank you.

— rob delaney (@robdelaney) September 4, 2014 [19]
My heart goes out to Melissa & her son Edgar Cooper. Love and respect from the Osbourne family to you both.

— Sharon Osbourne (@MrsSOsbourne) September 4, 2014 [20]
RIP the mighty Joan Rivers. Funny & fearless. Truly one of a kind.

— Ricky Gervais (@rickygervais) September 4, 2014 [21]
I'm so sad 2 hear tht Joan Rivers passed away 2day :( A pioneer in women's comedy & a survivor w a capital S! Thank U Joan 4all th laughs <3

— Fran Drescher (@frandrescher) September 4, 2014 [22]
Heartbroken to hear about Joan Rivers. She was so kind to me, to my family, and she helped many people behind the scenes. RIP to the legend.

— Christian Siriano (@CSiriano) September 4, 2014 [23]