The Golden Globes preparties have officially begun! On Thursday night, nearly every A-lister in LA gathered at the Chateau Marmont in West Hollywood for W Magazine's celebration of its Best Performances issue. Bradley Cooper [1] got a chance to chat with Idris Elba and mingle with his American Hustle director, David O. Russell. Bradley's costar Amy Adams [2] was also at the event, where she chatted with W editors and 12 Years a Slave's breakout star, Lupita Nyong'o, who proved to be the woman of the hour as she divided her time between several A-list guests, including Amy and Kate Hudson [3]. Movie stars weren't the only focus of the night, though, as House of Cards star Robin Wright happily posed for snaps with her daughter, Dylan Penn, who has been popping up in the news after she was recently linked to Robert Pattinson [4]. Meanwhile, Modern Family beauties Sarah Hyland and Sofia Vergara chatted during the night, with the latter showing off her new, lighter hair color. That's only a taste of the famous faces who were at this star-studded party, so keep scrolling to see more of who was there. And don't forget to look back at the best moments from the Golden Globes [5] before the award show airs on Sunday.
Michelle Dockery wore a colorful dress.
Sarah Hyland and Sofia Vergara met up inside the bash.
Kate Hudson [6] chatted with Lupita Nyong'o.
Pregnant Olivia Wilde [7] put her bump on display while mingling with Amanda de Cadenet.
Bradley Cooper [8] chatted with Diane von Furstenberg, David O. Russell, and David's ex-wife, Janet Grillo.
Lupita Nyong'o brought serious glamour to the party.
Robin Wright looked happy to show off her daughter, Dylan Penn.
Molly Sims brightened up the bash in a red dress.
Naomie Harris was a vision in white.
Jared Leto [9] chatted with actress Brit Marling and Dita Von Teese [10].
Kirsten Dunst [11] and Garrett Hedlund arrived together.
Amy Adams [12] rubbed elbows with Lupita Nyong'o.
Cate Blanchett [13] and her Blue Jasmine costar Sally Hawkins both wore black.
Ashley Madekwe was either cold or in the mood to strike a fresh pose.
Allison Williams represented the Girls crew in LA.
Julie Delpy went for a long, black gown.
Kate Hudson [14] chatted with Kelly Lynch.
Marisa Tomei channeled The Wolf of Wall Street.
Director Steve McQueen mingled with his 12 Years a Slave stars Idris Elba and Lupita Nyong'o.
Breaking Bad's Betsy Brandt also went for an all-black look.
Amy Adams [15] put her fit figure on display.
Sofia Vergara rocked a lighter hair color.
Sarah Hyland popped in orange.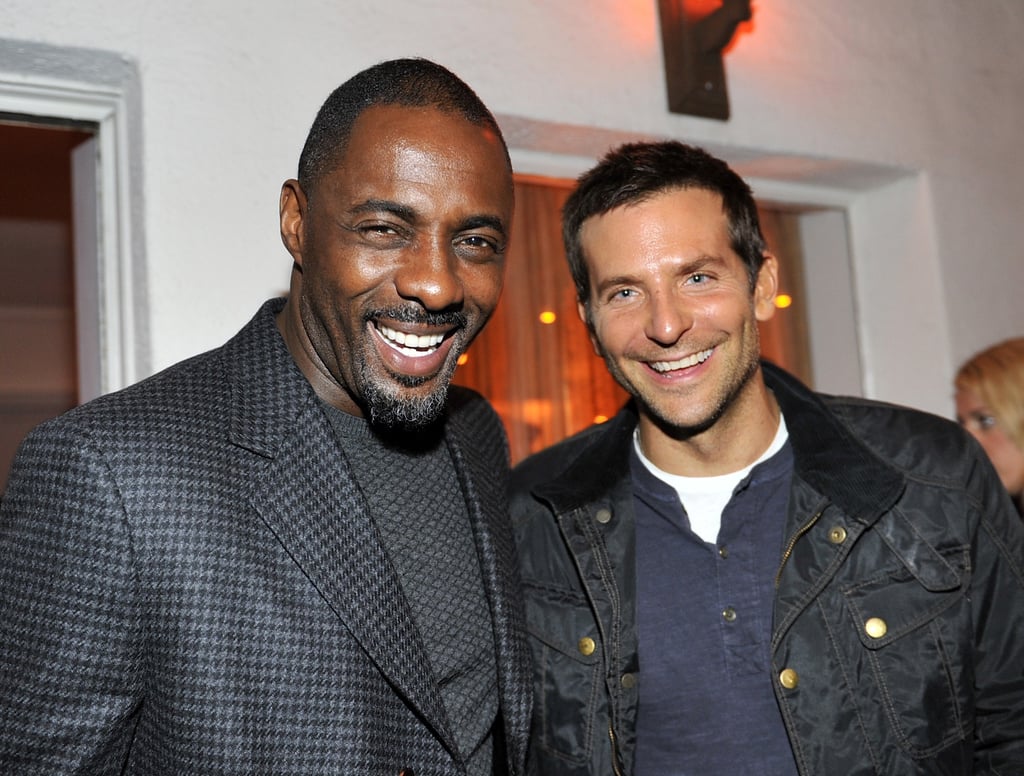 Bradley Cooper [16] and Idris Elba made a handsome pair.