Kim and Kanye have a love affair with France. And can you blame them? From Paris to Provence, the charming country brims with natural beauty, forward fashion, and stunning architecture, and its romance is popular with lovers, famous or not. On May 24 [1], the parents of baby North will say "oui" in a marriage celebration held right outside the French capital. The reported location? Chateau Louis XIV, a new 17th-century-style mansion in the western Parisian suburb of Louveciennes. Kim and Kanye will join a club of celebrities who made things official in France. Get the details below.
Source: Getty/ Marc Piasecki/ [2]
Eva Longoria and Tony Parker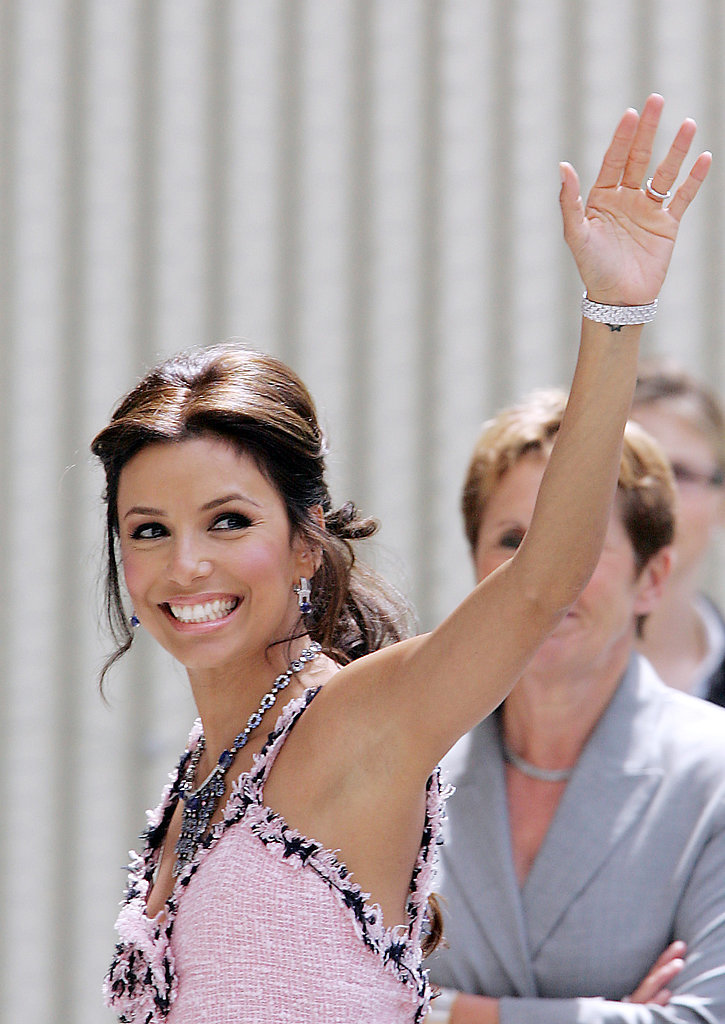 On 7/7/07, French-born NBA player Tony Parker and Desperate Housewives star Eva Longoria [3] wed in Paris. That Friday, Eva wore a flirty pink Chanel dress to the city hall in the city's fourth arrondissement, where she and Tony married in a civil ceremony, as required by French law. That Saturday, the couple also exchanged religious vows at the Church of Saint Germain l'Auxerrois in front of 250 guests. The reception was held at Chateau Vaux-le-Vicomte, a 17th century castle outside the city. Before their divorce in 2011, Tony and Eva often enjoyed time in his native country, [4] but the fairy tale came to an end in part due to his infidelity [5].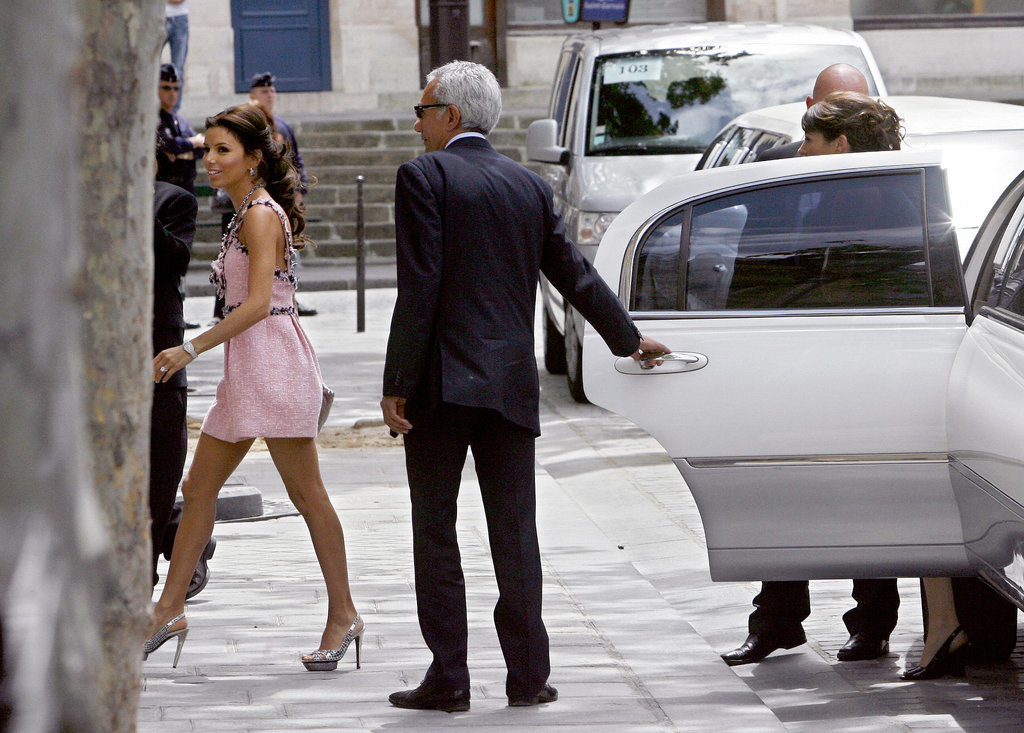 Eva arrived to the Paris city hall the day before her religious ceremony.
Mark Ronson and Josephine de la Baume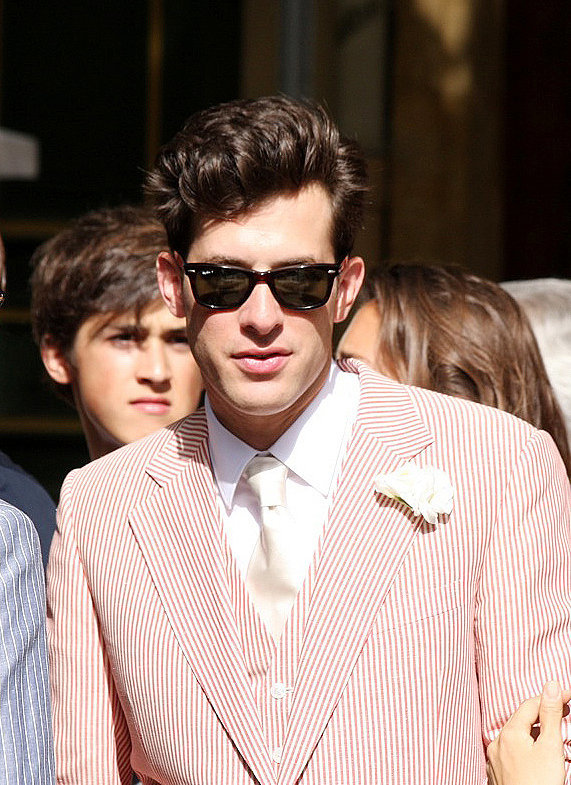 Music producer Mark Ronson married Josephine de la Baume in September 2011 in Aix-en-Provence, France. Many of Mark's famous relatives came out, including his sisters Samantha, Charlotte, and Annabelle.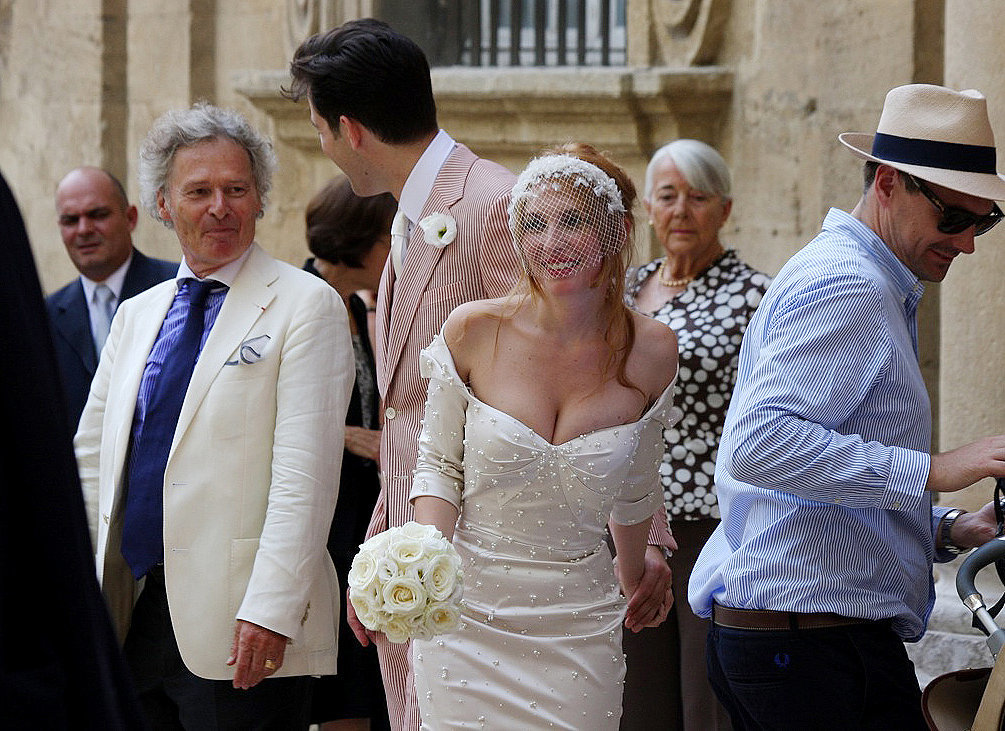 He was decked out in a red and white seersucker suit for the ceremony, while Josephine's dress was made by pal Zac Posen [6]. It was the perfect South of France vibe.
There were other well-known guests at the event like models Irina Lazareanu, Charlotte Kemp Muhl, and her boyfriend, Sean Lennon. Kate Moss [7] and Lily Allen [8] apparently turned out, too.
Keira Knightley and James Righton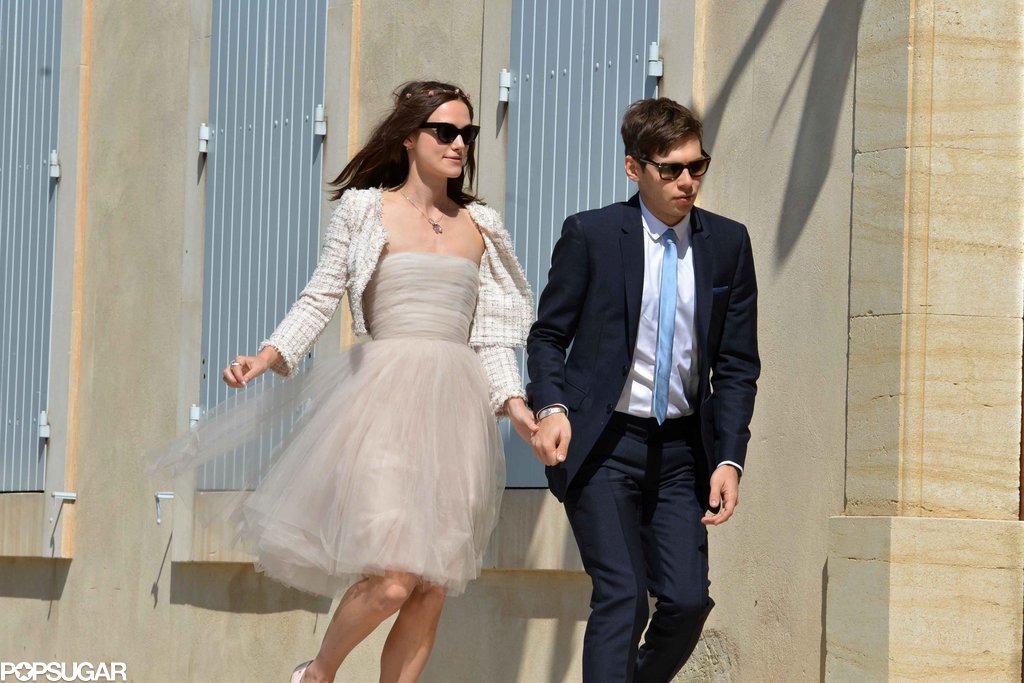 Keira Knightley married James Righton in France [9] in May 2013. They wed in the small French town of Mazan at the town hall with just a small group of family and friends there to witness. Later that evening, they hosted a party at Keira's family's farmhouse in Provence. Keira wore a short dress paired with a chic jacket for the nuptials. In fact, Keira's Chanel dress was first seen on her in 2008! She also donned a chic Chanel jacket and flats. She polished off the look with a headpiece made of flowers.
Avril Lavigne and Chad Kroeger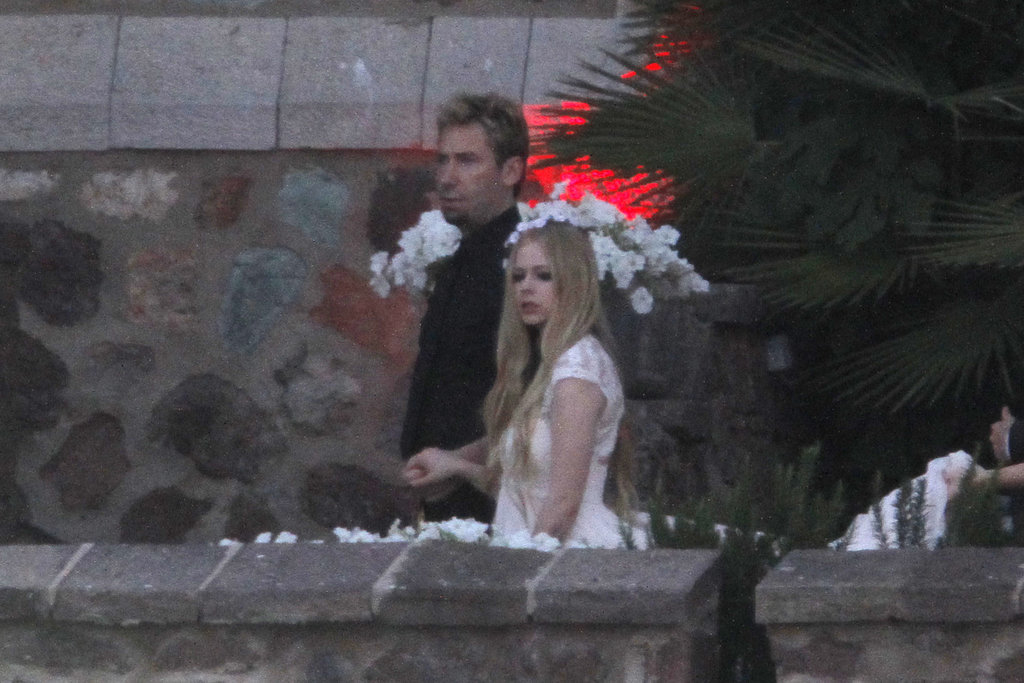 Avril Lavigne and Chad Kroeger [10] tied the knot in the South of France on July 1, 2013, after a few days of festivities with friends and family. Although the ceremony took place abroad, the couple chose to marry on Canada Day, July 1, in honor of their native country. Avril wore a flowing white dress and flower crown for the prewedding event, while Chad was dressed up in a suit. For the nuptials, however, Avril changed into a strapless black gown.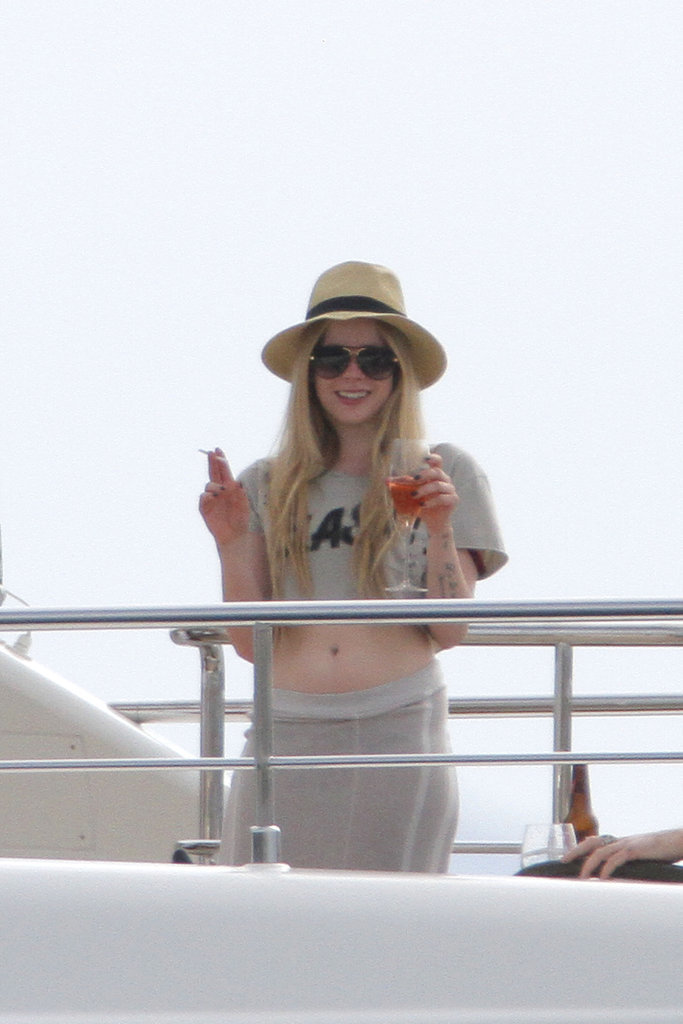 Over their destination wedding [11] weekend, Chad and Avril also spent an afternoon in the sun lounging on a yacht, where Avril enjoyed one of France's best pleasures: rosé wine.
Halle Berry and Olivier Martinez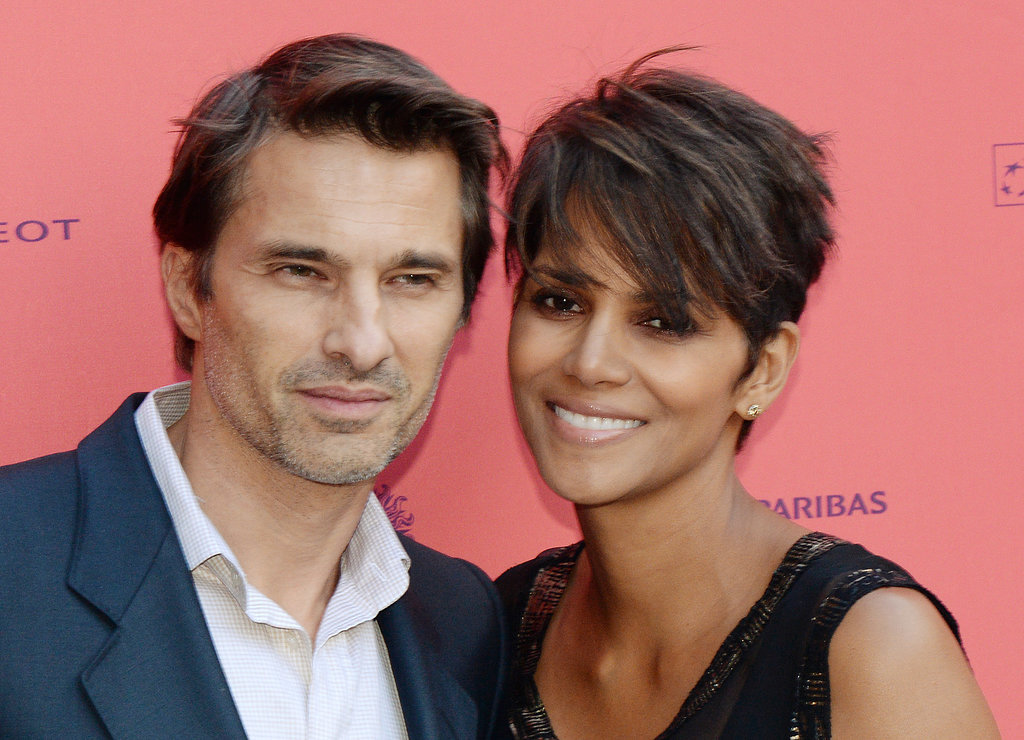 Halle Berry [12] married Olivier Martinez in July 2013. The couple tied the knot in a 4 p.m. civil ceremony, followed by a larger bash at a chateau located in Burgundy. Halle was expecting their son, Maceo, who was born in October of that year.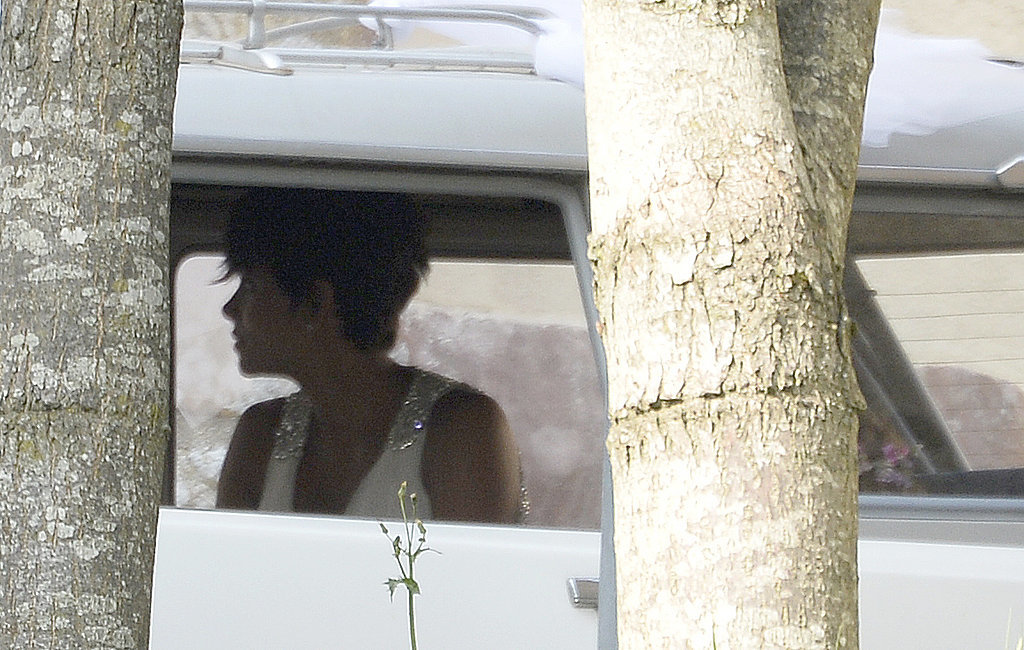 Halle was spotted wearing a white gown with bejeweled straps when she arrived at the Chateau des Condé in a vintage white car.