The 2013 Primetime Emmy Awards are on Sunday, and we're gearing up for the biggest night in TV with a look back at the show's best moments from the past. The Emmys celebrate our small-screen favorites, including hot leading men, funny comedians, and the best dramatic actors — and we can't wait to see who wins big this time around. See a full list of this year's nominees [1], and click through to see the stars from Emmy's past!
Sofia Vergara hit the red carpet at the 2012 show.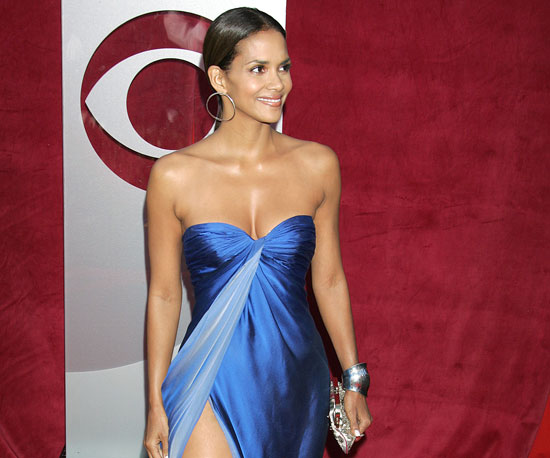 Halle Berry [2] presented an award at the 2005 show.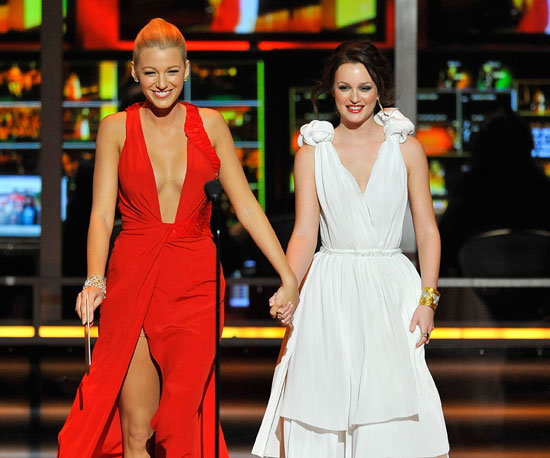 Blake Lively [3] and Leighton Meester [4] walked hand in hand to the mic to present in 2009.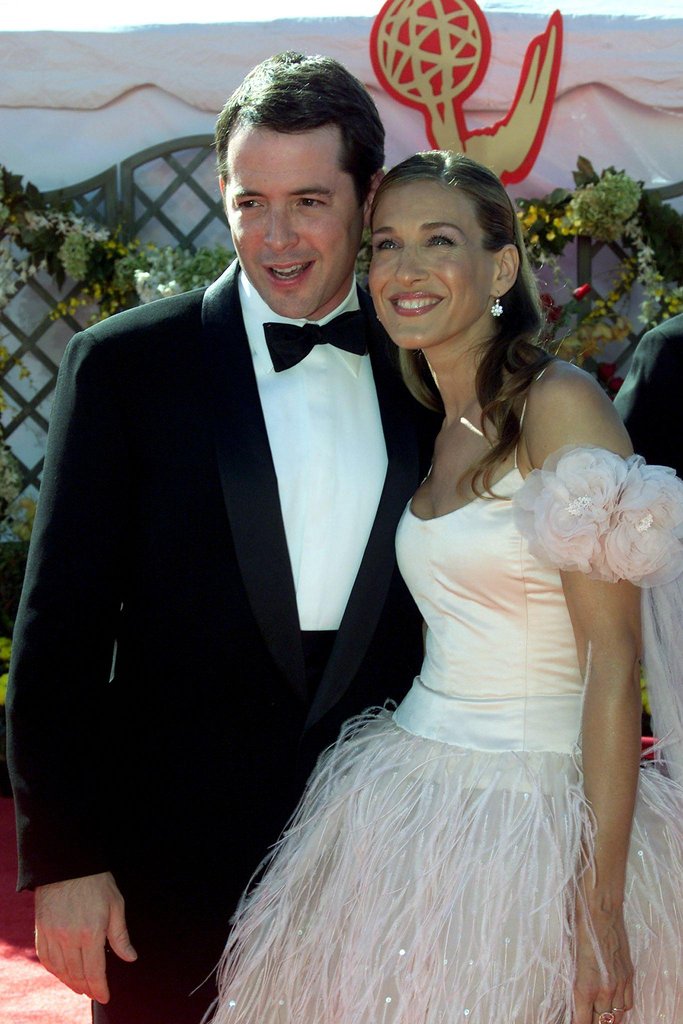 Sarah Jessica Parker [5] cozied up to Matthew Broderick [6] in 2000.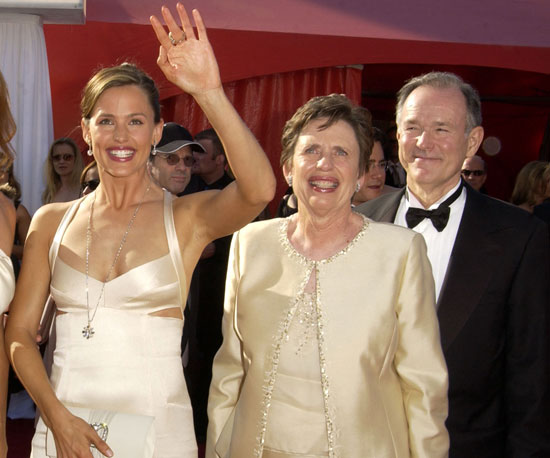 Jennifer Garner [7] brought her parents to the show in 2003.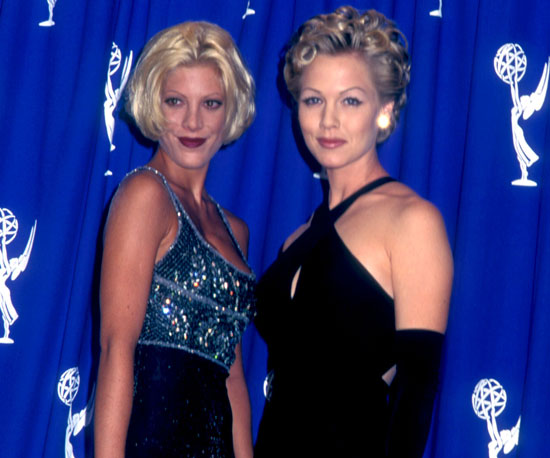 Tori Spelling [8] and Jennie Garth dressed to the nines for their appearance in 1995.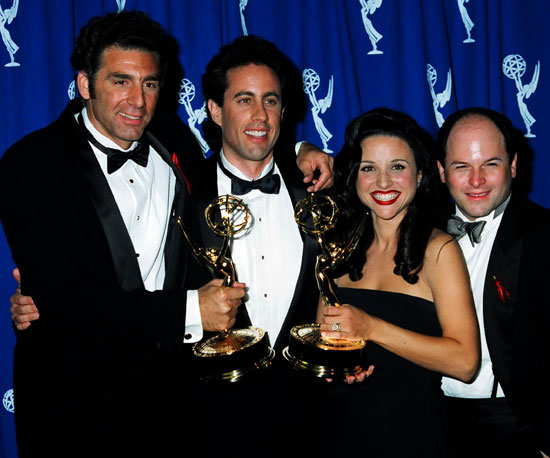 The cast of Seinfeld celebrated their 1993 outstanding comedy series win together.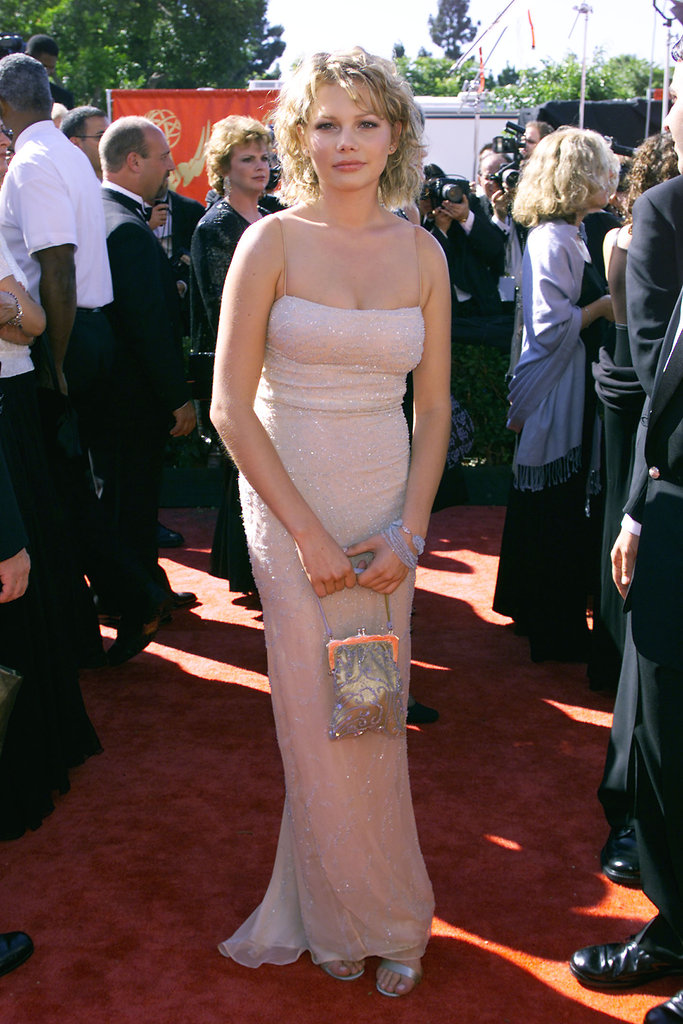 Michelle Williams [9] wore a pastel hue to the 1999 Emmy Awards.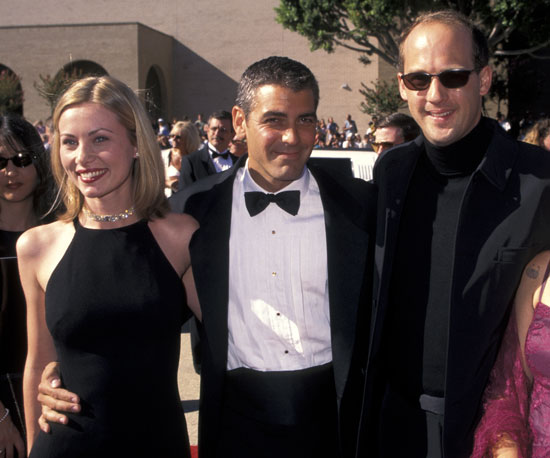 George Clooney [10] had his ER costar Anthony Edwards and girlfriend Celine Balitran by his side on the red carpet in 1996.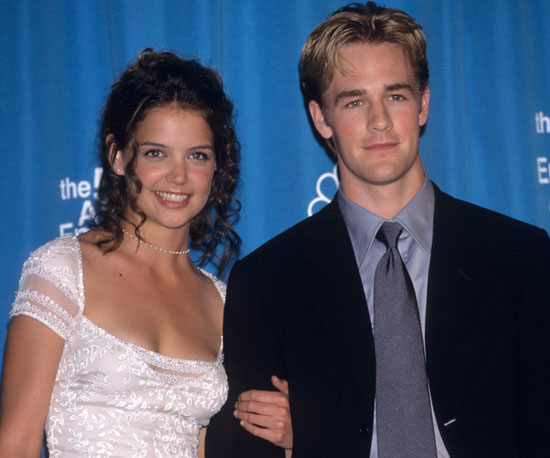 Katie Holmes [11] took James Van Der Beek [12] as her date in 1998.
The ladies of Sex and the City, Sarah Jessica Parker [13], Kristin Davis, Cynthia Nixon, and Kim Cattrall [14], stuck together at the show in 1999.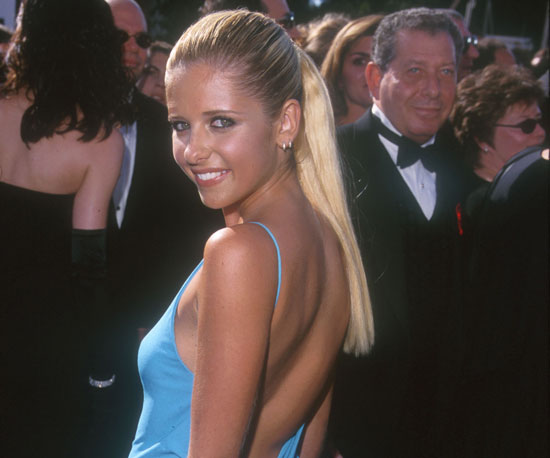 Sarah Michelle Gellar [15]'s blue gown showed off her tan in 1999.
Ellen DeGeneres [16] and Portia de Rossi [17] cozied up to one another on the red carpet in 2012.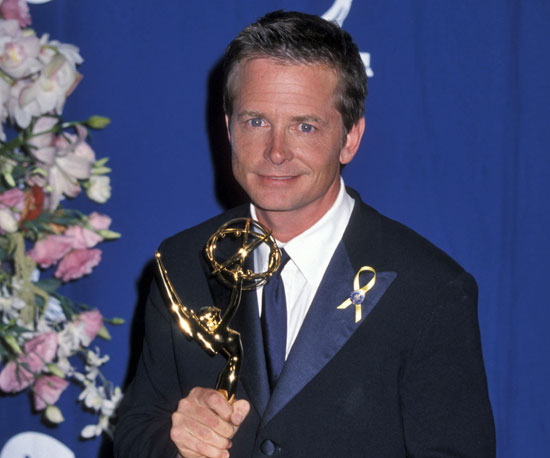 Michael J. Fox took home the prize for outstanding lead actor in a comedy series in 2000.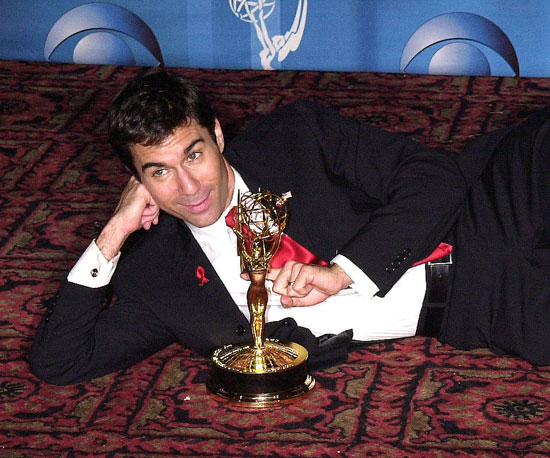 Eric McCormack posed with his 2001 Emmy for best actor in Will & Grace.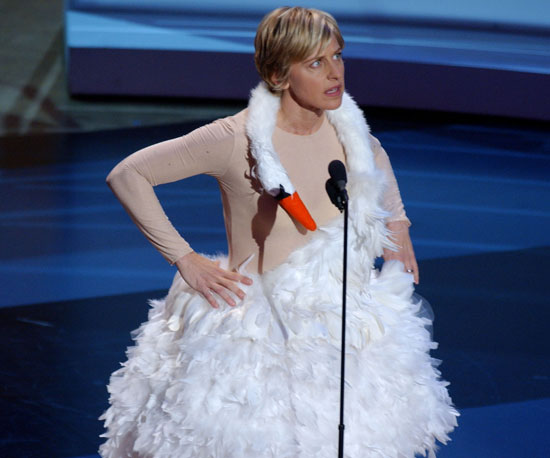 Ellen DeGeneres [18] had a hilarious outfit change at the 2001 award show.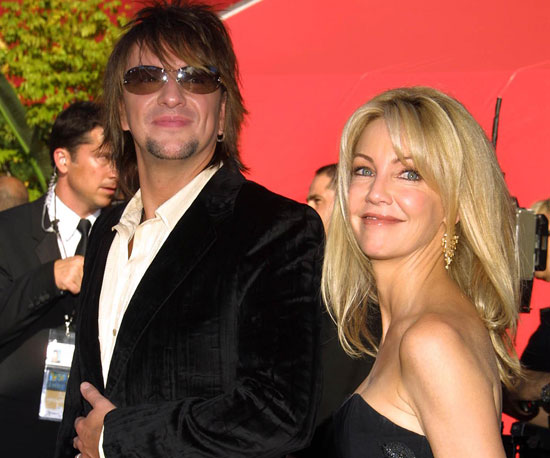 Heather Locklear [19] and her then husband Richie Sambora wore matching black attire for the 2002 festivities.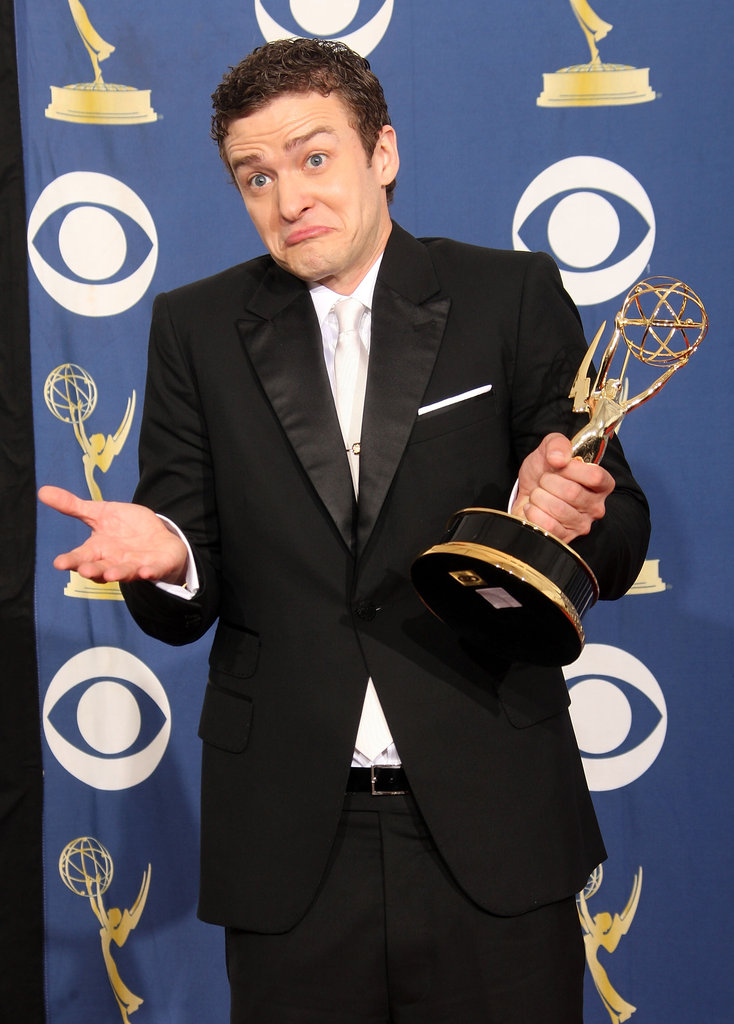 Justin Timberlake [20] took home an Emmy for his work on SNL in 2009.
Homeland costars Claire Danes [21] and Damian Lewis posed with their awards after the 2012 show.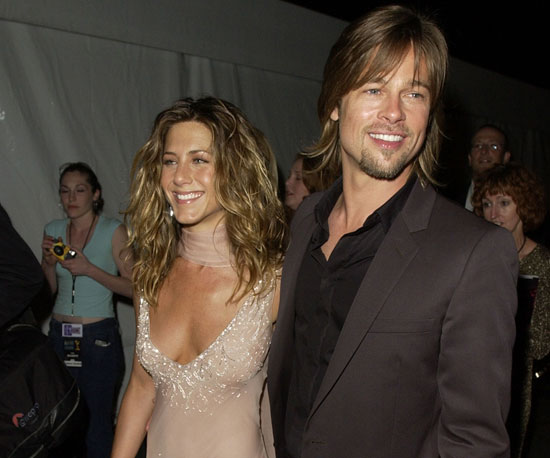 Brad Pitt [22] was by Jennifer Aniston [23]'s side after she won for best actress in Friends in 2002.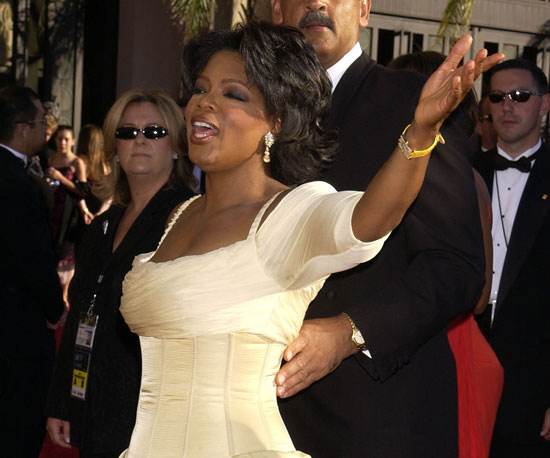 Oprah Winfrey [24] stole the show at the 2002 Emmys.
Nashville stars Connie Britton and Hayden Panettiere [25] took the stage to present together in 2012.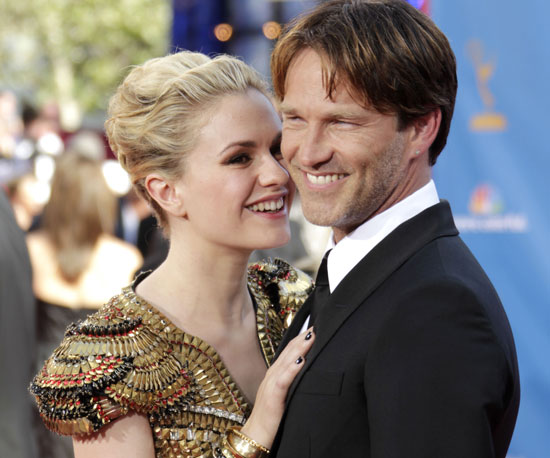 Anna Paquin [26] and Stephen Moyer [27] stepped out together as newlyweds to the 2010 ceremony.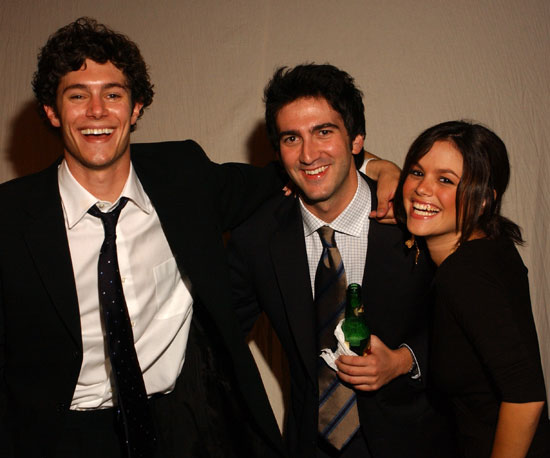 Adam Brody [28] and Rachel Bilson [29] hung out with OC creator Josh Schwartz at a 2003 Emmys afterparty.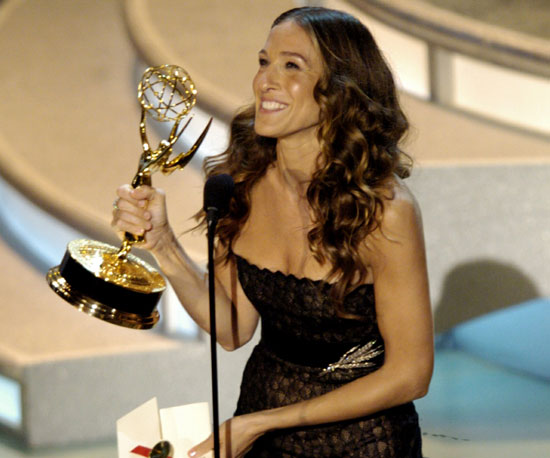 Sarah Jessica Parker [30] picked up an Emmy for outstanding lead actress in a comedy series at the 2004 show.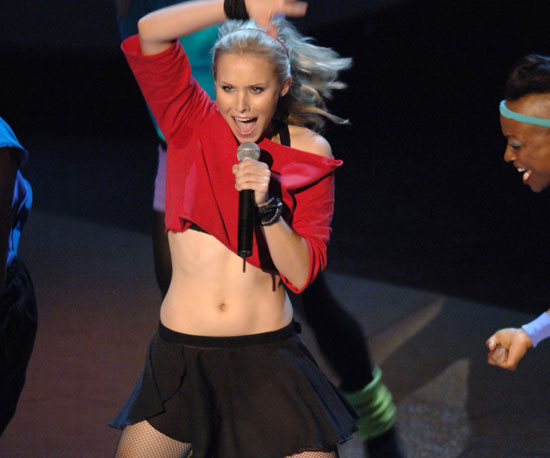 Kristen Bell [31] performed the Fame theme song at the 2005 award show.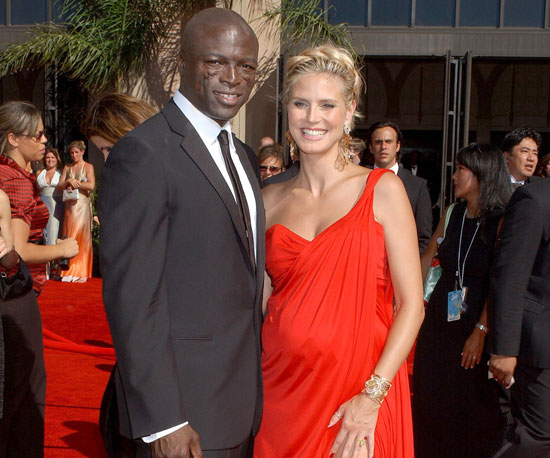 Heidi Klum [32] flaunted her baby bump with Seal on the red carpet in 2006.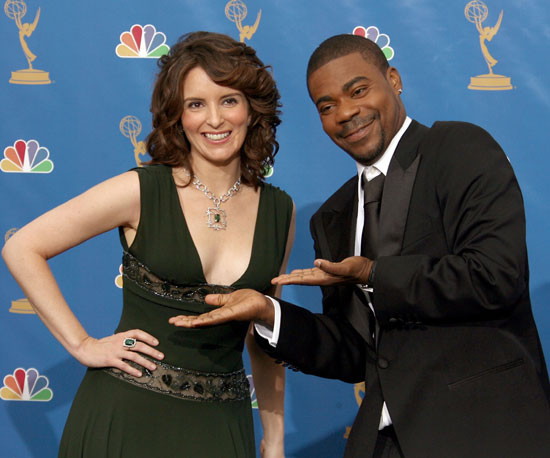 30 Rock costars Tina Fey [33] and Tracy Morgan joked around in 2006.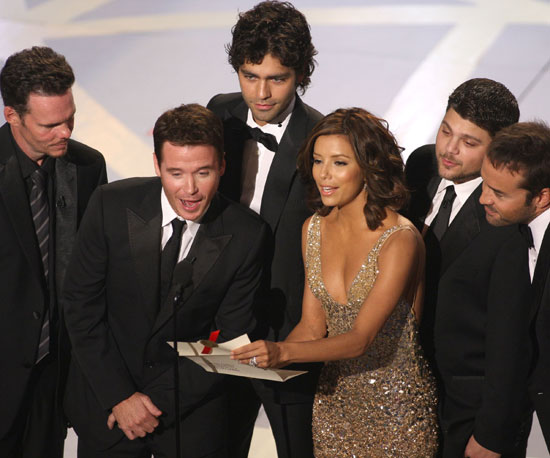 Eva Longoria [34] joined the Entourage cast to present an award in 2007.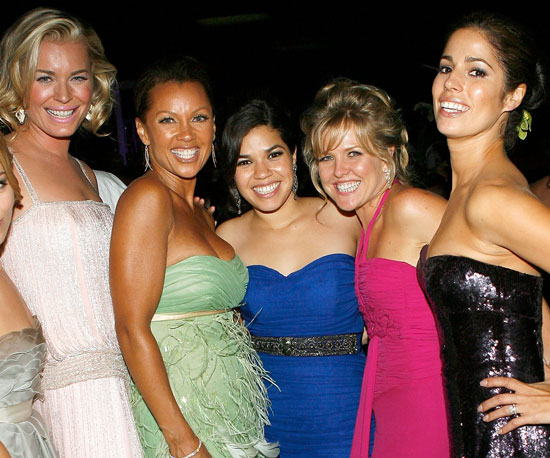 The cast of Ugly Betty celebrated America Ferrera [35]'s outstanding actress win in 2007.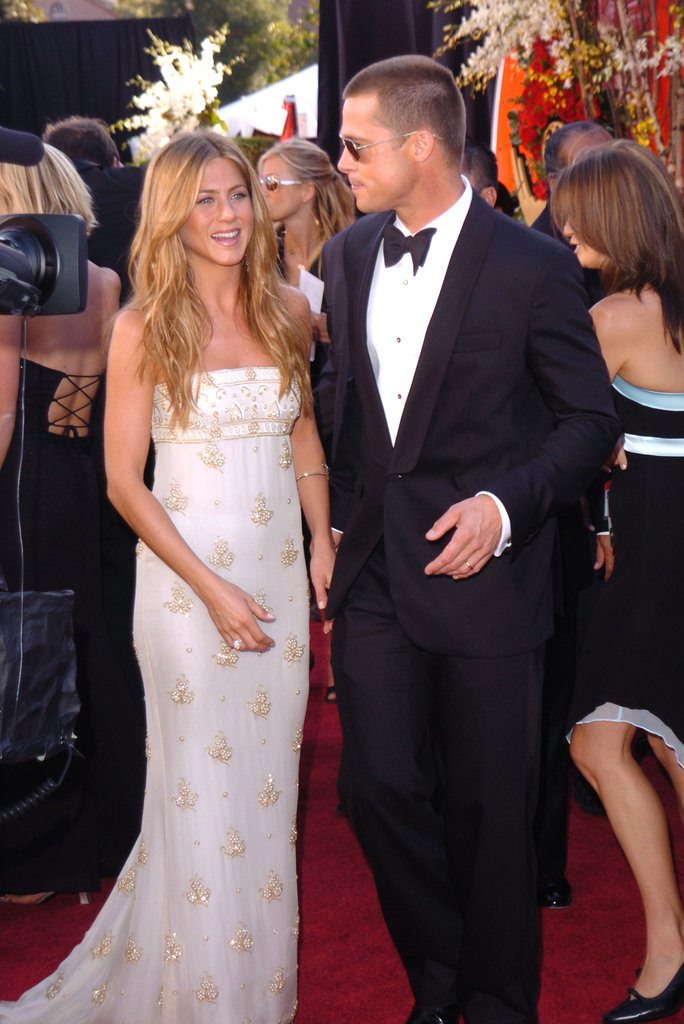 Jennifer Aniston [36] wore a lovely white and gold gown to the festivities in 2004.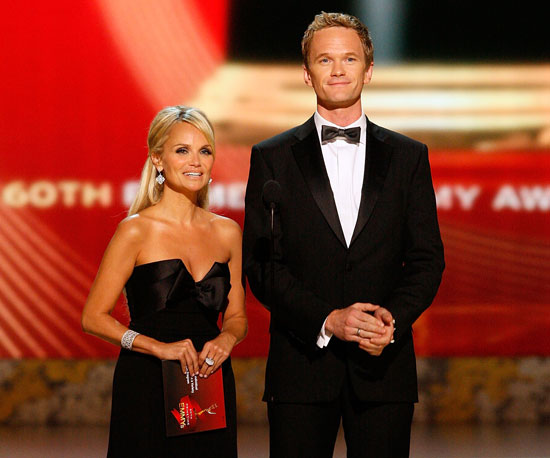 Kristin Chenoweth [37] and Neil Patrick Harris [38] took the stage together in 2008.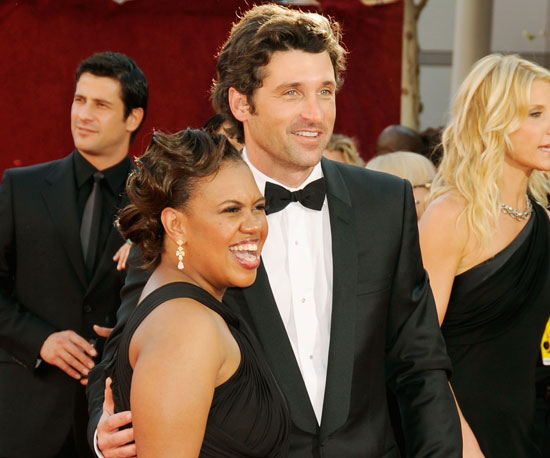 Patrick Dempsey [39] and Chandra Wilson showed their smiles on the red carpet in 2008.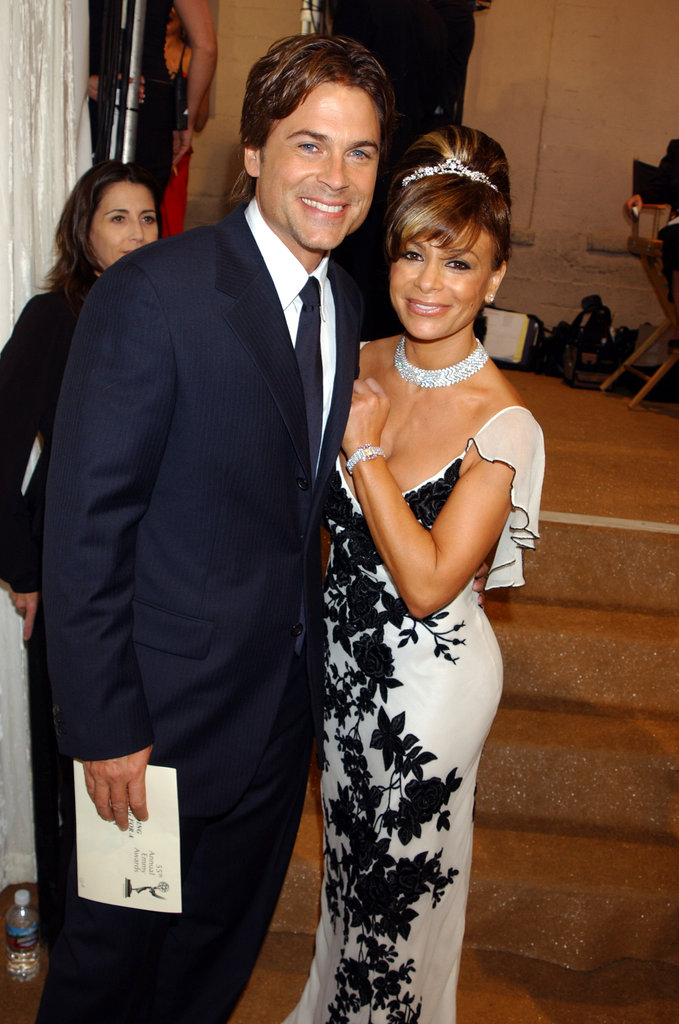 Paula Abdul [40] crossed paths with Rob Lowe [41] in 2003.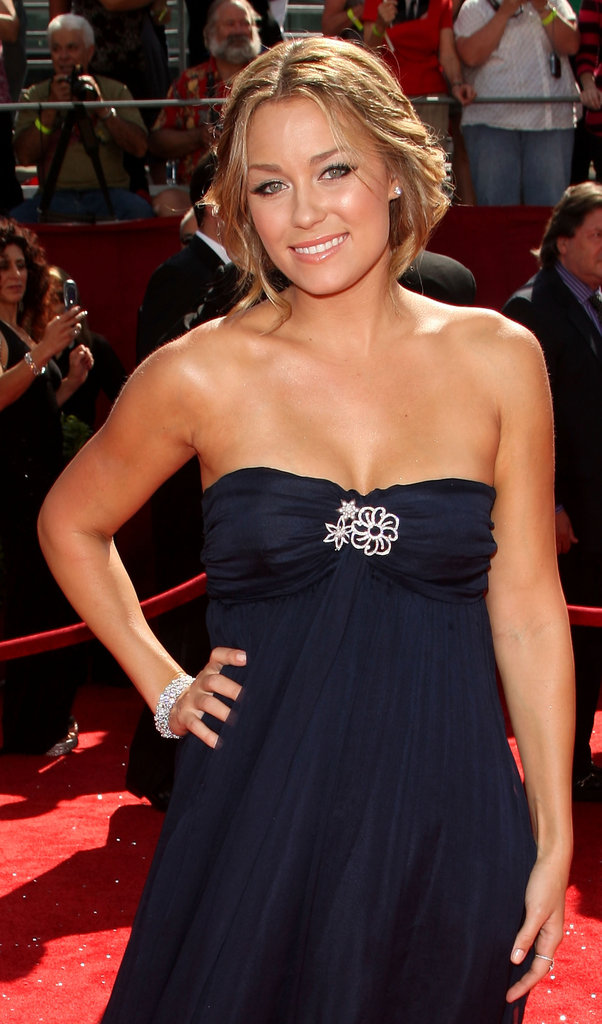 Lauren Conrad [42] wore a navy design in 2008.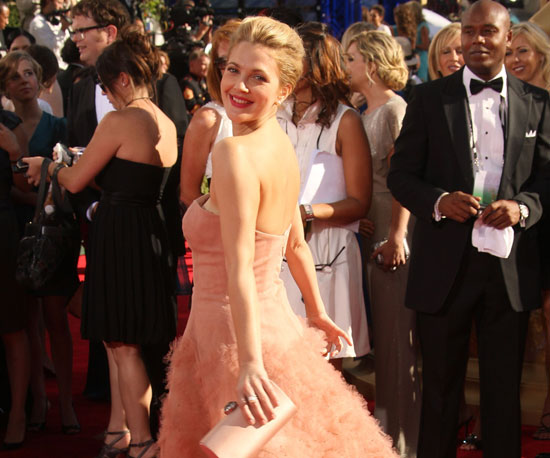 Drew Barrymore [43] glowed on the red carpet in 2009.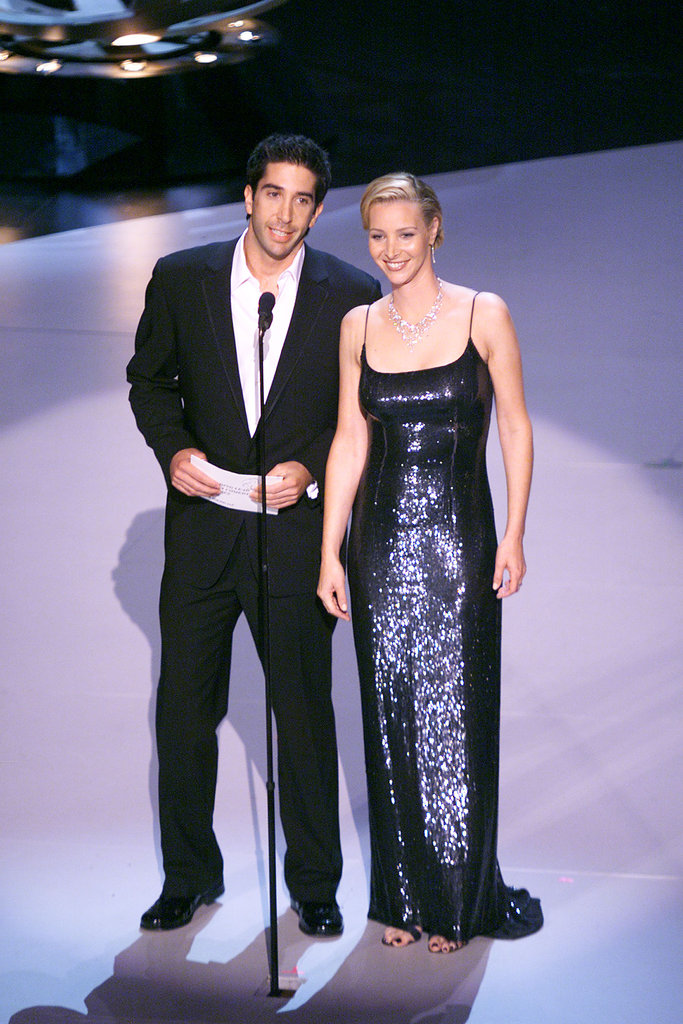 David Schwimmer and Lisa Kudrow presented in 1999.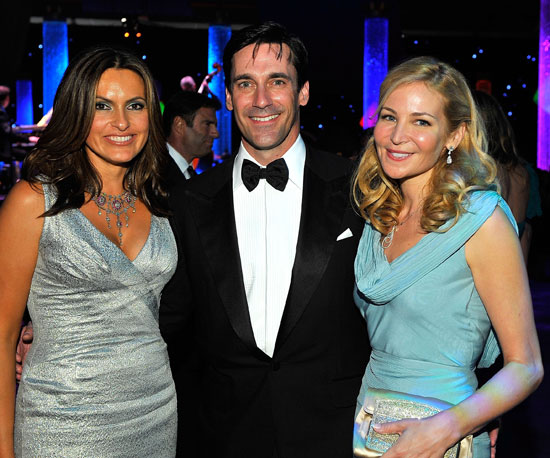 Jon Hamm [44], Jennifer Westfeldt, and Mariska Hargitay partied together at the Governor's Ball in 2009.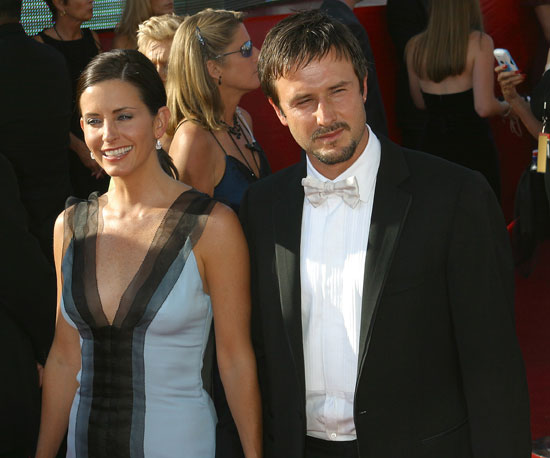 Courteney Cox [45] and her then husband David Arquette [46] walked the red carpet together at the 2003 Emmys.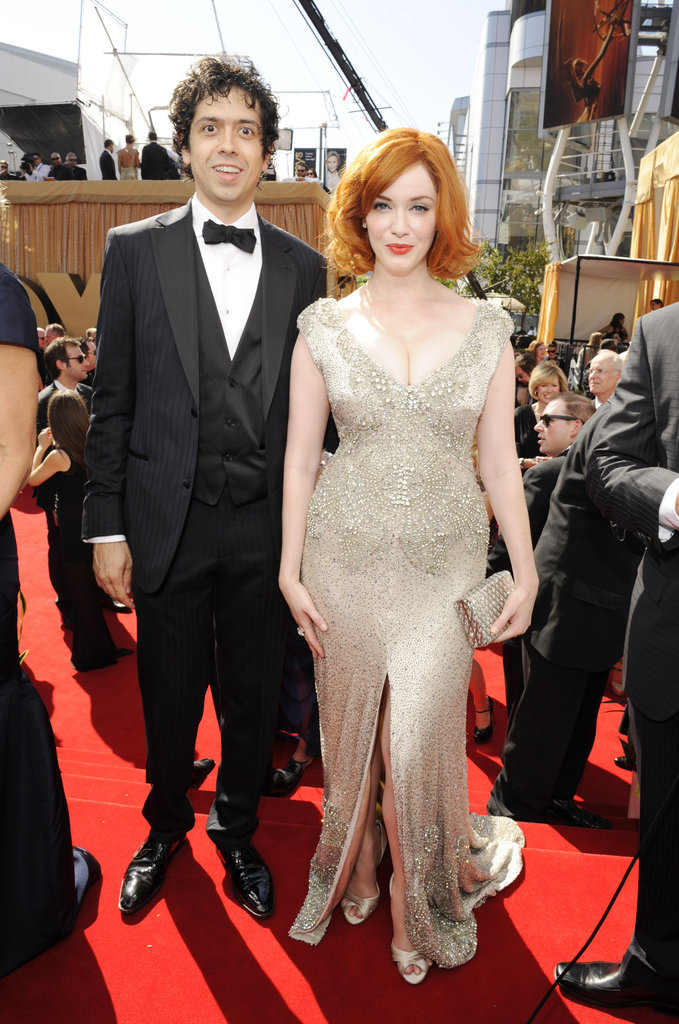 Christina Hendricks was joined by husband Geoffrey Arend in 2011.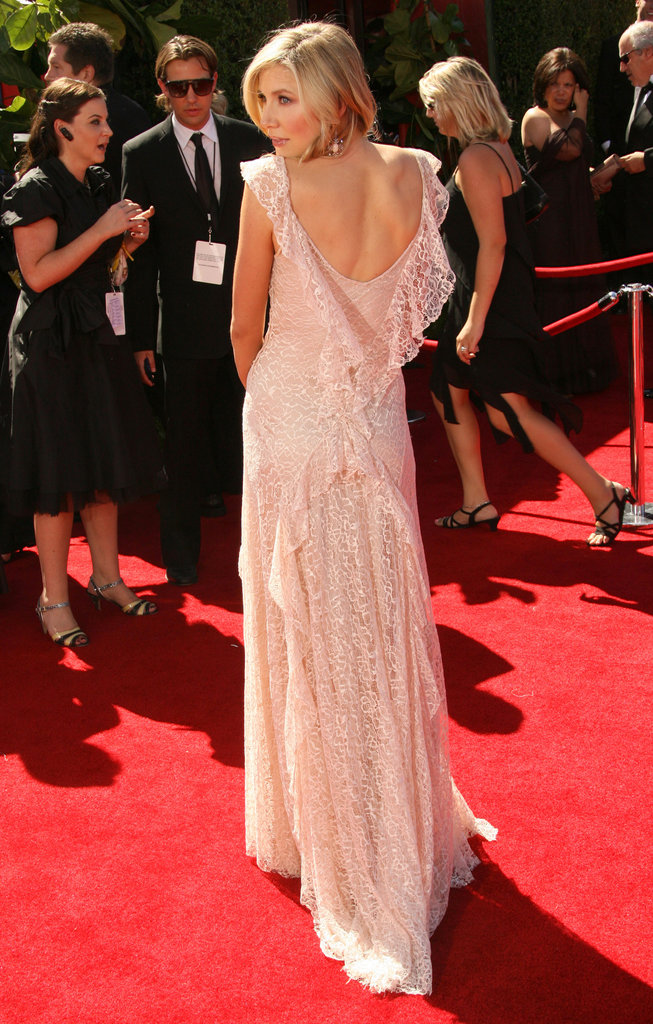 Sarah Chalke [47] showed off all angles of her beaded dress in 2006.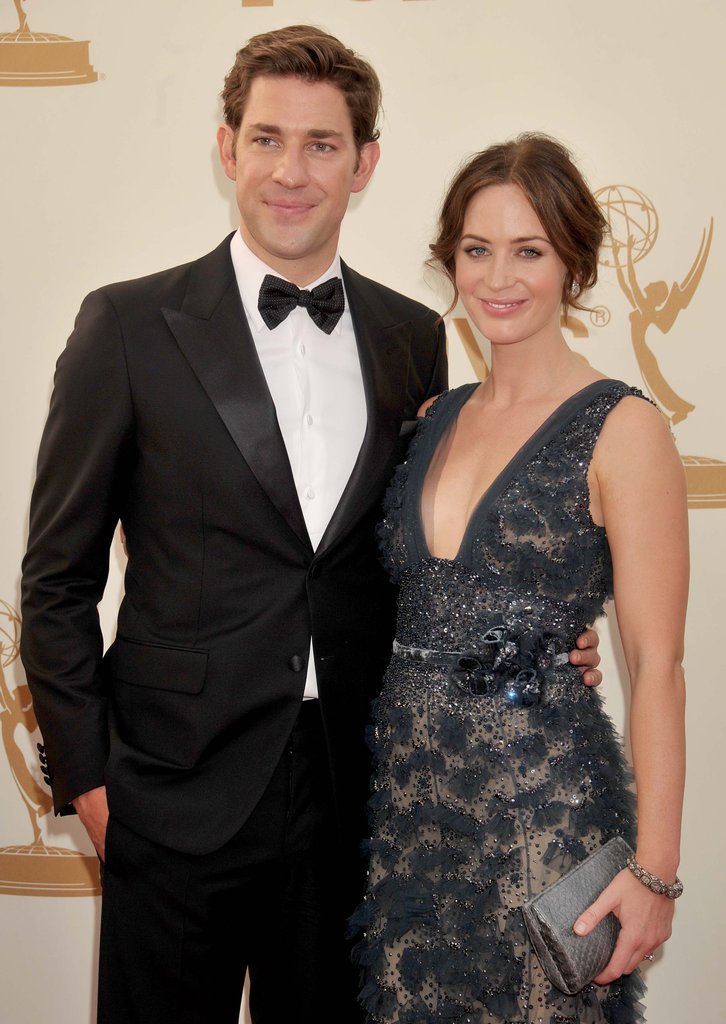 John Krasinski [48] and Emily Blunt [49] made a dashing duo in 2011.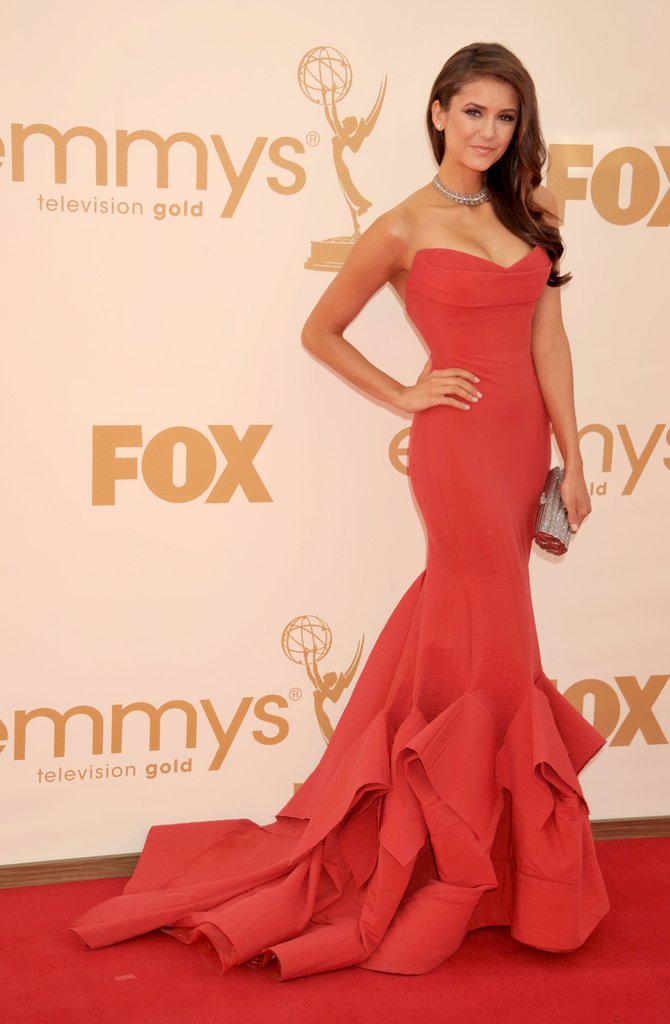 Nina Dobrev [50] dazzled in a red gown at the 2011 award show.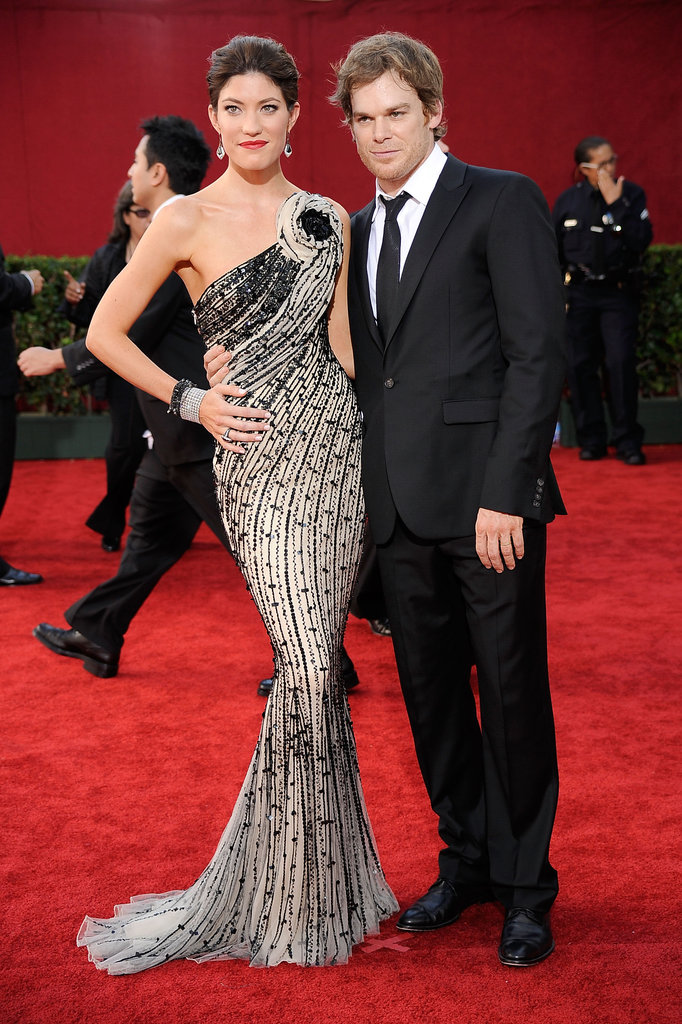 Dexter couple Jennifer Carpenter and Michael C. Hall arrived together in 2009.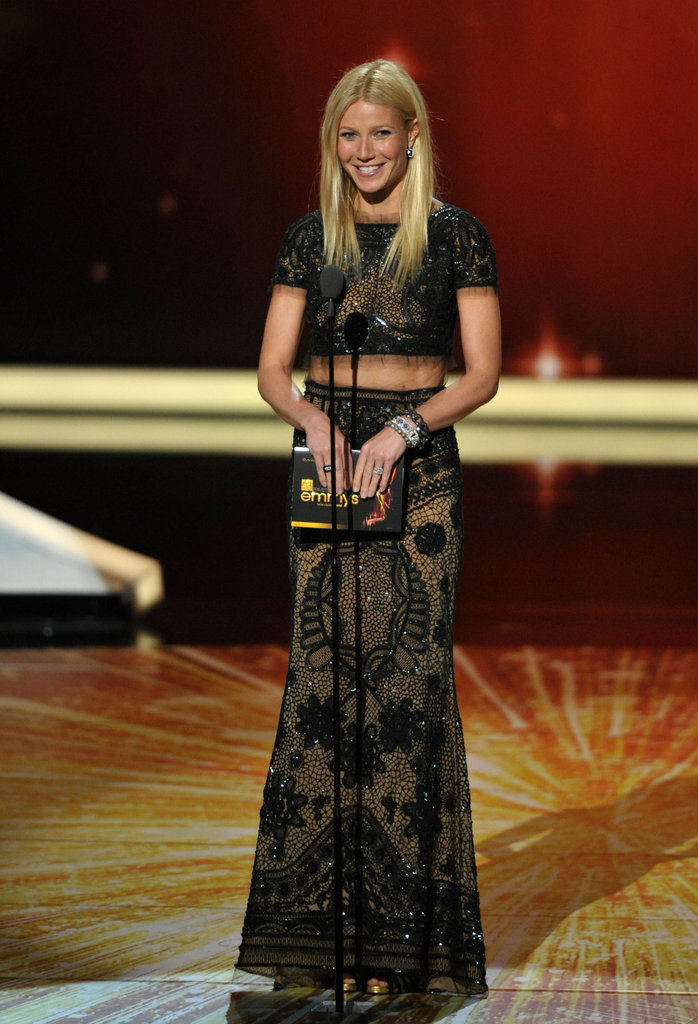 Gwyneth Paltrow [51] presented an award in 2011.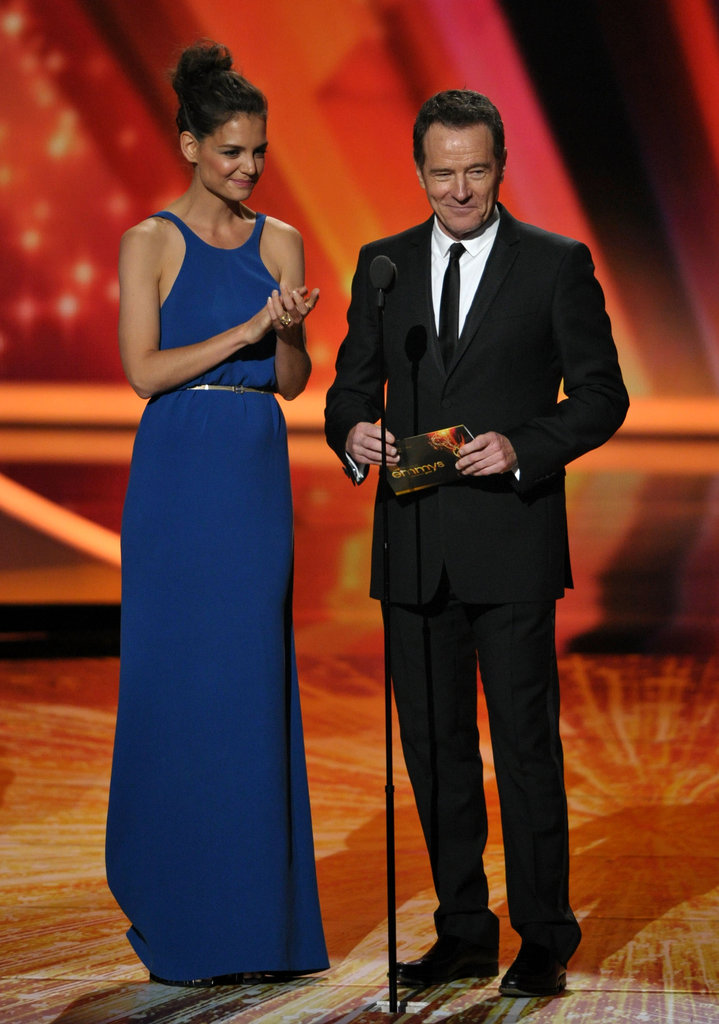 Katie Holmes [52] was joined on stage by Bryan Cranston during the 2011 telecast.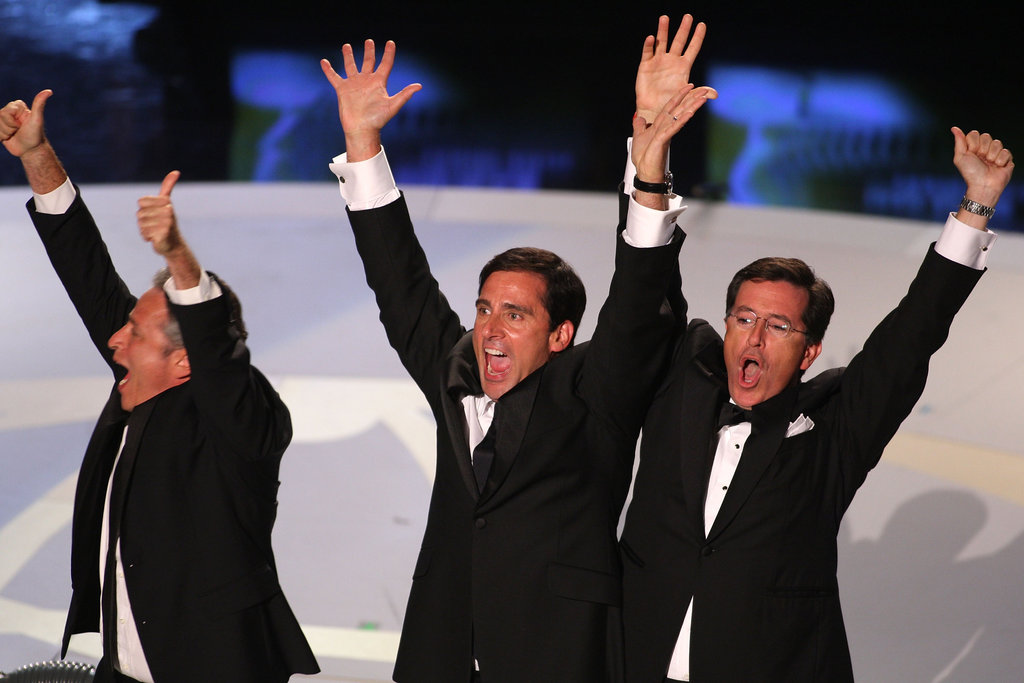 Jon Stewart [53], Stephen Colbert [54], and Steve Carell [55] joked around in 2007.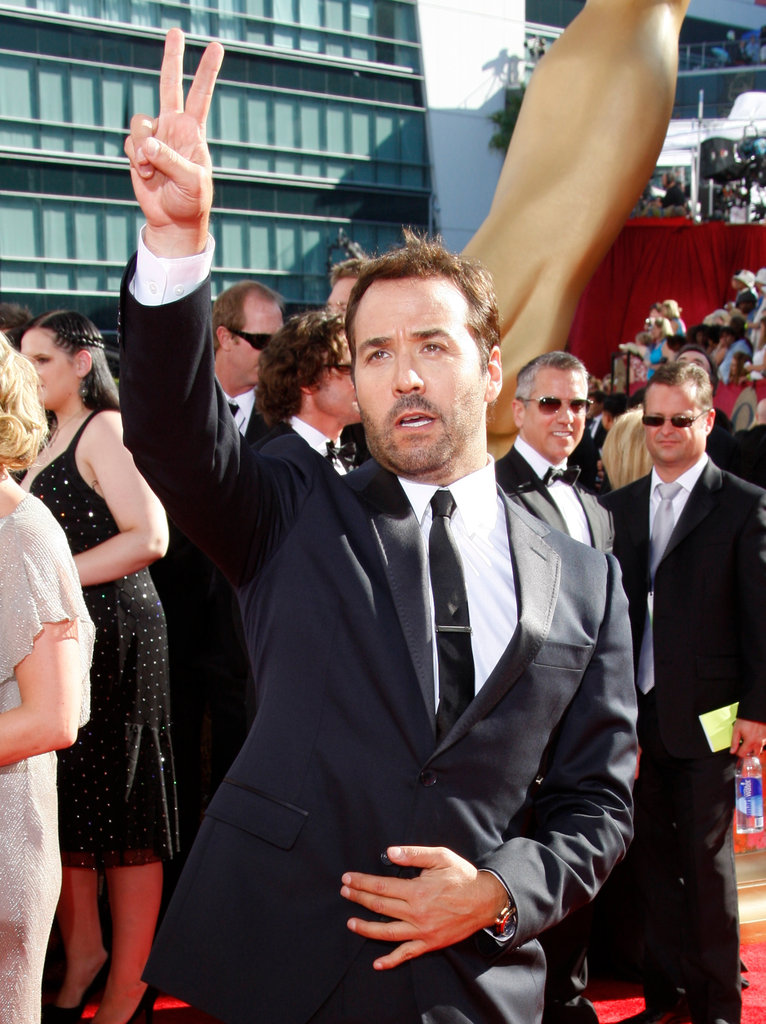 Jeremy Piven [56] flashed a peace sign to fans upon his arrival in 2009.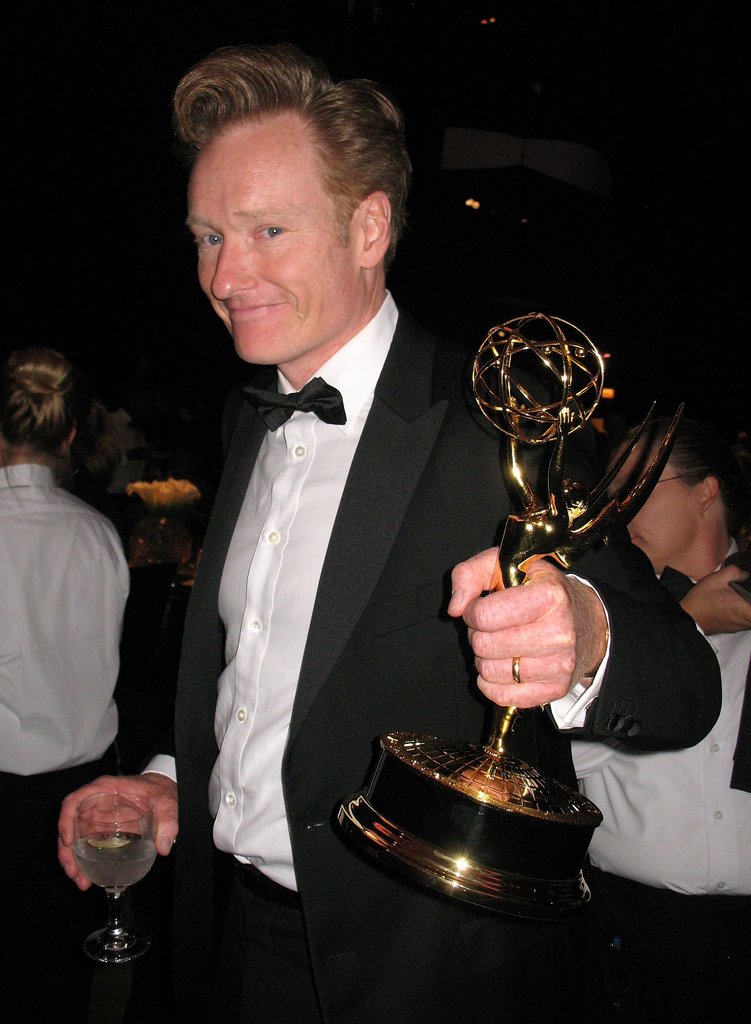 Conan O'Brien [57] showed off his trophy in 2007.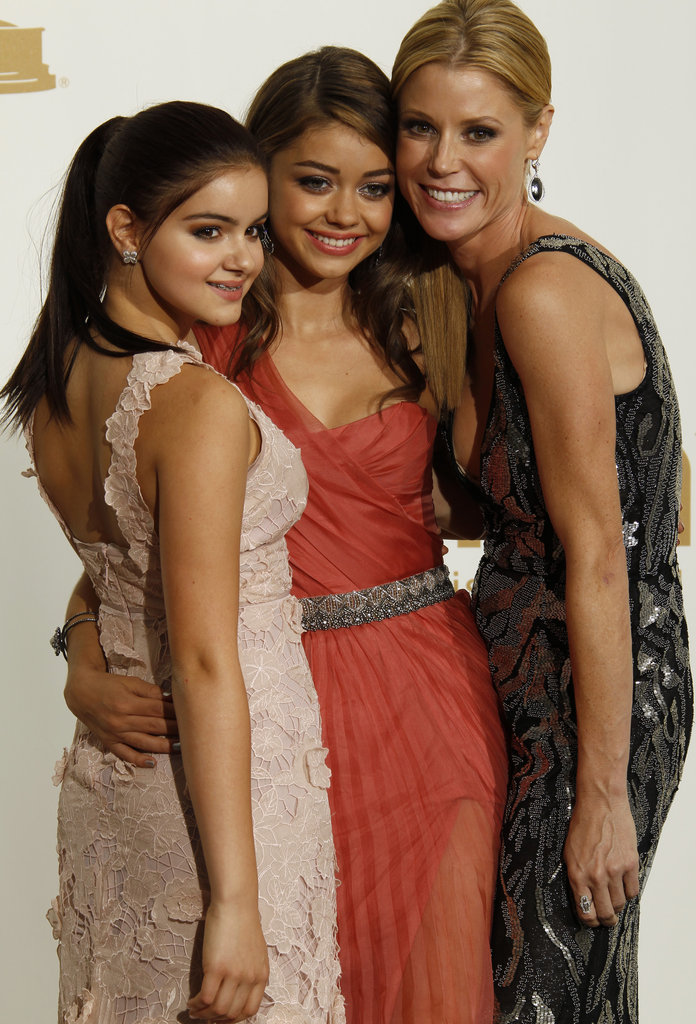 The ladies of Modern Family posed for a photo backstage in 2011.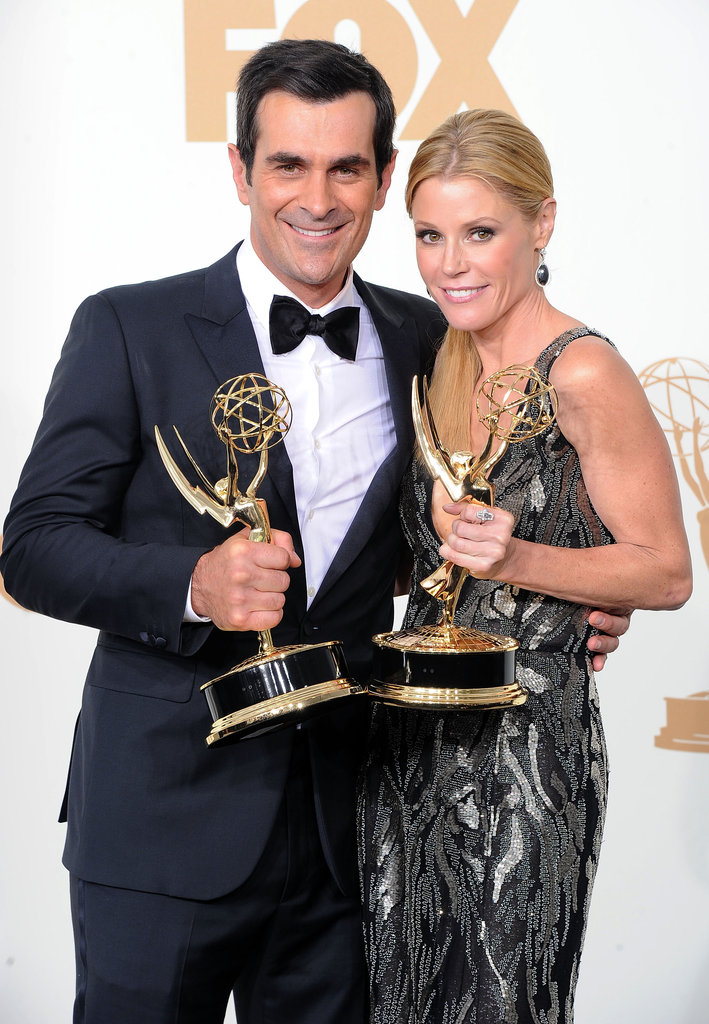 Modern Family couple Ty Burrell and Julie Bowen took home matching trophies in 2011.
Lost won for best drama series in 2005.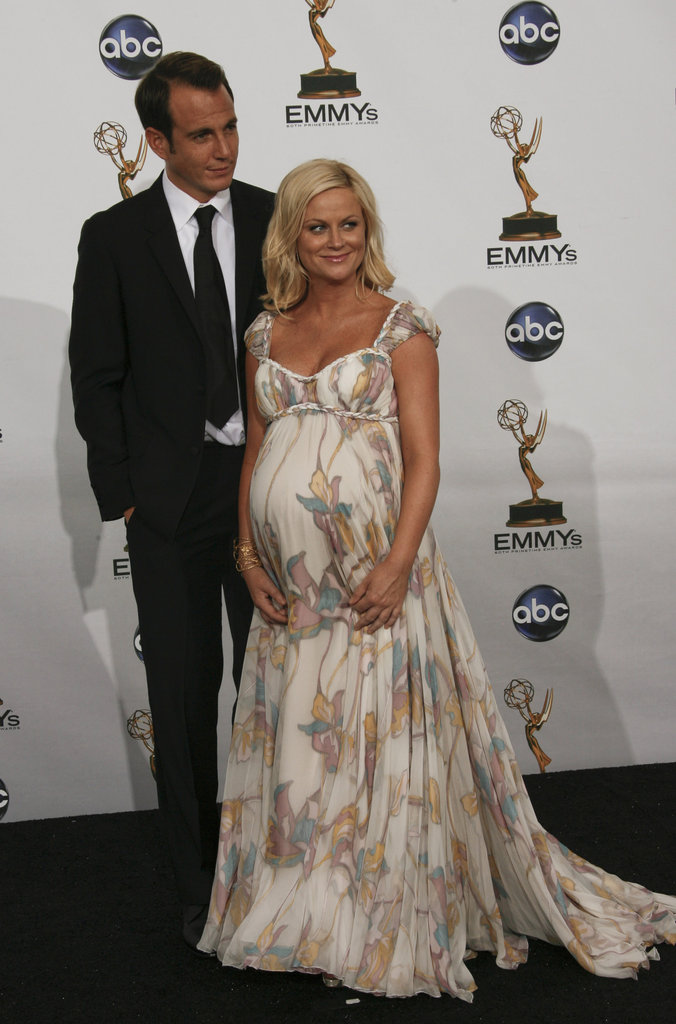 Amy Poehler [58] debuted a baby bump during the 2008 ceremony.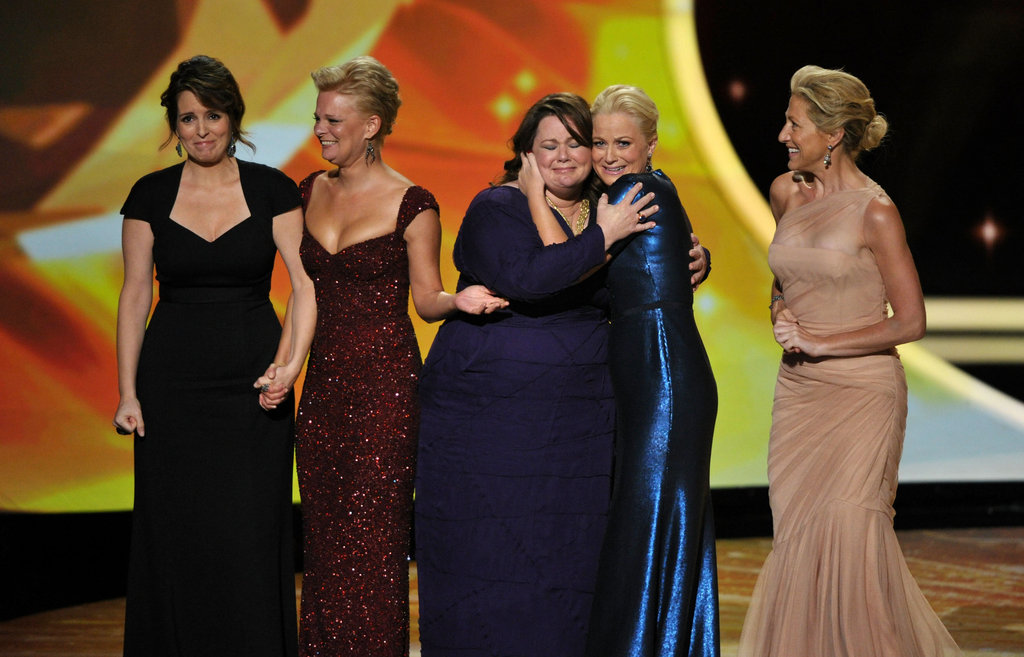 Best actress in a comedy nominees Tina Fey [59], Martha Plimpton, Melissa McCarthy, Amy Poehler [60], and Edie Falco took the stage together in 2011.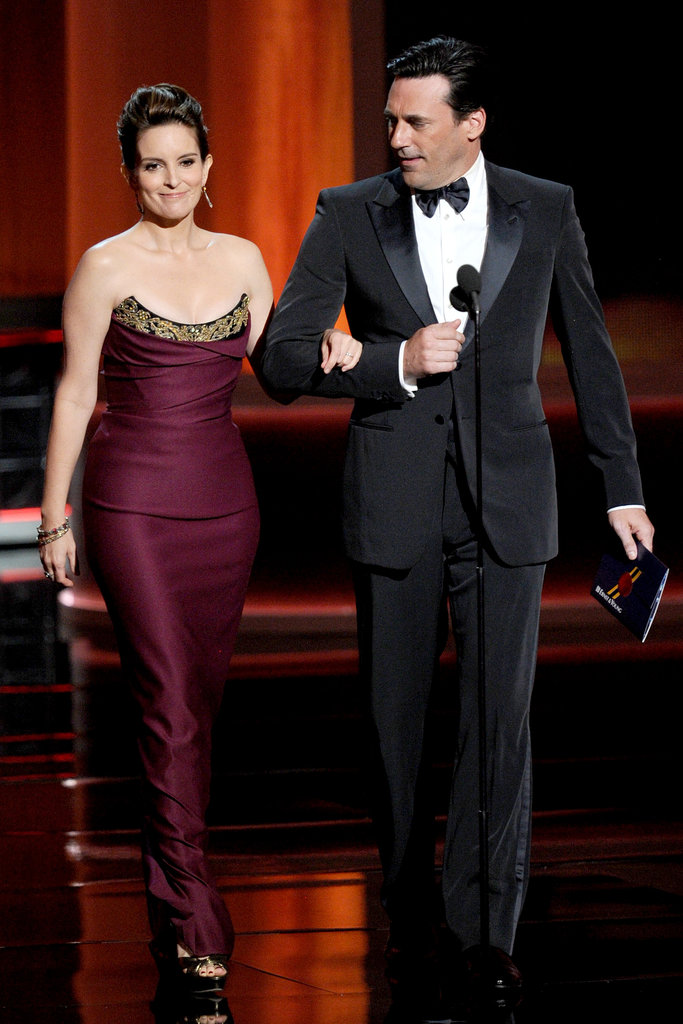 Tina Fey [61] was escorted on stage by Jon Hamm [62] in 2012.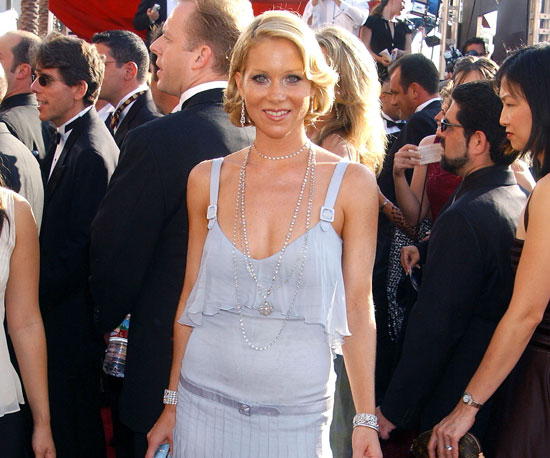 Christina Applegate [63] took home an award at the 2003 ceremony for her guest starring role on Friends.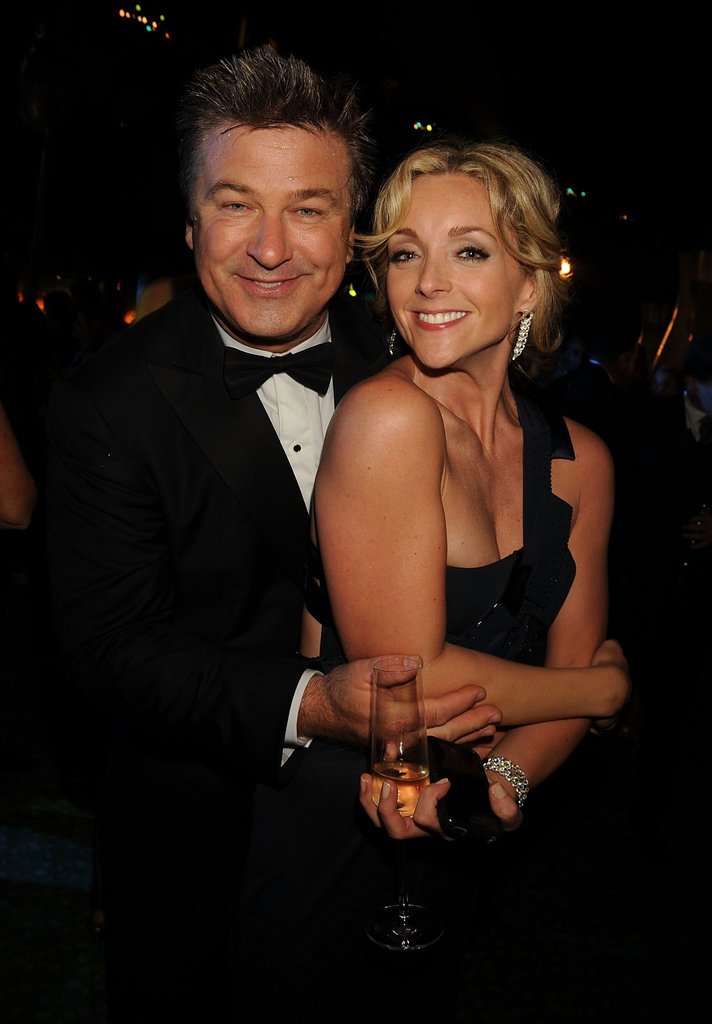 Alec Baldwin [64] and Jane Krakowski posed for a photo during a 2008 afterparty.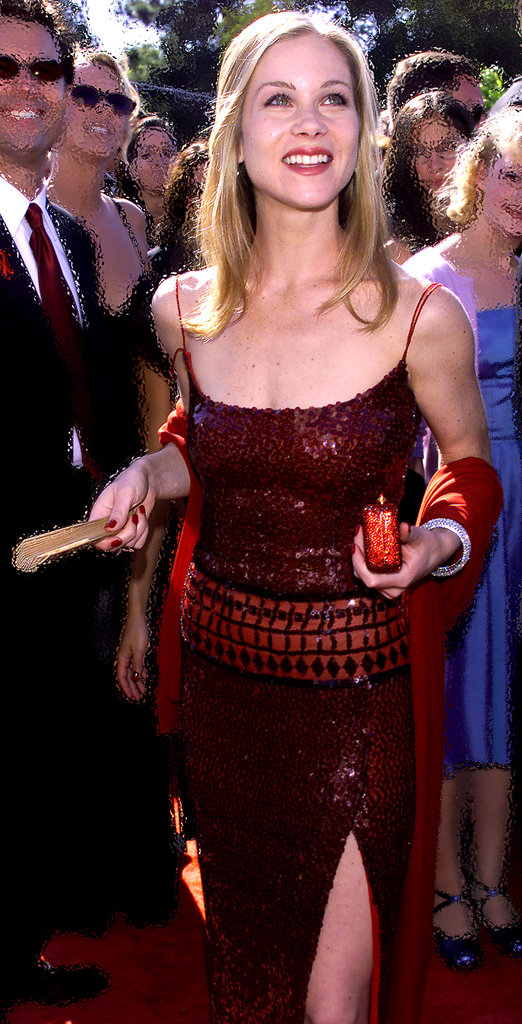 Christina Applegate [65] dazzled in a jewel-toned dress in 1999.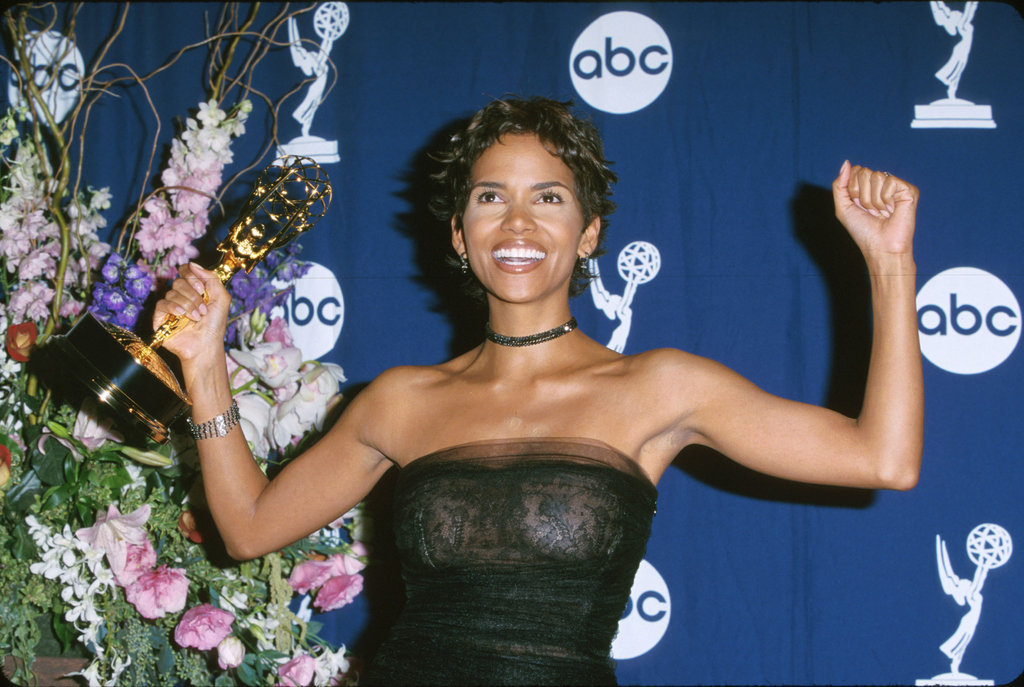 Halle Berry [66] celebrated her Emmy win in 2000.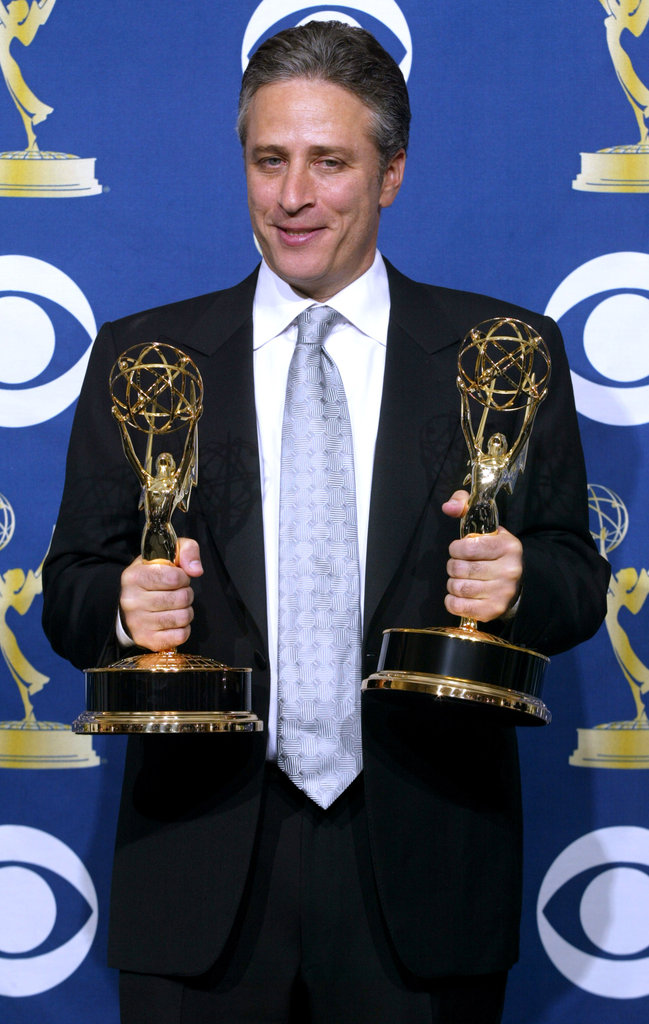 Jon Stewart [67] had his hands full of prizes in 2005.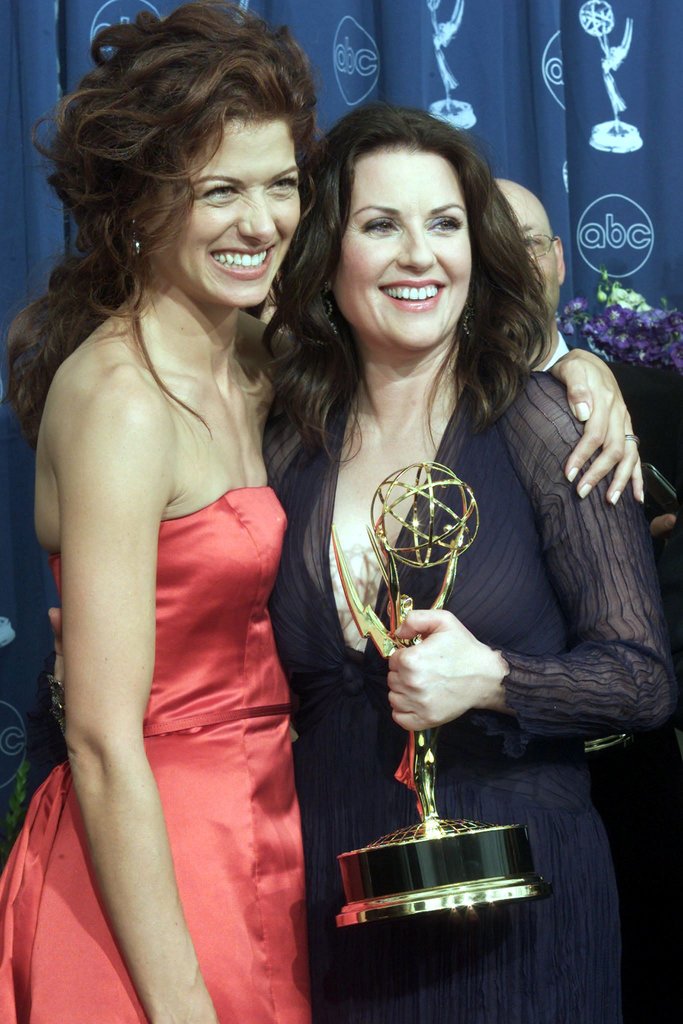 Will and Grace costars Debra Messing [68] and Megan Mullally shared a hug in 2000.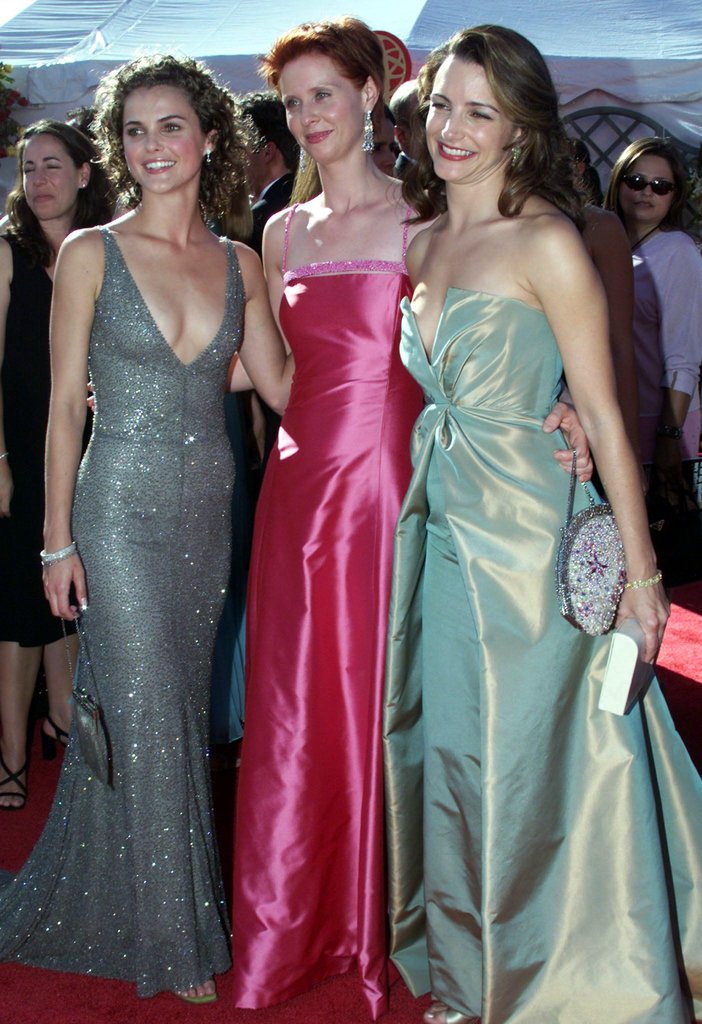 Keri Russell [69] snapped a photo with Cynthia Nixon and Kristin Davis in 2000.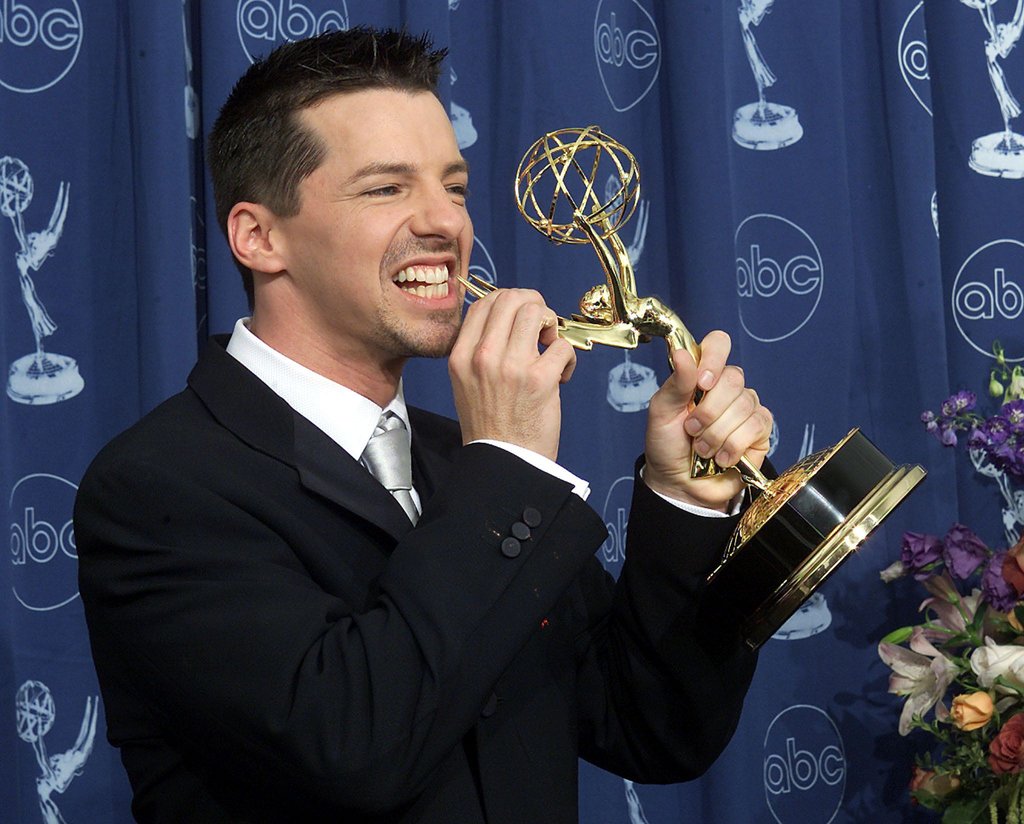 Sean Hayes chomped on his statue in 2000.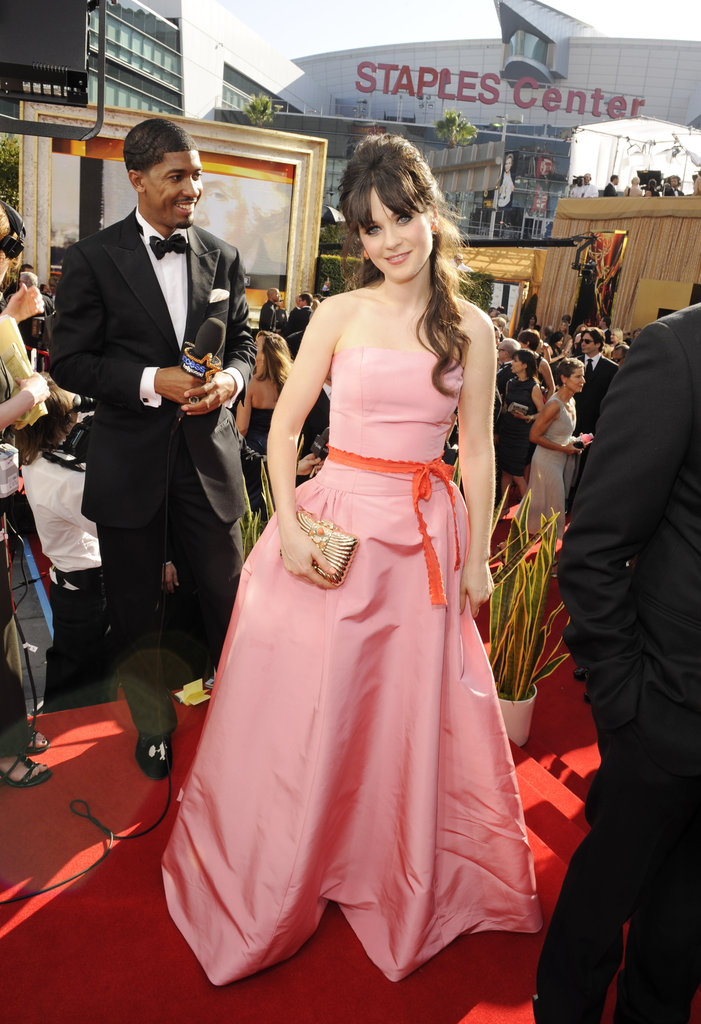 Zooey Deschanel [70] wore pink to the 2011 ceremony.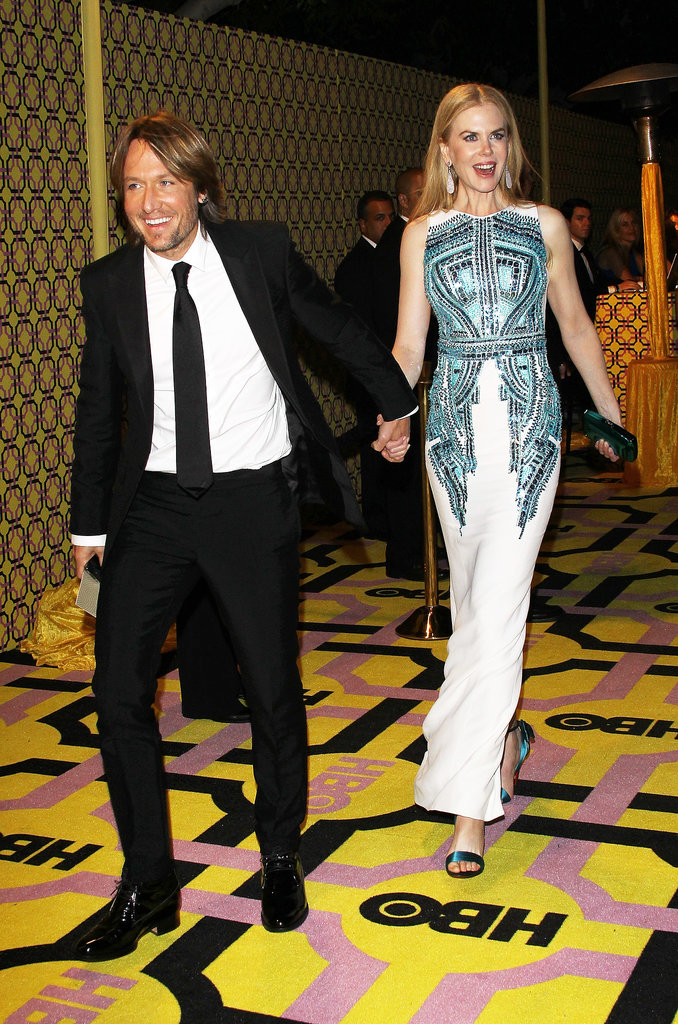 Nicole Kidman [71] and her husband, Keith Urban [72], held hands as they made their way to the Emmy Awards reception after the 2012 show.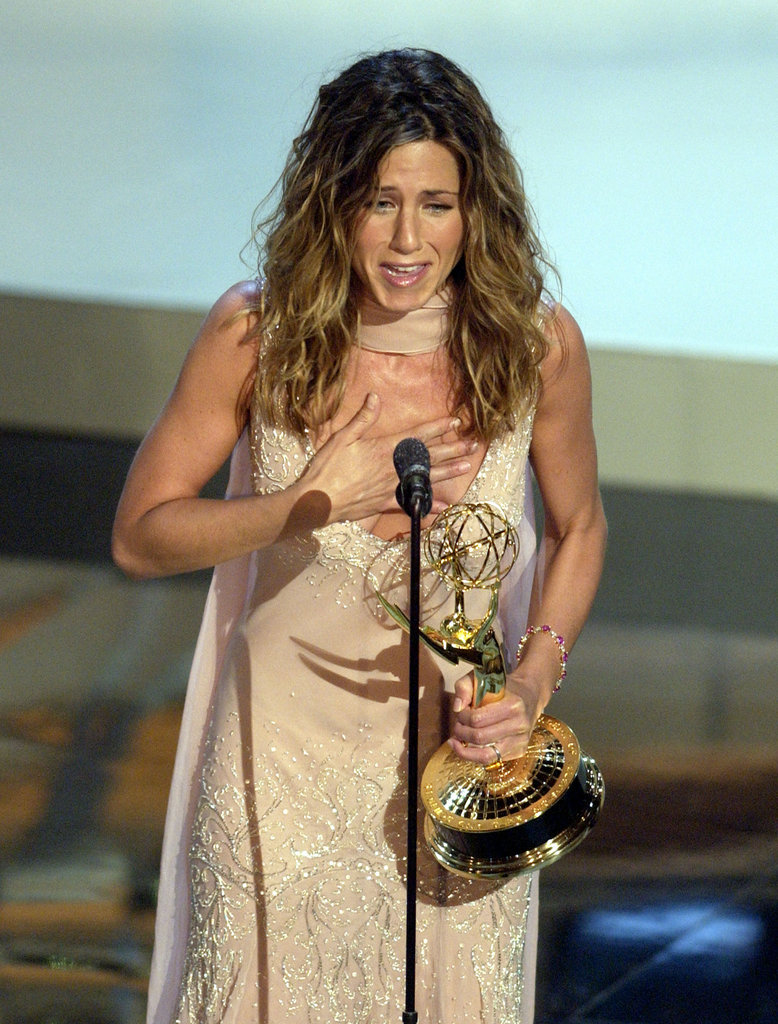 Jennifer Aniston [73] emotionally accepted her award in 2002.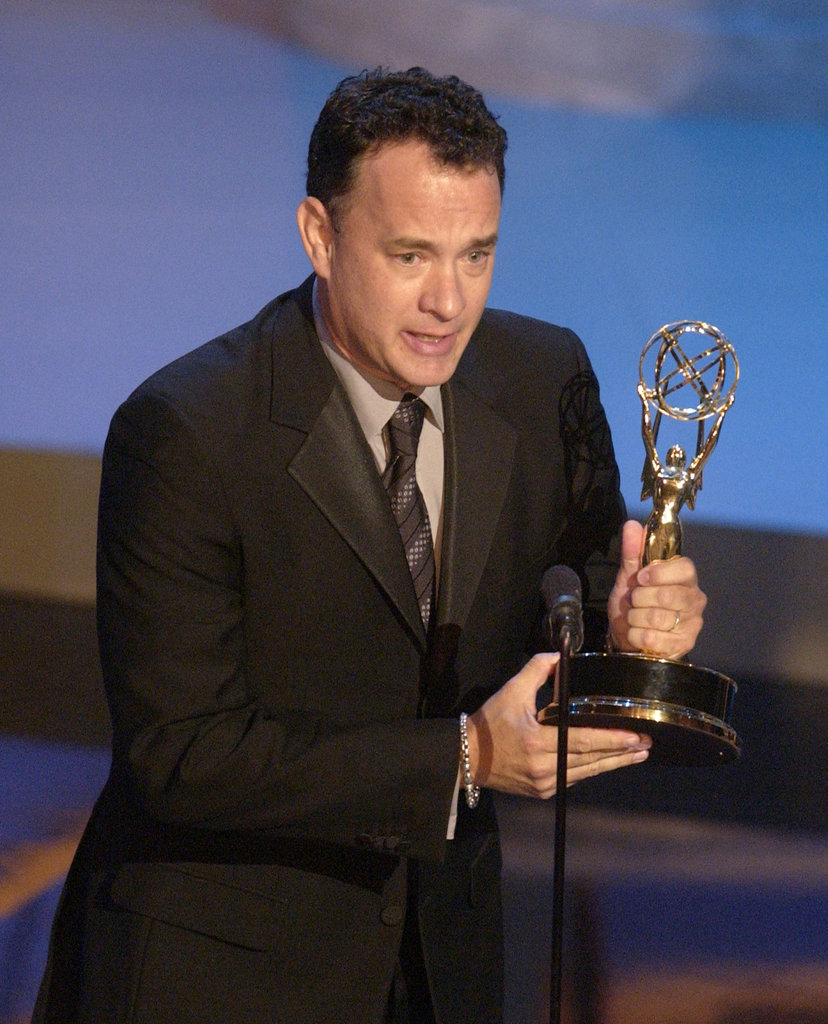 Tom Hanks [74] accepted the award on behalf of Band of Brothers in 2002.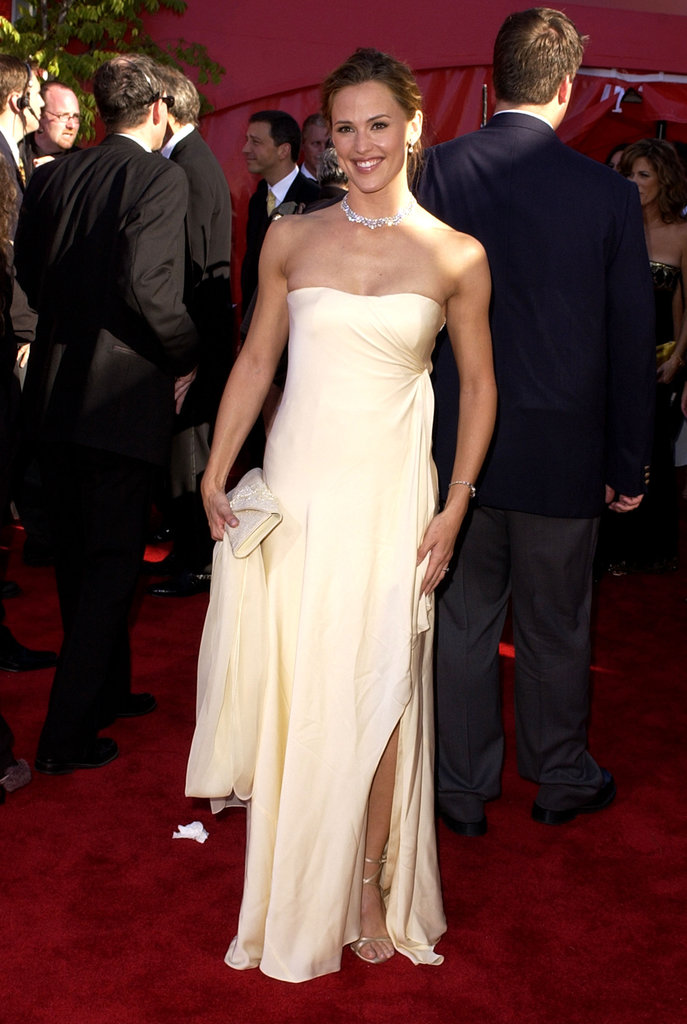 Jennifer Garner [75] looked lovely in ivory at the 2002 awards.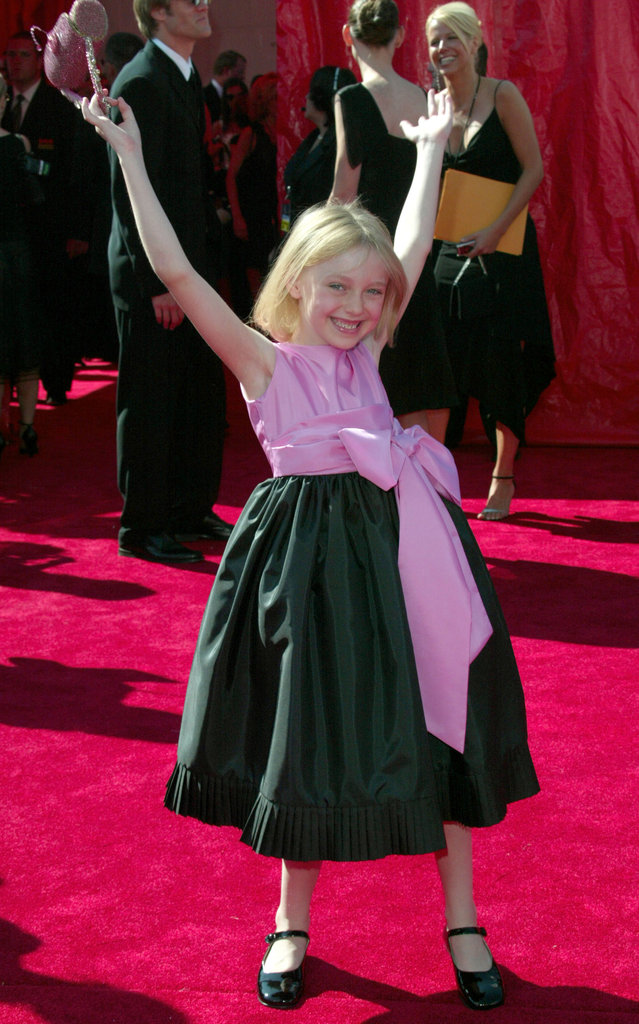 Dakota Fanning [76] was full of energy for her walk down the red carpet in 2003.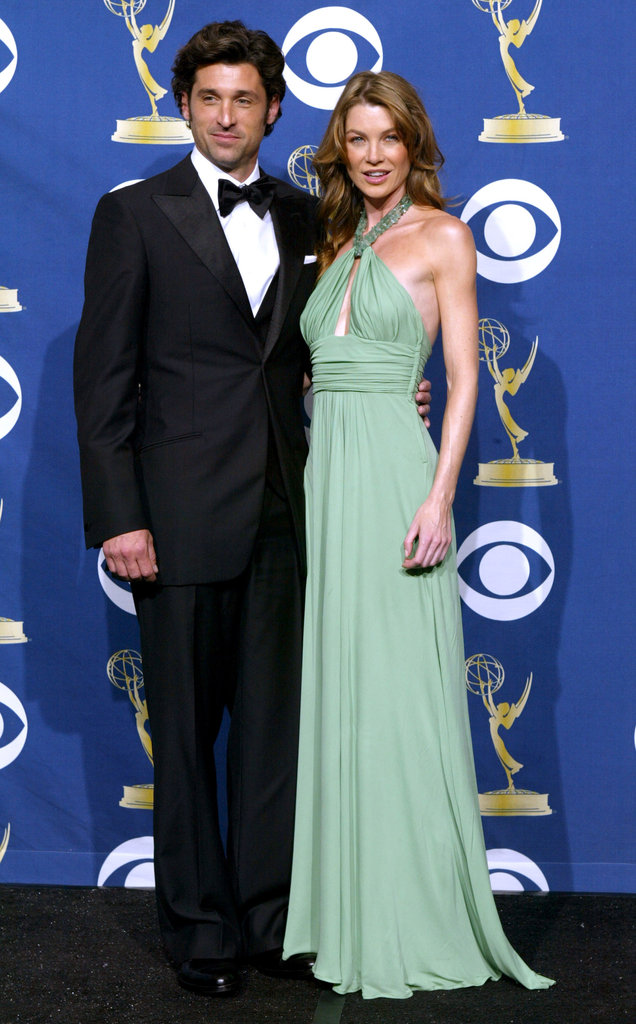 Grey's Anatomy stars Patrick Dempsey [77] and Ellen Pompeo [78] looked like a dashing duo backstage at the 2005 ceremony.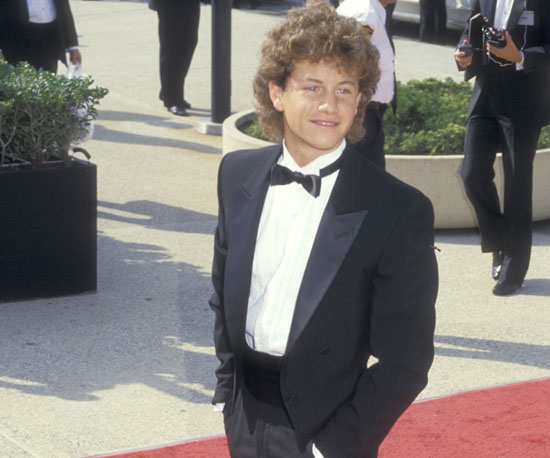 A young Kirk Cameron arrived in style at the show in 1987.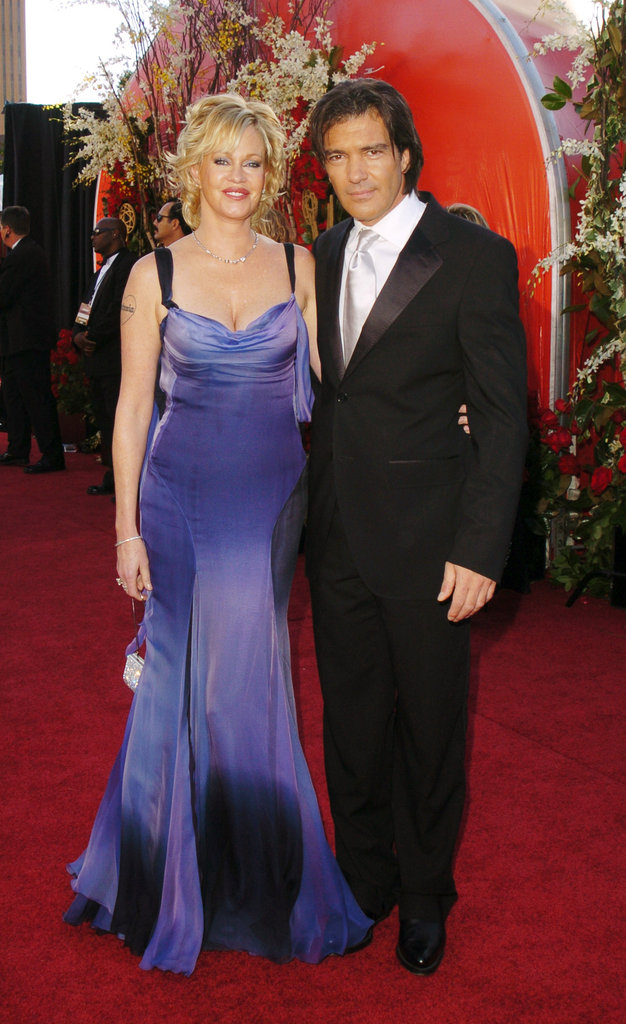 Melanie Griffith and Antonio Banderas [79] hit the red carpet together in 2004.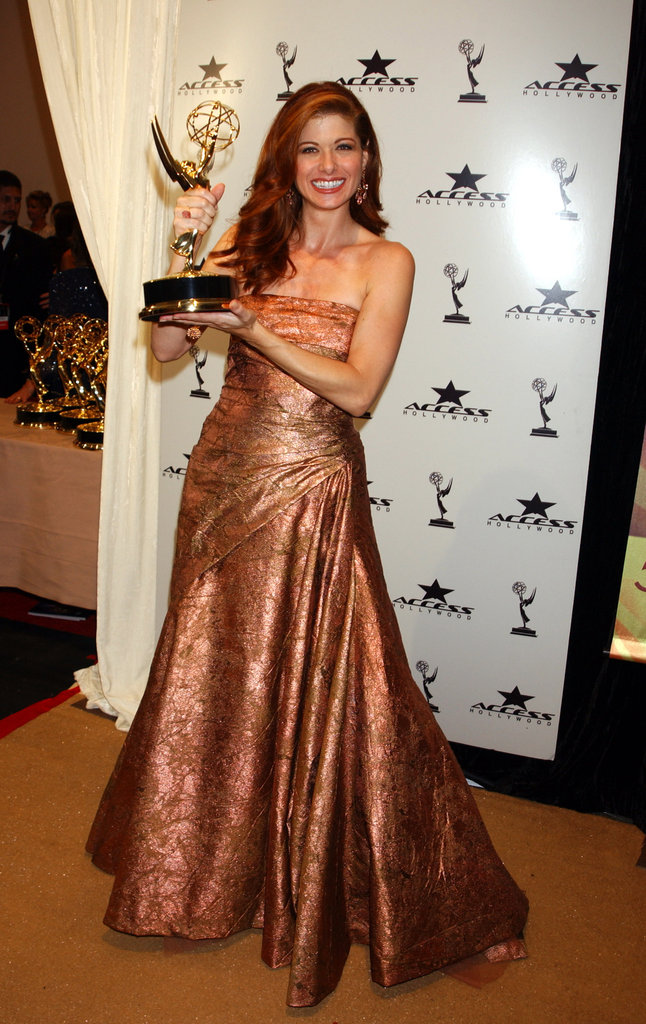 Debra Messing [80] posed with her statue in 2003.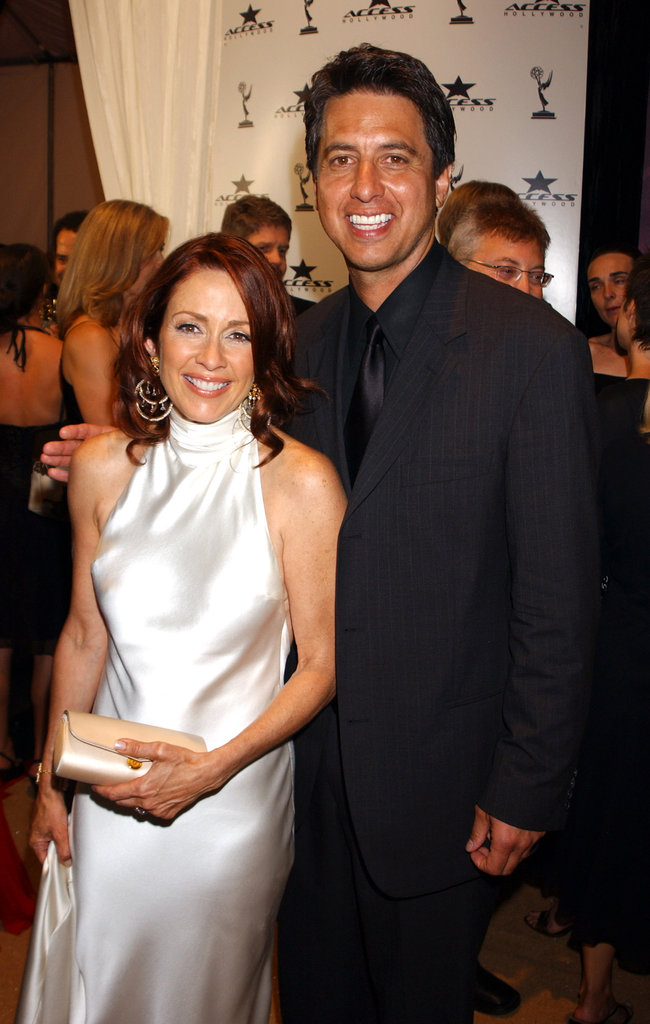 Ray Romano and Patricia Heaton met up at a party in 2003.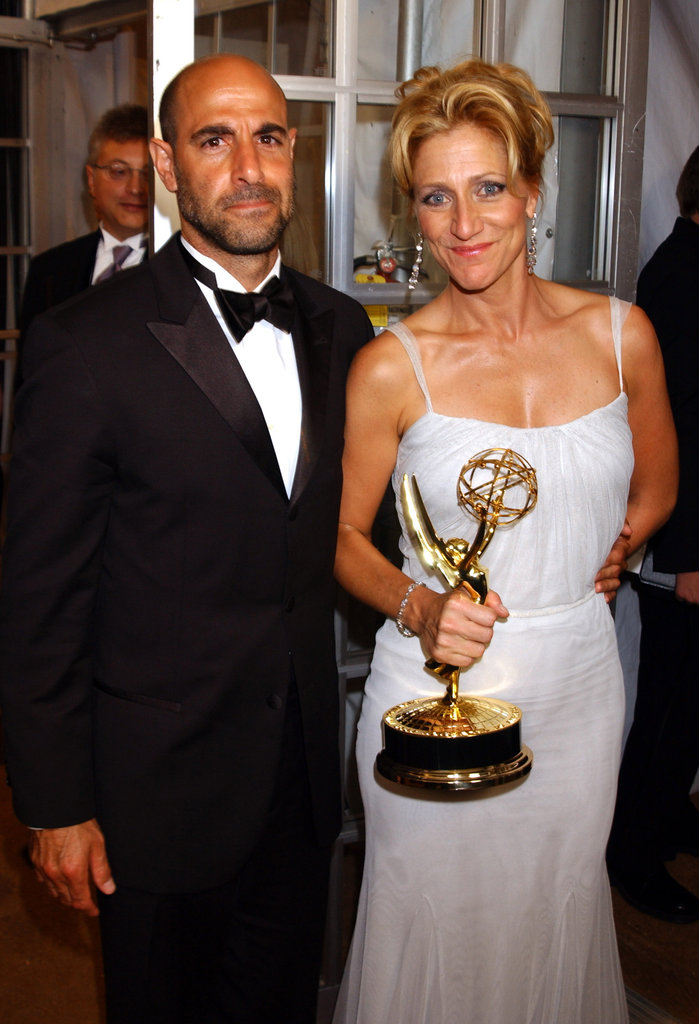 Eddie Falco went home with the award for lead actress in a drama series in 2003.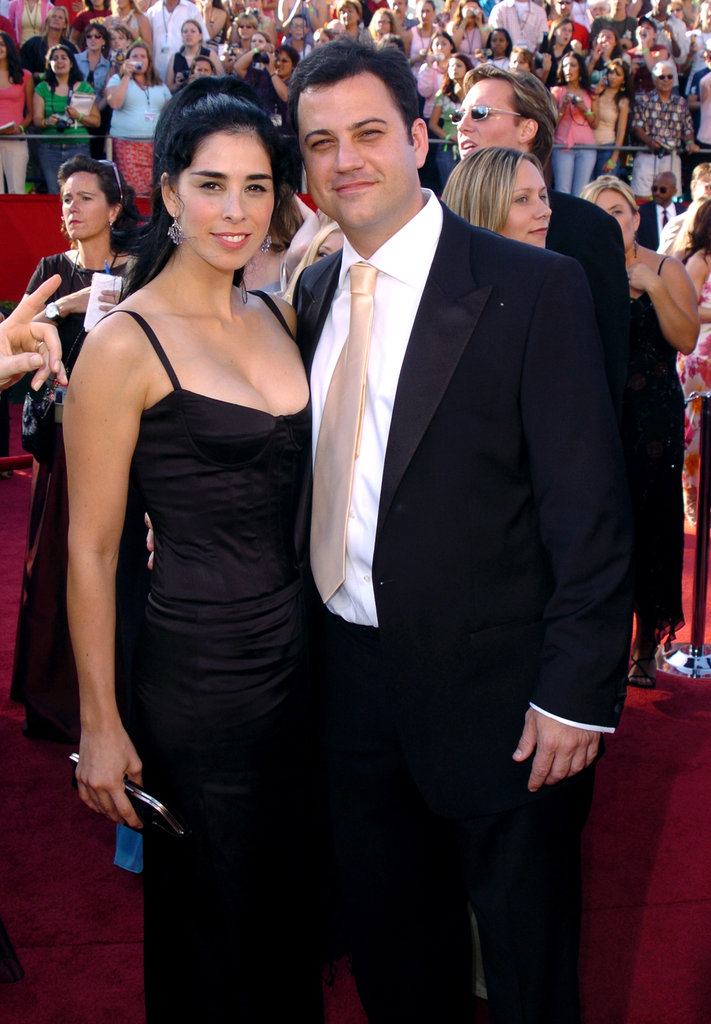 Sarah Silverman and Jimmy Kimmel attended the Emmy Awards together in 2004.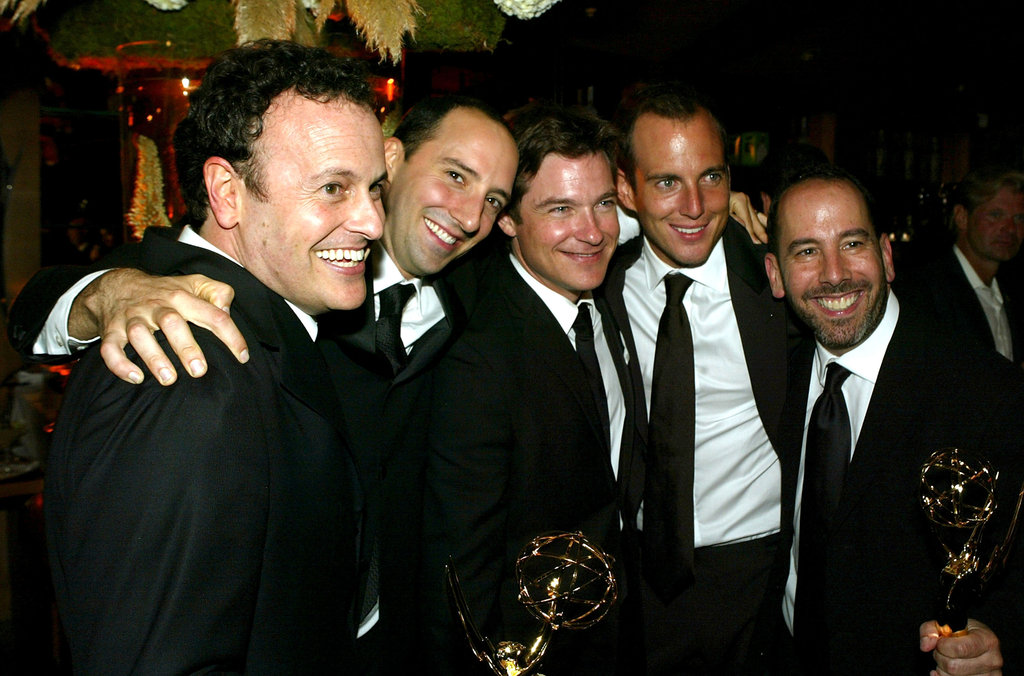 Arrested Development pals Tony Hale, Jason Bateman [81], and Will Arnett [82] shared a hug in 2004.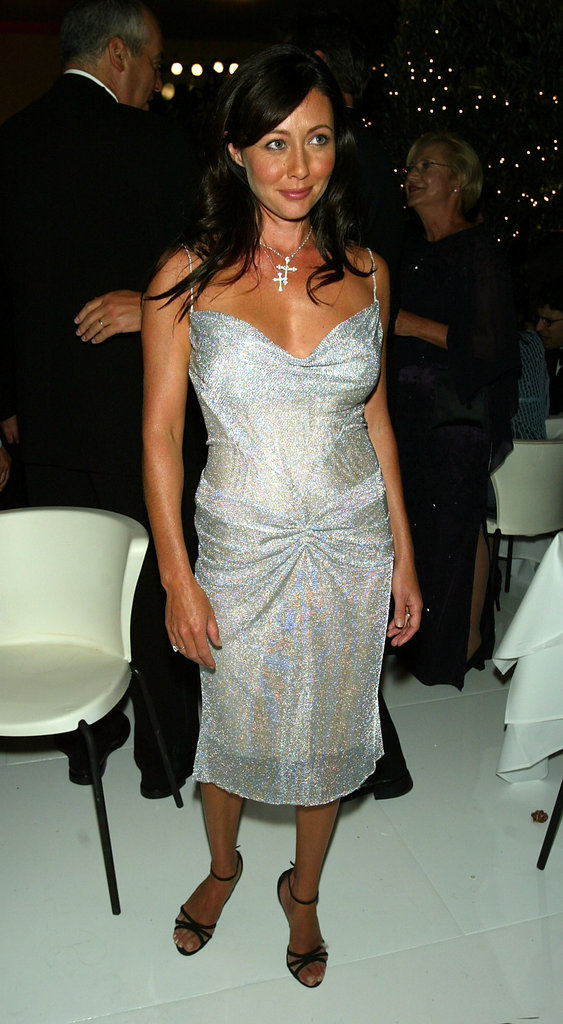 Shannen Doherty partied with pals at a postshow celebration in 2004.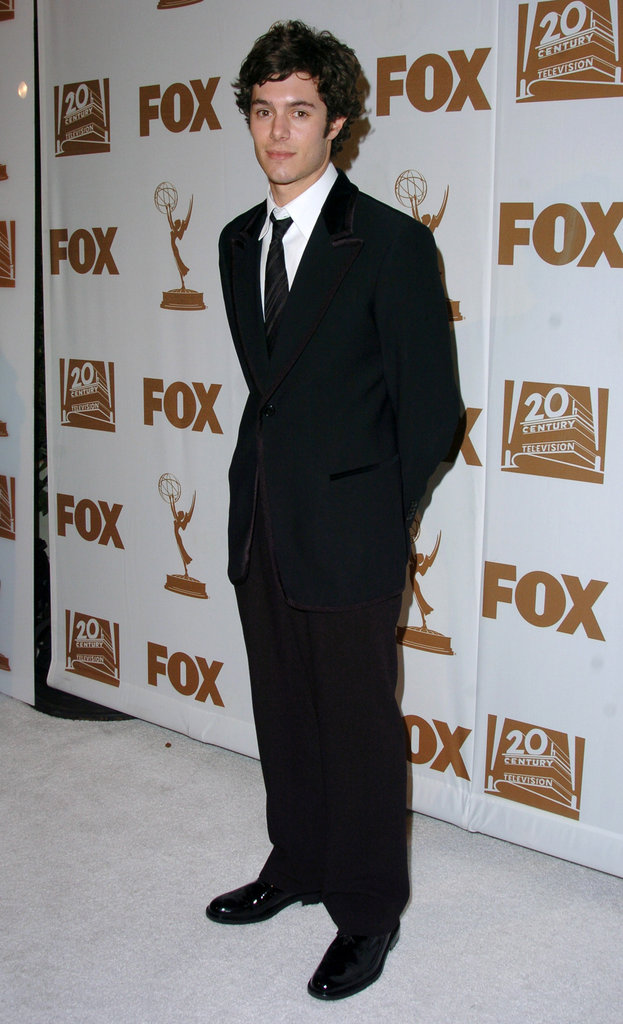 Adam Brody [83] posed solo arriving at Fox's afterparty in 2004.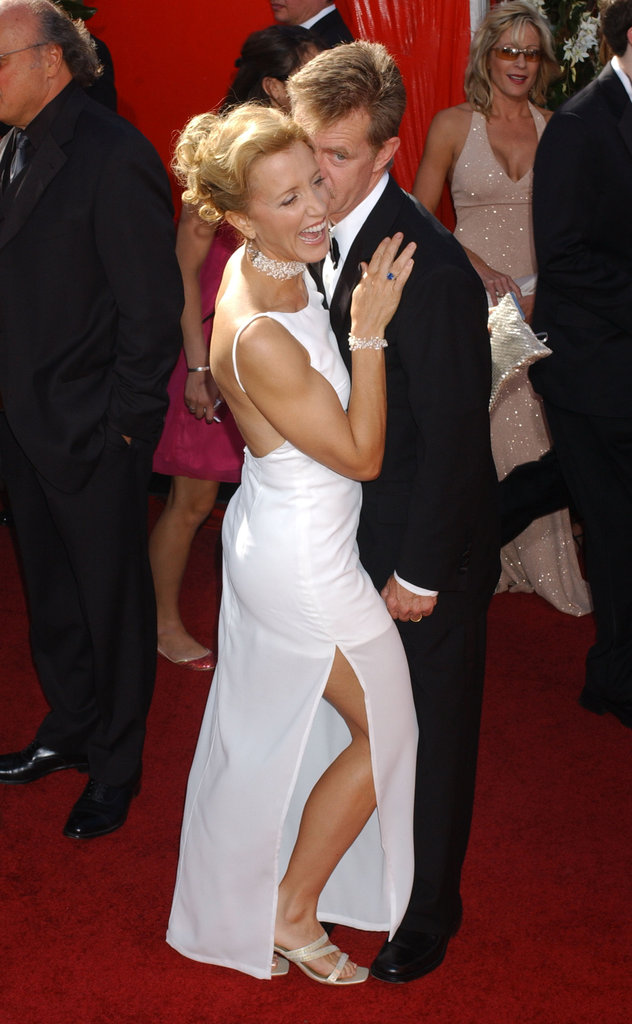 Felicity Huffman [84] got a kiss from husband William H. Macy in 2004.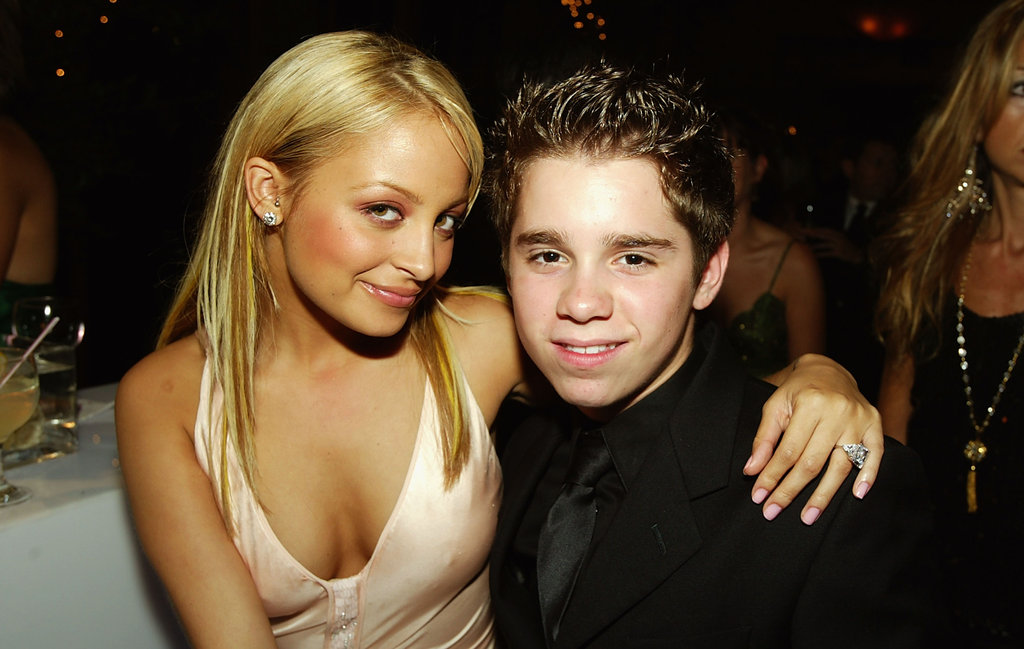 Nicole Richie [85] shared a hug with Ryan Pinkston in 2004.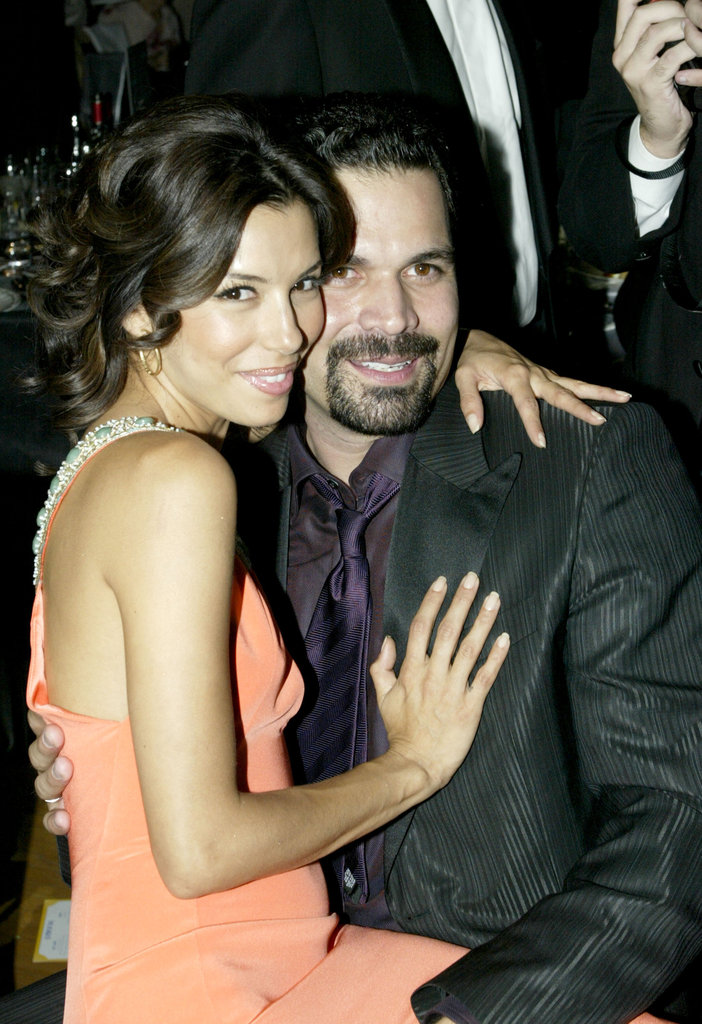 Eva Longoria [86] cozied up to her Desperate Housewives costar Ricardo Chavira in 2005.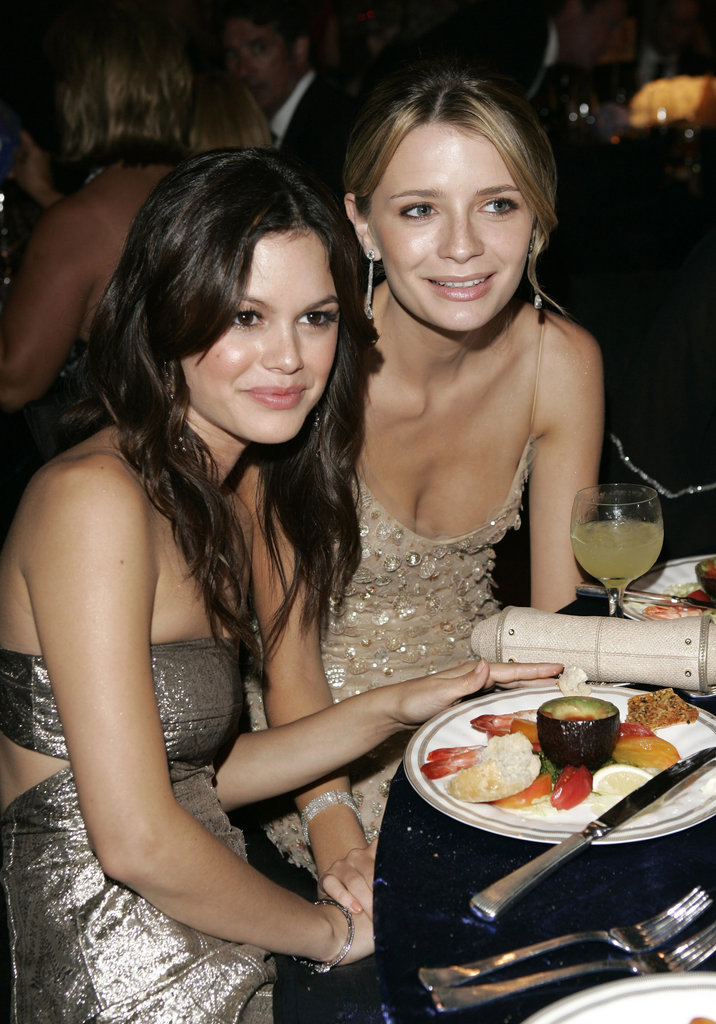 O.C. stars Rachel Bilson [87] and Mischa Barton [88] stuck close during a 2005 afterparty.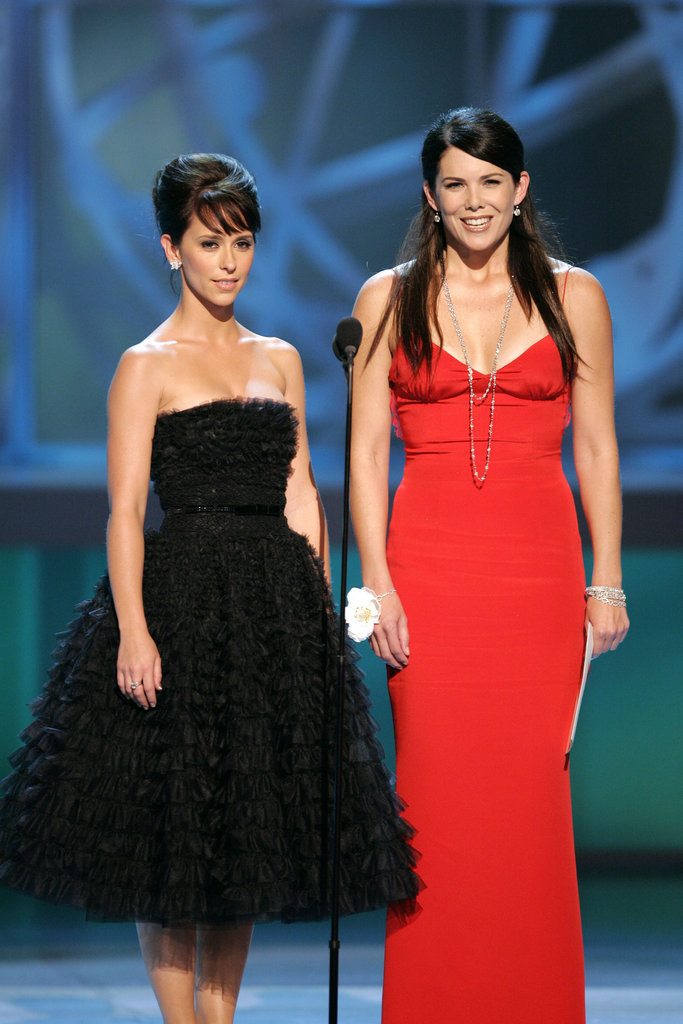 Jennifer Love Hewitt [89] and Lauren Graham presented together in 2005.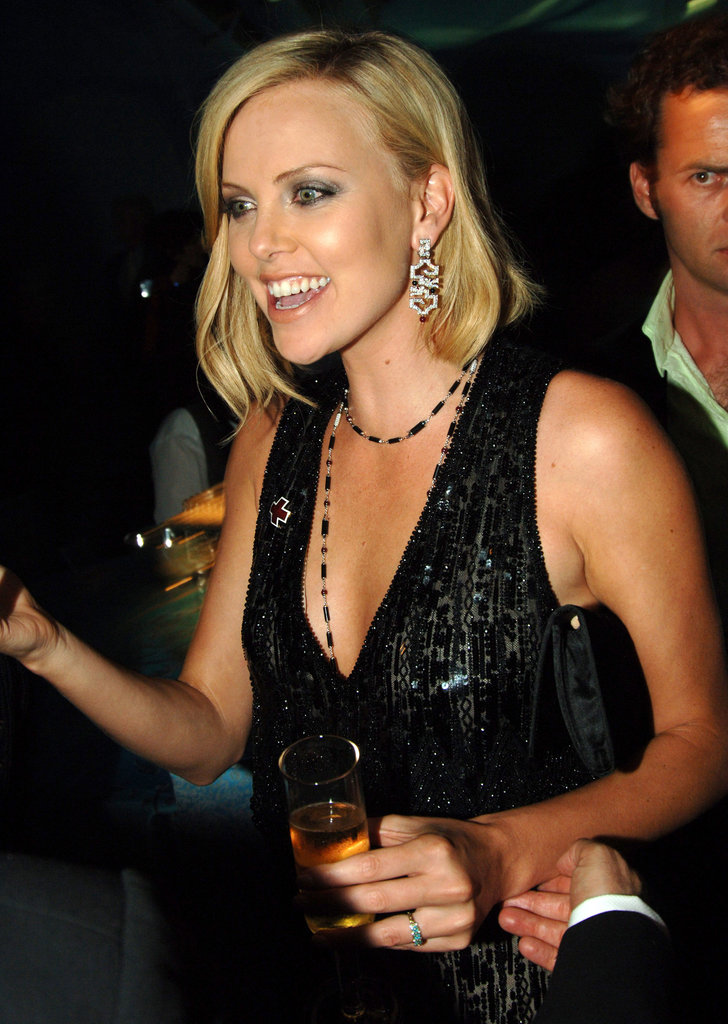 Charlize Theron [90] partied with TV's hottest stars in 2005.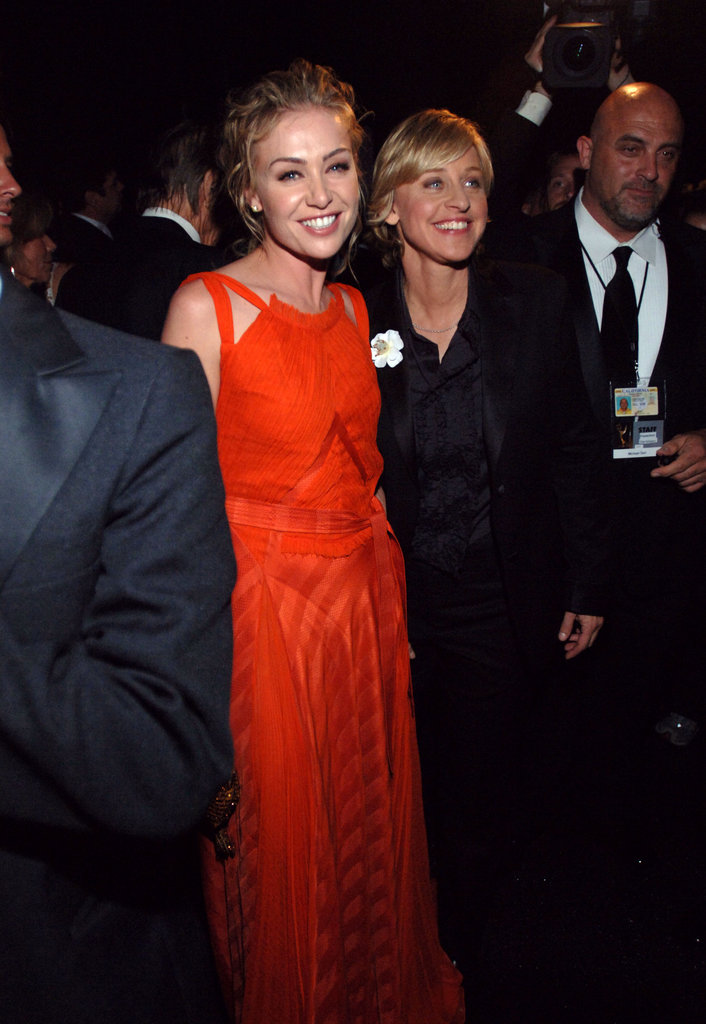 Portia de Rossi [91] accompanied Ellen DeGeneres [92] to the show in 2005.
Mandy Moore [93] and Zach Braff [94] held hands during the 2005 award show.
Sisters Nicky Hilton [95] and Paris Hilton [96] attended a postshow party in 2006.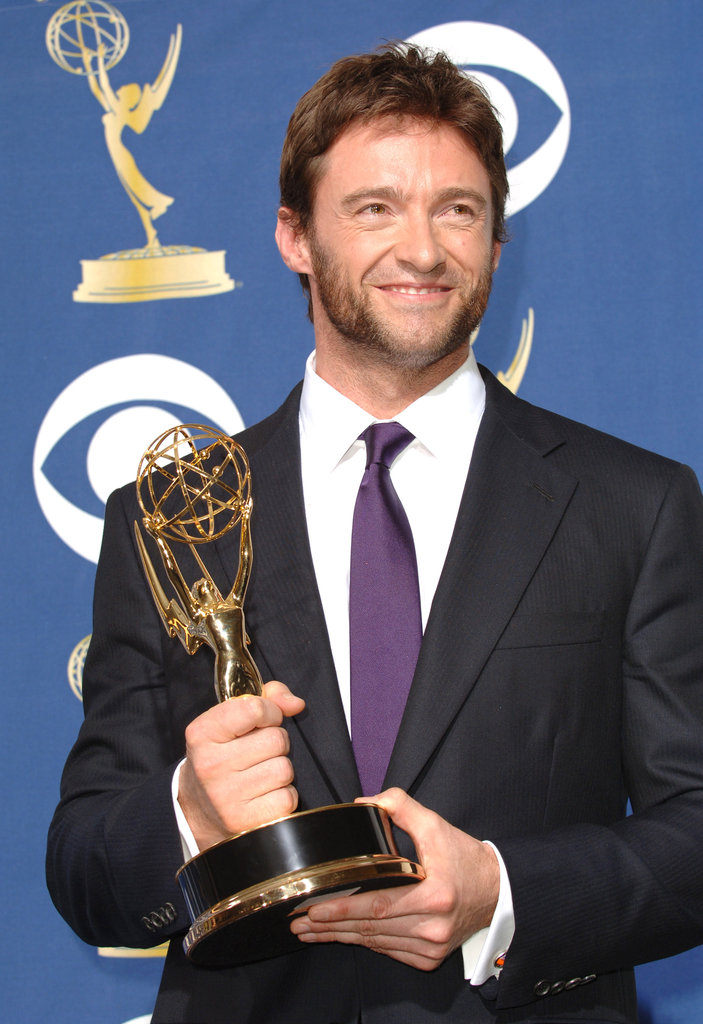 Hugh Jackman [97] posed with a statue in 2005.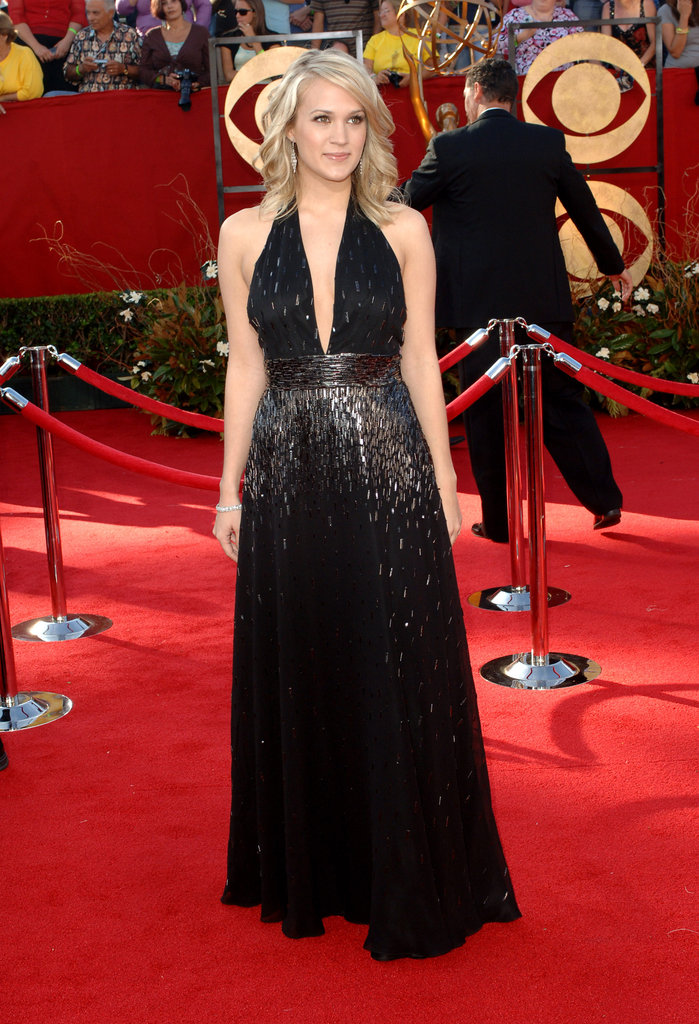 Carrie Underwood [98] sparkled on the red carpet in 2005.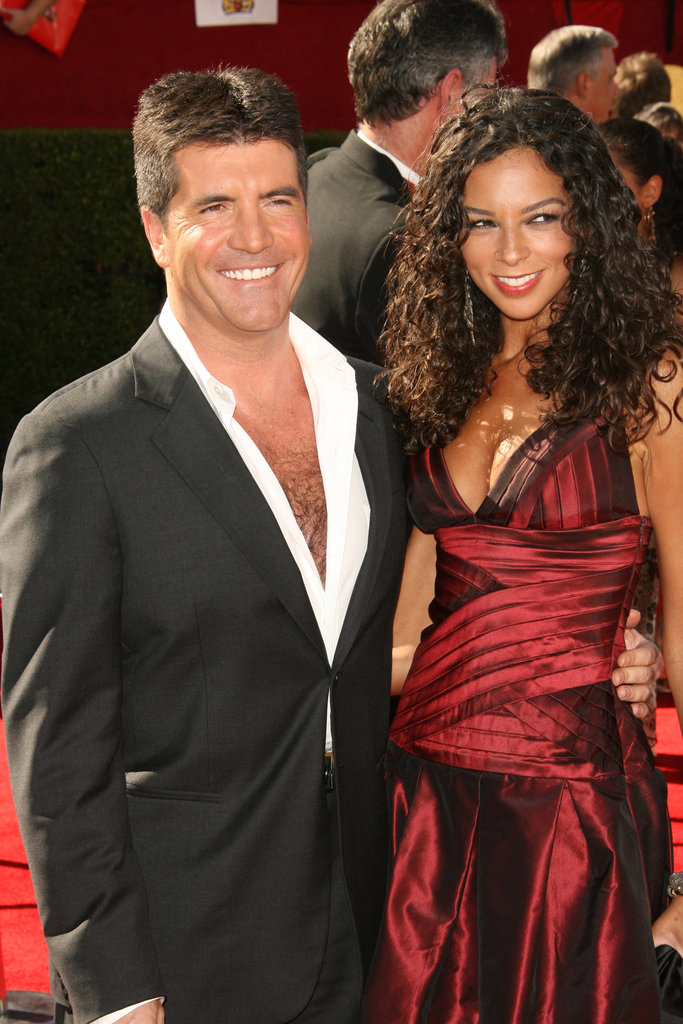 Simon Cowell [99] let his chest hair fly freely at the 2006 celebration.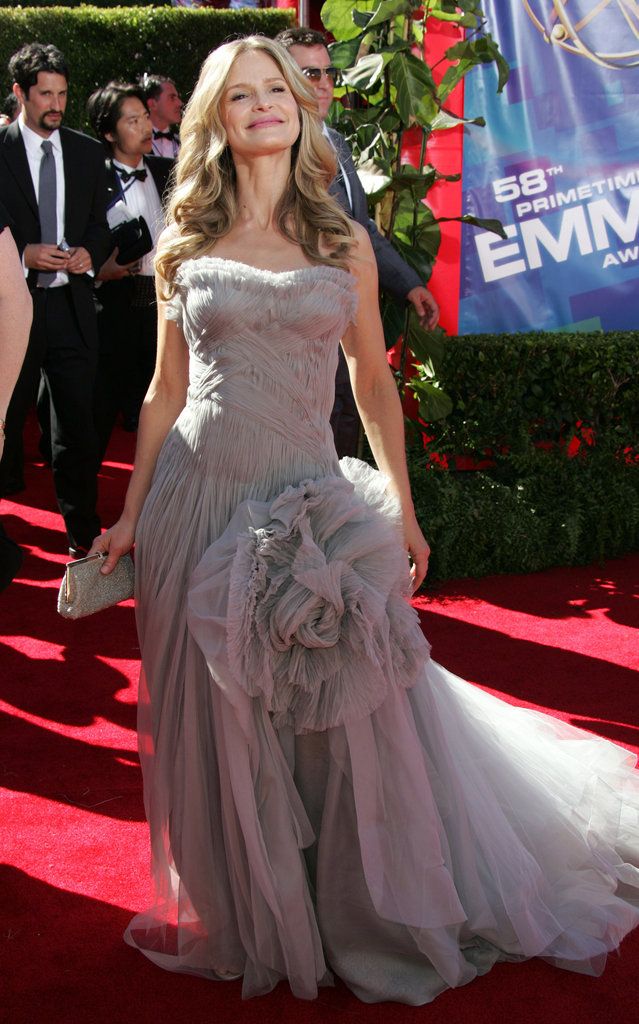 The Closer's Kyra Sedgwick selected an intricate gray gown for her walk down the red carpet in 2006.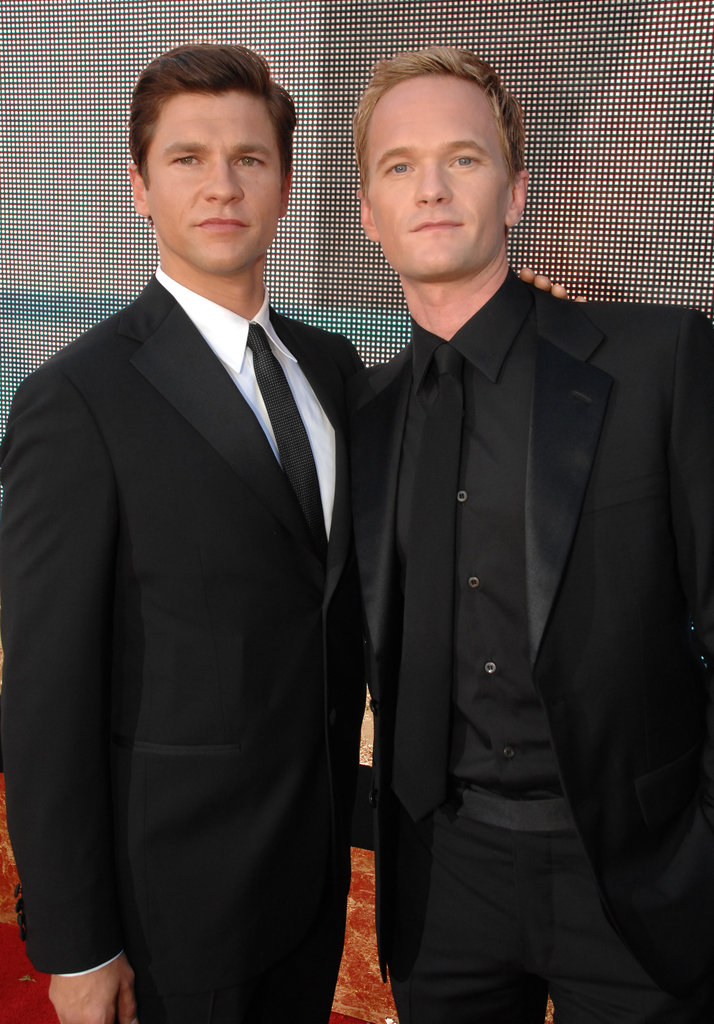 HIMYM's Neil Patrick Harris [100] was accompanied by David Burtka in 2007.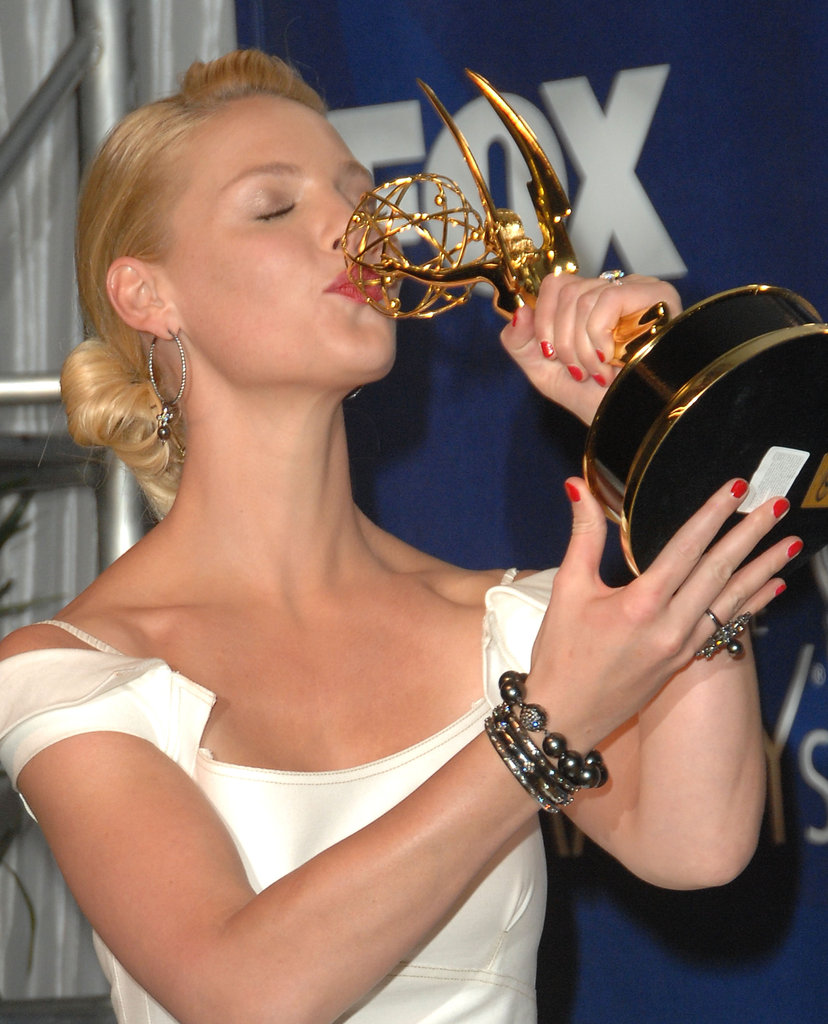 Katherine Heigl [101] took home an award in 2007 for her work on Grey's Anatomy.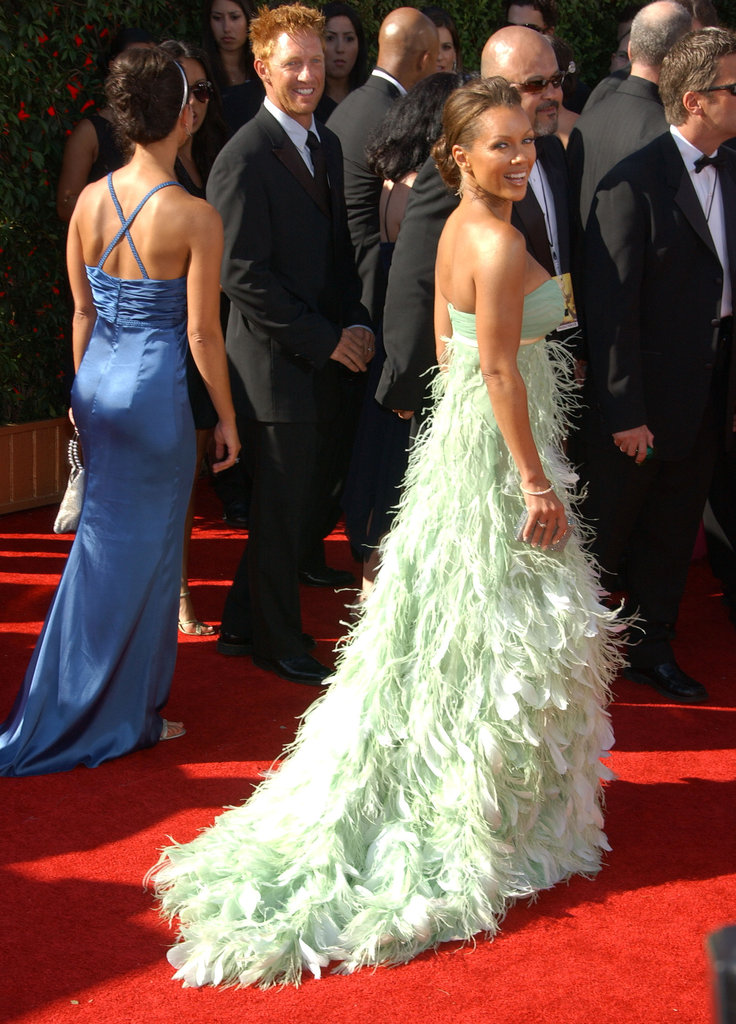 Vanessa Williams sashayed down the red carpet in 2007 wearing a feathered gown.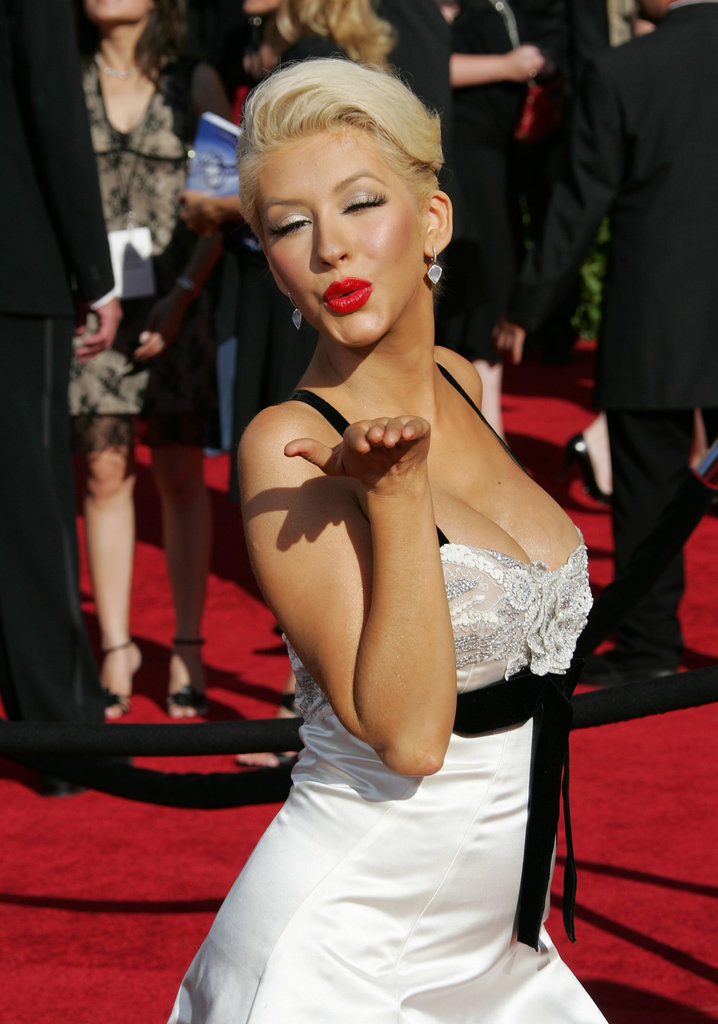 Christina Aguilera [102] blew a kiss to fans in 2007.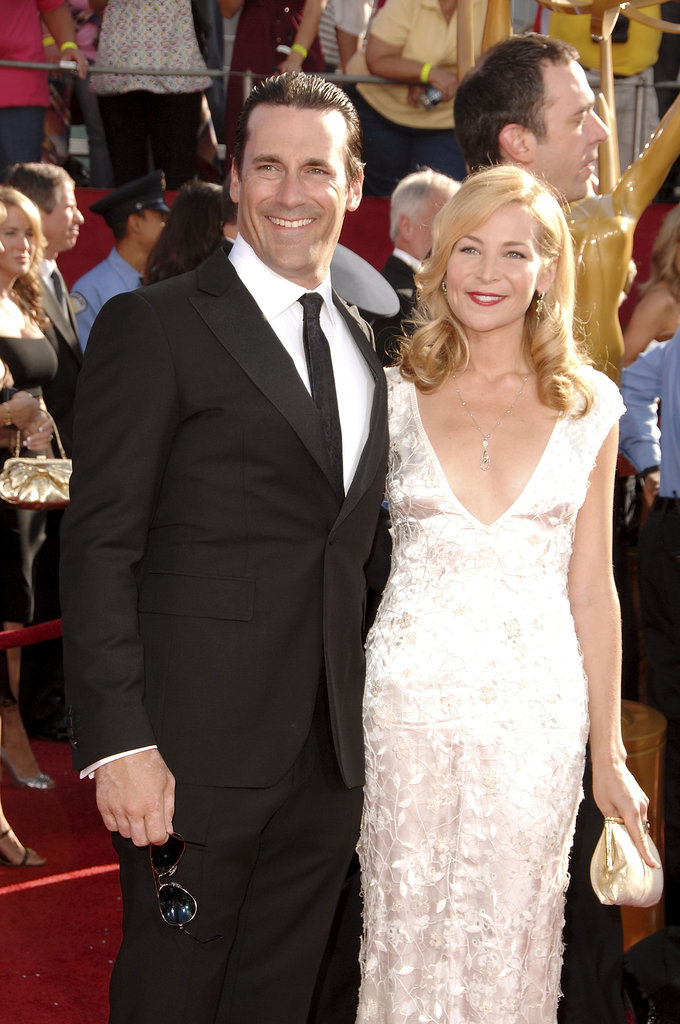 Mad Men's Jon Hamm [103] arrived with date Jennifer Westfeldt in 2008.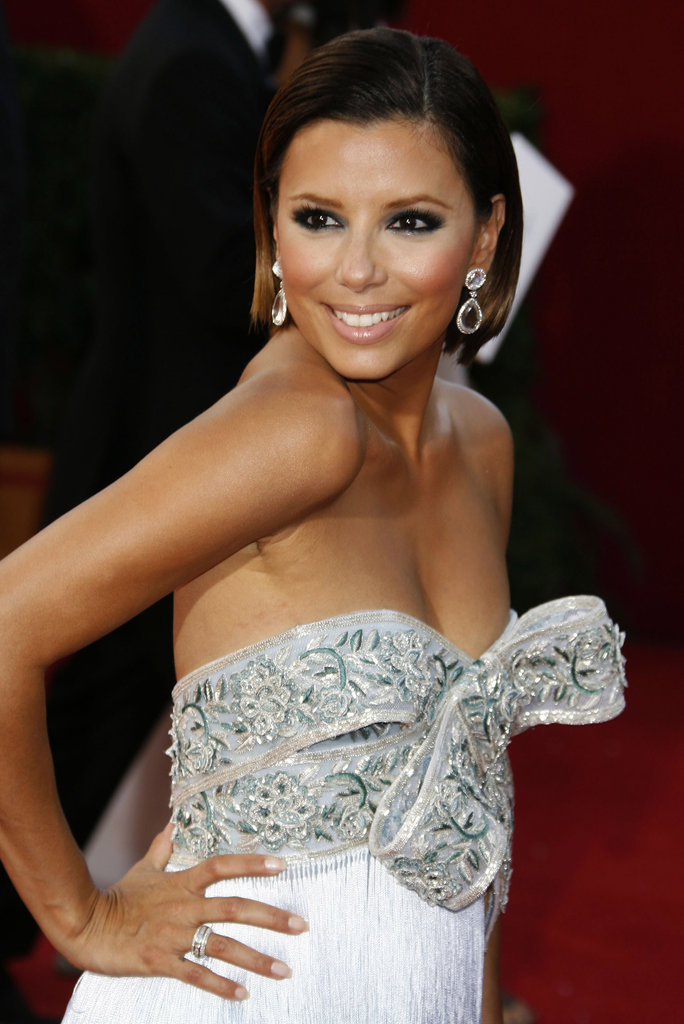 Eva Longoria [104] got playful in 2008.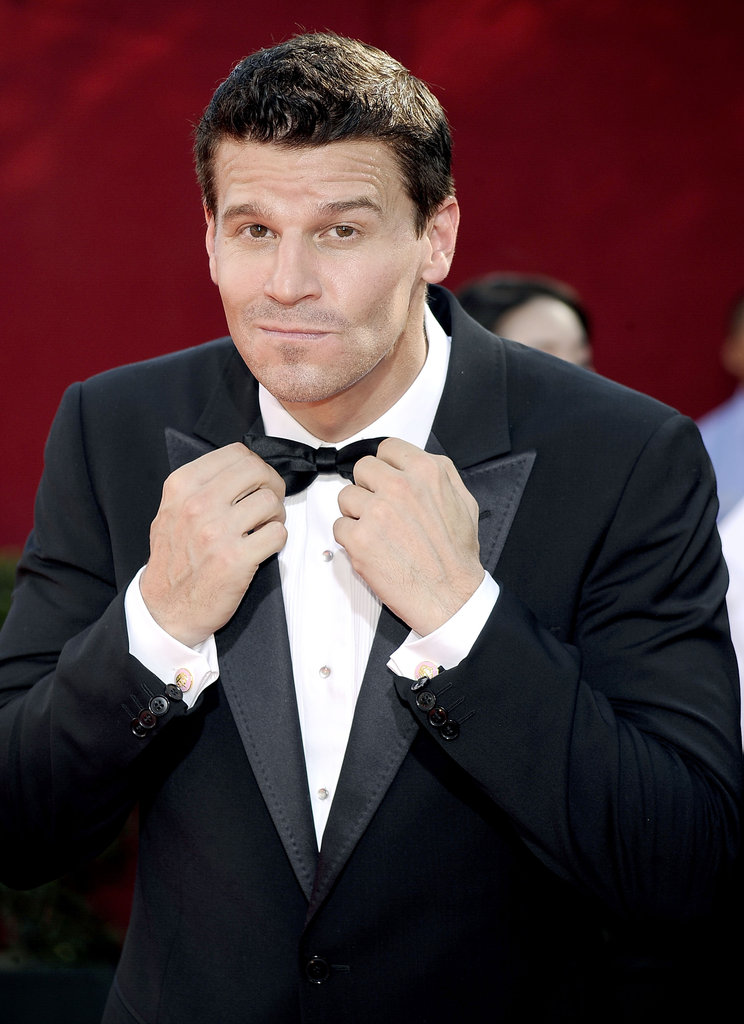 David Boreanaz perfected his bow tie before heading inside LA's Nokia [105] Theatre in 2009.