DJ Khaled recently took a tumble on stage during Beyoncé's Formation tour, but he's definitely not alone when it comes to performance mishaps. Justin Bieber's latest tour was full of accidental falls, and everyone from Madonna [1] to Selena Gomez [2] have had very public slips. It just goes to show that live performances or award shows (we're looking at you, Jennifer Lawrence [3]) can sometimes take a dangerous turn due to fans, faulty pieces of equipment, or simply some slippery soles. And it isn't just the stars themselves who can get hurt — sometimes audience members and spectators get injured in the process. Read through to see the biggest onstage fumbles!
DJ Khaled at the Formation World Tour in September 2016
As Usher [4] performed prior to Beyoncé taking the stage, DJ Khaled was the perfect social media wingman while trying to get some A+ snaps of the singer doing his thing. Unfortunately, as the Snapchat King and hit-making producer backed up, he tripped over something and hit the floor hard.
Alex Pell's September 2016 Fall at a Concert For The Chainsmokers
As The Chainsmokers' Alex Pell was trying to hype up the crowd while standing on an elevated part of the stage, he took one wrong step and ended up biting it.
Meghan Trainor on The Tonight Show Starring Jimmy Fallon in 2016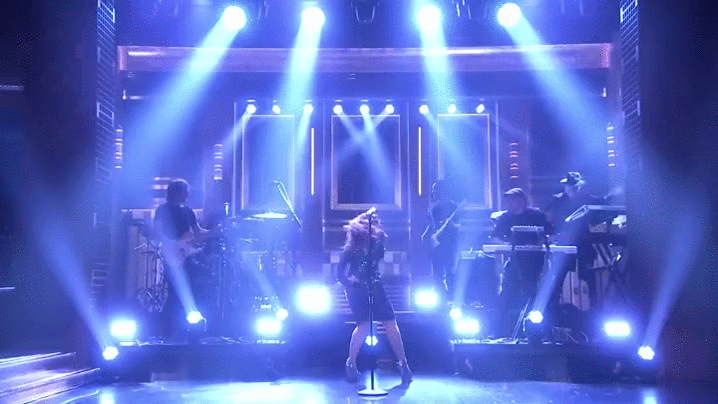 Meghan Trainor took a mortifying spill while belting out "Me Too" during an episode of the late-night show in 2016, and the moment when her ankles turned in those sky-high heels was beyond cringeworthy. Instead of getting up after she fell, Meghan couldn't help but dissolve into a fit of laughter, so Jimmy Fallon [5] went over to join her on the ground.
Justin Bieber During His Purpose World Tour in 2016
In the "thump-thump" heard round the world, Justin Bieber fell off the end of the stage following one of his performances. Afterward, he told the crowd [6], "Good thing I'm like a cat and landed on my feet, that scared the f*ck outta me."
Jennifer Lawrence at the 2013 Oscars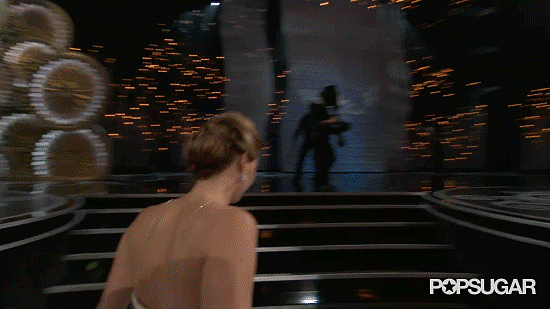 Prior to accepting her win for best actress at the Oscars in 2013, Jennifer Lawrence [7] encountered a few difficulties getting up the stairs in her long Dior dress. The crowd immediately gave her a standing ovation, which she referenced in her speech, saying, "Aw, you guys are just standing up because you feel bad that I fell."
Iggy Azalea in Los Angeles in 2014
Iggy Azalea was mid-rap in "Fancy" at a VMAs benefit show at The Avalon in LA when she backed off the stage, prompting the crowd to scream in surprise.
Taylor Swift at a Concert in 2010
Taylor Swift [8] was able to stomp down a flight of stairs in heeled boots at a 2010 concert in Ottawa, but when she got to the bottom, her head-banging routine caused her to lose her balance big time. Have you ever seen someone get up so fast?!
Madonna at the 2015 BRIT Awards
Madonna [9]'s backup dancers accidentally dragged her down a set of prop stairs at the start of her BRIT Awards performance in 2015 (see it happen at the 1:05 minute mark above). Luckily, she handled it like a pro and kept on singing like nothing had happened.
Joe Jonas at the 2007 American Music Awards
As Joe Jonas [10] and his brothers walked out onto a stage covered in shattered glass from their exploding window props, Joe tripped over a microphone cord and broke his fall with his hand. Even though the glass sliced his hand open [11], Joe continued through "SOS" like a champ.
Katy Perry Trips at a 2009 Concert
The stage must have been pretty slippery at Katy Perry [12]'s concert, because she took an epic tumble after singing "I Kissed a Girl."
Demi Lovato at a KIIS FM Pool Party in 2015
With Demi's high heels and a stage covered in water and foam, it was only a matter of time before she ate it. Although she slipped while performing "Cool For the Summer," [13] she embraced the funny moment by putting it on Instagram with the caption, "#NOTCoolForTheSummer #F*ckIt 😂😂😂😂."
Harry Styles at a 2015 Concert
During the North American leg of One Direction's On the Road Again world tour, Harry Styles leaned a little too far back, lost his balance, and tripped over his own feet [14]. With the support of the audience, he got back up, and couldn't stop laughing about the whole thing.
Miguel at the 2013 Billboard Music Awards
Miguel accidentally kicked two female fans in the face when he attempted to leap over a crowd in the middle of his performance at the 2013 Billboard Music Awards. He sang through his fumble, but one of the fans didn't look happy as she slinked away from him while clutching her head.
Beyoncé in Orlando in 2007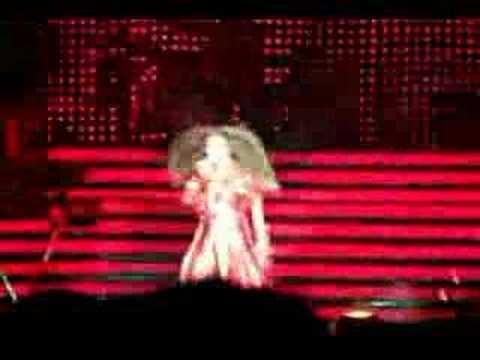 Beyoncé took a major spill when she slipped down a flight of stairs in the middle of a concert in Orlando back in 2007. However, she recovered quickly from her major slip and kept rocking around the stage.
Pink in Germany in 2010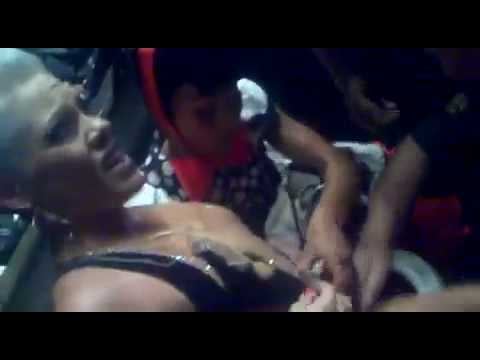 Pink accidentally fell off stage during a concert in Germany back in 2010. The show came to a screeching halt, with Pink mumbling, "Wow, that hurt. Sorry, everyone." She eventually had to be pulled out by a group of bodyguards.
Bret Michaels at the 2009 Tony Awards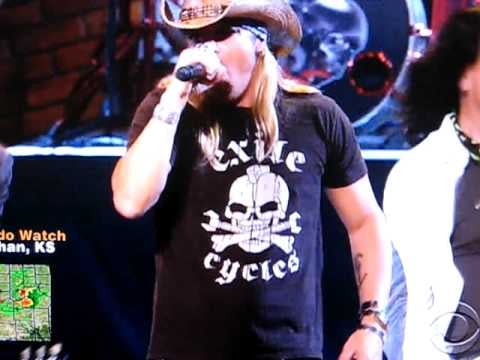 Bret Michaels found out the hard way that you shouldn't miss your mark. The rocker ran into a set piece while leaving the stage after performing "Nothin' But a Good Time" at the 2009 Tony Awards.
Justin Bieber in Sacramento in 2010
Justin Bieber got smacked in the head by a flying object when he performed at a concert in Sacramento back in 2010. Luckily, he recovered, saying, "That didn't feel good. I don't know why she just threw that at me."
Miley Cyrus in Melbourne in 2011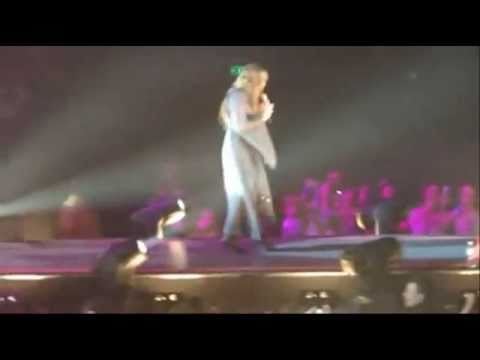 One female fan learned a valuable lesson about rushing Miley Cyrus [15] on stage when the former Disney star performed a concert in Melbourne in 2011. The fan tried to hug Miley but was quickly dragged away by security. Miley was visibly shaken by the incident and ran off stage to collect herself.
Demi Lovato in Philadelphia in 2009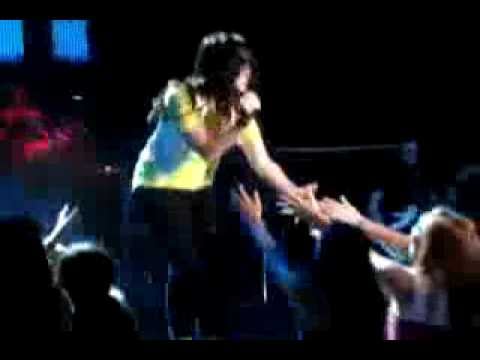 Demi Lovato tripped over herself while walking down a staircase during a concert in Philadelphia back in 2009. She clearly wasn't bothered by the incident, as she laughed it off and returned to singing shortly afterward.
Harry Styles in London in 2013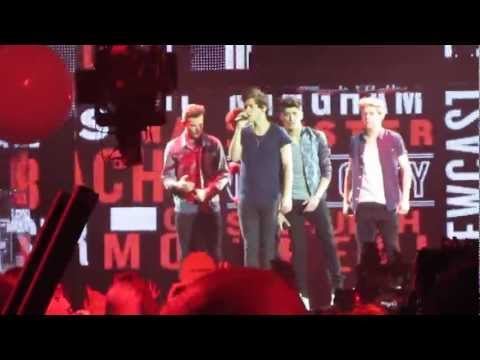 Poor Harry Styles! The singer had another mishap on stage at London's O2 arena in April, but it wasn't due to a fan. Harry's bandmate Liam Payne pantsed him in front of hundreds of screaming girls while they were performing "You Don't Know You're Beautiful." Of course, the fans enjoyed the show, and Harry was able to laugh it all off.
Selena Gomez in Virginia in 2013
Selena Gomez [16] took a nasty spill (at the 3:22 minute mark) while dancing during an October concert in Virginia. The singer was performing "Slow Down" and stomping her feet when she accidentally misjudged how much space she had on the stage. Luckily, she got up quickly and continued with her performance.