Want to get married by a famous face? Many stars have played the important role of wedding officiant [1], including Emma Stone [2], Jason Segel [3], and Victor Garber, who presided over Jennifer Garner [4] and Ben Affleck [5]'s marriage ceremony. Just last year, Jonah Hill [6] presided over Adam Levine and Behati Prinsloo's nuptials [7]. Keep reading to see more famous officiants.
Source: Getty / Noel Vasquez [8]
Conan O'Brien
Conan O'Brien [9] marked the first anniversary of Conan on TBS by officiating an on-air wedding [10] ceremony for the show's costume designer, Scott Cronick, and his partner, David Gorshein, in November 2011.
Ian McKellen
Ian McKellen officiated the wedding [11] of his pal Patrick Stewart to girlfriend Sunny Ozell. Patrick announced the news on Twitter [12], and Ian followed up on Facebook with a photo of himself with his officiant papers and a "Minister" t-shirt. He wrote, "I did my part."
Source: Facebook user Ian McKellen [13]
Benedict Cumberbatch
In July 2013, Benedict Cumberbatch (seen seated at left) officiated the marriage of friends Seth Cummings and Rob Rinder in Ibiza.
Source: Facebook user Ivan Massow [14]
Victor Garber
Jennifer Garner [15]'s TV dad and Alias costar Victor Garber officiated her June 2005 ceremony with Ben Affleck [16] in Turks and Caicos. And that's not the only tie he has to Ben and Jen. Victor is also godfather to their oldest daughter, Violet.
Fran Drescher
Fran Drescher presided over a March 2012 same-sex marriage ceremony in NYC after the couple won her officiating services through a contest on her Facebook page.
Emma Stone
After introducing her publicist, Holly Shakoor, to her Zombieland director, Ruben Fleischer, Emma Stone [17] played the role of their wedding [18] officiant for the November 2012 nuptials at Twin Peaks Ranch in Ojai, CA.
Jason Segel
After Abbe Thorner and Jason Woods's scheduled officiant canceled, the couple decided to ask Jason Segel [19]. Jason obliged, pronouncing the couple husband and wife live on The Tonight Show With Jay Leno in July 2010.
Mark Consuelos
When Howard Stern married Beth Ostrosky in October 2008, it was their close friend, Mark Consuelos, who made things official during their NYC ceremony.
Tori Spelling
Tori Spelling [20] had the honor of helping a couple be the first to tie the knot at her bed and breakfast, Chateau La Rue, in July 2007. Tori was surprisingly nervous to play the role of reverend [21]. She said, "I've done live theater and presented at the Emmys, and this by far was my scariest moment, simply because they had bestowed such an honor upon me and I didn't want to let them down."
Kathy Griffin
Kathy Griffin officiated the NYC wedding [22] of her fans Brian Anstey and Elka Shapiro in March 2008. Kathy explained why she couldn't turn down the offer [23], saying, "Actually, my assistant, Tiffany, applied for the certificate on my behalf, and it took about five minutes. But I love that this couple just wanted to have fun. They're my kind of people."
Jonah Hill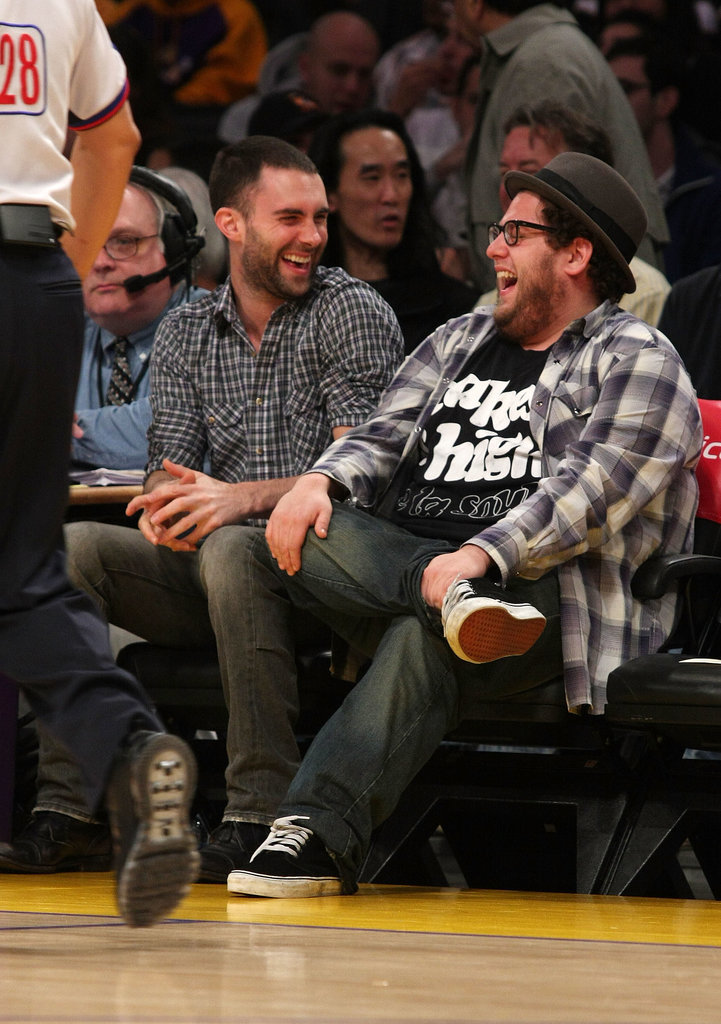 Jonah was on hand in July 2014 when he officiated the wedding to Adam Levine and Behati Prinsloo [24]. The pair have actually been friends since middle school, where, according to Jonah, they were in a carpool together and would hang out at each other's houses. Jonah's brother, Jordan Feldstein, is also the manager of Maroon 5.