Hello my Darling Juicettes!
How ya'll doing? I am feeling incredibly fantastic today and it has everything to do with this outfit! Bliss! Today's look is a combination of new, old and everything in-between.  Let's start with the new. My darling baby bro most definitely knows that the way to my heart is through an H&M gift card! Let me tell you, said gift card, has been burning a hole in my pocket for about a month. Why…you ask? I was holding out for something great. Of course, when I ventured into the store this past week-end….I found many, many, things that were great!  Blast! Somehow, (by the grace of God) I was able to edit the aforementioned "great things" down to one spectacular transitional item . Queue scene: Enter camel coloured tailored vest. Isn't it fab?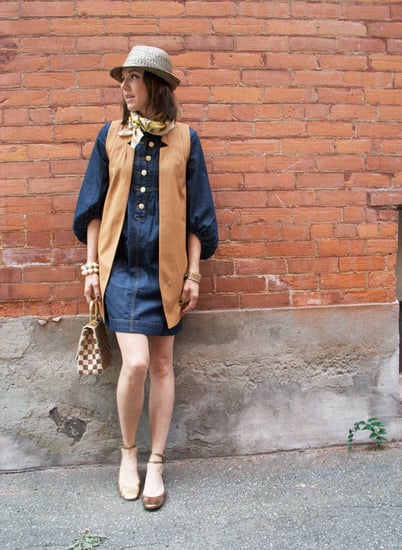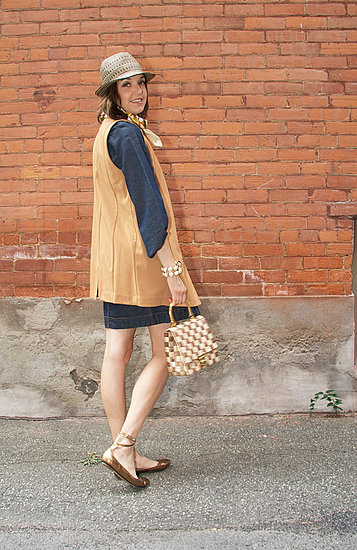 …and now the Dress and a 'lil DIY! The easiest way to transform the look of a garment is to update the buttons.
Sometimes little tweaks can go a long way! This darling denim dress was five bucks…..I kid you not! I fell in love 
with the sleeve detail (who wouldn't)…and the overall construction of the dress was,….let's put it this way, well worth
the price of a Starbucks coffee!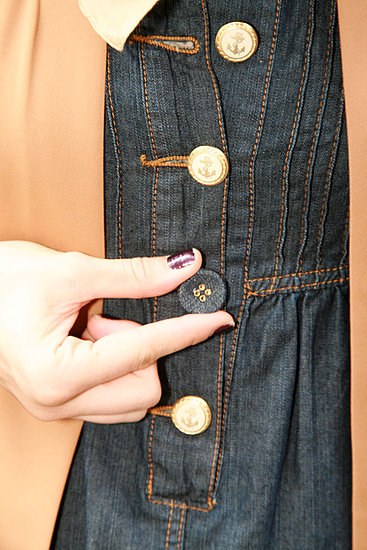 As this little tweak was executed *P.B. (pre-blog), I do not have a photo of the dress with it's original buttons in tact.
Blast! I hope the above shot illustrates how the right embellishments can elevate the look of a garment immensely!
It's all in the details!
xoxo Victoria a.k.a http://www.thriftjuice.com/