Four words:  Raw. Vegan. Gluten-Free. Delicious. 
It's true what they say about good things coming in small packages. These little balls are so jam-packed with nutrients, they'll practically give you superpowers.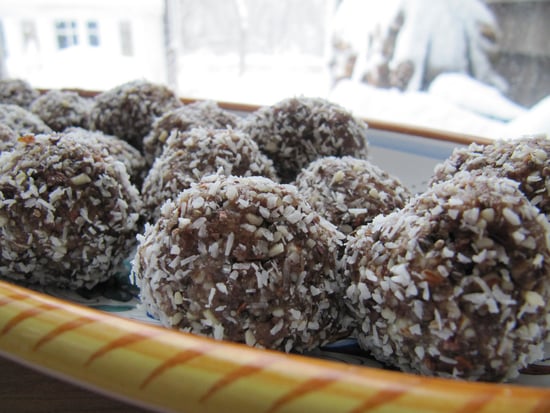 INGREDIENTS
Inspired by Joyous Health
* = good source of fiber
1 cup raw almonds
12 pitted medjoole dates
¼ cup raw cacao nibs
1 tbsp. coconut oil
¼ cup, plus 2 tbsp. shredded unsweetened coconut,
1 tsp. pure vanilla extract
1/8 cup chia seed
PREP
1. Set aside the 2 tbsp. shredded coconut in small plate. Place all ingredients into food processor and blend for 1-2 minutes, until mixture becomes similar to very fine (sticky) pebbles.
2. About a teaspoon at a time, roll into 1-inch balls and dip in shredded coconut to lightly cover entire ball.
For this and other fiberlicious recipes, visit www.fortheloveoffiber.com.
Nutrition Facts
Serving Size: 1 ball
Calories: 124
Total Fat: 7 g
Saturated Fat: 2 g
Cholesterol: 0 mg
Sodium: 1 mg
Total Carbohydrate: 15 g
Dietary Fiber: 3 g
Sugars: 11 g
Protein: 3 g