This is a great deal!  Sephora has a new colorplay
palette for only $24 right now!  Their first one was
great!  This is even better.  It has EVERYTHING
you need for many looks!   A great gift for the ladies
on your gift list or for YOURSELF!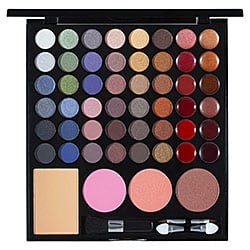 Color Play Palette II ($120 Value) only $24
What it is:
A palette that contains all the color products you need to create endless makeup looks.
What it does:
Get 10, 000 looks in one palette! Jam-packed with 36 powder eyeshadows, 12 lip colors, 3 powder blushes, and a bronzer, this professional Multi-use Makeup Palette is perfect for transforming your visage into a vision of perfection. Highly pigmented eyeshadows and cheek colors allow you to achieve any desired look with ease—making the Color Play Palette great for skilled makeup artists as well as beginners! Sleek and travel-friendly, it comes complete with a Mirror Portable Makeup Station for easy application on the go.
What else you need to know:
This palette is a $120 value offered at an amazing $24! It's paraben free and safe for sensitive skin. The compact size is 6.3" x 7".