Costa Concordia | Pictures
Two Years Later, the Sunken Costa Concordia Ship Is Making Its Final Trip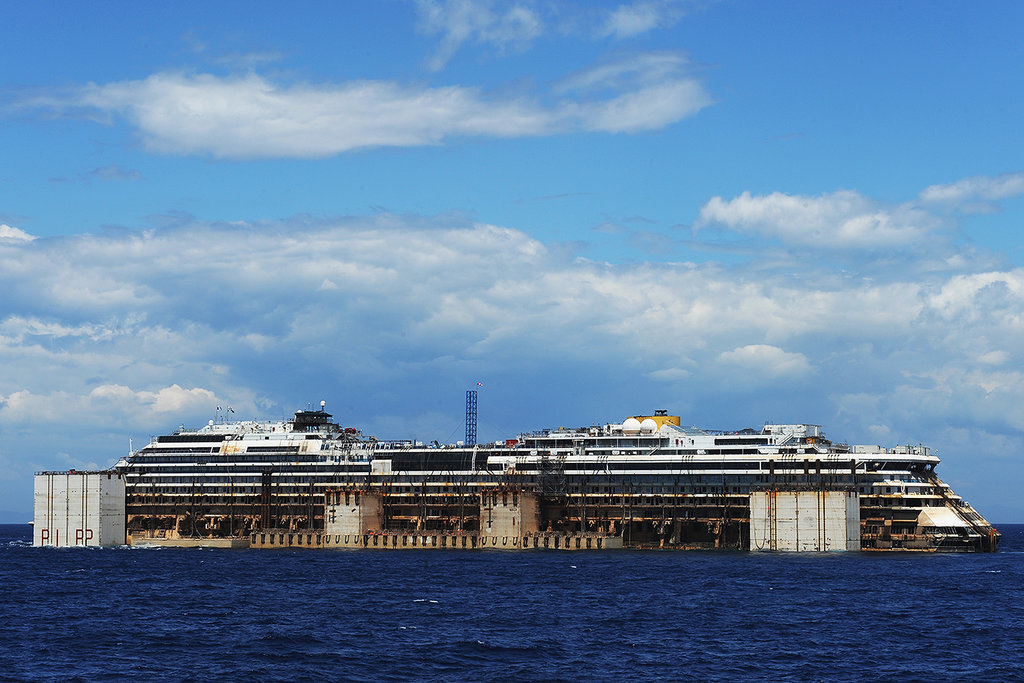 What's Your Reaction?
0
0
0
0
0
0
1
Two Years Later, the Sunken Costa Concordia Ship Is Making Its Final Trip
More than two and a half years after the luxury cruise ship Costa Concordia sank off the coast of Italy, the wrecked vessel has started its trip from Giglio Island to Genoa to be dismantled. In January 2012, the ship sank with more than 4,200 passengers aboard, and 32 people died in the disaster. In September 2013, workers successfully righted the massive ship — which weighs more than 114,000 tons. The 19-hour operation was referred to as The Parbuckling Project, and the salvaging of the sunken ship marked the biggest, most expensive undertaking of its kind, involving a 500-person crew from 26 countries and a cost estimated around a billion dollars. Since then, workers have repaired parts of the ship to make sure it could weather the Winter and be properly towed away.
A convoy of 17 boats are now traveling along with the ship, which is expected to arrive on Sunday. Its dismantling is expected to take about two years, and it marks a major moment for the island of Giglio. For the past two years, the giant vessel took over its ports and left a stench. The ship had been packed with food and supplies for 4,200 people, so underwater, enormous amounts of food were left rotting inside refrigerators and freezers: 24,000 pounds of fish, 17,000 pounds of raw beef, 11,000 eggs, 18,000 bottles of wine, 22,000 cans of Coca-Cola, and more. Along with the food came chemicals, too, including 65 gallons of paint and 10 gallons of insecticide. Since the ship's sinking, 24 metric tons of debris were recovered. Check out an incredible time-lapse video of the Parbuckling Project below, plus striking pictures of the Costa Concordia making its final trek.
Latest