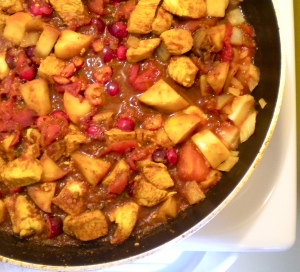 Originally posted at Eat, Spin, Run, Repeat.
Ingredients:
cooking spray or olive oil
225g boneless, skinless chicken breasts
1 tbsp curry powder (choose your heat level!)
1/4 medium yellow onion, chopped
1 apple, diced
1/2 tsp mustard seeds
1tsp ground cumin
1/8 tsp ground ginger
1/4 tsp ground cloves
2 cups canned diced tomatos, including juices
1 tsp plain fat-free Greek yogurt
1/2 cup fresh cranberries, chopped coarsely
pinch of sea salt and black pepper
coarsely chopped cilantro, to garnish
Spray a medium-sized skillet or coat it with olive oil and place it over medium heat. Chop the chicken breasts into bite-sized pieces and add them to the pan, sprinkling them with all of the curry powder. Cook the chicken until browned on the outsides, then transfer to a plate.
Return the skillet to the stove and stir together the onion, apple pieces, mustard seeds, and cumin. Cook for about 2 minutes or until the onion softens. Add the chicken back to the skillet, as well as the ginger and cloves.
Stir gently for about 1 minute, then add the tomatos, Greek yogurt, chopped cranberries and ginger. Bring the mixture to a boil, then reduce heat let the curry simmer for about 10 minutes, or until chicken is no longer pink and liquid has reduced. Season with sea salt and black pepper to taste.
Ladle the curry into bowls and serve with cilantro or parsley sprigs as a garnish, if desired.
Serves 2.
Nutrition per serving: 237 calories, 2g fat (0g saturated fat), 65mg cholesterol, 515mg sodium, 27g carbs, 6g fiber, 17g sugar, 30g protein.