Cucumber, Radish, Chick Pea, and Parsley Salad with Creamy Feta & White Wine Vinegar Dressing
Cucumber, Radish, Chick Pea, and Parsley Salad with Creamy Feta & White Wine Vinegar Dressing
Did you know radish greens are edible? Check out this refreshing (and detoxing) ZERO WASTE radish, chick pea, and cucumber salad that's a complete meal. No oven required!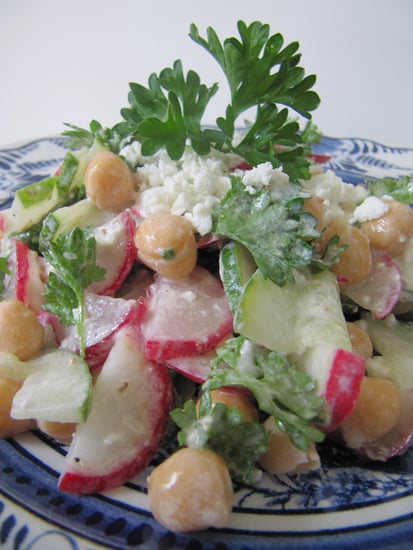 Yield: 4 servings | Prep Time: 15 minutes
INGREDIENTS
* good source of fiber
2 medium cucumbers *
Bunch of radishes (~12-15 or so), including greens *
1 cup chick peas
½ cup dandelion greens, chopped (optional) *
½ cup + ¼ cup crumbled Feta cheese
1 tbsp. white wine vinegar
½ cup fresh parsley leaves – stems removed
1 tbsp. extra virgin olive oil
2 tbsp. buttermilk or half & half
Celtic sea salt and pepper to taste
PREP
1. Cut ends off cucumbers, cut in half lengthwise, then cut into half-moon slices about ¼ inch thick. Wash radishes and trim ends, and set aside greens. Cut in half lengthwise and cut into half-moon slices just slightly thinner than cucumbers.  Stem radish greens and roughly chop.  Place cucumbers, radishes, radish greens, dandelion greens (if using) and parsley into a large bowl.
2. Place ½ cup crumbled feta into a bowl. Add white wine vinegar and mash slightly with a fork – leave it a little chunky. Stir in olive oil and buttermilk/half & half.
3. Stir the dressing into the salad. Season to taste with salt and fresh ground black pepper. Serve with the extra ¼ cup crumbled feta sprinkled over the salad.
For this and other fiberlicious recipes, visit www.fortheloveoffiber.com.
NUTRITION FACTS
Calories: 200

Total Fat:11 g

Saturated Fat: 5 g

Cholesterol:  25 mg

Sodium: 588 mg

Total Carbohydrate: 19 g

Dietary Fiber: 6 g

Sugars: 2 g

Protein: 9 g
Follow us on Facebook and Twitter!