DESTIEL E02: THE QUEST FOR BELTHAPHORE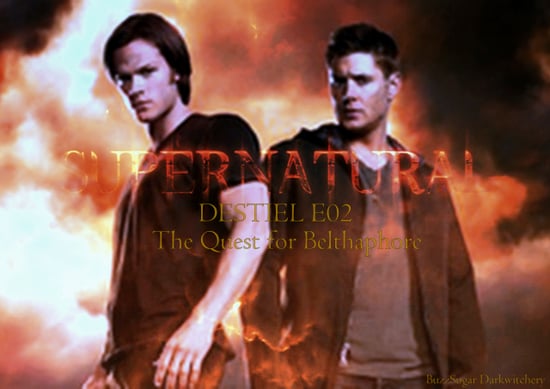 Theme Song: http://www.azlyrics.com/lyrics/daughtry/supernatural.html
Spoiler Alert: Any part of this story DOES NOT reflect CW official episode guidelines of Supernatural or re-production purpose. What you're about to read is solely a fan-fiction specially created for Destiel Community. If you haven't signed up for Destiel(s), welcome to the club. If you're already were? Fear the Wrath - Not. Embrace into this newly profound first degree of guilt pleasure..
Dean eventually told Sam & Bobby about Cass's warning, but they disbelieved him.
"Based on his (Cass) last record plus you were practically passed out for the past two hours, I'm not sure that I can buy into any of these, Dean," Bobby said.
"What you mean?" Dean asked (pouting his lips)
"I mean it could be anything but Cass," Bobby replied.
"Bobby, you gotta trust me on this one. May be Cass was trying to connect me through some kinda alternate reality," Dean tried to convince.
"Fine, even if it was true, how did he get his mojo back to snap you into this… (rolling his eyes skeptically) alternate reality? I mean not in the middle of the war with another one nasty soul that he needs to deal with, right? "Bobby said wryly.
"Bobby, do you remember the Leviathan I froze inside the generator room before Dean passed out?" Sam popped out a question as he tried to make the sense out.
"Yeah, why?" Bobby wondered.
"I think the Leviathan's juice froze for just a brief moment of time. So it all make sense now, I guess what I did to the last Leviathan affected the other half who shares the same vessel with Cass. Twins have some sort of connection linked with each other, right? Sam cited.
"So you're saying by freezing the juice out of that son a bitch practically weakened the twin brother and buy Cass some time to use his mojo to transport me into his alternate reality?" Dean tried to ascertain.
"Yeah, I guess," Sam said.
"So now we've doubly case on hand, great, how do we gank them?"Bobby asked.
"Cass mentioned about something known as Belthaphore Stones," Dean said.
"And what's that supposed to mean?" Sam asked.
"Doesn't matter whatever name was that. Question in a nutshell, how do we find the stones?" Bobby asked.
Amidst their conversation, they were startled and riled by an uninvited presence of their long line foe, Crowley.
"Get the salt!" Dean yelled.
"Whoa, what a warmest treat for your guest," Crowley cited wryly.
"Guest, my ass," Bobby taunted.
"Relax everyone, I'm here to solve your missing piece of puzzle," Crowley said.
"Just cut the chase. Get into the punch lines," Dean said.
"Clue.. uh, the location of where you spent your honeymoon trip with your lover, the devoted whore with trench-coat? Crowley replied to Dean and smiled wickedly.
It was the alternate reality Crowley meant and Dean knew exactly it was the only spot where Belthaphore Stones were ever existed. "Alright, what's the catch for your tips?" Dean asked wryly while wrinkling his forehead.
"Wait a second, my guess, you're afraid of what's coming for you. And you 'King of Hell' will be as good as dead under the Leviathans' rules," Sam interrupted.
"Nice theory, Sam but I wouldn't deny. Purgatory, there's exactly where you find your Belthaphore Stones,"Crowley replied.
"We don't know exactly how to hack in this off-limit zone and besides why should we believe you, dickhead!"Bobby snarled.
"You should be careful with your words, you won't like it when I'm angry. Well, you have to believe me because you don't have any other choice, do you? Summon Death, he wouldn't offer passes to anyone but to you two, Winchesters," Crowley said and then vanished through the thin air.
Soon the Winchesters summoned the Death in order to open the gateway to Purgatory. And once again, a deal was sealed for Winchesters to finish up what they've started and to restore the nature back its norm.
At one night down at Bobby's basement, the Death read his spell through the eclipses. On the floor, a pit was slowly caving in. The Death slit Dean's palm to drip his blood into the bottomless pit, one blood for one entry. Dean eventually jumped in.
It was the same environment as he encountered before in his alternate reality – the drought land and the choking heat and fumes. While walking through the dead land, Dean peered across his surroundings. All of a sudden, he was distracted by some indistinctive uproar kind of noises behind of him.
Dean glanced back over his shoulder and found that it was exactly the same spot of his encounter with Cass in the alternate reality. The same cavern of which the entrance was sealed up with piles of stones came into his glint. Dean took a wild guess that they must be the Belthaphore Stones which Cass meant about. Without any doubt, he took one piece but in just few seconds later, he could feel some immensely powerful force shove him to top.
Soon Dean found himself lying onto the floor of Bobby's basement with the pit sealed back. And also one piece of Belthaphore Stone on his grip. However they had one problem, they had zero clue on how to use the Belthaphore Stone to kill the Leviathans twin.
They eventually placed the Belthaphore Stone onto the desk next to a window. The next morning, sunlight streaming down the opened window and shone onto the stone. Sam walked into the room and accidentally discovered something strange happened. A spell with the methodology in old latin phrases slowly emerged on the Belthaphore Stone.
"Dean, Bobby!"Sam called them up excitedly.
"Unleash the power of this spell once the Belthaphore Stone collides with their flesh and blood," Bobby tried to translate the message from old latin to English.
"But how, we can't just throw the ball, right?"Dean asked.
Bobby popped out an idea to mash the stone to create bullets which was the best way to penetrate the stone substances into Leviathans twin's flesh and blood. After creating the special bullets made of the Belthaphore Stone, Bobby stared at Dean with some strange eyesight.
"What?" Dean asked.
"Are you sure about this? If it's true that Cass is still in there with that nasty soul while they're residing the same vessel, then if we destroy that son of a bitch will automatically destroy Cass too," Bobby said while cocking his gun.
Dean numbed into silence with some trace of indecisiveness that apparently showed through his eyes.
To be continued… http://movie-reviews.buzzsugar.com/DESTIEL-E03-CLOSE-ENCOUNTER-22712339