DESTIEL E04: 'FREE WILL'
DESTIEL E04: 'FREE WILL'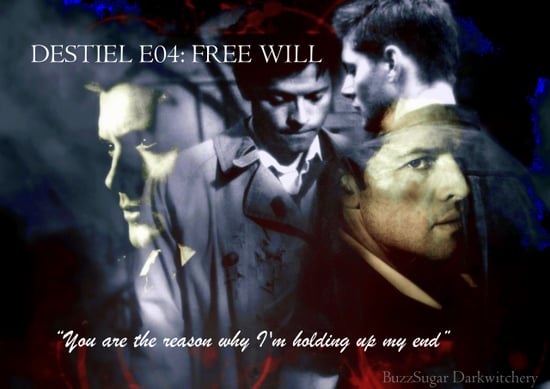 Theme Song: 'It's Not Over' – Daughtry
Spoiler Alert: Any part of this story DOES NOT reflect CW official episode guidelines of Supernatural or re-production purpose. What you're about to read is solely a fan-fiction specially created for Destiel Community. If you haven't signed up for Destiel(s), welcome to the club. If you're already were? Fear the Wrath - Not. Embrace into this newly profound first degree of guilt pleasure..
The next morning at the hospital, Dean woke up and miraculously recovered.
Sam and Bobby swung by for a visit.
"How're you holding up?" Sam asked.
"Still kicking," Dean replied while nodding and winking.
"So, what happened back there?" Sam wondered.
For a brief moment of time, Dean stayed in silence. Then as he cleared his throat, he said, "When the time you and Bobby ganked the other half, that son of a bitch pulled back, and I uh.. actually let Cass in my body,"
Both Bobby and Sam were dismayed by his confession.
Bobby stared at Dean and cited, "That's one suicidal mission, you know that, right? Then he added, "Remember what happened to that kid when an angel took over his body as vessel?"
"I know the drill, Bobby. What do you want me to do? Throwing Cass out to another hole of damnation?! I.. I just couldn't do that. Come on without Cass, we would have been died freakin' so many times," Dean tried to justify.
"And also he is the reason why we're so messed up," Sam cited wryly.
"Cass, he just lost once, for god sake. You too, Sammy, but I forgave you, remember?" Dean said.
Sam numbed into silence and pouted his lips, speechless.
Bobby blurted out a question, "So where's he now?"
"He's gone," Dean replied.
"You mean 'gone' 'gone'?" Sam asked.
"I wish that I know," Dean cited while switching his eyesight and glanced over the window next to him.
The next morning, Dean rose from his bed and stood in front of the widely opened window in solitude. Although the streaming sunlight blazed through Dean's eyes, he didn't blink even once as his mind dwelt with all those flashback memories.
It was the past of Cass's confession of the reason behind all his diabolical plots. Then, it reminded him about Cass mentioning that Dean was the one who taught about freedom and free will. Leading Dean to another new discovery… As for the result of Cass's soul transfer to Dean's body, the in-depth definition of some particular term as Cass mentioned during his confession, 'Free Will' became crystal clear to Dean.
"Cass..," Dean sighed to himself and withered.
Stay tune for:
http://movie-reviews.buzzsugar.com/Supernatural-Season-8-All-Heavens-Bre...