For some stars, the apple doesn't fall far from the tree — when it comes to looks, that is. These days, it's hard to know whether we're looking at Reese Witherspoon or her teenage daughter, Ava, and Julianne Moore recently stepped out with her little girl, Liv, who may as well be the actress's mini me. While all kids look like their parents, some of Hollywood's biggest names have children who make us do a double take. Check out some of the famous faces with look-alike kids:
Julianne Moore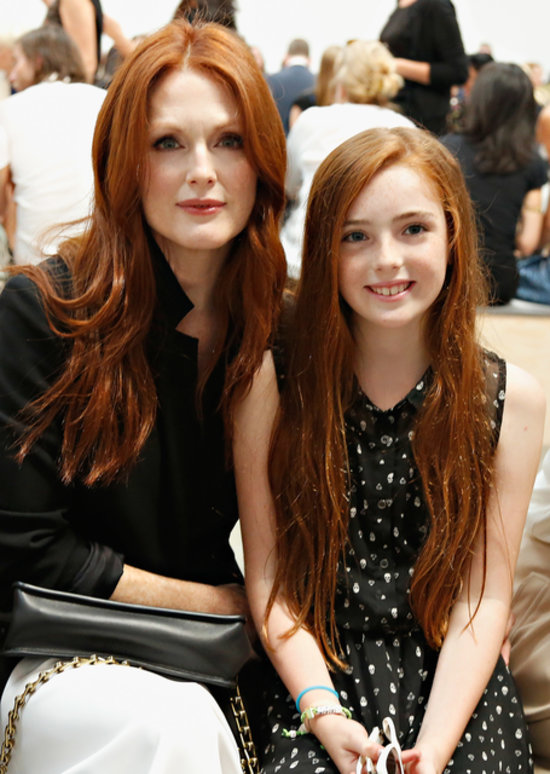 In September, Julianne Moore attended New York Fashion Week with her 11-year-old daughter, Liv Freundlich. The look-alike pair coordinated in black and white at the Reed Krakoff runway show, sitting front row alongside fashion bigwigs like Rachel Zoe and Carine Roitfeld. When we talked to her that month, she joked that her daughter didn't see her films, saying, "Nobody wants to see their mother in a movie. Do you want to see your mother in a movie?"
Tina Fey
Sporting matching stripes, Tina Fey stepped out with Alice, her 8-year-old little girl, in NYC this past September. Alice played a young Liz Lemon on 30 Rock, but the sweet mother-daughter duo shares more than just their looks. Based on Tina's impression of Alice, it seems like Alice may have inherited Tina's funny bone, too.
David Beckham
All three of Victoria and David Beckham's boys resemble their handsome dad, and he seems to have passed on his love for soccer, too. Romeo and Cruz show signs of their designer mom, too, but the couple's oldest son, Brooklyn, has definitely inherited a lot of his father's features.
Read on for more stars with look-alike kids.